With an abundance of assessment tools (especially 'tech' assessment tools) available in today's market, choosing the right one for your recruitment and L&D programs can be confusing.
To attract and hire top tech talents, you need a technical skills assessment platform that could:
Engage candidates by reducing hiring time

Assess candidates across soft and hard skills

Test their domain-specific capabilities

Offer anti-cheat and fraud protection mechanisms

Reduce the HR and hiring manager's workload

Eliminate human-induced errors and unconscious bias
Considering these factors and more, today, we are comparing HackerRank and HackerEarth with iMocha, to see which is better HackerRank or HackerEarth.
But before we dive deep into this iMocha vs. HackerEarth vs. HackerRank comparison, let's try to understand these platforms better by addressing their pros and cons.
Want to create a diverse team of professionals but unable to avoid unconscious bias in your hiring process? Try iMocha and schedule a demo today!
HackerEarth vs. HackerRank vs. iMocha
General Overview
1. iMocha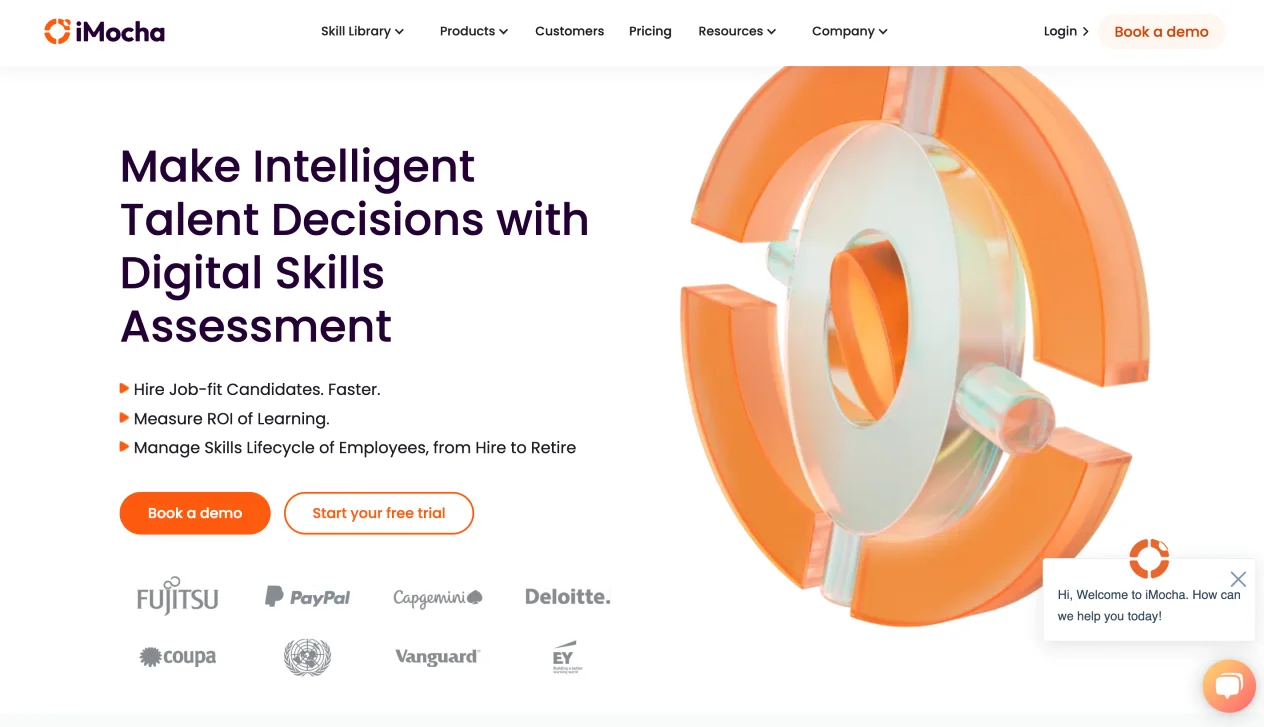 iMocha is a complete skills assessment platform that offers two main modules: Talent Acquisition and Talent Development, along with numerous other powerful features that can streamline and simplify your HR processes. It empowers recruiters and hiring managers with detailed, well-organized, and easy-to-read reports of each candidate's performance and helps them properly assess their knowledge and capabilities.
With iMocha, you can eliminate the conventional pass/fail grading categories and set your own performance metric. Its Automated Video Interview feature reduces hiring time, as its one-way video interview questions assess technical and soft skills in one go. Additionally, iMocha's async interview app allows you to add custom questions to help determine your candidates' communication skills.
Pros:
Assess candidates on 35+ programming languages with 3000+ coding problems in real-time

Pre-built interview rating feature that captures the score of the interviewers for multiple parameters

Code Replay to capture the mind map of candidates

Code Stubs to help candidates focus on the algorithm and logic

Intellisense - Auto completes code lines and saves time

Test candidates' hard/technical skills, as well as soft skills using customizable and skill-specific assessments

Easy ATS integration
Cons:
iMocha does not conduct background checks for candidates.

It does not offer psychometric tests.
G2 Rating: 4.4/5 (184 reviews)
Want to identify, engage, assess and hire top tech talent faster? Try iMocha to see how it can simplify your tech skills assessment process.
2. HackerEarth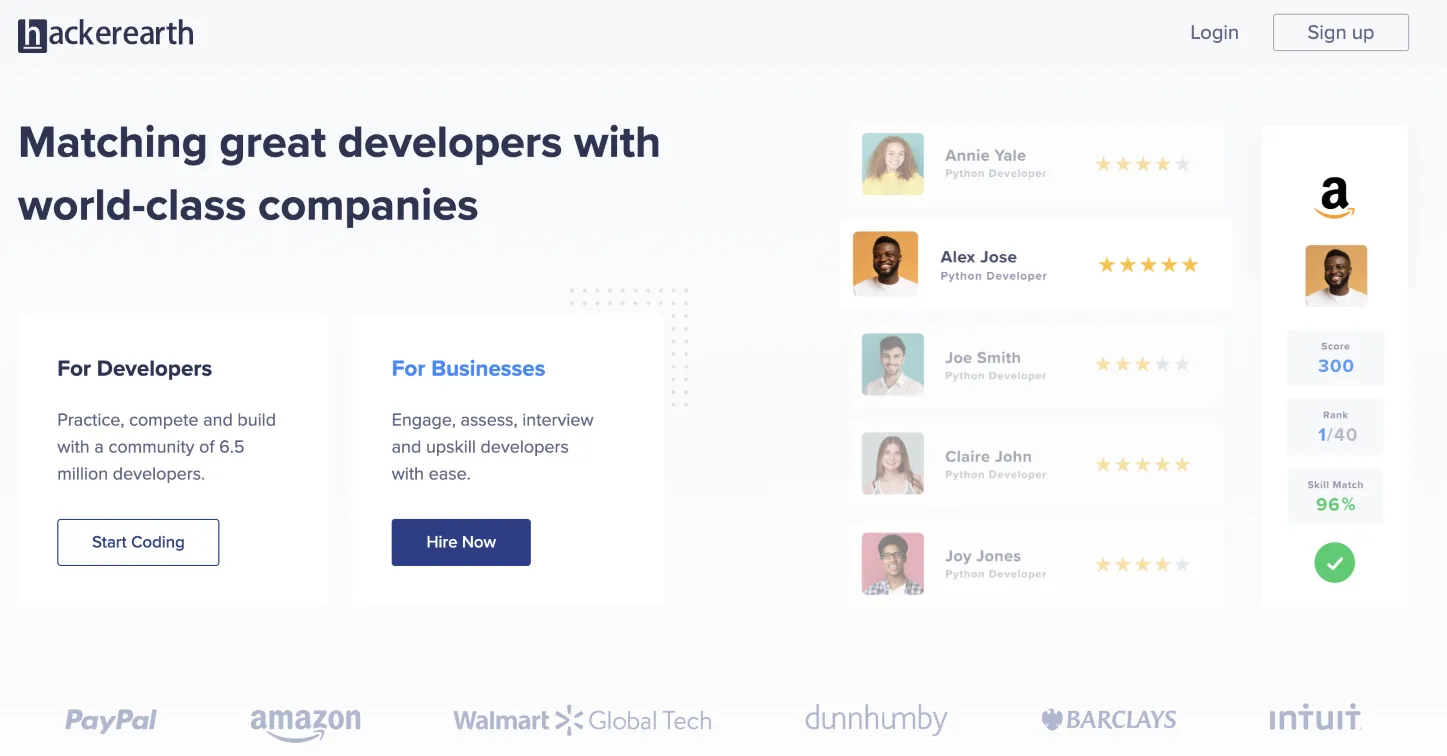 HackerEarth is a tech hiring platform that helps recruiters and engineering managers hire the best developers using a suite of virtual recruiting tools that help identify, assess, interview, and engage technical candidates. It offers a plug-and-play technical recruitment solution that enables you to create future-ready tech teams, along with a suite of technical recruitment, upskilling, and developer engagement features and services. HackerEarth also offers easy integration with existing ATS (Application Tracking System).
Pros:
Provide integrations with ATS solutions

Connects to external systems and applications as needed to complete team workflows

Less downtime

Provides analytics tools that reveal important business metrics and track progress

Grant access to select data, features, and objects based on the users, user role, and groups
Cons:
Inconsistencies in session management

Difficulty in navigating to the type of problems you are looking to solve due to issues with indexing and prioritization.
G2 Rating: 4.5/5 (121 reviews)
3. HackerRank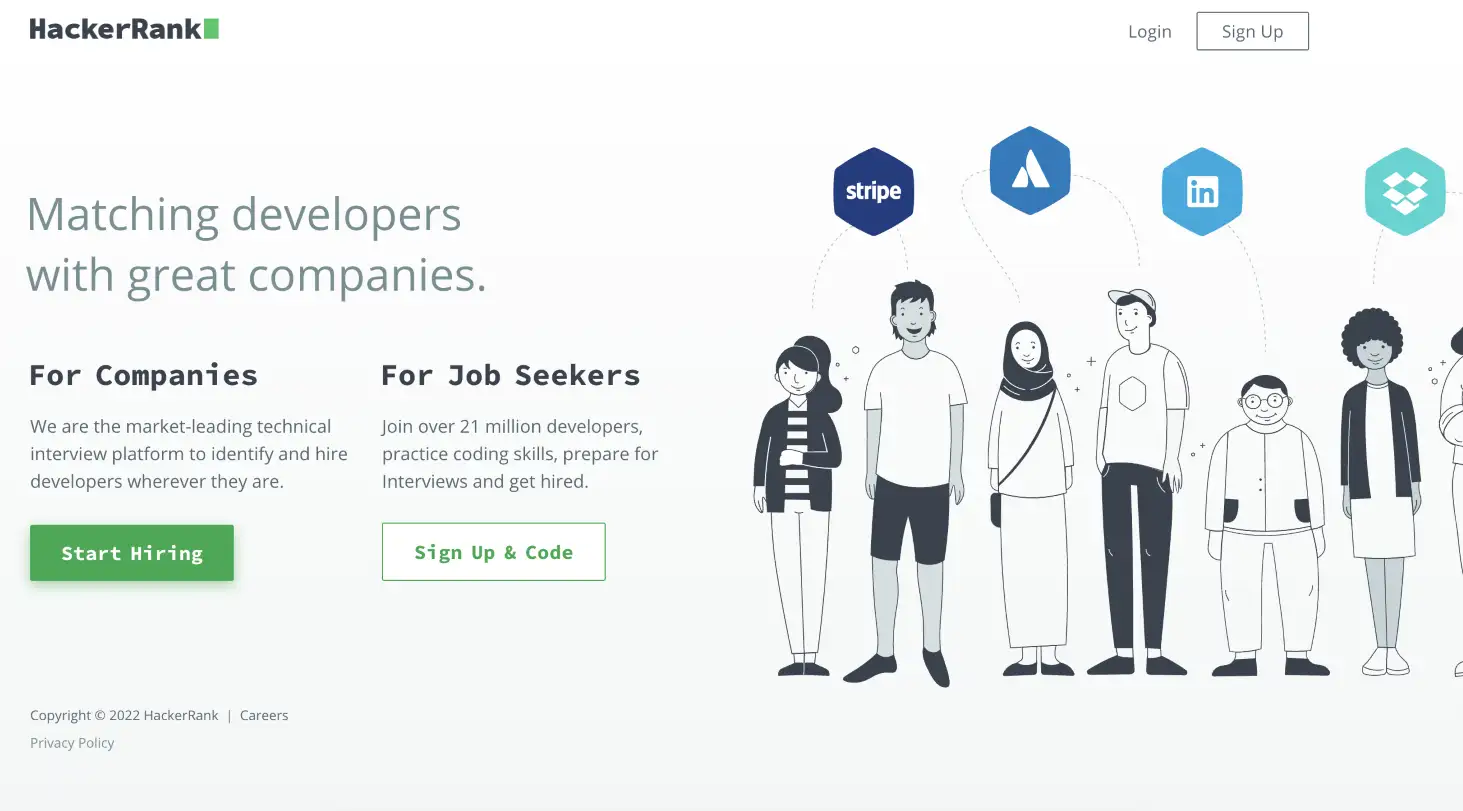 HackerRank is a technical/developer skills assessment platform that helps businesses evaluate software developers for open job roles based on their skills and knowledge. It helps recruiters and hiring managers identify top developers from the talent pool and assess them as per job-specific technical skill requirements. Just like iMocha, using HackerRank, recruiters can create their own tests or choose from a library of programming challenges, MCQs, and subjective questions.
Pros:
Intuitive and easy-to-navigate platform/UI

Allows cross-team collaboration and knowledge sharing

Offers broad-based multi-skill support and information on applicant response

Provides quality ratings to aid in recruitment decision-making

Offers a strong plagiarism detection system
Cons:
Some users have reported negative experience for exam setups

Lack of pricing options

No Skills Library
G2 Rating: 4.5/5 (302 reviews)
Want to assess your talent against industry trending technologies and languages? Schedule a demo today and leverage iMocha's world's largest skills library to test candidates across 25+ languages and 2500+ skills.
Feature Comparison (iMocha vs. HackerEarth vs. HackerRank)
To help you better understand the difference between the three platforms, we compared each feature by feature across different offering criteria such as usability, pricing, accessibility, privacy, reliability, and more.
Skills Library
Skills library is a critical offering for any skills assessment platform, as it reduces the burden of manually making job-role-specific assessments. After comparing iMocha vs. HackerEarth vs. HackerRank, we drew the following conclusion:
| | | | |
| --- | --- | --- | --- |
| Features | HackerEarth | HackerRank | iMocha |
| Skills Library | 80+ | Data not available | 2500+ |
| Next-Gen Skills | Not Available | Very Few | 50+ |
| Domain Skills | Not Available | Not Available | 77+ |
| Aptitude Skills | Not Available | Not Available | 100+ |
| Coding Skills | 80+ | 40+ | 30+ |
| Question Bank | 1k+ | 3K+ | 1 Lakh+ |
| Project Based Assessments | Available | Available | Available |
| Add own questions | Available | Available | Available |
With the world's largest skills library that boasts over 2500+ skills, iMocha stood out to be a clear winner, offering assistance across different skill domains such as Technical, Cognitive, Coding, and Next-gen skills. On the other hand, HackerEarth stood out too, as HackerRank doesn't even offer a Skills Library.
Ease-to-use and Versatility
Usability and versatility are crucial aspects of any application or platform, let alone skills assessment platforms. Ideally, a perfect skills assessment platform should be user-friendly and offer flexibility in its offerings. While comparing the three platforms together, iMocha stood out as the obvious choice because of the following features:
| | | | |
| --- | --- | --- | --- |
| Features | HackerEarth | HackerRank | iMocha |
| Audio/Video Questions | Not Available | Not Available | Available |
| Skills Assessment Consultancy | Not Available | Not Available | Available |
| Role-based access control | Available | Available | Available |
| Live Coding Interview | Available | Available | Available |
| Coding Questions | 1300+ | Data Not Available | 3000+ |
Want to assess coders in real-time? Schedule a demo today and try out iMocha's Live Coding Interview feature.
Upskilling Features
iMocha has a separate Talent Development module that explicitly targets your upskilling/reskilling needs and streamlines your L&D processes. It offers a variety of TD features for technical hiring, including:
| | | | |
| --- | --- | --- | --- |
| FEATURES | iMocha | HackerEarth | HackerRank |
| Upskilling Portal | Available | Available | Available |
| AI-LogicBox Questions | Available | Not Available | Not Available |
| AI-EnglishPro Questions | Available | Not Available | Not Available |
Pricing (iMocha vs. HackerEarth vs. HackerRank)
From the pricing standpoint, the three platforms offer different options based on usage and the tenure of their usage.
iMocha: Free trial available. Get in touch with the iMocha team for full pricing.
HackerRank: HackerRank's plan starts at $25/month/user and offers only the interview kit and content library. Its Individual and Team plans can cost up to $249/month and $599/month, respectively.
HackerEarth: HackerEarth's Startup plan is billed at $169/month annually, while the Enterprise plan can cost up to $369/month.
Other features comparison for iMocha vs. HackerEarth vs. HackerRank
| | | | |
| --- | --- | --- | --- |
| Features | HackerEarth | HackerRank | iMocha |
| IP Address Tracking | Available | Available | Available |
| | Available | Available | Available |
| | Available | Available | Available |
| Randomization of test questions | Available | Available | Available |
| Window Violation | Available | Available | Available |
Conclusion
Our comparison of iMocha vs. HackerEarth vs. HackerRank highlights how iMocha is a more comprehensive technical skills assessment platform when compared with HackerRank and HackerEarth. iMocha not only resolves your recruitment needs but also simplifies the overall Talent Acquisition process. It reduces hiring time and engages more candidates with your recruitment drive. Other than that, iMocha also:
Increases ROI on talent recruitment and other recruitment activities

Helps you assess the candidates' overall job fitness

Allows you to remove unconscious bias from the hiring and upskilling/reskilling process

Enables you to move away from resumes and degree-based hiring towards a skill-first autonomy
We hope our blog helped you in comparing iMocha vs. HackerEarth vs. HackerRank. Do let us know what you think at marketing@imocha.io, and stay tuned for other insightful guides, blogs, and listicles.
Wondering how to identify critical skills for organizational growth? Talk to our experts to learn how we enable Capgemini, Cognizant, TCS, Fujitsu and other global organizations to do so!