The main aim of any recruitment drive is to hire the best talent available in their respective job market. But with hundreds and thousands of resumes in your inbox, how will you figure out if a candidate is competent enough for your job or not?
The same can be said about your Talent Development program. From the thousands of employees in your workforce, how will you choose who is ready to upskill and take on new responsibilities?
Manually performing these tasks is highly archaic, error-prone, and time-consuming, with countless loopholes. Such as:
You cannot analyze and identify the skills gap manually.

There are chances of an

unconscious bias

hampering the hiring and talent development process.

It's challenging to map the right candidate for a specific job role.

Manually creating customized learning for employees will take ages.

It's tough to benchmark an employee's competency and set individual employee goals without having an in-depth understanding of their skillset.
Competency Assessment Tools can be the perfect solution to this problem.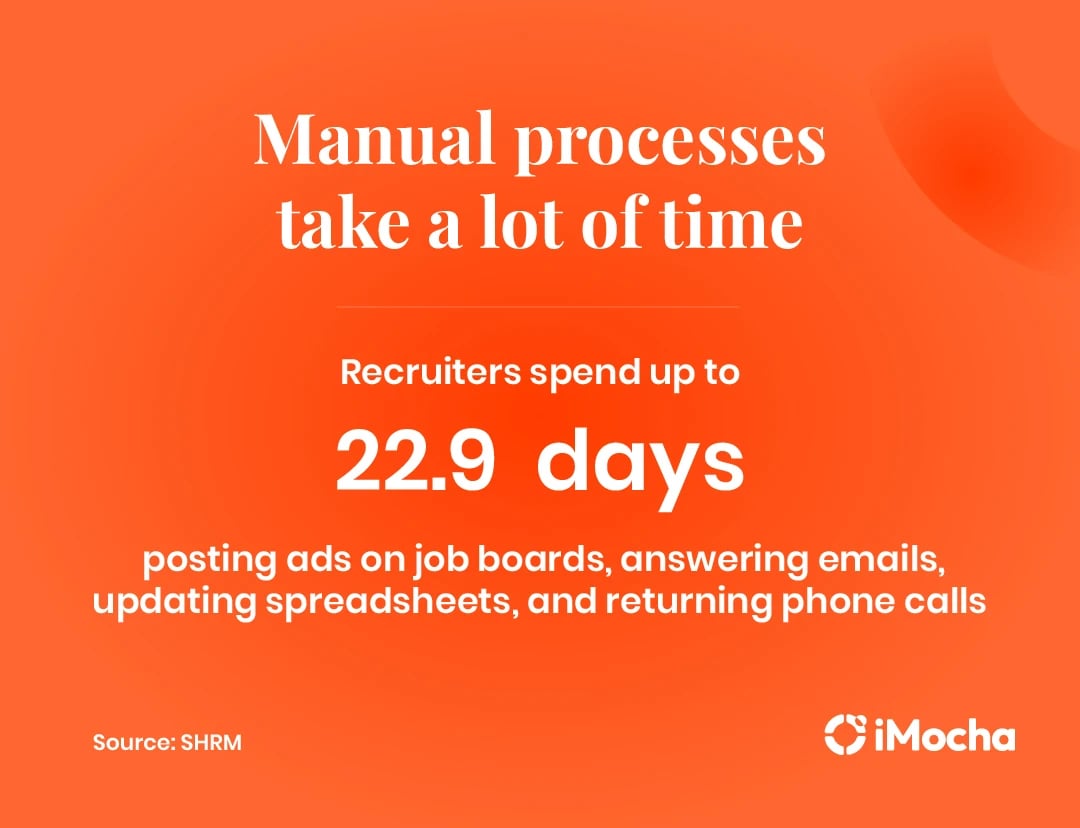 Source: SHRM
What is a competency assessment tool?
A competency-based assessment tool measures and documents a personnel's competency and helps identify problems with their performance so that these issues can be highlighted or corrected beforehand. This universal nature of these competency measurement tools makes them a crucial part of any recruitment, performance review, or L&D teams.
Let's understand this better by enlisting the benefits of an ideal competency-based assessment tool:
It helps you evaluate strengths and weaknesses across your workforce

Supports employee growth and empowerment

Eliminates unconscious bias

Help you create a team of qualified professionals that enable growth

Analyzes individual performance against future job prospects

Offers the flexibility to assess employee competency against ad-hoc requirements

Provides individual and aggregate reporting capabilities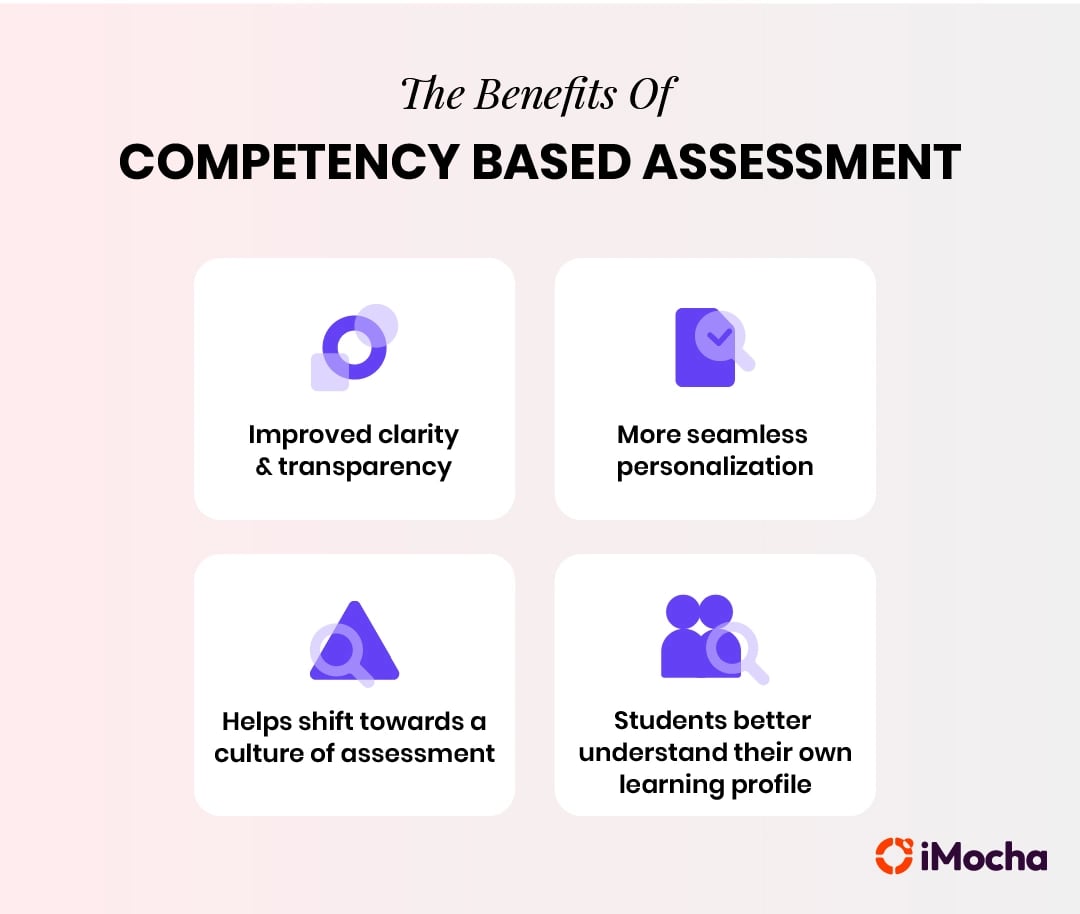 Top 5 Competency Tools for 2023
1. iMocha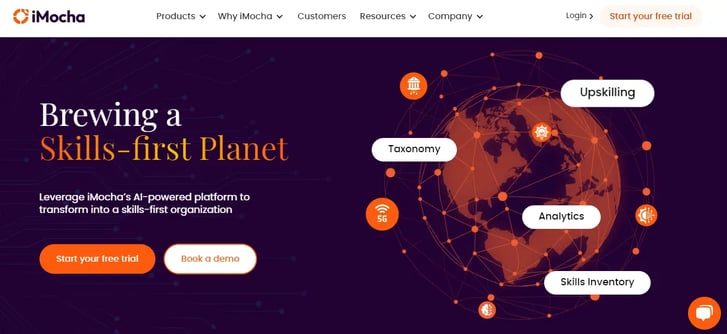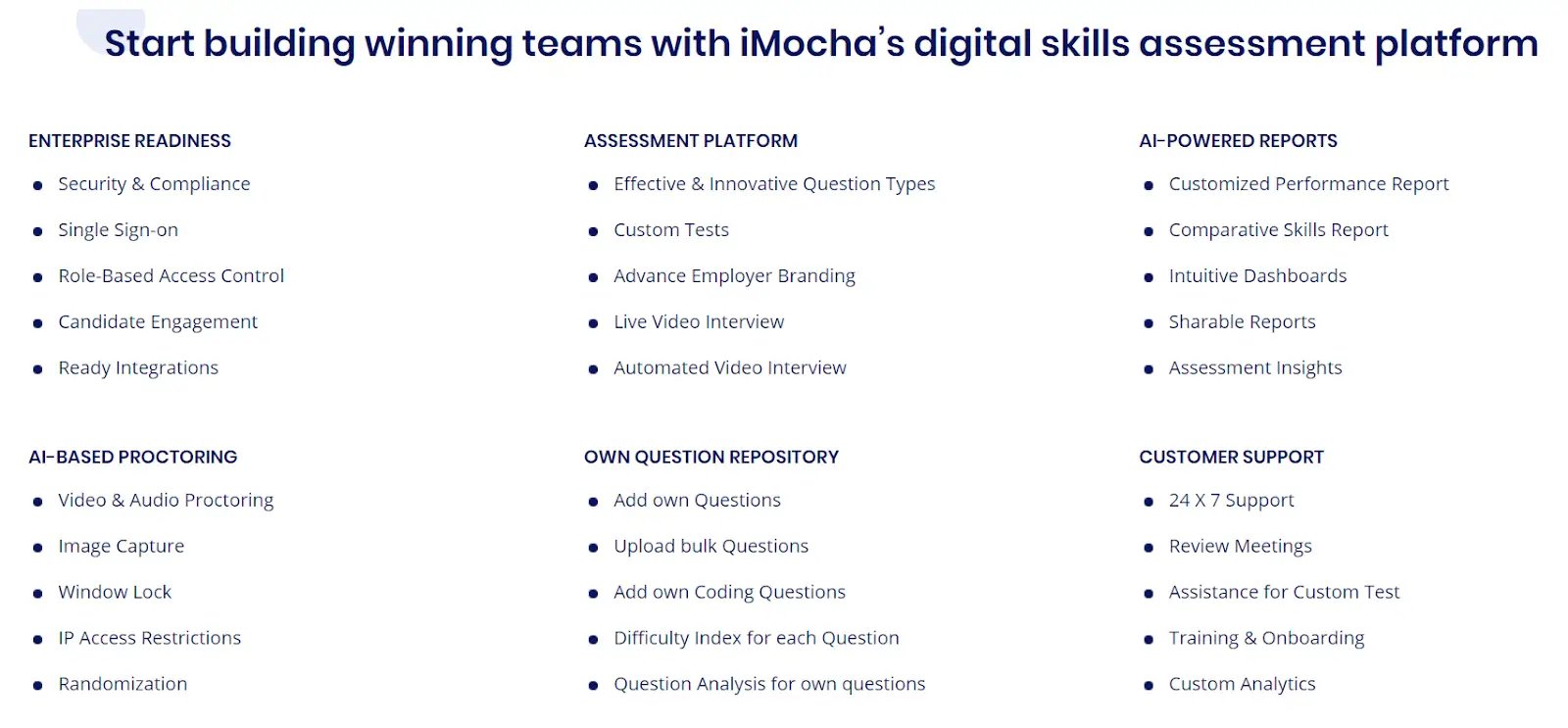 iMocha is a comprehensive skill-assessments platform that helps you identify candidate skill sets and skill gaps using customizable assessments and tests. iMocha offers you the right tools to benchmark your employee's or candidates' competencies. Its AI-powered talent optimization analytics allow you to get deeper insights into your invitation process, test analytics, candidate experience, and engagement, while its problem-based and highly customizable assessments help you identify a candidate's strengths and weaknesses, so you can make informed decisions regarding hiring, upskilling, reskilling, or overall talent development.
Features:
Custom skill development

Custom analytics

Industry benchmarking and calibration

Talent process optimization

Weekly emails to showcase assessment analytics like - top performing tests, candidate feedback, candidate invites, and candidate details

Coding assessment tools like

Live Coding Interview

,

Coding Compilers, Code Replay, and more

Shareable reports

In-depth analysis of assessments

Vast and detailed

skills library

View all reports and compare candidate and section scores
G2 Rating: 4.4/5 (174 reviews)
Pricing: Free demo. Visit the iMocha website to get a quote.
2. TalentGuard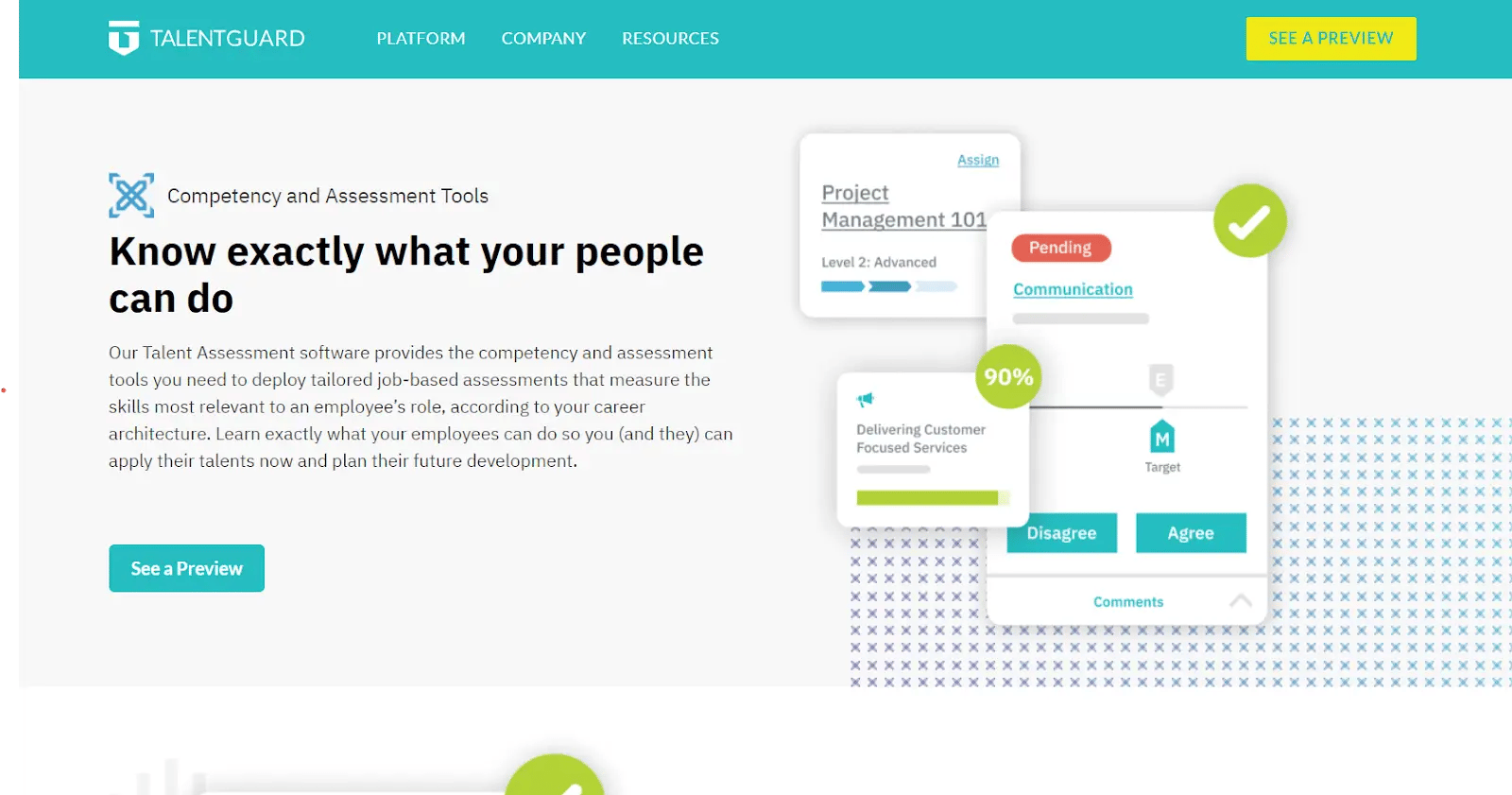 TalentGuard offers a SaaS-based competency measurement tool that allows human resources teams and recruiters to engage and retain employees. It helps you improve business outcomes by providing an extended network of credentialed career coaches, training programs, and content.
Features:
Automate performance management

360-degree feedback

Career pathing

Succession planning

Individual development planning and certification
G2 Rating: 4.7/5 (3 reviews)
Pricing: Not disclosed publicly.
3. Pointerpro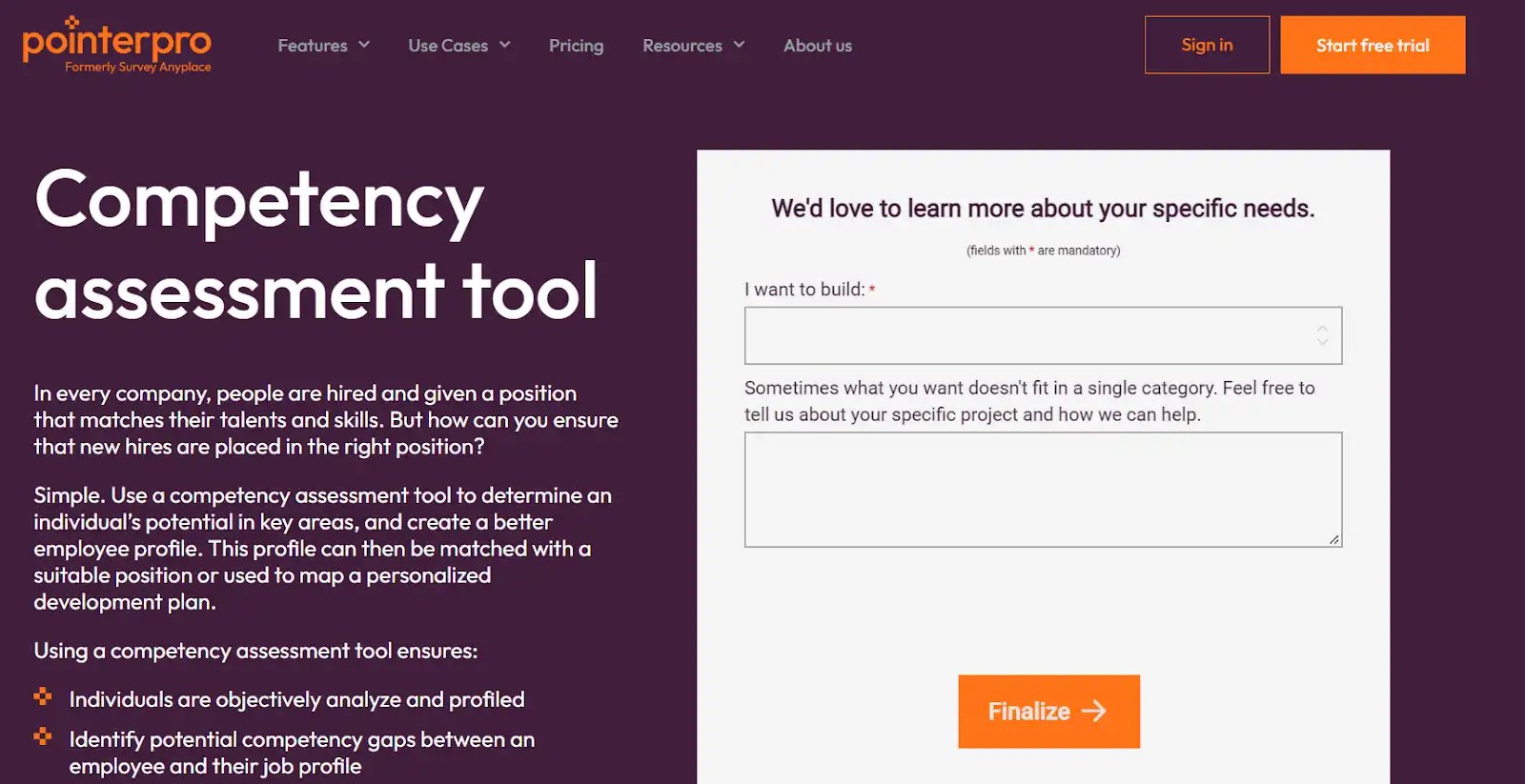 Pointerpro allows you to create online assessments that automatically generate personalized reports upon completion. Whether you want to scale your business, generate leads, or save time through automation, Pointerpro simplifies all these processes. It reduces barriers to completion and provides assessment templates with questionnaires that are mobile-optimized for smartphones and tablets.
Features:
Real-time reporting

Identifies competency gaps

Allows you to set performance standards

Multi-user management and collaboration

Improves recruitment efforts
G2 Rating: 4.6/5 (97 reviews)
Pricing: 7-day free trial. Four pricing options, starting at $39 per month.
4. Cognology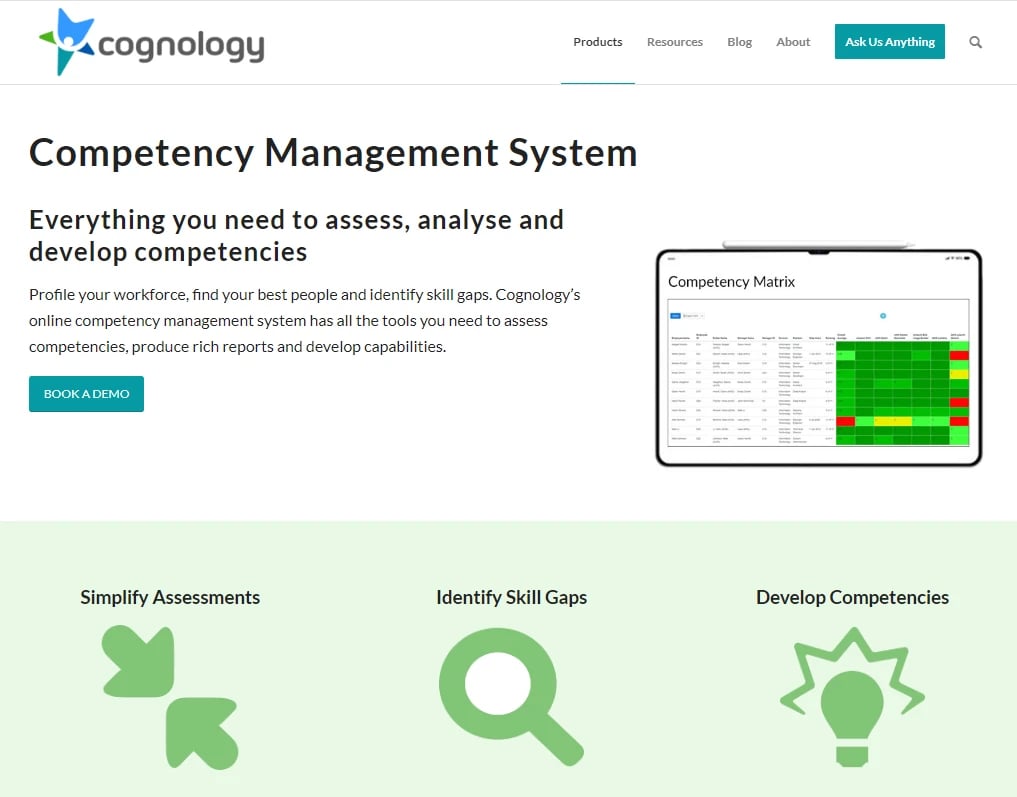 Cognology offers a competency management system that helps you profile your existing workforce, find the best candidates and identify skill gaps. Cognology simplifies and automates each step of the competency assessment process and eliminates the need for manual handling and spreadsheets.
Features:
Automates assessments, tracking, and reporting

Identifies skill-gaps

Customizable development tools

Easy user interface

Automated reminders
G2 Rating: NA
Pricing: Not disclosed publicly.
5. The Competency Group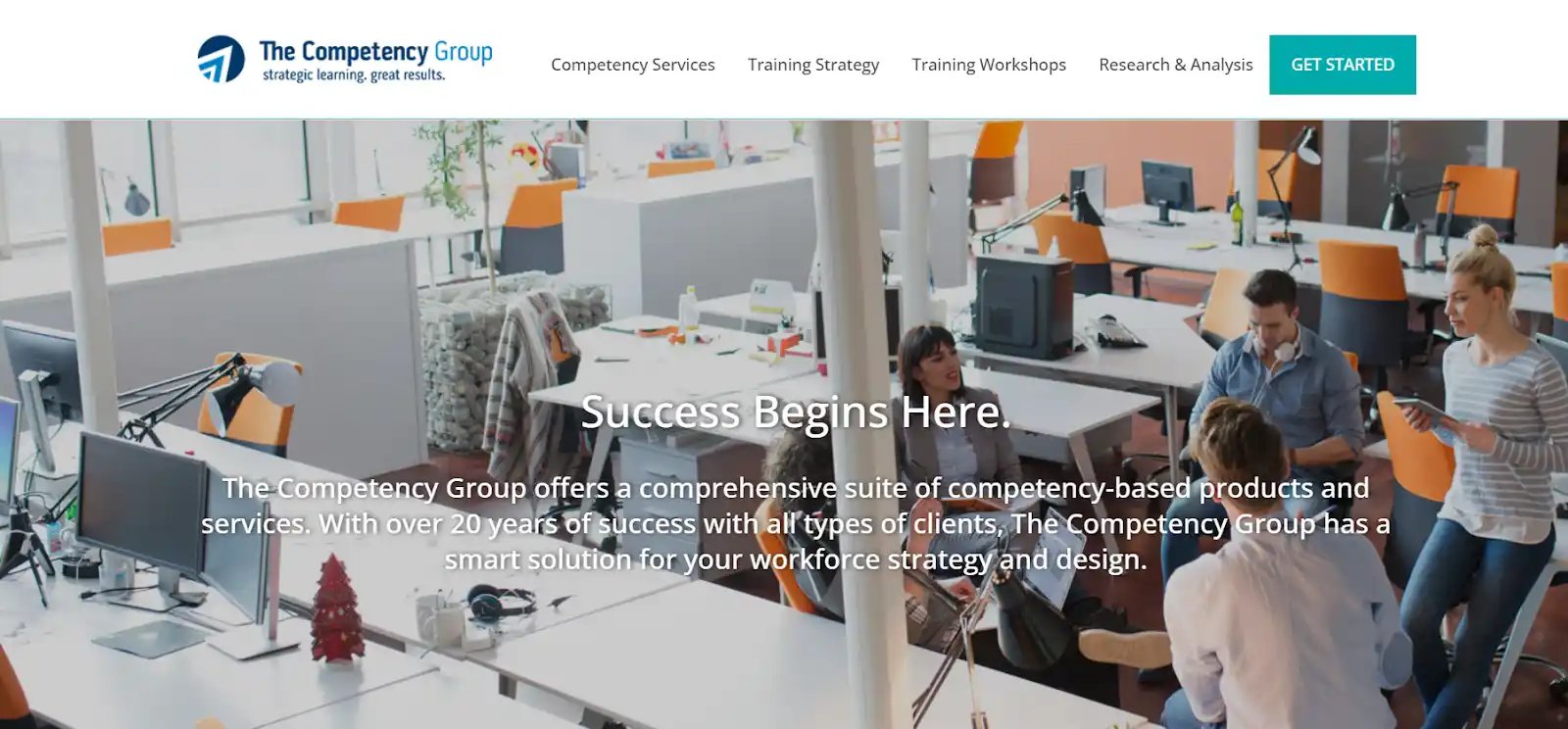 The Competency group provides you with a comprehensive suite of competency-based assessment tools and services. It understands your organization's unique requirements and offers a customizable online tool that fits like a glove.
Features:
Offers a competency library

Skill gap analysis

Online assessment mechanism

Reporting and analytics

Group analysis and historical trends analysis
G2 Rating: NA
Pricing: Not disclosed publicly
Conclusion
A vital benefit of a comprehensive competency assessment tool, such as iMocha, is that it creates a detailed list of specific skills required to either get a job or perform at the said job. Typically, tools like iMocha focus on employee/staff competency concerning the required job skills and allow you to hire or upskill the best candidate/employee without any conscious or unconscious bias.
When choosing your ideal competency measurement tool, ask your vendor these ten questions:
How well it engages the candidate?

How well it analyzes a candidate's performance?

Does it offer a detailed report of each candidate's performance?

Does it help you with your DEI initiative?

How well it identifies skill gaps?

Can the tool be scaled as per your business?

Can it be used for individual and group testing?

How easily can you customize the competency tests?

Does it help you with your existing L&D initiatives?

Can it be integrated with your existing ATS or other legacy infrastructure?
Also read: Top 20 Online Hiring Tools
Frequently Asked Questions
What are competency assessment tools?
Competency assessment tools are software or platforms for assessing a candidate's level of competence for a given job role or skill. These tools generally comprise self-assessment questionnaires and reporting capabilities that help you identify and rectify a candidate's skill gaps.
What are the common types of competency assessment?
Competency-based assessments are generally of seven types:
Skills Checklists: Used for apprenticeship, mentorship, and on-the-job training programs
Competency Assessment Tests: Used for certification in a job, for performance management, and validation of knowledge and skills
Online Competency Assessments: Combines specific job skills with performance standards
Competency-Based Interviews: Used to screen job candidates by targeting specific competencies required for a particular job role
Skills Gap Analysis: Used to identify gaps in a training program, job candidate, and employee
Multi-Rater or 360° Assessment: Gives an all-round perspective on a person's competence. They are usually used when a candidate is assessed for a leadership opportunity.
Competency Assessment for Recruitment: A self-assessment test used to determine a candidate's skills necessary to perform on the job.
How do you create a competency assessment?
You can create a custom competency assessment using four simple steps:
List down the competencies that you want to measure.

Evaluate why those competencies are necessary and the future impact that they have on the growth of the organization

Create a benchmark to measure a candidate/employee's competencies in the said skill or topic

While using these tests/assessments for talent development purposes, evaluate the employees' performance, and based on the results and identified skill gaps, create a learning program or experience.