Coding and programming are the top coveted skills globally, especially for companies in IT, design, and other development niches. There's no denying that their demand has surged drastically in the past few years. Organizations will, however, need recruitment software to find potential candidates.
So here is the drop-down list of the top 15 coding assessment tools that will streamline your hiring process while reducing hiring costs and time.
Regardless of geographical boundaries, companies have hired the top coders across the globe using these coding assessment tools. Read on to learn about them.
Top 15 Coding Assessment Tools
1. iMocha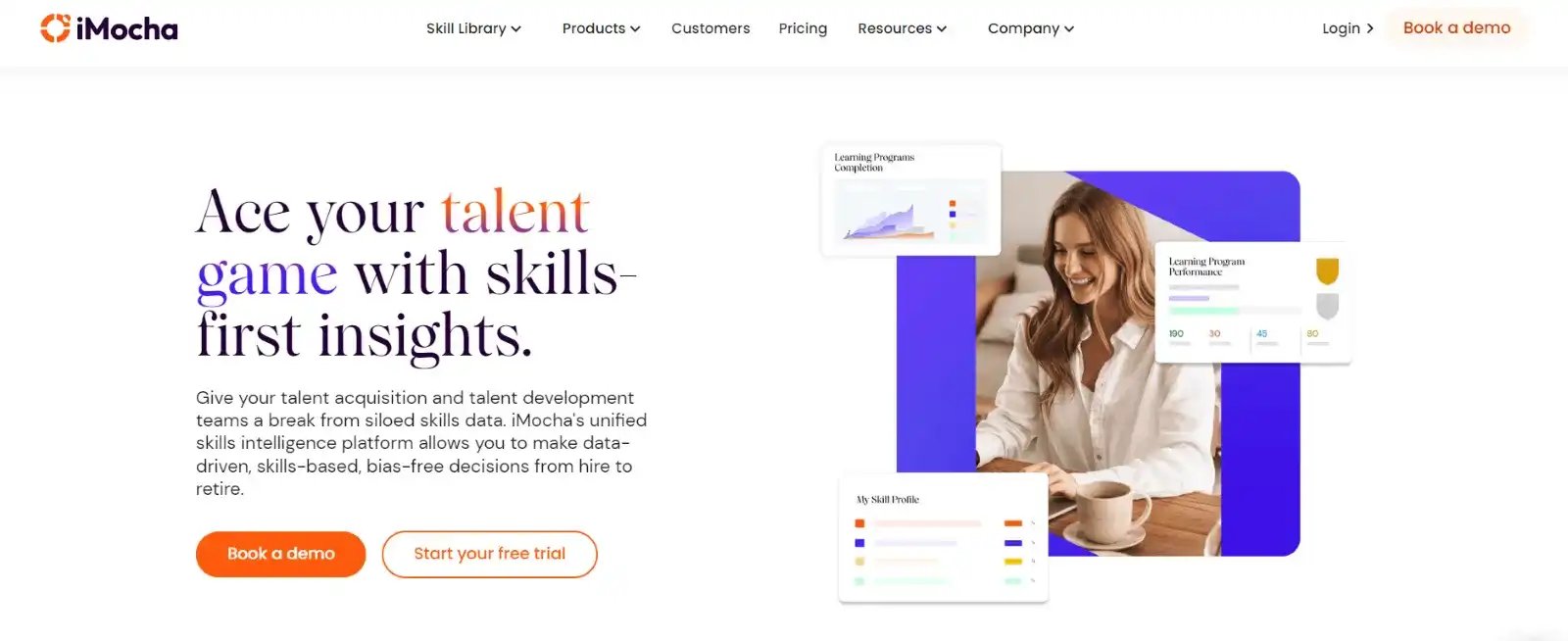 iMocha is one of the top cloud-based coding assessment tools that offer technical assessment in 35+ coding languages. The software provides the world's most extensive content library of 2500+ skills covering an array of globally demanding skills such as IT, Domain, Functional, Next-Gen, and so forth.
The coding screening platform has a fully-featured pre-built question repository of 1Lakh+ ready-to-use questions. Moreover, iMocha allows recruiters to add their question bank for further assessment customization.
iMocha is the most robust and advanced coding assessment software that offers several ever-upgrading programmer-friendly features such as Live Coding interviews, Coding Simulators, code plagiarism, and more.
Features:
35+ programming languages with 3000+ real-time coding problems

2500+ coding problems

Intellisense; a feature that auto-completes code lines and save times

Code Replay, code stubs, and code review

AI-LogicBox, fill in the blanks for programmers

GDPR compliant

Role-based access control
G2 Rating & No. Of Reviews: 4.5/5 (185 reviews): 4.5/5 (185 reviews)
Price: Visit the latest talent acquisition pricing plan.
2. Mettl

Mercer Mettl is one of the top online coding assessment tools for hiring and developing the best coders. This tool is an integrated solution for recruiters that covers the entire hiring g lifespan; Plane, Screen, Interview, Upskill, and Engage. Furthermore, it is an easy-to-use and easy-to-integrate with existing platforms, tool. It supports 30+ languages around the globe, making it easier to adapt to different nationalities.
Features:
Fully auto-graded simulators

Real-time reporting

Automated Grading

Multilingual support

Graphical reports
G2 Rating & No. Of Reviews: 4.4/5 (457 reviews)
Price: $249
3. HackerRank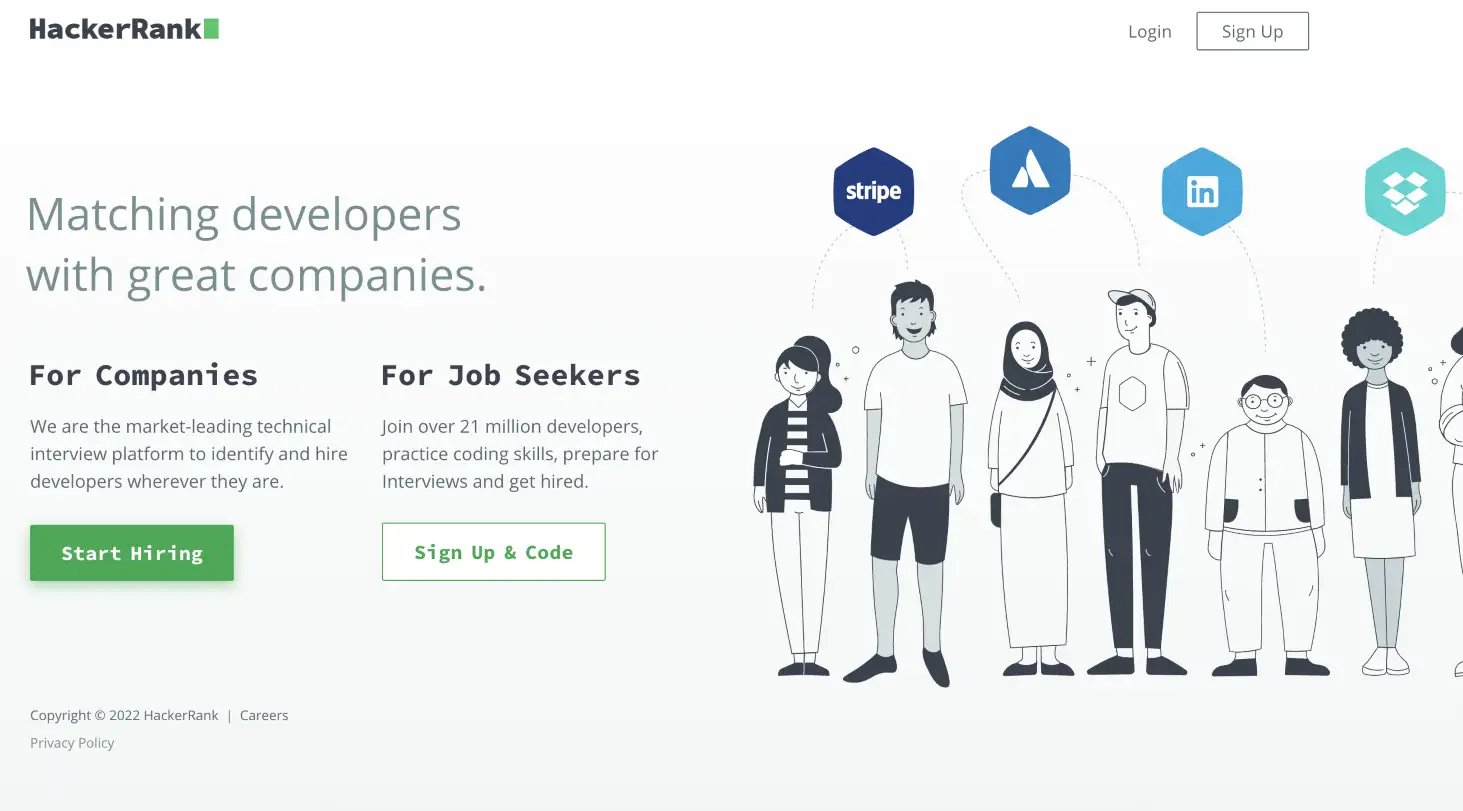 It's a cloud-based coding assessment platform that allows recruiters to connect quickly with various applicants. The tool evaluates and identifies candidates' technical skills to carry out a detailed and insightful performance report. The hiring manager can secure workflows by configuring access permissions and preventing unauthorized data exploitation through single sign-on (SSO) capabilities.
Features:
Wide range of coding challenges

Debugging interface

Code quality tools

Leaderboard ranking coders

Feedback management

Skills tracking
G2 Rating & No. Of Reviews: 4.7/5 (443 reviews)
Price:
Individual: $249/month

Teams: $599/month

Enterprise: On Request
4. HireVue

HireVue is a coding screening platform that combines AI, data scientists, and industrial psychologists to mitigate any possible machine or human error. The software ensures the best hires for your organization through its five-step hiring process; Engage, screen, assess, interview, and hire. The software is integrated with some of the top ATS (Application Tracking Systems), Workday, SAP, Oracle and Taleo, and more.
Features:
Automated workflow

ATS integration

Consulting partners; TalentA, Deloitte, AMS, and so forth

Multilingual

Candidate management
G2 Rating & No. Of Reviews: 4.1/5 (95 reviews)
Price: $35000/month
5. Testgorilla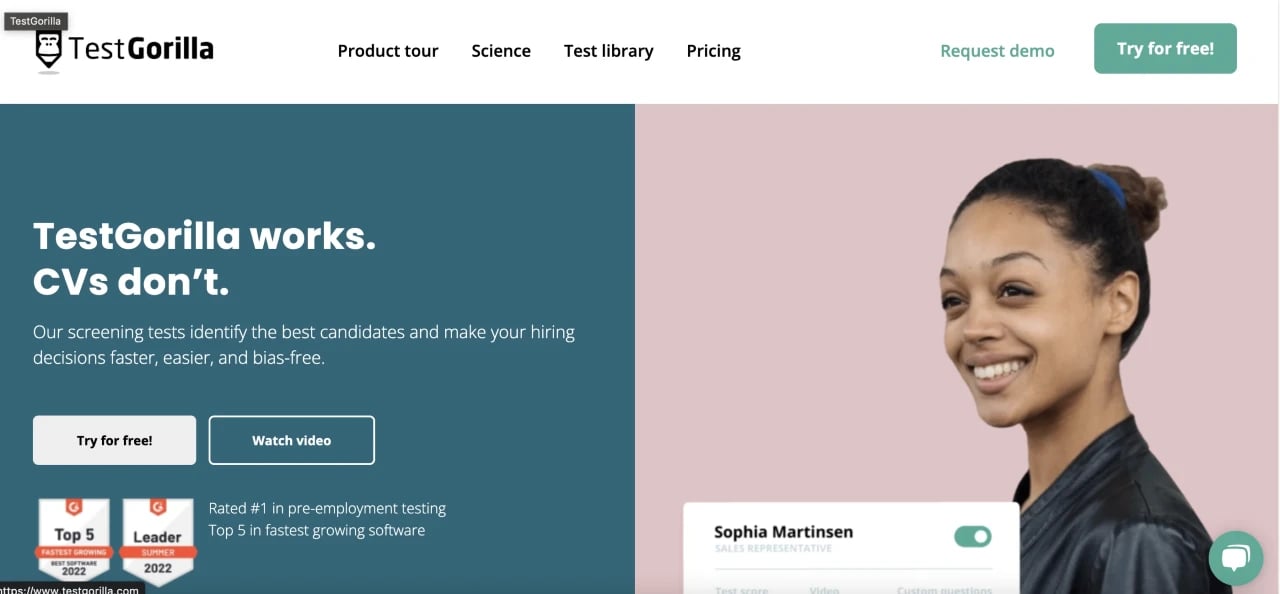 This is one of the most flexible and customizable coding assessment tools that allow employers to personalize the assessments, question bank, and user interface. Recruiters can design the question type, like multiple choice, long-form, or one-word, as per the role requirements. The software also facilitates integration with top platforms such as Greenhouse and SmartRecruiters.
Features:
After reaching the 10,000-exposure limit, questions are automatically replaced

AI-based smart proctoring; face, audio, and object detection

Intuitive UI/UX

Offers bulk email invites via ATS

One-way video interview
G2 Rating & No. Of Reviews: 4.5/5 (804 reviews)
Price: Starting from $26/month
6. HackerEarth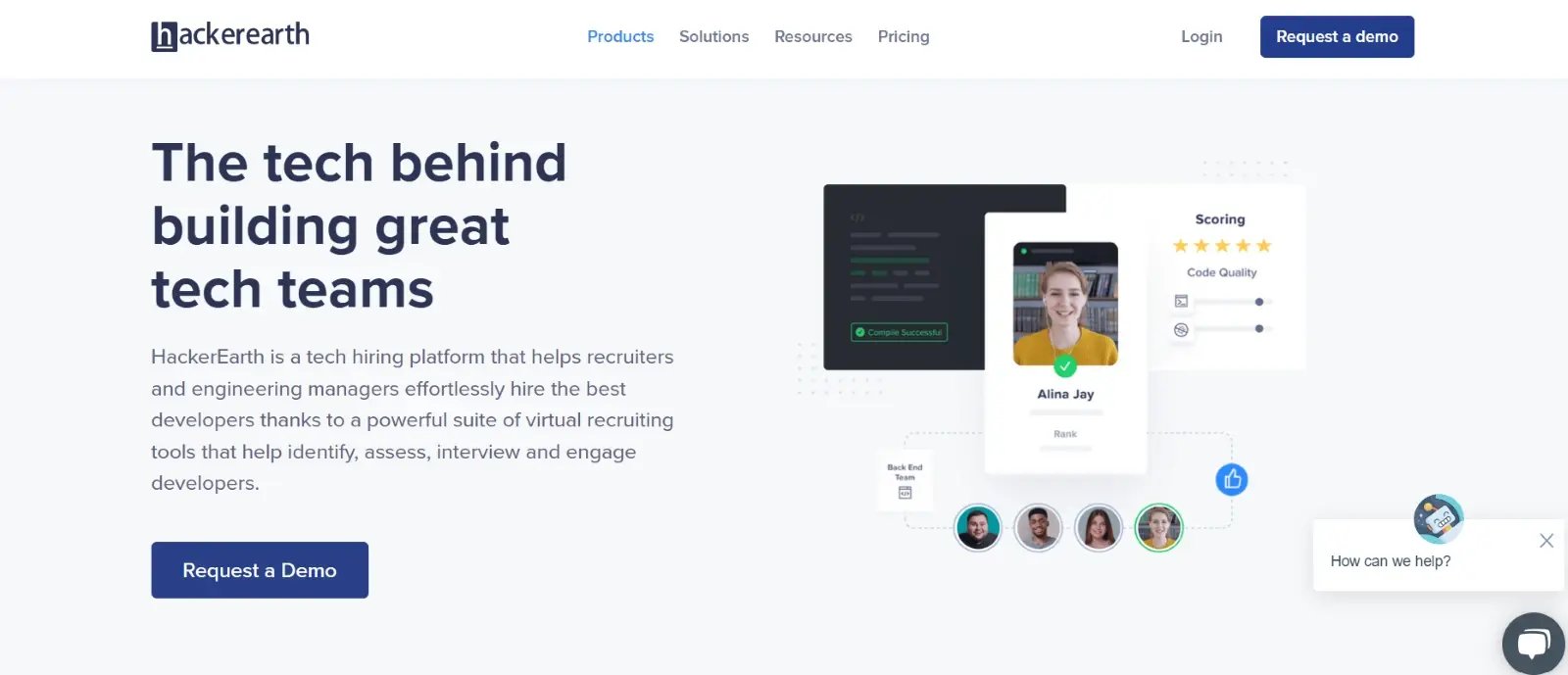 Using this coding assessment platform, recruiters can experience seamless ATS integration, collaborative workflows, reduced hiring, and some more valuable features to leverage. The software lets the organization pre-screen candidates reduce hiring and the cost of hiring any technical professional. The content is customizable as per job and organizational needs. HackerEarth also provides comprehensive and analytical reports.
Features:
80+ skills for developers

40+ languages

AI-powered proctoring

Custom API

Question-based analytics

GDPR Compliance
G2 Rating & No. Of Reviews: 4.6/5 (274 reviews)
Price: $20/month
7. CodeSubmit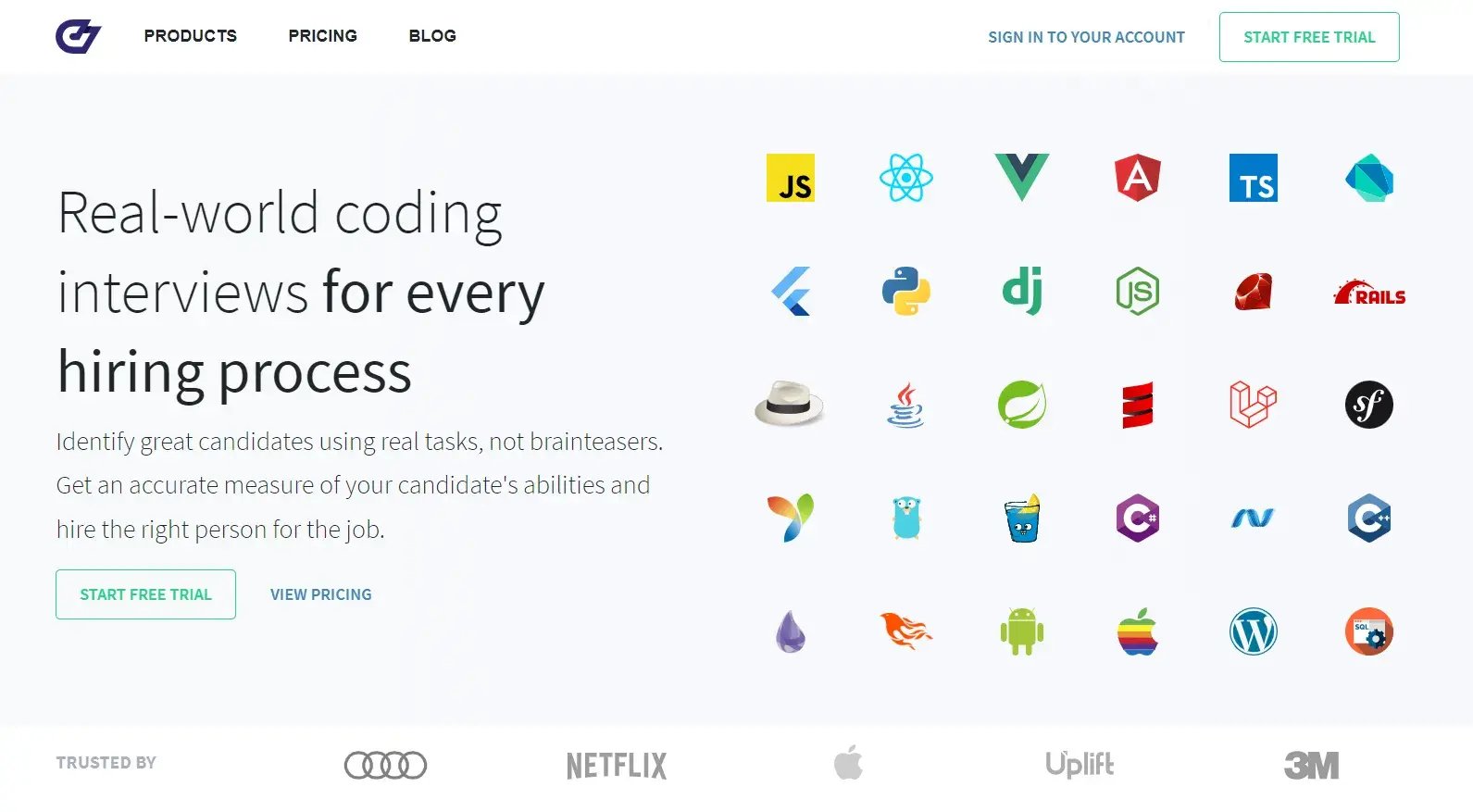 This coding assessment software comes with a seven-day free trial, exposing candidates to real-world problems to get accurate measures of their abilities. It supports take-home assessment challenges in 70+ languages and frameworks. Recruiters can conduct live coding sessions where shortlisted applicants pair up with other competitors and solve real-world challenges.
Features:
70+ languages and frameworks

Take-home assessments

Real-world task

CodePlay superfast review

Code Pair supported by 24 languages

Seamless integration with Slack, Lever, Greenhouse, and Zapier
G2 Rating & No. Of Reviews: 4.9/5 (11 reviews)
Price:
Startup: $99/month (30 candidates)

Scaleup: $199/month (30 candidates)
8. Devskiller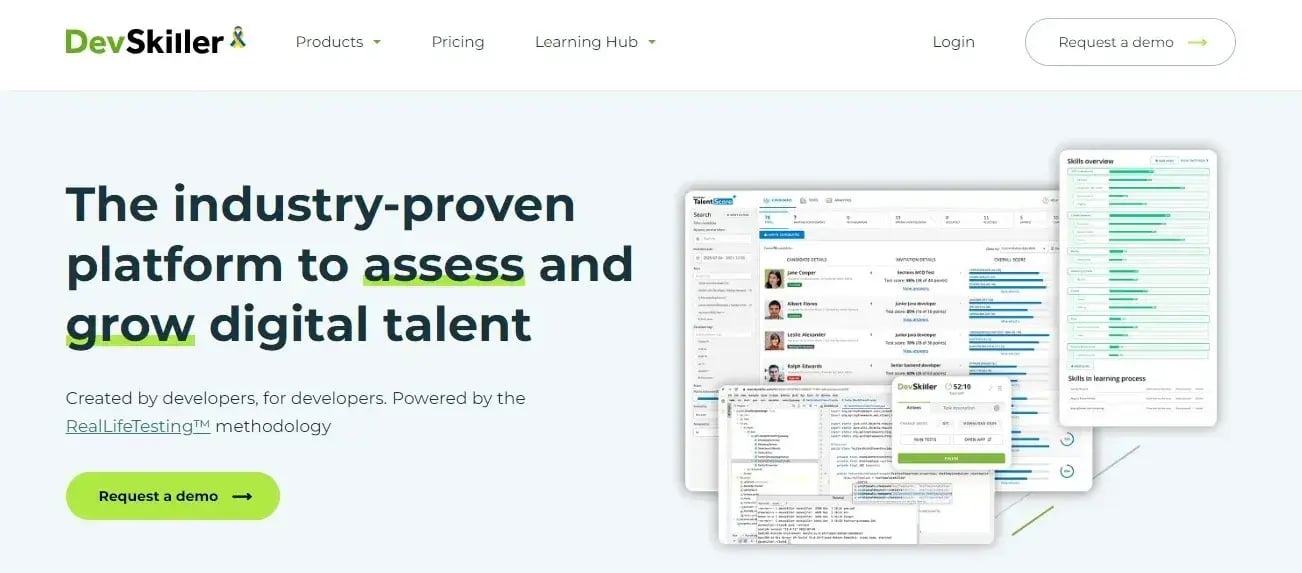 DevSkiller, the only tool that employs RealLifeTesting to assess candidates, is one of the top coding assessment tools. By using this software, recruiters can keep track of candidates' entire hiring journey, from attraction to retention.
Features:
200+ tech skills

Unbiased assessments

Provides automated and objective scoring

Easy to integrate with ATS

Fully customizable
G2 Rating & No. Of Reviews: 4.7/5 (55 reviews)
Price: On Request
9. Adaface tool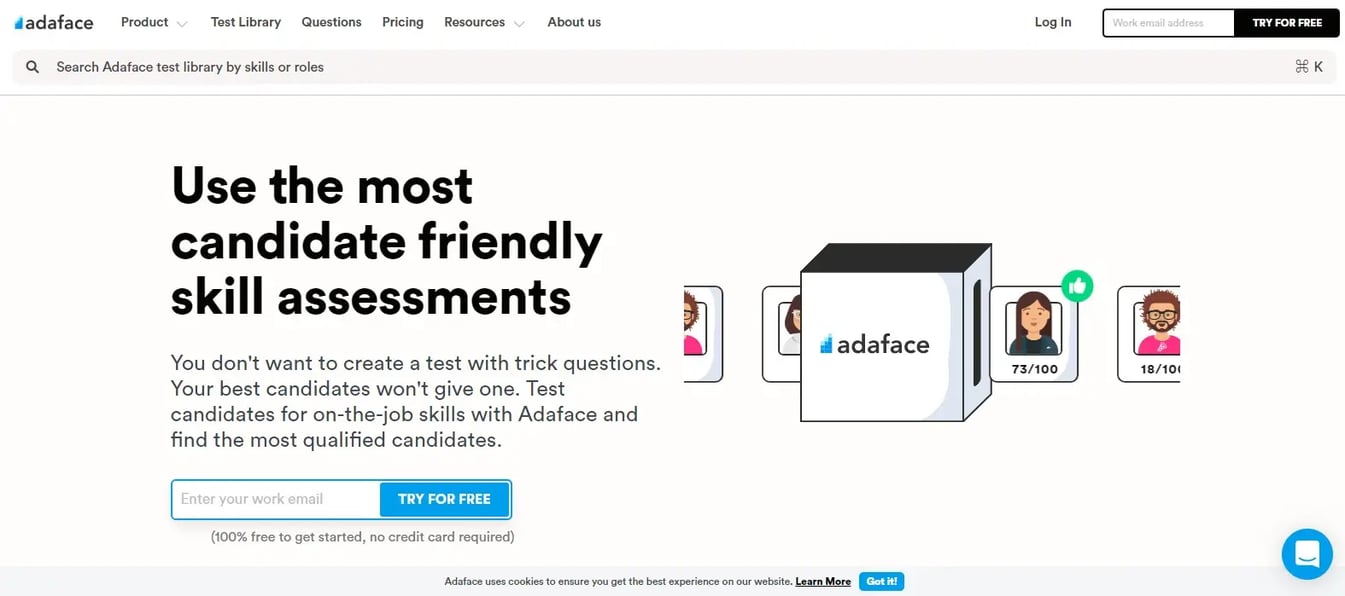 Adaface tool is one of the top candidate-friendly coding assessment platforms that provide shorter assessments, question hints, friendly chatbots, and more. The software has served 1200+ companies from 75+ countries by far, growing the number even higher.
Features:
Non-googleable questions

30-45 min candidate-friendly questions

Custom tests as per required skills

Granular scoring
G2 Rating & No. Of Reviews: 4.7/5 (28 reviews)
Price: On Request
10. Vervoe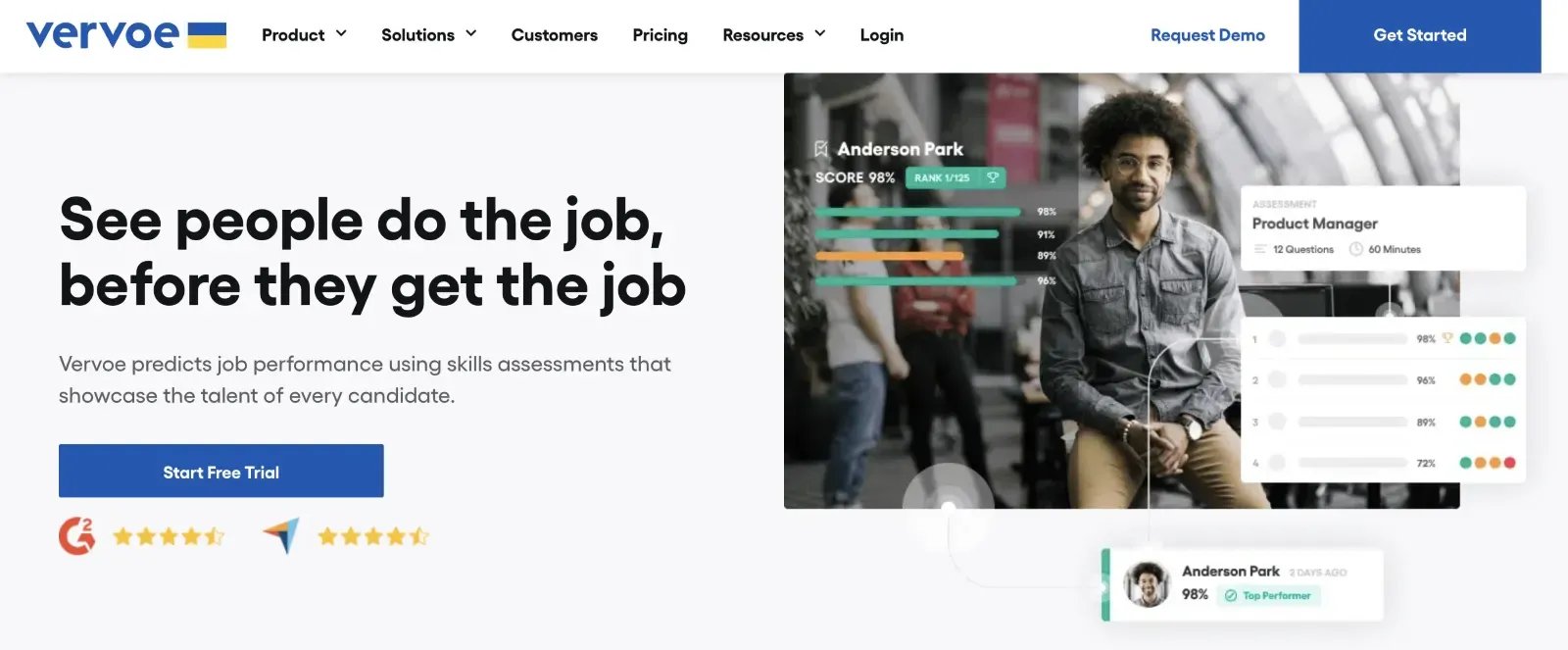 Machine learning-based Vervoe creates auto-gradable, tailored skills assessments. The tool has white-label capabilities that allow consistent branding for your organization, including the company logo and custom colors. There are ATS integrations with some top platforms, including Greenhouse, Tray io, Zapier, and more.
Features:
300+ skills in the content library

Fully customized

Eight coding languages

Live spreadsheets and presentations

Ten types of the question; visual and video questions
G2 Rating & No. Of Reviews: 4.6/5 (56 reviews)
Price: On Request
11. CodeSignal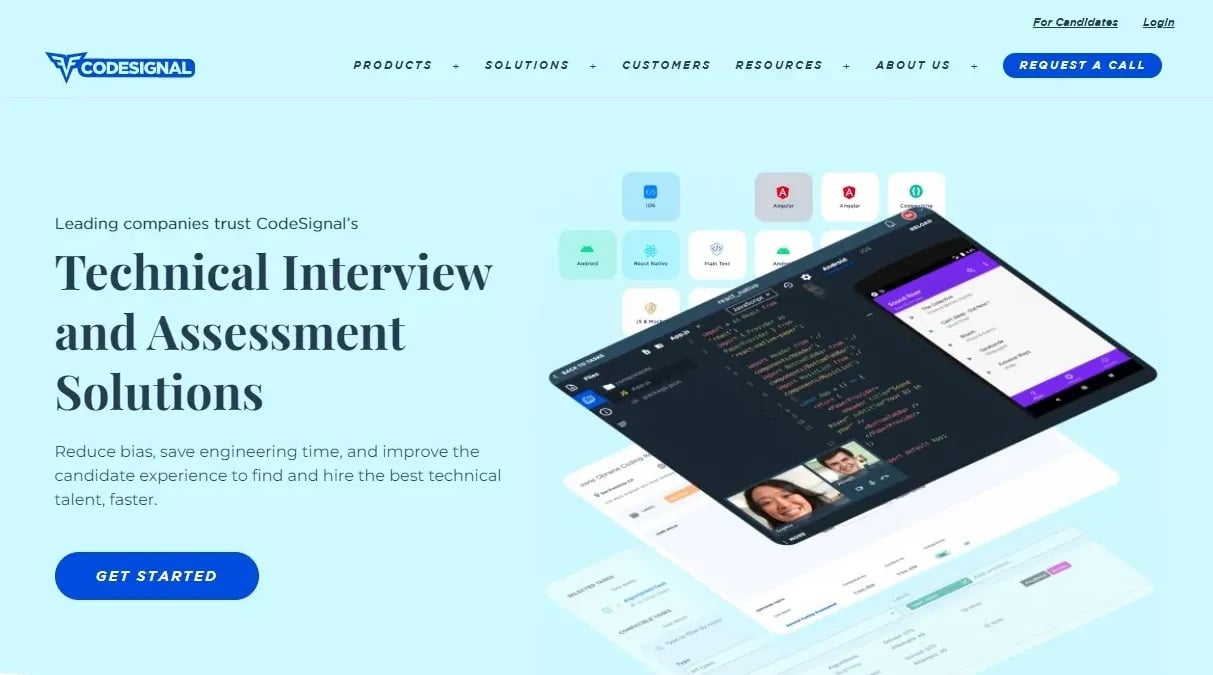 CodeSignal is one of the highly mentioned top advanced coding assessment tools for tech recruitment. It combines a real-world coding environment with 79+ programming languages and frameworks to predict a candidate's technical abilities. It also integrates some of the popular ATS platforms to create a seamless user experience for the clients.
Features:
79+ programming languages and framework

Syntax highlighting

Monaco-powered integration

Extensive assessment library

Inline documentation

Easy to administer and use
G2 Rating & No. Of Reviews: 4.4/5 (604 reviews)
Price: On Request
12. CoderByte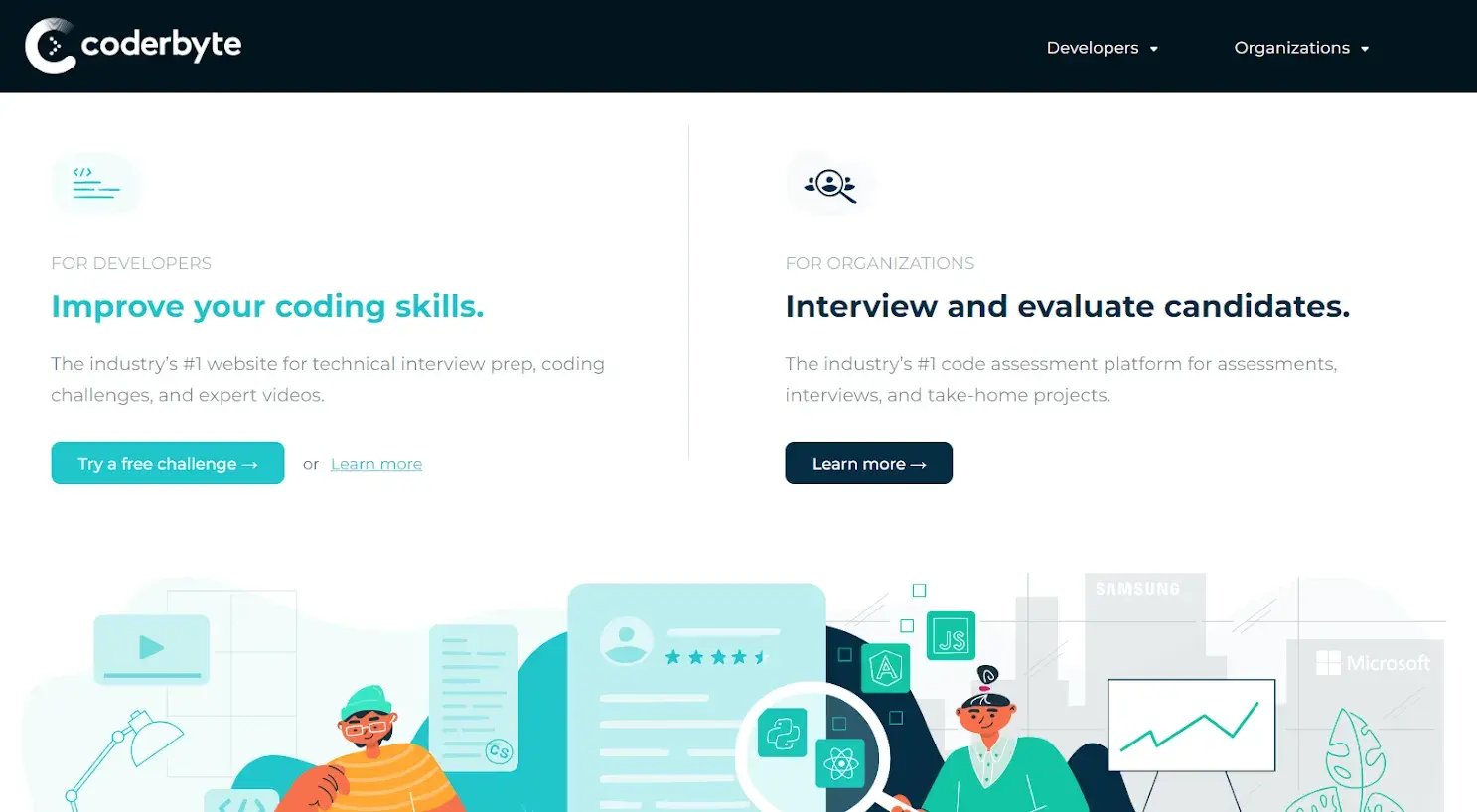 This coding assessment tool conducts cloud-based pre-employment assessments for technical hiring. Using its activity dashboard, recruiters can monitor activity logs, send invitations, view completion status, configure system settings, and more. The software helps add business logos, customize subdomains, and send tailored official emails.
Features:
Live interviews

IntelliSense editor

Accessible APIs

Cloud-based deployment

30+ coding languages

Multiple-choice, open-ended, and video question
G2 Rating & No. Of Reviews: 4.4/5 (225 reviews)
Price: $199/user/month
13. TestDome
Testdome is one of the coding assessment platforms that empower hiring managers to assist candidates for job-specific roles using its robust library. It offers assessments in various demanding industries, such as programming, accounting, customer service, and more so.
Features:
Seamless integration

API Access

ATS integration

Full customization

Candidate management

Automated grading
G2 Rating & No. Of Reviews: 4.5/5 (91 reviews)
Price:
Starter: $20/candidate (5 candidates =$100)

Small: $16/candidate (25 candidates =$400)

Medium: $10/candidate (100 candidates =$1000)

Large: $8/candidate (300 candidates =$2400)

Extra Large: $7/candidate (600 candidates =$4200)
14. LeetCode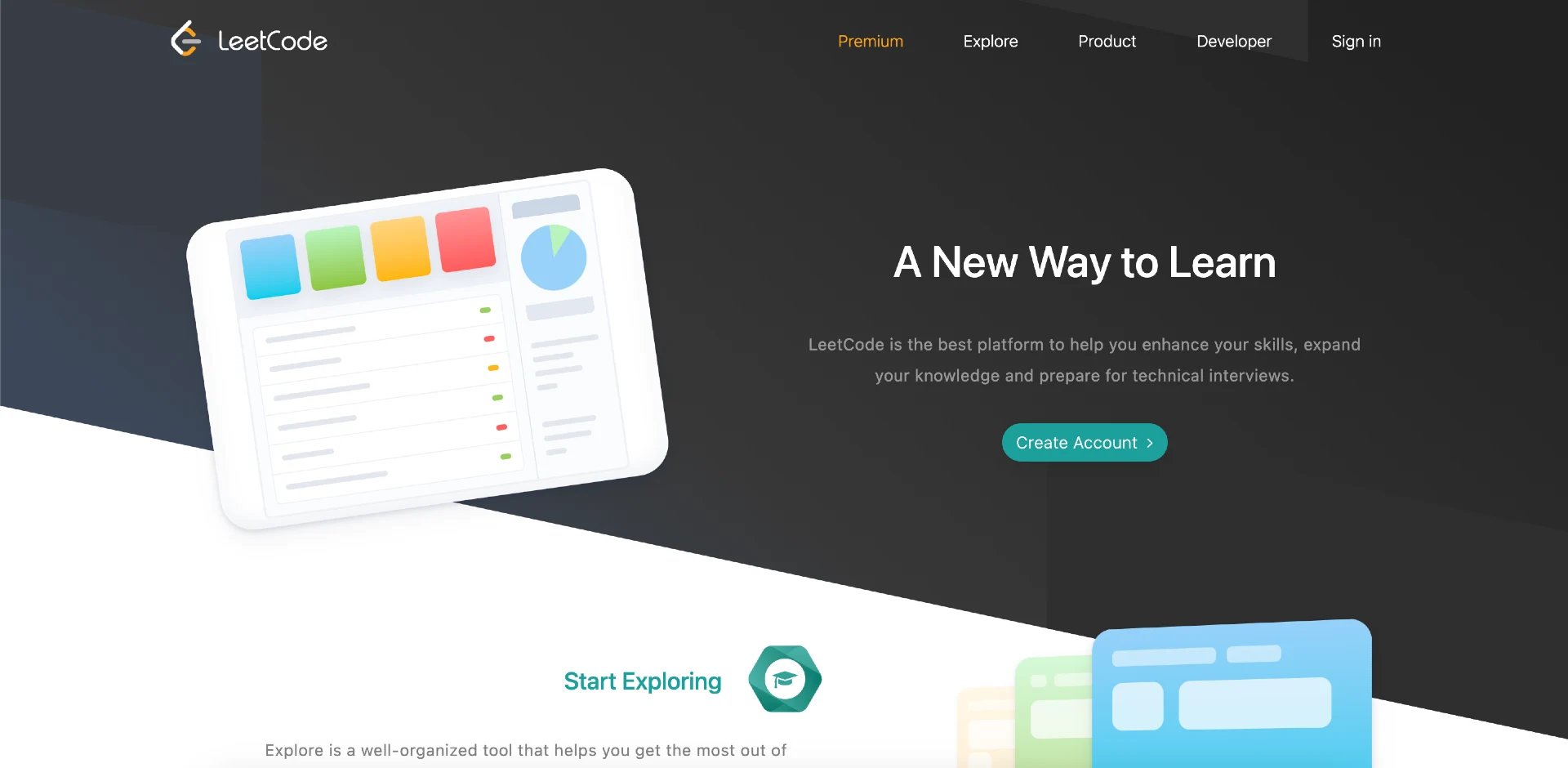 Leetcode is technical skills assessment platform that provides in-built tech communities with thousands of active users. By joining these communities, individuals can connect to the top coders around the globe and get their queries resolved. Although most of the content is free at Leetcode, features like the debugger pane, automated features, and more require a subscription.
Features:
2600 practice questions

14 coding languages

Built-in debugger

Interview simulations

Live Coding Interview
G2 Rating & No. Of Reviews: 0
Price: On Request
15. CodeScreen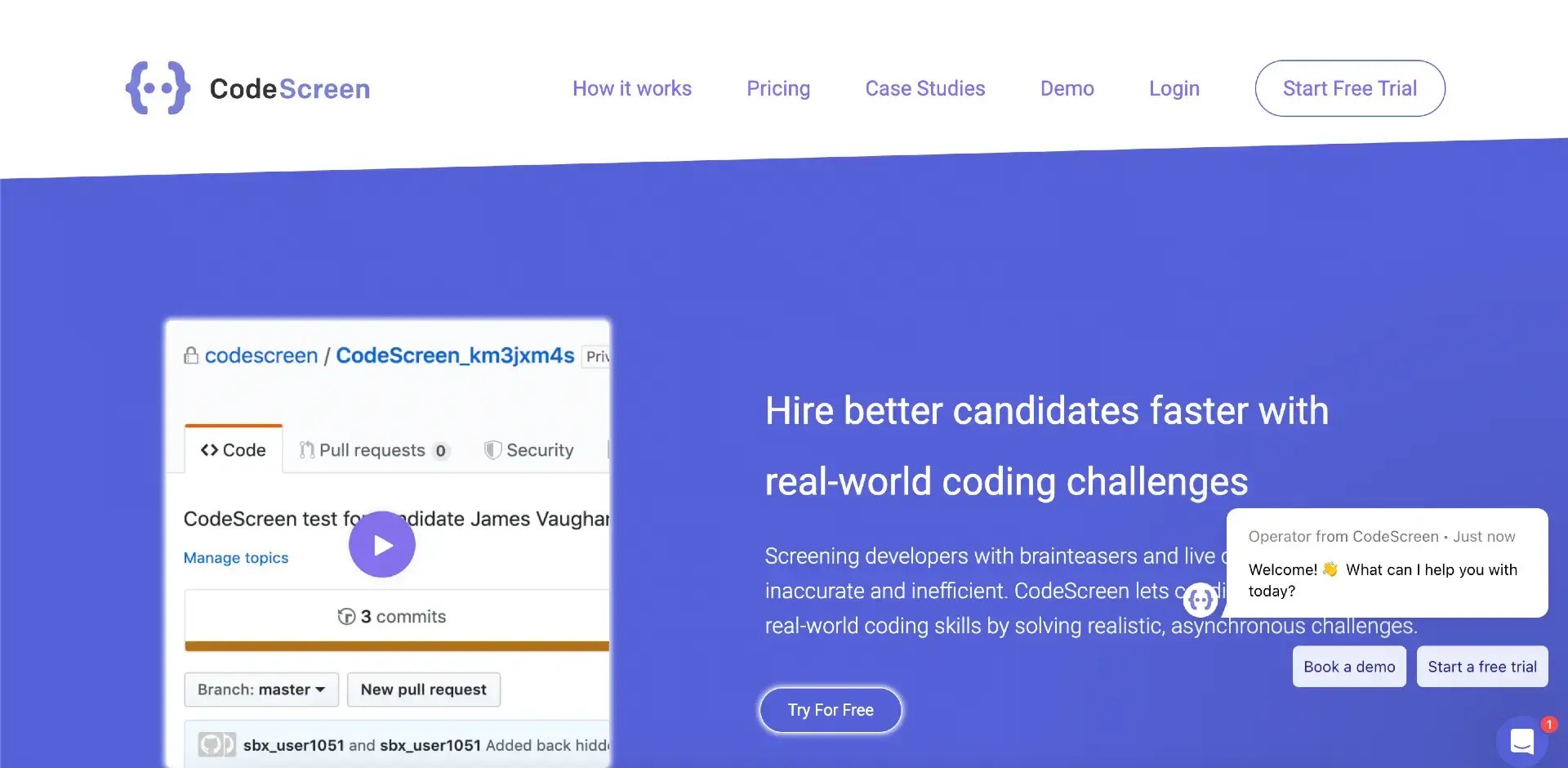 CodeScreen aims to provide more real-world problems using everyday libraries to give a candidate's most accurate performance card. The software can be fully white-labeled for your company leading to consistent branding of your organization. It has several integrations, such as JazzHR, GreenHouse, Recruitee, and SmartRecruiteers.
Features:
Automated Grading

Code coverage analysis

Anonymous candidate mode

Custom assessment

Most accurate performance cards
G2 Rating & No. Of Reviews: 0
Price:
20 candidates- $249/month

Business- $599/month

Enterprise- On request
We've created this comprehensive list of top developer assessment tools. Check out to know more.
FAQs
What is a code assessment tool?
A code assessment tool is software used to evaluate the quality of code. Recruiters mainly use it during hiring, coders for practices, and SQA (Software Quality Assurance) professionals. Code assessment tools can perform the following functions:
Syntax and style check

Performance analysis

Code complexity

Security analysis
How do you assess coding skills?
Ways of assessing coding skills depend on the level of proficiency evaluated and the skills required from the applicant. Here are some commonly used methods
Written Tests

Pair programming

Code reviews

Live coding interviews

Real-world coding challenges
How do coding assessments work?
Recruiters mainly use coding assessments during technical hiring to estimate candidates' coding skills and abilities. These assessments are mainly conducted using online coding assessment tools such as iMocha, HackerRank, etc. Here's a brief on its working:
Candidate writes the assessment within a particular time duration

The tool automatically scores the candidate

Based on the score, follow-up interviews are conducted
Why is coding assessment important?
Coding assessment is important for various significant reasons, such as
Reducing hiring time and cost

Evaluating candidate's job fitness

Eliminating unconscious biases

Bringing out the candidate's true potential