Are you looking to hire savvy developers? As a tech recruiter, you must follow a candidate-driven approach to hiring the right talent for your organization. That's when developer assessment tools come in. It helps recruiters streamline the technical hiring process and makes everything easier.
In a 2022 tech hiring survey, tech recruiters found that the number one challenge when hiring developers was to find qualified and relevant candidates. Indeed, most bad hires in tech recruiting come from lacking technical skills.
Inconsistencies like lengthy developer screening or lack of in-depth analysis are not the only issues companies face. Many companies struggle to set up an effective, equitable, and scalable technical interview process that allows the tech hiring manager to compare candidates. And you might be disappointed with someone who doesn't quite live up to your expectations.
Using developer assessment tools can prevent such scenarios simply because it will give you a realistic insight into your candidate's programming skills and abilities. Still not convinced? Then here are some benefits of developer assessment tools.
A more significant number of candidates tested at one time.

Seamless integration with Applicant Tracking Systems (ATS)

Evaluate developers beyond their CVs

Live coding interviews to showcase their skills

Candidates' code is automatically analysed, and recruiters can view performance metrics

Proctoring to maintain the integrity of assessments
Developer assessment tools ascertains whether a candidate fulfils the eligibility criteria and job requirements.
To make things easier for you, we have listed the industry's top developer assessment tools and stacked them against each other.
Top 10 Developer Assessment Tools
1. iMocha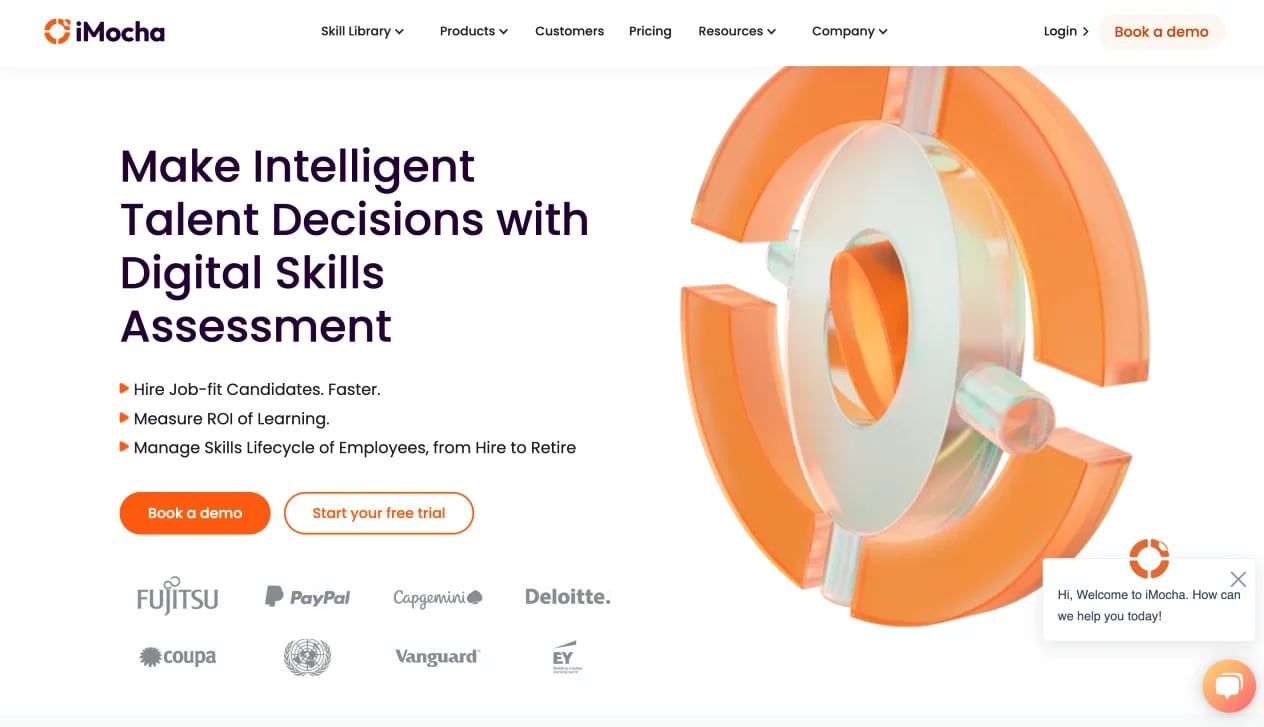 iMocha helps talent acquisition and recruitment teams thoroughly assess a candidate's skill proficiency with job-role-based assessments. This platform offers over 2500+ skills, including 500+ IT skills, 37+ Coding languages, 20+ Domain skills, 20+ Cognitive tests, and more. iMocha has enabled organizations to make talent management processes more robust and efficient.
It offers powerful AI simulators, interviewing tools, and talent analytics to help tech recruiters streamline the technical hiring process. iMocha is the most comprehensive skills assessment platform serving fast-growing global organizations. With its skills assessment platform, iMocha can find job-fit candidates from a large pool of applicants and measure the ROI (return on investment) to build winning teams.
Features:
iMocha's developer assessment platform offers real-time simulators with 1,500+ coding problems for 37 programming languages to assess candidates' coding knowledge.

Coding simulators

like the

AI-LogicBox

assesses candidates' coding knowledge, analytical thinking, and logical approach.

Tech hiring managers can conduct

Live Coding Interviews

and interact with coders in real-time.

This developer assessment software offers

proctoring

features during

remote hiring

.

This helps prevent candidates from cheating and facilitates a smooth test experience.

It offers a code quality feature that provides insight into a candidate's code, highlighting its complexity, maintainability, and reliability.
G2 Ratings: 4.4 out of 5 stars
Pricing: Free Trial. Quote on request
2. Codesignal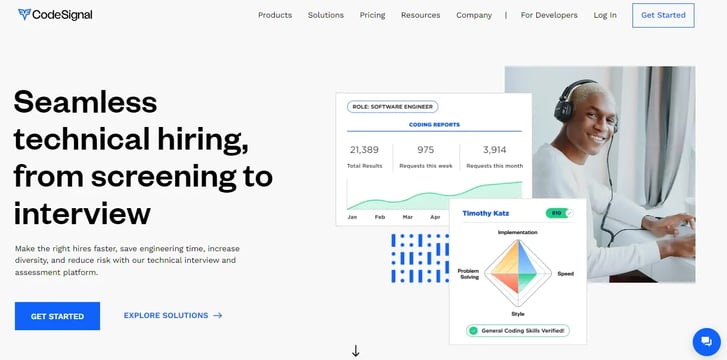 CodeSignal is an advanced developer assessment platform for technical hiring. Organizations of all sizes can use CodeSignal's Certify, Test, and Interview solutions to assess their candidates at every step of the recruitment process. The CodeSignal Certify is a technical assessment solution that can be reliably used in the hiring funnel, helping companies go beyond candidate resumes to find highly qualified candidates.
Features:
Tech recruiters can evaluate candidates in a hyper-realistic development environment that feels just like coding locally.

This developer assessment software integrates with third-party applicant tracking systems (ATS), including Greenhouse and Lever, to synchronize results automatically to applicant profiles.

CodeSignal's Skills Evaluation Frameworks are role-relevant assessments that enable organizations to consistently identify qualified candidates for specific roles.
G2 Rating: 4.5 out of 5 stars
Pricing: Available on request
3. HackerEarth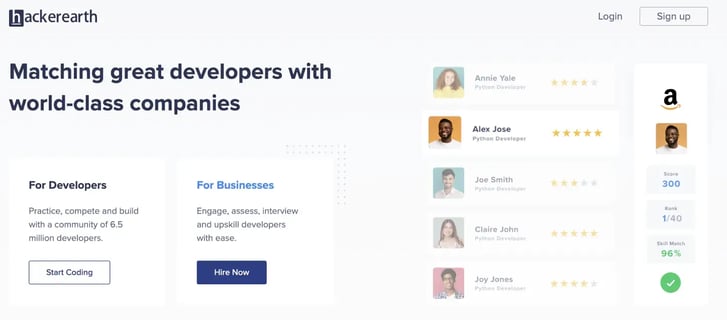 HackerEarth uses advanced coding assessments to identify skilled developers with incredible speed and accuracy. The entire technical screening process is automated, reducing dependency on your tech hiring managers. Recruiters can build assessments quickly with Hackerearth's growing library, which has 13,000+ unique questions and 80+ technical skills.
Features:
This developer assessment platform provides detailed reports on each candidate's performance, and the code replay feature lets you get a deeper insight into a candidate's capabilities.

Tech hiring managers can conduct coding interviews with FaceCode—an online coding platform that lets you quickly set up, invite and conduct coding interviews on a real-time code editor.
G2 Ratings: 4.6 out of 5 stars
Pricing: Starts at $119 - $279 per month
4. TestGorilla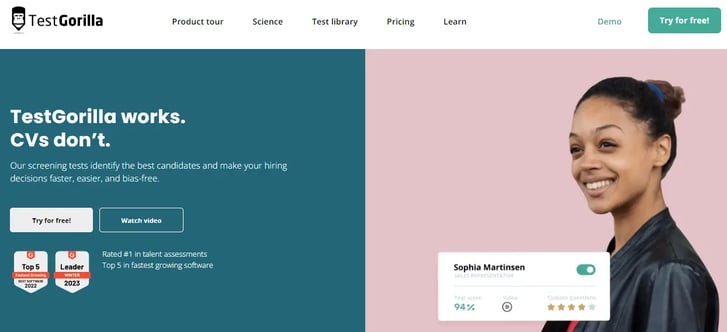 TestGorilla provides recruiters and hiring managers with pre-employment testing tools to screen candidates to make better hiring decisions faster. It has a growing library of 150+ tests, including cognitive ability tests, programming tests, software skill tests, personality tests, culture fit tests, language tests, and much more.
Features:
The TestGorilla platform enables a video response feature from candidates to give a unique insight into their personalities.

Tech recruiters can go in-depth with a candidate review by knowing your candidates from every angle with detailed reports and watching their personalized videos.
G2 Ratings: 4.5 out of 5 stars
Pricing: Starts at ₹1,600 - ₹125,000 per month
5. CoderPad


CoderPads IDE-like environment lets you quickly evaluate developer candidates and better understand their thought processes. You can tailor your interview assessment to fit your team's needs to find the right person faster. With CoderPad, you can reduce the hassle of technical interviewing by relying on one fast, reliable platform that's simple and intuitive.
Features:
The live coding environment feature allows candidates to write, execute and debug code in a live environment.

Take-home projects are independent coding exercises with optional automated test case scoring to complete on their own time.

CoderPad works with your existing software and integrates with popular recruiting tools such as Greenhouse, Lever, and GoodTime.
G2 Ratings: 4.4 out of 5 stars
Pricing: Starts at $250 - $750/month
6. Devskiller


DevSkiller's TalentScore is a developer assessment platform powered by RealLifeTesting methodology, which helps you assess technical skills with razor-sharp precision and provide outstanding candidate experience simultaneously.
Features:
Tech recruiters can use ready or custom tests created by experts.

Candidates can work in a natural programming environment with their preferred IDE.

You can conduct video interviews remotely and record them for extra insights.
G2 Ratings: 4.7 out of 5 stars
Pricing: Starts at $499 per month
7. WeCP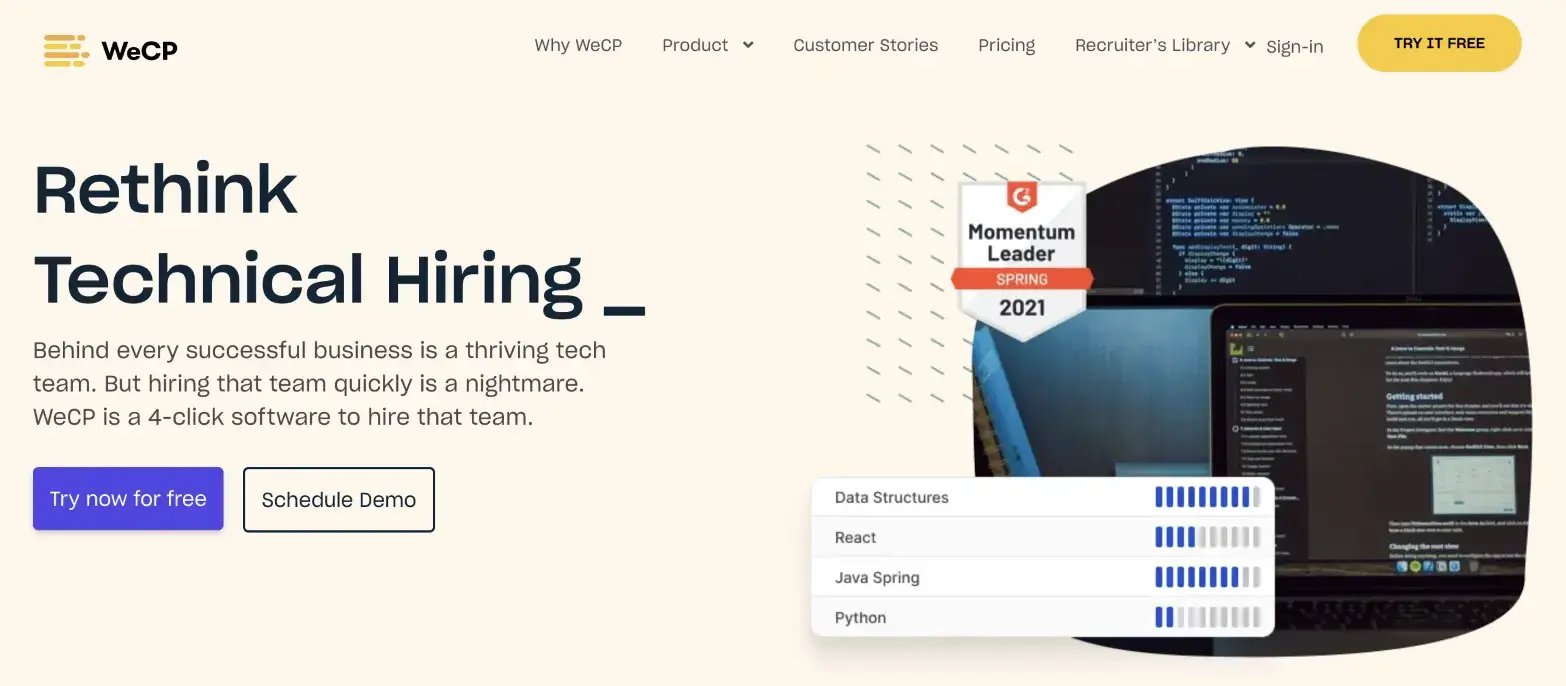 WeCP is a plug-and-play developer assessment platform. It filters qualified candidates with an AI-driven test creation engine and runtime evaluators to hire top tech talent with a pre-built and customizable library of tests for 2000+ developer skills. The simple yet elaborate reports allow non-technical recruiters and hiring managers to make data-driven decisions and clearly understand a candidate's proficiency.
Features:
Recruiters can tactfully challenge candidates' coding knowledge with the Live Coding Tasks feature.

You can identify candidates with great technical adaptability and efficiency with WeCP's detailed reports.

WeCP's advanced AI proctoring prevents candidates from cheating during assessment tests.
G2 Ratings: 4.8 out of 5 stars
Pricing: Available on request
8. Coderbyte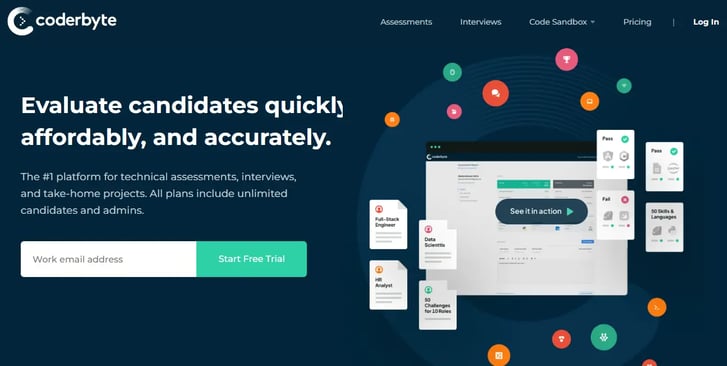 Coderbyte helps organizations recruit top developer talent quickly, affordably, and accurately with developer assessment software. It offers screening, interviews, and take-home projects, to promptly qualify candidates in your pipeline.
Features:
Coderbyte's reports enable you to understand better how a candidate thinks, troubleshoots, and codes.

It offers 1,000+ challenges, questions for every role, and the ability to create your own.


Hiring managers can collaborate in real time across multiple experiences with candidates. These include full-stack IDE, Jupyter Notebooks, spreadsheets, whiteboarding, and more.
G2 Ratings: 4.4 out of 5 stars
Pricing: Starts at $199/month
9. Codeaid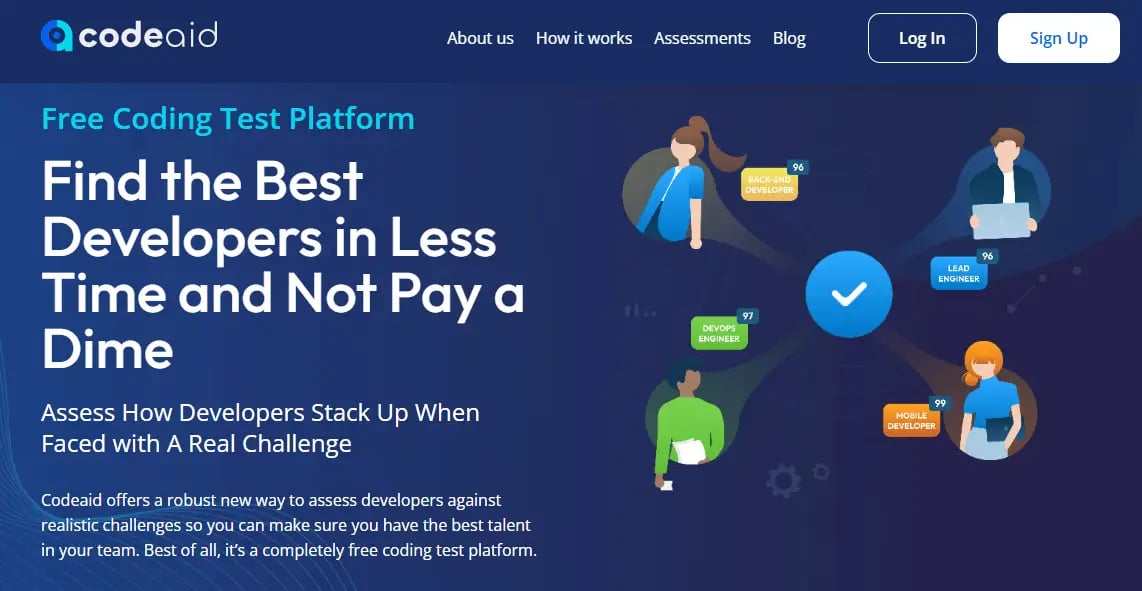 Codeaid is developer assessment software designed to help you make better hiring decisions when hiring developers and software engineers. It is a free-to-use web tool replicating an authentic developer workflow and simulating real-life project scenarios that test on-the-job performance. It has a granular and automated test scoring system and uses robust algorithms to automate grading tests allowing tech recruiters to make intelligent hiring decisions.
Features:
Codeaid provides a Git-based testing platform where you can assess your candidates' skills and know-how, they use them to solve problems and build the functional software you need.

The Codeaid grading system is fully automated and in-built, providing in-depth insights on candidate assessments.

It allows recruiters to cancel tests easily or extend the test challenge time limit.
G2 Ratings: 4.8 out of 5 stars
Pricing: Available on request
10. Codesubmit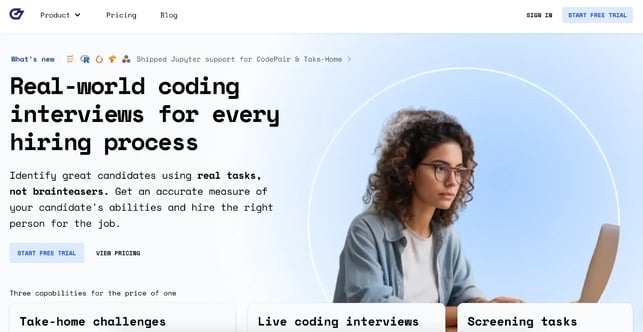 Codesubmit offers Take-Home Assignments that provide real insights to recruiters. You can identify the best candidates using actual tasks with Codesubmit's platform. Organizations can streamline tech recruiting workflows and make better hiring decisions.
Features:
Hiring managers can run and evaluate candidates' submissions in the pre-built containers.

Codesubmit offers Live coding sessions with a pair-programming environment optimized for real-world use cases.
G2 Ratings: 4.9 out of 5 stars
Pricing: Starts at $199 - $499 per month
FAQs
How do you assess developers?
Screening technical candidates is one of the trickiest parts of the recruitment process. Tech teams need a highly skilled developer with a great general demeanor and work ethics. How can tech recruiters and managers improve their screening and hiring processes to assess potential hires?
To help, here are the best methods for evaluating developers with developer assessment tools when hiring:
Ask skill-specific questions

Ask candidates to write code to solve industry-related problems

Assign real-time projects to candidates

Evaluate their cognitive abilities and problem-solving approach

Conduct Live interviews and get a better sense of their coding ability
What is an interview coding test?
Interview coding tests are a form of technical interviews used to assess a developer's competencies by presenting them with programming problems. Typically, these interviews focus on assessing candidates on data structures and algorithms, and other technical rounds may encompass system design (for middle to senior-level roles).
Coding interviews typically last 30 - 45 minutes. The tech recruiter or hiring manager gives a set of technical questions. The candidate is expected to write code in a real-time collaborative editor or on a virtual whiteboard to solve the problem within the allotted time.