Want to hire business analyst?
To hire a business analyst, you need to look for variety of different skills and adaptability to contribute in increasing company's productivity, efficiency and profitability. A great business analyst acts a bridge between business capabilities and stakeholders to understand the business needs and provide a solution to meet those needs.
So, before we get in to the hiring and screening we must understand the roles, responsibilities and skills of a Business Analyst
Roles of Business Analyst

Primarily, a Business Analyst is responsible for the following:
Unearthing Business Needs – Discovering the business needs and project requirements by keeping the communication channels open between stakeholders and the team.
Studying Requirements – The business analyst understands the business needs and analyzes them thoroughly.
Documenting Requirements – Documenting the requirements accurately and in such a format that can be shared with all stakeholders and it depends on type of project, the needs and preferences of business and stakeholders.
Getting the Requirements Approved – After documentation the requirements must be approved and understood in the same sense by all the stakeholders to prevent mistakes, get more inputs from them and ultimately reduce costs.
Skills of Business Analyst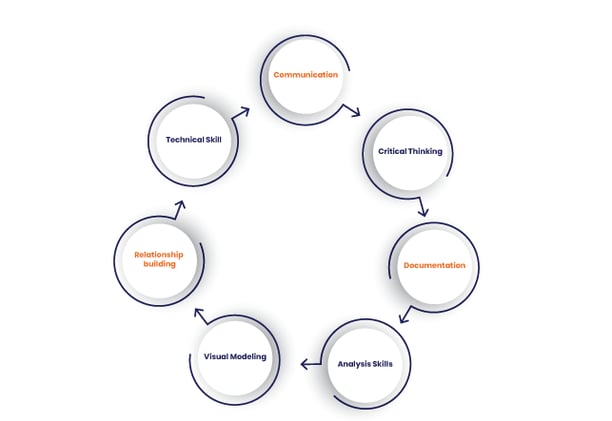 Communication Skills
Business analysts must be effective communicators. Business analysts need to engage with stakeholders and organize meetings. They also need to probe deeply to unearth the business problems through open and closed questions. The ability to listen and absorb is crucial. A good business analyst should be able to communicate the information at the appropriate level is vital.
A business analyst needs excellent communication skills:
To facilitate work meeting
To ask the right questions
To build good relations with stakeholders
To communicate things like project requirement, changes, and testing results to the team members.
To communicate efficiently in person, on conference calls, in meetings, and through emails.
Critical Thinking Skills
Business analysts need critical thinking in every task they accomplish; from start to the end of the project as they are responsible for outlining and evaluating multiple options before helping a team arrive at a solution.
A business analyst needs critical thinking skills:
To understand stakeholder requirements
To allocate resources
To identify requirements and their priority.
Documentation Skills
Documentation is one of the most important job functions of a business analyst. Throughout the course of a project, business analyst creates clear and concise documents to support communication amongst stakeholders and teams. They should be able to generate accurate, clear, and easy-to-understand documents.
Type of documents a business analyst creates:
Project charter
Business Requirement Document
Project Scope Important
System Requirement Specs
Release Notes
Product Brochures & Presentation
Project/Product Proposal
Requirements Tractability Matrix
Analysis Skills
Business analysts use a variety of techniques such as business process models to analyze the problem and the solution. They conduct analysis to measure the impact of a change or new solution.
A business analyst needs analysis skills:
To analyze the business process
To conduct requirement analysis & documentation
To do solutions assessment & validation
To conduct SWOT analysis
Visual Modeling
As we understand that eliciting requirements, gathering information, and conducting analysis is important for business analyst, but the way information is communicated also has a significant impact on how much of it retained. When the discussions, presentations, and elicitation events are represented in an effective way, they can help to break the ice and increase stakeholder's trust.
A business analyst should have ability to create visual models such as:
Activity Diagram
Business Domain Model
Competitive Comparison Matrix
Data Flow Diagram
Feature Road map
Organization Chart
Relationship-Building Skills
Stakeholders are the people who have a significant impact on success of your project. Since business analysts act as a bridge between users and teams; he/she needs to build a strong relation with both. Different stakeholders have different needs, interest, attitude and priorities. Building a good relation helps to understand their respective requirements and ensure that all parties work together to delivering a valuable outcome
A business analyst should build good relations with stakeholder:
To work in a constructive and productive way
To build trust.
To understand stakeholder's interest and attitude
To anticipate potential problems and manage expectation of stakeholders effectively
Technical Skills
To identify solutions, business analysts should know which IT softwares are needed, how new possible outcomes can be achieved using current platforms, and how latest technology will help.
A business analyst needs following technical skills:
Technology
Research
Data Review/statistical Analysis
Financial Planning
Tools Used By Business Analyst
Business analysts use various analysis tools in the process of requirement elicitation, documentation, analysis, visual modeling. The use of these tools leads to increase productivity.
Here are a few tools a business analyst comes across, and must master:
MS Word: Microsoft Word is a word processor developed by Microsoft
MS Excel: Microsoft excel is a spreadsheet application by Microsoft
MS PowerPoint: Microsoft PowerPoint is a slide show presentation tool developed by Microsoft.
MS Visio: Microsoft Visio is a diagramming and vector graphics application
DOORS: IBM Rational DOORS is a requirements management application by IBM.
Balsamiq: Balsamiq is a wire framing and mock up generation tool used to create user interface and sketch-style wire frames.
How to assess and hire a business analyst?
To separate the wheat from the chaff, we must assess the candidates based on their skills, knowledge and experience in handling critical situations. Assessing the skills of business analyst before recruiting can be a tricky task.
Business analysts fill an interesting role in IT organizations. They act as a bridge between the users and the IT department. They are not involved in the hands-on work of the users or the IT team but act as a liaison. They often get criticism from the IT department for not appreciating, understanding their work or not able to provide guidance. The users invariably accuse them when the IT department's solution is properly executed but in spite of that it does not meet their requirements. So, quite often, they are at the receiving end from both the sides.
Managing this interface between IT and users can be a huge challenge for Business Analysts. It is equally difficult to hire someone to effectively do the job of a Business Analyst. Identifying the criteria to effectively hire a business analyst candidate is somewhat complex.
We have already discussed the skills which are essential for successful performance in the job role. But to assess the skills in face to face interview is a difficult task. It requires time and money. Assessing candidate's skills before interviews saves time, money and helps recruiters or hiring managers to select quality candidate.
A Strongly Recommended Business Analyst Test
In order to screen and hire a candidate, it is vital to design a test which covers all the above skills.
Business Analyst Test:

The test must contain well balanced and meaningful questions on Analytical Thinking, Data Interpretation, Data Sufficiency, Listening, Comprehension and Writing Skills to accurately assess the basic, intermediate and advanced knowledge of each test taker.
An ideal business analyst test would contain the following sections:
Analytical Thinking:

Questions on analytical thinking to assess the candidate's ability to successfully analyze and solve a wide variety of business problems. If any candidate is good in analytical thinking, then it would be safe to assume they are good in problem solving and requirement analysis.

Data Interpretation:

Data interpretation is part of daily life for most people. Interpretation involves understanding numerical data and graphical data.

Written Communication:

Questions on sentence correction, selecting words, spotting errors, and reading comprehension

C-ACT Test:

C- Customer focus, A- Accountability, C- Communication, T- Team collaboration
In today's Digital and continuously changing world, IT organizations, which are growing big and generating constant value, are all driven by 'Customer excellence'. All the processes and stakeholders at organizations are aligned towards understanding and delivering customer value.
This test will help you to assess customer focus, accountability, team collaboration and Communication skills of team members who are
Interacting with customers
Handling teams
Interacting with other team members within the organization
You can assess the candidates for the BA post based on their customer-centric approach, accountability, team collaboration ability and communication.
With iMocha's business analyst assessment assess and hire Business Analysts and make your hiring process easier, better and faster.