In today's time, data and analytics govern businesses across all industries and sectors. The same goes for HR too!
Considering that your employees are the backbone of your organization, you should have complete transparency when it comes to their performance, engagement, recruitment, development, and more.
This is where HR analytics tools or people analytics platforms come in!
Using an advanced and comprehensive HR analytics tool can be a game changer for your organization as it will offer you the following benefits:
HR analytics software will help you predict/visualize the employee requirements for future business needs.

With capable people analytics tools, you'll be able to visualize the employee analytics data, such as layoff, resignation, retirement, and leaves.

You'll get necessary insights into human capital to manage your workforce & improve return on investment.

You'll be able to show HR's valued contribution to business growth, like hiring the right talent, creating positive work culture through employee engagement, timely salary transfer, pay slips, employee documentation management, and more.

Employee analytics software will help you track metrics like employee performance, attendance, workforce costs, and workforce.

You'll be able to identify inefficiencies in the workforce much faster.

HR analytics tools will help you improve employee retention rates.

You'll be able to interpret the employee data into actionable insight for decision-making.
Depending on your business needs, there are different types of HR analytics software available in today's market which can help you with the predictive analysis and comparison of your employees' performance.
Type of HR Analytics Tools
1. People skill assessment analytics tools
Skill assessment tools are a type of employee analytics software that help you determine an employee's strengths and weaknesses through regular evaluations. Using these tools, you can quickly address their knowledge gaps and other weak points by updating your training program.
2. HR analytics tools with recruitment analytics
Recruitment analytics tools combine data and predictive analysis to drive better and faster hiring decisions. These analytics tools help you explore each aspect of your business and turn data into actionable insights to elevate your recruiting strategies.
3. HR analytics tools with employee engagement analytics
These tools use the practice of data-driven decision-making by combining employee engagement with other HR and non-HR data sources to identify factors that help predict employee retention and satisfaction.
4. HR analytics tools with business intelligence
These tools are a type of HR analytics software that collects and processes large amounts of unstructured data from internal and external systems and generates reports, dashboards, and visuals to predict future business outcomes.
5. HR analytics tools with customized reports
These tools collect data to offer solutions to custom business problems using intuitive reporting and analytics. They help you make better business decisions, so both the company and the employee can achieve their respective goals.
To further simplify your choice for an ideal HR analytics tool, we have curated a list of the best HR, employee, business, and people analytics platforms for 2022.
Top 14 HR Analytics Tools 2022
People Skill Assessment Analytics Tools


1. iMocha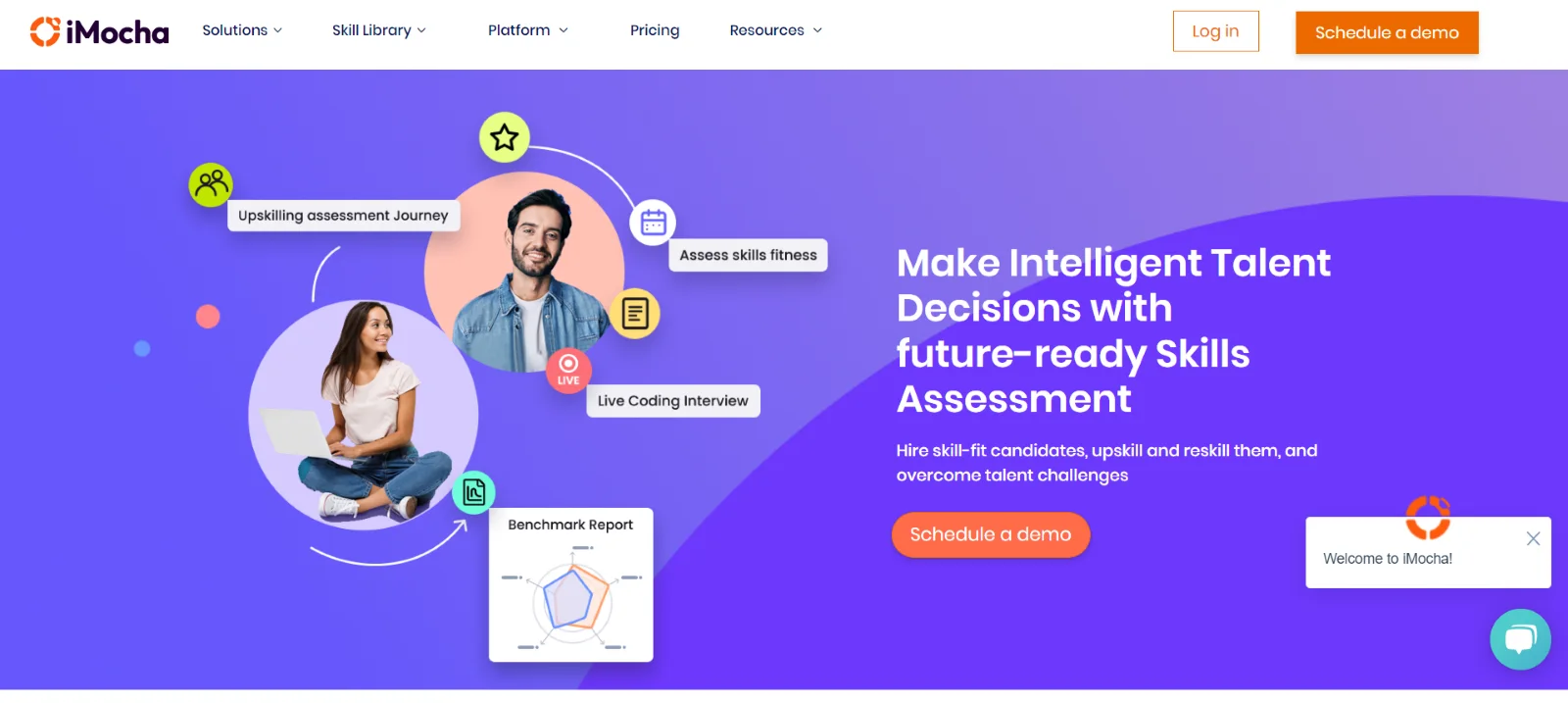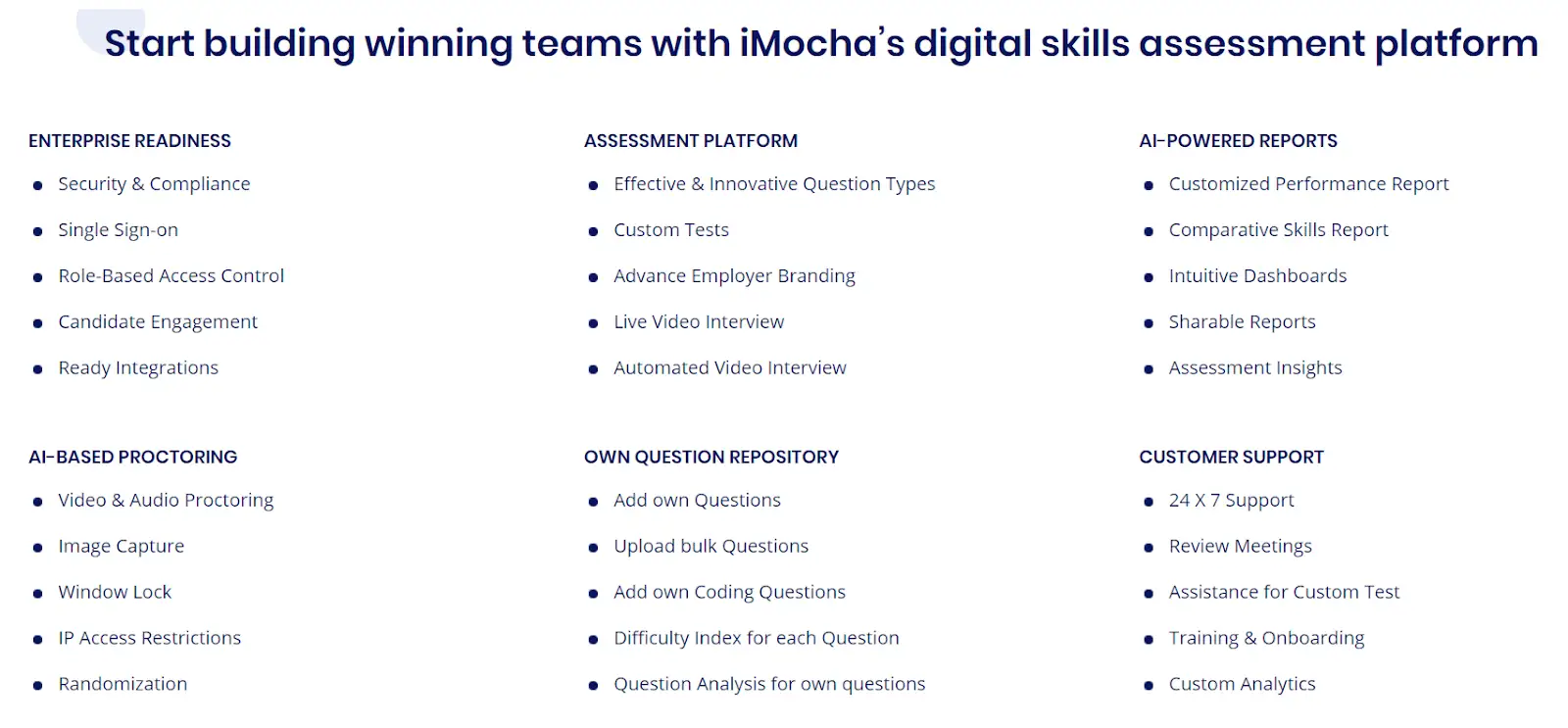 iMocha empowers enterprise customers with robust reports that display a well-organized and easy-to-read summary of a candidate's assessment result and help you filter out good and bad candidates. With iMocha, you can eliminate the traditional pass/fail grading categories and set your own performance metric. It summarizes the overall strengths and skill gaps of a group of candidates with comparative reports and identifies the top performers in campus hiring and lateral hiring using an all-in-one online skill testing software.
Features:
Customized performance reports

Comparative reports

Advanced filter & search

Weekly emails that showcase assessment analytics like - top performing tests, candidate feedback, candidate invites, and candidate details

Shareable reports

In-depth analysis of your assessments

View all reports and compare candidate and section scores
G2 Rating: 4.4/5 (174 reviews)
Pricing: Free demo. Visit the iMocha website to get a quote.
Recruitment Analytics Tools
2. Hireology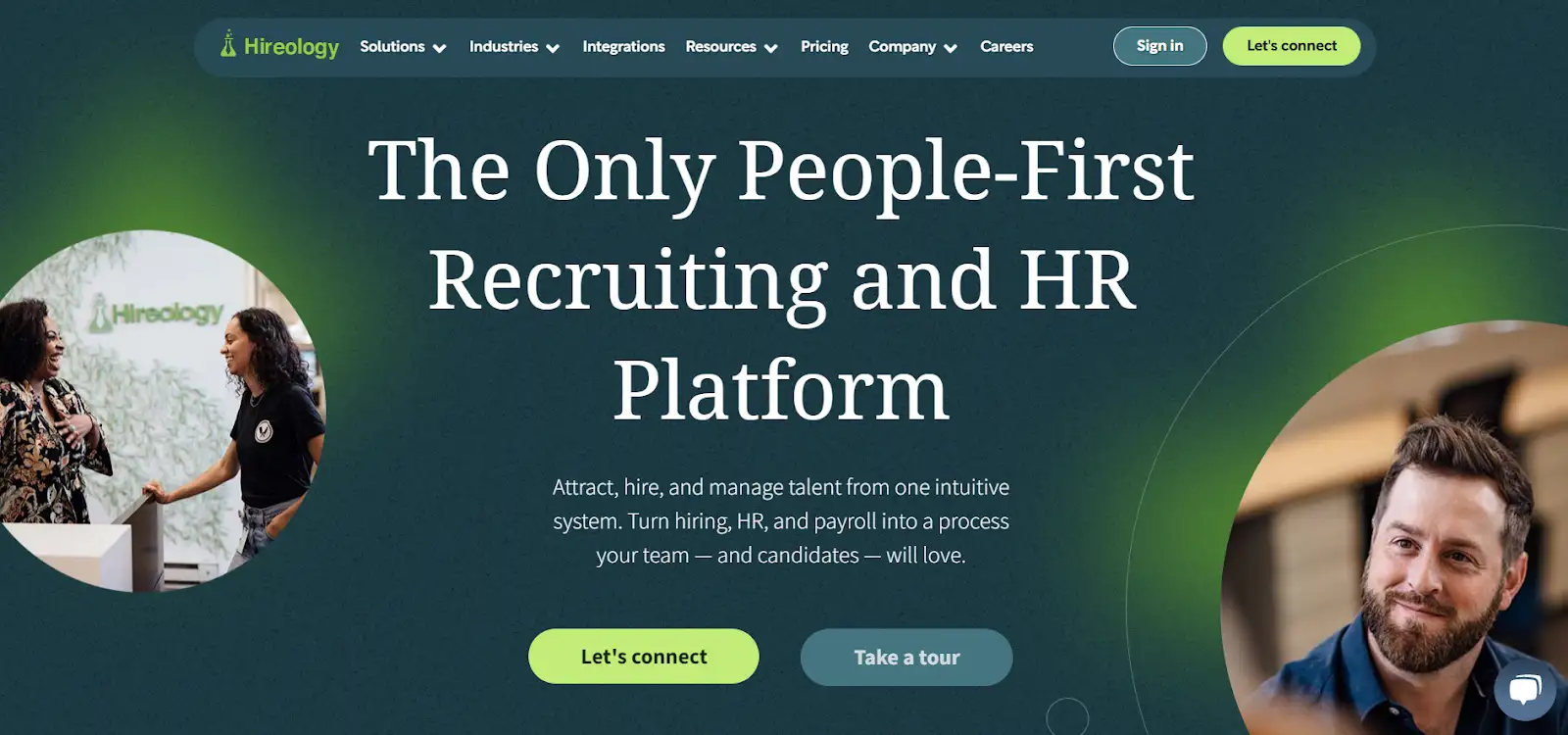 Hireology is a cloud-based human resource management and applicant tracking system that caters to small and midsize businesses in sectors such as automotive, fitness and wellness, education, healthcare, and professional services. It enables users to manage all hiring activities and source candidates through a branded career site.
Features:
Applicant sourcing

Automated new employee onboarding

Payroll & Time Tracking

Benefits management & Reporting
G2 Rating: 4.4/5 (478 reviews)
Pricing: Free trial. Starting price: $99.00 per month.
3. Oracle Global Human Resources Cloud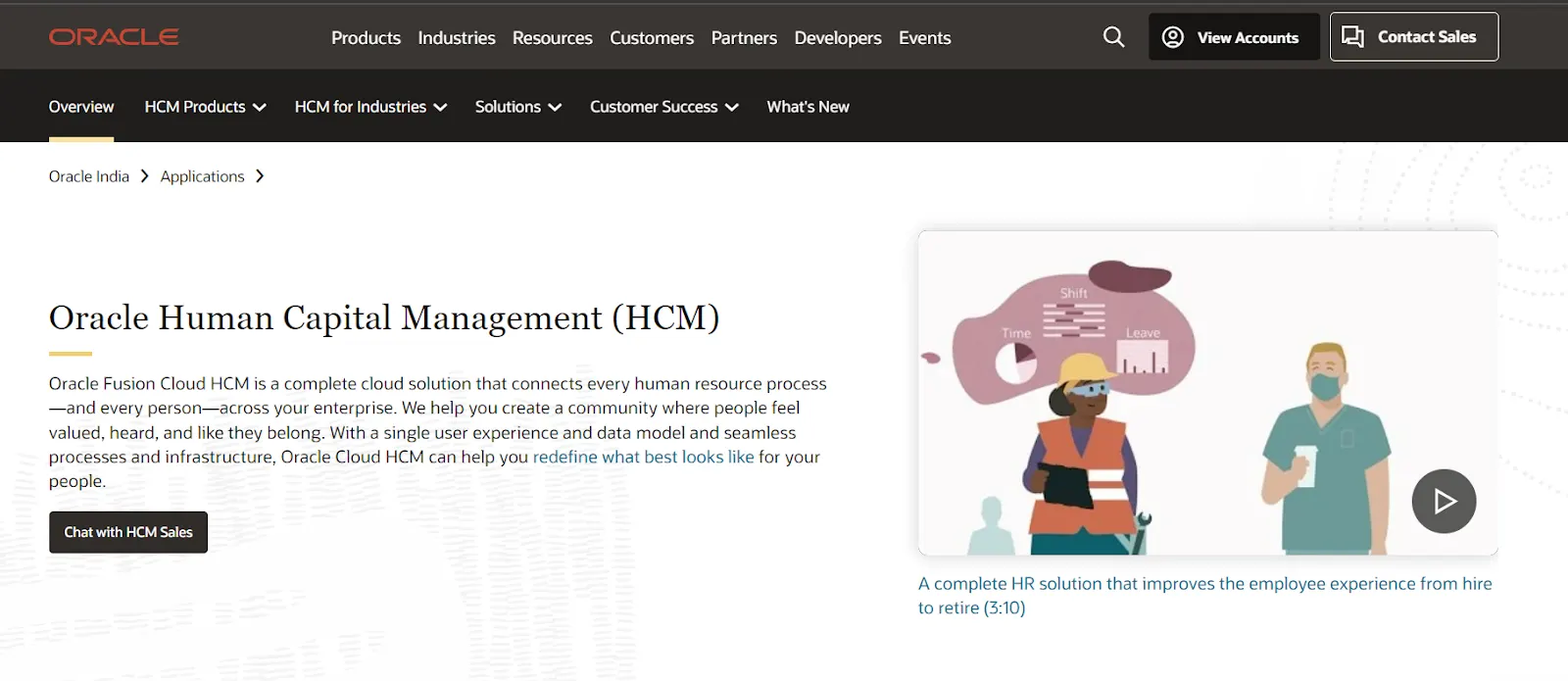 Oracle Global Human Resources Cloud is Human Capital Management System that connects every human resource process from- hire to retire. It provides an engaging and intuitive user experience across devices and offers one source of truth for HR data to improve decision-making and be future-ready.
Features:
Talent Management

Recruiting & Learning

Workforce Management

Work-Life Solutions

HR Help Desk
G2 Rating: 3.7/5 (70 reviews)
Pricing: Not disclosed publicly
4. Viventium Software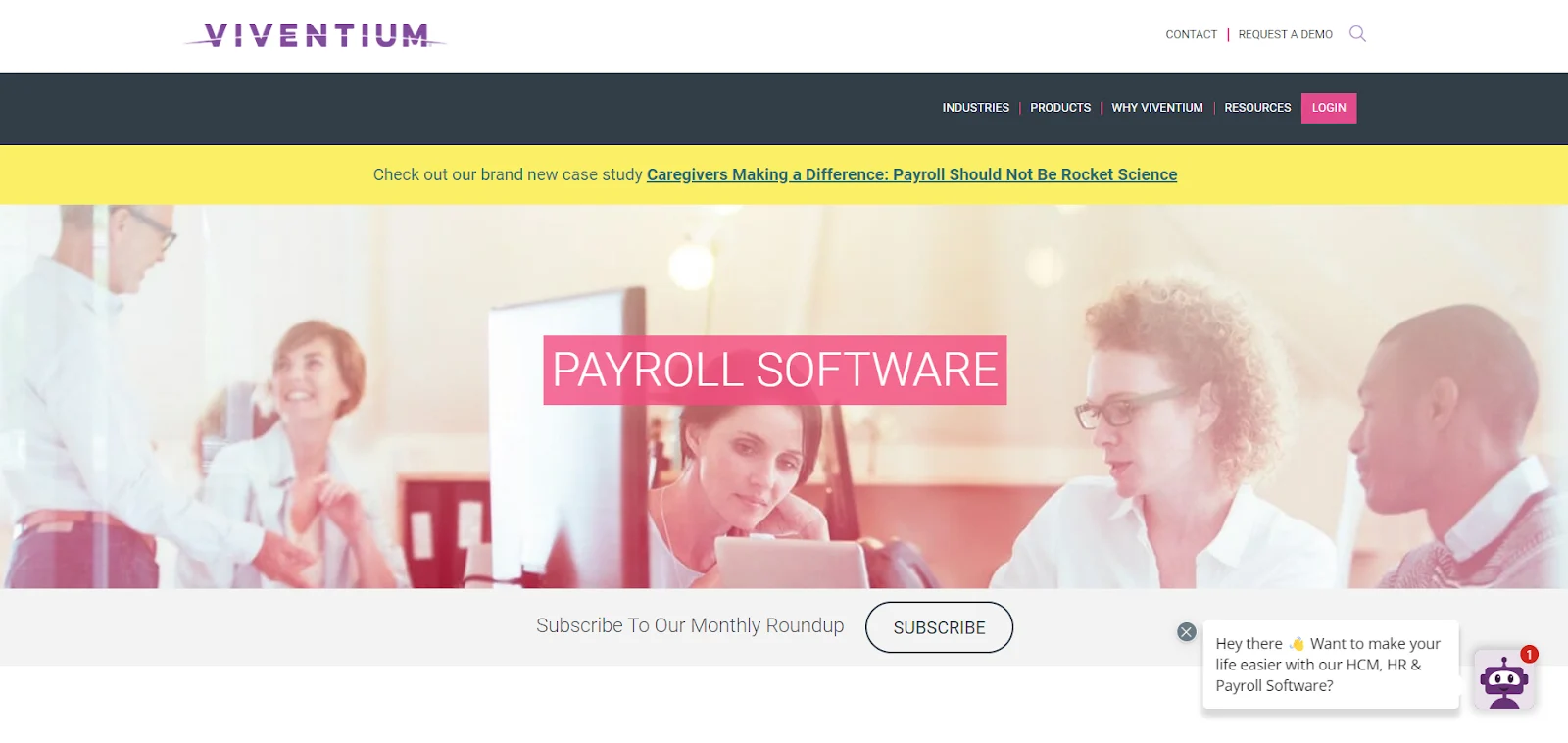 Viventium Software is a SaaS-based human capital management solution that provides a cutting-edge and user-friendly user and design experience, along with flexible software and expert guidance so clients can be sure their payroll is done correctly.
Features:
Talent Acquisition

Payroll

Benefits Administration

Learning Management

Business Intelligence
G2 Rating: 4.6/5 (28 reviews)
Pricing: Not disclosed publicly
5. ClearCompany
With a unified platform designed and built from the ground up for better hiring experiences, ClearCompany helps clients improve the candidate and employee experience using software, best practices, and planning tools for every phase of the talent lifecycle.
Features:
Seamless onboarding

Company-wide goal alignment

Employee recognition and engagement

Performance management

People analytics tools
G2 Rating: 4.6/5 (252 reviews)
Pricing: Not disclosed publicly
Employee Engagement Analytics Tools
6. Deel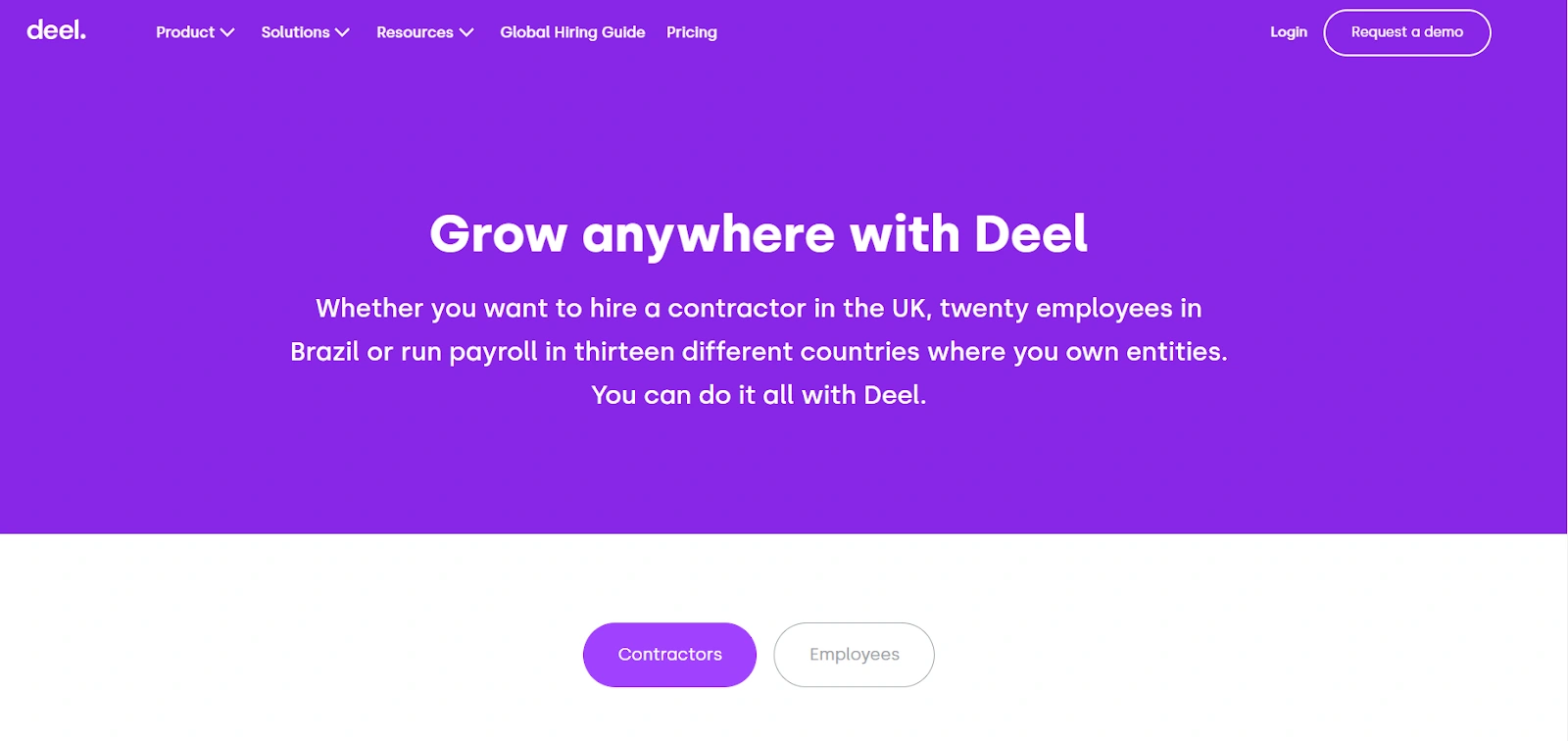 Deel is a global payroll and compliant hiring solution built for remote teams. Using a tech-enabled self-serve process, Deel allows companies to compliantly hire full-time employees or independent contractors worldwide in just minutes.
Features:
Employee Portal

Payroll Administration

Invoicing Tools

Dashboard & Reporting
G2 Rating: 4.3/5 (147 reviews)
Pricing: Free trial. Two pricing editions, ranging from $49 to $599.
7. Leapsome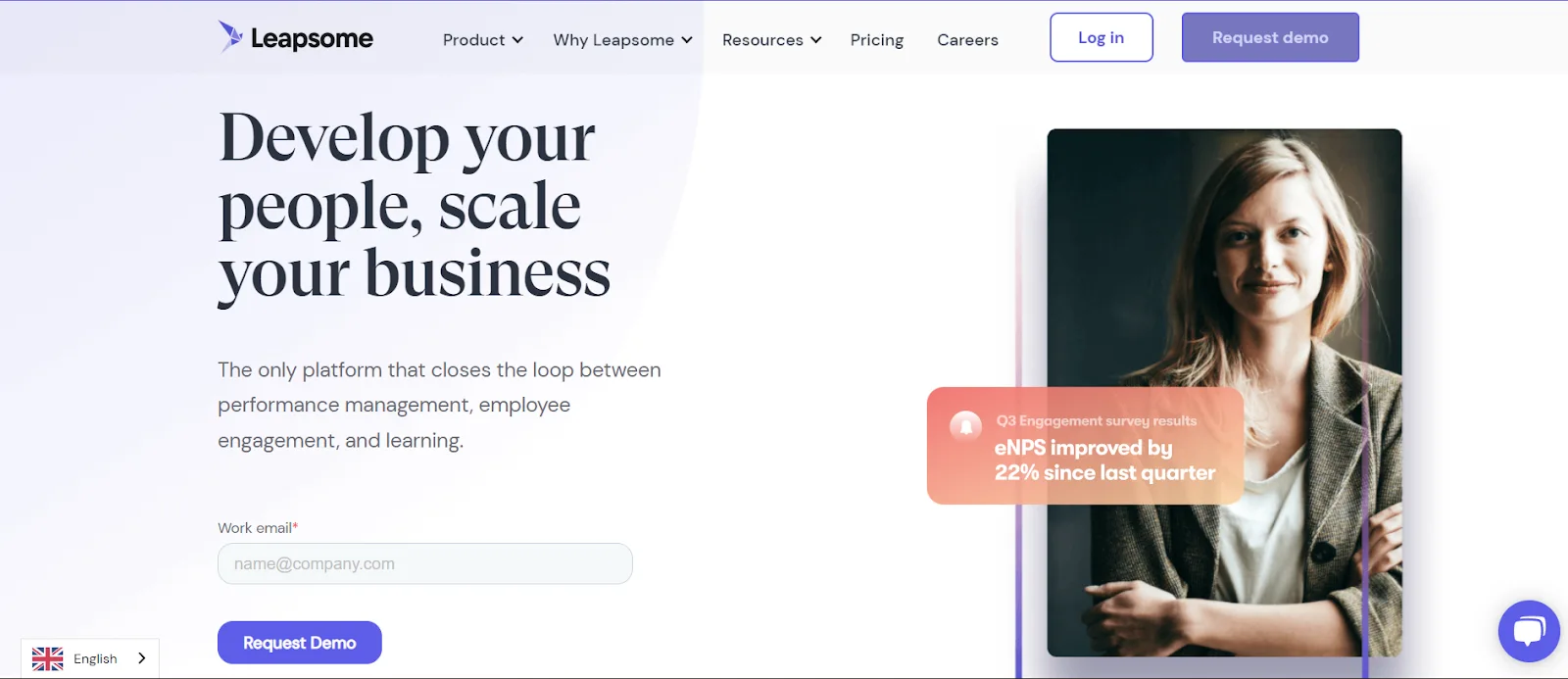 Leapsome offers a comprehensive platform that helps CEOs and HR teams close the loop between performance management, employee engagement, and learning. It provides a best-in-class solution for performance management, employee engagement, OKRs, and learning requirements.
Features:
Goals & OKRs Management

Performance Reviews and 360s

Employee Learning & Onboarding

Employee Engagement Surveys

API Integration
G2 Rating: 4.8/5 (711 reviews)
Pricing: Free trial. Five pricing editions.
8. Sage HR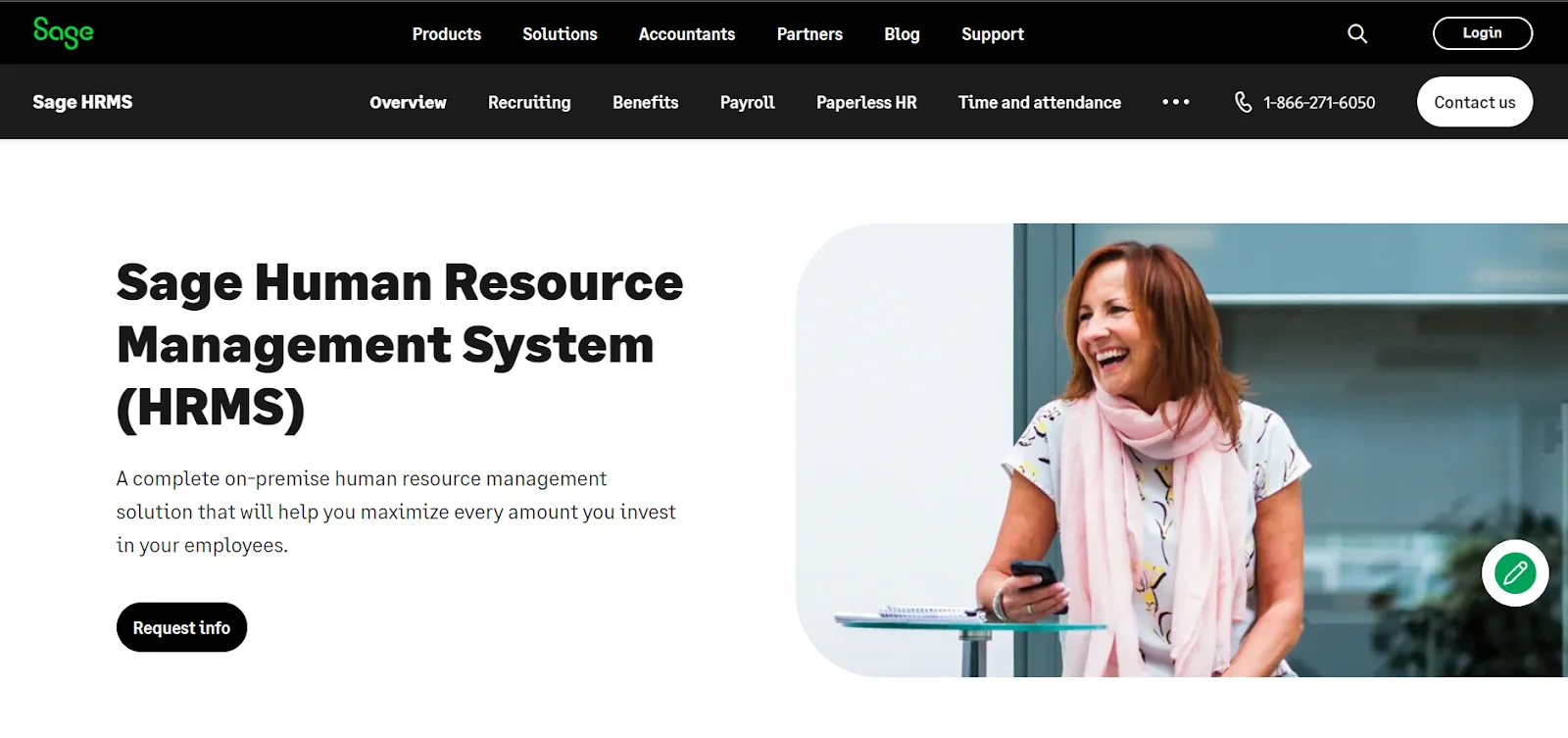 Sage HRMS helps you maximize employee investment through an efficient and reliable on-premise human resource management solution. It improves HR policies and makes intelligent decisions using comprehensive and customizable HR software for small and medium-sized businesses.
Features:
Organization Management

Time, Attendance, and PTO

Salary Structures

Benefits Administration

Reporting and Dashboards
G2 Rating: 3.3/5 (30 reviews)
Pricing: Not disclosed publicly
Business Intelligence Tools
9. Sisense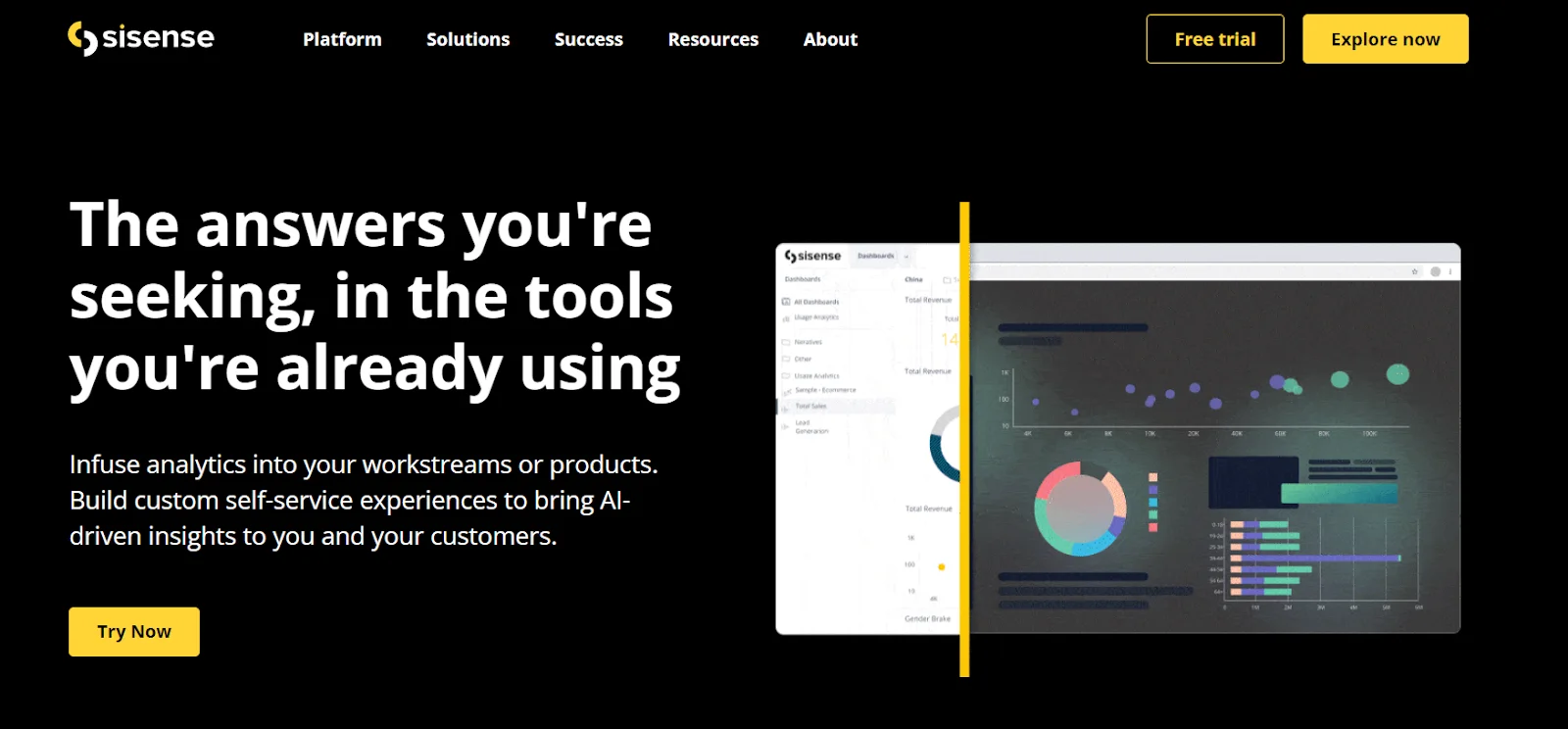 Sisense infuses analytics into workstreams by building custom self-service experiences that offer AI-driven insights to its customers. It provides an intuitive dashboard with a highly customizable, AI-driven analytics cloud platform called Sisense Fusion that leverages intelligence at the right place and at the right time.
Features:
Data Visualization

Big Data Services

API Integration

Data Filtering

Reports & Dashboard
G2 Rating: 4.3/5 (742 reviews)
Pricing: Not disclosed publicly
10. OrgVue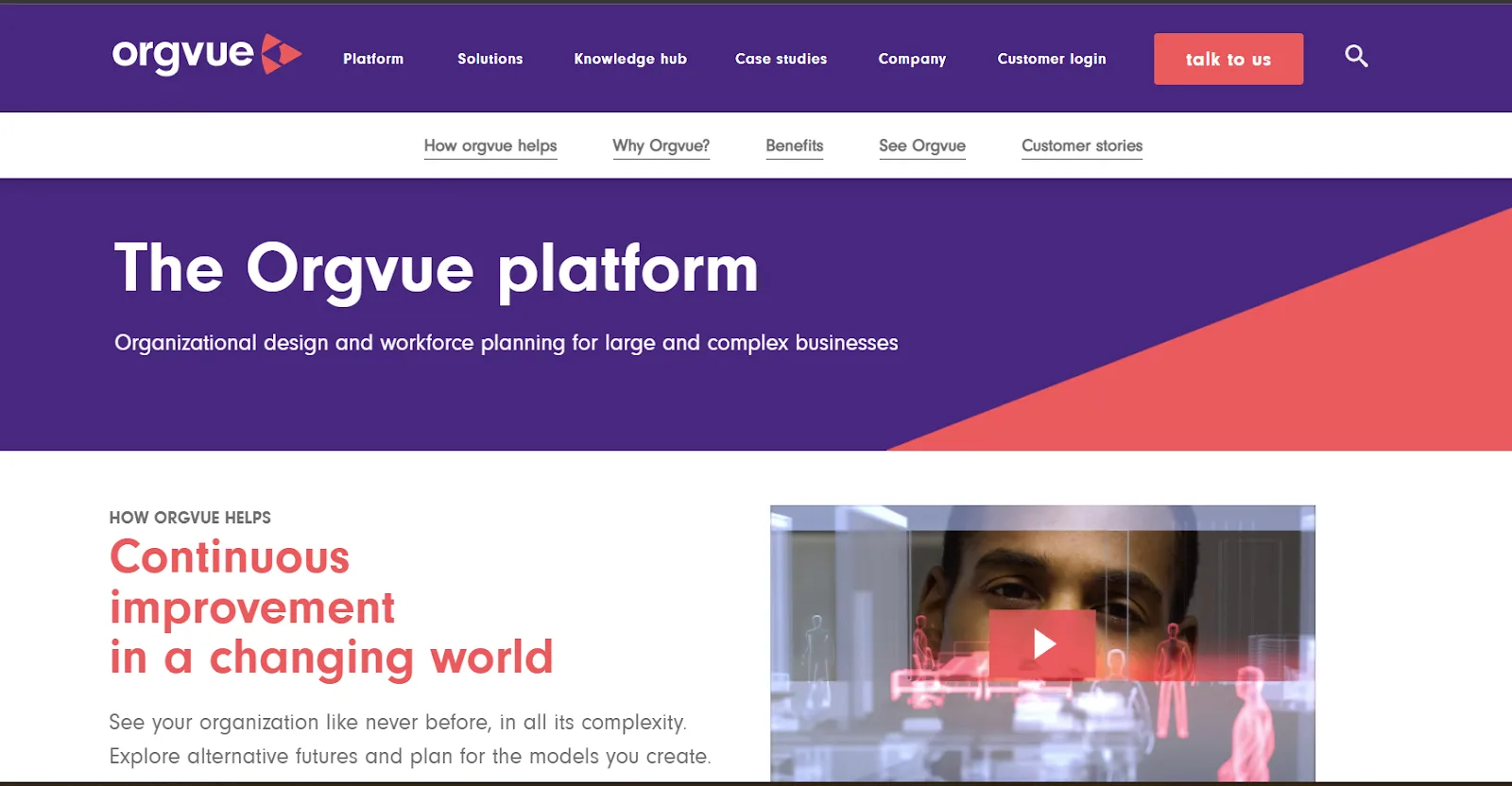 OrgVue is an analytics platform that is specifically designed for human resources. It enables businesses to analyze, design, plan and monitor their organizations as they change, grow and adapt to market changes.
Features:
Imports and evaluates data to monitor daily operations and employees.

Predictive analytics capabilities

Helps in planning strategies

Tracks and monitors progress against the plan

Workforce management
G2 Rating: NA
Pricing: Only available once you book a demo
11. Qlik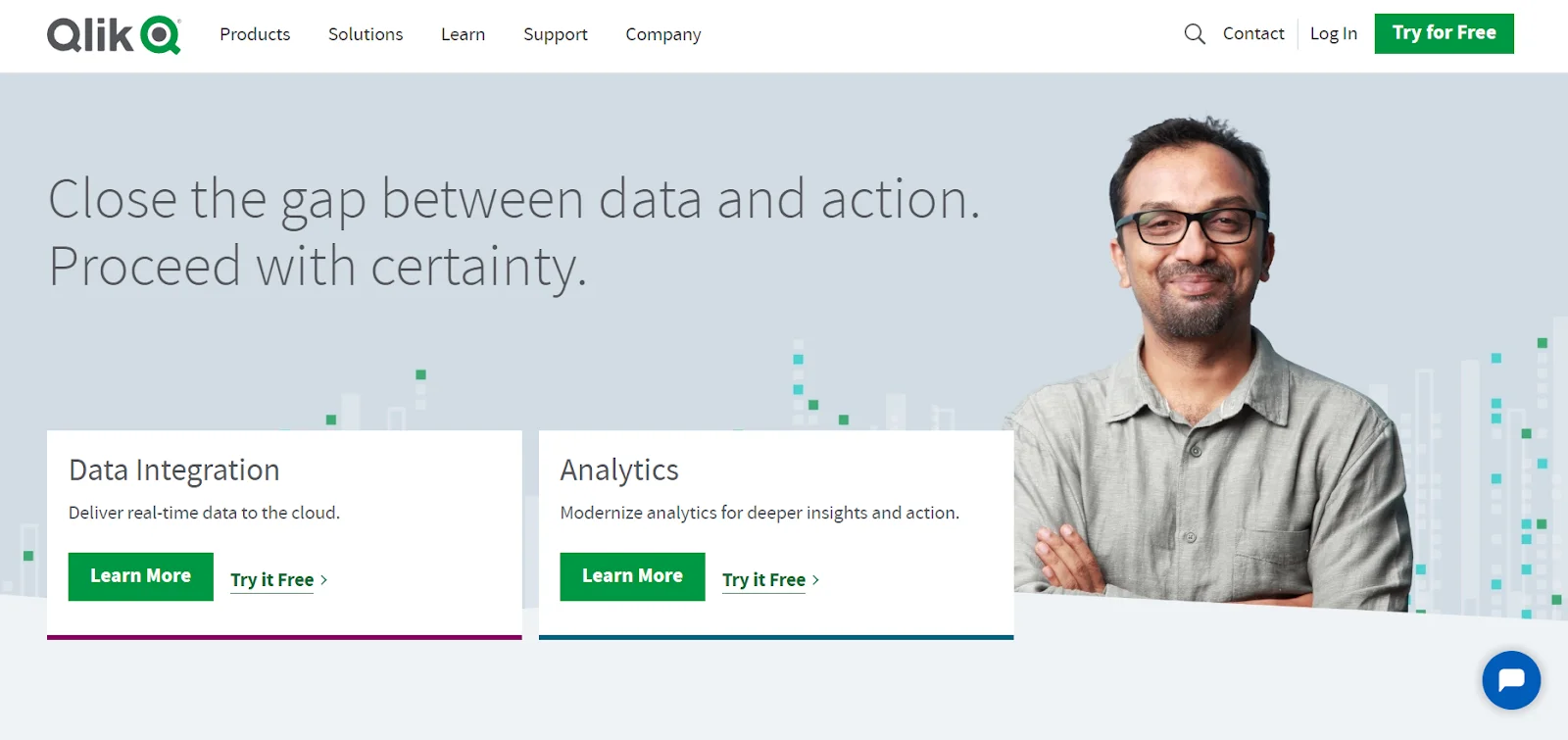 Qlik Sense is a business intelligence (BI) and visual analytics platform that supports a range of analytic use cases. It's built on Qlik's unique Associative Engine, which supports a range of users and use cases across data and insights.
Features:
Self-service analytics

Interactive dashboards

Conversational analytics

Custom and embedded analytics

Mobile analytics and reporting
G2 Rating: 4.4/5 (203 reviews)
Pricing: Free Trial. $30 per month
HR Analytics Tools With Customized Reports
12. Visier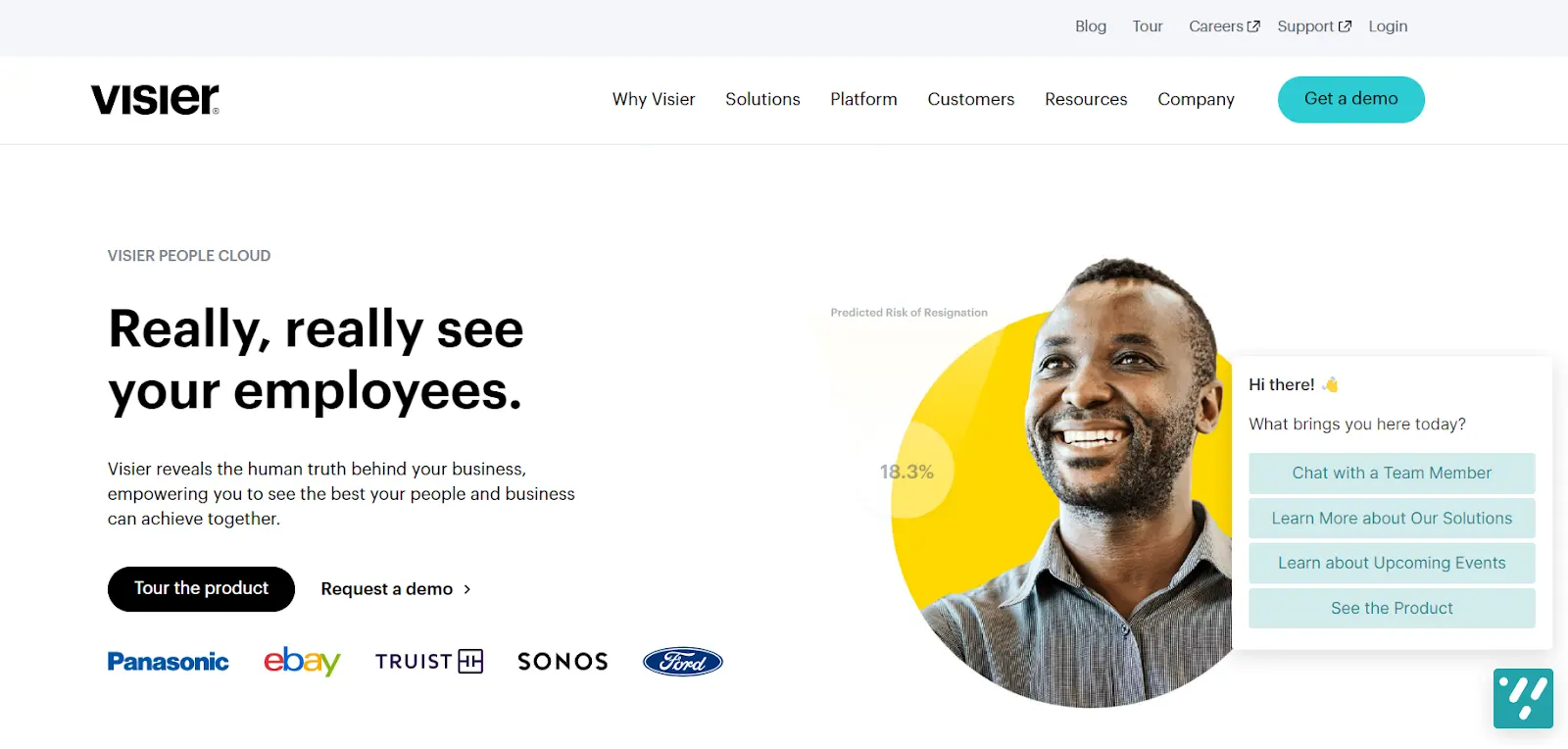 Visier is an HR analytics platform designed to incorporate HR insights directly into existing HR workflows rather than just providing statistics. It includes modules that help HR teams solve workforce planning, attrition, and DEI problems. It also offers a tool that manages recruiting pipeline, retains high-performing employees, and measures the impact of training programs.
Features:
Personnel Management

Talent Management

Regulation and Compliance

Metrics and Reporting

Third-Party Integrations
G2 Rating: 4.4/5 (44 reviews)
Pricing: Not disclosed publicly
13. Tableau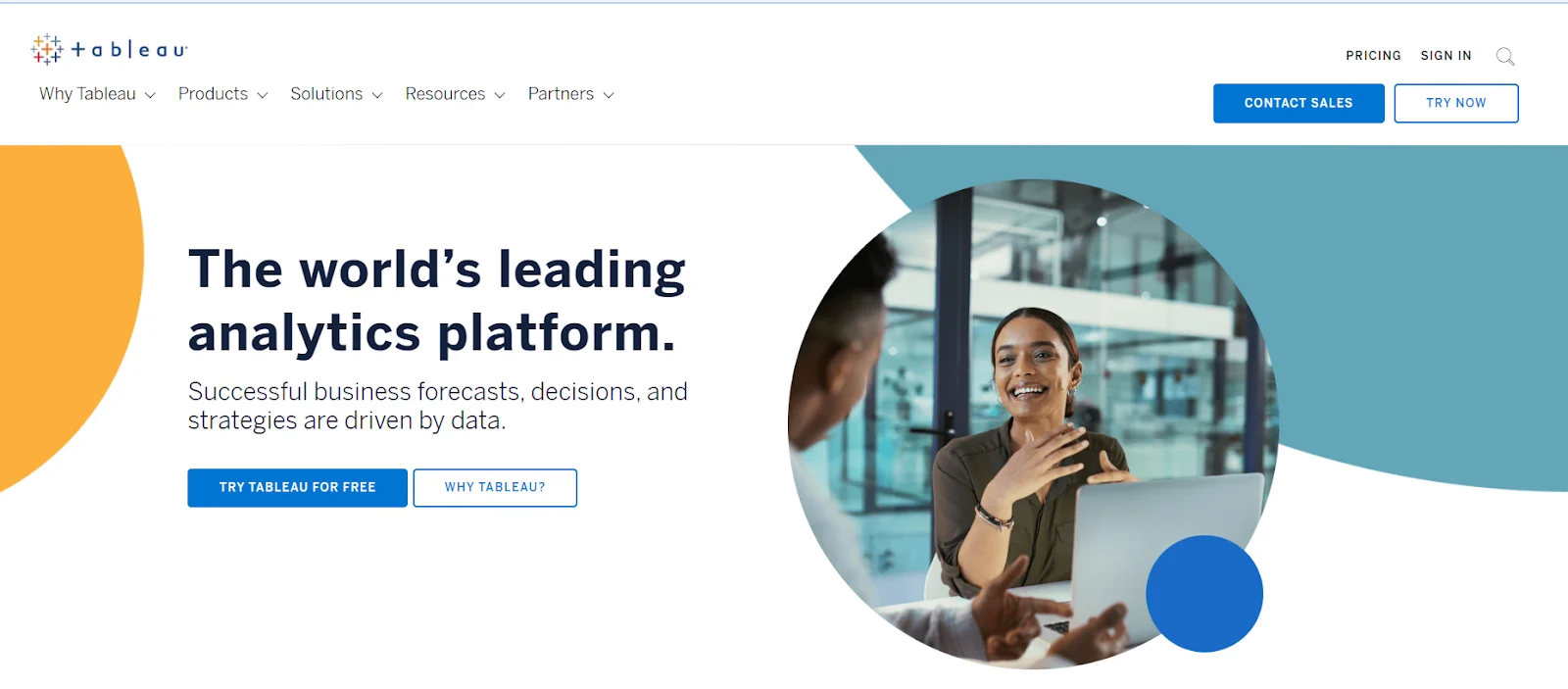 Tableau is a visual analytics platform that uses data to solve problems. It visualizes complex data and enables you to evaluate it. It offers a rich set of capabilities for users with any level of technical expertise to understand and explore data.
Features:
Real-time analytics

Intuitive Dashboard Creation and UX

Connects a variety of data sources and easily integrates with existing technology

Role-based permissions

Simple sharing and collaboration
G2 Rating: 4.4/5 (1,162 reviews)
Pricing: Free Trial. Three pricing editions, starting at $12 per month
14. Power BI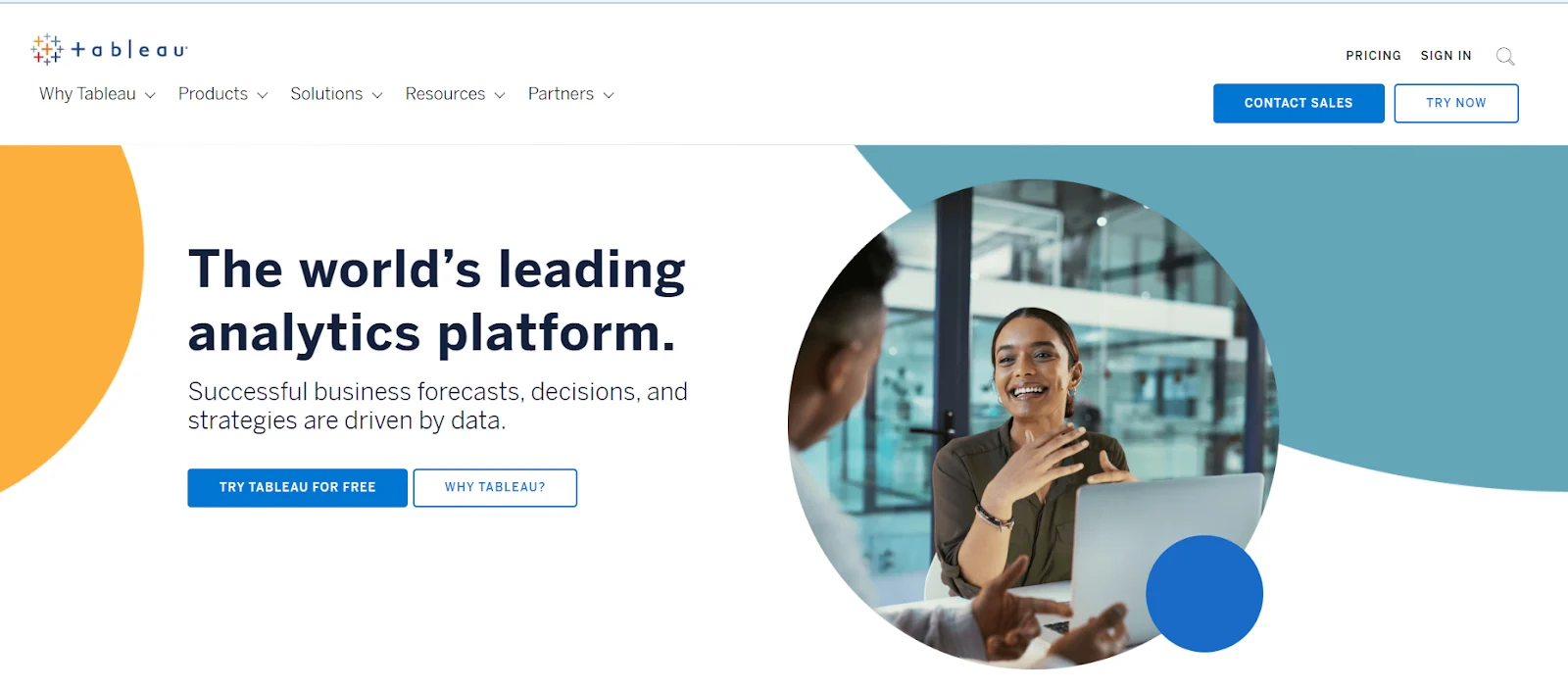 Microsoft's Power BI offers easy, extensive, well-documented integrations into every major HR application and platform. It comes with a powerful authoring tool that enables you to create interactive data visualizations and reports. It places visuals exactly where you want, analyzes and explores your data, and shares content with others using the Power BI web service.
Features:
Reports Interface

Data Column Filtering

Predictive Analytics

Big Data Services

Data Transformation
G2 Rating: 4.4/5 (842 reviews)
Pricing: Not disclosed publicly
Conclusion
We hope the above listing and software reviews will help you find the HR analytics vendor of your choice. But before choosing your perfect employee, HR, or people analytics tool, here are a few pointers you should consider:
Offers capabilities such as talent acquisition, sourcing, selection, and onboarding

Upskills/reskills and mobilizes talent

Allows learning through built-on recommendation engines that personalize talent development

Engages and retains employees by continuously monitoring attitudes and perceptions
Tools like iMocha offer all these services and more in one comprehensive skill-assessment platform that helps in both- Talent Development and Talent Acquisition.
Want to know more? Visit this link to schedule a demo today!
Frequently Asked Questions
1. What is the role of HR analytics?
HR analytics aims to offer relevant insight into how you can manage employees and reach your business goals in the best way possible. Because so much data is available, your HR team needs to identify the most relevant data and how to use it to maximize ROI.
2. What are the methods of HR analytics?
Your HR team can use different analytical methods depending on their desired outcome. These include:
Descriptive Analytics: Focuses solely on understanding historical data and what can be improved.
Predictive Analytics: Analyzes historical data to forecast future risks and opportunities.
Prescriptive Analytics: Takes Predictive Analytics a step further and predicts consequences for forecasted outcomes.
3. What are the benefits of HR analytics?
The top 5 benefits of HR analytics are:
It helps you make evidence-based HR decisions

Improves recruitment and talent acquisition

Manages and measures employee performance

Uncovers trends and skills gaps

Allows effective workforce planning
4. What is the difference between HR analytics & people analytics?
HR analytics and people analytics are separated on the basis of the data they measure. HR analytics primarily deals with the function of HR and measures metrics such time and cost required to hire, train, and promote employees. On the other hand, people analytics is a broader term that also involves data about the people within and outside your organization.
5. What is the difference between HR metrics and HR analytics?
HR analytics provides insight on how to improve HR metrics. HR metrics help confirm whether the results of the HR analytics are correct.