iMocha is an AI-powered skill assessment tool with several Talent Acquisition and Talent Development capabilities. If you have been using it, you are already aware that it offers the most comprehensive skill library in the world.
It also enables you to save hiring time by using its live coding interviews, automated video interview capabilities. With its one-way video interview questions, hiring managers can analyze technical and soft skills in one go. Using the dedicated upskilling platform, you can map individual employee progress and assess your organization's overall skill level.
Although it is regarded as one of the most comprehensive tools with numerous advantages, some recruiters are unsatisfied with it and have identified a few limitations.
If you are one of them, your search for software similar to iMocha ends here. Here is a rundown of some notable top 8 iMocha alternatives to consider in 2022.
Top iMocha alternatives
1. Mercer Mettl Assessments

G2 rating: 4.4/5 (410 reviews)
Mettl tool is an online assessment platform that enables organizations to measure and improve performance of their employees. It is the top iMocha alternative on our list, as it provides comprehensive pre-employment tools to assess candidates' basic attributes and acquired skills objectively. The platform also enables organizations to design and implement customized assessments that you can use to improve employee performance using its cognitive assessments, technical assessments, coding exams, communication skills assessments, and more.
Perks:
Mettl includes a rich question bank for all assessments and allows you to add your own questions.

It has AI-powered proctoring capabilities.

It allows for the test to be scheduled at a time that is convenient for both the students and the teacher.
Free Trial: Available
Want to learn why recruiters prefer iMocha over Mettl? Visit here
2. Codility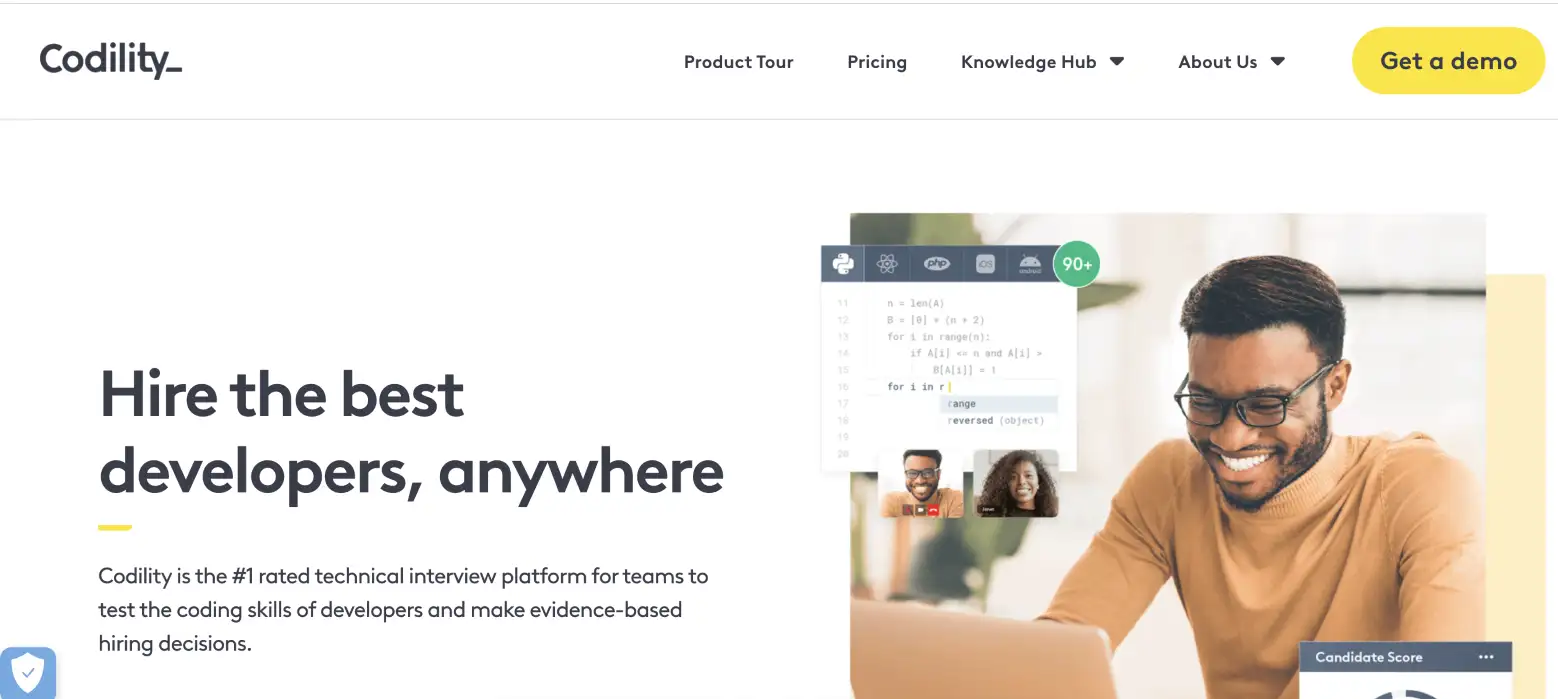 G2 rating: 4.6/5 (337 reviews)
Codility is a technical assessment application that offers coding assessments and other tools to evaluate applicants for technical roles. The platform provides a complete range of features and capabilities to assist firms in identifying and assessing their employees' skills and competencies. It evaluates technical applications using unbiased and relevant assessments on Code Check, live technical interviews on Code Live, and virtual recruitment events on Code Even.
Perks:
It's a professional, well-organized tool for assessing coding skills.

Codility enables you to schedule remote live coding meetings with prospective candidates, which are promptly recorded and shared with your ATS.

It equips recruiting managers with high-quality insights into their prospects' skills.
Free Trial: Available
Learn why iMocha has the edge over Codility, visit here
3. HirePro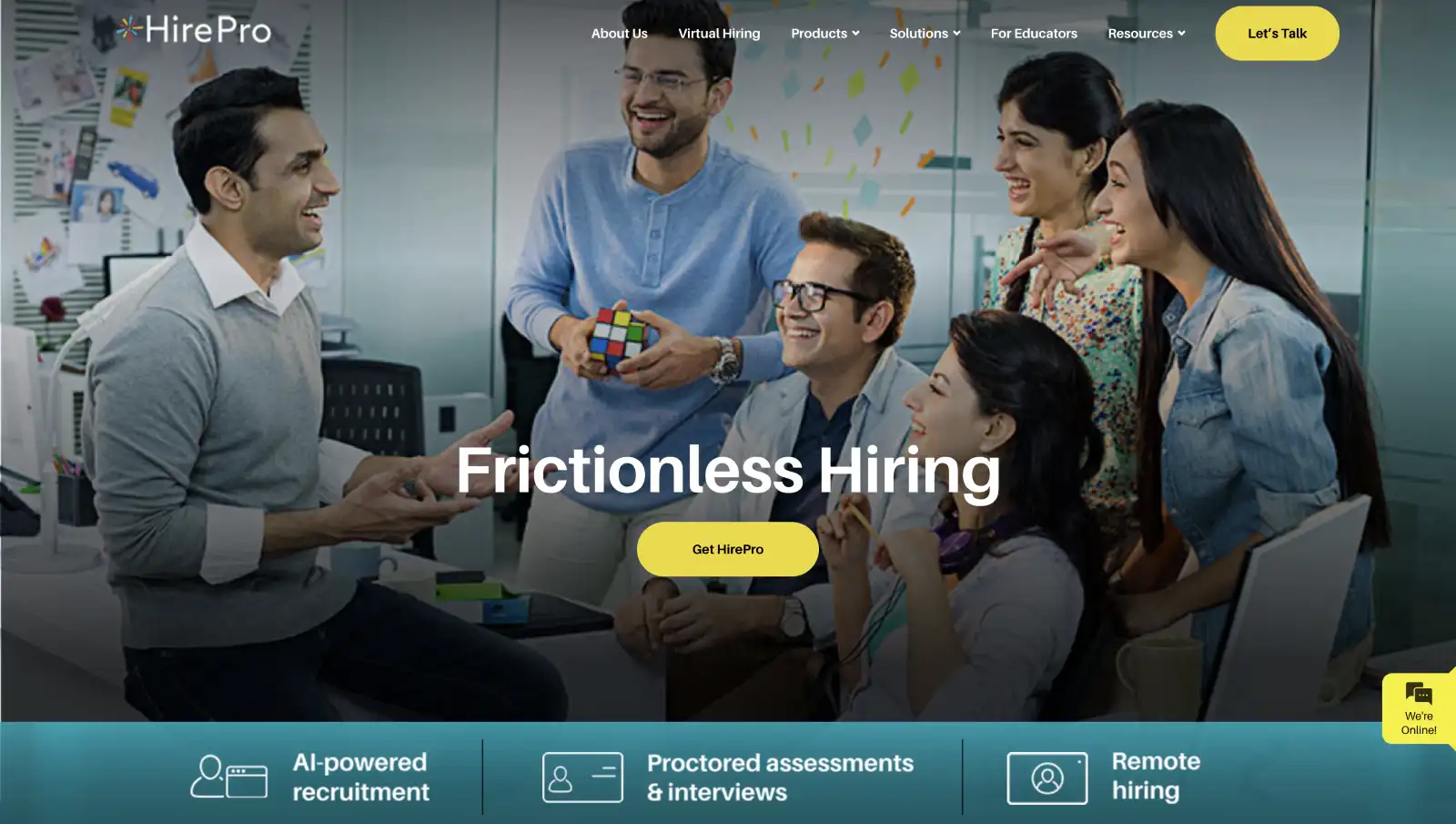 G2 rating: 4.3/5 (2 reviews)
HirePro is the preeminent enterprise recruiting platform. It assists businesses in sourcing, screening, assessing, interviewing, selecting, and onboarding the finest employees. It also provides an end-to-end interview platform that handles scheduling, conducting interviews, and gathering feedback online.
Perks:
HirePro allows hiring managers to upload candidate profiles digitally and host online registrations.

HirePro is an excellent iMocha alternative that allows you to schedule interviews easily and manage feedback.

You can control fraudulent behavior through AI-powered live proctoring, automated warnings, and disqualification of this platform.
Free Trial: Not Available
Did you know that iMocha can help you reduce your hiring time from 17 days to 7 days per role? Speak to iMocha Experts!
4. HackerRank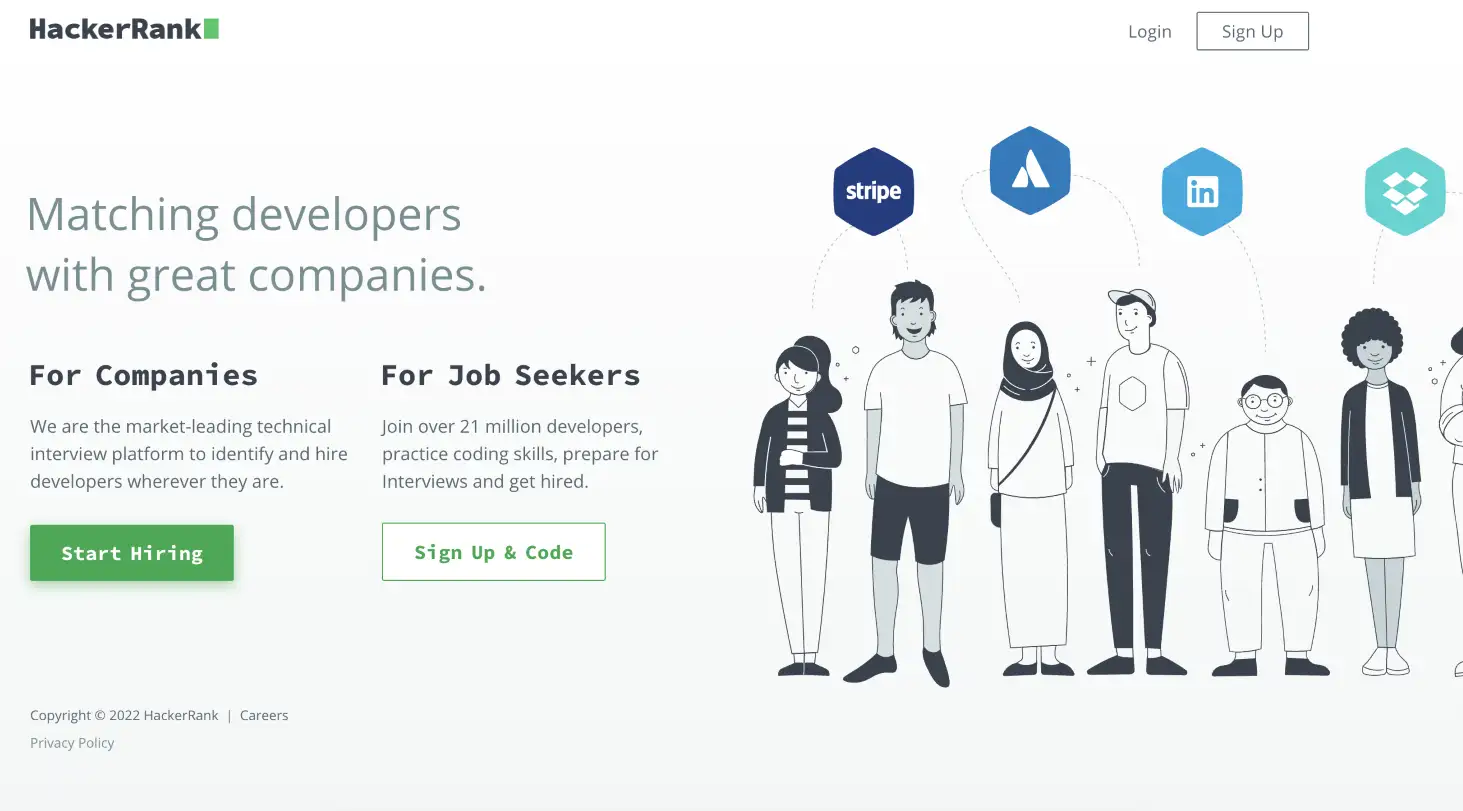 G2 rating: 4.5/4 (272 reviews)
Another iMocha alternative on our list is HackerRank. It is a technical skill and assessment platform based on coding that assists organizations in attracting, evaluating, and hiring top technical talent worldwide. Using this software, you can create your own tests or choose from a library of programming challenges, MCQs, and subjective questions.
Perks:
HackerRank is an intuitive and easy-to-navigate platform.

It allows cross-team collaboration and knowledge sharing when viewing and sharing library content.

Hackerrank offers broad-based multi-skill support and information on applicant response and quality ratings to aid in recruitment decisions.
Free Trial: Available
Want to learn why enterprises choose iMocha over HackerRank? Visit here
5. Co-Cubes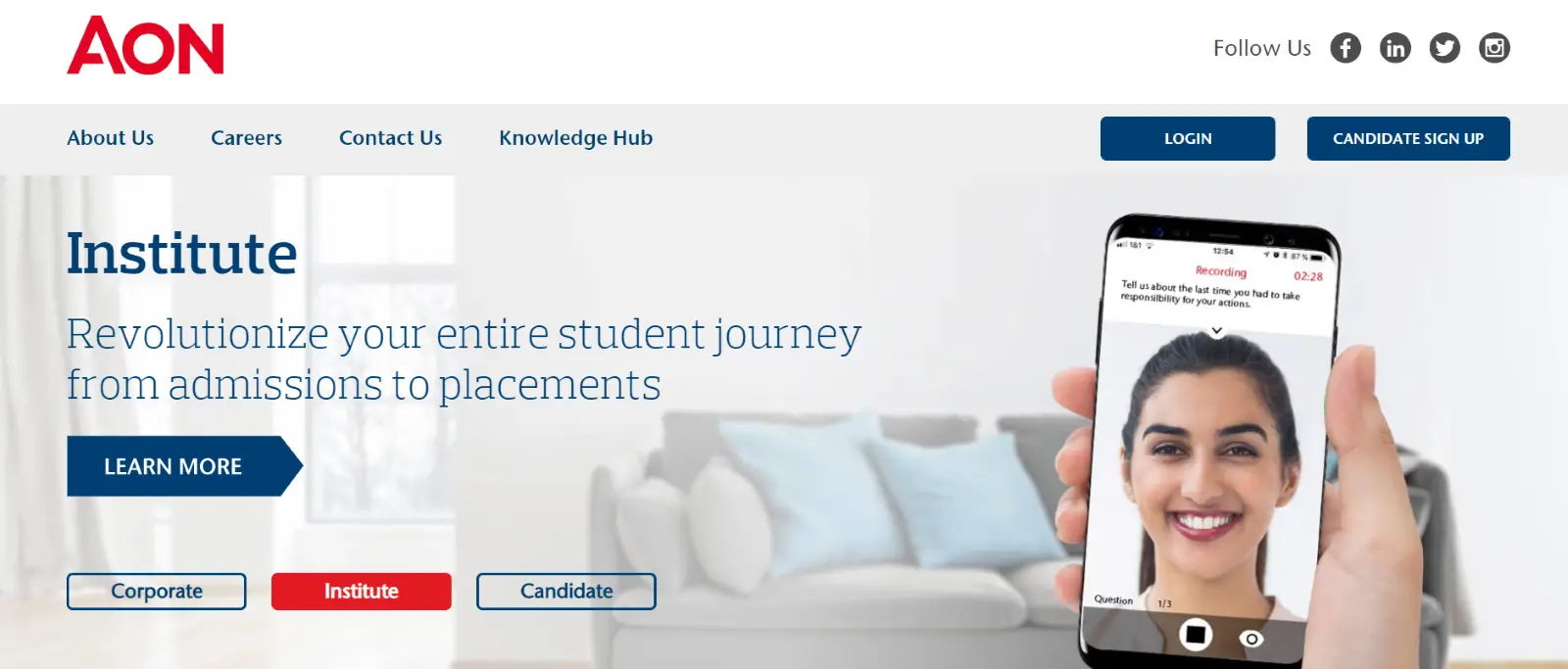 G2 rating: 0/5 (0 reviews)
Co-Cubes is an online assessment platform for recruiters that helps them identify the best candidates for their open positions. The platform contains a variety of assessments that span a wide range of skills and talents, as well as a method for recruiters to monitor their prospects' progress over time.
Perks
It also offers an objective manner to assess a candidate's skills and talents.

Co-Cubes provides exceptional customer service.

The automatic reporting feature of this product enables recruiters to examine detailed reports with different analyses.
Free trial: Available
Worried about bad hiring? Use iMocha's digital skills assessments to map candidate competencies with the right job role.
6. HackerEarth Assessments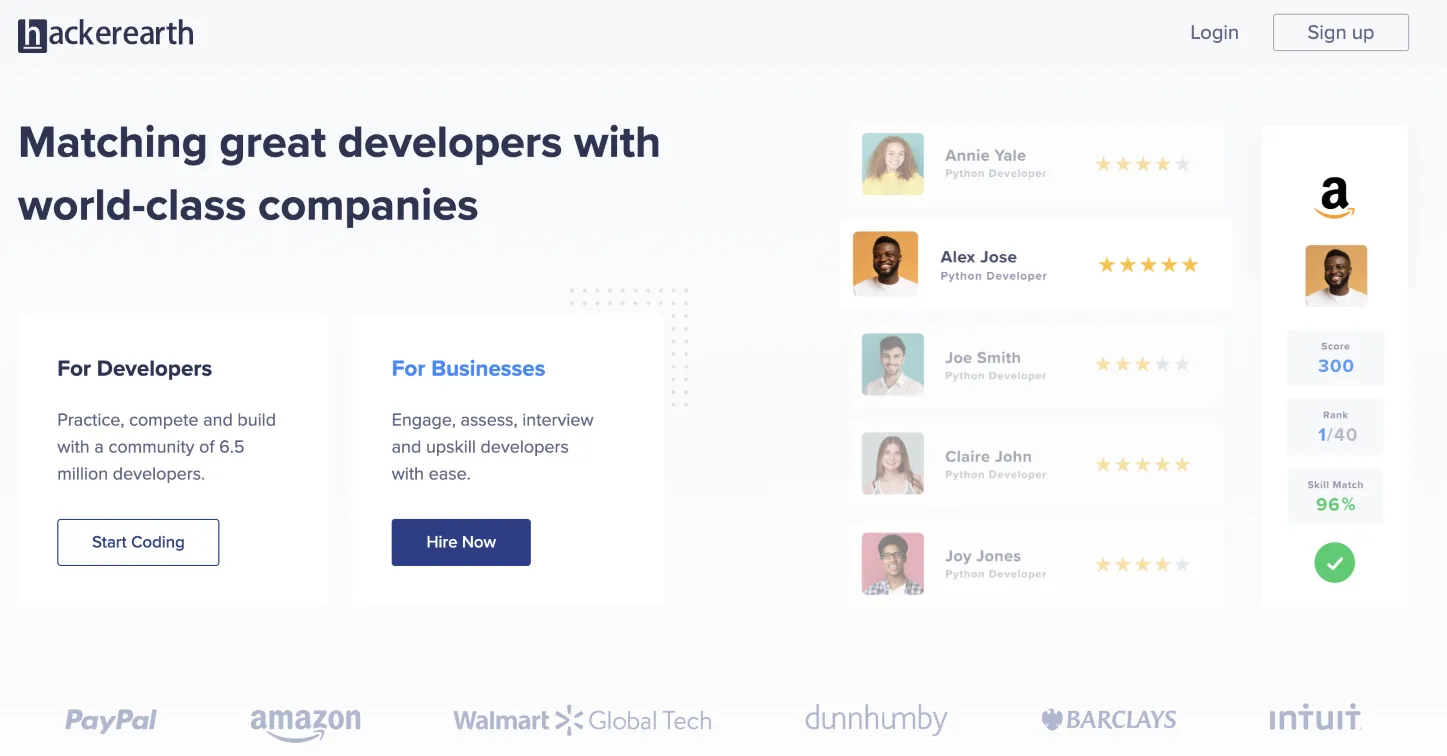 G2 rating: N/A
HackerEarth Recruiter is one of the best iMocha alternative tools for recruiters to find and assess developers. It helps businesses create custom assessments and analyze prospects to recruit skilled employees. Furthermore, HackerEarth's evaluation dashboard provides you with a more in-depth view of your hiring process.
Perks
HackerEarth allows you to create highly accurate coding assessments with minimal technical knowledge.

Its insightful reports help you better understand a candidate's talents.

Performance reports also enable hiring teams to analyze and assess even minute details.
Free trial: Available
Want to know why companies choose iMocha over HackerEarth? Visit here
7. TestGorilla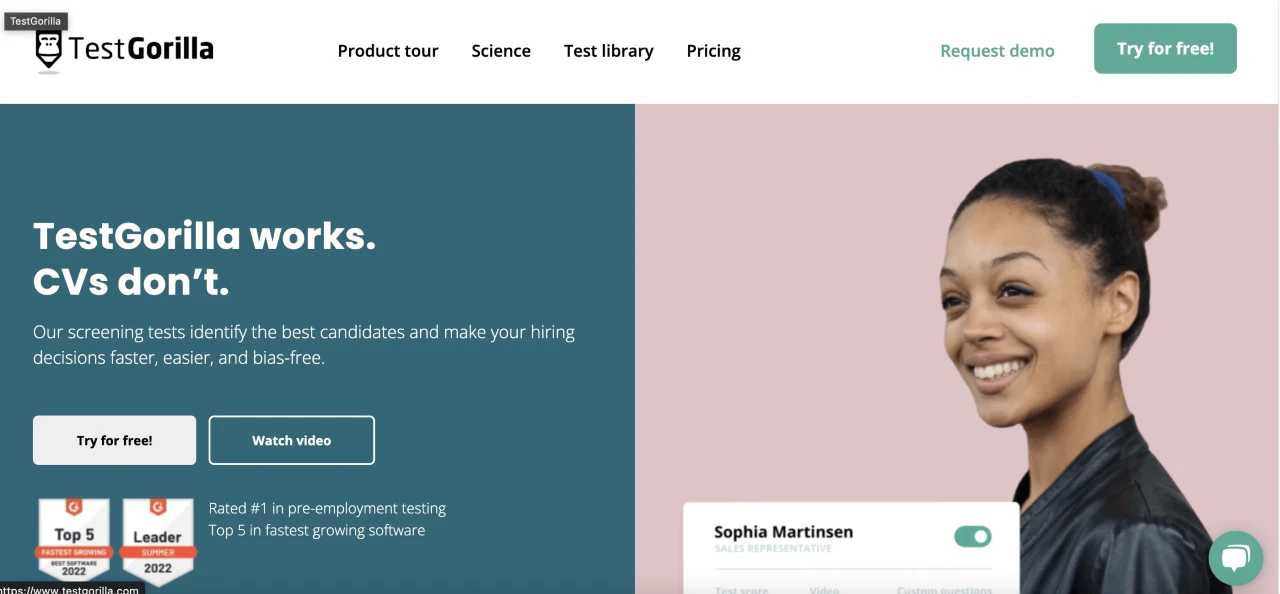 G2 rating: 4.5/5 (726 reviews)
The next iMocha alternative on our list is TestGorilla. It is a human resource management software designed to assist firms in improving recruiting procedures by administering pre-employment assessments of potential candidates. Using this tool, managers can add long-form or multiple-choice questions in assessments and send invitation links to multiple candidates via email.
Perks:
It allows administrators to follow applicants' real-time progress and arrange them based on ratings.

The results of each assessment are reported as soon as the candidate completes it and gets ranked by score.

The user interface of TestGorilla is straightforward.
Free Trial: Available
Learn why enterprises choose iMocha over TestGorilla? Visit here
8. SHL
G2 rating: 4.5/5 (2 reviews)
SHL recruit is an online assessment program that assesses applicants' ability to yield growth in various industries and functional areas. With the help of this tool, you get to source the talented professionals you require, from coding and engineering to healthcare and accountancy. Furthermore, with immersive virtual recruiting experiences, this recruitment solution ensures you create a strong connection with your applicants.
Perks:
The SHL solution assists you in creating an objective, and accurate hiring process, making it one of the top iMocha alternatives.

SHL prioritizes candidate experiences to ensure that interactive, realistic assessments and work simulations engage and inspire prospects.

Within the SmartRecruit system, a recruiter can create SHL assessments in a job requisition and obtain relevant scores and reports to sift and choose the right prospects.
Free Trial: Not Available
FAQs
Which is the best iMocha alternative?
This question has no definitive answer because it is reliant on individual preferences and needs. However, you can make an informed decision by using some of the best iMocha alternatives featured in this post.