Did you ever recruit someone who, despite a brilliant CV and interview, lacked passion or simply couldn't perform when they were on the job?
That happens more often than you think, and we assure you, you're not the only one who faces this. As fierce as the competition is, it is always good to keep reiterating to yourself not close positions just for the sake of it and to ensure finding skill-fit candidates is a priority.
A LinkedIn study¹ claims that, on an average, it typically takes 41 days for recruiters to fill a position across. Despite spending 41 days in the hiring process, making a bad hire could be a costly mistake.
If your organization has gone through this same ordeal, it's high time you switch to a more effective recruitment strategy. One of the factors that contribute to the success of your recruitment strategy is skill recruitment tools.
Thus, in order to simplify the recruitment process, we compared two of the most dependable skill recruitment platforms, interviewing.io with iMocha, their pricing, features, and more.
About interviewing.io
interviewing.io is a platform for technical interview practice and engineering recruitment. It allows software developers to schedule and take mock interviews with experienced engineers from Facebook, Google, and other top companies. After completing the mock interviews, it enables candidates to receive comprehensive feedback from engineers from FAANG on what they need to improve. Furthermore, it enables businesses to recruit the best performers depending on their performance.
About iMocha
iMocha is a skill assessment tool that allows hiring managers to assess and shortlist skill-fit candidates. It has the world's most extensive skill assessment library comprising 2500+ skills that help enterprises make skill-intelligent decisions to obtain job-fit talent faster.
In order to improve the quality of hiring, iMocha provides companies with pre-employment screening, IT & technical recruiting, university recruitment, lateral hiring, and diversity hiring facilities. Additionally, it also offers upskilling and reskilling solutions to ensure continuous development; in short, iMocha helps you maintain the skill cycle of each employee from hire to retire.
iMocha vs. Interviewing.io pricing
iMocha pricing model
iMocha provides several customizable pricing features for companies of all sizes based on their requirements. If you wish to gain more information about their pricing model, you can simply schedule a demo and speak to their experts.
Looking to hire high-performing candidates while maintaining the organizational skills bar? Try iMocha!
interviewing.io pricing model
interviewing.io pricing model is flexible. It allows you to pay when candidates pass the technical bar. If you wish to learn more about the price details, you can contact them through the website.
iMocha provides the largest skill library including tech, non-tech & coding skills
| | | |
| --- | --- | --- |
| Features | Interviewing.io | iMocha |
| Skills Library – Ready-to-Use tests | Not Available | 2500+ |
| Technical Interviews | Available | Available |
| IT Skills Assessments | Not Available | 500+ |
| Next-Gen Skills Assessments | Not Available | 50+ |
| Domain Skills Assessments | Not Available | 77+ |
| Aptitude Skills Assessments | Not Available | 100+ |
| Coding Skills Assessments | Not Available | 37+ |
| Coding Questions | Not Available | 3000+ |
| Project Based Assessments | Not Available | Available |
| Add own questions | Not Available | Available |
Interviewing.io is a technical interview platform that assists software engineers in preparing for technical interviews with leading technology companies such as Facebook, Amazon, Apple, and Google. It helps businesses in finding skill-fit jobseekers by matching their organizations with appropriate prospects, allowing them to recruit candidates quickly.
In order to facilitate this process, interviewing.io provides features such as entirely anonymous mock interviews with as many engineers as you wish to evaluate. Depending on your requirements, it shortlists applicants based on prior performance in rigorous live tech interviews.
iMocha, on the other hand, offers innovative capabilities for conducting asynchronous interviews, such as 500+ IT skills assessments, 66+ Next Gen assessments, 77+ Domain assessments, and 100+ Aptitude skill assessments.
It also enables you to create your own questions.

Using iMocha's technical, functional, and soft skills assessments, you can leverage the world's largest skill library comprising 2500+ skills across over 300 job roles. You can assess a candidate's domain, functional, and soft skills using a single assessment.

It also includes a comprehensive suite of real-time simulators with 3000+ coding challenges for 37 programming languages and 25+ code compilers to assess applicants' coding abilities.

Recruiters can also examine candidates' skills in real-life project settings with access to a complete software environment.
However, interviewing.io does not provide coding skill assessments. It rather provides a coding question database to candidates, which they can utilize to hone their coding skills before the interviews.
The platform has no learning resources of its own, and it's not beginner friendly. Experienced software developers can only leverage it to practice what they already know.

It also allows recruiters to create a custom interview template that fits their needs.
Worried about bad hiring? Use iMocha's digital skills assessments to map candidate competencies with the right job role.
Other Features
| | | |
| --- | --- | --- |
| Features | Interviewing.io | iMocha |
| Audio/Video Questions | Not Available | Available |
| One way Video Interviews | Available | Available |
| Skills Assessment Consultancy | Not Available | Available |
| Role based access control | Data Not Available | Available |
Interviewing.io offers one-way video interviews that cover every aspect of technical/behavioral interviews. This includes the following features:
Data structures and algorithms

Systems design

Soft skills
iMocha, apart from offering one-way video interviews to assess candidates. It also has the following features:
Audio interview questions to measure candidates' soft, technical, and communication abilities.

Skill assessment consultation through weekly and monthly conversations.

Role-based access control for adding multiple stakeholders to remove biases.
Are you interested in learning how iMocha can help you reduce your hiring time from 17 days to 7 days per role?
Looking for the fastest technical skills assessments? Use iMocha's AI-LogicBox – An Innovative pseudo-coding platform
| | | |
| --- | --- | --- |
| Feature | Interviewing.io | iMocha |
| AI-LogicBox Questions | Not Available | Available |
Do you realize how difficult it is to get experienced candidates to take assessments? Well, the difficulty of getting candidates to take assessments is directly proportional to their experience. The more experienced they are, the less likely it is for them to take assessments. In order to combat this scenario better, iMocha has come up with AI-logicBox.
It is an AI-enabled pseudo-code platform for testing language abilities. It aids in the evaluation of programmers based on their logical and problem-solving abilities.
Using this feature, recruiters can assess the coding abilities of applicants by comprehending the logical implementation and creativity rather than syntax.
Since it is a fill-in-the-blanks type of question, candidates are not required to write length codes from scratch. Rather, they just need to fill in the missing codes. interviewing.io, on the other hand, does not provide this functionality.
Leverage iMocha's Self-assessment portal for Upskilling initiatives
| | | |
| --- | --- | --- |
| Feature | Interviewing.io | iMocha |
| Upskilling Portal | Not Available | Available |
Undoubtedly, hiring new talent is tiresome, but retaining the present workforce is more challenging. As a result, iMocha offers upskilling tools for implementing and measuring effective L&D programs.
It helps to identify candidate skill gaps through assessment reports

It offers one-click integrations with various ATSs

It also enables you to measure the ROI of your learning program

It helps with department-wide training requirements analysis (TNA)
On the contrary, interviewing.io does not offer any upskilling services to measure and improve workers' current skill gaps.
However, applicants can make use of the practice questions to strengthen their technical and behavioral interview abilities.
Get automated proctoring insights with Audio/video & image proctoring with iMocha
| | | |
| --- | --- | --- |
| Features | Interviewing.io | iMocha |
| Image Proctoring | Not Available | Available |
| Randomization of test questions | Not Available | Available |
| Window Violation | Not Available | Available |
| Audio & Video Proctoring | Not Available | Available |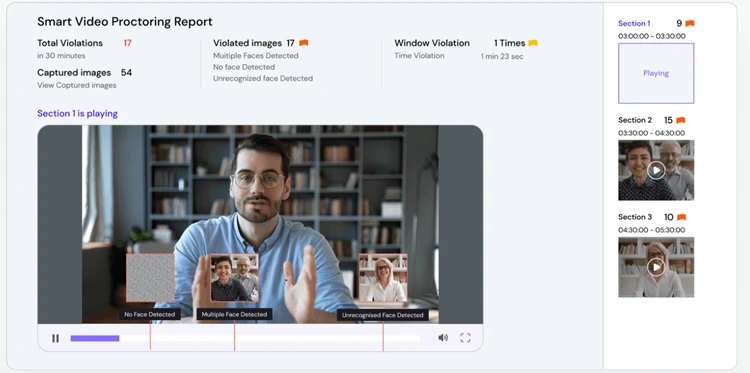 Cheating detection software is becoming an increasingly significant component of the recruiting process, particularly given the rise of hybrid and remote hiring. It helps to safeguard the integrity of applicants during the evaluations and pinpoint any serious violations.
iMocha offers a cheating prevention mechanism to eliminate the impersonation of candidates.
Candidate ID verification

Safe assessment browser to record the number of times the candidate has navigated away from the test window.

Face detection and capturing real-time images of candidates through their webcam for identifying the cheating intensity

Randomization of test questions to eliminate guesswork
On the other hand, interviewing.io does not offer any cheating detection capabilities to recruiters.
G2 Ratings
interviewing.io: 4.5/5 (2 reviews)
iMocha: 4.4/5 (189 reviews)
Pros & Cons
interviewing.io
Pros
This tool provides candidates with shortlisted pre-screened candidates

It has its own database of technical questions

It allows recruiters to easily and quickly connect with top talents
Cons
It does not offer a skilled library to assess candidates on various skill sets

This platform does not support recruiters in assessing fresh graduates
iMocha
Pros
It allows recruiters to shortlist candidates based on their technical and soft skills

It features recruitment microsite capabilities to attract maximum candidates for hiring

This tool supports candidate benchmarking to assess candidates as per industry and organization standards
Cons
This tool does not offer Psychometric tests

iMocha does not support background checks of candidates
Which is better: interviewing.io or iMocha?
It is difficult to answer this question because it depends on your particular needs. However, it is evident that these tools are designed to eliminate reliability in the resume-scanning process.
Overall, after considering the abovementioned points, Interviewing.io allows recruiters to hire qualified applicants using its pre-screening criteria. Whereas iMocha allows hiring managers to analyze candidates' skills using its customized skill library and smart proctoring tools to make data-driven talent decisions.
Reference
¹Anders (2021) Can you wait 49 days? Why getting hired takes so long in engineering https://www.linkedin.com/pulse/can-you-wait-49-days-why-getting-hired-takes-so-long-george-anders/