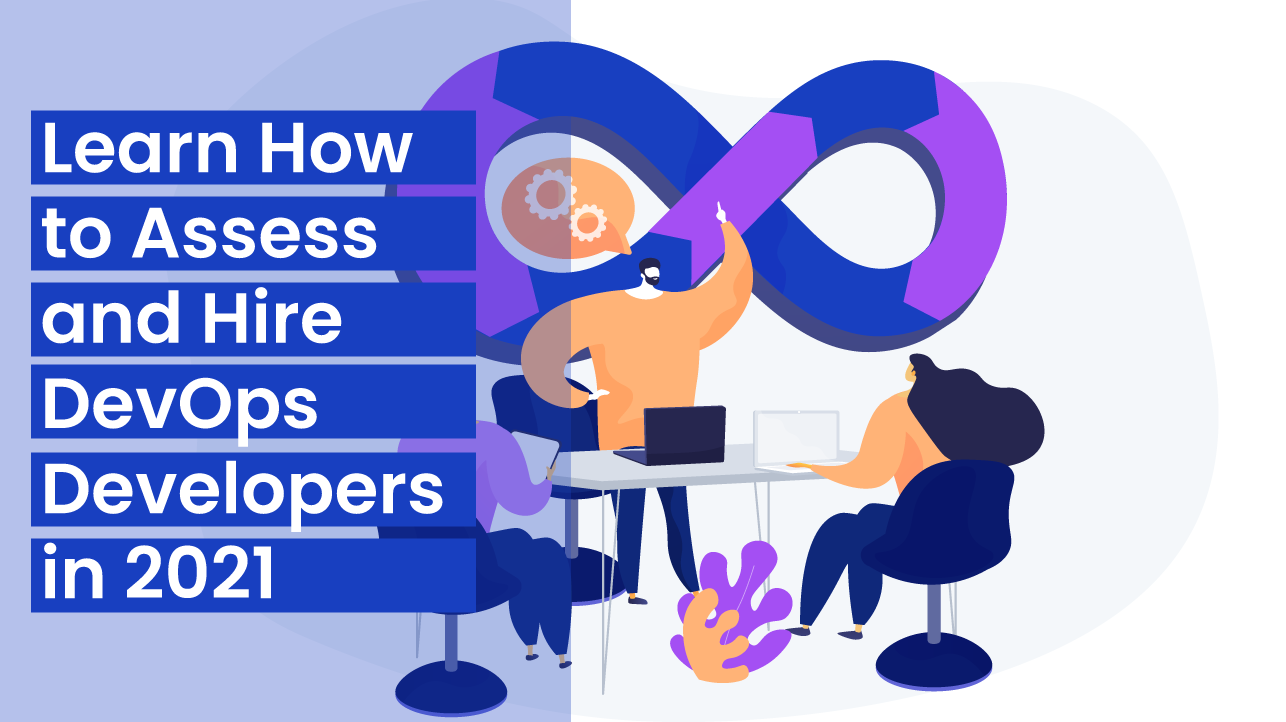 There was a period when the tech companies used different conventional software development methods to run their companies. The entire software development cycle was divided into two groups: developers and IT/Op's practitioners.
Nowadays, most organizations realized the need to break the barriers that separate software developers and IT operations and started to hire DevOps developers for their company's overall growth. Therefore, we can say qualified candidates are a hot commodity these days, and for the DevOps professionals, the world is their oyster.
According to a recent survey on terms of pay, work postings, and chances for advancement, DevOps engineers ranked third on Indeed's list of best jobs in America for 2017. Indeed, also discovered that these jobs have grown by 106% in the last few years, with an average base salary of $123,165.
So, how do you find the right people to complement your DevOps team?
Finding the best candidates with the right combination of expertise depends on the company's unique needs. The exact position of a DevOps Engineer is often difficult to pin down, not because it is one of the most difficult positions in today's diverse workforce, but because it is still changing every often.
Now, let's know, what is the role of DevOps Developers?
Role Of DevOps Developer
DevOps Engineer - a team or one person – is responsible for managing the entire application development lifecycle seamlessly. They are in charge of functionality, fixes, and regular upgrades, aligned with the system's business goals, credibility, and stability.
DevOps teams/engineers can reduce downtime and address problems faster with complete openness and smooth communication, resulting in increased performance, creativity, and value to companies and consumers.
Top DevOps Skills to Consider
Are you planning to establish a team that can seamlessly manage the entire AD lifecycle? Willing to hire DevOps developers for your company?
Here are some of the top skills you should consider while hiring the right candidate.
Coding and Scripting:
Two essential skillsets for a DevOps engineer are coding and scripting. Python, Ruby, Java, JavaScript, PHP, Bash, Shell, and Node are examples of programming languages. .js is one of the most common scripting languages needed in the DevOps programming skillset.
Data Security Skills:
The rate of risk also corresponds to the speed at which DevOps allows for deployment. Thus, the conventional methods don't help with security. Thus, in that case, DevOps helps by integrating the security system in the SDLC from the outset.
Automation Skills:
To be referred to as a DevOps engineer, the candidate must have a strong understanding of automation, which is at the heart of the DevOps process. A DevOps engineer should be able to automate the entire DevOps pipeline, which includes CI/CD cycles, app performance tracking, infrastructure and configurations, and so on.
Use the Right Tools:
The technical knowledge of DevOps solely depends on the tools used during various stages of implementation. Although, it's difficult to keep track of how many resources DevOps has introduced. However, the importance of DevOps performance is something that should be addressed in-depth.
Customer-Focused Approach:
The end goal of any good DevOps process is customer satisfaction. Given this aspect, DevOps professionals must ensure that any role they perform is aligned with business goals and provides value to the end-user. They'll have to work with stakeholders, developers, testers, project managers, etc., to achieve a shared goal.
Preparedness:
Overall, DevOps engineers and professionals will need to be positive and enthusiastic about their job, which will show in their success and productivity. Furthermore, keeping current with related technology, new tools, and other factors is an important part of your operation.
These are some of the top skills to be considered before hiring a DevOps engineer. But, as I mentioned earlier, there is no assigned role of a DevOps engineer. Every business has its own set of standards and procedures.
Also Read: DevOps Interview Questions for hiring experienced DevOps Developers
On the contrary, the DevOps programmer must have prior knowledge and a better understanding of what and how to do things in the right way. Their level of reputation and experience enables them to tailor their work to the needs of the company.
As a result, finding someone with these levels of accuracy and experience for a mission-critical project is difficult.
To satisfy the company's needs, are you planning to train your in-house IT experts in DevOps skills? In my opinion, it is a very bad idea because DevOps plays a vital shift in IT's conventional structure. Designing a DevOps system with current technologies and practices necessitates knowledge and technological skills.
Finding someone with a diverse range of skills and experience can be difficult, particularly if you being the hiring manager comes from a non-technical background.
It's difficult to find an answer to a technical question like what a DevOps engineer does? What are the best places to look for DevOps engineers? Do DevOps engineers know how to code? How do you go about finding a DevOps engineer? etc. The interview questions for DevOps are endless.
Hence, iMocha - #1 AI-Powered skill assessment platform simplifies your company hiring process. A DevOps evaluation test identifies potential applicants, assesses them on different skill sets, and summarises their skills. It aligns with the company's view of what a DevOps engineer should be doing on a daily basis.
We have a diverse range of DevOps tests based on a variety of topics, including, AWS concepts and functions, DevOps AWS, Build and CI automation, data management, triggers, test classes, etc.
Also, employers can customize the tests by setting the difficulty level of the tests or combining different tests into one, adding their required questions, or can also get a tailored-made test for their recruitment process.
DevOps is a culture more than a technological solution. The more you understand the more beneficial it would be. But to succeed in your company, your employees should have the openness to learn new things along with the combination of hard and soft skills.
Wait no more, give a try to iMocha today, and hire the job-fit candidates for your company.
To schedule a free demo, click here.