In 2021, 87% of the employers are willing to give more flexibility to their employees. And while 23% expect the office to be the primary area of work, 72% expect a hybrid work model. This was revealed in a recent University of Chicago study.
However, that isn't to say the way we work hasn't been altering; the workforce was changing even before the pandemic. With the arrival and proliferation of freelancers and the gig economy, the modern workplace was evolving into a mix of different kinds of work, done by different kinds of professionals, done in different ways. As in most technology aided transformations, this was happening slowly but surely.
And then the pandemic happened, accelerating the rate of digital transformation, both in the workplace and in management models.
This has been the inflection point for a lot of switches to digital across the world, and the same has been the case for what we call the hybrid workforce.
What is the hybrid workforce, though?
In simple words, when your workforce consists of professionals working from different locations, across different time zones, and with different employment contracts and agreements with the organisation.
According to a recent Gartner report, hybrid workforce planning is a deliberate design that enables employees to flow through various work sites — from remote, solo locations, and microsites of small populations to traditional concentrated facilities (offices, factories, retail, etc.). The report adds that at the heart of a hybrid workforce model are the ideas of shared ownership and trust, which helps organizations break down long-held beliefs and potential myths about where and how work gets done most effectively.
As you read this, it becomes easy to understand how the pandemic has accelerated the move: It has become a necessity to plan and manage a hybrid workforce for thousands of businesses across the world.
But then, this has begged the question to hundreds of management and talent professionals, too? It's all well and good, this move to a hybrid workforce, but how do you manage such organisations and make them work?
Create an agile approach to workforce management—wherein the employees divaricate their 'work' time and 'home' time. This has proven to ensure a positive and productive workforce. A fintech company, Soldo, recently commissioned a study with several universities.
The study concluded that besides positivity and productivity, this agile, hybrid work environment fosters creativity as well. This happens because this model allows a level of autonomy to people who might otherwise be dependent on their peers.
How can you establish a Hybrid Work Culture?
Following are a few key areas you need to look at while redesigning the way you run your teams: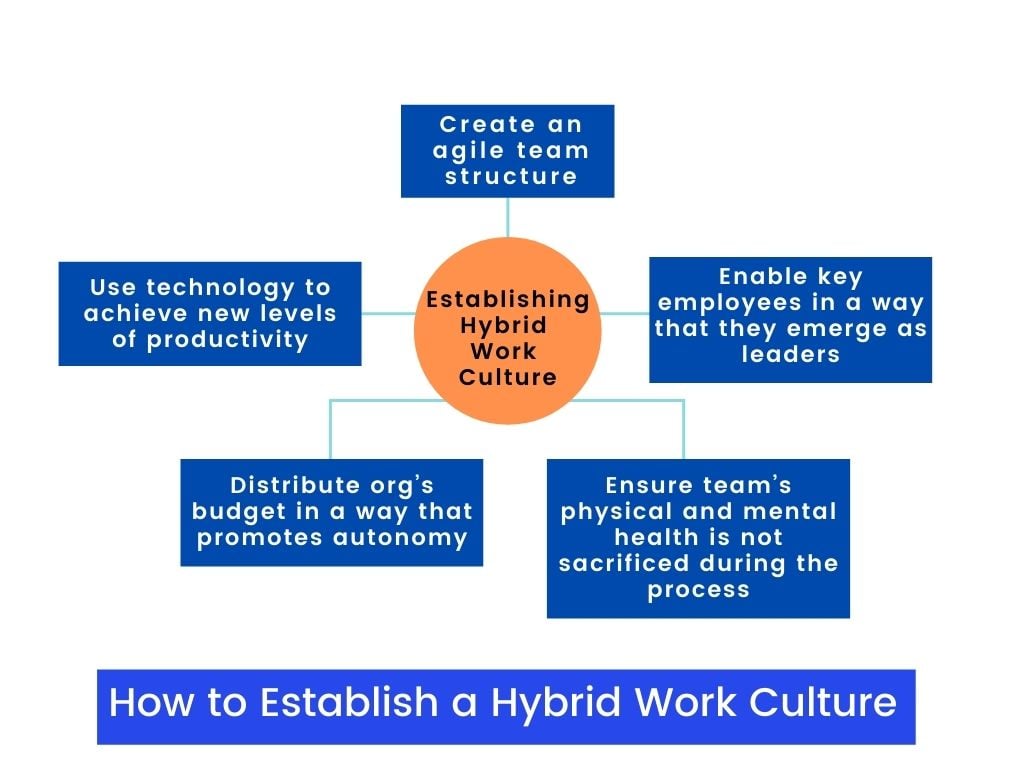 Sure, these may seem like huge tasks that will take a significant amount of time to reach. But what you'll have to remember is that hybrid work must have 'culture' at its fulcrum. It isn't just a model of work; it is a way of replicating your org culture that doesn't just reflect in the tangible and intangible assets, but in the way your employees work and interact with each other.
Here are some preliminary steps you can take for the same as recruitment professionals:
Retrain leaders: It takes a different set of skills to lead in a remote environment. And given the uncertainty of the times, empathy towards your employees will be any leader's strongest suit. You must retrain your managers and leaders on how they can create structured ways to lead a team that is hybrid. You can also create a guide or a set of guiding principles for leaders to refer.
Recruitment using clear skill assessment tests so expectations are set early: Collaboration, communication, and technological dexterity are vital factors for any hybrid or remote-first work culture. So you'll have to make sure that the people you hire, be it contractual or permanent, possess those skills. For instance, with less body language to read, verbal and written form of communication is now vital. So assess the candidates you're hiring on these parameters as well.
Make sure candidates are ready to work using new age collaboration tools: Conducting frequent and detailed training about the tools your organization uses will empower your employees. They will also feel empowered through this process.
Establish a clear and periodic upskilling and training program for employees: The pandemic accelerated the speed of digital transformation by decades, which means the skills we needed to perform one job are evolving as well. Even in a hybrid work culture, you'll have to upskill your employees to ensure they have the required skill set for the job they have. A robust upskill program will also ensure that your employees feel engaged in company's growth.
To learn more about remote hiring and establishing a hybrid and remote-first work culture, you can check out our guide here.