According to OpenView's 2022 State of SaaS's Talent report, the cost per hire has increased by 17%, days-to-hire has increased by a whopping 91%, and companies are seeing a rise of expectation in compensation. In a situation such as this, companies are turning to SaaS recruitment software to cut down hiring costs and efforts.
The job market has been seeing an imbalance for the last few years, and this imbalance is especially pronounced for the SaaS companies. Adapting SaaS recruiting platforms can effectively increase candidate engagement and recruitment transparency, thus making an analytical, data-driven hiring decision.
To help you select a tool that works the best for you, we have efficaciously compared the top 15 SaaS recruiting software in this listicle. Among these 15, you can find the one that gives you the best recruitment SaaS solution and fulfils your hiring needs.
SAAS-based Skills Assessment Platform for Candidate Screening
1.iMocha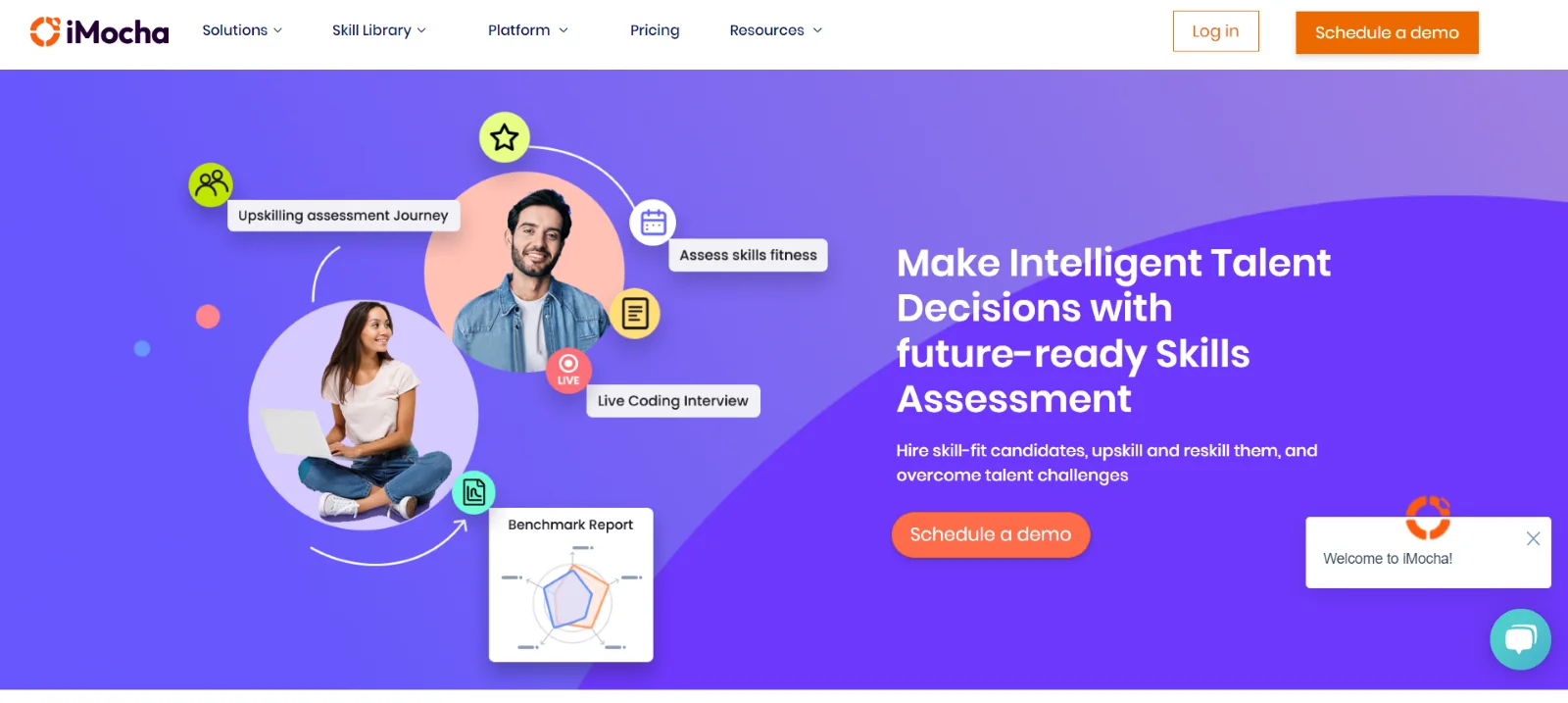 iMocha is the leading SaaS recruitment software in the market currently. At iMocha, you can use 2,000+ calibrated assessments to quickly and easily test applicants on any skill without needing technical expertise.
While creating assessments, you may choose from pre-made job-role assessments or create an individual evaluation for your prospect. You can also request custom assessments for any technical, digital, functional, or customer-facing roles.
iMocha also has a number of proprietary assessment types and tools that can help you identify job-fit candidates. It offers Live Coding Interview, which enables hiring managers to conduct live coding assessments; Code Replay, which helps recruiters and hiring managers go through each line of code, and a number of other tools.
Using its proctoring suite, you can enable window violation, audio, video, image, IP, and other anti-cheating measures to ensure your candidate's integrity.
iMocha has helped more than 150 organizations effectively switch to remote SaaS hiring in the past.
Founded in: 2015
Founded by: Amit Mishra & Sujit Karpe
Website: https://www.imocha.io
Free Trial: Yes
Pros:
iMocha has ready-to-use 2000+ calibrated assessments that help cut time-to-hire.

It provides ready integration with leading ATS such as iCIMS, Workday, Taleo, Lever, and more to streamline your hiring activities.

This SaaS recruiting platform enables you to measure test performance, analyze invitation data, and evaluate candidate pipeline to make genuine decisions based on reports and analysis.

With image, video, and audio proctoring powered by A.I., this SaaS recruiting software enables you to detect cheating.

iMocha's advanced plagiarism detection technology allows hiring managers to spot unoriginal code.
Cons:
iMocha does not conduct psychometric tests
Clients: Deloitte, PayPal, Fujitsu, Capgemini, Cognizant, Wipro, Vanguard, CGI
Pricing: $1800/month
G2 Crowd Rating: 4.4/5 (165)
Do you want to accelerate your hiring process by 50%? Try iMocha's SAAS-based skills assessment platform.
SAAS ATS System
2. Bullhorn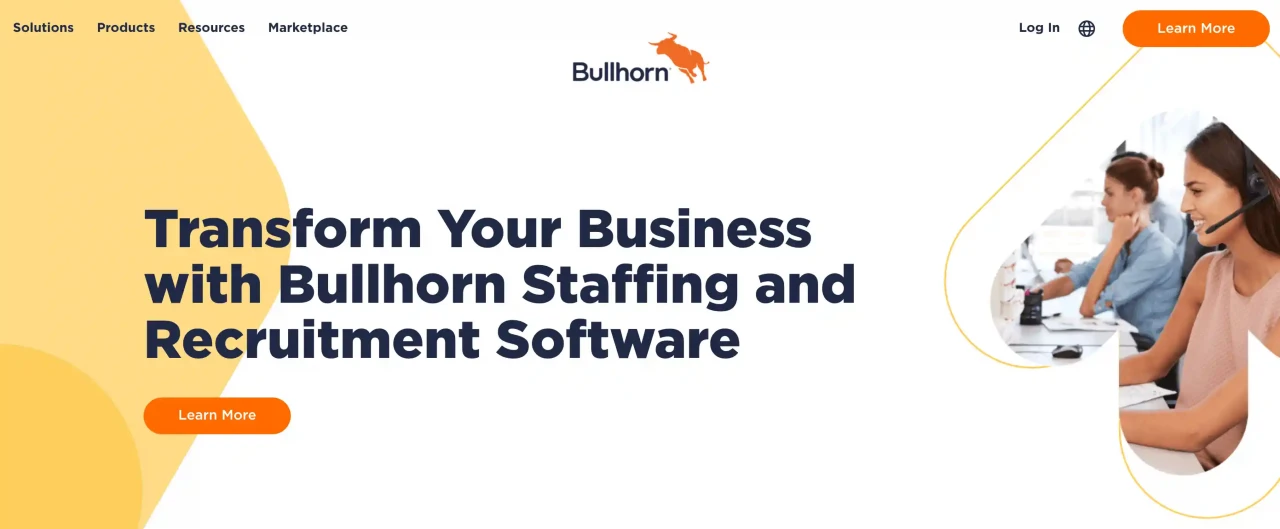 Founded in: 1999
Founded by: Art Papas
Free Trial: Yes
Pros:
Bullhorn has a highly customizable UX.

The program assists you in staying organized and keeping track of your lead tracking, response process, and sales cycle.

You can save a tonne of time with its robust integration with the multi-job posting tool WaveTrackR, which allows you to post various job offers in one go.
Cons:
The software is time-consuming and slow.

The session time expires very soon, interrupting the flow of work.

The search engine and algorithms does not work properly.
Clients: ADITI STAFFING, Addison Group, ALKU, Allen recruiting software, FILTER
Pricing: On request
G2 Rating: 4.0/5 (505 reviews)
3. cloudrecruit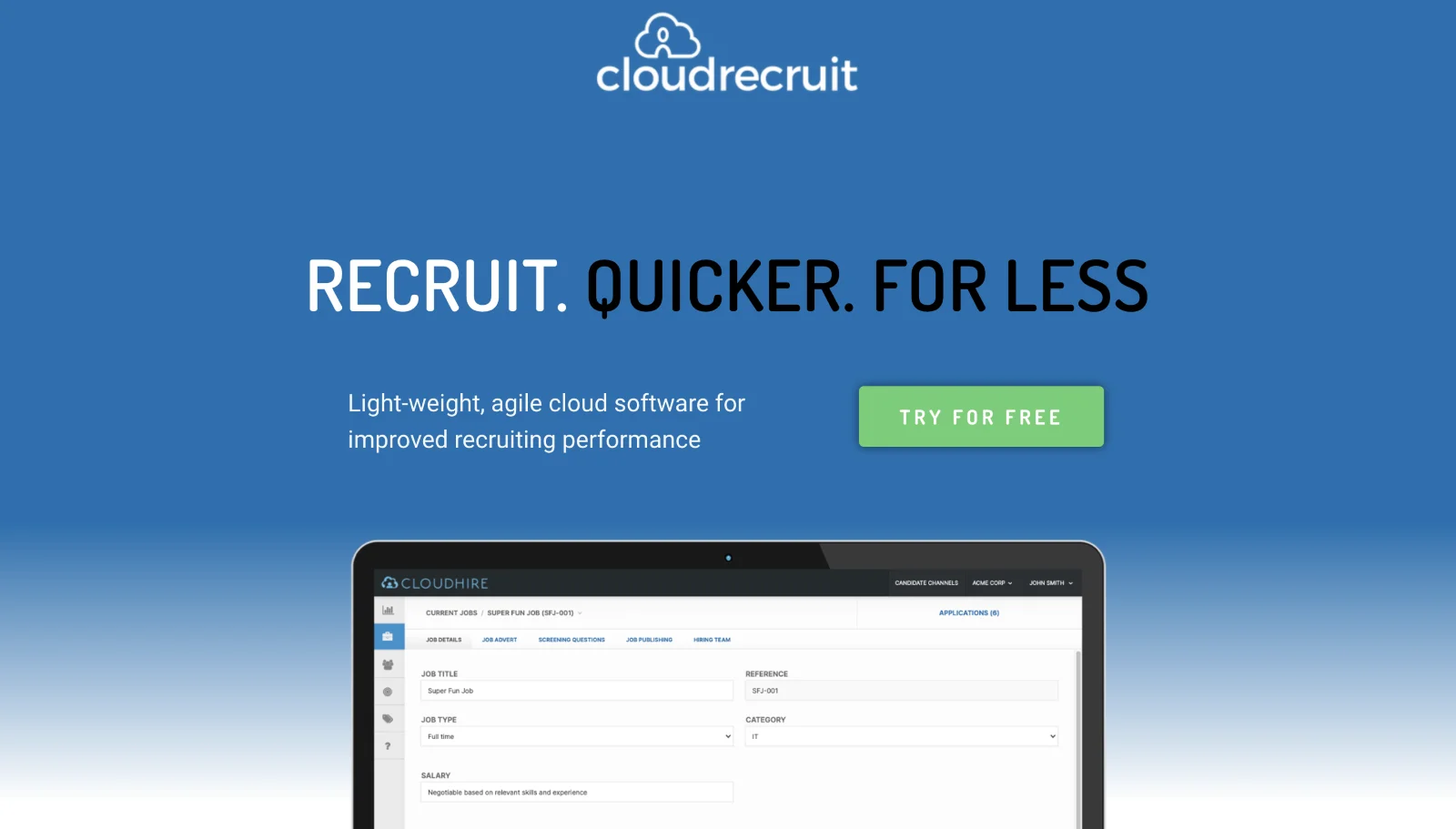 Founded in: 2021
Founded by: Rikki Carmichael
Free Trial: No
Pros:
cloudrecruit is an efficient, effective, and easy-to-use ATS software.

It saves a lot of time by providing all necessary recruitment tools, such as ATS, talent CRM, and engagement, as well as a recruitment database, talent pipelines, and many more in one place.
Cons:
cloudrecruit does not have an adequate number of skills for assessing candidate's job fitness.

It is not cost-effective software.
Clients: HelloGroup, Dataorbis
Pricing: Pay-as-you-go model
G2 Rating: 4.0/5 (1 review)
4. Greenhouse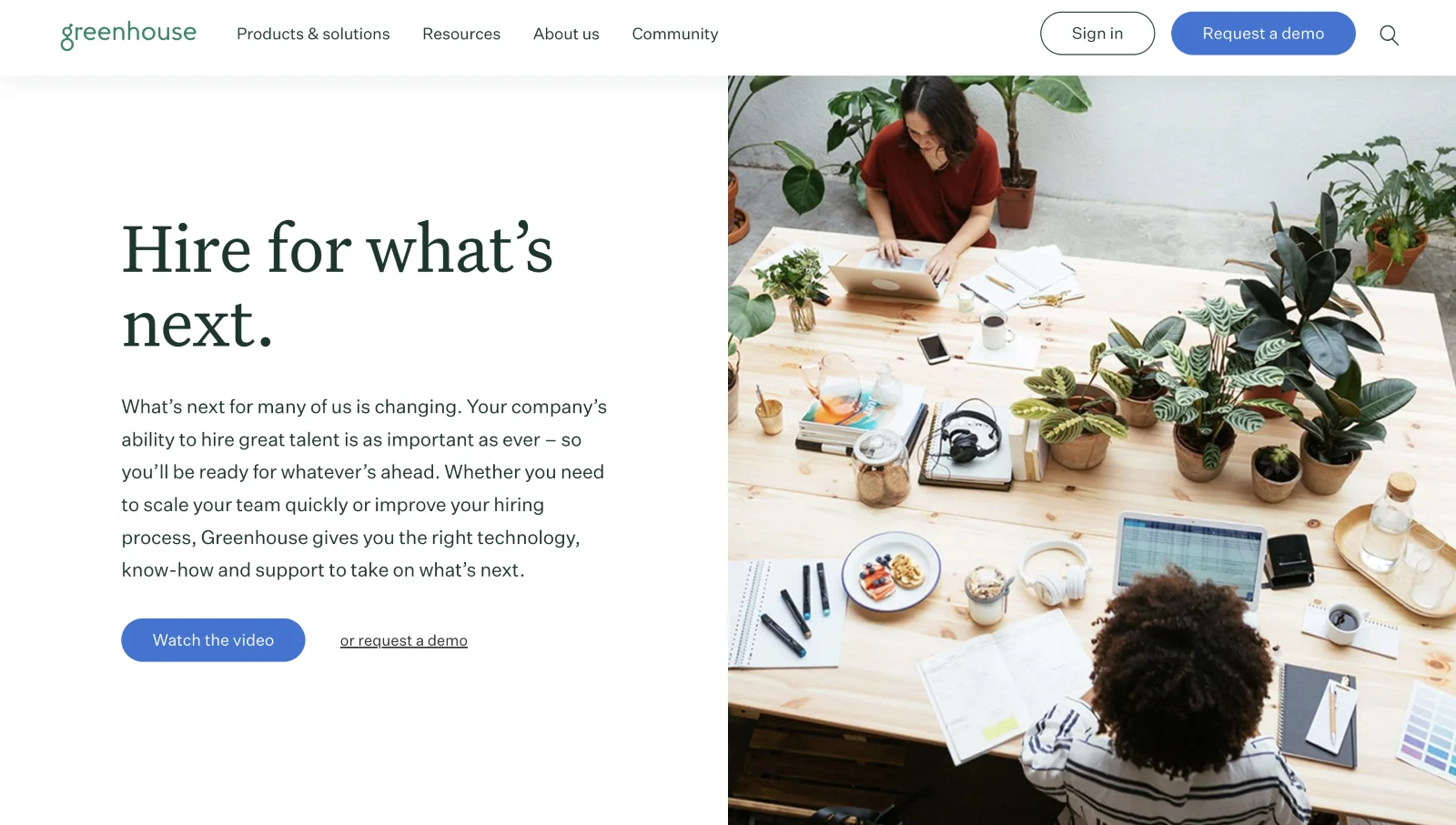 Founded in: 2012
Founded by: Daniel Chait and Jon Stross
Free Trial: No
Pros:
You can customize the platform to meet the unique requirements of your organization as well as build different hiring plans for every role.

It is simple to use and works well with different platforms (E.g., G Suite & Goodtime).

Greenhouse is a "one-stop shop" for all hiring processes. Within Greenhouse, you can post positions, evaluate applicants, arrange interviews, make offers, and even source.
Cons:
It has limited options for customizations.

The application does not allow for saving notes, tracking communications, and adding numerous departments.

The application shows an inability to match resumes with similar candidates.
Clients: HubSpot, Wayfair, HARRY'S, invision, J.D. Power
Pricing: On request
G2 Rating: 4.4/5 (1214 reviews)
5. JazzHR
Founded in: 2009
Founded by: Pete Lamson
Free Trial: Yes
Pros:
The U.I. is very user-friendly, making it easier to navigate the platform.

It offers an integrated eSignature capability streamlining the offer letter signing and paperwork completion process.

JazzHR provides an automatic rejection feature for applicants who would not be qualified to move on to the next round, saving both the hiring team and the applicant time.
Cons:
The pricing is too steep.

Important emails from the system often are marked as spam.

JazzHR does not have a mobile-friendly site.
Clients: MuseumHack, Signal 88 Security, Teambuilding.com, Santa Cruz Bicycles, Massaro Construction Group
Pricing: $39 flat rate/month
G2 Rating: 4.3/5 (360 reviews)
6. SmartRecruiters

Founded in: 2010
Founded by: Jerome Ternynck
Free Trial: Yes
Pros:
It allows the recruiter to review candidates, add grades or ratings, pass the review to another reviewer, or return the review to the H.R. team.

SmartRecruiters provides the functionality of creating email correspondence templates.

It enables hiring teams to communicate and have complete access to the candidate pool during the hiring process.
Cons:
There is no feature for self-scheduling interviews on this SaaS recruiting tool.

SmartRecruiters does not automatically contact candidates after a job application.

It doesn't integrate well with other platforms.
Clients: VISA, LinkedIn, Skechers, Equinox, Avery Dennison
Pricing: On request
G2 Rating: 4.3/5 (439 reviews)
7. Oracle Talent Management (formerly Taleo)

Founded in: 1977
Founded by: Martin Ouellet
Free Trial: Yes
Pros:
Oracle has an easy to understand and intuitive UI.

This platform controls the entire recruiting and sourcing process. It manages new personnel, and offers performance training and advances careers.

It delivers workflow-driven human capital for the growth of your organization.
Cons:
The "years of experience" filter is not embedded when looking for candidates in the database.

There are many limitations to applicant screening.

It is not possible to download C.V.s in bulk.
Clients: Generali, AutoZone, Sainsbury's, Vanderbilt university, Schroders
Pricing: $2500/month
G2 Rating: 3.4/5 (340 reviews)
8. Breezy H.R.

Founded in: 2014
Founded by: Darren Bounds
Free Trial: Yes
Pros:
The U.I. is very intuitive and easy to teach to new H.R. managers.

It gives access to additional services like Facebook Ads and LinkedIn postings.

Breezy H.R. lets managers quickly build new pools to keep the database organized.
Cons:
Breezy H.R. sends notifications to hiring managers only and not the other stakeholders.

It does not have video conferencing embedded in it.
Clients: Booster, Docebo, dodge data & analytics, dollar eight clubs, elevation church
Pricing: Starting from $0
G2 Rating: 4.4/5 (526 reviews)
9. Jobvite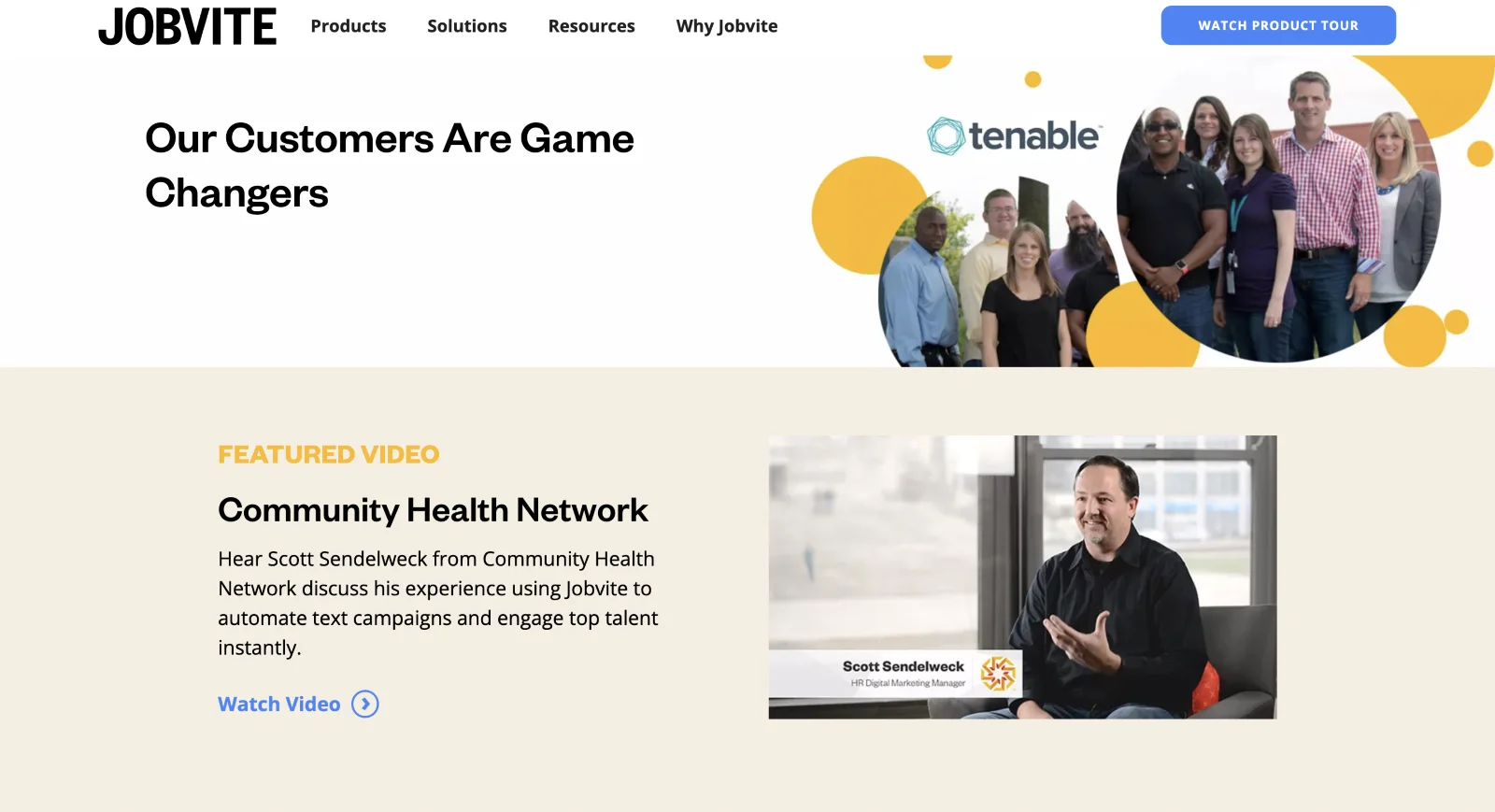 Founded in: 2006
Founded by: Jesper Schultz and Hans Larsen
Free Trial: Yes
Pros:
Jobvite job posting is also shared on other job boards, which improves the coverage for the posting and candidate outreach.

The U.I. is applicant friendly intuitive and makes the recruiting process efficient for both recruiters and hiring managers.

It provides analytical reports of each candidate.
Cons:
You cannot access knock-out form templates, and neither can you customize basic templates.

Jobvite automated email feature sends many emails at a time, which can overwhelm the inbox and end up mixing essential emails.

It shows a lacks of integrations with M.S. Teams and LinkedIn.
Clients: Scott Sendelweck, ACCO Brands, eegee's, Long Building Technologies, Exelon
Pricing: $30/recruiter/month
G2 Rating: 4.0/5 (504 reviews)
10. Jobsoid

Founded in: 2016
Founded by: Bhavit Naik
Free Trial: Yes
Pros:
It is easy to detect candidates' progress at any position or stages of the interview.

The tool has integrated with several job portals like LinkedIn, Indeed, Glassdoor, Careers Portal, Zip Recruiter, Career tab, and more.

The platform is simple to use, with an intuitive interface. Its operation is currently very effective, allowing for publication on social networks, which broadens the reach of company's requirements and increases the number of applications received.
Cons:
Jobsoid's mobile application does not function properly.

It is more of America-centric software.

The search engine of this H.R. recruiting tool is relatively slow and unresponsive.
Clients: Jar House, English Lakes Hostels Resorts & Venues, CodMax, European Bartender School, iWay
Pricing: $0/month
G2 Rating: 4.4/5 (12 reviews)
SAAS Human Resource Management Software
11. Paylocity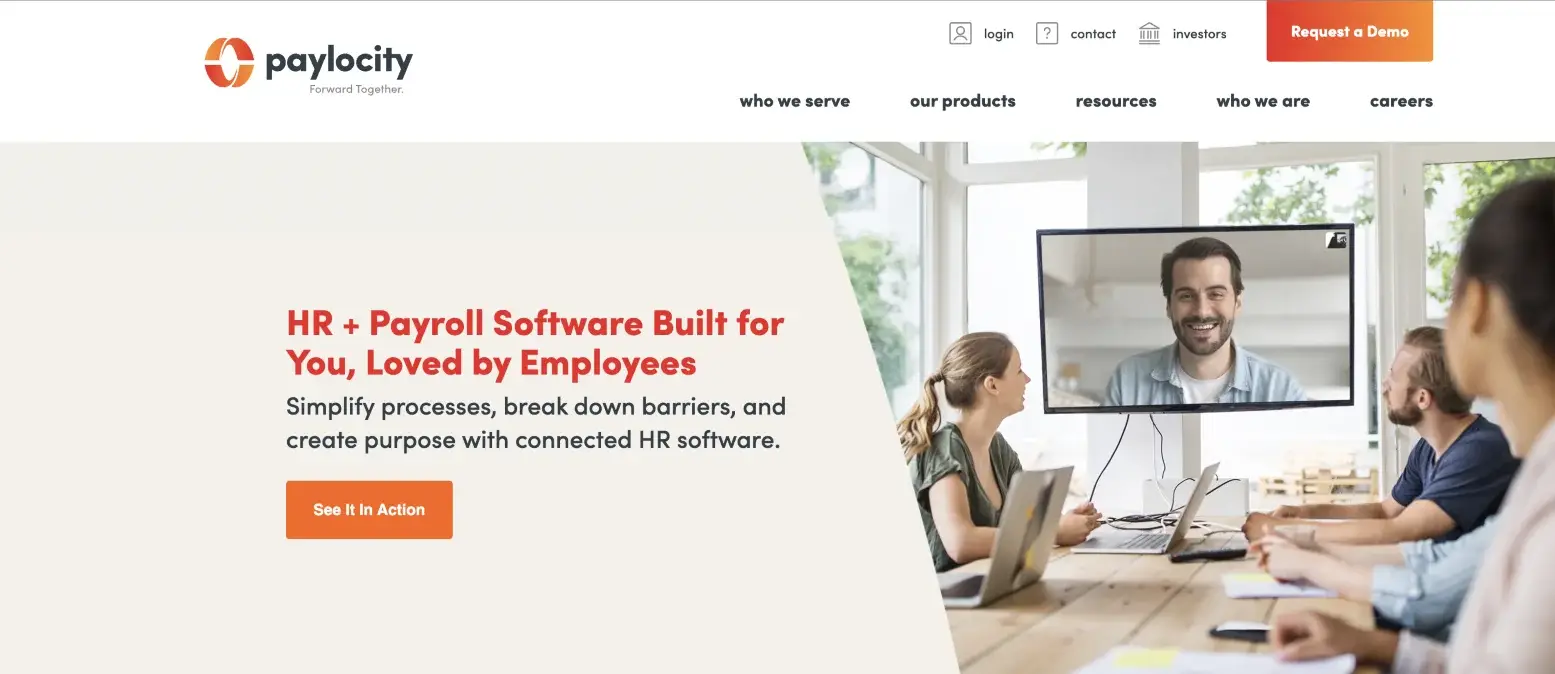 Founded in: 1997
Founded by: Scott Scherr
Free Trial: No
Pros:
With Paylocity, compliance is much simpler. Dashboards for year-end reporting, ACA reporting, and compliance are all available. Each dashboard has everything configured in the system and available for your assessment.

The customer support team provides top-notch services.

The colorful U.I. helps to track progress and performance management.
Cons:
Users have to individually import some information because bulk imports are not supported.

Employees can't see any used PTO (Paid Time Off) until the next pay period.

The implementation and support staff does not response properly.
Clients: Cloudreach, K&A Engineering Consulting, Creative Consumer Concepts, limelight, Tri-tech
Pricing: $45/month
G2 Rating: 4.4/5 (2,037 reviews)
12. Workday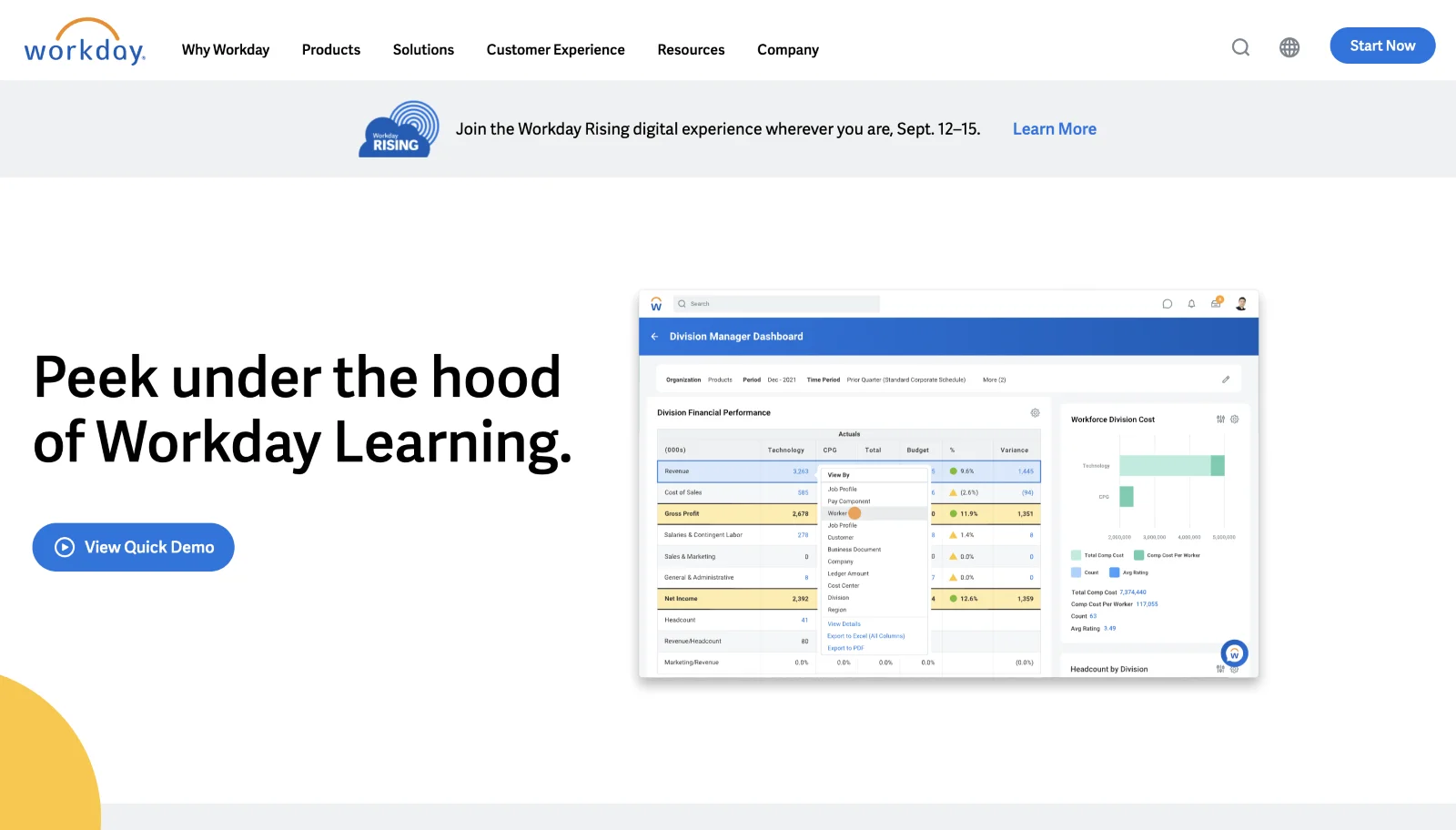 Founded in: 2003
Founded by: Aneel Bhusri and Dave Duffield
Free Trial: No
Pros:
It allows you to generate spreadsheets from data and tables (such as payslips).

It can be customized to meet the needs of your business.

Workday lets you track nearly everything, including pay, vacations, employee onboarding, approval, business and medical updates, and more.
Cons:
Workday is an expensive HRMS tool: you have to pay for even routine software updates.

The software is not user-friendly.

Customer support has gotten worse over the years.
Clients: AstraZeneca, Adventist HealthCare, CarMax, Oriental
Pricing: $40-60/month (per employee)
G2 Rating: 3.4/5 (340 reviews)
13. Freshteam by Freshworks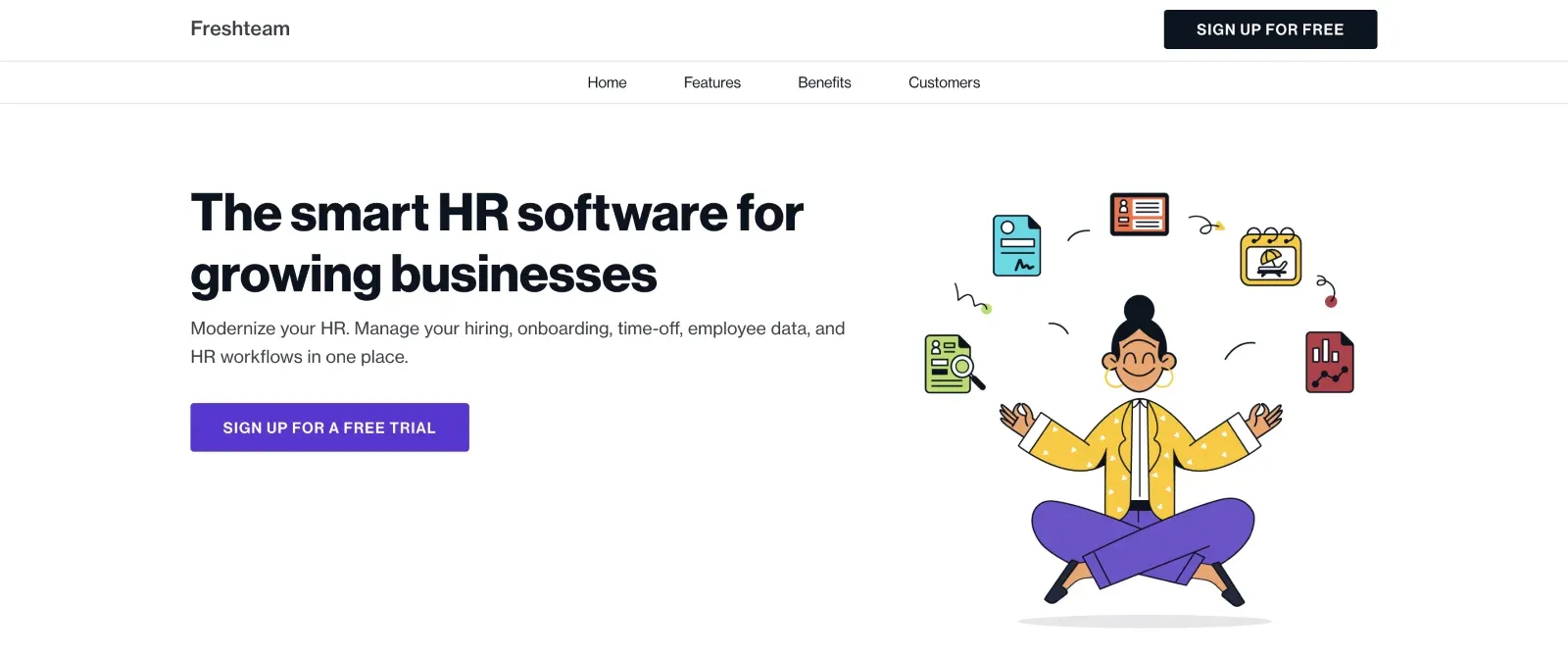 Founded in: 2011
Founded by: Girish Mathrubootham
Free Trial: Yes
Pros:
It allows the user to manage basic tasks like recording personal time off, even in a free edition, which is a decent value.

At Freshteam, talent management is wholly documented with analytics tools.

It allows automation across all stages of the recruitment cycle.
Cons:
The customer support team is not much responsive.

The process for a job posting and tracking applications is complicated.

UX is not much engaging.
Clients: Fiverr., exabytes, multichoice, Travix, Pearson, VICE media group
Pricing: $0/month
G2 Rating: 4.5/5 (6,020 reviews)
14. Ceridian

Founded in: 2012
Founded by: Somen Mondal
Free Trial: Yes
Pros:
Ceridian is one of the highest-rated HCM Suites for enterprises with 1000+ employees.

This cloud-based software facilitates several H.R. functions such as payroll, earning, PTO, etc.

It allows easy access to tax services, human resources, and payroll alternatives.
Cons:
Ceridian's UX is outdated and confusing.

Ceridian is challenging for beginners since it takes a lot of time to master it.

The software is not mobile-friendly.
Clients: Wanzl, Universal Business Team (UBT), Aquent, The Budd Group, Hawaii State Federal Credit Union (Hawaii State FCU)
Pricing: $20-29/month (per employee)
G2 Rating: 4.2/5 (601 reviews)
Accelerate your hiring process with our SAAS based skills assessment platform. Try iMocha Now!
SAAS Job Board
15. Mighty Recruiter Software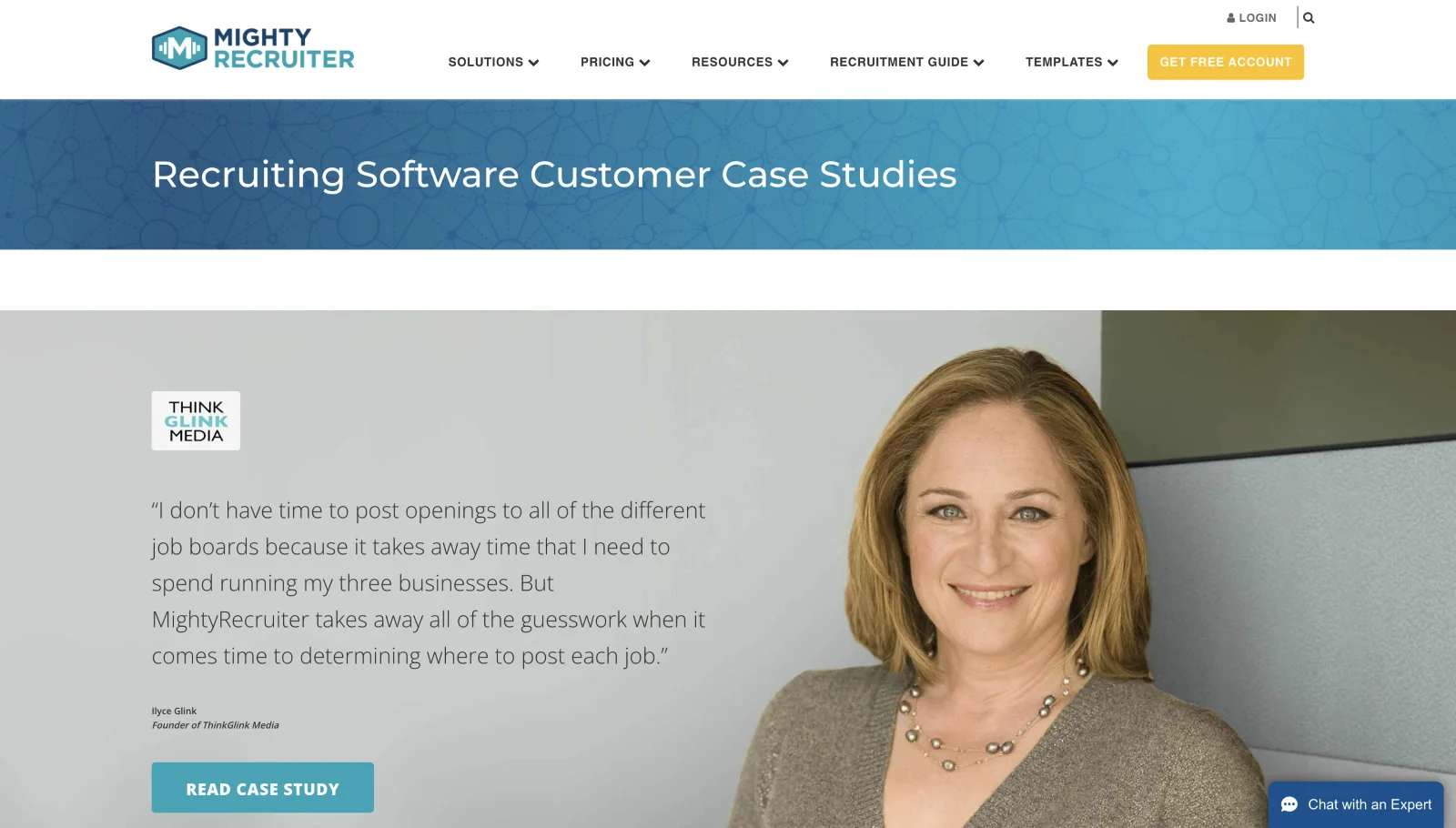 Founded in: 2005
Founded by: Andy Chu
Free Trial: Yes
Pros:
Mighty Recruiter software provides effective multi-channel sourcing for candidate hiring.

The reporting is accurate and on time.

It offers a public URL creation tool.
Cons:
The tool's search engine is flawed; it forbids using multiple keywords in a single string.

The job board doesn't target specific jobs.
Clients: Resume-Now, JobiSite, JobisJob, CareerJet, myPerfectResume
Pricing: $189-$999/month
G2 Rating: 4.1/5 (340 reviews)
FAQs
What is SAAS recruiting software?
SaaS recruitment software is on-demand software with cloud-based features and a database. Recruiting SaaS allows recruiters and recruitment firms to automate various labor-intensive and time-consuming HR-related processes, including posting openings, screening candidates, and other duties.
What are the benefits of using SaaS software?
Making data-backed decisions, saving time, integrating A.I., increasing candidate engagement, and multi-channel sourcing are advantages of employing SaaS software.