On an average, top candidates stay in the market for mere 10 days. Which is why, it is vital to keep you candidates engaged during the entire recruitment process. Candidate engagement is not a small feat, recruiters and talent professionals have to continually engage – with various methods of communication – to keep candidates looped and interested. And that's where candidate engagement tools come into play.
Candidate engagement software improves the candidate experience – as it ensures a positive impression of the organization from the get-go.
The rates of applicant drop-outs are high as recruiters struggle to maintain their recruitment pipelines in good health. An effective candidate engagement platform will give you the expediency required to attract good candidates.
Let's take a look at the top 10 candidate engagement tools of 2023 that you can use to impact your recruitment process positively.
Top 10 Candidate Engagement Tools of 2023
Listed below are some of the best candidate engagement tools of 2023. With the help of these tools, you will be able to effectively engage your potential hires in an openly communicative relationship.
These tools help you project a positive brand image and demonstrate your organization's work culture, enabling you to retain good candidates in your recruitment funnel.
1. iMocha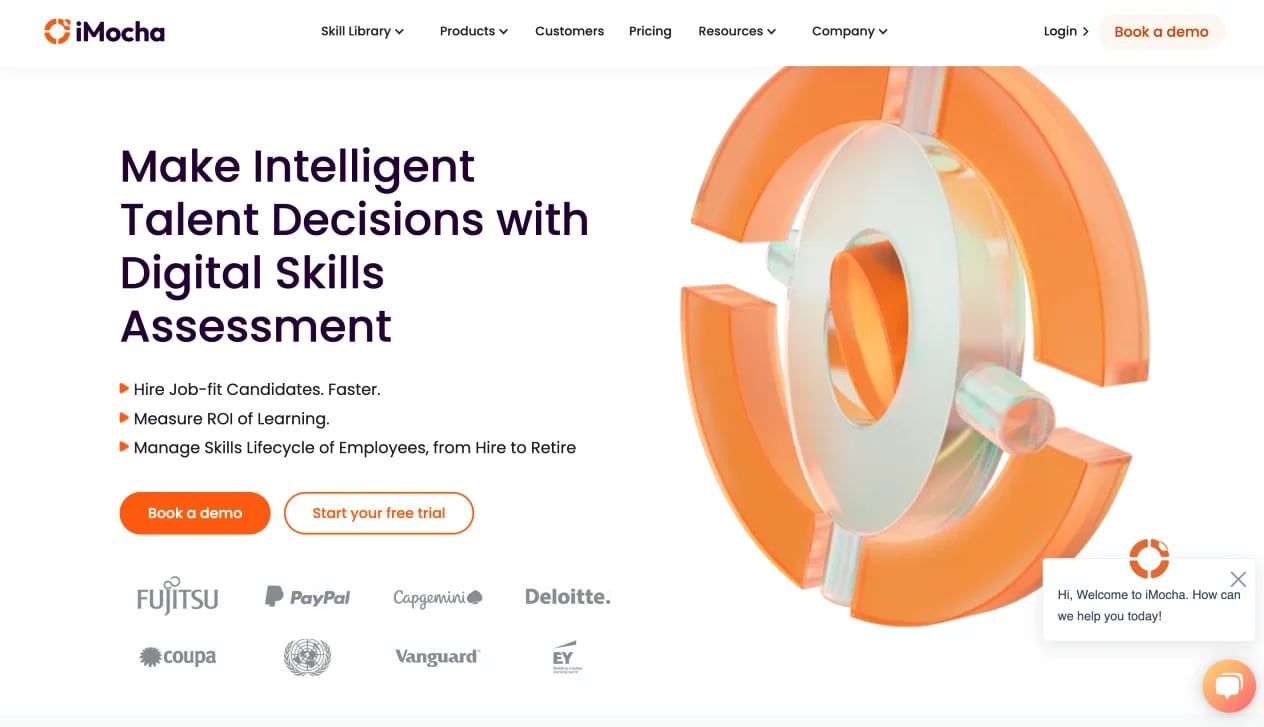 [Source]
iMocha is a skill assessment platform that also provides the functionalities of a candidate engagement tool. It provides sound recruitment assessment solutions and in-depth analytics. It provides a horde of engagement-focused features as well.
You can keep your candidates engaged with iMocha's custom tests, advanced employer branding, automated video interviews, and inventive question types. These functionalities encourage them to complete their assessments.
Features
iMocha helps you create a specialized microsite for recruitment, using which you can ask your candidates to apply and take assessments directly through the microsite. This feature has been especially useful during campus recruitment where candidates apply for specific roles and apply in huge numbers.

You get access to customized skill assessment problem statements created by industry experts

iMocha helps you create competency charts against industry benchmarks for recruitment assessment drives

You get specialized tools like Live Coding Interview to assess the coding and tech skills of your candidate pool
G2 Statistics
iMocha has 4.4 stars out of 5 on the G2 platform. The most liked features of this platform are as follows:
It has a good tech support team

The question banks are diverse, especially in the IT sector

Test violations can be easily caught through video and image
Pricing
You can request iMocha for a custom quote on this page.
Customer Segment
iMocha caters to all industries and provides a wide gamut of industry specific, domain specific, cognitive, technical, and functional assessments.
2. Brazen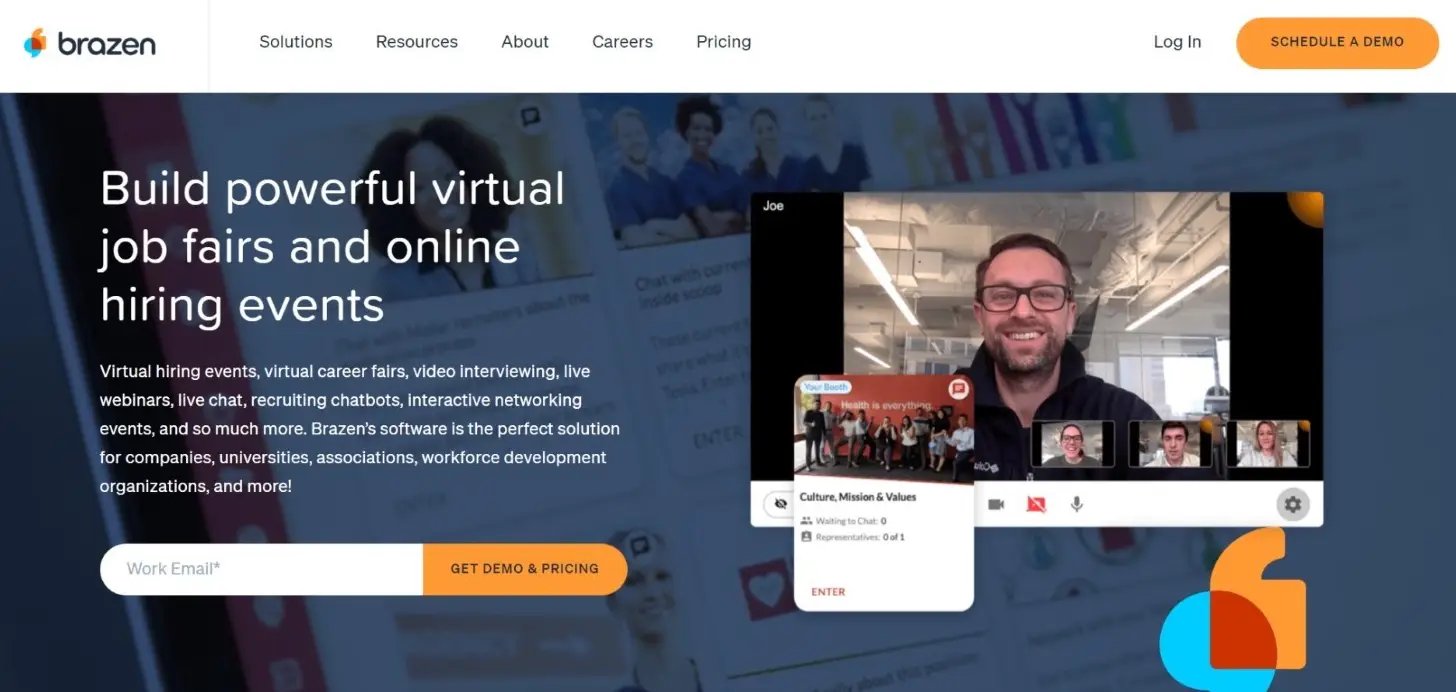 [Source]
Brazen is one of the key candidate engagement platforms that offer the contemporary features of remote hiring.
Features
With Brazen, you can conduct virtual events for hiring candidates. This is a virtual job fair where candidates can join webinars and watch promo videos or navigate to recruitment virtual booths

The QuickChat and FAQ Concierge feature is equipped with AI engines that assess candidates while keeping them engaged
G2 Statistics
Brazen has 4.6 stars out of 5 on G2. Customers are the most satisfied with the following functionalities of this platform:
Excellent customer support

Ability to view candidate engagement transcripts

Modern user interface
Price
You can request Brazen for a quote custom suited for your business at this link.
Customer Segment
If your organization is looking at remote hiring, try Brazen.
3. ConveyIQ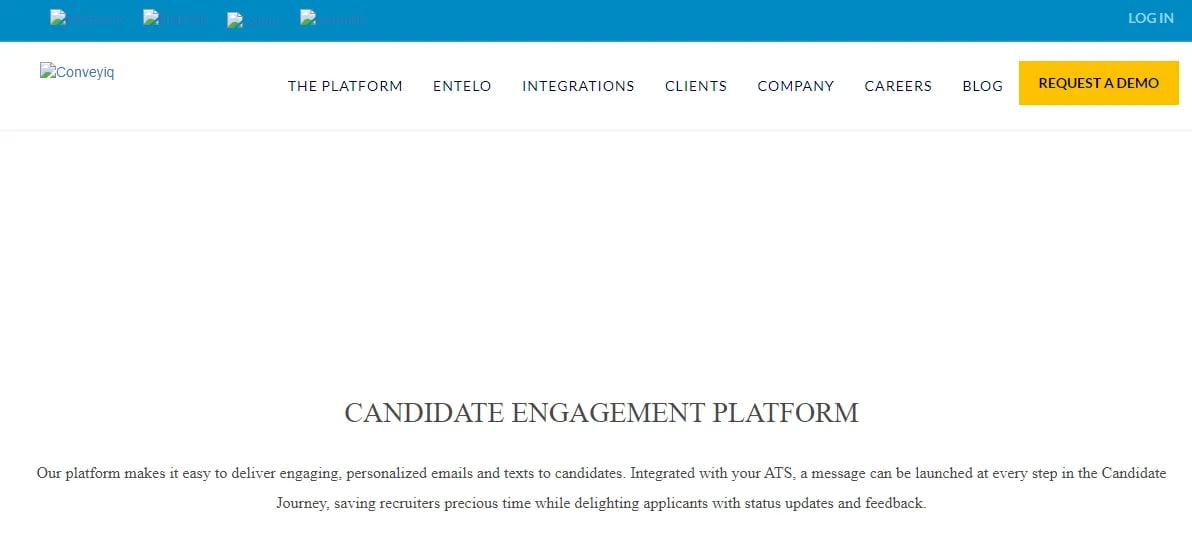 [Source]
ConveyIQ is a candidate engagement platform that focuses on managing personalized communications for candidates in various forms and stages of the candidate journey.
Features
You can integrate ConveyIQ with your ATS and launch messaging at any stage of the candidate journey

You can engage in digital interviews through on-demand or live videos

You can schedule recruiting events on the platform itself

It provides you with surveys and analytics as well
G2 Statistics
ConveyIQ hasn't yet been rated or reviewed on the G2 platform yet.
Pricing
You can request custom pricing from ConveyIQ for your business on this page.
Customer Segment
This candidate engagement software is best suited for email recruitment marketing for large businesses.
4. iCIMS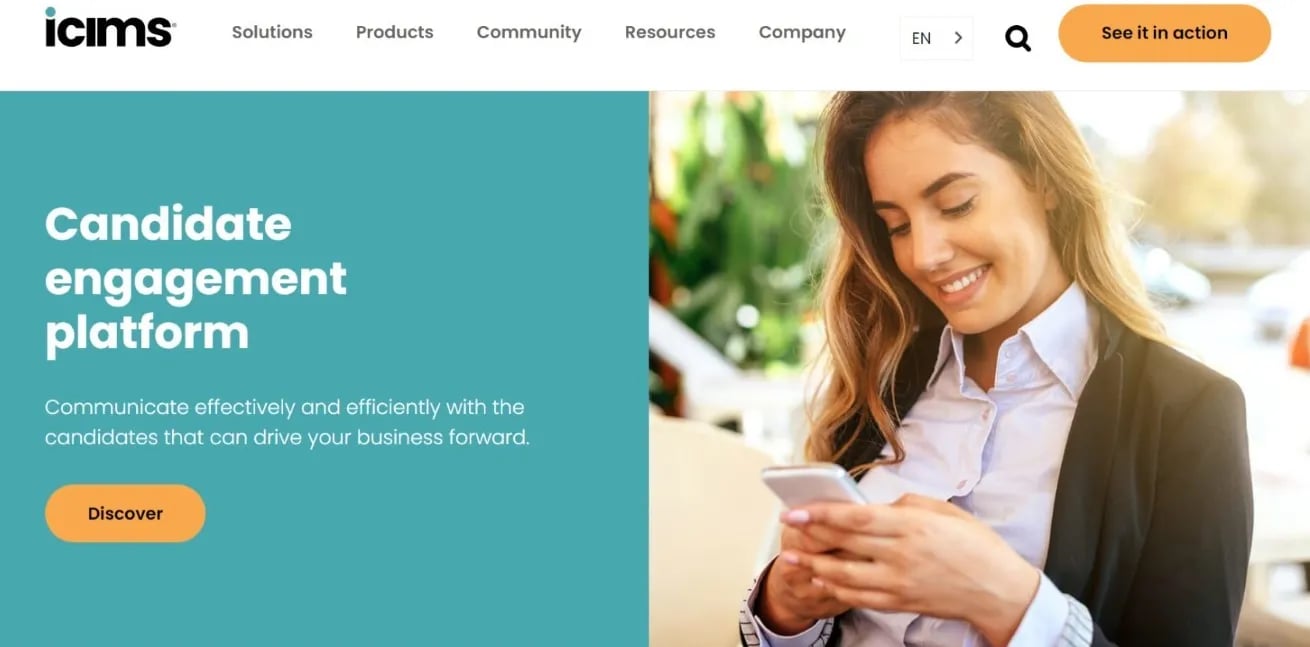 [Source]
With iCIMS, your organization can locate and engage with the most suitable and talented candidates in the industry while speeding up the recruitment process.
Features
You get access to features that help you improve the ROI of recruitment marketing and automate it

Your organization can send targeted communications to candidates to encourage them to respond faster

You get features to conduct career fairs virtually
G2 Statistics
iCIMS has a rating of 4.1 stars out of 5 on the G2 platform. Customers prefer the following functionalities the most:
The software is customizable to organizational needs




Capability to streamline workflows well

Good customer support
Pricing
You can request a custom quote for your organization on this page.
Customer Segment
You can use this software at an enterprise level for scaling up your recruitment drives.
5. HireEZ

[Source]
HireEZ is best known for its extensive candidate profiles and AI-powered, centralized recruitment platform. It specializes in recruitment emailing.
Features
One of the best features of this candidate engagement tool is the availability of countless templates for building personalized emails

You can create custom touchpoints with multiple emails to avoid missing out on or losing emails in your inbox

Bulk email functionality helps you automate emails for up to 200 candidates
G2 Statistics
HireEZ has garnered a favorable 4.7 stars out of 5 on the G2 platform. Below are the functions its customers like best:
Excellent candidate filters

Bulk emails capabilities

Project organization
Pricing
You can request HireEZ for a custom quote here.
Customer Segment
HireEZ is a platform that is flexible for all business sizes and is best for those who require smart recruiting.
6. Oleeo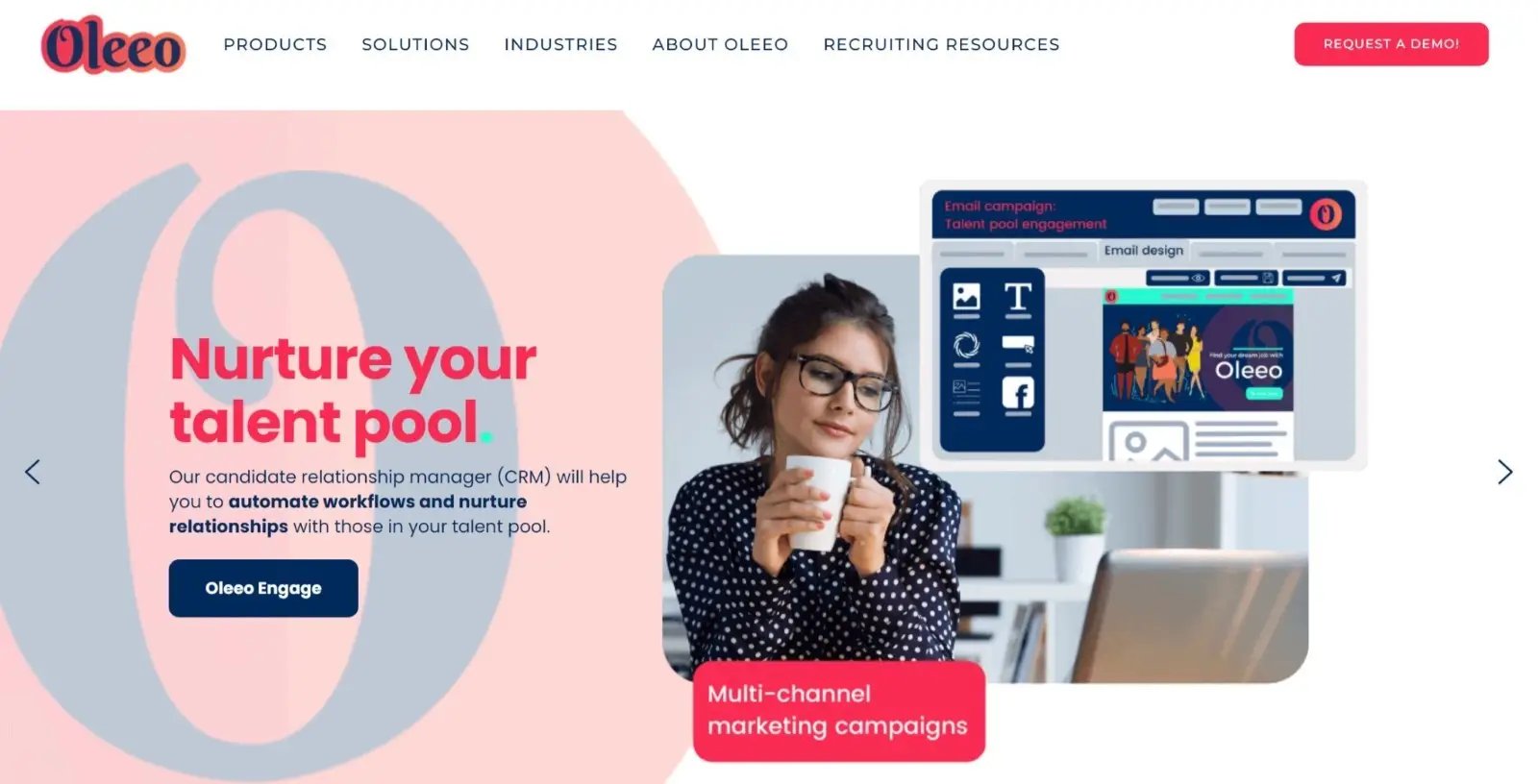 [Source]
Oleeo is a provider of intelligent, award-winning talent acquisition technologies that incorporates the concepts of artificial intelligence and machine learning.
Features
The Oleeo applicant tracking system is fully customizable

The ATS is cloud-based and employs powerful AI engines to filter candidate profiles

The technology provides end-to-end recruitment software solutions for hiring events

With Oleeo Engage, your business can create candidate pipelines, nurture candidates through multichannel marketing, and more
G2 Statistics
Oleeo has 4.2 out of 5 stars on the G2 platform. Customers found the following functionalities handy:
Excellent scheduling features

A centralized approach to recruitment tasking

Easy setup and administration of the tool
Pricing
Oleeo provides you with a custom quote for your business on this page.
Customer Segment
Oleeo is a thoroughly customizable tool suitable for businesses of any size looking for recruitment workflow automation.
7. TalentWave (Now People2.0)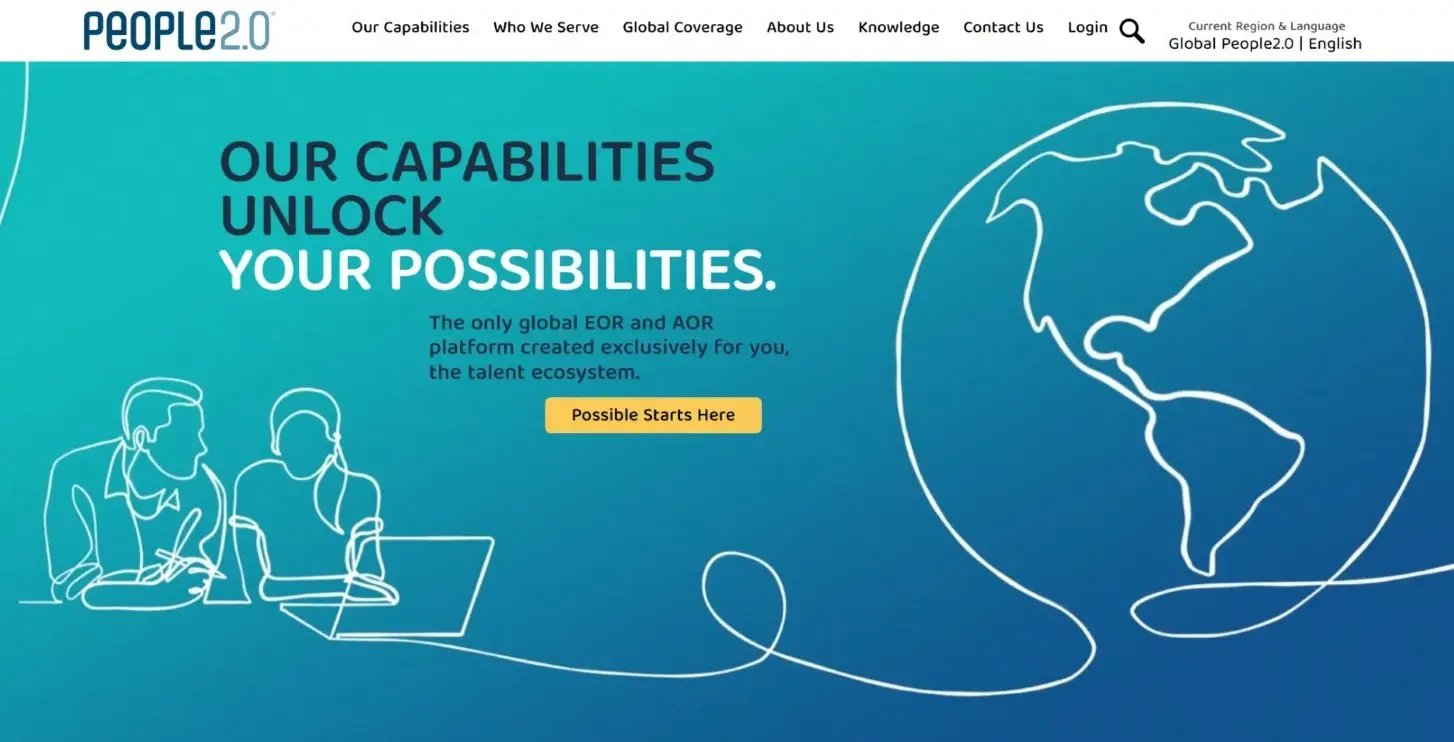 [Source]
Earlier known as TalentWave, People2.0 is a candidate engagement tool specializing in distributed workforce and consolidated EOR/AOR capabilities.
Features
This is an excellent platform that you can leverage to create a global workforce

You get access to features for staffing, search, and recruitment

You can conduct mass talent procurement using People2.0

It makes compliance easier
G2 Statistics
TalentWave/People2.0 do not have any ratings or reviews on the G2 platform yet.
Pricing
People2.0 gives you a custom solution and quote when you get in touch with them. You can do that here.
Customer Segment
If your business is looking to create a distributed workforce, People2.0 can help you.
8. Beamery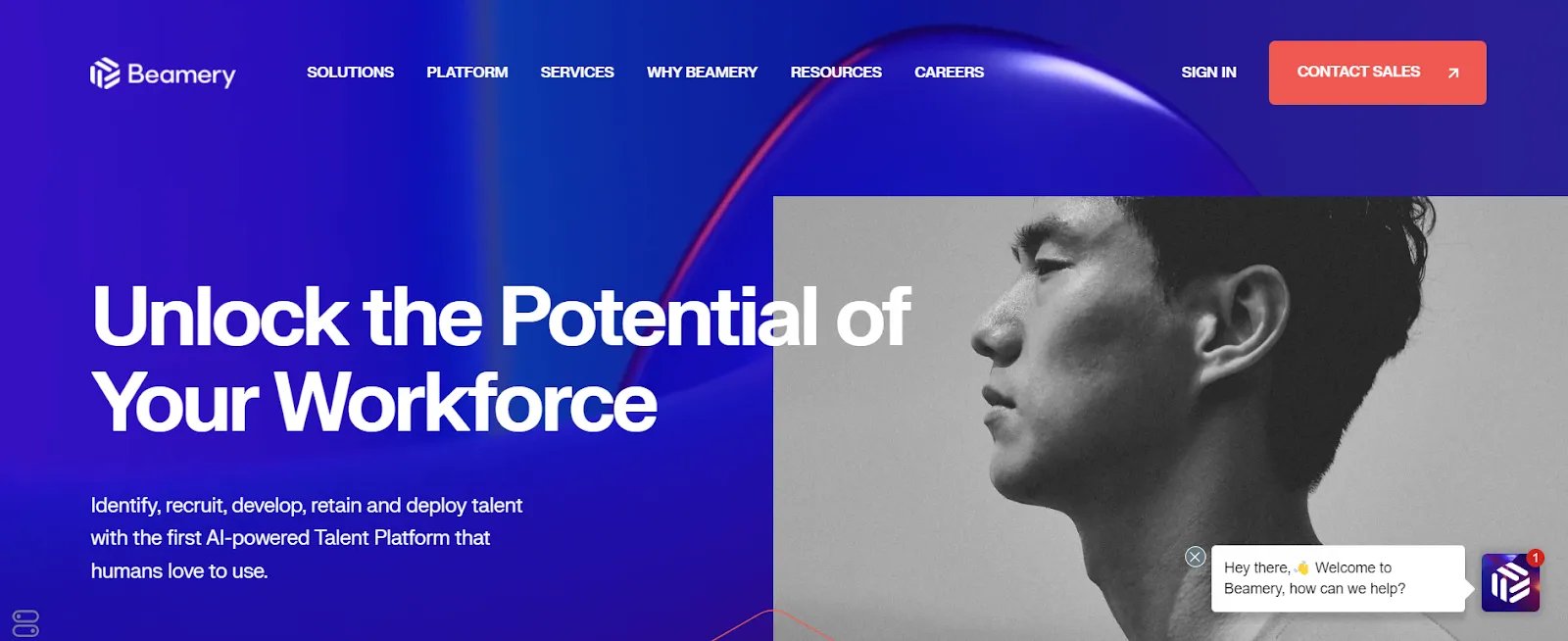 [Source]
Beamery is a consolidated package of end-to-end talent solutions like search, reach, and hire for companies looking for a single candidate engagement software for everything.
Features
The entire talent platform is powered by artificial intelligence

Connect with career sites, talent networks, and campuses for talent search

Leverage CRM, talent marketing, and referrals for engagement

Work with talent analytics DE&I and compliance automation
G2 Statistics
The Beamery candidate engagement tool has 4.1 out of 5 stars on the G2 platform. The following features are the most liked:
Contact and pool creation

Powerful search features

LinkedIn connectivity

User friendly
Pricing
Beamery can provide you with a custom quote through this page.
Customer Segment
Businesses looking for a one-stop talent solution that needs nothing else can benefit from Beamery.
9. Talentry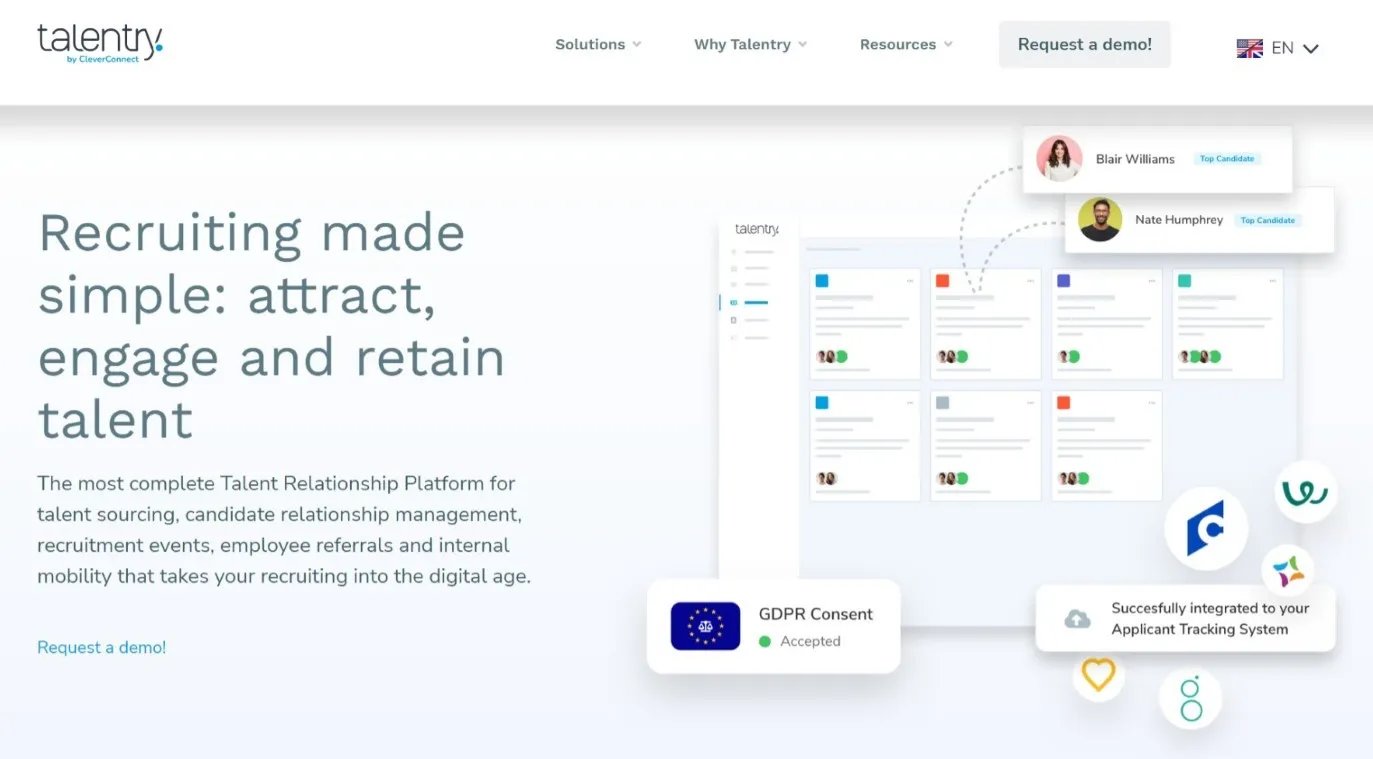 [Source]
Talentry is one of the leading candidate engagement software in the niche of Talent Relationship Management (TRM).
Features
You get access to tools that help you attract talent, engage with candidates and retain preferred candidates under one roof

Tools like CRM, employee referrals, and alumni management help you make the most of candidate engagement
G2 Statistics
Talentry has gathered 4.6 out of 5 stars on the G2 platform. Here is what the customers liked about this platform the most:
Employee advocacy feature

User-friendly

GDPR conformance is excellent
Pricing
You can request Talentry for custom pricing on this page.
Customer Segment
Medium to big-sized companies can benefit best from Talentry.
10. ClearCompany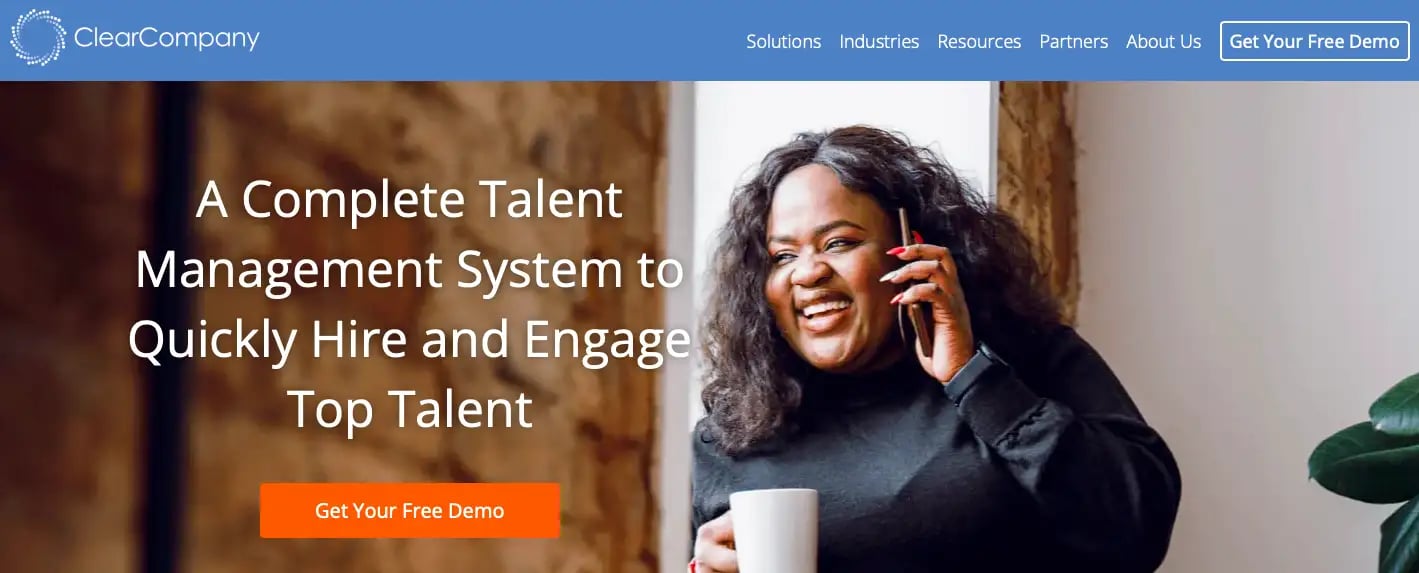 [Source]
This candidate engagement platform helps your business speed up recruitment and keep candidates engaged.
Features
Unified, centralized design

Performance management

Recruitment planning

Seamless recruitment and onboarding
G2 Statistics
ClearCompany has received 4.6 stars out of 5 on the G2 platform. Below are the features that clients loved the most:
Wider reach with job boards

Easy to use

Easy integrations
Pricing
You can request ClearCompany for custom pricing on this link.
Customer Segment
ClearCompany can benefit businesses of large sizes.
Check out these best candidate assessment tools to screen job fit candidates.
Wrapping Up
Recruitment processes can be streamlined and made more efficient with the use of a suitable candidate engagement tool. You can try iMocha's skills assessments for great candidate experience during the screening process.
Frequently Asked Questions
What is a candidate engagement tool?
A candidate engagement tool is a software that helps keep the recruitment candidates involved in the hiring process through emails, SMS, texts, and other forms of constant communication.
Why is candidate engagement performed?
In order to prevent good candidates from falling out of your recruitment pipeline, you need to keep them engaged and interested in joining your company. This can be done through active candidate engagement.
How do you find, attract, engage and close candidates?
With the help of the right candidate engagement tool, you can tap into countless resources of talented candidate pools, connect with them and commence your hiring process.
How do you keep candidates engaged during the hiring process?
By communicating with your candidates through various channels and actively engaging with them regarding company events, formalities, processes, and other necessities, you can keep your potential hires engaged.