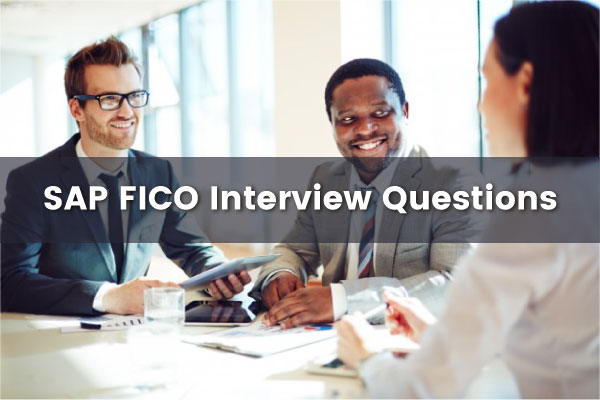 If you are looking for SAP FICO interview questions, here is the list of most important questions that can be asked in interviews. Make yourself ready with this comprehensive list of interview questions.
SAP FICO Interview Questions:
In the G/L Account, you can delete a G/L account by clicking the Delete button. How can you restrict a G/L account for not getting it deleted?
You have defined a credit control area according to the areas of responsibility for credit monitoring. How will you define a Credit Control area for a customer?
Customer master data is created centrally with transaction FD01. What are the required customer attributes that need to be entered?
Payment terms are created in the configuration and we determine the payment due date for vendor/customer invoice. Where are they stored?
In Accounts Receivable, what is the difference between the 'Residual Payment' and 'Part Payment' methods of allocating cash?
What are the organizational elements in SAP FI?
Thing to know about SAP FICO Consultants:
An average SAP FICO consultant with over 3 years of experience draws approximately $83k in a year, with the highest median salary being $110k per year. This information has been taken from Glassdoor's latest salary survey, and validated by Indeed.com's latest salary updates.
In that regard, SAP interview question, or even SAP FICO interview questions, will have to be modified according to the needs.
You can alternatively check out iMocha's SAP FICO Test, which assess SAP financial controlling and accounting skills of experienced candidates. You can also change the level of difficulty of the test depending on your needs.
Use this list of SAP FICO interview questions for interview preparation. Read them, bookmark them, and even add your own interview questions.