Talent mapping is the key to achieving individual and organizational success, and that's a fact.
However, talent mapping is lengthy, time-consuming, and requires a fair amount of data reading and manipulation. H.R. managers have to list the talent needs and conduct a survey of the entire workforce to find out the existing skills competencies, the lacunae, and map it to the critical skills required in the future.
That's where talent mapping tools come in handy. Over the last few years, A.I. and data technology have aided talent mapping process and help alleviate recruiter's workload.
Talent mapping systems enable H.R. leaders to make better, data-driven talent decisions by the help of skill benchmarking, mapping skill taxonomies, and more. However, in a market as disparate as this, there are only a handful of tools that can help you accurately identify skills gap in your organization, and help you create targeted learning programs to fulfil the critical skills requirement.
To help you narrow down these tools further, we have listed the top talent mapping tools to make your job easier for you.
Skill Gaps analysis tools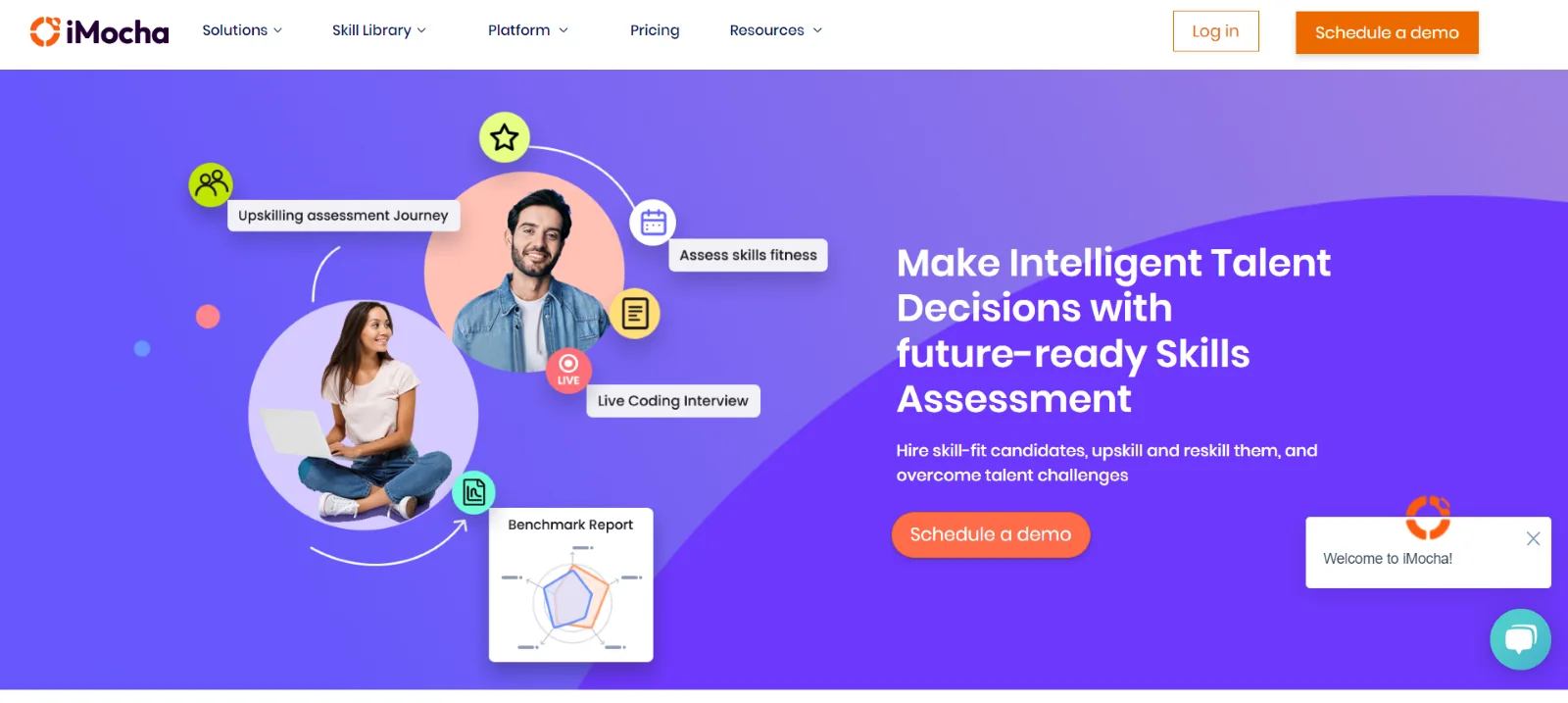 iMocha is one of the top skills assessment talent mapping tools that help enterprises analyze skill gaps and evaluate the ROI of L&D programs. This platform allows you to create targeted learning paths for your employees by conducting a department- and organization-wide training needs analysis (TNA).
iMocha offers the world's most comprehensive skill assessment library, which features over 2500 skills, 100,000+ questions, cutting-edge coding simulators, and AI-based analytics.
Its upskilling assessment portal helps managers and L&D professionals map individual growth and assessment journey. The app is also integrated with Microsoft Teams and sends nudges to learners routinely to take self-assessments.
Employers can use this portal to identify skills gaps and measure them against expected industry standards. After the training gap analysis is complete, these employees can undergo training and development programs to reach the set benchmarks.
Founded in: 2015
Founded by: Amit Mishra and Sujit Karpe
Website: https://www.imocha.io
Free Trial: Yes
Pros:
iMocha has ready-to-use code tests with over 1000 coding questions and 500 IT skills that help cut the assessment time in half.

It also offers project-based assessments that stimulates on-the-job work experience, which helps managers assess whether or not learners are project ready.

iMocha also helps you create a skill taxonomy of your organization, to help you identify critical skills for business continuity and future growth.
Cons:
iMocha does not conduct psychometric tests.
Clients: Deloitte, PayPal, Fujitsu, Capgemini, Cognizant, Wipro, Vanguard, CGI, and more
Pricing: $1800/month
G2 Crowd Rating: 4.4/5 (165)
Talent Mapping Tools
1. The Predictive Index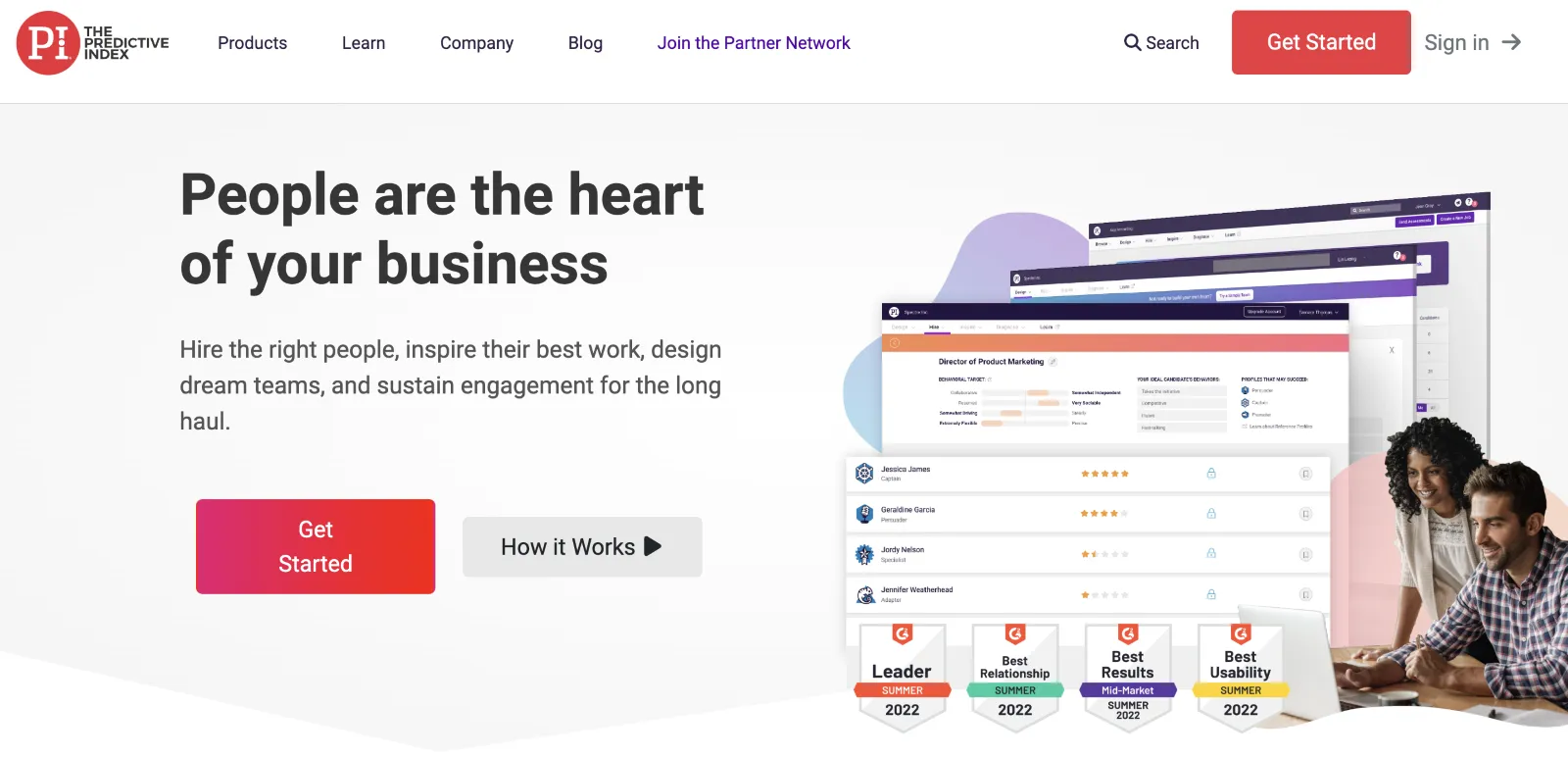 Founded in: 1940
Founded by: Arnold S. Daniels
Free Trial: No
Pros:
Through the combination of psychometrics and technology, P.I. provides you with tools that help diagnose employee experience and identify specific actions to help improve it

This talent mapping tool offers assessments in 70+ languages

The software offers one of the fastest behavioral assessments just 6 minutes, with impactful insights into a learner's behavior
Cons:
The Predictive Index is one of the most highly priced workforce development assessment tools, and only enterprises with big budgets can afford it

The software has a complex and unintuitive U.I., making it much harder to navigate features like a link to the assessments
Clients: DocuSign, Formstack, AutoNation, 47
Pricing: On request
G2 Rating: 4.7/5 (367 reviews)
2. SmartRecruiters

Founded in: 2010
Founded by: Jerome Ternynck
Free Trial: Yes
Pros:
It allows the recruiter to review candidates, add grades or ratings, pass the review to another reviewer, or return the assessments to H.R. teams

It helps you capture passive candidates' data, so you have a pool of candidates ready when there is a job requisition

It helps you schedule interviews and process thousands of candidates at once
Cons:
There is no feature for self-scheduling interviews on this SaaS recruiting tool

SmartRecruiters does not automatically contact candidates after a job application

It doesn't integrate well with other platforms
Clients: VISA, LinkedIn, Skechers, Equinox, Avery Dennison
Pricing: On request
G2 Rating: 4.3/5 (439 reviews)
3. SeekOut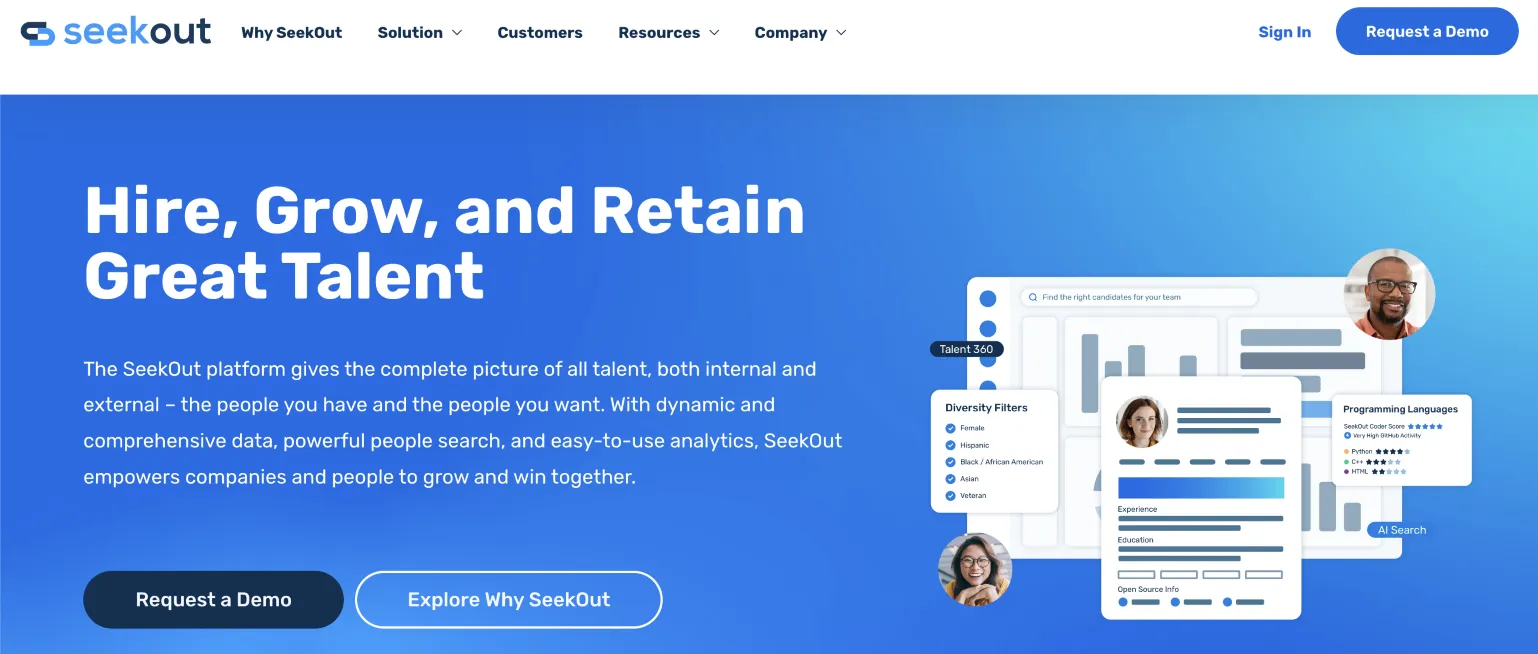 Founded in: 2015
Founded by: Anoop Gupta
Free Trial: Not available
Pros:
You can target passive applicants who aren't on LinkedIn or other sites using the platform

It allows you to discover candidates with basic keyword searches – eliminating the need of expert search techniques

It can look for tech positions internally within GitHub

It also allows recruiters to directly upload job descriptions on SeekOut's AI Matching tool, and it helps you find relevant candidates based on the descriptions uploaded
Cons:
Each messaging campaign requires a new signature

Their search engine is built poorly. It does not suggest names slightly resembling the one entered, so if you make a spelling mistake, it will not offer any related options

This talent mapping software does not allow you to directly add the candidate to a campaign from the search page. You need to open another tab in the project and add them
Clients: Salesforce, Trilogy, UiPath, VMware, Experian
Pricing: Not disclosed publicly
G2 Rating: 4.5/5 (570 reviews)
4. Greenhouse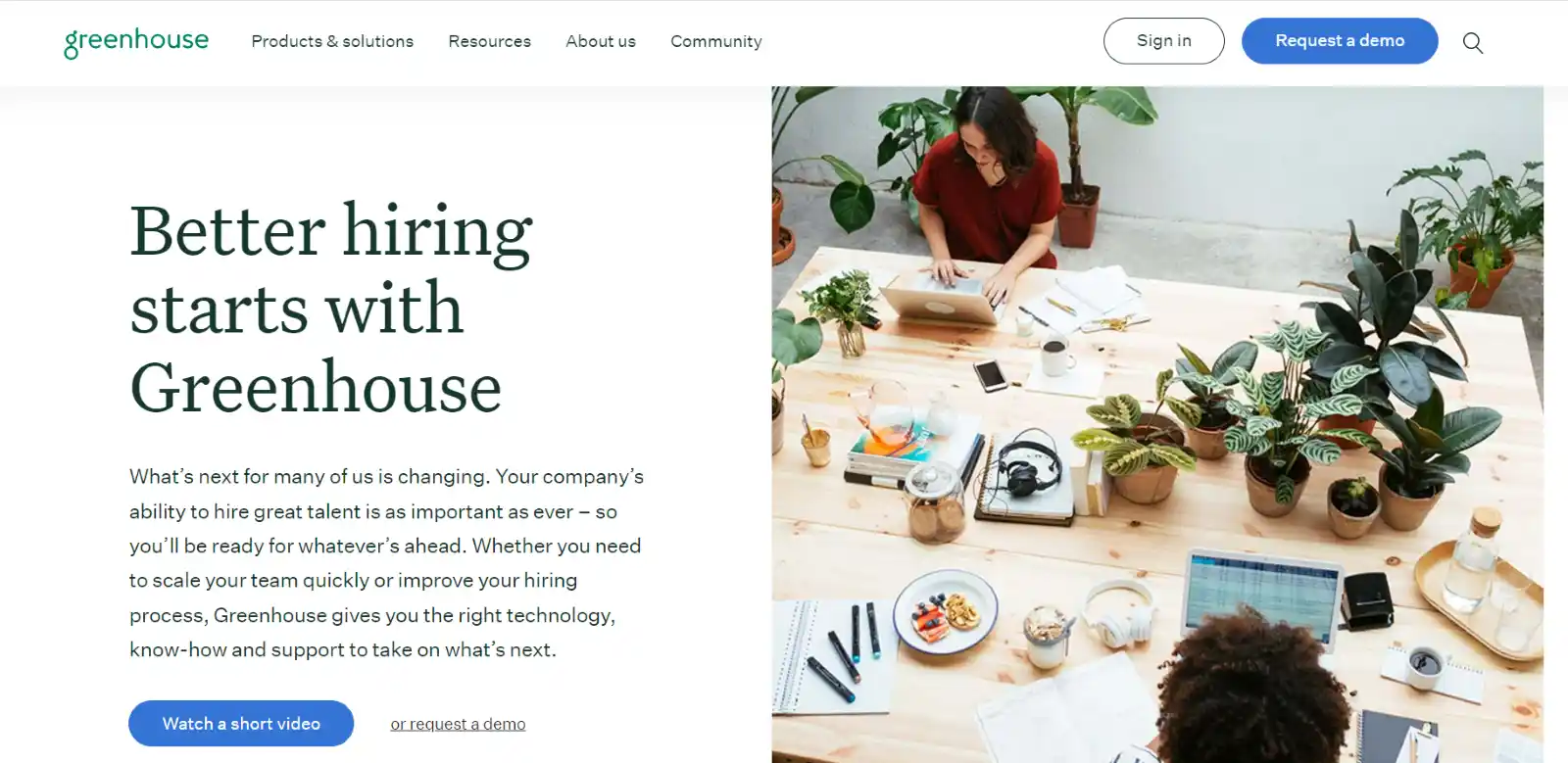 Founded in: 2012
Founded by: Daniel Chait and Jon Stross
Free Trial: No
Pros:
This talent mapping software is a "one-stop shop" for all hiring needs. Within Greenhouse, you can post positions, evaluate applicants, arrange interviews, make offers, and even source candidates

You can customize the platform to meet your organization's unique requirements and build different hiring plans for every role

It is simple to use and works well with different platforms (E.g., GSuite & Goodtime)
Cons:
It has limited options for customization

This recruitment analytics software does not allow saving notes, tracking communications, and adding numerous departments to ease collaboration

The application doesn't aptly match resumes with relevant candidates
Clients: HubSpot, Wayfair, HARRY'S, invision, J.D. Power
Pricing: On request
G2 Rating: 4.4/5 (1214 reviews)
5. Zoho Recruit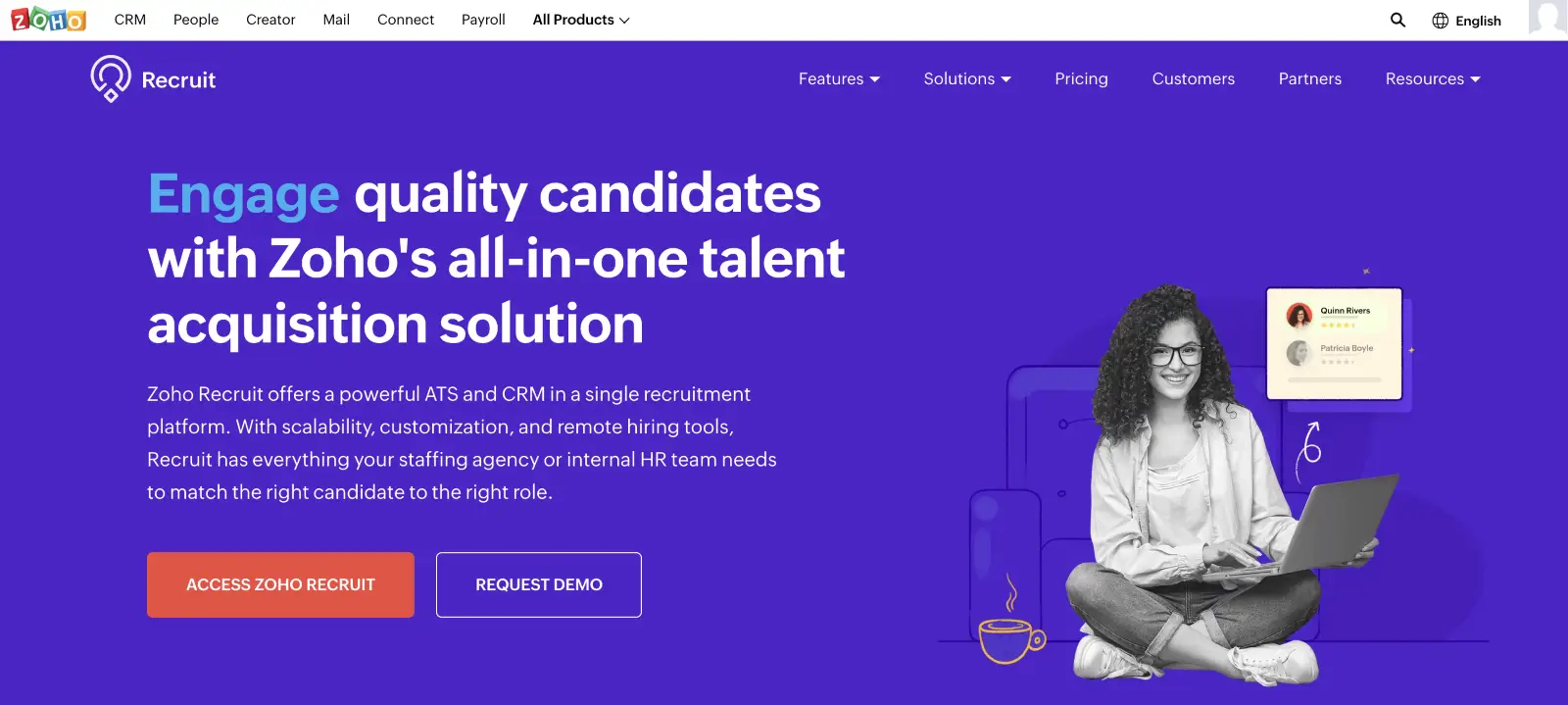 Founded in: 1996
Founded by: Sridhar Vembu and Tony Thomas
Free Trial: Available
Pros:
This talent mapping software enhances your return on investment

Zoho is one of the best talent mapping tools that allows all the Zoho applications, such as CRM, Email, and other inbound marketing tools, to sync together to work as one system

Zoho has integrated with many social media channels, such as LinkedIn, for social recruiting
Cons:
The application is not fully mobile-friendly

Their customer services are not readily available to free users

The platform has a complex, unintuitive user interface, making it hard for users to navigate and utilize many features
Clients: Allianz, PWC, Bosch, Deloitte, A1 (Telecom Austria Group)
Pricing: $145/month
G2 Rating: 4.4/5 (1,340 reviews)
6. AmazingHiring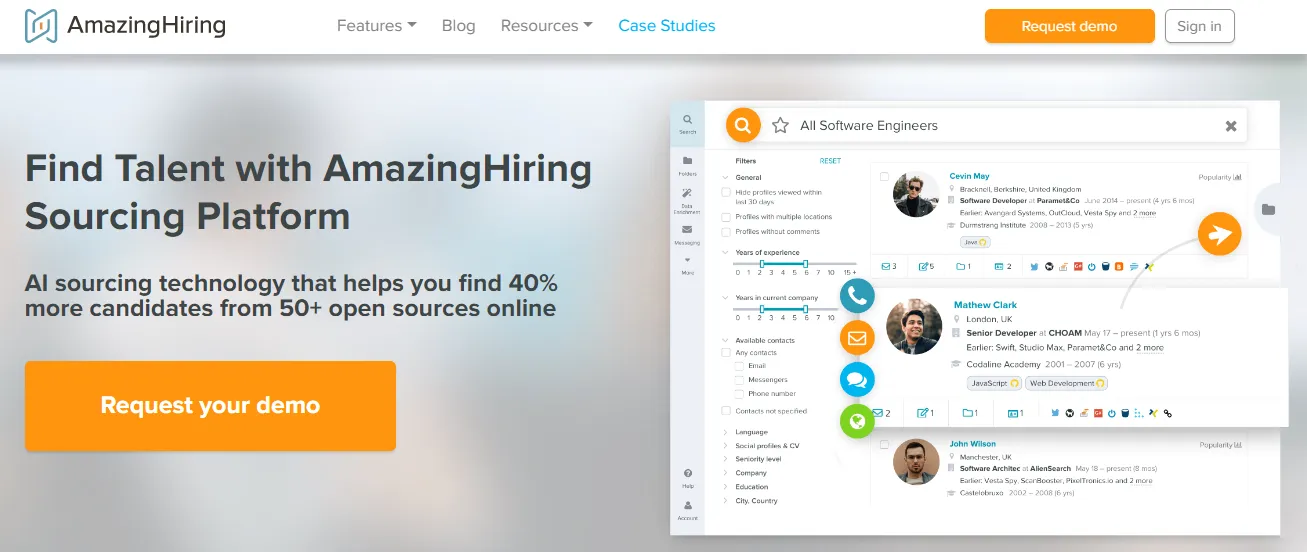 Founded in: 2011
Founded by: Sergey Smitrichenko
Free Trial: No
Pros:
This talent mapping software provides insights into the current market to help you identify and recruit candidates for rare and niche skills, and even senior positions

The software is best suitable for hiring software engineers, data scientists, UI/UX designers, Q.A. (Quality Assurance) engineers, and other technical specialists

It allows you to set and send email drip campaigns directly from the software
Cons:
It does not allow any direct contact with the candidate from the system

AmazingHiring does not let you access candidates' experience details on GitHub and LinkedIn

The software is relatively expensive
Clients: Venchr, Talentful, Bolt, Abbyy, mollie
Pricing: On request
G2 Rating: 4.7/5 (6 reviews)
7. Loxo

Founded in: 2013
Founded by: Josh Bilenker
Free Trial: Available
Pros:
Loxo is one of the best talent mapping tools because of its clean and intuitive UI/UX

Their chat feature is client-friendly and quite responsive

It provides a powerful applicant sourcing solution by effectively combining data from an ATS/CRM, ZoomInfo, and DiscoverOrg into one
Cons:
Loxo is not a mobile-friendly application

The platform slows down during bulk mailing

Data migration to a new system is quite challenging with Loxo
Clients: ON Partners, EndoVis, nGrowth
Pricing: On request
G2 Rating: 4.6/5 (65 reviews)
8. Entelo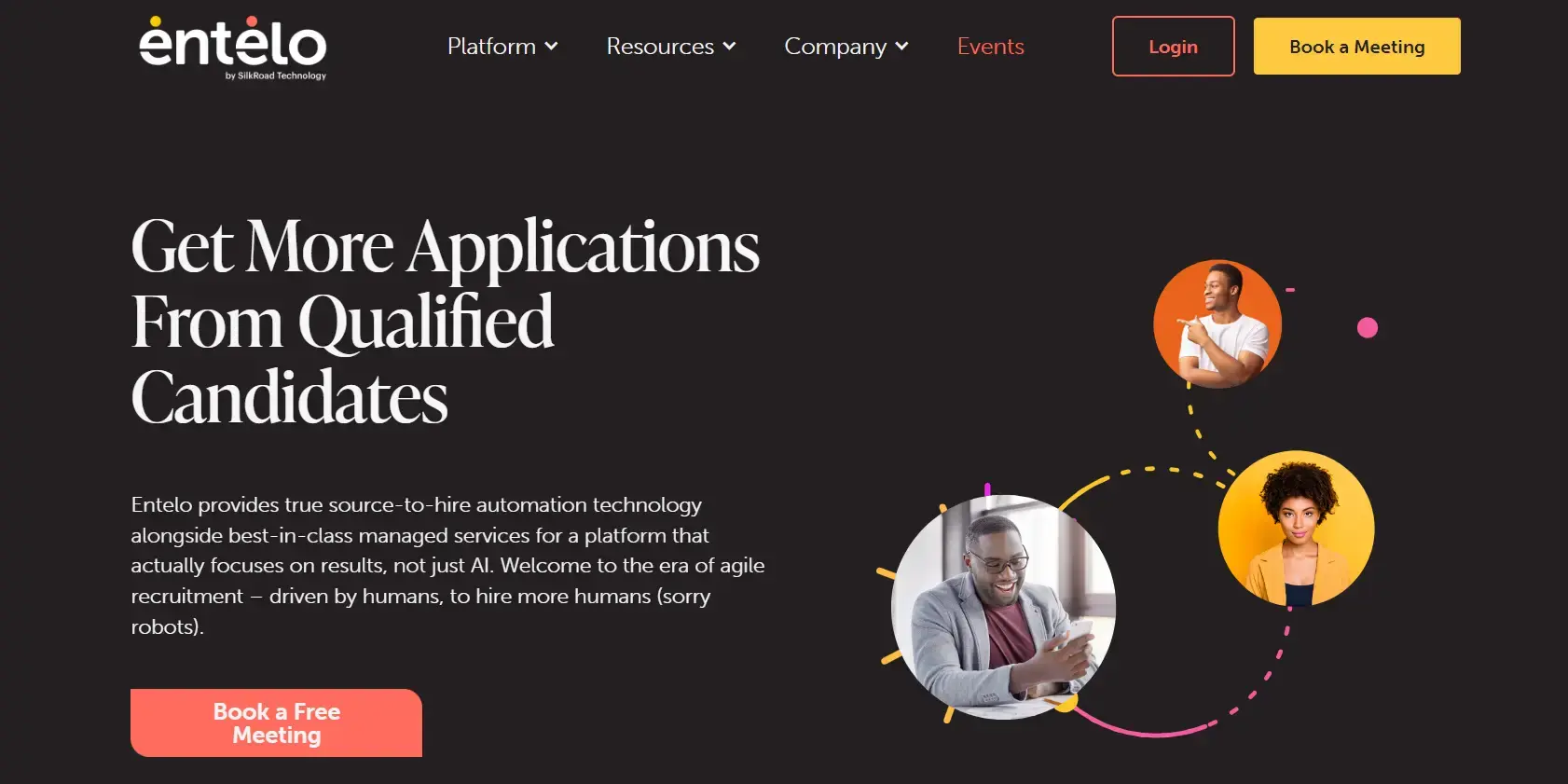 Founded in: 2011
Founded by: Jon Bischke and John McGrath
Free Trial: Available
Pros:
Their client support is of great help

It's really easy to prepare email drip campaigns with Entelo

Its search features are on-point; it automatically puts filters like skills, position, etc. in place
Cons:
They do not support Boolean integration

The software is quite expensive

Entelo's search interface lags from time to time
Clients: The New York Times, Meredith, Goldman Sachs, Netflix
Pricing: On request
G2 Rating: 4.3/5 (113 reviews)
FAQs
What is the talent mapping process?
Talent mapping is the process of assessing a company's current skills competencies and future requirements, assessing whether or not your existing workforce can meet those needs, creating learning and development programs to build those skills in-house, and sourcing high-potential candidates for future recruitment. This talent mapping process is done continuously to ensure business-critical skills are identified timely.


How to identify top talent with talent mapping?
Using talent assessment tools, you can identify high-potential talent.
Create a skill taxonomy and understand the critical skills for the future

Create an industry benchmark to ensure quality

Conduct department-wise skills assessments

Identify top performers from assessments
Can we use skills assessment tests for talent mapping?
The ultimate goal of talent mapping is to evaluate the abilities and skills of both current employees and job candidates, therefore, organizations frequently use skills assessment exams to do this. So, yes certainly, skill assessments can be used for talent mapping.