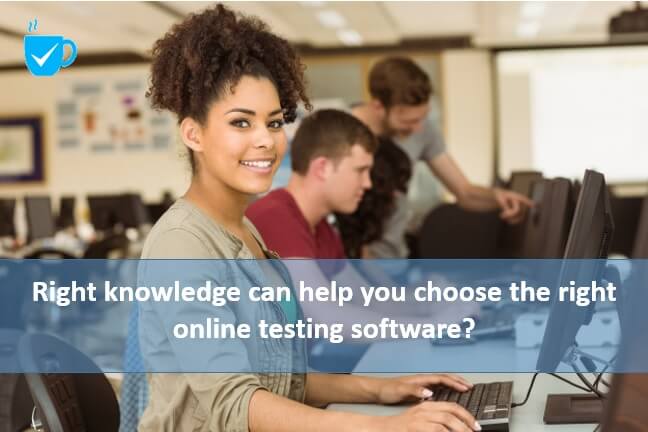 What is online testing software?
Online testing software helps to assess candidates by creating online tests, exams, and quizzes. Anyone can create tests to screen potential hires according to the job role, assess the skills of existing employees to train them, and assess student's skills on specific subjects. The testing software features give analytical data that give insights into a candidate which can help to make the right decisions without any biases. This saves a lot of time and administrative costs.
Before we tell you the best online testing software, you should understand the types of assessment software, because if you check the Google top results then the top 15 show results of landing pages that talk about exam and quiz created for students or in general for everyone but assessments can be for various purposes, I have tried to categorize it below.
Online assessment software can be categorized into 4 different types-
Exam Softwares - By educational professionals to test the skills of students for something specific through exam software.
Pre-employment Assessment Software - By hiring professionals to assess the skills of a candidate before hiring through pre-employment assessment software.
Employment Assessment Software - By training, professionals to assess the skills of employees before and after the training through employee assessment software.
Quiz Software - By anyone who wants to create a test or exam for fun through quiz software.
In this blog, our focus is mainly on educational assessment software that can assess candidates and for the other points, you can click on the link below.

Online assessment software for the educational industry-
Online exam software (assessment) is designed for the education industry and has features and integrations with other types of education software such as
How can I create an online test for free?
Sign up with any free online testing software listed here
The software will have a create online test option
Select the Add new Test button
Creating your own questions or choose from question bank
Score the questions according to difficulty
Customize the test settings as required
Save the test
The test will be created
Invite candidates to take the test
View reports with analytical data
Rank & compare candidates according to skills
---
Best online testing software to run exams & quizzes -

(no specific order)
Review Sites - click here
Combine text, video, images, practice questions in exams
Set the rules of your exam for the pass and fail.
Create unlimited online exams with our exam builder
Single Sign-On integration gives easy & secure access
Review Sites - click here
Different question styles to choose from
Randomization of questions available
Create an exam from your existing tests with just a few clicks
Tests are graded automatically
Review Sites - click here
Curated assessment content created by industry leaders
Make better informed, data-driven decisions

Increase learning performance

Provide statistical evidence of student, course, and programmatic success
Review Sites - click here
Easily tailor quiz with white label branding and color schemes
Everything created automatically features a 'responsive design'
Live results during your presentation or event
Mobile Optimized
Review Sites - click here
Randomly select questions from the pre-built question bank
Upload images, documents, videos & audio files
Supports different languages
Create Exams in Wordpress & Google Sites
Review Sites - click here
Gamified knowledge quizzes optimized for user engagement
Can create courses that run on any device
Outcome-based and personality type assessments
Online exams to evaluate knowledge
Review Sites - click here
Pre-made tests, worksheets, and activities covers K-12 subjects
Use a variety of question types
create custom assessments
Can be used to administer online assessments for classes or individual students
Review Sites - click here
Create, administer and manage assessments using a variety of content
15,600+ assessment questions aligned with learning standards
Provide both synchronous and asynchronous learning
Assess, track and analyze learner performance
Review Sites - found none
Create multiple versions of a single test
Design custom tests to evaluate learning in any subject area
reinforce the vocabulary skills of your students
Use the built-in question bank with 13 different types of questions
Review Sites - click here
Tool for pre-tests, post-tests and anywhere you need formative assessment
Review attainment with students question-by-question after the test
Get a full analysis by topic, key concept and individual questions
Grade in your preferred grade scheme
---
Who creates online test?
Tests are created by subject matter experts or professors that may serve the purpose of -
Assessing student's learning in specific areas through yearly exams
Identifying the skills of the student to help them choose the right path in the future
To award certificates to students according to performance
With different question types to choose from-
MCQ,
MAQ,
Descriptive
Adding your own questions
Once the pre-employment assessments are created, students take the exams usually in the exam hall in the presence of an invigilator or from home according to situations.
Most of the online testing software comes with cheating prevention settings for security purposes. The test will last according to the no. of questions given and the total time allotted by the test creator.
After the test is completed, get results in minutes with analytics as provided by the particular assessment software.