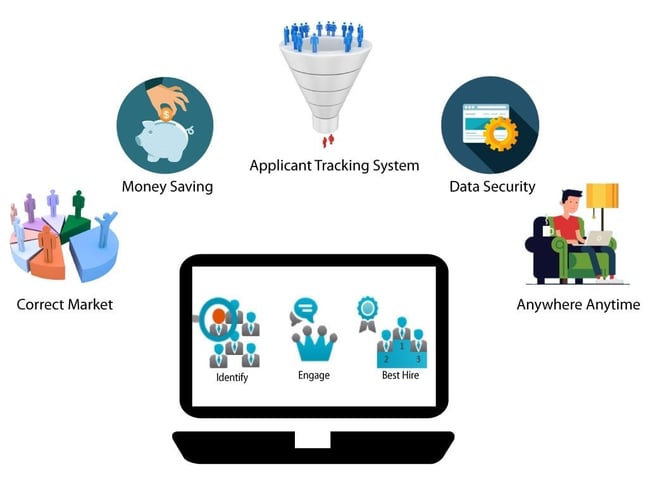 Businesses in this tech savvy world thrive on software. From Biometrics to AI, there are business solutions for all. Manual work processes in all fields have become negligible. Gone are those days, where one had to manually process every resume. One had to spend hours accessing and processing them; all to find the right candidate. To not to fuss about this fuss, many organizations have already moved and those left are hurriedly moving towards Recruiting Software.
These Software aids in selecting the right candidate with minimum possible time. A trend of using recruitment software for solving talent acquisition issues has been noticed nowadays.
The Time, Money and Sanity saved by using Recruitment Software can be put to better use. Here are some aspects related as to how businesses can save invaluable resources by using Recruitment Software.
1. Just a click away!
The dominant and essential function of an HR team is Recruitment. The key to success in the field of Recruitment is to have the necessary skills to reduce the time it takes to hire the right candidate.
The Recruitment process can at times go for hours, making it time-consuming. It also takes a toll on work efficiency of the interviewer. With Software, the system interface is available 24x7, with no added or extra costs.

The Candidates can be screened and sorted, recruitment software aids to find suitable and apt applicants for you.

Communication becomes fast, as requisition and approval become automated.
Since it automates the entire recruitment process, it helps managers dedicate more time to develop business and spend less time for administrative work.
2. Getting Connected with the Correct Market
Reaching out to the vast tech oriented world is vital for any business to thrive. One of the crucial elements to succeed is to let the world know your idea. What better way than right platforms, to help you reach out. Recruiting Software provides you with an extensive dictionary of leads, which helps you advertise your job ads and connects you with the correct world. It also builds a systematic pool of talents, which can be used when new vacancies arrive. The after effect is that it brings you to your desired battle field, where the target market can actively participate.
3. Anytime, Anywhere
Recruitment Software is accessible from all around the globe so that one can stay updated on all the developments. Recruiters can be more productive by having a smartphone, tablet or any internet connected device access. Companies can increase their global presence with this tool as it increases social reach due to social media integrations. A majority of the applicants interact on the social media platforms and use mobile job search applications.
4. Applicant Tracking System (ATS)
All updates about each candidate can be streamlined. The status of each individual application can be known and accessed easily. The calendar integration feature helps busy individual keep tab on the upcoming events. Duplicate profiles can also be detected. The feature of Referrals creates an easy interface for both the user, candidate and the Referred Personnel.
5. Safe house
No need to worry about the loss of data due to power cuts or corruption of data; all your work and precious documents are saved with the software. No need to get a chill down your spine during data mishaps. The software backups the data, reducing administration and paperwork between departments. Having a recruitment software in place, one can keep track of all applicants and sort them. One no longer needs to worry about misplacement or theft of documents. Information is stored with most secure and easily accessible, centralized manner.
6. Money saved is Money Invested
Paying every candidate for the accommodation and travel charges is no longer a headache as you need not pay for each candidate, simply allow the software to do the work for you. The only cost incurred is that of installing the software; a wise investment with easy returns indeed. Expenditure due to Recruitment agencies and vacancy advertisements can be reduced, as well as hidden costs such as photocopying, and HR resources can also be significantly reduced.
Conclusion:
It is evident that recruitment software is power tools which aid you in your recruitment process. These evolved tools have been adopted among various top-class firms. They are becoming the future of hiring and recruiting candidates. Factoring in all the advantages, implementing recruitment software along with pre employment testing will definitely fast forward and strengthen your recruitment process and aid you in your ability to hire quality employees. With such amazing features, what are you waiting for! Go, get yourself a recruiting software today itself!
PS: Save Time and Put your Efforts in Interviewing Relevant Candidates:
Every recruiting person faces the same mess of interviewing wrong candidates and loses an adequate amount of time with no outcome. imocha a recruitment assessment tool helps you precisely in this direction to outcome these issues by evaluating your candidate's multiple skills through skills assessment tests.
You can easily invite candidates to give the test and get results in no time to evaluate who will be the right fit for your company as well as a quality candidate.

Want to know more benefits of a recruitment software visit the blog 60 benefits of a recruitment software
want to know 60 more benefits of a recruitment software to streamline and improve your recruitment software?
Read- 60 benefits of a recruitment software.