Today, a growing number of global IT Services Companies use English as their primary language, even in countries where English is not their first language. English as a means of official communication is looked upon as a business enabler, where ideas are exchanged, viewpoints are shared, and the end goal is achieved. And herein, lies the challenge - English understanding with reference to business context, considering changing dialects from region to region.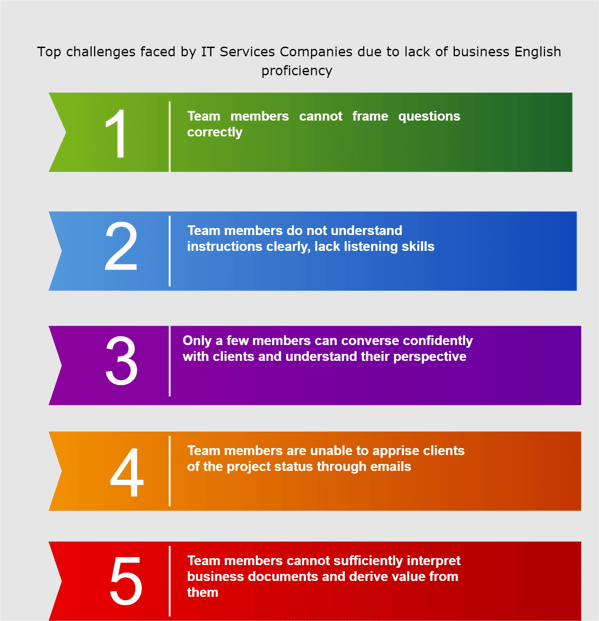 Lack of adequate proficiency levels in Business English often leads to project delays, slippages, and ultimately loss of revenue.
The challenge of assessing Business English skills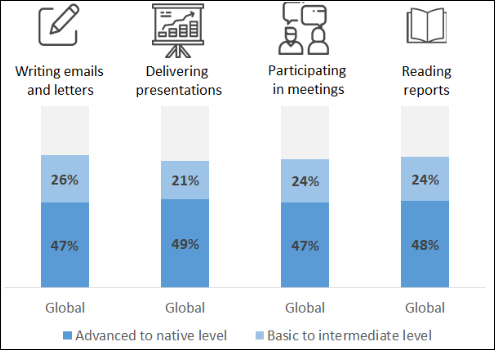 As per Cambridge English, IT employees need to possess varying degrees of business English skills to carry out their jobs. Which is why it becomes imperative that along with the core skills, employees are also assessed on their business English skills.
However, most of the assessments are home-grown, lack reliability, and are prone to biases.
Business English skills assessment must be reliable, conform to accepted standards, and be free of biases. In addition, it must be scalable to conduct mass recruiting in a swift, accurate and timely manner.
The Solution - Mocha EnglishPro - A 360° assessment of Business English skills powered by AI
iMocha has designed AI EnglishPro - an innovative tool to tackle these challenges. AI EnglishPro is based on four pillars of language namely clarity, precision, understanding, and context. AI EnglishPro is an AI-enabled, easy-to-use assessment that provides sentiment analysis, contextual understanding, and business language domain.
The assessment is designed keeping in mind the Council of Europe's Framework of Reference for Language (CEFR) with a focus on Speaking, Writing, Reading, and Listening skills. Mocha EnglishPro uses Natural Language Processing Tools, Computational Linguistics, and Text Analysis to provide inputs about the proficiency levels of the candidates.
How is AI EnglishPro different?
Being proficient in Business English is an invaluable asset for IT professionals. Other English language assessments gauge a candidate on basic components like grammar, comprehension, and writing ability. These do not necessarily constitute Business English. AI EnglishPro focuses on key elements to create an accurate report of a candidate's proficiency level in Business English.
1. Meaning and Clarity: A Harvard Business Review report (2014) demonstrates the undue advantage given to native speakers of English when it comes to hiring for management positions. This sort of discrimination has crept into English Proficiency Tests where the initial focus was on accent control and not on meaning. This problem was partly solved by the CEFR (Council of Europe's Framework of Reference for Language) when it decommissioned the use of pronunciation and other elements of phonology in their assessment parameters in 2016. Mocha EnglishPro continues this tradition of positive reinforcement of diversity in its product design, incorporating multitudes of speech patterns and relying more on clarity and proper usage.
2. Usability of business language: English language as a whole is a vast and complex structure. AI EnglishPro focuses on the use-value of language: to deliver ideas in a comprehensible format, to structure thoughts into well-formed action points, to solve the problem of communication in a real-life practical format.
3. Context: Most general English proficiency tests incorporate elements of grammar, syntax, vocabulary, listening and reading skills in the form of blank sentences which we often do not use in business transactions. This makes them miss the much-needed target of context. While AI EnglishPro includes reading, writing, speaking and listening as well (in accordance with the generally accepted functional units of English), it also incorporates business documents, phrases, and contexts. It helps our customers identify top skills needed in business linguistic transactions according to clarity, usage and context.
Why is AI EnglishPro the best tool to assess Business English skills?
Comprehensive, Compact, and Fun:

AI EnglishPro is a four part test of around 30 minutes comprising Speaking, Writing, Reading, and Listening skills. The test is designed by experts keeping in mind CEFR standards with crisp and quality question content.
Ready-to-use:

No elaborate manuals, no worrying about the test composition! This is a completely ready-to-use assessment. Send the link invitations and candidates can attempt it from anywhere, anytime.
AI powered sentiment analysis:

AI EnglishPro uses advanced Natural Language Processing tools, Computational Linguistics, and Text analysis to give inputs about the affective states of the candidates.
Advanced proctoring and security:

AI EnglishPro conforms to the highest levels of security when the candidate is appearing for the test with a secure test environment and proctoring mechanism that prevents any cheating attempt by the candidates.
Differential marking patterns:

AI EnglishPro combines different marking models in order to make the test vibrant and diverse in its generation of evaluation points.

EEOC compliant:

Each and every question is designed by our experts under the EEOC (Equal Employment Opportunity Commission) framework.
The IT industry is now a global workplace where business communication is critical for success. AI EnglishPro will help you assess and hire the best people proficient in both technical skills and Business English.