Organizations, currently, have various priorities: identifying and developing critical skills for organizational growth, closing the skills gap, maintaining an organization-wide skills bar, and more. And to address them, recruitment plays a key role.
To that effect, CRM recruitment software is an excellent tool that makes companies' hiring efforts more efficient and keeps employees engaged.
Coupled with a powerful skill assessment tool like iMocha, the best CRM recruitment software can help organizations conduct online assessments with ease. Hiring managers can identify qualified candidates based on skill sets, aptitude, and specific abilities.
So, in this blog, we will discuss the top 15 candidate relationship management systems to help you make an informed choice.
1. Paylocity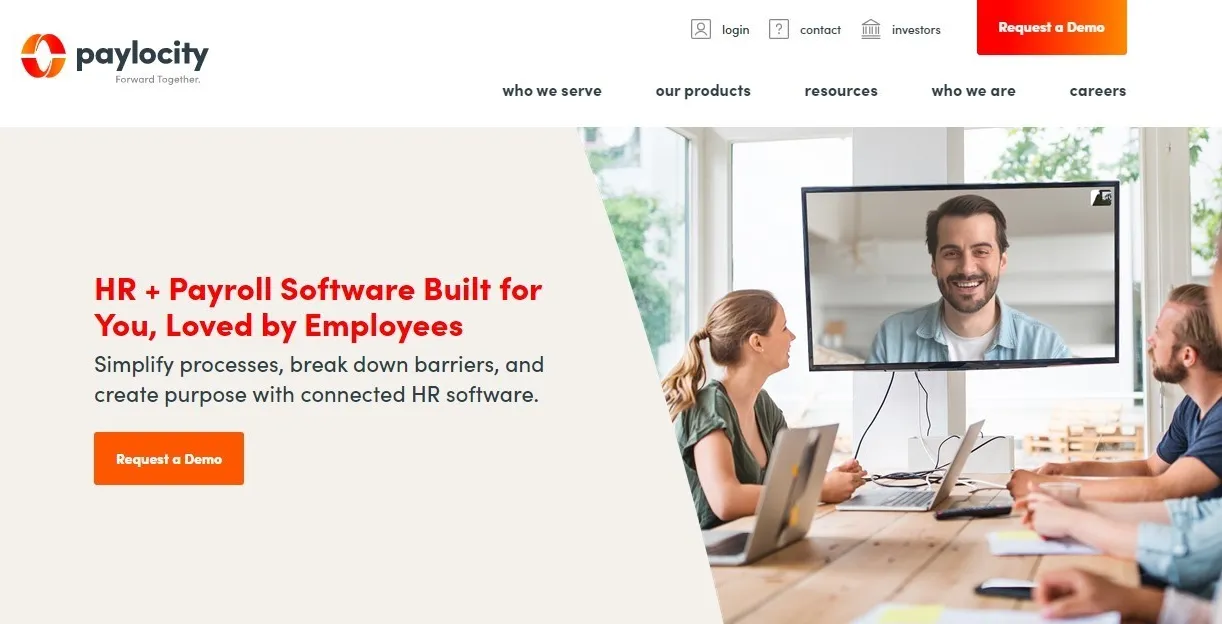 Paylocity is a full-suite CRM recruiting tool that serves as a one-stop solution for companies, covering everything from payroll, benefits, and HR to recruiting, onboarding, and learning.
Key Features:
Comes with a workforce management feature that helps eliminate the need for manual tracking of tasks.

The payroll feature allows companies to simplify multiple financial tasks related to payroll and automate the entire process.

Other features include compensation management, data insights and reports, employee self-service, and time and labor management.
G2 rating: 4.4/5
Pricing: Contact Paylocity to get pricing details.
2. Zoho Recruit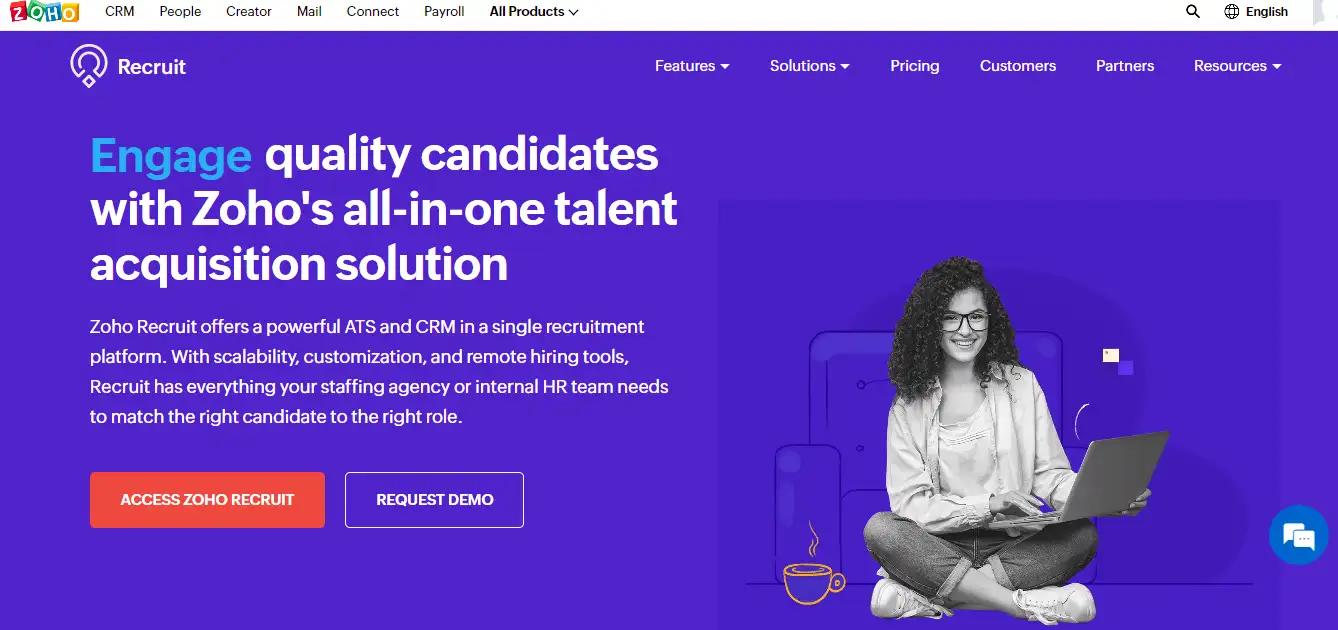 Zoho Recruit CRM is a comprehensive solution that addresses several recruiter challenges, such as finding the right candidate for the roles, taking follow-up interviews, etc.
Key Features:
Excellent job posting feature that allows you to create new jobs with ease.

Comes with a temporary staffing feature that allows you to post jobs with a quick list of joining conditions and instantly find suitable and available candidates.

The pipeline management feature allows you to customize recruitment workflows and keep track of the number of candidates at each level.
G2 rating: 4.4/5
Pricing: Four pricing options are available:
Free

Standard: $30 /user/month

Professional: $60/user/month

Enterprise: $90/user/month
3. JobAdder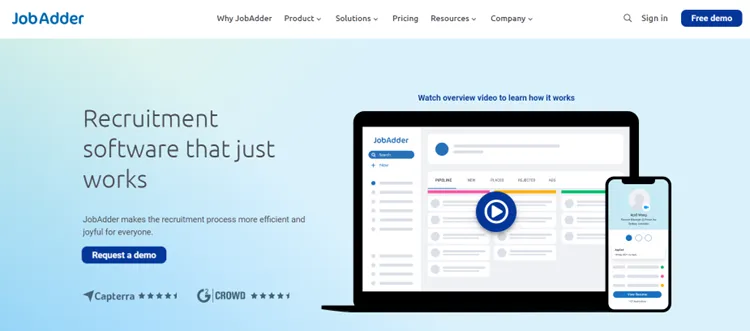 An easy-to-use, web-based recruitment platform, JobAdder is built on the cloud and is perfect for small to medium-sized recruitment agencies.
Key Features:
It comes with advanced search functionalities that allow you to source the right candidates from various sites.

The platform can be integrated with Gmail or Outlook inbox to synchronize email activities directly with JobAdder.

Features advanced contact management where users can view and update tasks, job applications, companies, and contacts in real time with mobile apps.
G2 rating: 4.5/5
Pricing: Contact JobAdder to get current pricing details.
4. Taleo Oracle

A robust CRM recruiting software, Taleo Oracle enables enterprises and midsized businesses to recruit top performers with the right cloud talent skills, along with aligning them to key goals and performance.
Key Features:
Facilitate easy screening, interviewing, creating job offers, and hiring with comprehensive recruiting tools.

Allows you to build talent profiles to offer insights into employee skills and interests.

Quick-filter technology allows you to filter the best candidates quickly.
G2 rating: 3.4/5
Pricing: Contact Taleo Oracle to get current pricing details.
5. Workable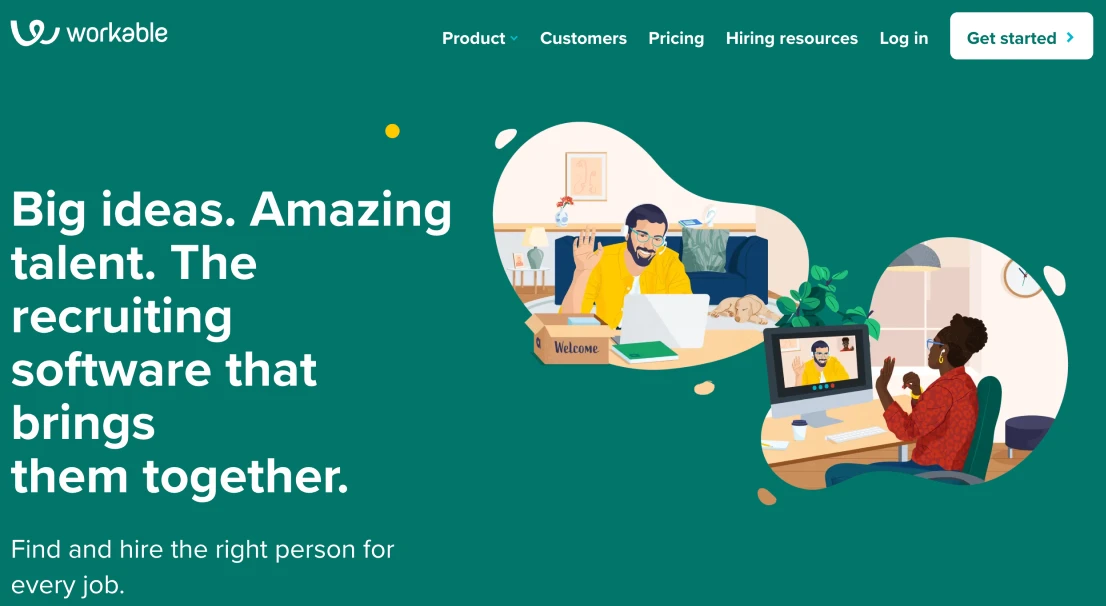 An intuitive and easy-to-use solution, Workable helps recruiters throughout the hiring process. The platform has a gentle learning curve and is ideal for all HR professionals.


Key Features:
The platform allows users to modify access rights by adjusting account settings for various groups.

It enables you to create and manage a robust talent pool, allowing you to track and nurture relationships with potential hires.

Various integrations are available through which businesses can connect this software to over 40 systems.
G2 Rating: 4.6/5
Pricing: Workable is available in two plans:
Monthly plan - $129 per month

Advanced plan - Contact Workable for details.
6. Fetcher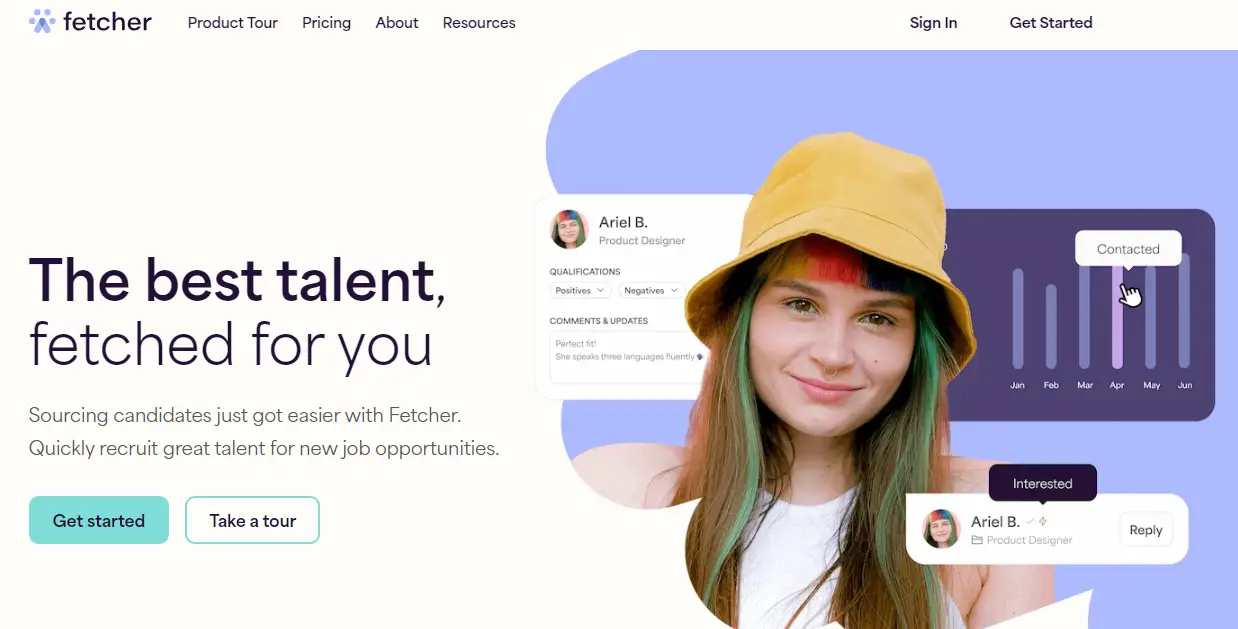 Fetcher is a full-service CRM recruiting platform that helps you board qualified candidates swiftly.
Key Features:
Simplifies sourcing by aggregating potential candidate data from various online sources, including social and professional networks.

Optimizes and strengthens outreach and engages qualified candidates who are not looking for jobs actively.

The platform is designed to help teams constricted by manual sourcing and seamlessly manage their external recruitment strategy.
G2 Rating: 4.6/5
Pricing: Contact Fetcher to get current pricing details.
7. Tracker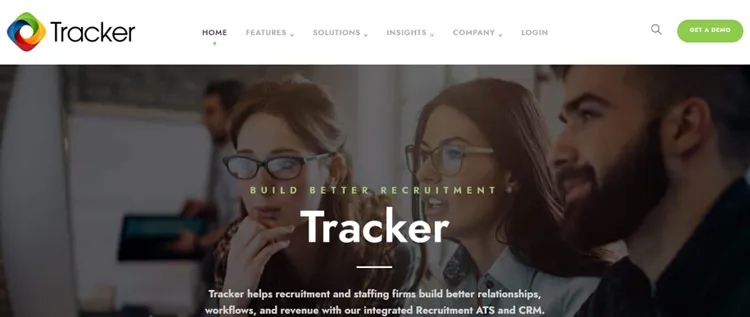 An integrated recruitment ATS and CRM, Tracker helps recruitment and staffing firms build better relationships, workflows, and revenue.

Key Features:
Allows you to track all your customer relationships, candidate information, and opportunities in one centralized location.

Manage your sales, recruiting, and onboarding needs from any browser or mobile anytime, anywhere.

Simple to use for anything from posting vacancies to job boards to customizing your workflow.
G2 rating:

4.6/5
Pricing:

Tracker CRM offers two pricing plans:
Starter - For small firms and startups

Enterprise - Customized plans; contact Tracker to get pricing details.
8. ARCORO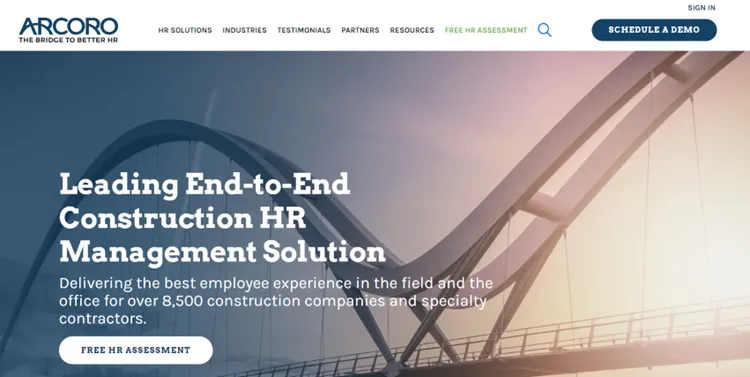 ARCORO is a powerful recruitment CRM system that helps organizations manage employees and their hiring throughout different stages.
Key Features:
The Core HR module of the platform offers a comprehensive and centralized self-service portal that allows users to take care of aspects such as workflows, employee engagement surveys, etc.

The platform's ATS feature helps simplify the recruiting and hiring process.

Allows you to automate the onboarding process and helps new hires better navigate onboarding.
G2 rating:

3.8/5
Pricing:

Contact ARCORO to get current pricing details.
9. Avature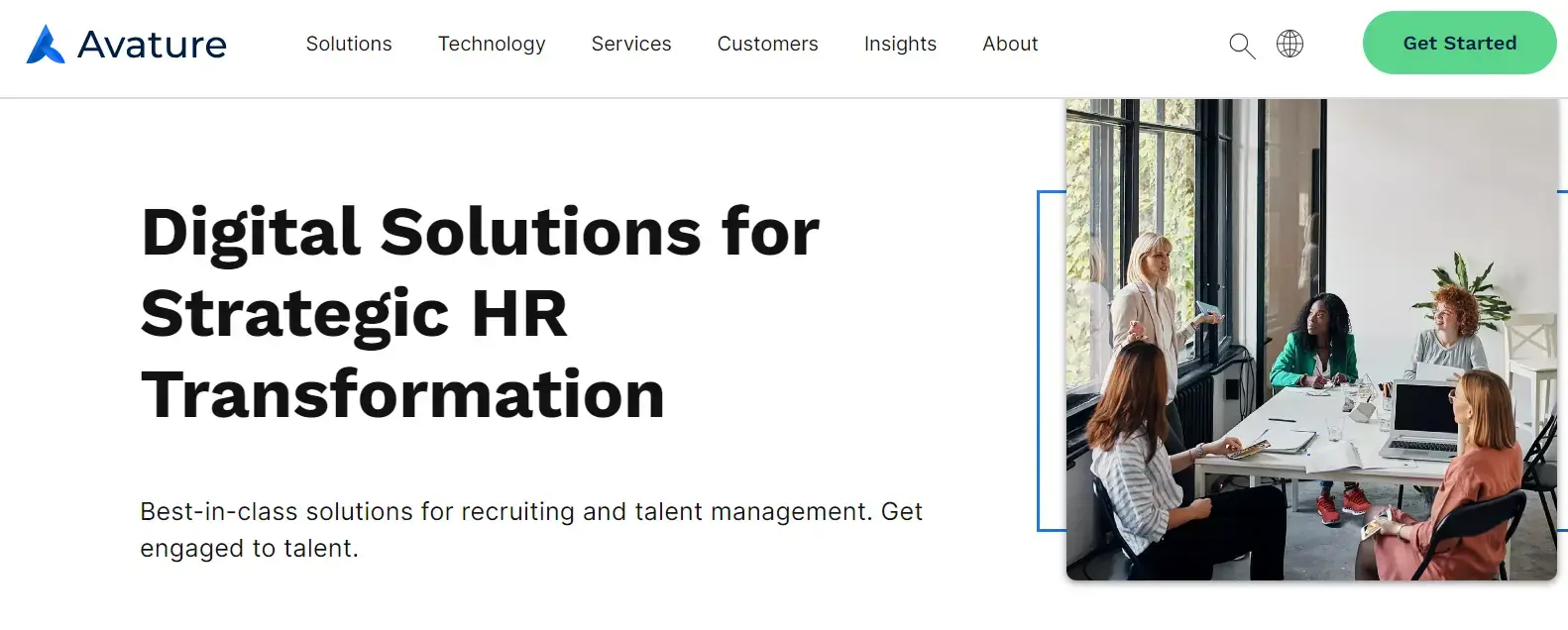 Avature CRM is one of the renowned candidate relationship management tools. It enables companies to easily build talent networks by sourcing and importing passive candidate profiles from various databases, job boards, and the web.
Key Features:
Easy to use and allows HR specialists and recruiters to use data and analytics to track the progress of their prospective candidates.

Features customizable hiring workflows, forms, and portals to create efficiencies that allow you to focus on other tasks.

Offers powerful tracking and reporting solutions.
G2 Rating:

4.4/5
Pricing:

Contact Avature CRM to get current pricing details.
10. Mystaffingpro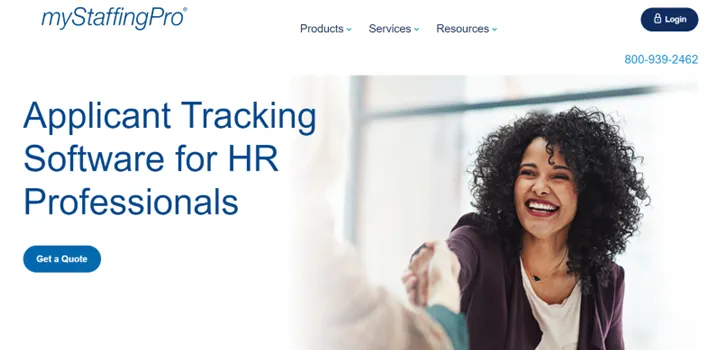 A comprehensive web-based recruiting, talent acquisition, and employee management software, Mystaffinpro supports HR and recruiting departments with every step of the acquisition and employee integration process.
Key Features:
The platform allows you to customize the applicant tracking system for seamless recruiting and hiring of the best talent.

With the candidate matching feature, you can create baseline requirements for all your applicants and simplify the screening process.

Allows you to run reports on your pool of candidates to understand their background, experience, the overall cost of recruiting, and more.
G2 Rating:

3.9/5
Pricing:

Contact Mystaffinpro to get current pricing details.
11. WebHR
WebHR is another full-service, cloud-based candidate relationship management system with excellent payroll capabilities. It helps you standardize, manage and automate functions such as recruitment, hiring, payment, etc.
Key Features:
The platform comes with end-to-end payroll management that handles payroll processing, check printing, direct deposit, taxes, payslips, and other compensation functions.

Offers robust reporting capabilities, including custom fields, a quick generator for reports and graphs, and other data intelligence functions.

The platform can use biometrics devices or devices that use physical characters for aspects such as identification and attendance.
G2 rating: 4.2/5
Pricing:

There are four pricing plans available:
Free

Basic - $19.99/month

Professional - $97.97/month

Business -190.90/month
12. Recruit CRM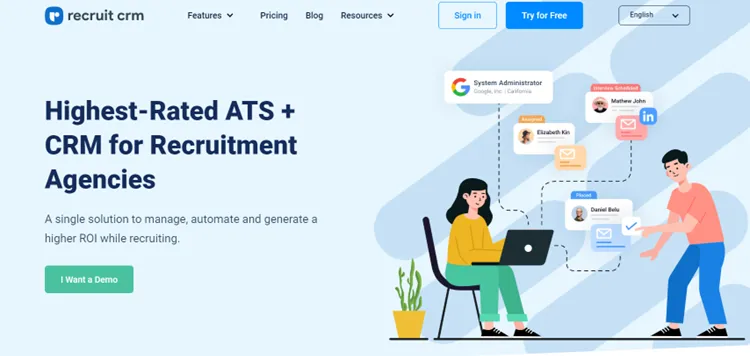 Recruit CRM is another cloud-based recruitment software that helps small to medium-sized firms manage their recruitment operations, daily activities, candidates, contacts, and more.
Key Features:
Powerful AI resume parser that can directly evaluate resumes from emails.

Offers an easy view for both sales and recruitment, along with features such as email triggers, boolean search, and more.

Allows you to work together without having to juggle between different emails, customer relationship management, and applicant tracking systems.
G2 rating:

4.7/5
Pricing:

There are two plans available:
Team plan - $69 per user/month

Enterprise plan - $125 per user/month
13. Recruiterflow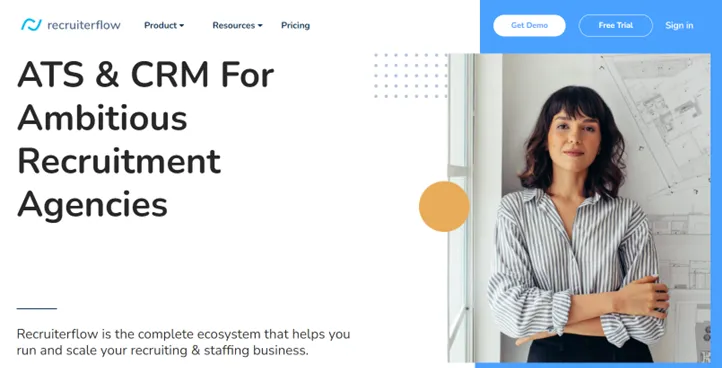 Recruiterflow is another modern applicant tracking and CRM software system for the staffing and recruitment industry.
Key Features:
It has collaboration tools that make it easier to communicate with candidates.

Allows you to upload job openings to various job boards from where candidates are redirected to your dashboard.

The software lets you use one single account to create and import documents from other applications and manage many applicants.
G2 rating:

4.6/5
Pricing:

Recruiterflow offers two different pricing plans:
Growth: $89/month per user

Enterprise: $129/month per user
14. Yello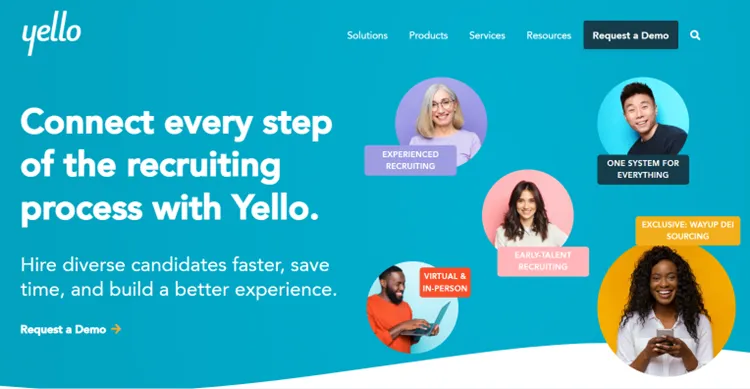 Yello is a well-known recruiting CRM software that has a centralized platform to make it easy to build a relationship with top talent.
Key Features:
It comes with various features, including automatic scanning of profiles, centralized job board integration, and easy importing of candidate records.

Allows you to build a detailed talent repository of prospects for future use.

Features an intuitive campaign builder that helps foster relationships with prospective candidates through customized email campaigns.
G2 rating:

4.4/5
Pricing: Contact Yello to get current pricing details.
15. Workbright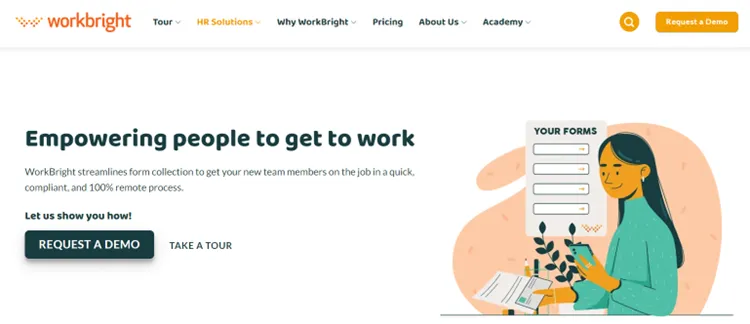 WorkBright is a comprehensive HR solution that offers onboarding assistance for the processing and induction of new employees.
Key Features:
Allows you to collect, upload, store, and share all your onboarding documents to a centralized location, making it easier for everyone to access information.

It lets you see and share a new employee handbook with all the helpful information.

Various other features, such as e-verification of individuals hired for employment in the United States, a self-service portal, and the facility to sign a document within the system.
G2 Rating:

4.8/5
Pricing:

Based on the number of hires per year and ranges from $158 - $426 per month.
Conclusion
Without CRM recruitment software, finding qualified talent can get quite overwhelming for recruiters.
Similar to the recruitment process, choosing good CRM recruitment software can be time-consuming as well. That being said, remember that for the time you'll spend selecting the right CRM tool to meet your staffing needs, you'll end up saving much more time and resources than you'd normally spend selecting candidates.
FAQs
What is CRM recruitment software?
CRM recruitment software is a candidate relationship management solution used by recruiters and hiring professionals. The main aim of this software is to build your overall talent pool of candidates for future hiring.
Why is CRM important in recruitment?
A CRM in recruitment helps you fill jobs faster by connecting you with current and future job candidates through recruiting event functionality, automated email marketing, job recommendation portals, and more.
Which is the best CRM software?
While there are multiple options, some of the best CRM software include Paylocity, Tracker, Yello, and WebHR.