A coding assessment is a good way of assessing programmers and developers. While the reports give accurate insights into the coding skills, it does not bring to surface the thought-process of the candidate and how they have executed the program.
With Code Replay, you can now watch the video of code written by the candidate, view the compilation details, test case result, and memory usage. Each video timeline is plotted with hotspots which appear each time the candidate compiles a code. This will help differentiate good programmers from average programmers.
Benefits of Code Replay
1) Decode the coders - Determine a candidate's logical thinking and approach to the problem by replaying their code. Code Replay provides a line by line replay with hotspots on the timeline to indicate the compilations.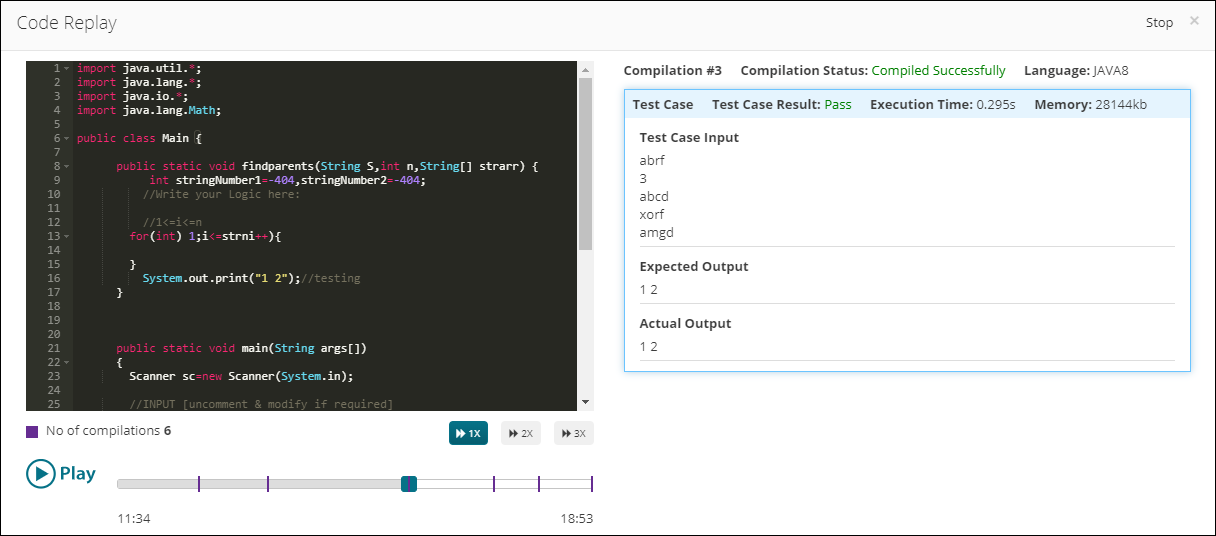 2) Identify good and average coders - Coding test report will indicate the code written by the candidate, the test cases, execution time and memory. But it won't tell a good coder from an average coder. Looking at the Code Replay, a Hiring Manager can quickly identify a good coder from the way they have written the good, their approach to the problem statement, and application of logic.
3) Deeper Insights - Code Replay provides an in-depth analysis on the candidate's programming skills. Apart from the line to line replay, Hiring Managers can directly view the hotspots that indicate code compilations and can compare it with previous compilations.
4) Avoid bad hires - Hiring average to bad programmers is a nightmare for a lot of organizations. Code Replay will help in eliminating bad hires with analysis for each compilation.
Watch the below video to know how Code Replay works.