The global quest for acquiring talent is continuously becoming more complex. Factors such as the shift to remote work culture, competitive compensation, and faster evolution of skills make it more challenging for a business to attract talent and retain it.
Companies must leverage a mix of assessment tools, smart interviewing software, and real-life simulations to test and predict the potential of candidates to succeed in future roles.
The global assessment services market is expected to continue growing to reach a market share of $11.47 billion by 2027. Concurrently, eSkill, a global leader, has built a comprehensive ecosystem to help companies identify and hire relevant candidates.
However, companies have extremely unique needs, and hiring solutions need to be aligned to their specific budget, domains, job roles, and work culture. This has led to several highly competent eSkill alternatives, which recruiters, boot camps, and businesses can look into for relevant partnerships.
This blog covers 15 top alternatives to eSkill that can serve companies' hiring, learning, and development needs.
15 Best eSkill Alternatives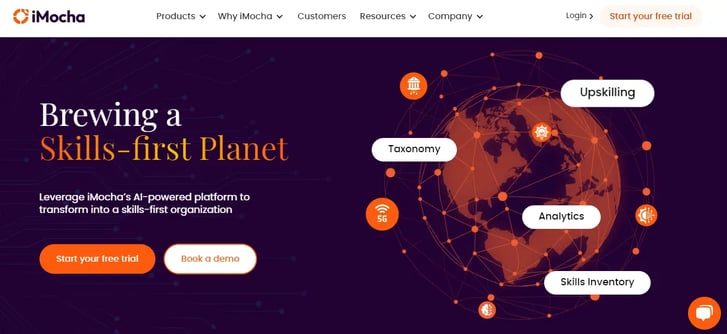 iMocha is one of the most comprehensive assessment ecosystems that deliver solutions at scale for Talent Management and Talent Acquisition.
Under talent acquisition, solutions include lateral hiring, remote hiring, university hiring, and diversity and inclusion-focused hiring. iMocha job boards are also optimized to expand the hiring pool and enable quick scaling up of hiring based on evolving business needs.
Companies can choose from over 2,500 skills, including 690+ IT skills, 35+ coding languages, 66+ next-gen skills, 77+ domain skills, and 88+ cognitive tests.
The IT-related skills include coding, Cloud, application development, cybersecurity, digital skills, Infrastructure development, quality assurance, engineering, and databases.
Furthermore, the platform's comprehensive learning and development solution includes calculating objective ROI of learning programs, training needs analysis and identification, digital transformation, upskilling of employees, and making investments in building a client-ready workforce by assessing existing skills and enhancing their craft using iMocha's Upskilling Assessment Portal.
This cost-effective eSkill alternative platform offers absolute confidentiality to recruiters and candidates. The comprehensive screening enables companies to cut down on time invested in hiring, as well as reduce cost per hire.
Founding Year: 2015
G2 Rating: 4.4
Pros: Multi-language learning capabilities, superior customer service, feature-rich platform
| | | |
| --- | --- | --- |
| Feature | iMocha | eSkill |
| Number of coding languages | 25+ | Not available |
| Video interviews | Yes | Yes |
| Online live coding technical interview | Yes | Yes |
| Role-based coding assessments | Yes | Yes |
| Cognitive assessments | Yes | No |
| Question bank | 100,000+ | Data not available |
| Assessment consultation | Yes | No |
| One-way video interviews | Yes | Yes |
| AI-LogicBox | Yes | No |
Explore the comprehensive comparison between eSkill vs iMocha here.
2. TestGorilla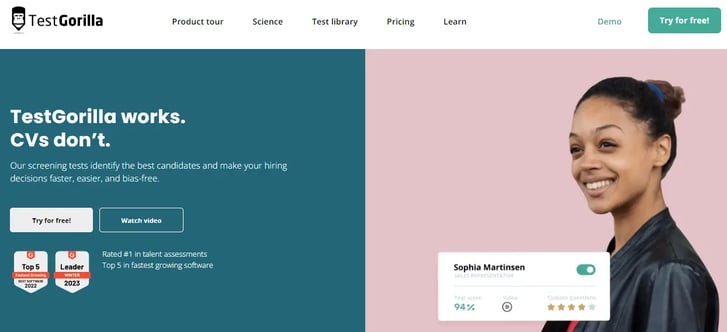 TestGorilla offers a pre-employment testing tool that enables recruiters to make superior hiring decisions. TestGorilla's approach saves companies time and effort in screening thousands of resumes.
Recruiters can leverage TestGorilla's library of 262 scientifically validated tests, which evaluate candidates on a spectrum of domain-specific and general skills.
Companies get to know candidates on a deeper level by venturing beyond the information gathered on their resumes. Over 7,800 companies across sectors and domains have leveraged the service to date.
Founding Year: 2019
G2 Rating: 4.5
Pros: Ease of use, wide range of tests, easy to track candidate performances

3. The Predictive Index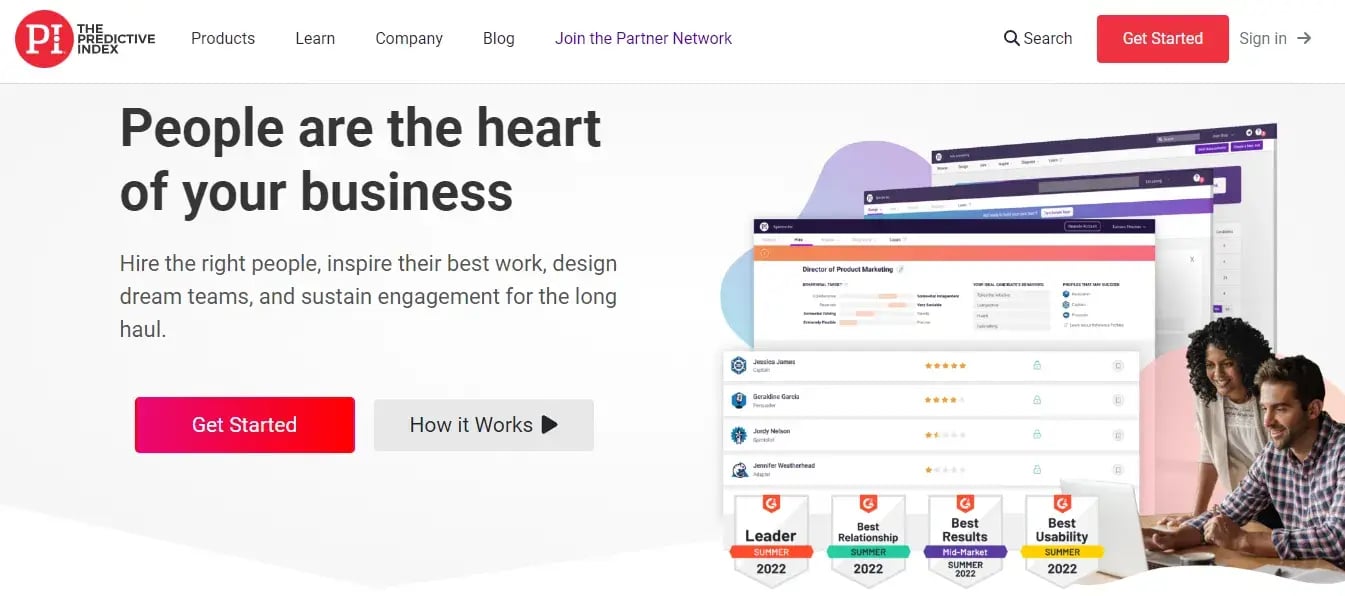 The genesis of the platform lies with its founder Arnold Daniels who created the first Predictive Index Assessment in 1955 based on his experiences as a flight navigator in the US Army.
Today, the platform offers a wide range of predictive assessments, which have been used in the hiring process for almost every job role across every industry.
Recruiters can streamline the job interview process using the platform's pre-assessment tools while also delivering a superior interviewing experience for candidates.
However, The Predictive Index's interventions do not end with hiring the right candidates. The platform is equally invested in the retention of candidates across businesses.
This eSkill competitor offers several products that enable companies to continue investing in skills in their employees, enhancing engagement between employees and raising the productivity of teams.
The company's extensive research on behavioral sciences plays a key role in developing tools to help businesses meet evolving retention challenges.
Founding Year: 1955
G2 Rating: 4.7
Pros: Key focus on behavioral fit for any job role, improved communication within teams, helpful support team
4. Mercer Mettl

Among eSkill competitors, you also have a global leader in talent assessment, Mercer Mettl, which offers a comprehensive assessment ecosystem for recruiters, education providers, and organizations focused on the Learning and Development (L& D) of existing talent.
Their suite of talent assessment tests includes behavioral, psychometric, aptitude, technical, and communication tests across corporate functions such as operations, marketing, sales, finance and accounting, IT, leadership/management, human resources, customer support, and data sciences.
Mercer Mettl's platform also offers specialized products that enable companies to reskill existing employees for higher agility and new-age skills. Campus hiring is also a unique vertical which enables online interviews, pre-screening tools, and high-quality student engagement.
eLearning platforms and education providers can leverage Mercer Mettl's suite of online assessment products, such as their online examination platform, semester exam, entrance exam, and online exam systems.
Founding Year: 2010
G2 Rating: 4.4
Pros: Cost-effective assessment, reliable, innovative interviewing solutions
5. Codility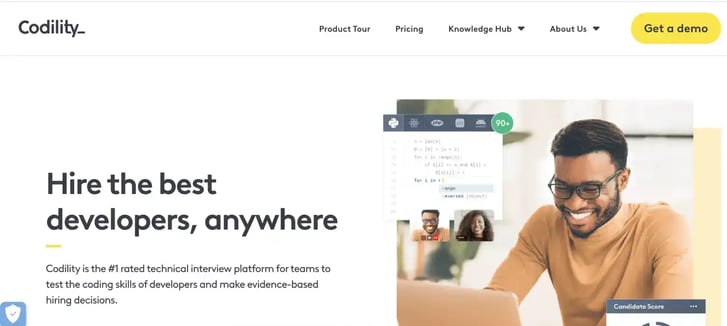 Businesses today are nurturing engineering teams with a problem-solving mindset. Merely hiring for skills and educational qualifications does not fulfill this criterion.
This eSkill alternative thus specializes in helping businesses screen candidates with a problem-solving DNA through a range of pre-screening tests. The platform tests for knowledge of over 90+ languages and technologies.
The core hiring profiles include front-end developer, back-end developer, DevOps engineer, data scientist, and cloud engineer.
Codility's evidence-based platform enables recruiters hiring at scale to predict the real-life skills that candidates bring to the table. Companies that work at the cusp of innovation can partner with Codility to identify the right match for their culture and vision.
Founding Year: 2009
G2 Rating: 4.6
Pros: User-friendly technical skill assessment tool, wide bank of technical questions, a wide range of content accessible for user practice
6. CodeSignal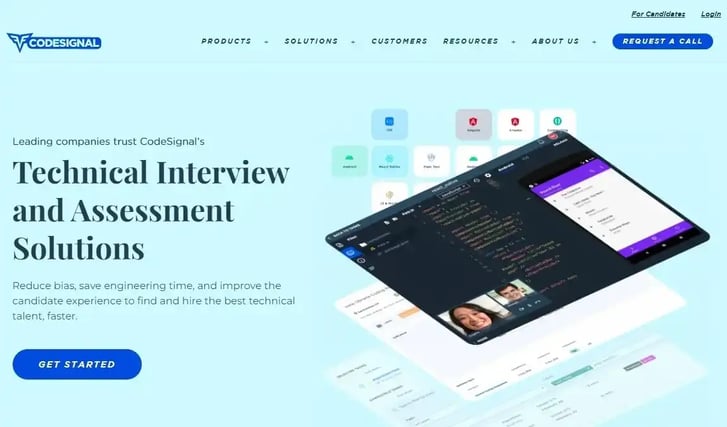 CodeSignal's philosophy is to completely eliminate the time spent by recruiters and engineers in interviewing new candidates.
They also aim to expand the tech pool by looking beyond the pedigree credentials on resumes. CodeSignal's pre-screening process tests candidates extensively on their skills while making the process engaging for potential hires.
For instance, by using their signature Tech Screen product, they have completely done away with the traditional phone screen, which eats into the engineering time of teams.
Instead, CodeSignal completely takes over the process by conducting interviews led by a friendly human interviewer in a state-of-the-art development environment where candidates can write real code.
The tech screens are computer-scored, and the results are delivered to recruiters in record time. The company has also taken great pains to ensure that there is a great deal of variation of questions during the interviews to prevent cheating due to question leakage.
CodeSignal's solutions include enabling businesses looking to hire at skill, hire from campuses, and hire for engineering leadership positions, as well as unique roles that are challenging to hire for.
Commonly hired positions include Data scientist, ML Engineer, Data Engineer, Back-end Engineer, Front-end Engineer, Web Developer, Full-Stack Engineer, React Developer, iOS Engineer, Android Engineer DevOps, and QA/Test Engineer.
Founding Year: 2014
G2 Rating: 4.5
Pros: Completely handles interview process, saving recruiters efforts and time; ideal for businesses seeking innovative problem-solvers
7. HackerRank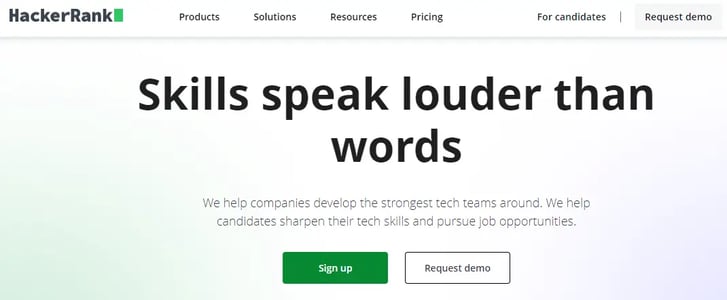 This is a technology hiring platform that has built a comprehensive ecosystem for developers, technology businesses, and technology campuses.
Developers at different stages of their careers can join HackerRank's community, where they can continuously enhance their skills and access to improve their interviewing skills.
On the demand side, HackerRank has developed a comprehensive platform that enables technology businesses to discover and hire talent from HackerRank's community of over 21 million developers.
The various platform solutions include remote-first hiring, enterprise technical hiring, university recruiting, diversity and inclusion, and professional hiring.
The capabilities of the platform enable recruiters to leverage a single, unified interface to drive the hiring process, right from onboarding new candidates to showcasing the brand, deploying assessments, and hosting interviews.
This eSkill alternative has also rolled out professional services, which enable companies to host online technical recruiting events that focus on showcasing the culture and can accommodate over 30,000 candidates.
Recruiters can also get access to fresh questions to beat incidents of question leakage and leverage the platform based on their evolving needs.
Founding Year: 2009
G2 Rating: 4.5
Pros: Access to a pool of developers at different career stages, interactive platform, wide variety of readymade tests
8. Test Invite

Test Invite, as the name suggests, is a comprehensive platform offering companies access to design and conduct their own assessments at scale.
Their core solutions include certification assessment, learning assessment, talent assessment, assessment monetization, English level tests, and assessment tests.
With Test Invite, companies have access to robust content creation and test administration tools. The platform's anti-cheat features, such as lockdown browser, video recording, and auto proctoring, are especially valuable in the context of remote hiring.
Another attractive feature of this eSkill alternative is that businesses can leverage the service on a need-to basis. It is not necessary to take up a subscription.
Founding Year: NA
G2 Rating: 4.8
Pros: End-to-end exam test solution; organisations can design highly comprehensive and complex online tests; caters to a mix of freelancers, small and medium-sized businesses, corporations, and educational service providers
9. The Hire Talent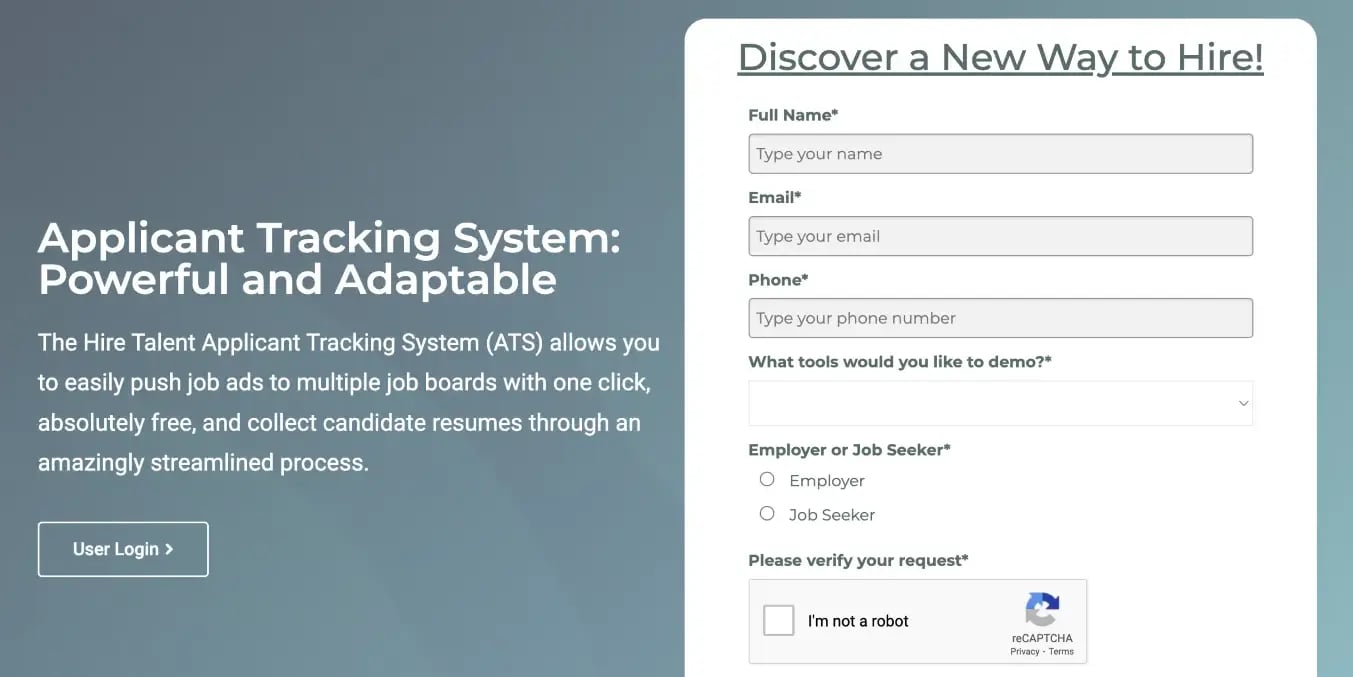 The Hire Talent platform is streamlining and enhancing the hiring process across industries such as insurance, construction, health care, and financial services, which are in search of savvy, skilled professionals.
Recruiting teams can leverage The Hire Talent's comprehensive artificial intelligence-driven ecosystem to first widen the pool of accessible candidates and then narrow it down to the best candidates for the job role.
The Hire Talent Applicant Tracking System (ATS) enables recruiters to push their job advertisements to multiple job boards with one click.
Candidates that respond are put through a streamlined pre-assessment process that includes one-way video interviews and a relevant suite of behavioral and competency assessment tests.
Founding Year: 1980
G2 Rating: NA
Pros: Comprehensive dashboards for recruiters, easy third-party integrations, end-to-end exam test solution, specializes in specific sectors
10. Hire Success

Among the various eSkill competitors, we also have Hire Success, a veteran in the recruitment space that has been helping businesses recruit for over 23 years.
The platform specializes in offering three types of assessment tests - aptitude and skills, personality, and integrity.
The integrity test aims to enable companies to hire honest and reliable individuals on top of the skills they bring to the table.
Companies can pick and choose existing tests or customize their own test with the custom test builder application for a wide range of job profiles. Hire Success also hosts assessment tests in multiple languages.
Hire Success is leveraged by companies in the transportation and logistics, call centers, health care, child care, financial services, biotech and pharma, staffing agencies, and in-house maintenance industries.
Founding Year: 1999
G2 Rating: 4.3
Pros: Great fit for small to mid-sized businesses, strong focus on personality tests during hiring, value for money
11. EmployTest

This platform caters to a wide range of industries and job profiles. Companies can roll out customized assessments that test candidates on a mix of behavioral topics, skills topics, and industry knowledge and cover over 250 skills.
Additionally, they can pick from the pre-designed test on areas like workplace aptitude and behaviors, Microsoft office/technology, industry knowledge, and basic employment skills.
The platform has also designed unique tests for functions such as legal, accounting, medical and industrial skills.
EmployTest is especially relevant for companies that are looking to reduce biases during the hiring processes and improve diversity and inclusion in their businesses.
Once companies pick their candidates, EmployTest can run comprehensive background checks to authenticate their information.
Founding Year: 2005
G2 Rating: 4.4
Pros: Comprehensive candidate reporting, proactive customer service, customizable assessments at a cost-effective price
12. CodeSubmit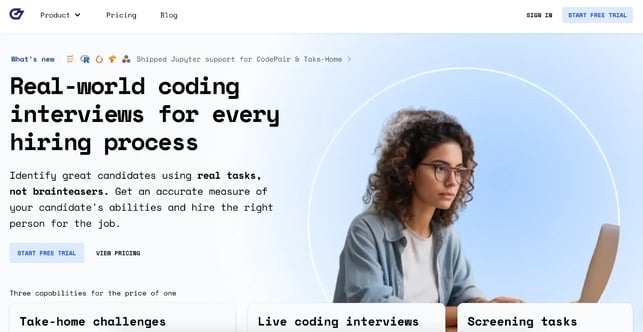 This eSkill alternative offers a completely stripped-down approach to the hiring process for developers. Instead of offering multiple kinds of tests, CodeSubmit offers a take-home challenge that candidates can work on in their own environments.
The idea is to enable coders to bring their best to the table by offering a positive coding experience. Take-home challenges comprise a real-world engineering task that is supported by over 70 languages and frameworks.
Recruiters can also host programming live coding sessions, where shortlisted candidates can partner with another coder to showcase their skills to solve real-world problems.
CodeSubmit's CodePair product simulates a live environment using a state-of-the-art interface that comes with 24 supported languages.
Through seamless integrations with the platform, recruiters can run and evaluate submissions on their browsers and mobiles and expedite the screening process.
Founding Year: 2019
G2 Rating: 4.9
Pros: CodePair simulation opportunities, testing in the candidate's comfort zone, real tasks available for testing
13. Coderbyte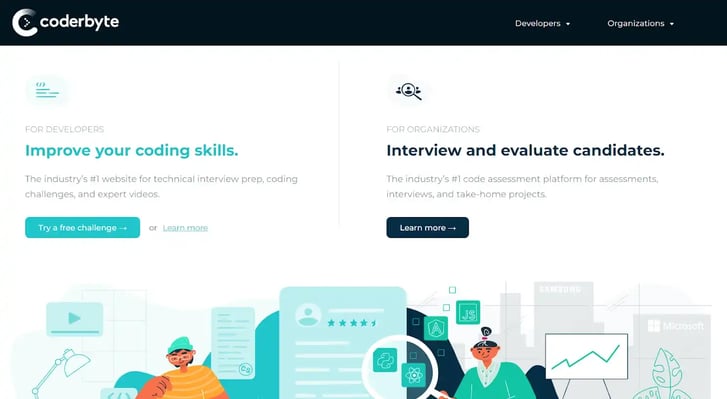 Coderbyte harnesses both the demand and supply aspects of recruitment by serving developers and organizations via their platform. Organizations can access a wide range of plug-and-play interviews, assessments, and take-home project templates.
Assessments from this eSkill.io alternative comprise over 1,000 challenges, testing for over 30 languages and over 100 skills.
The live interviews are designed to test for hands-on skills with platform capabilities such as code editors, live spreadsheets, a Jupyter notebook, and whiteboarding.
Today over 3000 brands, startups, boot camps, and staffing agencies leverage Coderbyte to seek out developers for their teams.
Founding Year: 2012
G2 Rating: 4.4
Pros: Superior filtration tool, wide library of skills, ability to add customized questions
14. Qualified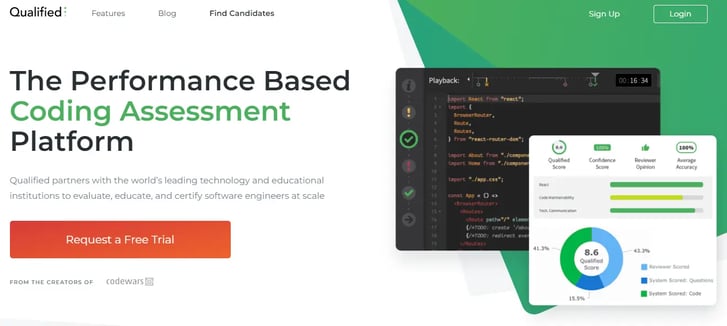 Fast-growing software companies, technical recruiters, and boot camps leverage Qualified to pre-screen candidates through a wide range of pre-designed assessments.
Companies can choose from the assessment suite based on the languages and frameworks their developers work with every day. The assessments come with varying difficulty levels, and the assessment library supports 29 programming languages.
Recruiters can also use Qualified's challenge authoring suite to customize their assessments based on unique needs or scale a homegrown coding activity that they are already using. Assessments can be designed within Qualified's interface, enabling them to scale quickly.
Another advantage is that Qualified offers a complete suite of code review tools. These deliver insights into each developer's code quality and working style, thus saving time and effort in manually reviewing their performance.
Companies looking to diversify and reduce bias can also leverage Qualified's blind review feature.
Founding Year: 2018
G2 Rating: 4.8
Pros: Ideal for companies ramping up their software developers teams at scale, fit for both tech businesses and educational service providers, tech skills assessments aligned with the world of work
15. TestDome

TestDome's approach is to disrupt the archaic hiring methodologies, which include biases based on years of experience, pedigree, and those perceived as team players, namely introverts.
Instead, TestDome prioritizes the performance of candidates in structured job interviews, samples of actual work delivered by the candidate as part of the interview process, peer ratings, job knowledge tests, and general mental ability tests.
This methodology not only widens the pool of candidates but helps companies identify raw talent, unique skills, and depth of knowledge in potential candidates.
The company also offers job seekers an opportunity to become certified by taking assessment tests. Those who excel and successfully earn the certification can spotlight their certifications on their resumes and online profiles to catch the attention of recruiters.
Founding Year: 2014
G2 Rating: 4.5
Pros: Superior filtration tool, wide library of skills, ability to add customized questions
In Conclusion
As a recruiter, you're looking to partner with a platform that offers higher privacy and a superior user interface that enables easy tracking and navigation of the entire experience.
The customer support should be top-notch, and your partner platform must have a team that is proactive in solving your recruitment challenges.
Based on the outcome of the eSkill comparison process, you can make an informed decision and choose an assessment platform that best aligns with your specific needs.
If you're looking for a comprehensive solution that covers the entire cycle of remote, university, and diversity hiring, as well as for unique roles, iMocha's platform is geared to support you in building impact at scale.
Further, our platform's customized/subscription-based pricing is cost-effective and tailored to diverse needs.
Last but not the least, you get to interview candidates using a collaborative code editor in real-time and evaluate technical skills through live coding/programming interview assessment.
FAQs
Which is the most superior eSkill alternative?
Today companies can partner with a wide range of eSkill alternatives based on the job roles and industry they belong to. iMocha, for instance, has proven expertise when it comes to hiring across industries and level. Companies looking to hire a skill, increase the pipeline of candidates and bring the best fit to the table can partner with iMocha to make it happen.
What are the benefits of choosing iMocha?
The iMocha platform is extremely easy to navigate and completely streamlines the hiring process in line with the demands of contemporary professionals and businesses. When partnering with iMocha, recruiters can pick from assessment tests that cover 2,500 skills, including 690+ IT skills, 35+ Coding languages, 66+ Next-Gen skills, 77+ Domain skills, and 88+ Cognitive tests.
My hiring needs keep changing. Can I still use iMocha?
iMocha's products are extremely versatile. Talent professionals can use iMocha for all talent management needs. Its products and services are customizable to any industry and vertical, and for all skills and job roles that are not readily available in the platform, the team curates for you. iMocha has proven to reduce hiring time by 45% in all verticals and industries, and acquisition professionals depend on it while hiring for niche.