Concerned about maintaining the integrity of candidates during online recruitment assessments?
Well, you'll be surprised to know that you are alone.
As the world is rapidly moving towards hybrid and remote work settings, an increasing number of employees are opting for remote work. Recruiters have also adapted to this new setting by incorporating technology into the hiring process. For example, utilizing online assessment tools.
However, besides the advantages, the downside of the technology is that people can easily leverage it to cheat during assessments. Companies like HackerEarth and iMocha have created comprehensive proctoring solutions to combat this issue. These solutions help to prohibit people from cheating in the assessments and shortlist the most qualified individuals.
Selecting the right proctoring tool to match your organization's hiring needs can be tricky. Thus, this article will dive into HackerEarth proctoring vs. iMocha proctoring, along with an overview of the tools, pros & cons, etc., to help you analyze which one is better.
General Overview
About HackerEarth
HackerEarth is a technical skill assessment tool that helps you measure candidates' technical knowledge during the recruitment process. With the help of this tool, recruiters can assess candidates in a variety of skills, such as 80+ coding skills and 63+ programming languages, and more.
It also allows you to tailor your own assessments to your specific requirements and the time frame in which you wish to conduct the test. Apart from that, this tool provides thorough information on each candidate's performance based on numerous test parameters.
About iMocha
iMocha is online skill assessment software that helps recruiters streamline their hiring processes. Trusted by fortune 500 companies, this tool offers an extensive skill library of 2500+ skills encompassing 66+ Next-Gen skills, 33+ coding skills, 690+ IT skills, and more.
Using this tool, recruiters can quickly analyze applicants' technical as well as interpersonal skills. Furthermore, the program assists you in identifying skill-fit candidates by providing actionable data points that create an accurate skills competency report.
Did you know that iMocha can help you reduce your hiring time from 17 days to 7 days per role? Speak to iMocha Experts!
HackerEarth Proctoring vs iMocha Proctoring
| | | |
| --- | --- | --- |
| Proctoring Features | HackerEarth | iMocha |
| IP Address Tracking | Available | Available |
| Audio & Video Proctoring | Not Available | Available |
| | Available | Available |
| Randomization of test questions | Available | Available |
| Window Violation | Available | Available |
| Plagiarism Detection | Available | Available |
| Candidate ID Verification | Not Available | Available |
How does HackerEarth detect cheating?
In order to safeguard the integrity of candidates and the accuracy of the results during their assessment, HackerEarth employs numerous anti-cheating measures.
IP Address Tracking: HackerEarth proctoring includes IP address tracking, allowing recruiters to ensure that applicants are taking the assessment in the same area. It also raises warning signs if applicants attempt to join from an IP address outside the restricted range.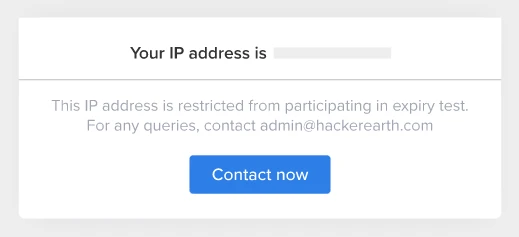 Image Proctoring: In order to ensure that applicants are not seeking assistance from knowledgeable individuals. It utilizes the webcam to take frequent snapshots of the applicant during the test.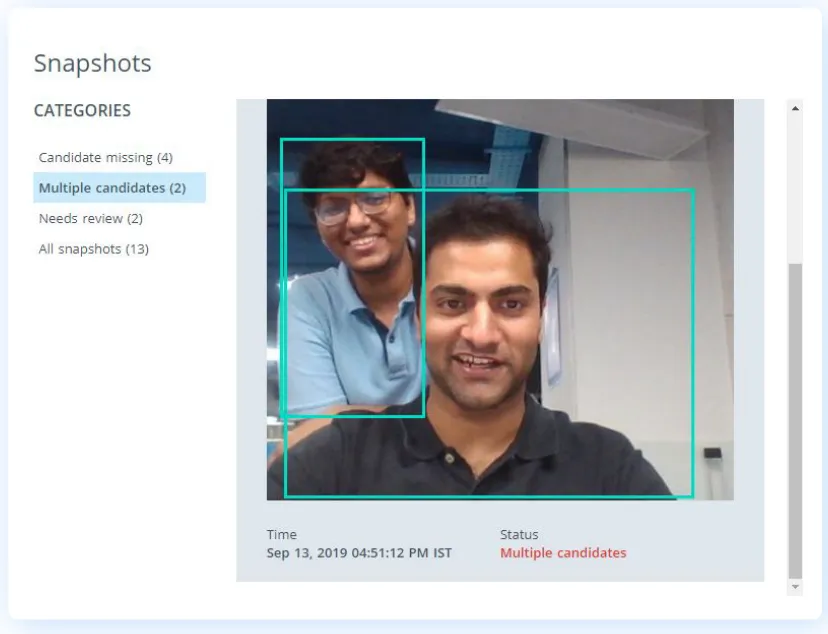 Randomization of test questions: This platform allows you to shuffle questions, eliminating the chance of candidates relying on guesswork.
Window Violation: HackEarth also supports window violation through which it prevents candidates from switching the tab. Each time a candidate switches tabs, they are warned, and if they switch tabs more than 5 times, they are automatically logged out of the assessment.
Candidate ID verification: HackerEarth does not support candidate ID verification
Plagiarism Detection: This tool does not permit applicants to copy code from the internet or another local computer and paste it into the code editor. It also prohibits candidates from copying and searching for questions on the internet.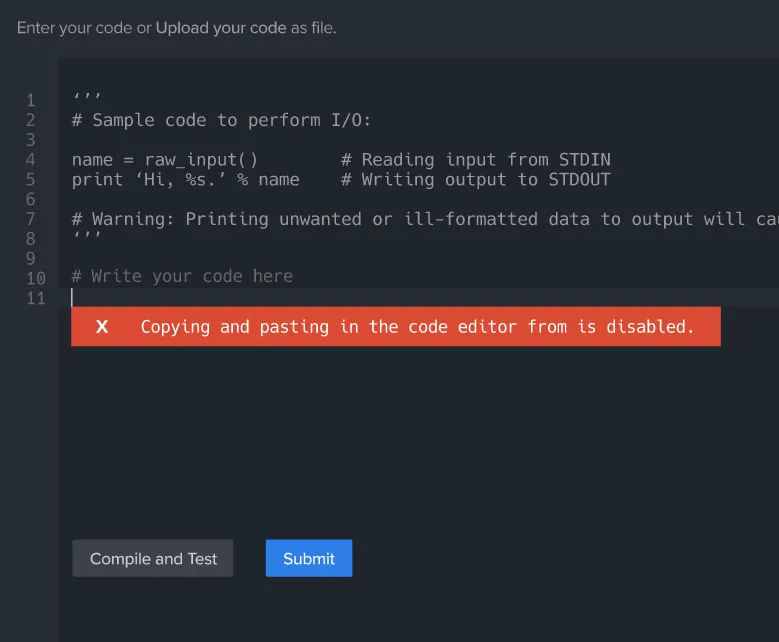 Does HackerEarth record audio/video during the test?
Unfortunately, HackerEarth does not offer audio and video proctoring capabilities.
Can HackerEarth detect screen sharing?
No, the HackerEarth proctoring tool currently does not support screen-sharing functionality.
How does iMocha detect cheating?
iMocha equips its customers with advanced cheating prevention measures to ensure the integrity of their tests. Its proctoring suite utilizes AI-powered solutions to combat cheating, allowing customers to conduct assessments with fairness and accuracy.
IP Address Tracking: iMocha allows you to restrict the IP ranges from which candidates can attempt the test from specific locations. By enabling the IP range violation option, recruiters can determine if applicants are using the same IP range or trying to log in from a different one. Any issues of IP range violation can be seen in the candidates' performance analytics reports.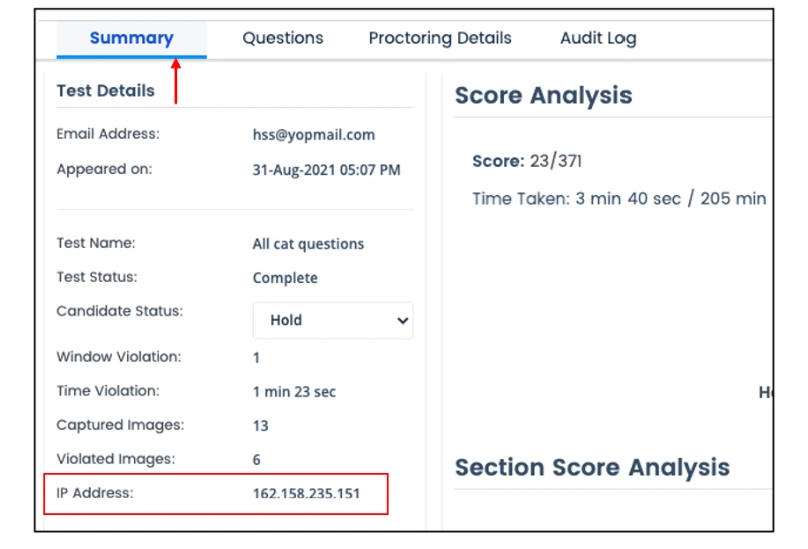 Image Proctoring: iMocha's image proctoring feature ensures that candidates are taking fair measures when answering questions in an assessment. Its

real-time webcam proctoring

uses advanced face recognition technology to verify that only authorized candidates are present and captures images frequently to check for compliance. The system raises a flag if any candidates are found using unfair means while attempting the test.

Randomization of test questions: Every question appears randomly from the question bank that contains hundreds of questions. Furthermore, the answers are randomized to minimize the risk of cheating during bulk assessments.
Candidate ID verification: iMocha's Candidate ID verification solution helps to prevent candidate impersonation by requiring candidates to provide a valid government ID and a selfie. This information is then verified online.
Window Violation: This advanced feature restricts candidates from leaving the test window. The test administrators can easily monitor how many times and for how long the candidate attempted to leave the test window. The test window is locked, and if any violations are detected, the test is immediately terminated, and the test administrator is notified.
Plagiarism Detection: iMocha also provides plagiarism detection capabilities to ensure candidates do not try to copy/paste the questions from the assessments. It also restricts candidates from pasting the answers directly from the internet.
Does iMocha record audio/video during the test?
Yes, iMocha supports audio and video proctoring during assessment. It monitors candidates' background voice activity during the test. The algorithm checks the audio and raises a red flag if any suspicious voice behavior is detected, saving recruiters from having to watch the entire video.
This application also allows you to view a thorough recording of the candidate's visual responses while taking the test. Video proctoring ensures that the candidate focuses on the test and refrains from cheating.
Can iMocha detect screen sharing?
Yes, iMocha employs various security measures to avoid cheating during online tests. It can identify screen sharing by preventing candidates from capturing screenshots, and it also prohibits candidates from using multiple screens or recordings. When a candidate attempts to share their screen, it can create a screen blackout, forcing full-screen mode.
Looking for advanced AI-enabled Proctoring features? Leverage iMocha's smart proctoring suite to ensure integrity of remote assessments.
G2 Ratings
HackerEarth: 4.4/5 (133 reviews)
iMocha: 4.4/5 (189 reviews)
Pros and Cons of HackerEarth Proctoring vs. iMocha Proctoring
Pros of HackerEarth
The platform can automatically compare code written by two applicants and determine whether it is plagiarized.

HackerEarth allows you to adjust the stringency of proctoring, ensuring that candidate assessments are fair.
Cons of HackerEarth
Some recruiters claim that HackerEarth proctoring features should have more capabilities.
Pros of iMocha
iMocha provides detailed proctoring reports to test administrators, including the exact number and events of violations.

This tool's candidate ID verification feature helps to ensure that the individual appearing for the assessment is the same person who applied for the job.
Cons of iMocha
iMocha does not provide background checks for candidates.
Struggling with higher technical screening time and low-quality candidates? Discover how iMocha can reduce technical screening time by 80%.
Which is better: HackerEarth vs. iMocha?
It is difficult to determine which tool is better than the other. However, after analyzing the points mentioned above, it is evident that iMocha has a competitive edge over HackerEarth.
Even though both tools provide best-in-class proctoring technology, these tools help to eliminate the potential of cheating and enable you to maintain candidate integrity. iMocha's audio and video proctoring capabilities make it a comprehensive assessment tool.
Using iMocha's remote monitoring capabilities for audio, video, image, and IP proctoring, recruiters can conduct more secure online assessments with a broader geographic reach.