It is said that for an HR, there is no magic bullet to hire the right talent. When you are not a computer programmer yourself, things become more difficult as there are a lot of technical requirements you need to look for.
While interviewing, candidates can say a lot of things about programming which they might not even know. Being a non-technical recruiter, it's very difficult to verify their claims. As there are many such issues, let's just start with the step by step guide on how to hire a computer programmer when you don't have any programming skills.
Topics Covered:
---
Need for Computer Programmer Aptitude Test
Looking for Experienced Candidates??
Lookout for Resumes
Computer Programming Skills to Look for
Skills Assessment Tool
Face Off – Personal Interview
Check for Cultural Fit
As an HR, never start hiring before giving candidates a computer programmer aptitude test
Always start with a resume but wait for a second, if your computer programmer doesn't have good learning ability, coding skills, critical & analytical thinking skills or proper communication skills, do you think your candidate can survive in an organization or even like by other employees?
Why waste time in going through all the pain to judge a person from a resume when you are hiring a computer programmer, not a creative designer. Resumes of any computer programmer may not show you the real face of candidates. In this case, computer programmer aptitude test is what you will need.This computer programmer assessment will help you to quantify basic programming skills of the candidates. You can select only those candidates who have performed well in these tests and invite them for the round of interview. This process will ensure you are spending time only with the right candidates who are proficient in basic programming.
Looking for Experienced Candidate??
One of the questions asked by hr is 'should we hire the computer programmer on the basis of experience??'
If one of your candidates doesn't have any relevant experience and other one does, it may be possible that the experienced candidate may not have a deep knowledge of coding then what will you do?? One of the best ways is to choose a platform which evaluates computer programmer skills with application-oriented question sets that can help you to analyze the expertise of candidates in computer programming, their analytical and problem-solving skills too.
iMocha-online assessment software provides an enterprise-ready platform where you can assess multiple skills of candidates. iMocha has 2500+ skills assessment tests which includes 300+ IT skills which can be customized according to the job role of a computer programmer. These computer programmer assessments are online and come with remote proctoring features like image/video proctoring, window violation to detect the cheating during the assessments.
An HR lookout for resumes – Not a computer programmer specialty
Check your candidates resume if they have anything that stands out - It may be their creative way of presenting things or experience or certificates or programming languages. You may ask why?? Because they have put an extra effort to get this job and chances are they will put the same extra effort for the job as well. Usually, computer programmers don't really think a lot in creating a good resume and that's why evaluating them on aptitude & job role-based skills assessment tests is so important.
Look for below computer programming skills:
Fundamentals of C, C++, Java, PHP, HTML
Database Fundamentals
SQL basics
Basic knowledge of web designing like HTML5, CSS3, JQuery
Look for below soft skills:
Analytical Thinking
Logical Reasoning
Critical Thinking
Good Communication & Written Skills
How to assess these skills?
You can use the computer programmer aptitude test to assess basic programming skills of the developers. This test includes questions on SQL basics, database concepts and business analysis. You can also ask us to customize this test and add other core skills based on the job description.
For Example,You can add skills like-
Technical skills tests help to evaluate programming skills of the candidate while customer focus competency test helps to evaluate skills like team collaboration, communication & accountability of a candidate. You can combine them to form a single test to evaluate your candidate on specific skills.

Comprehensive reports like score analysis, section score analysis, section skill analysis which helps you to analyze section wise scores of the candidate and know the strengths and weaknesses for each skill. You can easily evaluate programmers even if you don't have programming skills.
Score Analysis: View of overall score of candidate showing skill level of candidate. Candidates scores are categorized into one of 4 skill levels viz. Beginner ( 0-25 % ), Intermediate ( 26-50 % ), Experienced ( 51 - 75 % ), Proficient ( 76- 100 % ).
Section Score Analysis: View of section-wise scores of the candidate. This helps to understand candidates proficiency in each skill.
Section Skill Analysis: Detailed view at skill level for each section showing number of attempts, right and wrong answered questions, time taken to attempt section.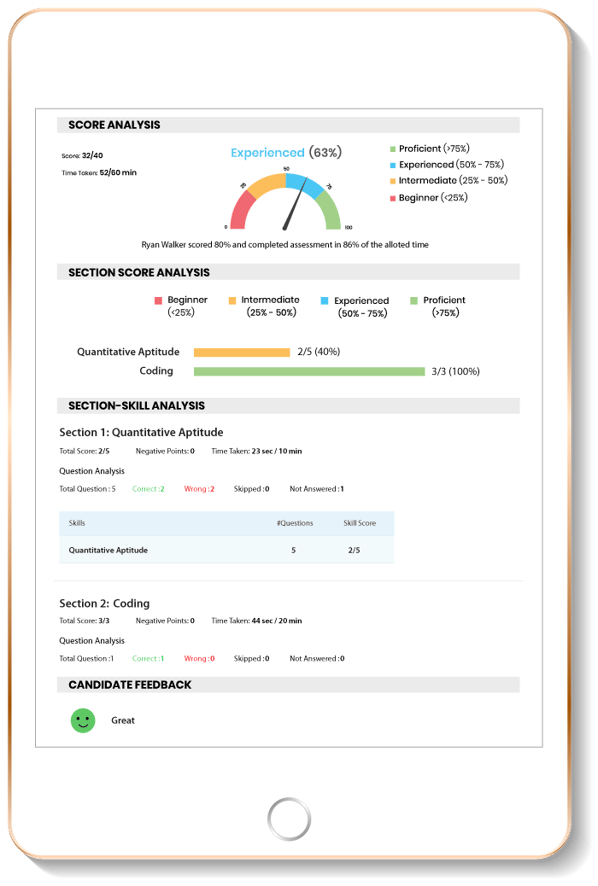 Finally, a Face-off with your computer programmer
Your hiring manager will help you out in this as you don't possess the programming skills. Yes, you can take information from an expert and take interview all alone but an expert is always better and recommended.
Interview Questions:
While skill tests will help you to quantify technical skills of a candidate, you can design the interview questions in order to understand core competency of a candidate. Below interview questions will help you to understand developers team collaboration skills, communication skills, & attitude towards work.
Can you explain about any project you have successfully completed and your approach to complete the project?
Are you active on any developer forum? Can you show a few projects that you have done on these platforms?
Do you enjoy working in a team? How do you handle criticism about your work?
What part of your job most excites you? Why?
What hours do you prefer working? During what times are you most efficient?
What steps will you take to finish a certain project on time?
Check for a cultural fit: Hire a computer programmer who is also a team player
A great employee doesn't necessary means he will fit in your culture, always ask about their future plans, hobbies, and interests. As culture varies in an organization in terms of values, job roles, rules and regulations so act accordingly. As we know, together everyone can achieve more. The candidate should be a team player who can efficiently work with a team member to achieve common goals within time.
Audition mini project: At last, never ever hire a person without giving a project as this will definitely help out to know if that guy is actually capable of applying his knowledge to perform given tasks to get desired output. If you have 2 or more candidates and you are still not able to figure out whom to choose, then this is the best way to know who will actually be a performer.
Go for a Drug Test: If everything goes right and you have selected your candidate, make sure you check candidate for a drug test for ensuring the candidate will maintain his productivity and won't create the nuisance.
Period:
Assessing computer programmer skills have never been this easy. Using computer programmer assessments before you invite candidates for the interview round helps you to hire the best computer programmer.