Note: While this article brings to the forefront the behavior that marginalizes women, we, in any capacity, do not mean that other genders and groups do not face similar experiences. Gender diversity at workplace is pertinent to growth, and we realize that. We'd like you to extrapolate this information to identify behaviour that marginalizes all demographics that exist in your organization.
An inclusive environment is one where everyone feels included. However, it isn't rare for one to hear of someone's inappropriate behaviour in an organization, and being a specific gender in workplace is often the reason behind that.
Even day-to-day, small actions can create an environment where people feel unwelcome and marginalized. The small actions lead to a 'death by thousand cuts' phenomenon: wherein an individual act might feel insignificant or banal, but collectively adds up to create a hostile environment.
One of the challenges that managers and HRBP's face in identifying this behaviour is that if you don't belong to a group that is marginalized, you might not notice the behaviour causing the uneasy feeling. So, one of the first responsibilities of the leadership should be educating themselves about the behaviour that make women at work feel uncomfortable or peripheral. Moreover, leadership should be propagating the need of an inclusive environment, both publicly and privately.
Here are two steps that you need to take to ensure that women at work feel safe:
Step One: Educate Yourself about Gender Diversity at Workplace
In order to have an open, honest conversation about gender diversity at workplace with your employees, you'd have to educate yourself first. You'd have to understand that marginalization can also be unconscious, which we often see in female recruitment; for instance, we often see job descriptions with terms like 'coding ninja', 'rockstar', etc., which are often considered masculine and deters women from applying for the roles.
However, unconscious bias against women at work can manifest in a certain comment, glance, or even tone. But the good news is that unconscious bias can also be corrected.
However, there's conscious bias, too. This could be because people could feel threatened because of a woman's presence, have a conscious gender bias, or they simply can be unkind people.
To curb both these situations, the primary step has to be education. Some behaviours that are labelled as discriminatory towards women are:
Ageism: People might feel women's priorities are shifted now that they're a certain age and might have parental duties. They might also assume that women are

bad with technology because of their age.

Mansplaining:

Assuming that the women don't understand something, they might start giving unsolicited explanation.

P

et names:

Women are often referred to as 'sweetheart', 'darling', etc. at their workplaces. This behaviour makes women feel reduced.

Gender-based language: This pertains to using

examples or metaphors

that (majorly) would be understood by men, for example,

locker-room talks, sports, etc.

Profiling: Expecting women to only have the 'woman's perspective' on a project because of their gender.

Sexist statements: Talking about women's bodies, clothing, behaviour in a personal manner

Tokenistic presence: Adding women in teams or projects

simply for the purpose of gender representation

Gender-based activities: Organizing events and activities that are preferred by men, not women
Once you are able to recognize this behaviour, you'd be in a better position to create an inclusive environment that supports gender diversity and inclusion.
Step Two: Confront Inappropriate Behaviour that Hinders Gender Diversity
When women feel marginalized, this often translates into frustration, sadness, fear, and even anger. It is for the sake of them you must confront this behaviour in public.
From a single glance and read, it can't be determined whether the behaviour was intentional or conscious in nature, so it is best to assume it is not.
But it does not mean that nothing has to be done, understand in those situations that education is necessary for the person exhibiting that behaviour. Moreover, even if the women who're facing this don't step up, the onus is on you to identify and put it to rest.
This confrontation can be broken down as follows: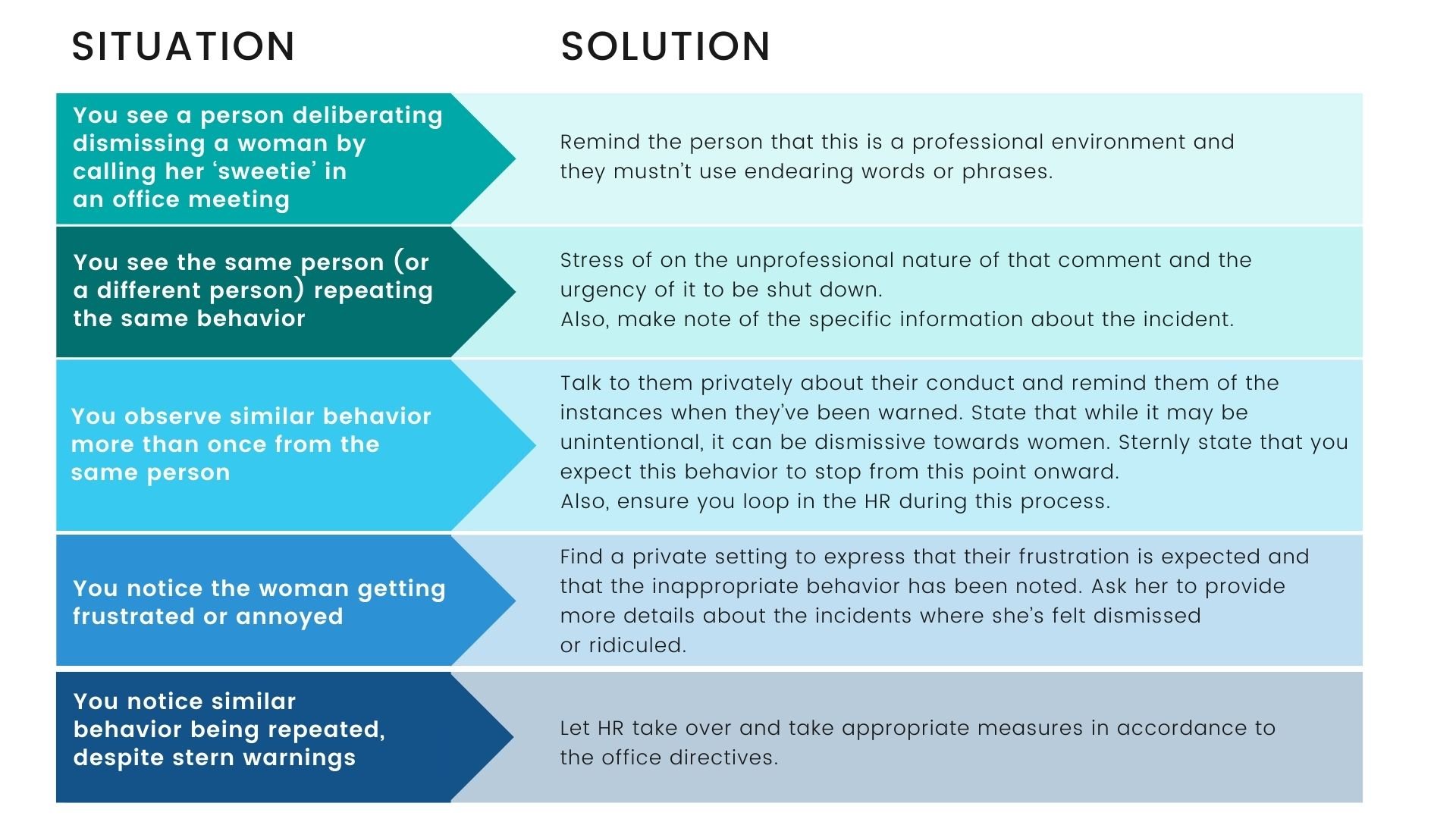 Confronting bias against women at work promoting gender in the workplace
However, this isn't to say that the HR only should be involved when the situation escalates, if the harassment is apparent and the women raise the issues directly, HR should be involved immediately. Furthermore, it is necessary to place the 'open door policy' to ensure that everyone, including women at work, feel that they can talk freely about their experiences and feelings in the organization.
In the same vein, one cannot expect to understand these forms of microaggressions in just one talk or instance, this would have to be a routine conversation to ensure everyone's on the same page to ensure gender diversity in the workplace.
With that being said, this isn't an exhaustive report. Women at work are marginalized in multitude of ways every day, most of which often goes unnoticed. So, it is vital to keep the conversation going to ensure the office environment you've created is inclusive and marginalization free.
To know more about how you can ace gender diversity and create a welcoming space for women at work, check out our Diversity Recruitment Essentials guide.