A project manager fulfills an increasingly important role in every organization. They are responsible for successful completion of projects by doing effective planning and execution with their team members. The project manager's role varies according to industry, types of project and business.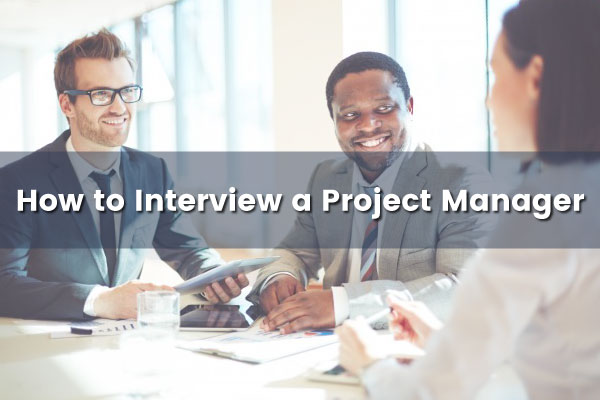 When it comes to interviewing project manager recruiters or hiring mangers struggle to identify right candidates & assess them based on technical, managerial skills. So, before interviewing a project manager let's first understand the importance, skills, roles and responsibilities of the position and the assessment tool to choose the job-fit candidate.
Importance of Project Manager in the Organization
Clear and focused objectives
Project manager makes the team focused on clear objectives and avoid vague or nebulous goals

Project manager ensures proper plan for executing on strategic goals

Project manager breaks up a project into short term multiple goals to enable teams to remain focused on clear objectives
Leadership
Project managers bring direction, control and purpose to projects

Project manager provides vision, motivation, guidance and inspiration to the team to perform better

Project manager holds the accountability and enforce process and keep everyone on the team in line
Strategic Alignment
Project manager is responsible for what to deliver, how to deliver and when to deliver

Project manager ensures that the goals of projects closely align with client's requirements and strategic frameworks

Project manager ensures realignment in case of change in the business strategy
Quality Control
Project manager creates time for teams to examine and test their work

Project manager assesses the process to assure quality, applicability and ROI
Roles and Responsibilities of Project Manager
Project managers are the point person in charge of a specific project or projects within an organization. The project manager is the bridge between upper management and the teams tasked with the actual execution of the project. They make sure the scope of the project is sound, reporting regularly on the progress of the project. Project managers work in virtually all fields, from tech and IT to human resources, from advertising and marketing to construction, and everything in-between.
A project manager encompasses many activities including:
Planning and Defining Scope

Activity Planning and Sequencing

Resource Planning

Developing Schedules

Time Estimating

Cost Estimating

Developing a Budget

Documentation

Creating Charts and Schedules

Risk Analysis

Managing Risks and Issues

Monitoring and Reporting Progress

Team Leadership

Strategic Influencing

Business Partnering

Working with Vendors

Controlling Quality

Benefits Realization
Skills of a Project Manager
A project manager needs variety of skills to successfully lead teams and projects effectively and bridges the gaps between the project team, management and customers. A project manager encompasses both soft skills and hard skills. A soft skill means leadership, management, communication and problem-solving skills. Hard skills on the other hand refer to the ability to perform the technical aspects of a project. We have divided the skills of project manager in three major categories- performance, personal and knowledge of project management
A.Performance skills
Initiating

Planning

Executive

Monitoring & Controlling

Closing
B.Personal Skills
Effective Communication

Leadership

Management Proficiency

Cognitive Ability

Effectiveness

Professionalism
C.Knowledge of project management
Integration management

Scope management

Time and cost management

Quality management

Human resource management
How to Interview a Project Manager
A project manager acts as the central point of communication between the project team, management, customers. An effective project manager should have both managerial skills and technical skills. But, when interviewing a project manager check the knowledge and skills necessary to understand business goals, to perform the technical aspects of a project and execute the plan. You can start the interview with the standard questions, "What are your strengths and weakness?" "Why do you want work with us?" "Where do see yourself after five years?" and so on. But, don't forget to ask questions related specifically to the position.
Gear yourself up with these thoughtful questions you may be asked. Let's start:
Senior Project Manager Interview Questions
What kind of diagrams/flowcharts would you use to describe a project?

How would you handle delay in project delivery?

How would you convey to a customer and your manager that you won't be able to complete a project on time?

How would you motivate a disengaged team member?

What would you do to solve conflicts on your team?

What is Agile methodology and what are its pros and cons?

How do you keep track of everyone's work?

What information do you gather before creating a project timeline?

Describe one of your most challenging projects so far. Why was it challenging and what did you do to overcome difficulties?
Junior Project Manager Interview Questions
Describe your project management experience?

What qualities do you possess that will make you a good project manager?

What steps do you follow to study a problem before making a decision?

What would you do if you knew that a project you were managing would not be able to make a deadline based upon the current schedule?

How have you managed external reviews of your project?

How do you Management information in your project?
Technical project manager interview questions
How will you estimate the sum requirements of a project?

How will you distribute budgeted money to all the phases of the project?

How will you facilitate streamlining of a project's activity?

How will you prepare work schedules for timely completion of projects?

How do you effectively direct a project team on their duties?

What are the effective ways to keep a tab on the progress of a project?

How do you communicate the technical aspects of a project with your team?

How do you identify technical problems and effectively resolve them?
After understanding the importance, role, responsibilities of the Project Manager and the necessary skills, it is obvious that assessing management skills is the vital part while interviewing project managers.
The idea project management test has been designed to assess project management, communication, and analytical skills of a candidate. The test must contain question in the following areas:
Project Management

Analytical Thinking

Risk Management

Stakeholder Management

Written Communication
With iMocha's project management test assess and hire project managers and make your hiring process easier, better, and faster.