Traditionally, pre-employment assessments were manual, time-consuming, cost ineffective, and had a tendency to be biased. They weren't created keeping a specific job role in mind, so predicting a candidate's on-the-job performance was impossible with those assessments.
However, in today's world, many recruiters use HR assessment tools to find the right candidates and minimize the risk of bad hires. Such tools help organizations understand whether candidates have suitable skill sets, experience, and workplace requirements, and they help select those employees that have the potential to drive the business forward.
By creating a targeted skills assessment, with the right mix of functional and soft skills recruiters and managers can identify candidates with innovative thinking abilities, mental aptitude, and good behavioral traits.
Human resource assessment tools are beneficial in streamlining the hiring process and significantly help recruiters reduce time-to-hire, cost-to-hire, and the dependency on hiring managers. Using these tools, recruiters get access to each candidate's skills profile, strengths and weaknesses, and culture fitment.
But we know that choosing the 'right' one for you can be confusing; especially because their features are diverse – with some offering only technical skills assessment, while others only focussing on soft skills. So, to make this easier for you, we've created this list of top HR assessment tools so you can make an informed decision.
Here's a list of the top 8 essential HR assessment tools for your organization
1. iMocha
Founded in 2015, iMocha is one of the world's leading HR assessment tools. This AI-powered skill assessment tool has the world's most extensive skills assessment library with over 2000 skills, including tech and non-tech, cognitive, enterprise applications, and communication assessments.
They also have various patented question types to assess candidates effectively; they offer coding simulators, asynchronous interview platforms, assessment consulting, and more.
This HR assessment software helps organizations gauge whether or not candidates are a skill fit. Post the assessment; you get a detailed skills overview of your candidates.
These assessments will enable your organization to assess the hiring quality and identify bottlenecks, and will drastically improve your ability to find the right people for specific job roles. Organizations can track important metrics like:
Cost per hire

Time to hire

Quality of hire
iMocha's HR assessment tool will improve your recruitment process and give you a clearer picture of a candidate's analytical, functional, and cognitive skills.
Pros
iMocha has an extensive library of assessments designed by subject matter experts that cover coding, finance, business skills, enterprise resource planning (ERP), languages, and more.
Check out iMocha's skills library. Visit here.
It allows you to create your tests from scratch and customize built-in tests. You can choose from various questions that include MCQs, Coding Simulator, Patent AI-LogicBox, whiteboarding, and more.

The platform is easy to use with one-click integrations with various ATSs and job boards like Green House, Jobvite, iCIMS, Bullhorn, Zapier, etc.



The platform provides advanced analytics and candidate rankings to assist you in selecting the best candidates bias-free. Recruiters can also share reports and feedback with hiring managers to help in decision-making.
Trial: Yes, a free trial period is available
Pricing: Custom pricing available as per requirement
G2 Rating: 4.4/5
Top clients: Capgemini, Hexaware, Fujitsu, Altran, Coupa, and many more
2.
Adaface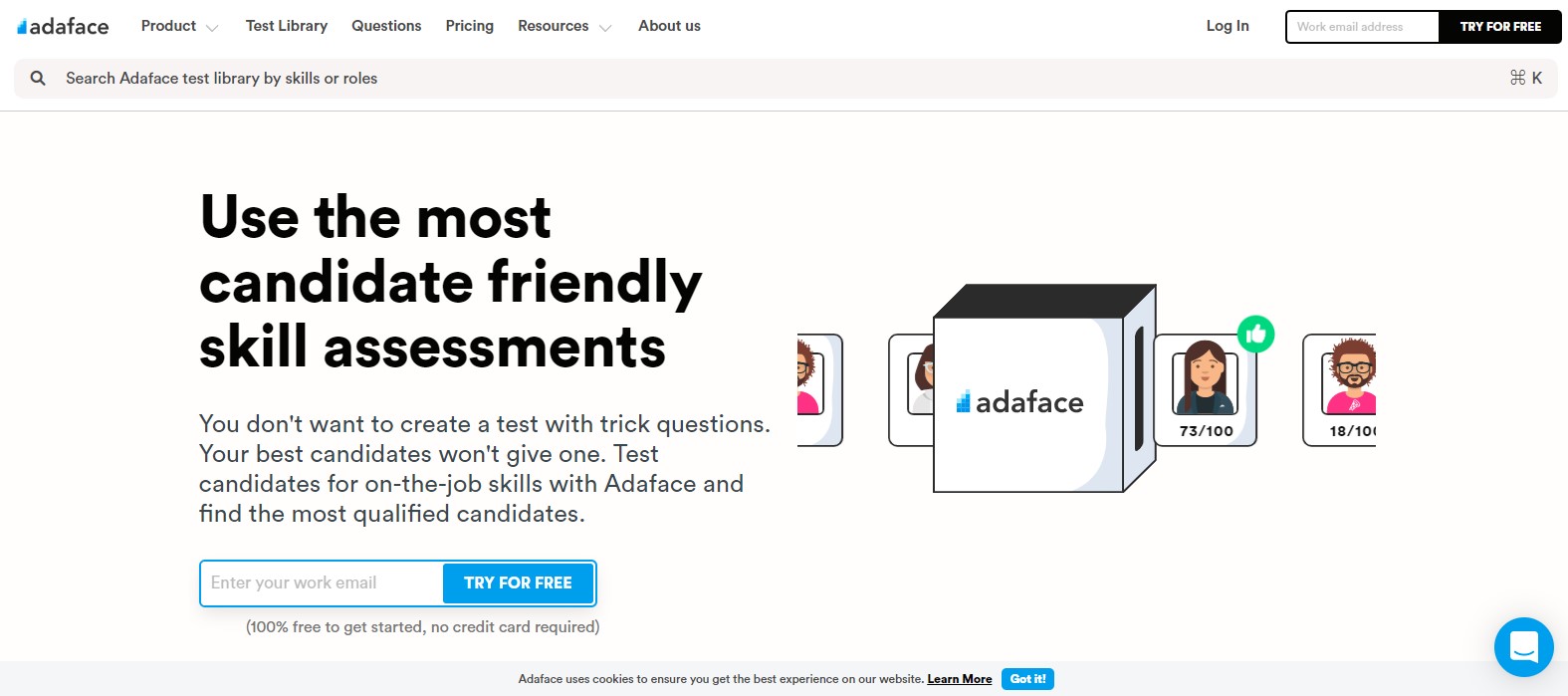 Adaface is pre-employment screening software founded in 2018 that helps identify top candidates for all tech roles with 500+ custom-made assessments for on-the-job skills. Adaface can answer questions candidates have regarding the company/role and code challenges to test candidates' skills and give hints when required – providing an overall friendly candidate experience.
An in-built code editor will help you gauge the skill level of candidates. This platform helps HR managers in planning and conducting technical interviews. The chatbot also generates a detailed scorecard to enable you to make informed hiring decisions. Currently, 75+ countries are using this skill assessment platform to find the best talent.
Pros
The platform allows custom-tailored assessments that are 45-60 mins to ensure engineers can complete the test in less time

No trick questions and granular scoring to eliminate false positives and false negatives

Friendly candidate experience – hints for each question, messaging option, and chatbot
Cons
Higher prices for early-stage startups

The question bank has limited questions
Demo: Free demo available on request
Price: 3 pricing editions that start from $180 to $20,000 per year that are suitable for small, medium, and large enterprises.
G2 Rating: 4.6/5
Top clients: Amazon, PayPal, Deloitte, etc.
3. Athena Quotient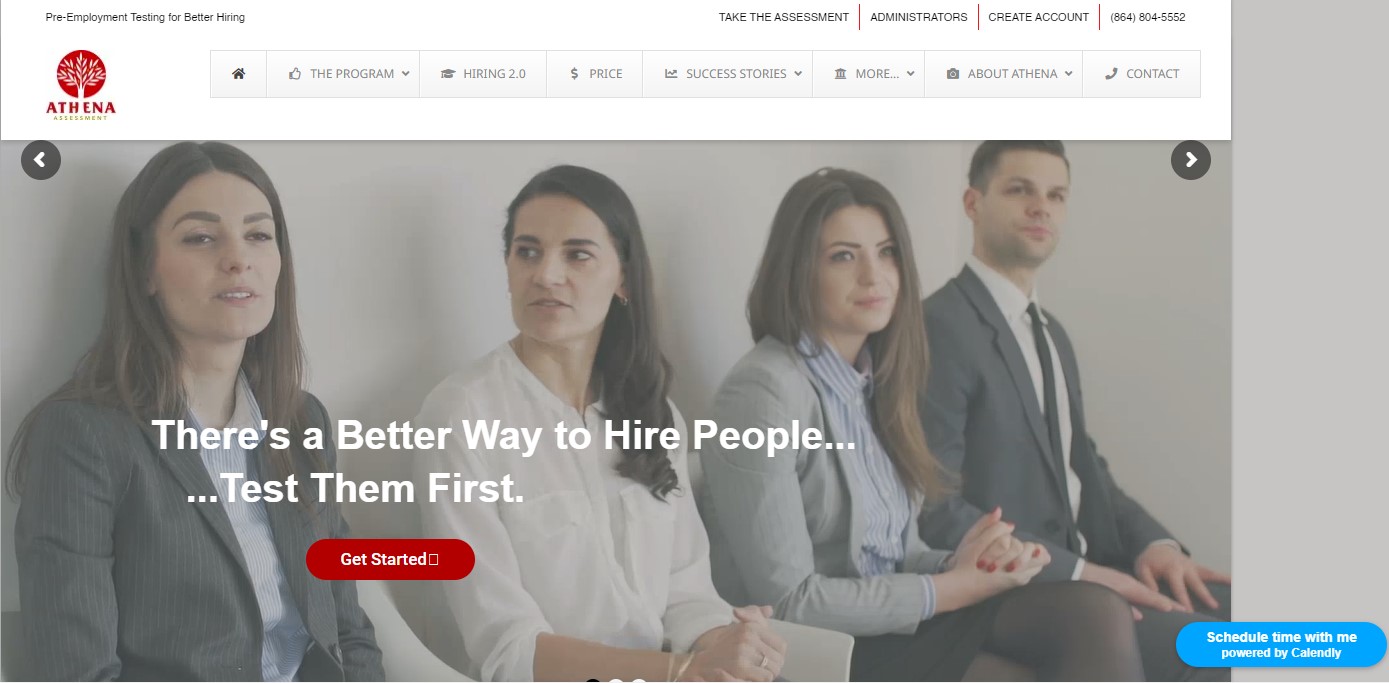 Athena Quotient is designed to serve SMEs, agencies, and large enterprises. This HR assessment software provides end-to-end solutions designed for Web App. The employment testing software, founded in 2008, offers online testing, real-time reports, customizable tests, and test authoring in one place. Athena Quotient acts as an interface between two applications and provides mobile support.
This HR assessment software helps analyze a candidate's judgment and provides clients with interview guidance. The platform's hiring process has enabled enterprises to find suitable employees for their workforce.
Pros
The test is an evaluation with no "fail" or "pass." The assessment is not intimidating to candidates and can be completed within 30 minutes.

This platform is ideal for occasional users – less than five monthly assessments.

They also offer candidate comparison reports
Cons
No direct integrations are available

The skills library is limited

Less market share and customer base compared to other assessment tools
Trial: Not available
Price: Starts at $500 per month
Top clients: Tapestry, Sonic Automotive, Baylor College of Medicine, etc.
4.
Codility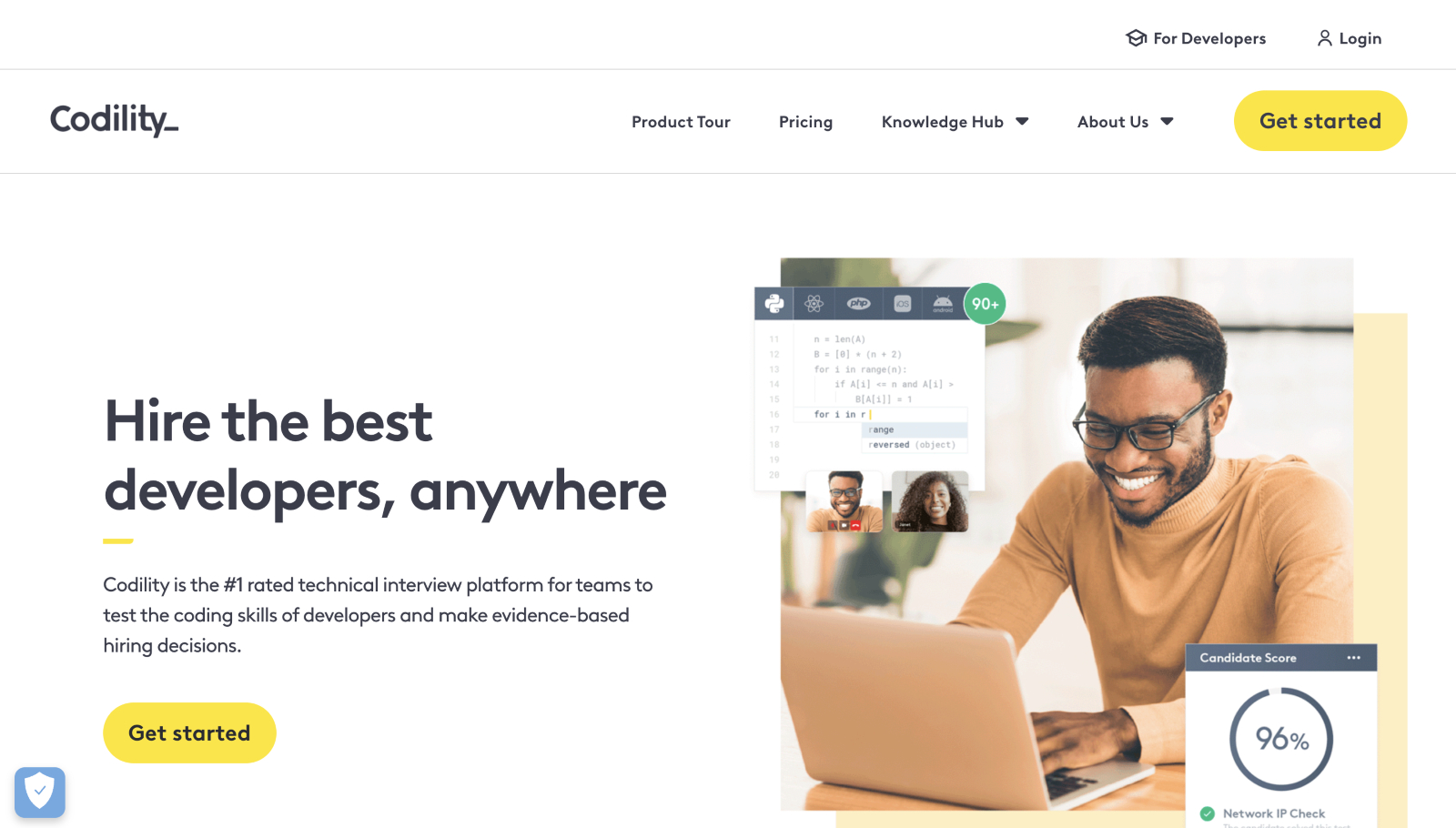 Founded in 2009, Codility is an HR assessment software that helps recruiters and hiring managers assess candidates' coding skills online. This platform predicts the real-life skills of technical candidates at all stages with an unbiased hiring process, live technical interviews, and virtual recruitment events – all remotely and at scale. This hiring process saves time, hires faster, and allows engineers to solve problems that matter.
The HR assessment tool lets you choose from multiple available questions. Candidates are automatically given grades from 1-100. Online coding and testing assessments on Codility simplify the remote hiring and screening task.
Pros
Various tools to efficiently run remote interviews like CodeLive and face-to-face interviews.

Facilitates CRM system and multi-user interaction.

Intelligent plagiarism prevention and protection protocol provide accurate screening results without damaging candidate experience.
Cons
Codility's main feature is its screening tests, which are not enough for organizations that want to hire developers based on real-world skills.

UI is not easy to use, they confuse candidates appearing for assessments.

Time-consuming to set up assessments.
Visit here to know why leading organizations prefer iMocha over Codility.
Trial: Free trial available
Pricing: Available on request
G2 Rating: 4.6/5
Top clients: Microsoft, Amazon, American Express, and more
5.
Berke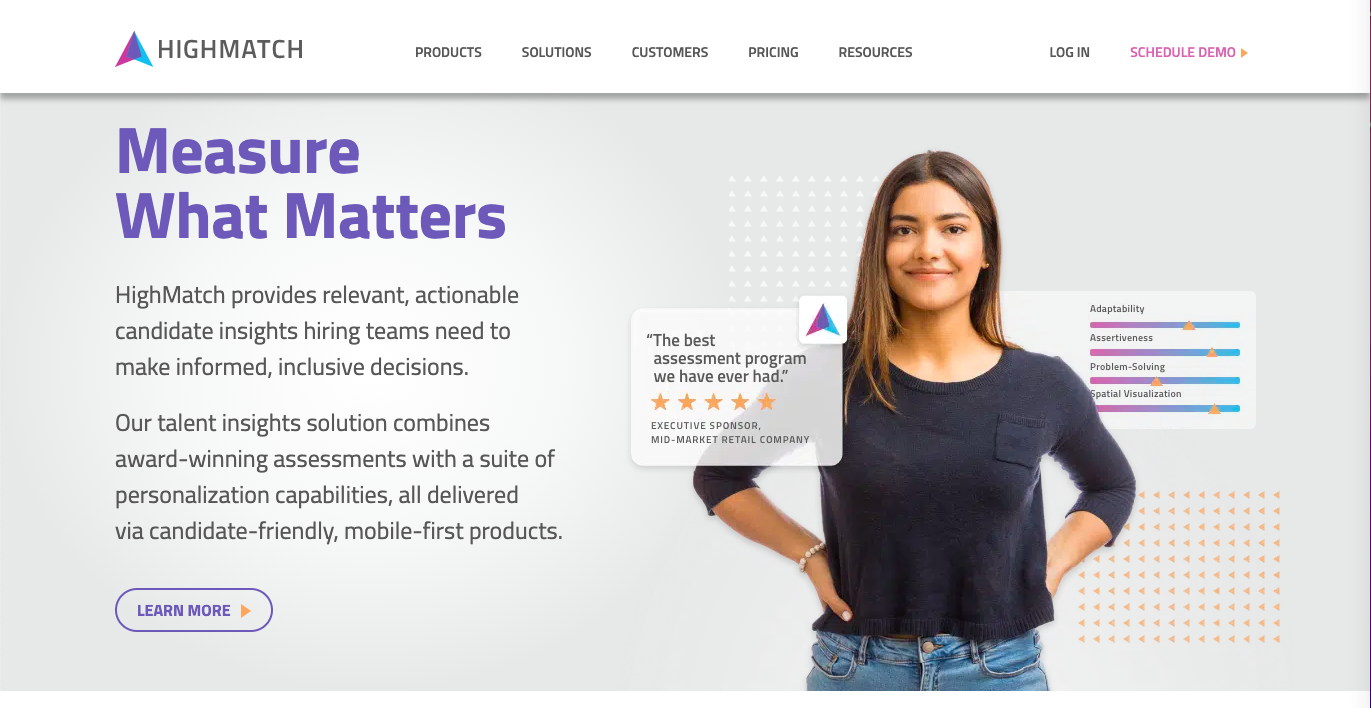 Berke is a preferred platform by many users as it measures multiple performance metrics related to cognition, personality, and attitudes and generates clear, graphical, and friendly reports. Founded in 2004, Berke is one of the most versatile human resource assessment tools. The software platform helps to accurately measure the candidate's personality and intelligence, predicting job success.
Pros
Color-coding allows recruiters to see a candidate's performance at a glance, and multiple candidates can be compared side-to-side.

Recruiters can create behavior-based question assessments to get visibility on candidate's talent and personality

When creating an assignment, recruiters/users answer questions about the job role to identify critical tasks and challenging aspects of the position.
Cons
It does not have ATS integration

The company can improve the platform's UI/UX.

Inaccurate tests reports
Trial: Free trial available
Price: Quote on request, ranging from small to enterprise.
6. McQuaig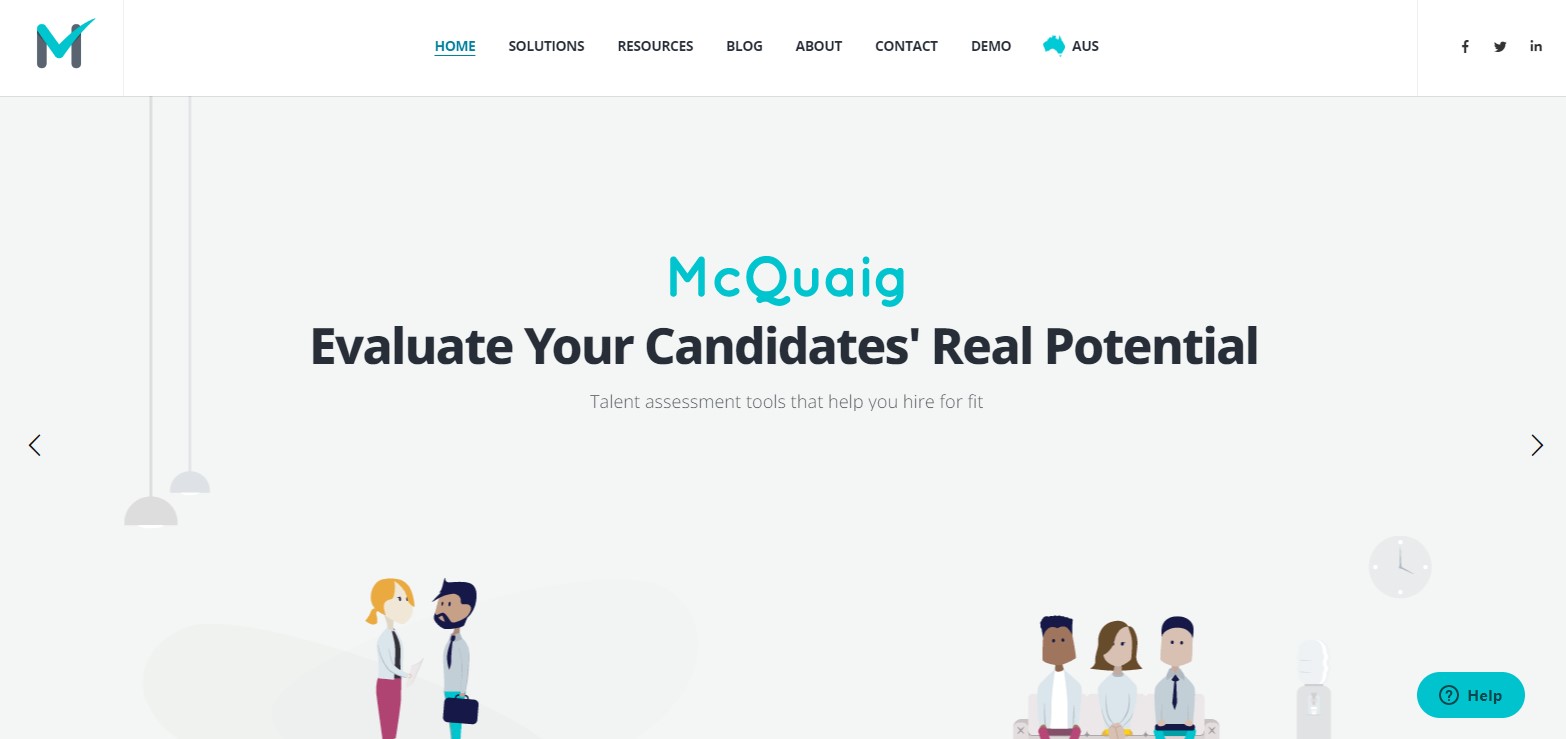 McQuaig's scientifically validated assessments deliver insights into a candidate's personality, behavioral traits, and cognitive attributes and predict the success of the job role and within the organization.
With McQuaig's assessment tool, you can learn about a candidate's strengths, potential areas for improvement, and work style before making a hiring decision. This tool ensures that the right people end up in the right roles by taking the uncertainty and cost out of the hiring process.
With a tool like McQuaig, HR managers and recruiters can easily focus on soft skills as they do on technical skills by accurately measuring a candidate's personality, behavior, and cognitive abilities. It comes with a vast library of standard job profiles and has an option for building new job roles too. Backed by years of experience and research, McQuaig is helpful in pre-employment tests.
Pros
The tool helps to quickly find the right candidates with comprehensive, result-oriented reports with every assessment.

The interface is easy to use

360-degree feedback about real-world behavior in order to help learn about a candidate's weaknesses and strengths.
Cons
Pricing starts from $129

The tool uses complex terminologies, making it difficult for candidates to understand the assessment process

Few tools that are available do not add value to the analytical reports
Trial: Free trial available
Price: Pricing starts from $129
G2 Rating: 3.5/5
Clients: Scotia Bank, Dynamite Garage, Colliers Internation, and many more
7. HackerRank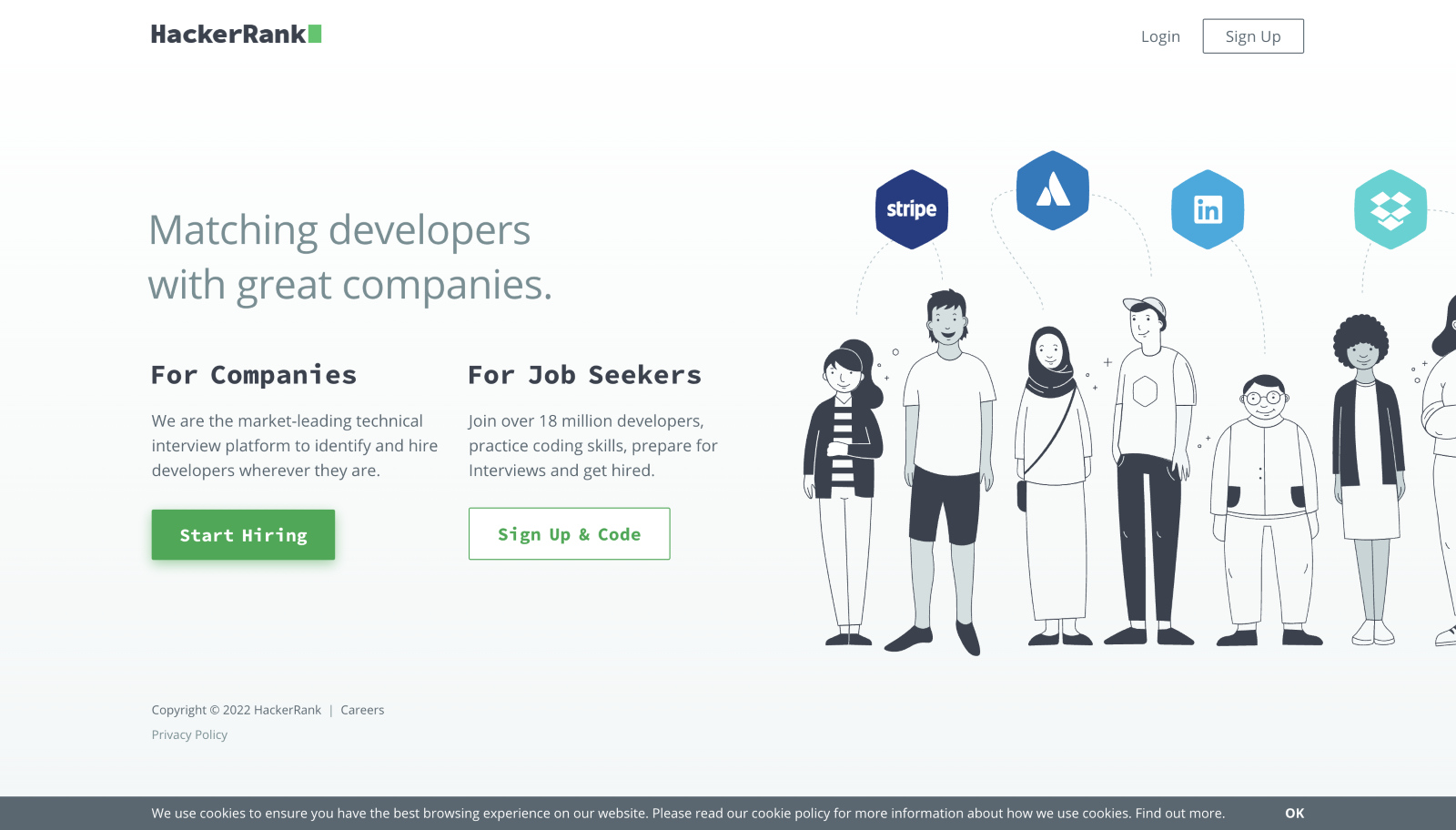 Founded in 2009, HackerRank is a developer skills platform for businesses that hire software developers. Over 2,800 customers across all major industries, including 5 out of the leading eight commercial banks in the US, rely on HackerRank's skill assessment platform to evaluate and hire software developers worldwide.
The features allow organizations to communicate with candidates via audio or video chat, view feedback notes from interviewers, evaluate a candidate's design skills on a virtual whiteboard, and save designs for future reviews. Organizations can secure the workflows by configuring access permissions and preventing unauthorized data exploitations through SSO (single sign-on) capabilities.
The hiring team utilizes a code screen to conduct online coding assessments with various programming languages, enabling them to assess an applicant's technical skills and evaluate the test results using methods of custom scoring, automated or manual. Businesses can streamline hiring by sending test links to candidates and setting up a cutoff score according to the job role's needs.
Pros
Accessible communication with applicants over audio or video chat

The built-in library can be customizable based on specific job roles, including software, back-end, front-end, full-stack, or DevOps engineers, interns, data scientists, and software development engineers.
Cons
The price starts at $249

The skills library is focused more on entry-level hiring, and assessments for senior positions aren't readily available

The support team takes time reverting to customers
Visit here to get a comparison between iMocha and HackerRank
Trail: Free trial available
Price: Pricing starts from $249 to $599
G2 Rating: 4.5/5
Clients: Taleo, Lever, Workday, and many more
8.
Mettl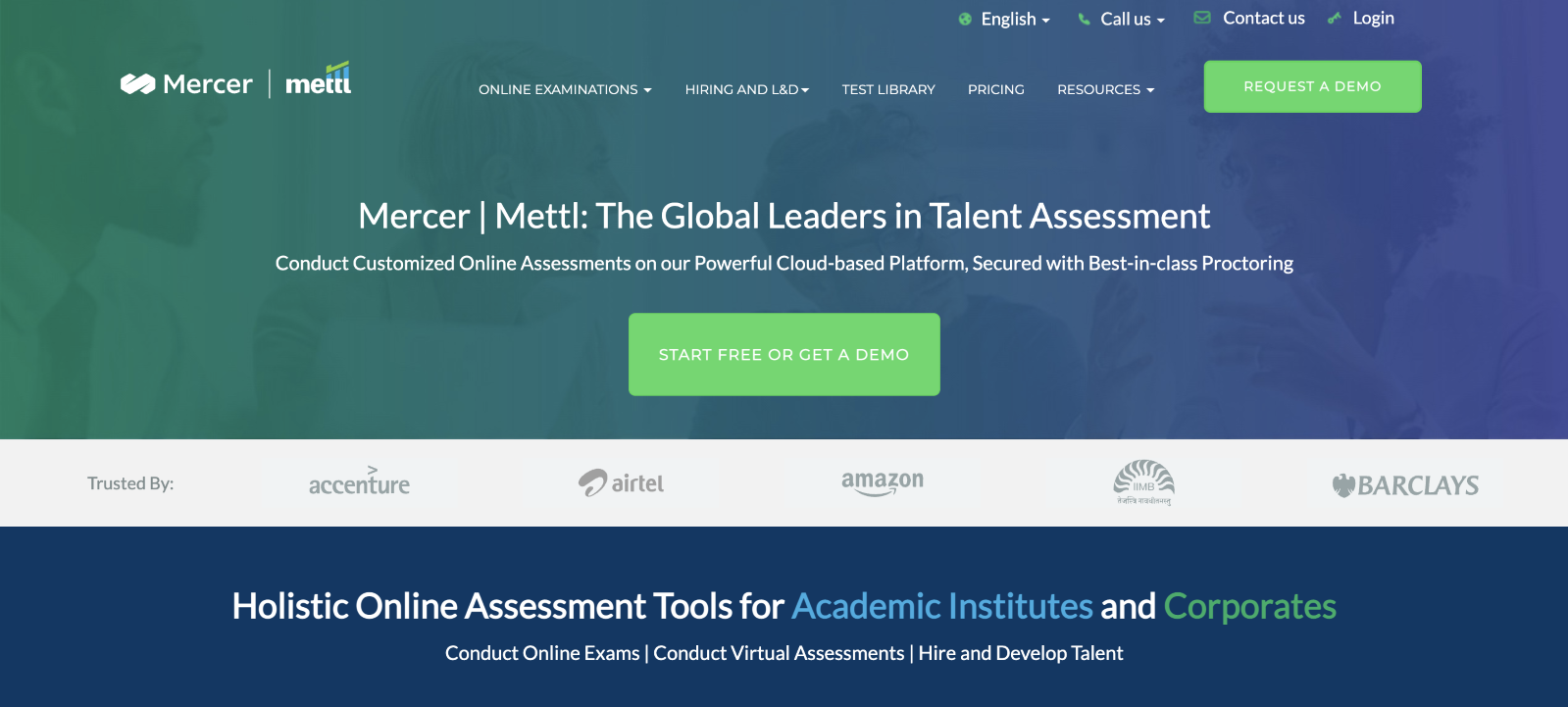 Mercer Mettl was formed as Mettl in 2010 in India and later acquired by Mercer – a global giant in HR solutions. Mettl is an online talent assessment, proctoring, recruitment, and certification platform. They currently have some of the biggest clients in HR-tech, the public sector, and Ed-tech. The platform consists of cognitive and aptitude skills assessments for recruitment and career development.
The assessments also fulfill companies' technical, reasoning, and personality requirements: the software gauges healthcare, sales, and customer engagement competencies using AI-enabled speech analytics. The features contain video interviews and a hiring process specific to campus settings. With the automated assessment platform, the workload of recruiters reduces.
Mettl has empowered many businesses to scale by their talent acquisition and development processes using digital tools. The tools measure aptitude, personality, communication skills, coding skills, and job-specific roles.
Pros
A global platform that supports 30+ languages

High data security with strict technology and policies

100,000+ ready-to-use questions for 800+ skills across 25+ industries
Cons
UI/UX interface is not user-friendly

Cheating prevention needs to be improved

Trick questions in assessments that are disliked by candidates
Trial: Free trial available
Price: Quote as per request
G2 Rating: 4.4/5
Clients: Workforce group, Gulf University, Make my Trip, and many more
Click here to know how iMocha overcame the challenges faced by Mettl.
FAQs
What are the popular HR assessment methods?

360-degree feedback

This internal hiring method requires HR managers and assessors to collect feedback on an employee's performance, general competence, work ethic, deliverables, and behavior. This helps to understand how an employee works within a company and whether they deserve to be moved into a leadership position.

Assessment Centre

In the assessment center method, candidates are asked to perform a series of tasks or are grouped together to perform tasks like group discussions, games, and debates. This gives HR managers a wealth of knowledge about the candidate's social and interaction skills.

AI-Driven HR Assessments tools

This method helps companies to reduce time-to-hire and increase retention. HR assessment tools help to hire managers in selecting the best person for the needs of the job by screening more candidates in a fair, fast, and consistent way.

How do you conduct an HR assessment?

HR assessments can be conducted online and offline, depending on the recruiter's assessment method best suited for the specific job role.

For example, a talent acquisition expert can select top talent using a coding simulator if they want to hire developers in the IT domain. Coders use a coding simulator to write codes in real time within a coding environment. The candidate is evaluated on parameters such as problem-solving, performance on the task, and coding proficiency in programming languages. Once the candidate completes the code, they are auto-graded in real-time based on their correctness, scalability, quality, and efficiency.

Why are HR tools essential?

In recent years, human resource assessment tools have gained a wide range of technological solutions that have helped many organizations manage their day-to-day HR activities effectively. The HR process is compliance-driven, and manually trying to do them is cumbersome, challenging, and time-consuming. Leverage the power of automation by shifting to HR tools to help your staff cut costs, save time and manage employees smoothly.