The job market today is highly competitive, and hiring one of the best talents is challenging. But what's tougher is getting a good candidate through the interview process.
Creating a job posting, scouring through the responses, conducting interviews effectively, and hiring the most qualified candidates is the most tedious task for a hiring manager. That's where having the right set of interview tools comes into play.
The best interview software can save time and resources managing and holding interviews that will eventually positively impact your employer brand.
But how do you choose an appropriate online interview platform in a sea of options available today? To simplify things, we have reviewed the top 20 interview tools for employers in 2022.
The best interview tools for employers in 2022
All-in-one Interview Tool
1. iMocha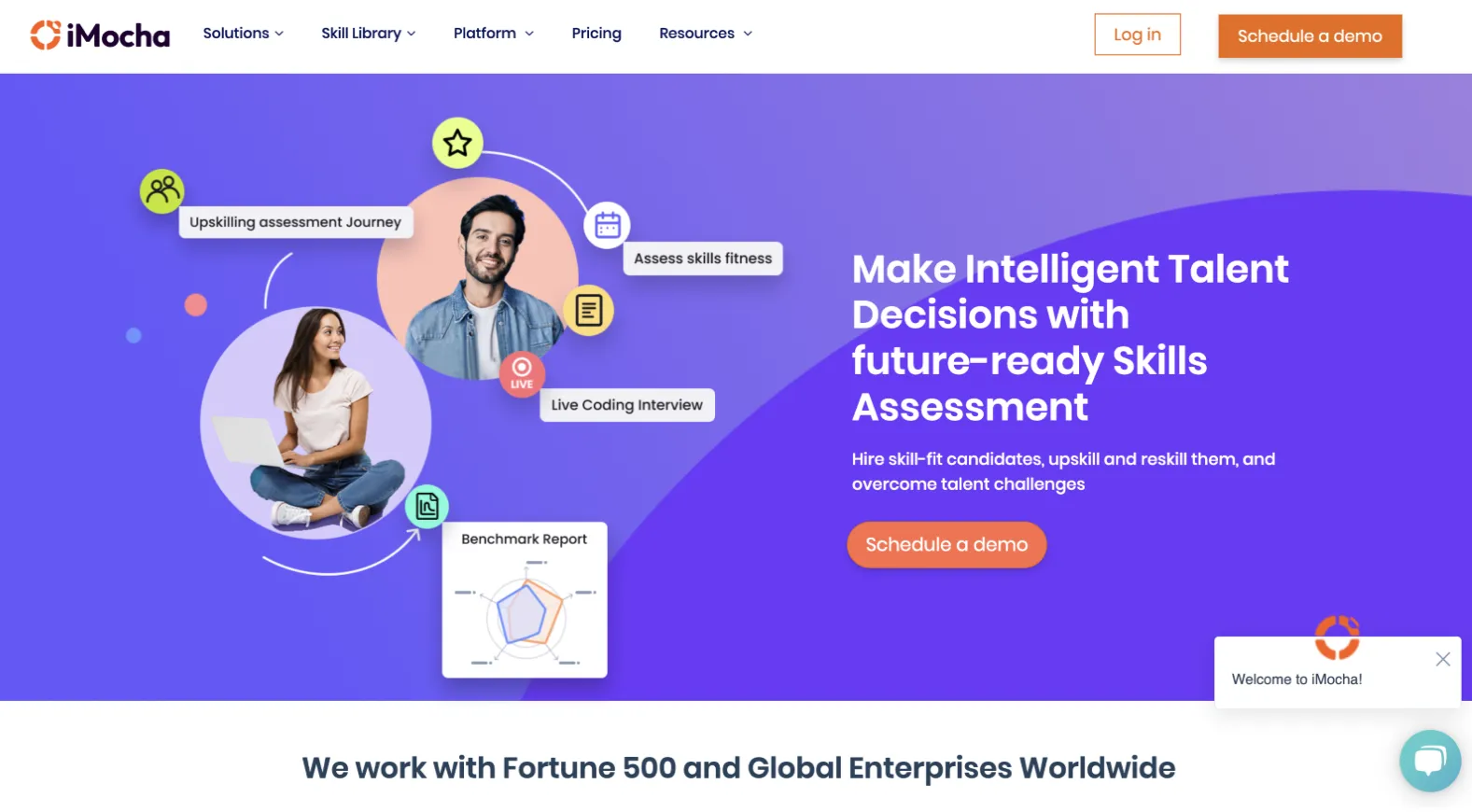 G2 Rating: 4.4/5 (181 Reviews)
iMocha, an AI-powered digital skills assessment solution, provides skill-based talent analytics that assists employers in narrowing down qualified profiles during remote hiring. iMocha helps businesses hire suitable candidates based on the JD faster adhering to prerequisites and helps rank the candidates based on their skill set. It is a comprehensive digital tool with assessments for 2500+ skills, innovative coding simulators, and AI-based analytics.
Using these assessments, recruiters learn each candidate's strengths which help enterprises build winning teams. In other words, it helps recruiters and hiring managers easily evaluate candidates' quality, spot potential bottlenecks and significantly increase their chances of hiring the best candidates for their companies.
Features
Free trial: Available
Subscription Range: Provides customizable prices based on the company's size.
Sourcing Interview Tools
2. Hired
G2 Rating: 4.3/5 (322 Reviews)
Backed by The Adecco Group, Hired is rated by G2 as a leader in Recruiting Automation, Job Search Sites, and Diversity Recruiting. As we enter a new era of work, where people are seeking opportunities, Hired is the most efficient way to employ tech and sales professionals.
Their primary focus is on in-demand technology roles while matching suitable candidates to full-time and freelance opportunities at the most innovative companies.
Features
Hired works with over 10,000 companies worldwide to match numerous qualified candidates to employ to their full potential with unbiased insights, DEI tools, skill assessments, and dedicated Customer Success Managers,

Employers save 45 sourcing hours per role with the help of better data, curated matches, and higher acceptance rates.

Hired is dedicated to building parity in the hiring process through an illustrative talent pool, using bias reduction features, customized evaluation, and pay parity alerts to eliminate any hiring bias.
Free trial: Available
Subscription Range: Provides customizable prices based on the company's size.
3. TalentBin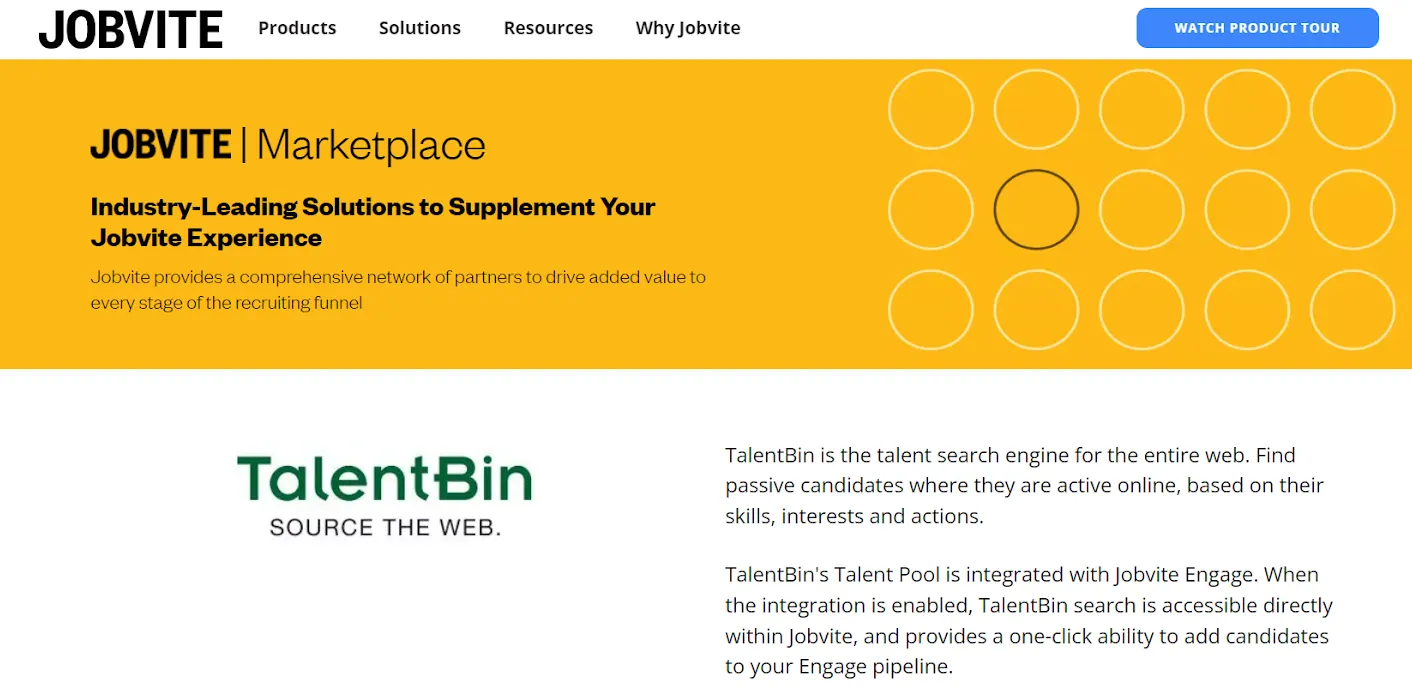 G2 Rating: 3.2/5 (3 Reviews)
TalentBin is a technical talent search engine tool that combs through relevant websites and gathers hard-to-find developer profiles based on their skills, interests, and actions. Their primary focus is helping recruiters engage with and hire software engineering talent in particular.
Features
Talent Bin turns the entire professional web into your sourcing database.

It can find the candidate's comprehensive professional web footprint and technical skills based on the intensity of that activity.

It can reach out to candidates using all available communication channels, where candidates hang out and respond to mail and social communication channels.

It uses integrated tools for maximum efficiencies, such as Integrated emailing, open email tracking, click tracking, etc.
Free trial: Available
Subscription Range: On request.
Interview Scheduling Tools
4. Calendly
G2 Rating: 4.7/5 (1439 Reviews)
Calendly is an online interview platform for scheduling meetings professionally and efficiently which eliminates the hassle of back-and-forth emails to fix a perfect time. It has been recognized as an intuitive scheduling leader for over 50,000 companies and 10 million people worldwide.
Calendly provides comprehensive abilities for teams with robust administration controls, powerful collaboration functionality, and enterprise-grade security and compliance.
Features
It provides an integrated Application Programming Interface (API) that enables the integration of data, objectives, logic, etc., with other software applications.

It is accessible to users through a mobile device and allows them to view and transact business with the same content in various languages and currencies.

It allows administrators to accommodate their unique processes and can create custom objects, fields, rules, calculations, and views.
Free trial: Available
Subscription Range: Monthly subscription of $16 per seat.
5. YouCanBook.me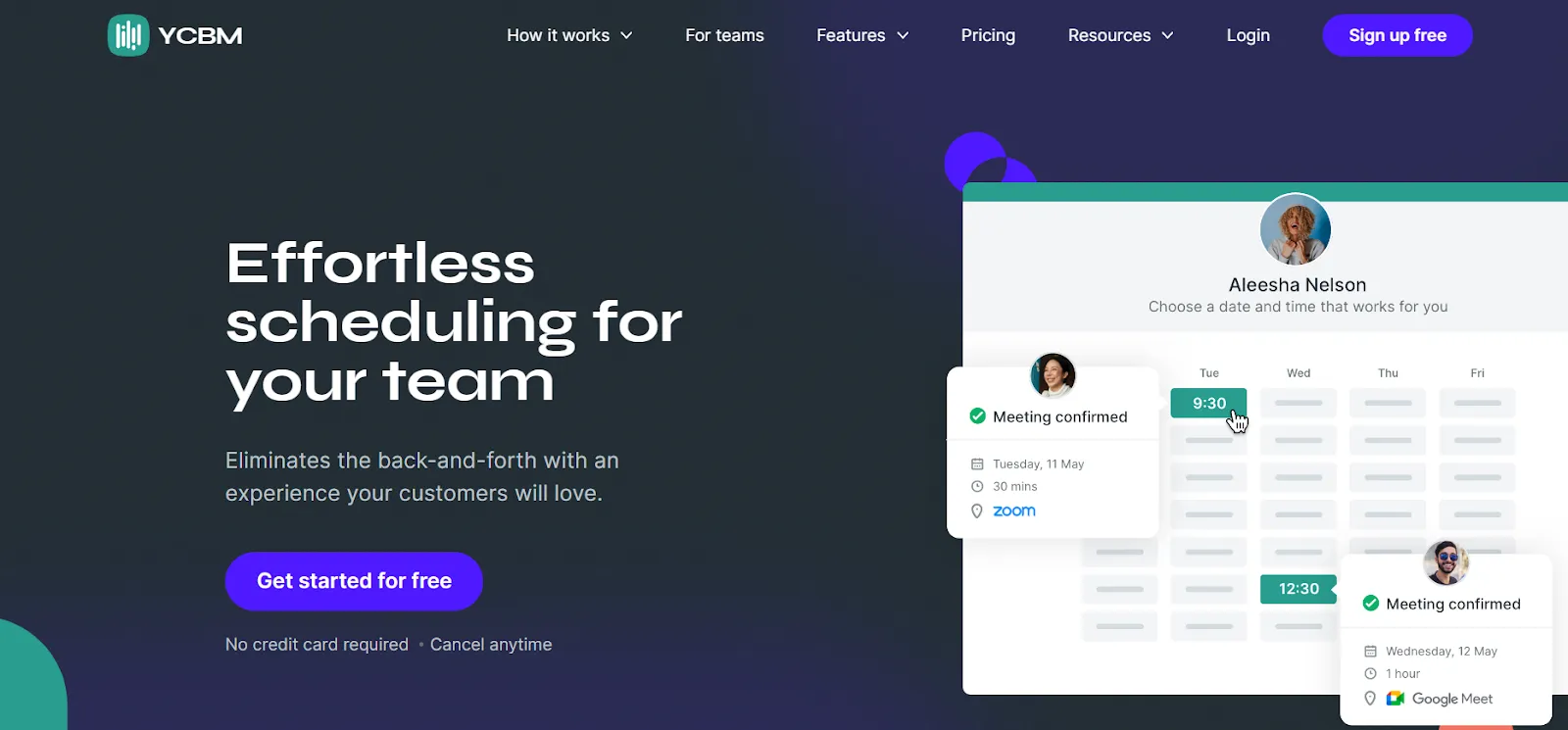 G2 Rating: 4.7/5 (1811 Reviews)
Scheduling can be time-consuming and challenging work. You can make it easy, customizable, scalable, and secure by using the powerful features of YouCanBook.me. Integrate your google Microsoft calendar and get a personalized booking page.
With YouCanBook.me, you can schedule hassle-free meetings for a team of 10 or 1,000 and easily manage with options for team pages, various appointment types, data export, and integration with all the other tools you use.
Features
Regulating your availability, workflow automation, creating personalized notifications, and providing customers with an effortless way to schedule time with you, are a few main features of this tool.

You can send personalized emails & SMS to anyone anytime during the booking process. Manage your booking pages by matching your design and international language requirements.

You can directly connect to Zoom and Gmail, take payments with Stripe and use Zapier to connect to thousands of apps you already use.
Free trial: Available
Subscription Range: Monthly subscription of $10 per calendar.
Proctoring Interview Tools
6. Talview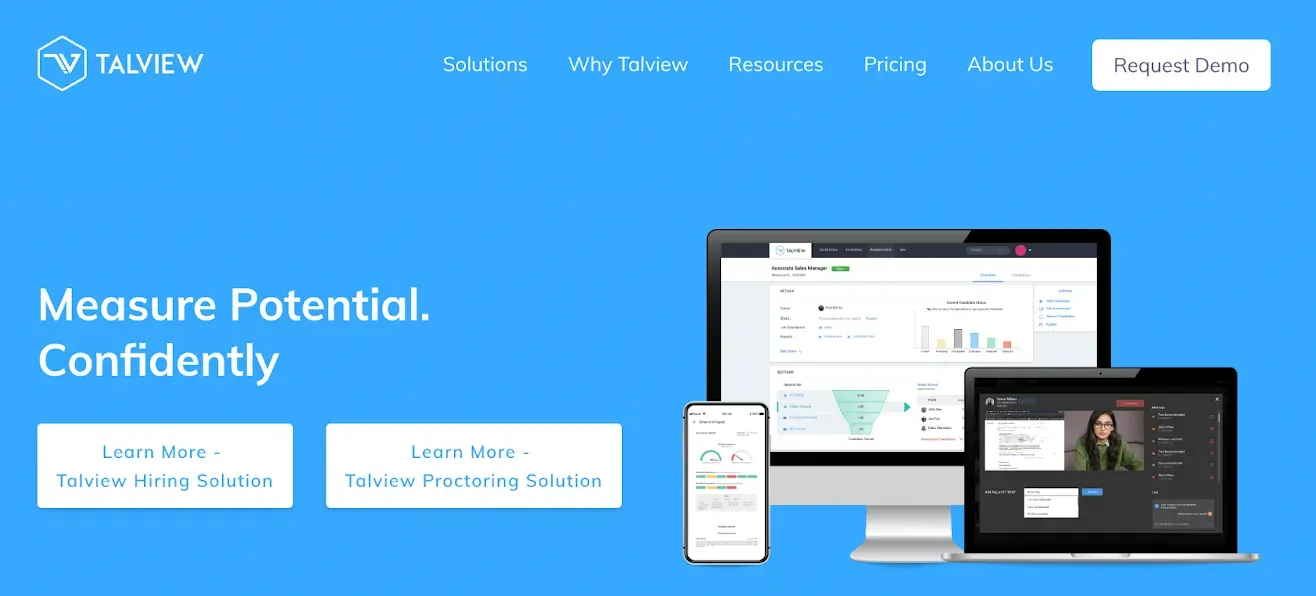 G2 Rating: 4.5/5 (33 Reviews)
Talview is an AI-powered end-to-end hiring and proctoring solution. Their "Remote, Automate, and Reuse" philosophy enables global enterprises to hire remotely, automate the mundane hiring process, and reuse recruitment data.
You can leverage their mobile-first online interview tool to discover the right candidate through a quick and efficient hiring process ensuring a top-notch candidate experience.
It is the first AI-powered video interviewing and proctoring company to attain WCAG 2.0 compliance and the only proctoring solution compatible with 3rd party assessment providers available on iOS.
Features
Talview ensures accessibility to qualified candidates anytime, anywhere, and on any device.

Talview assists customers quickly and effectively in managing resume screening, interview scheduling, assessments, video interviews, and exam proctoring from any device.

The AI-powered remote proctoring solution authenticates the candidate's identity, such as facial recognition, and captures Photo ID. It protects the secure browser, watermarking, etc., and guarantees test integrity, such as 360-degree environment checks and object detection.
Free trial: Available
Subscription Range: Provides customizable prices based on the company's size.
7. Proctortrack

G2 Rating: 4.2/5 (6 Reviews)
Proctortrack is a comprehensive online proctoring tool delivering trusted exam integrity that leverages automation and AI to provide online invigilation.
Once the students launch their exam, they will be prompted to install the ProctorTrack app, which performs an identity check and starts capturing the exam session. After the students complete their exams, the captured data is uploaded to be reviewed for potential anomalies.
Features
It uses advanced ID verification, live, and automated proctoring, in-Classroom exam security, and Proctor Do-It-Yourself live tools to provide innovation, quality, and price leadership at scale.

Proctortrack enables instructors to set exam restrictions, review testing sessions, and authorize successful exam attempts.
Free trial: Available
Subscription Range: On request.
8. Honorlock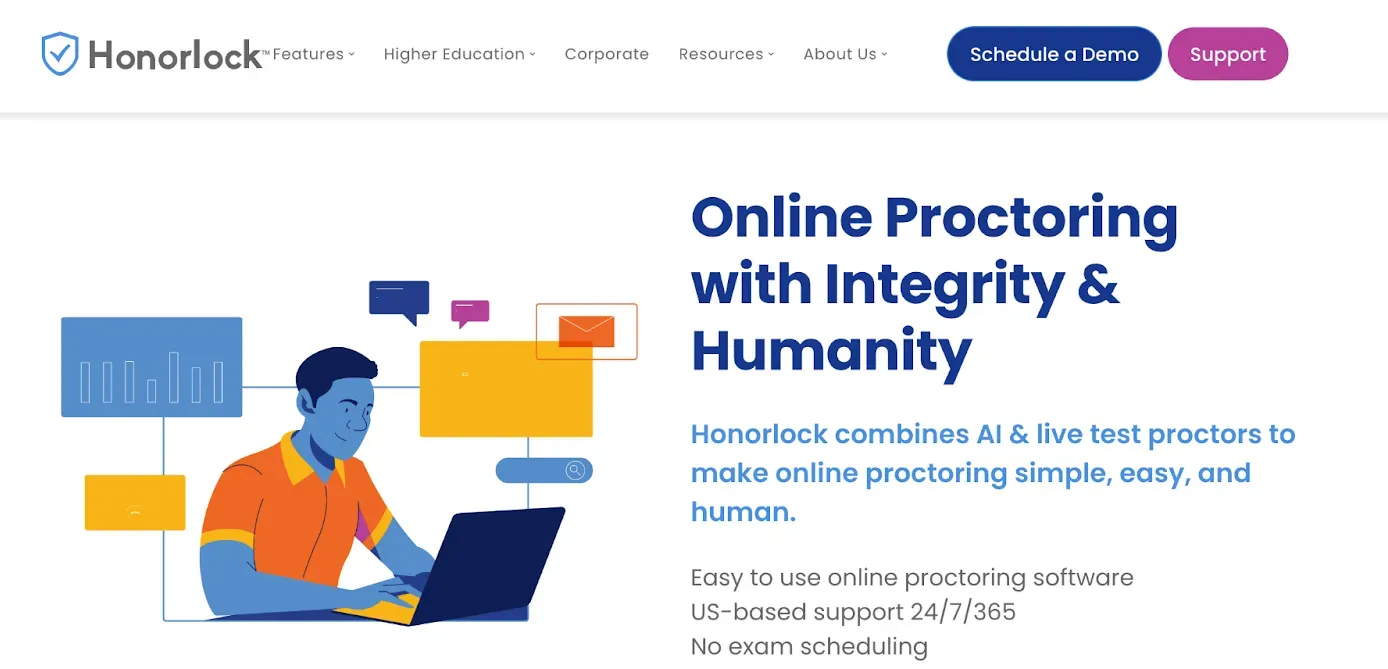 G2 Rating: 4.2/5 (6 Reviews)
Honorlock is ranked number 103 in the 2021 Inc. 5000 fastest-growing private companies. It is a silver lining for remote learning situations. Their online proctoring solutions provide students and faculty with a fair testing environment that creates confidence and academic integrity.
Features
Honorlock's online test proctoring services combine AI software's benefits with live test proctors, making it simple and human.

It provides ID verification in 60 seconds and 24/7/365 student support. You get the benefits of the AI Proctoring software and a human review.
Free trial: Available
Subscription Range: On request.
Soft Skills Assessment Tools
9. Picked.ai

Picked makes hiring easier by using behavioral science, augmented intelligence & talent assessments to help companies build great teams.
The candidates can avail of their pre-employment assessments to conduct the shortlisting based on the technical skills, aptitudes, or traits they seek for any role rather than sifting through applications and resumes.
Features
Picked uses interactive assessments, predictive analytics, and workflow automation, making the selection process faster, inexpensive, and bias-free.

Their tests are developed by professional psychometricians, keeping up with the reliability and validity in line with industry best practices.
Free trial: Available
Subscription Range: On request.
10. Highmatch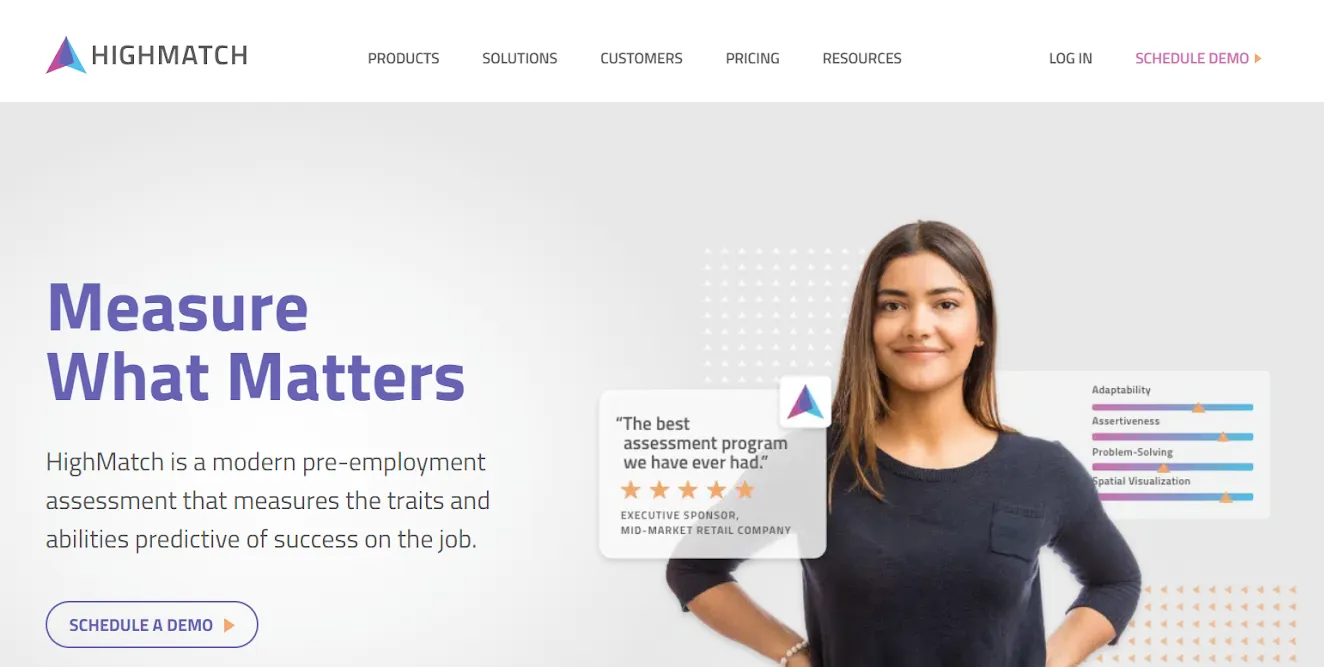 G2 Rating: 4.8/5 (56 Reviews)
HighMatch offers science-backed personalization services that deliver the required actionable insights. They use industry-proven tools that use data-driven awareness to foresee the hiring success, assess the candidates, and reduce turnover.
HighMatch is a modern pre-employment assessment platform that believes solving complex hiring processes and retaining candidates requires tailor-made solutions. The candidates are evaluated based on the abilities and skills that define success in a specific role and organization.
Features
HighMatch's online interview tool is entirely configurable, with custom weighting applied using a job profile established in partnership with the team.

HighMatch enriches the candidate experience by including a streamlined, mobile-ready assessment that reduces test anxiety.

HighMatch's intuitive reports offer comprehensive information the team needs to screen, interview, and recruit candidates without any doubts.
Free trial: Available
Subscription Range: Monthly subscriptions start at $100 per month.
AI Interview Tools
11. MyInterview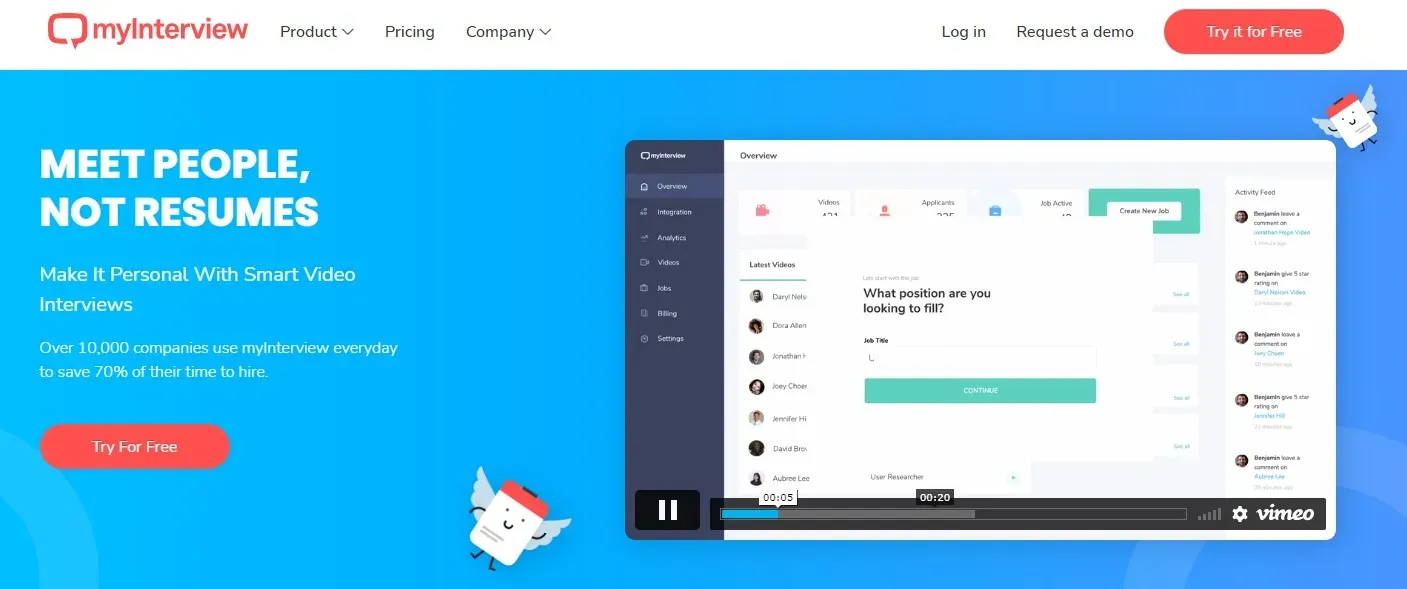 G2 Rating: 4.8/5 (76 Reviews)
Meet people, not resumes, is the motto of MyInterview. Over 10,000 companies use MyInterview daily to save 70% of their time in hiring.
With over 7,000,000 interviews processed, myInterview offers small businesses and large enterprises an intuitive, collaborative, and reliable hiring platform.
With customized branding, ATS integrations, and intelligent shortlisting, it's easier to find the next talent for your company. With MyInterview, you will learn about the personality behind the resume before the candidates walk through the door!
Features
Diverse data powered with a purpose-built machine learning algorithm, scan each video to reveal the exceptional candidates that perfectly match what you're looking for. Welcome to the future of hiring.

MyInterview uses premium video-interviewing technologies for 1st and 2nd stage screening. They invite candidates via CSV, email, or a shareable link and allow them to send personalized video introductions.
Free trial: Available
Subscription Range: Monthly subscriptions start at $179 for 100 candidates.
12. Mya Systems (acquired by StepStone)

G2 Rating: 5/5 (1 Review)
Mya Systems is a leading conversational AI platform provider automating outreach and communications with job candidates throughout the end-to-end recruiting process for enterprises and agencies.
Mya Systems has been backed by top-tier venture investors, including Emergence Capital and Foundation Capital, since 2012, when it was founded. Its primary focus is to address the significant inefficiencies in the hiring process and improve the procedure for job candidates and recruiters.
Features
This online interview platform assists the hiring teams in amplifying their sourcing efforts, screening and shortlisting candidates from large applicant pools, automating the scheduling process, providing onboarding and HR support.

They interact with the applicants via SMS, WhatsApp, and other messaging applications and can be embedded into your career site and application process.

Mya can be effortlessly integrated into your ATS, CRM, and calendar systems as it is highly configurable and speaks several languages.
Free trial: Available
Subscription Range: On request.
Video Conferencing Tools
13. Google Meet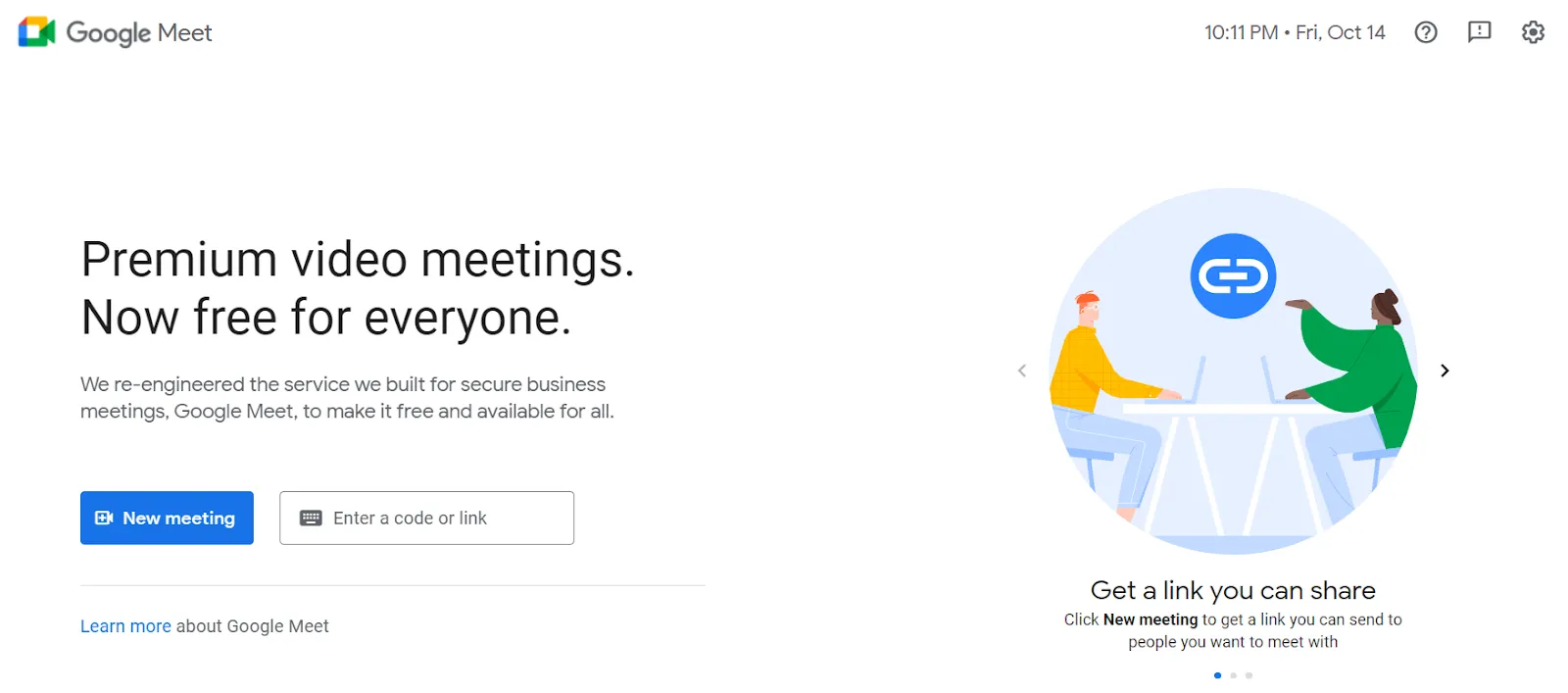 G2 Rating: 4.4/5 (5680 Review)
Google Meet is a free communication platform that lets users stay in touch with clients and teams globally. It is a mobile, web-based google solution that allows small to large businesses to conduct voice/video calls among colleagues or business partners.
Google Meet is one of the leading audio and video conferencing solutions allowing Google account holders to create instant and scheduled meetings. The application will enable you to simultaneously present, collaborate, and live stream meetings to 100,000 viewers.
Features
You can host or join free audio and video conferencing meetings from anywhere. It is free for up to 100 participants in a single session.

It is easily accessible from any device, with no download required. You can easily invite participants to meetings via a link or email address. Meeting attendees can translate captions into their preferred languages.

You can easily share the screen and work with your partner on documents and share presentations, as it allows anyone to present their entire screen or application window. You can chat with other participants through live messaging during meetings and share files, links, and text.

You can join the meetings directly from Google Calendar or Gmail. It is integrated with Microsoft Outlook, Slack, and more for additional accessibility.
Free trial: Available
Subscription Range: Free
14. Zoom

G2 Rating: 4.4/5 (52015 Review)
Zoom is one of the popular business communication tools for over 700,000 businesses globally, assisting SMBs and large enterprises with wireless media sharing, video systems, screen sharing, and more.
It is a cloud-based video conferencing platform that is easy, reliable, and secure, providing HD video, audio, and content sharing across your mobile to desktop devices and conference room systems.
It brings together team chat, phone, whiteboard, and meetings, provides a good user experience, streamlines management, and flexibly delivers communications that power the modern workspace.
Features
It includes cloud and local recording with transcripts and multi-user annotation capabilities via screen share.

Easily accessible with one click, chat across platforms, and share files, all with encrypted, compliant settings for extra security. You can connect virtually from anywhere with Zoom Meetings and collaborate with Zoom Chat.

You can view video, adjust audio and see a list of who has already joined a meeting before entering. The meeting hosts can mute, pin, remove participants, and use advanced controls for meetings.
Free trial: Available
Subscription Range: Monthly subscription of $19.99 per host.
Interview Recording Tools
15. VidCruiter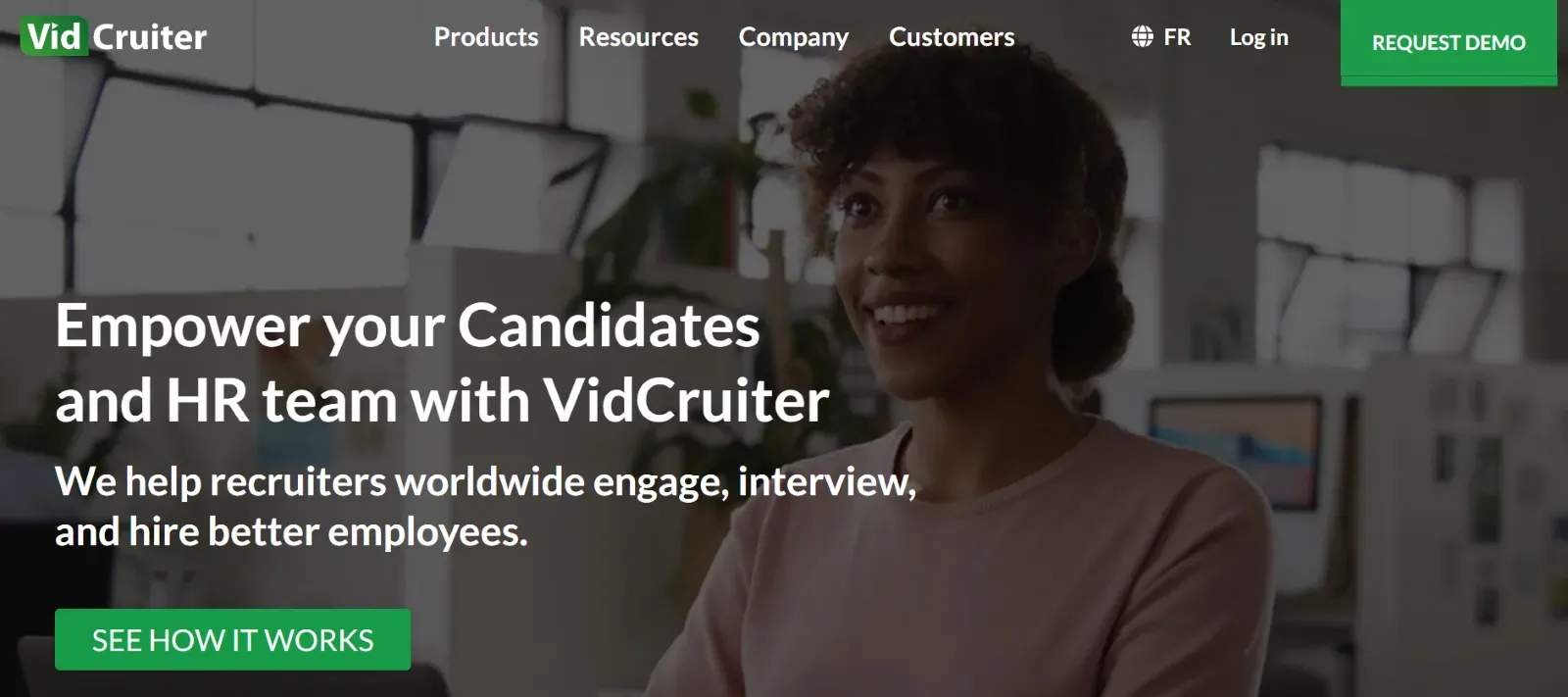 G2 Rating: 4.8/5 (189 Reviews)
VidCruiter is one of the most advanced video interviewing platforms specializing in applicant tracking and video interviewing, making it possible to hire from anywhere at any time.
VidCruiter is one of the best interview software that helps HR departments simplify their hiring process by providing a combination of video tools to reduce the hiring timeframe. It increases the opportunity of hiring excellent candidates, gives online interview tools for employers, and organizes all applicant activity in a web-based applicant tracking system.
Features
It allows companies to pre-record interview questions that candidates can respond to via either video or text-based responses and facilitates meeting with only qualified finalists in person.

VidCruiter also includes an applicant tracking and management system on the back end, which is entirely web-based.
Free trial: Available
Subscription Range: On request.
16. Spark Hire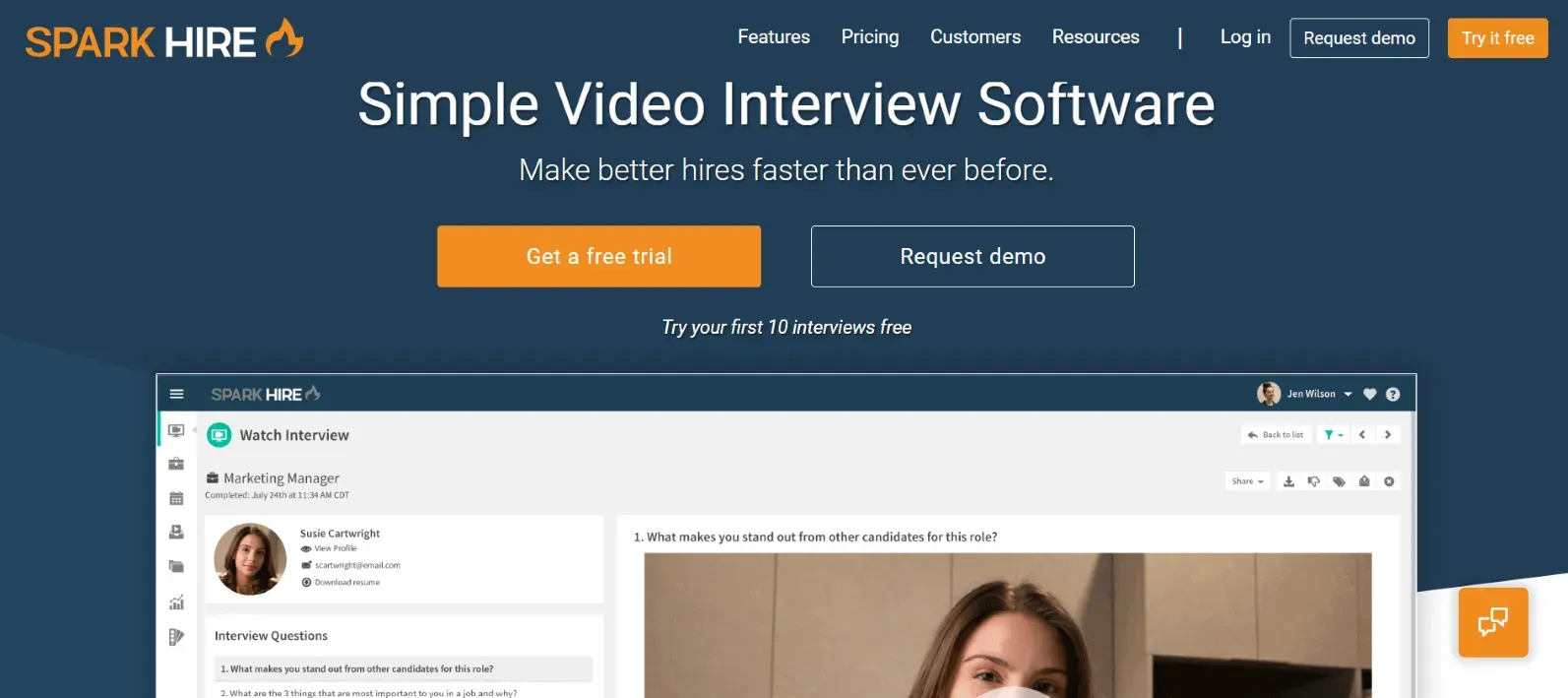 G2 Rating: 4.8/5 (368 Reviews)
With over 6,000 customers conducting video interviews in over 100 countries, Spark Hire is an easy-to-use online video interviewing platform launched in 2012. Spark Hire helps several enterprises make better, more collaborative and quickly recruiting decisions. Organizations of all sizes are using Spark Hire to make better hires faster than ever, making it the fastest-growing video interviewing platform.
Features
A cloud-based video interviewing solution for HR divisions and recruitment professionals with options for one-way pre-recorded or live interviews.

Other features include branding customization, video interviewing ROI analytics, collaboration tools to comment, rate, and share interviews with others on the hiring team, and open-invite interviews that can be implemented in various outlets, including job boards and social networks.

Users can add custom welcome videos for candidates, tag interviews for searching capabilities, and handle applicant rejection management. All discussions, whether live or pre-recorded, can be played back at any time to review a candidate's responses.
Free trial: Available
Subscription Range: Annual subscription of $599.
Candidate Relationship Management
17. BambooHR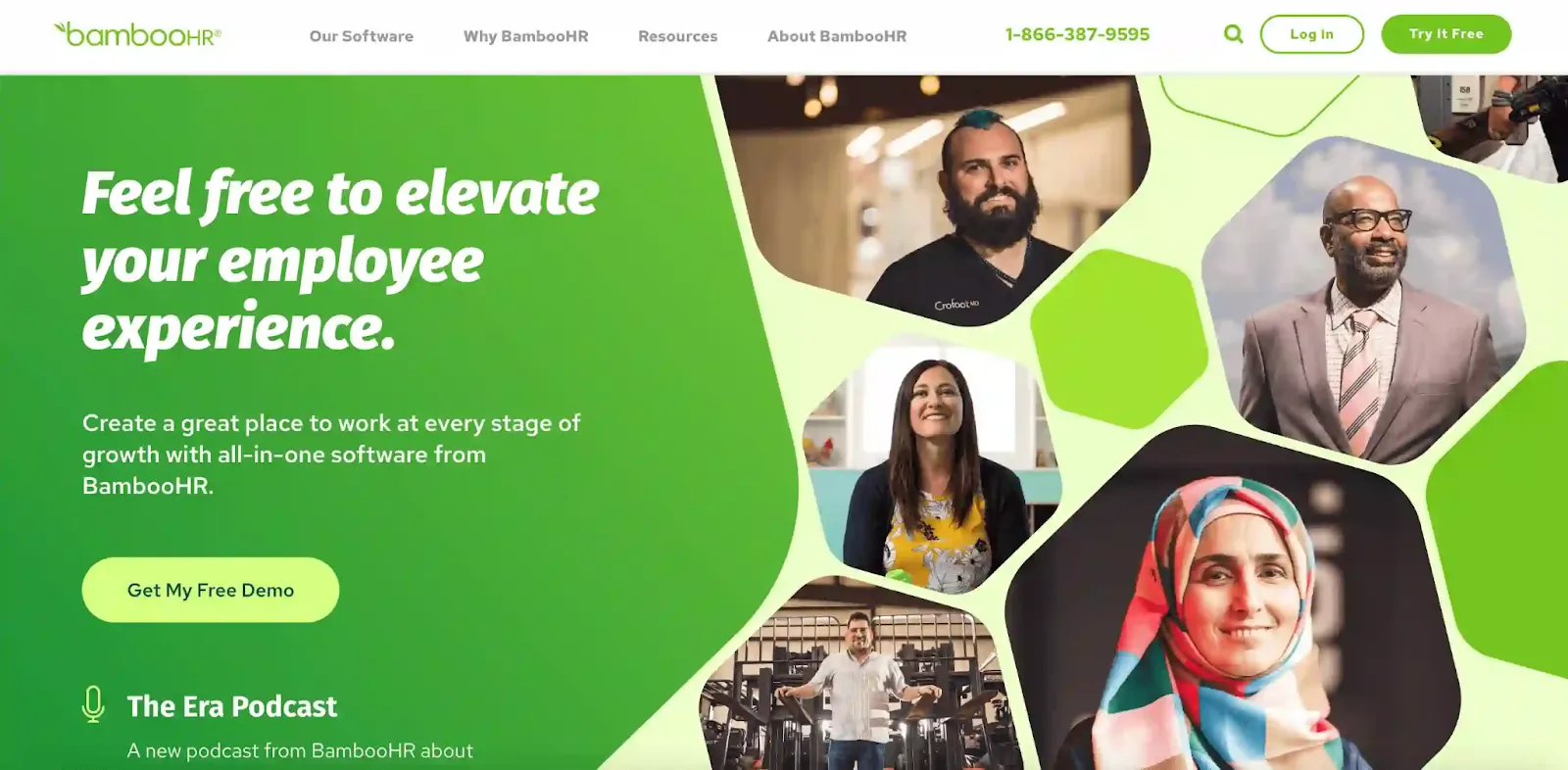 G2 Rating: 4.4/5 (1202 Reviews)
BambooHR is an award-winning all-in-one HR platform for small and medium businesses that helps budding enterprises automate, centralize, and connect their people's data in one place. It improves how you search and recruit talent, onboard new employees, manage compensation, and progress your company culture.
With BambooHR taking care of these crucial factors, you have more time to focus on what matters most for your business- growing your people, improving the employee experience, and taking your organization forward.
Features
Manage employee data and gather valuable insights

Find, hire, and onboard the best talent

Simplify payroll, track hours, and capture benefits

And measure the employee experience and performance
Free trial: Available
Subscription Range: Monthly subscription of $ 8.75.
18. Lever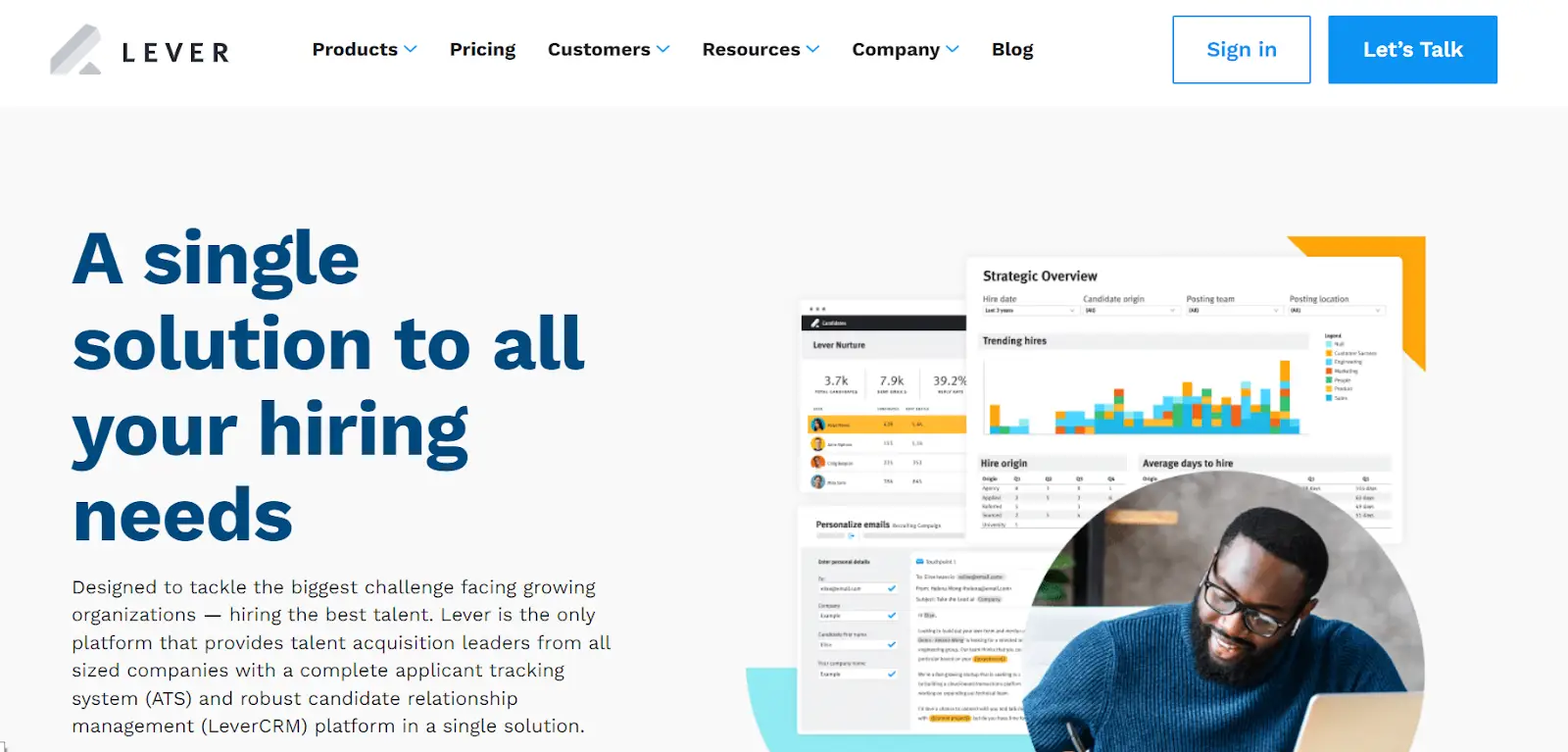 G2 Rating: 4.2/5 (1377 Reviews)
Lever is a leading talent acquisition platform that connects businesses with top talents and helps to reach their hiring goals.
This online interview tool enables companies to hire with inclusivity, helping eliminate hiring bias and providing all talent acquisition leaders with comprehensive ATS and robust CRM capabilities in one product, LeverTRM.
Features
The LeverTRM features allow leaders to grow their people data, build loyal and long-lasting relationships and source the perfect fit people to hire.

Lever Analytics offers customized reports with data visualization, interview feedback, and more for making strategic decisions between hiring managers and executives.
Free trial: Available
Subscription Range: On request.
Candidate Feedback Collection Tools
19. SurveyMonkey

G2 Rating: 4.4/5 (18027 Reviews)
Relied by 98% of the Fortune 500 and used in more than 335,000 establishments worldwide, SurveyMonkey is a popular survey and feedback management solution. Its platform gives countless people a means to transform feedback into action that drives growth and innovation.
With 20 years of experience and powered by AI-powered tools, it can help from novice survey creators to the most experienced market researchers.
Features
It creates surveys, quizzes, and polls for any audience.

It collects feedback through a web link, email, mobile chat, and social media, automatically evaluates your results, and draws powerful analysis features.

It further exports your results or integrates your data with your favorite apps.
Free trial: Available
Subscription Range: On request.
20. Starred
G2 Rating: 4.8/5 (3 Reviews)
Starred is a candidate feedback platform that enables hiring teams to enhance their candidate experience. It automates your complete feedback procedure, from sending surveys to gathering and analyzing data, and can save up to 67% of your time compared to a manual solution.
Features
It connects directly with your ATS and automatically sends customized surveys to your candidates at every stage of the hiring process.

It sends out customized, branded messages to candidates and optimizes the respondent experience for high response rates.

The industry-leading dashboards turn your data into actionable insights where the starred priority matrix helps you visualize your ranked tactics.
Free trial: Available
Subscription Range: On request.
Conclusion
Interview tools for employers help enterprises to automate the interviewing process. It provides easy access to the potential candidates' skills and culture fit, equates results across your applicant software, and uses the data to make unbiased hiring decisions. It is imperative to choose the right interview tools for employers to manage the hiring process.
FAQ Reference
What are the top 5 interview techniques?
Interview techniques are a great way to assess the overall ability of the candidate and their performance in a particular role. The following list includes 5 helpful interview techniques for recruiters to implement:
Virtual Interview

Job Simulation Interview

Traditional Interview

"Selling the Job" Interview

Casual Interview
In order to effectively implement these interview techniques, you can use various interview tools to ease the process.
What are the most important tools to bring to an interview?
There are various categories of tools essential to streamline the hiring process. These interview tools include:
Interview Scheduling Tools

Interview Sourcing Tools

Interview Recording Tools

Candidate Feedback Collection Tools
Which tool offers the most features for an interview process?
If you are in search of the best interview tools that seamlessly manage the end to end hiring process, your search ends with iMocha!