The objective behind new hires is to achieve certain goals and tasks set by an organization. But how would you know if the candidate is job-fit and rightly-skilled to achieve your organization's target? By deploying a right pre-hire assessment tool!
A pre-hire assessment tool overcomes significant hiring challenges like hiring cost and speed, fair recruitment, engaging qualified candidates, etc. These tools can make recruitment easier for your organization if engaged with the right one.
OSF Global Services, Case Study:
A technology company, OSF Global Services specializes in Application Development and Technology Integration, grew from 450 to 550 employees in the past year. According to OFS' recruiting leader, finding suitable candidates has shortened from over 30 days to 10-14 days. Further, OSF also reduced screening costs by 64%.
Hence, we have listed the top 16 pre-hire assessment tools to help you find one of the most suitable tools for your business need.
Top 16 Pre-Hire Assessment Tools
All-in-One Pre-Hire Assessment Software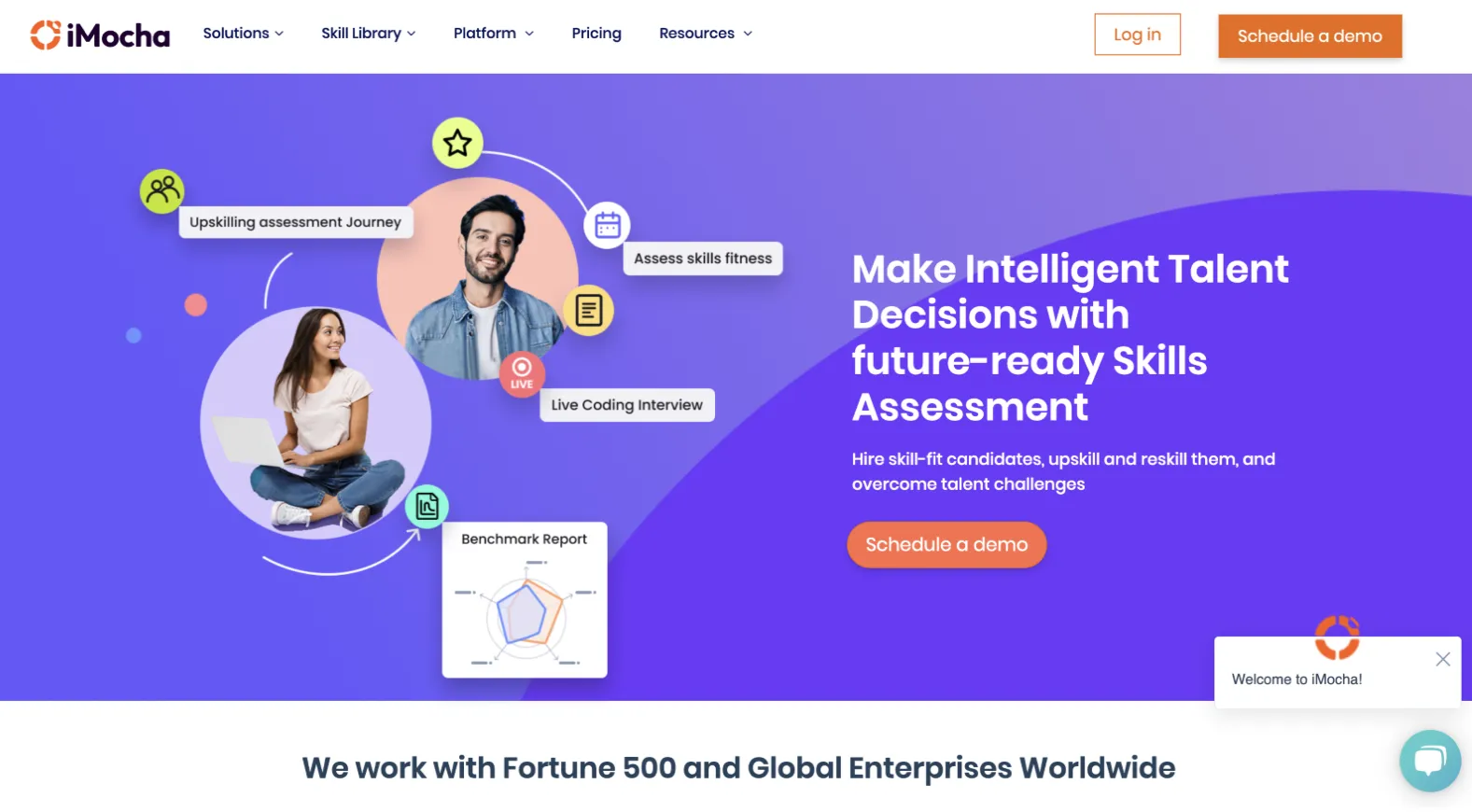 iMocha is one of the top AI-powered new hire assessment tools that engage, assess and hire its fully-fledged recruitment portal.
iMocha's talent analytics feature offers insightful data about candidates to assist employers in narrowing down the candidates. Hence, you can compare the candidate's relevancy with the job description and choose the most suitable one for the job.
Its vast library is stocked with assessments for various domains and skills, such as technical, soft, IT, and communication skills. You can utilize the pre-made tests or customize them to fit your employment needs. It also offers useful features like live video and other capabilities where the interviewer can make code suggestions to improve coding efficiency.
This recruitment tool also received global recognition from Satya Nadella, CEO of Microsoft. In his impactful words, he said, "iMocha's skilling API allows managers to increase the pace of hiring for the open job and the skill matching. So that's the type of innovation we are seeing."
Founded by: Amit Mishra & Sujit Karpe
Website: https://www.imocha.io
Free Trial: Yes
Pros:
iMocha is one of the most reliable and best new hire assessment tools that eliminates all the possible ways of cheating via its smart proctoring such as video, audio and image proctoring

All the data of an individual is encrypted via strict protocols such as GDPR, ISO9001, and ISO27001

iMocha has 2500+ skills, 50+ Next-Gen skills, 35+ coding languages, 10000+ questions, and a lot more to assess candidates from different job profiles

iMocha is a one-stop shop since it has 30+ integration with the world's leading recruiting partners and leading platform
Cons:
iMocha does not conduct psychometric tests

It does not provide a background check for candidates
Clients: Deloitte, Cognizant, Wipro, Vanguard, CGI PayPal, Fujitsu, Capgemini,
Pricing: On request
G2 Crowd Rating: 4.4/5 (165)
Hard Skills Pre-Hire Assessment Software
2. Applied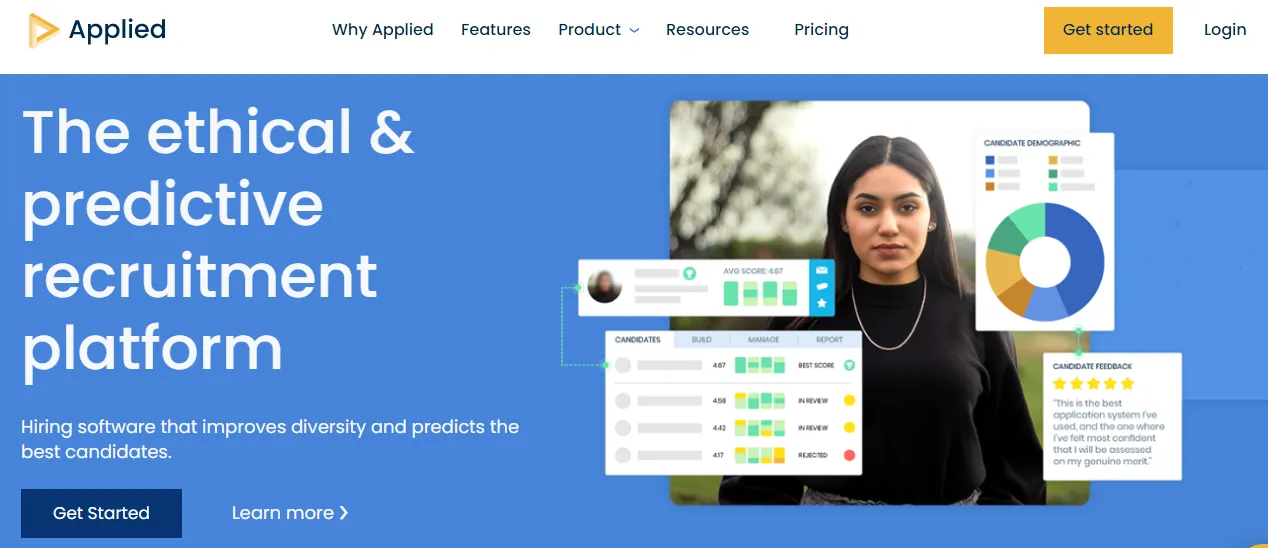 Founded in: 2015
Founded by: Kate Glazebrook
Free Trial: Not available
Pros:
It allows recruiters to send customized feedback to all the candidates individually

It shows great efforts in eliminating any bias, be it gender, color, or nationality by hiding names, photographs, and other identification information

Applied is easy to use and adapt
Cons:
Applied is a UK based new hire assessment tool, hence it takes some time for the customer support team to revert back

Hyperlinks do not open in new tabs and take away the candidates' application
Clients: Ogilvy, Sanctus., Ella's Kitchen, UNICEF, Habito
Pricing: $420/month
G2 Rating: 4.5/5 (3 reviews)
3. TestGorilla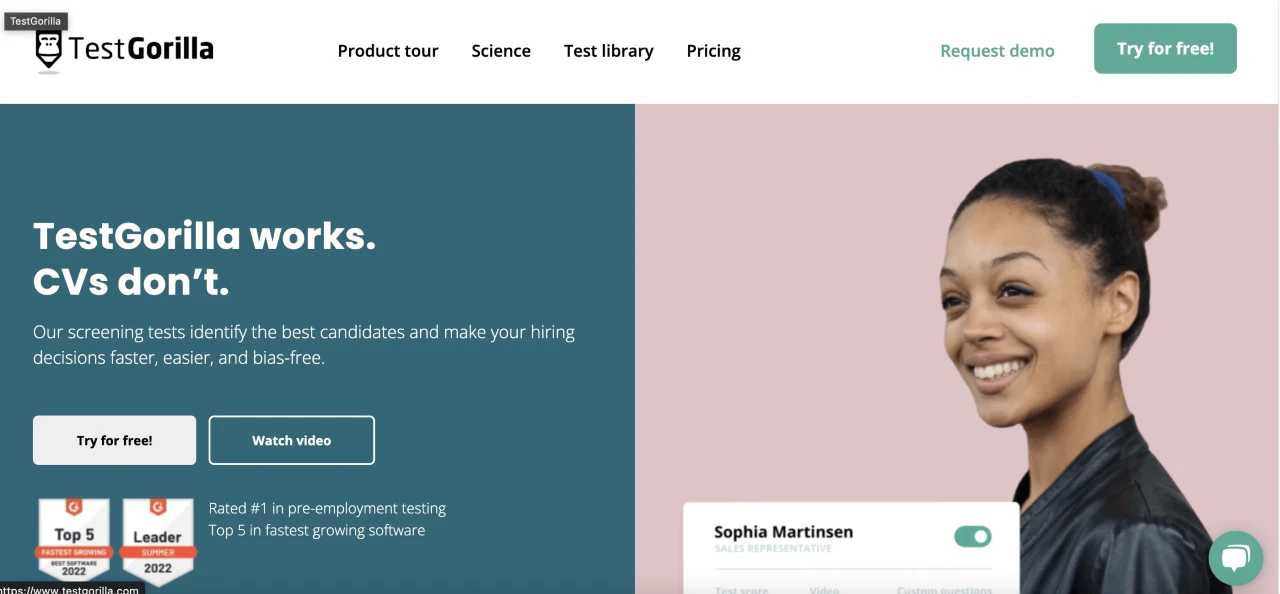 Founded in: 2019
Founded by: Wouter Durville and Otto Verhage
Pros of TestGorilla:
Their pre-assessment difficulty is balanced

TestGorilla provides many valuable skills like culture fit, mental aptitude, and other essential skills
Cons of TestGorilla:
No virtual customer service is provided by the team TestGorilla

No video proctoring analysis is available
Clients: Bain & Company, Public Groupe, Oracle, Majorel, H&M
Pricing: Available on requestG2 Rating: 4.5/5 (713 reviews)
4. HireSelect (Criteria Corp)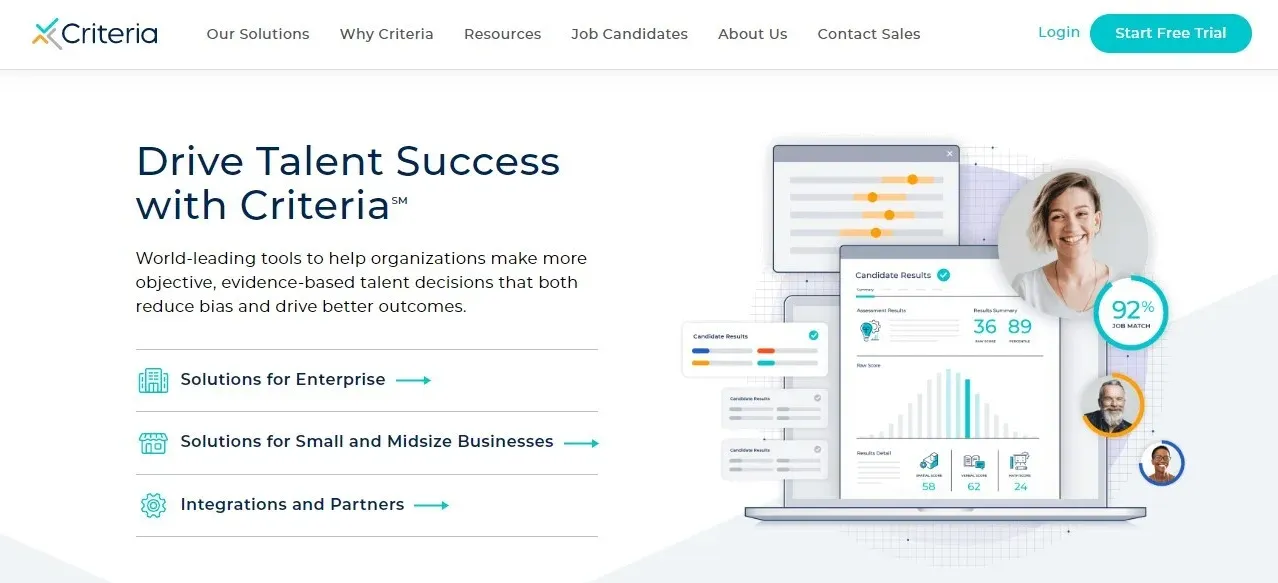 Founded in: 2005
Founded by: Josh Millet
Free Trial: Available
Pros:
It allows the recruiter to assign assessments in bulk

It's quite easy to share links or invite any candidate for assessments

The search algorithms are highly effective and help users to get what they desire
Cons:
The bulk download feature is inefficient

This new hire assessment tool is not customizable

The tool is unintuitive
Clients: Republic National Distributing Company (RNDC), Xtract Solutions, lifestyle hearing, Push Innovation, American Export Lines
Pricing: Not disclosed publicly
G2 Rating: 4.2/5 (38 reviews)
5. Mercer Mettl

Founded in: July 2009
Founded by: Tonmoy Shingal
Pros of Mercer Mettl:
It assists in identifying the top applicants from the pool of those interviewed. Additionally, many designation-related tests are provided, which improves matchmaking

The ease with which Mercer Mettl can comprehend the competencies using graphs and personal information helps the company finalize suitable profiles for the jobs
Cons of Mercer Mettl:
Each assessment has no AVG Score (local or global standard)

Mettl has a complex UI leading to wastage of time
Clients: MakeMyTrip, Gulf University, Workforce, NASSCOM, Ghent University Global Campus
Pricing: $249/year
G2 Rating: 4.8/5 (247 reviews)
6. Codility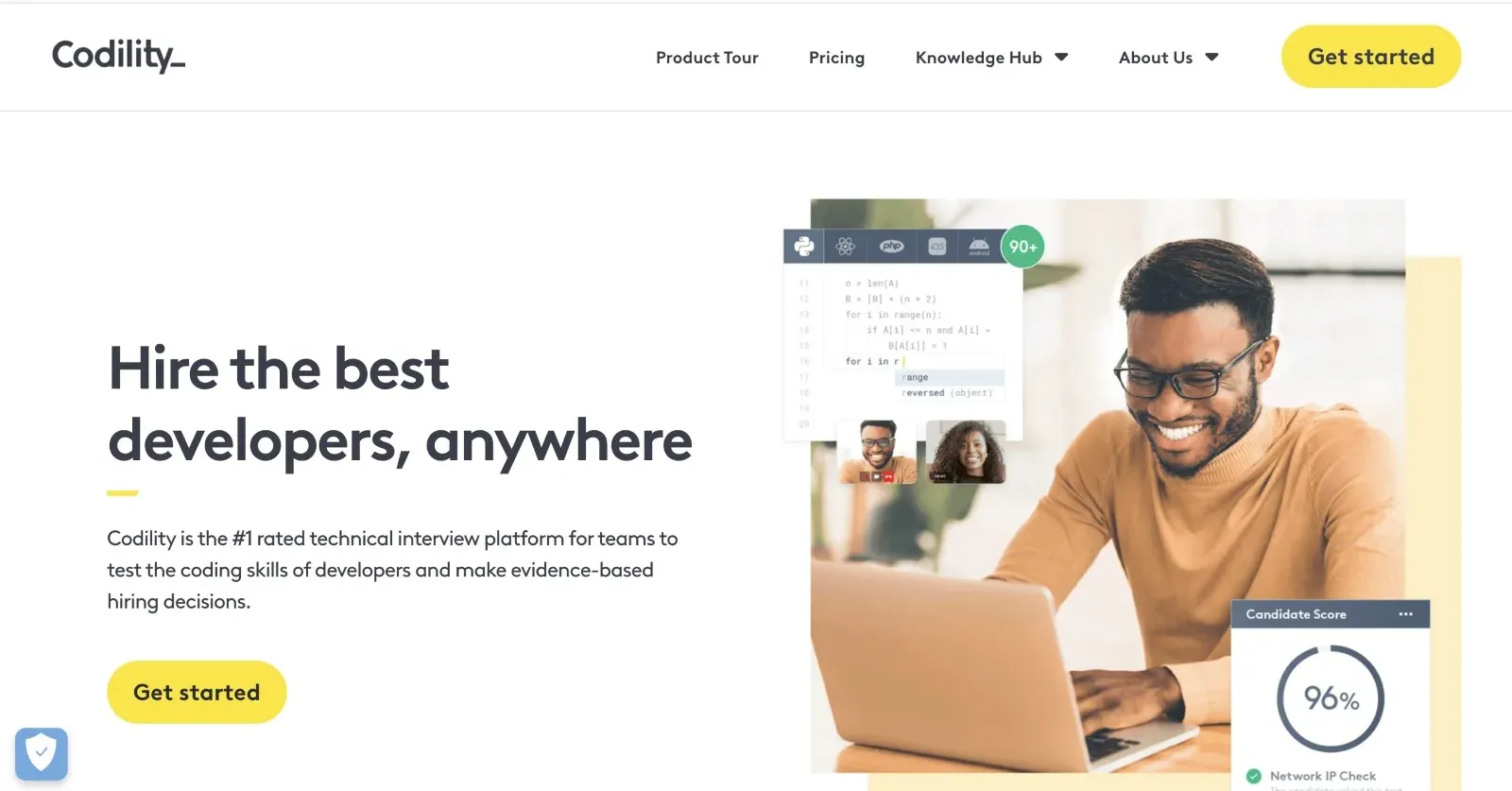 Founded in: 2009
Founded by: Greg Jakacki
Pros:
The Codility HR team uses CodeLive to perform virtual whiteboard interviews

On job boards, they conduct online coding challenges. Using this excellent interview code editor, you can assess a candidate's skills during a live interview
Cons:
The level of pre-existing tasks in the Codility dashboard is time-consuming. Along with the strict evaluation process, these pre-existing tasks can scare off eligible candidates

Codility's library lacks technological assessments
Clients: American Express, Intel, Unity, Zalando, Paypal
G2 Crowd Rating: 4.6 /5
Pricing: Not mentioned publicly.
7. HighMatch (Berke)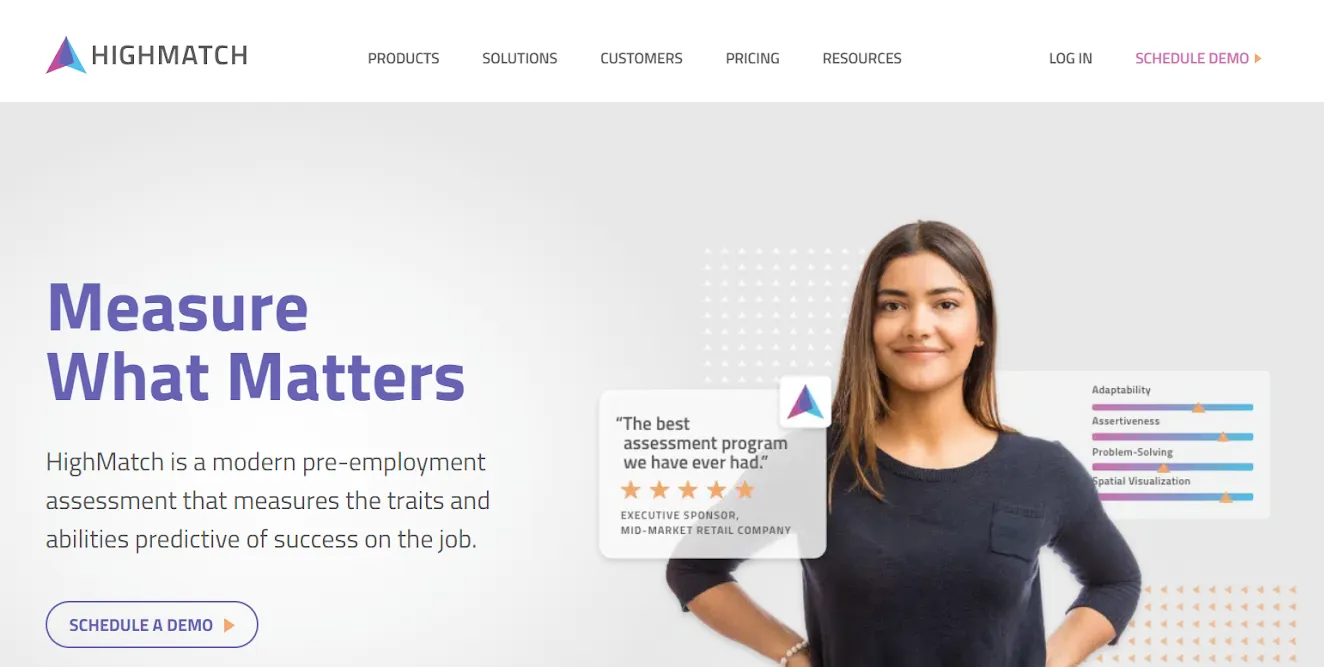 Founded in: 2005
Founded by: Kelly Land
Free Trial: Available
Pros:
This pre-hire assessment tool allows us to gather as much data as you want without extra amount

HighMatch's job interview guide and job fit reports are effective and show how the candidate will align with the position

Their personality tests are on the spot and help recruiters with effective hiring decision
Cons:
It does not integrate well with a few ATS, such as BambooHR

Their ready-to-use assessments can be mentally draining at times
Clients: JLL, Echo, Aveanna Healthcare, Comcast, range theory, Rackspace, Prudential, NVR
Pricing: $100/month
G2 Rating: 4.8/5 (56 reviews)
Soft Skills Pre-Hire Assessment Software
8. The Predictive Index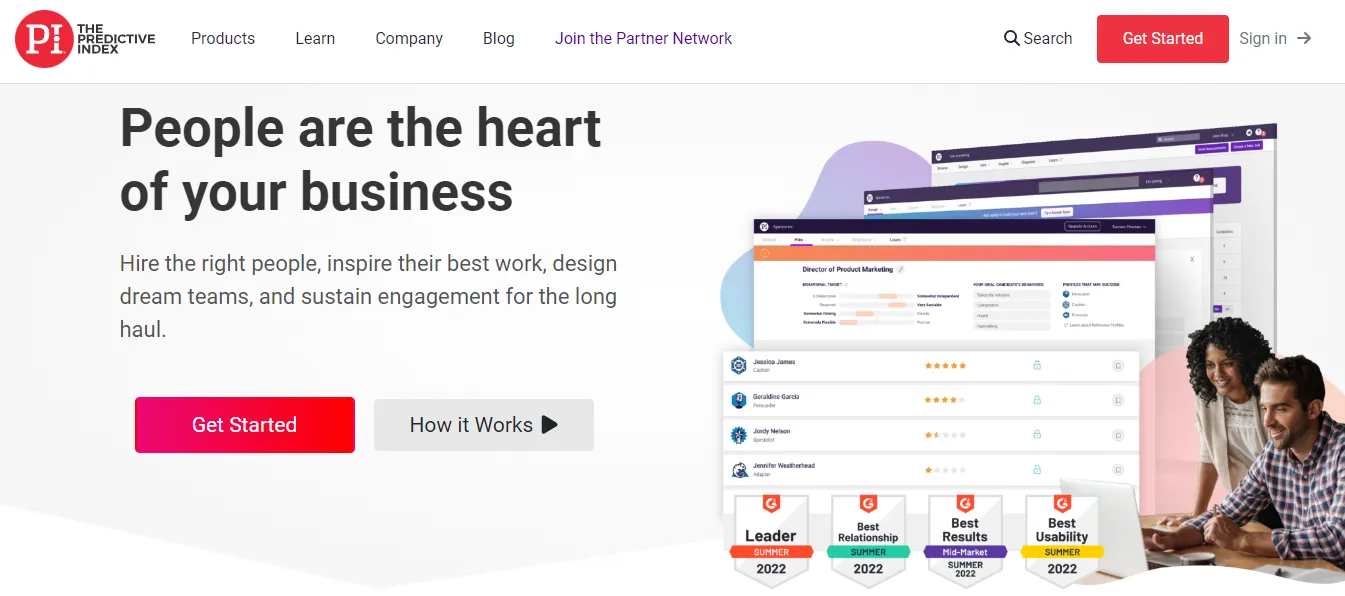 Founded in: 1940
Founded by: Arnold S. Daniels
Free Trial: No
Pros:
With the combination of psychometrics and technology, PI identifies specific actions that can improve employee experience by diagnosing it and identifying the specific causes

They offer assessments in more than 70 languages

This software provides one of the fastest behavioral assessments in just 6 minutes that delivers impactful insights into a candidate's behavior
Cons:
Predictive Index is a high-priced pre-hire assessment tool that can only be afforded by enterprises with a large budget

It has a complex and unintuitive user interface, making it difficult to navigate features such as links to assessments
Clients: DocuSign, AutoNation, 47, Formstack
Pricing: On request
G2 Rating: 4.7/5 (367 reviews)
9. eSkill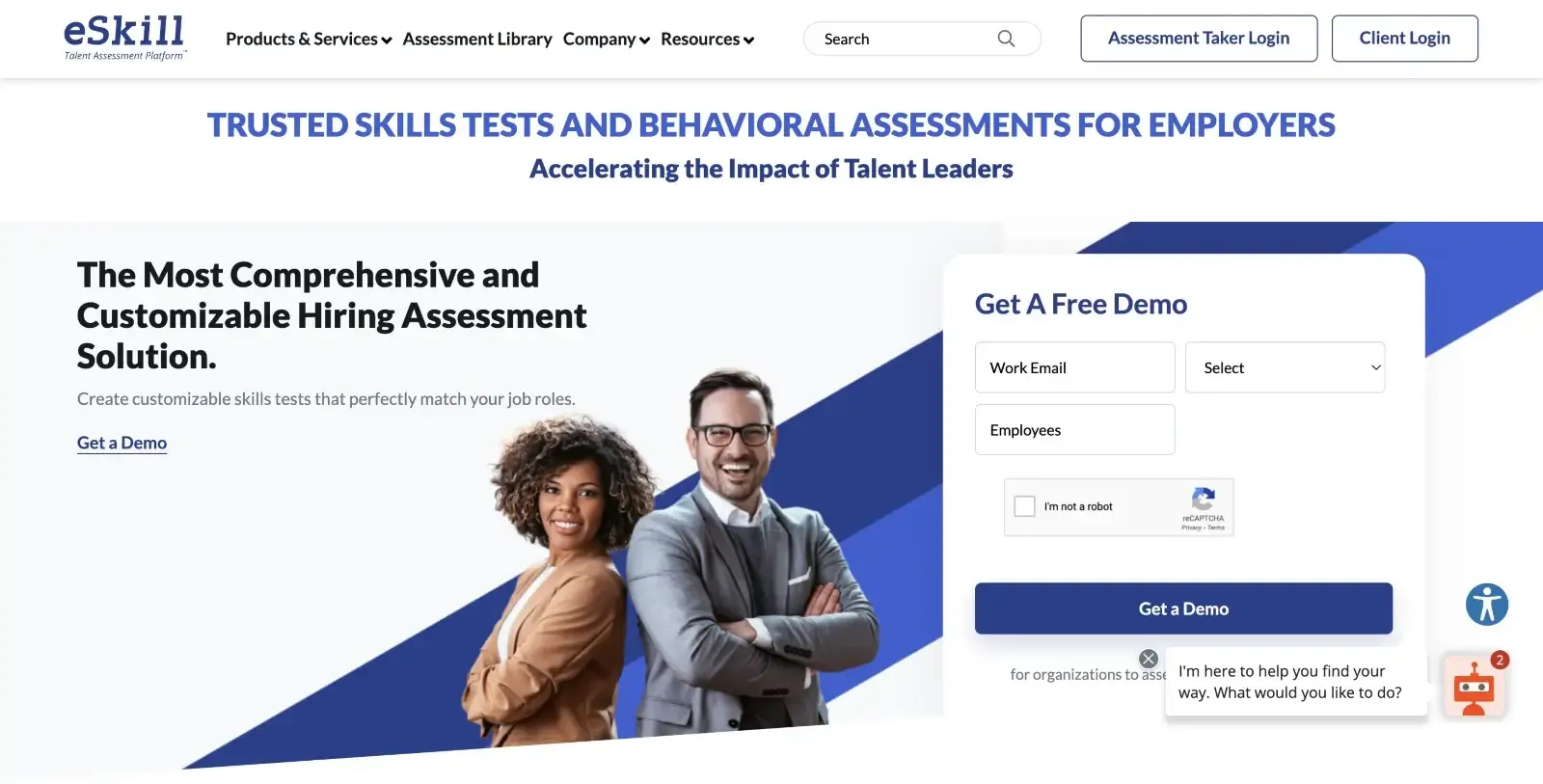 Founded in: 2003
Founded by: Gerrad Szatvanyi
Free Trial: Yes
Pros:
Their pre-made exams cover everything from general skills to job roles, and they pay attention to detail at every step

You can easily create a test using eSkill's preloaded questions. It also allows you to duplicate a test and customize it to meet the requirements of the ongoing recruitment

eSkill offers an extensive library of market- and industry-specific evaluations
Cons:
There is no test model payment. It is not possible to buy test packages that are monthly or smaller. Every year, the entire model, which is more than you need, must be acquired.

It is challenging to navigate the results page because of its confusing user interface.
Clients: Coca-Cola, Work Personnel, State of Colorado, Emory University, Pandora
Pricing: On request
G2 Rating: 4.5/5 (311 reviews)
10. HR Avatar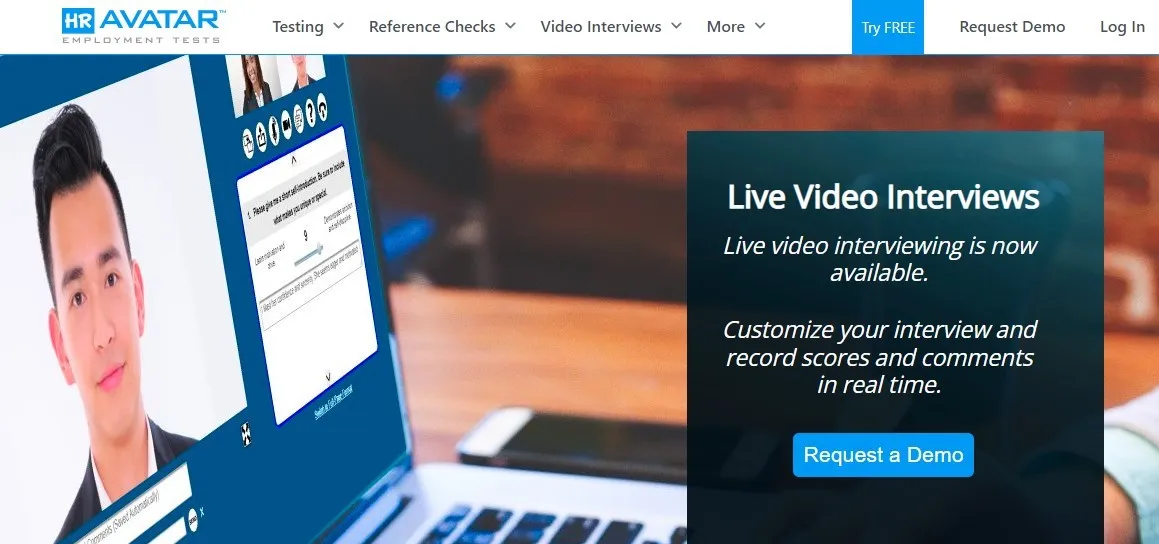 Founded in: 2009
Founded by: Mike Russell
Free Trial: Available
Pros:
It connects with ADP and automatically emails users as a reminder to complete the tests

The user is given the option to combine many assessments into a single status drop-down

The reports of this new hire assessment tool are easy, analytical, and self-explanatory
Cons:
Test Results/Reports take a lot of time and buffering before downloading

It does not allow the user to set a date and time
Clients: Digital media solution, Childhelp, Alto Shaam, Bison Transport, PCI not the big company
Pricing: $50/month
G2 Rating: 4.5/5 (67 reviews)
11. AssessFirst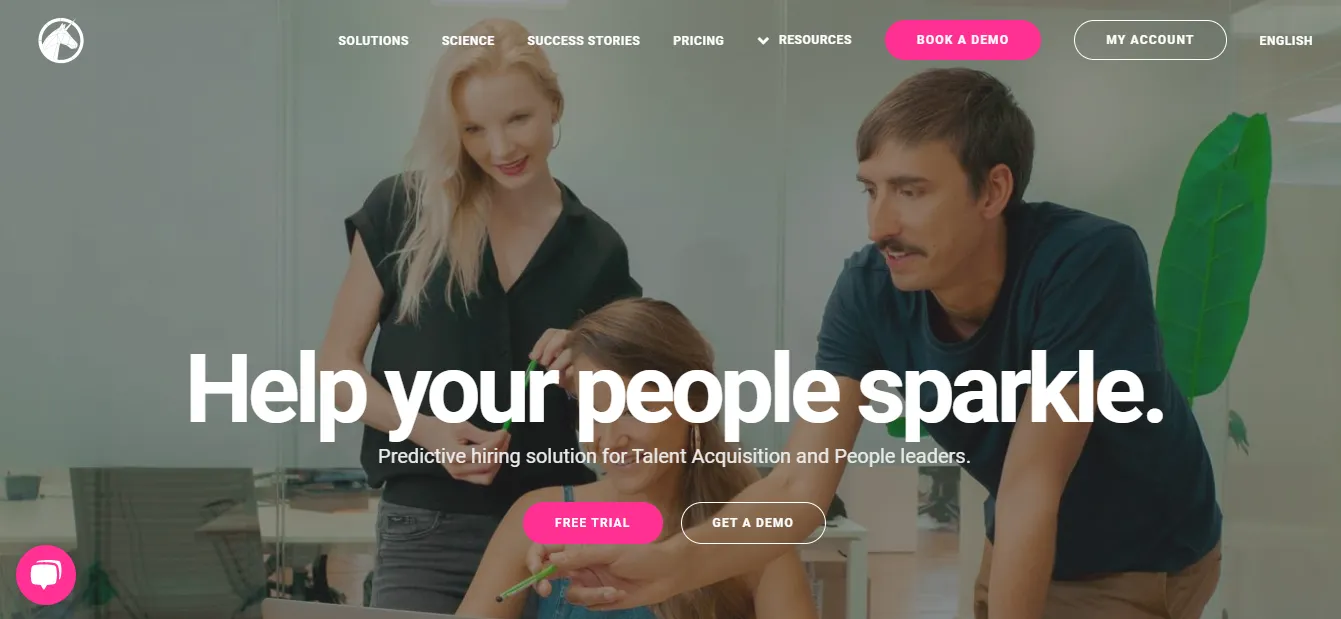 Founded in: 2002
Founded by: David Bernard
Free Trial: Available
Pros:
This new hire assessment tool allows you to create a predictive model

It is possible to create and edit campaigns within the tool

Their Shape, Drive, and Brain matrix provide detailed insights into the candidate
Cons:
The assessments are quite longer

The tool is costly for startups and SMEs
Clients: Puma, Coca-Cola, Westfield, Publicis Group, Toyota
Pricing: £190.00 /month
G2 Rating: 4.9/5 (25 reviews)
12. McQuaig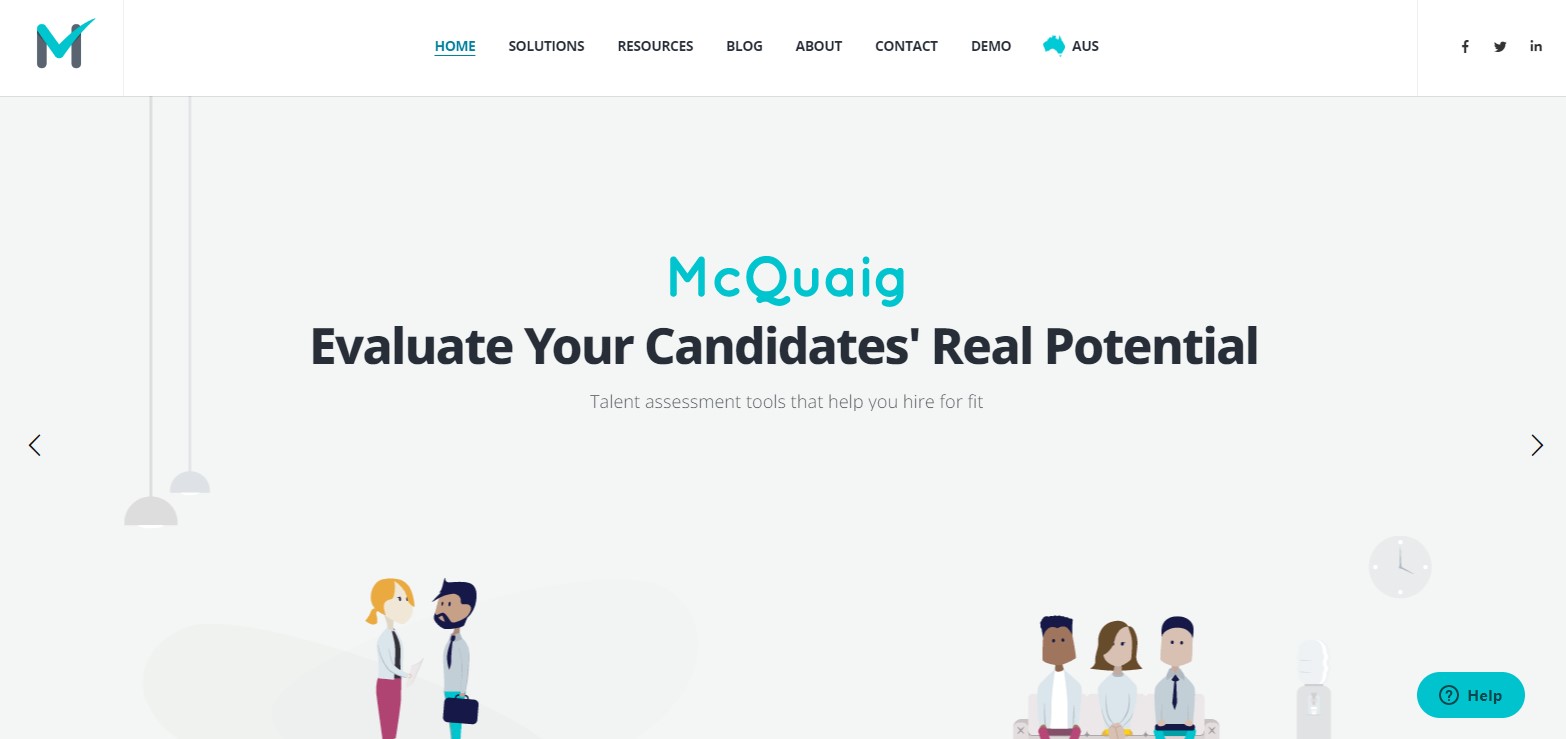 Founded in: 1966
Founded by: Jack H. McQuaig
Free Trial: Available
Pros:
McQuaig is user-friendly and easy to navigate

Their feedback and comparison reports are extremely helpful during the recruitment

Their customer service team is of great help and particularly with their customers
Cons:
The user has to spend extra credits to avail features like a self-development survey

The tool sends a lot of unnecessary emails spamming the inbox
Clients: Fastsigns, Scotia Bank, University of San Deigo, Xavidxchange
Pricing: $129/use
G2 Rating: 3.5/5 (1 review)
13. Harver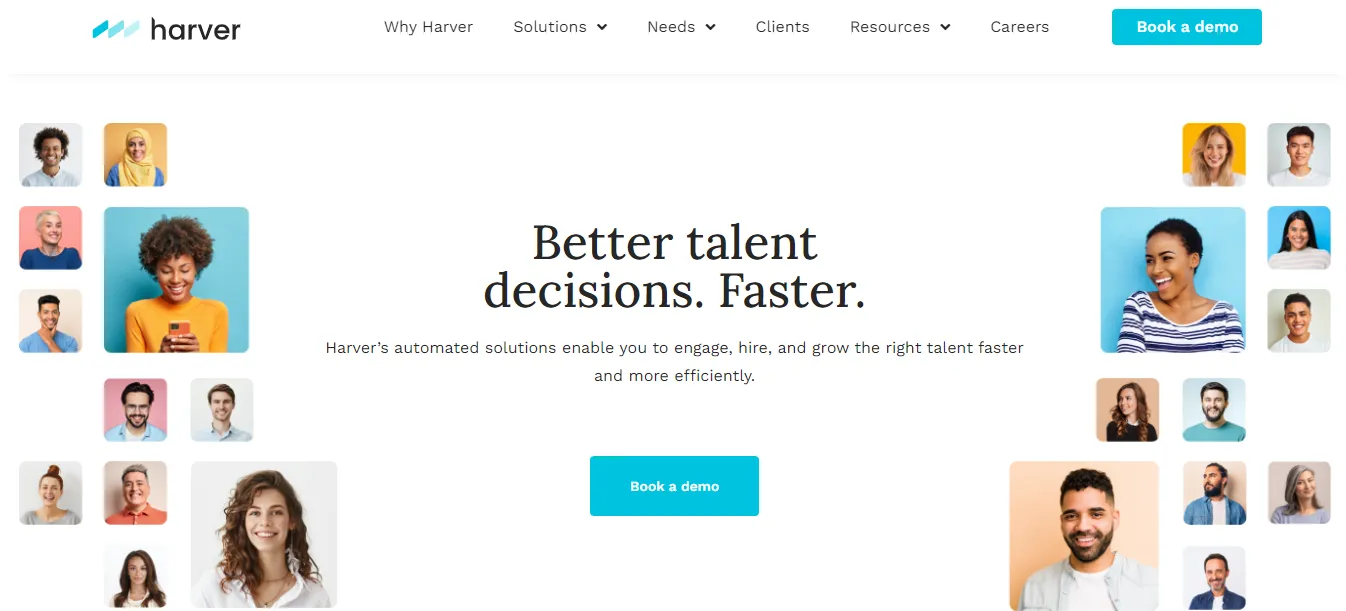 Founded in: 2013
Founded by: Barend Raaff
Free Trial: Available
Pros:
It can work in a significantly less internet bandwidth

Harver's reports are detail-oriented and accurate. They allow the recruiter to see the true sense of what previous and current references think about the candidate

When a piece of specific information is missed, the system correctly highlights it and directs the user to the first error message. This feature makes it very simple to fill out the forms

This pre-hire assessment tool incorporates well with other API
Cons:
Reports are delivered late

Admin UI is unintuitive for mobile usage

It takes a lot of work to preview the entire response set before submitting it. A lot of manual scrolling is required
Clients: Booking.com, HMS, Teleperformance, alorica
Pricing: Not disclosed publicly
G2 Rating: 4.6/5 (171 reviews)
14. Traitify

Founded in: 2011
Founded by: Dan Sines
Free Trial: Available
Pros:
It integrates seamlessly with user's recruiting platforms such as Greenhouse, Bamboo HR

Traitify's scores are insightful and need just one click to see its breakdown structure
Cons:
The UI is unintuitive and outdated
Clients: Kelly Services, Monster, Fiesta, Lowes, Public Storage
Pricing: Not mentioned publicly.
G2 Rating: 0 ratings
15. Wonderlic WonScore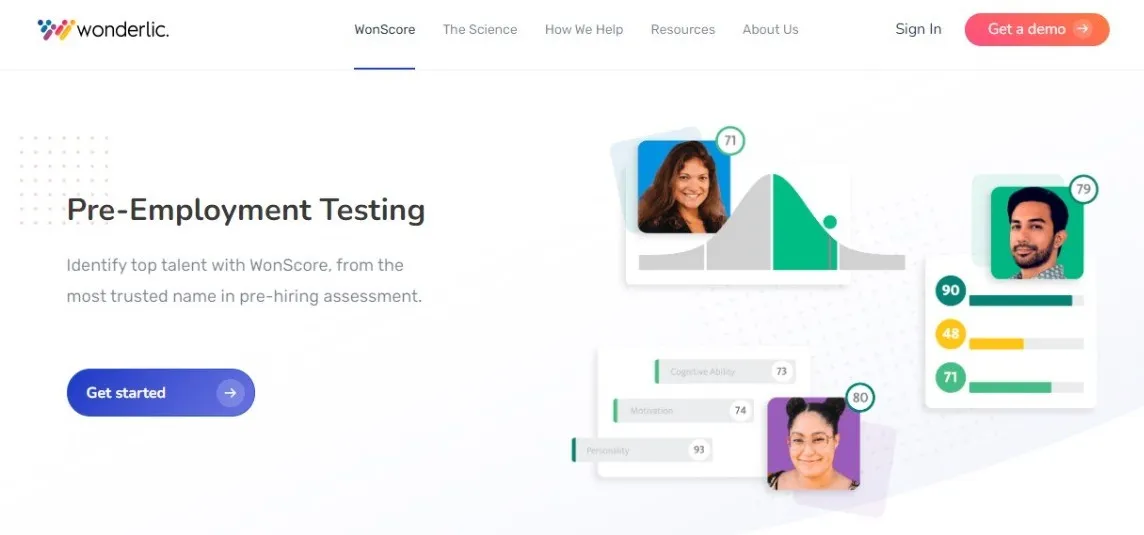 Founded in: 1937
Founded by: EF Wonderlic
Free Trial: Yes
Pros of Wonderlic:
It is best suited to businesses or recruitment service providers (RPOs) that recruit in positions such as retail, sales, customer service, contact centers, airline, and graduate

It provides a cognitive, motivational, and personality rating that can be critical for employers during the live interview process

It has a user-friendly UI/UX
Cons of Wonderlic:
Wonderlic does not provide any customer support service

This tool's assessments are lengthy and time-consuming
Clients: Aveda, Duracell, Subway, Sedgwick County, Champion Auto
Pricing: Not mentioned publicly.
G2 Rating: 4.3/5 (82 reviews)
16. TalentSorter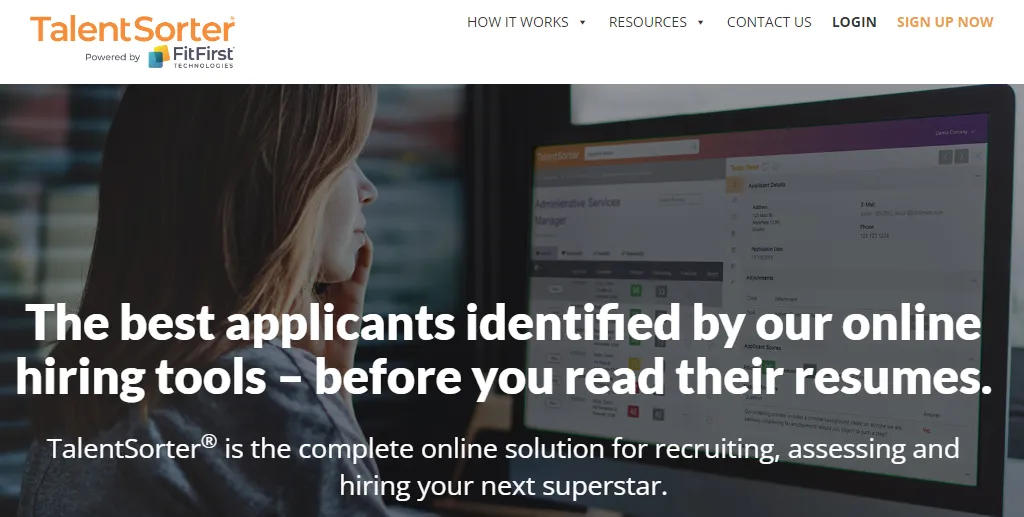 Founded in: 2012
Free Trial: Not available
Pros:
It offers a detailed breakdown of the applicant's score versus the benchmark you set for your best sales or the role you are looking for

The pricing structure is reasonable
Cons:
There are some limitations around assessment customization

TalentSorter does not have API built into it
Clients: City wide communications, Dynamic Workforce Solutions LLC, Hallmark Dental Laboratory, Nurses Union, Pace Industries
Pricing: $499/month
G2 Rating: Not Available
FAQs
What is a Pre-hire assessment?
Pre-hire assessments refer to any tool or process used to assess job candidates consistently. They range from "harder" tests like personality traits, language tests, and integrity tests, and more to "softer" exams like on-demand assessments, including math and programming skills tests.
What are the benefits of using pre-hire assessment tools?
Pre-hire assessment benefits recruiters in many ways, one of the most prominent being finding candidates who will fit in well with their company. These talent evaluations logically predict a candidate's job effectiveness and retainability. Statistics and reports support all the results.