TestGorilla offers assessment tools to screen candidates to make better hiring decisions. If you have been using it, you already know that it has an extensive test library that includes cognitive ability tests, programming tests, software skill tests, personality tests, culture add tests, language tests, and role-specific tests.
Although TestGorilla is one of the popular online assessment tools, only 15% of candidates trust TestGorilla tests. It also has several drawbacks that make it a less popular choice compared to many other options available on the market today. Let's take a closer look at some of these pressing issues:
It doesn't provide in-depth test results analysis.

The interface is confusing and difficult to use.

TestGorilla's customer service takes a fair amount of time to respond.

The platform also lacks features that other testing platforms offer, such as creating custom test cases.
If you're looking for TestGorilla alternatives, there are a few options out there that delivers better features and functionalities. Here's a quick rundown of some notable TestGorilla alternatives.
Top TestGorilla Alternatives
1. iMocha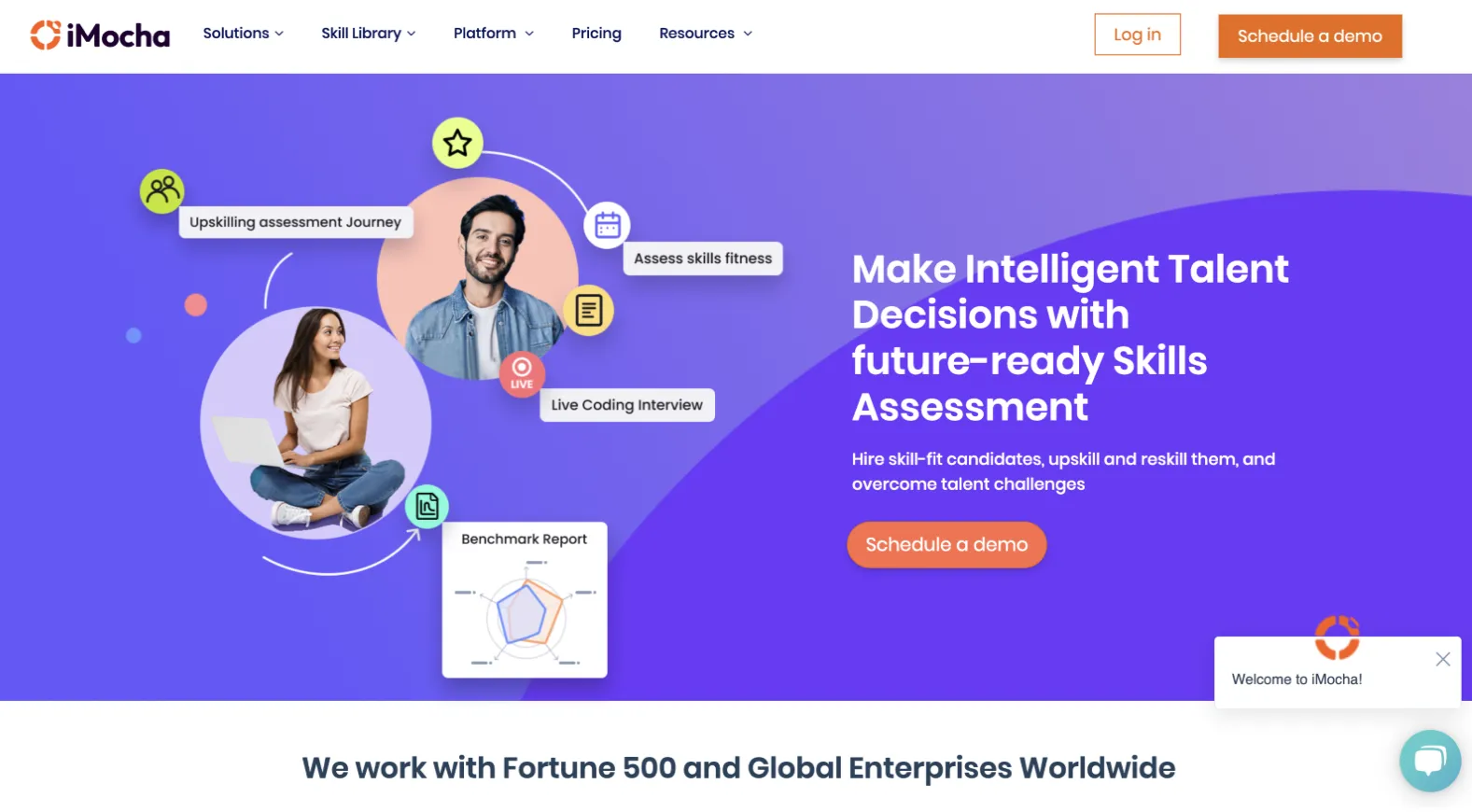 G2 Rating: 4.4/5 (185 reviews)
iMocha is one of the best TestGorilla alternatives. It is an AI-powered assessment tool that helps enterprises make talent management more robust and efficient. It has the world's most extensive talent library, with 2500+ skills encompassing coding, IT, and domains and 80+ Next-Gen skills that will play a vital part in tech giants' digital transformation.
The video interview questions allow you to connect remotely with the candidate and evaluate crucial skills before the final interview. It also offers an AI-enabled and smart video proctoring suite which monitors the test environment by removing any possibility of cheating techniques. Smart proctoring leverages candidates' camera and microphone feed from individuals to auto-investigate exams. Whereas AI-enabled proctoring verifies IP addresses to ensure candidates take the exam from the same device and location where they got the assessment invitation.
This TestGorilla competitor has a user-friendly recruitment analytics dashboard that provides actionable information for evaluating candidates and recruiter performance. Using the analytics functionality, you can also evaluate your applicant pipeline, measure test performance, and examine invitation data.
Perks:
It offers a simple UI/UX for a comfortable evaluation experience.

This AI-powered employment assessment software provides cutting-edge solutions such as

AI-LogicBox

, whiteboard simulators, and code pairs, to mention a few.

iMocha, unlike TestGorilla, offers weekly analytics emails that highlight assessment metrics such as top-performing tests, candidate comments, candidate invitations, and candidate information.

With the help of crucial insights provided through

iMocha reports

, you can track, measure, and improve your hiring procedures.

Every question is picked randomly from the question bank, which contains hundreds of questions. Furthermore, the responses are randomized to reduce the possibility of cheating during bulk testing.

Hiring managers and recruiters can directly engage job-ready individuals by utilizing iMocha's Remote Recruitment, Lateral Hiring,

Diversity Hiring

, Campus Recruitment, and other innovative features.
Free trial: Available
Comparison of iMocha and TestGorilla Feature

| | | |
| --- | --- | --- |
| Features | TestGorilla | iMocha |
| Live Coding Interview | ✖ | ✓ |
| Communication Skills - AI-EnglishPro, AI-Speaking, AI-Writing | ✖ | ✓ |
| AI-Logic box to evaluate coding skill language | ✖ | ✓ |
| The World's largest skill library, with over 2000+ skill assessments | ✖ | ✓ |
| Question level Time violation | ✖ | ✓ |
| ATS integration | ✓ | ✓ |
| Video Question Analysis | ✖ | ✓ |
| API | ✓ | ✓ |
| Video Proctoring with analysis | ✖ | ✓ |
2. eSkill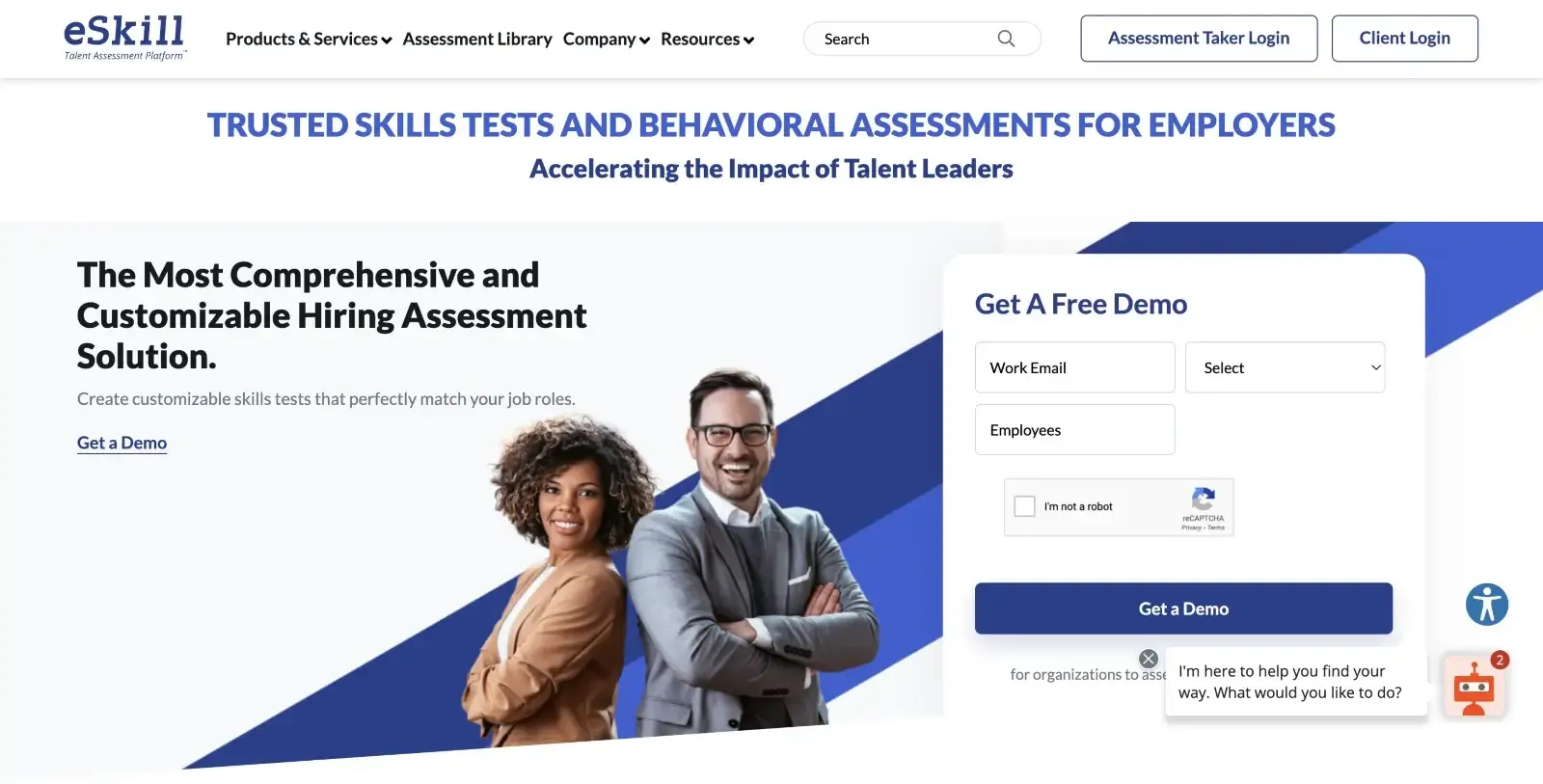 G2 Rating: 4.5/5 (312 reviews)
The next TestGorilla alternative in our list is eSkill. It is a skills assessment program that equips recruiting teams with unbiased and suitable assessments. Using this application, you can enhance your hiring outcomes by building more robust prospect pools and making more informed hiring decisions. It also includes video response questions in skills assessments to obtain detailed responses to standard questions and to assess applicants' verbal communication and problem-solving ability.
Perks:
eSkill's ability to design Pre-Employment Assessments allows you to develop accurate exams that match your employment responsibilities properly.

It allows you to design bespoke simulations that match your work environment and job-related activities so you can assess how candidates perform.

Using Behavioral Assessments, you can assess if candidates are Job-Fit—the psychological and behavioral characteristics required for success in a position or not.
Free Trial: Available
3. Codility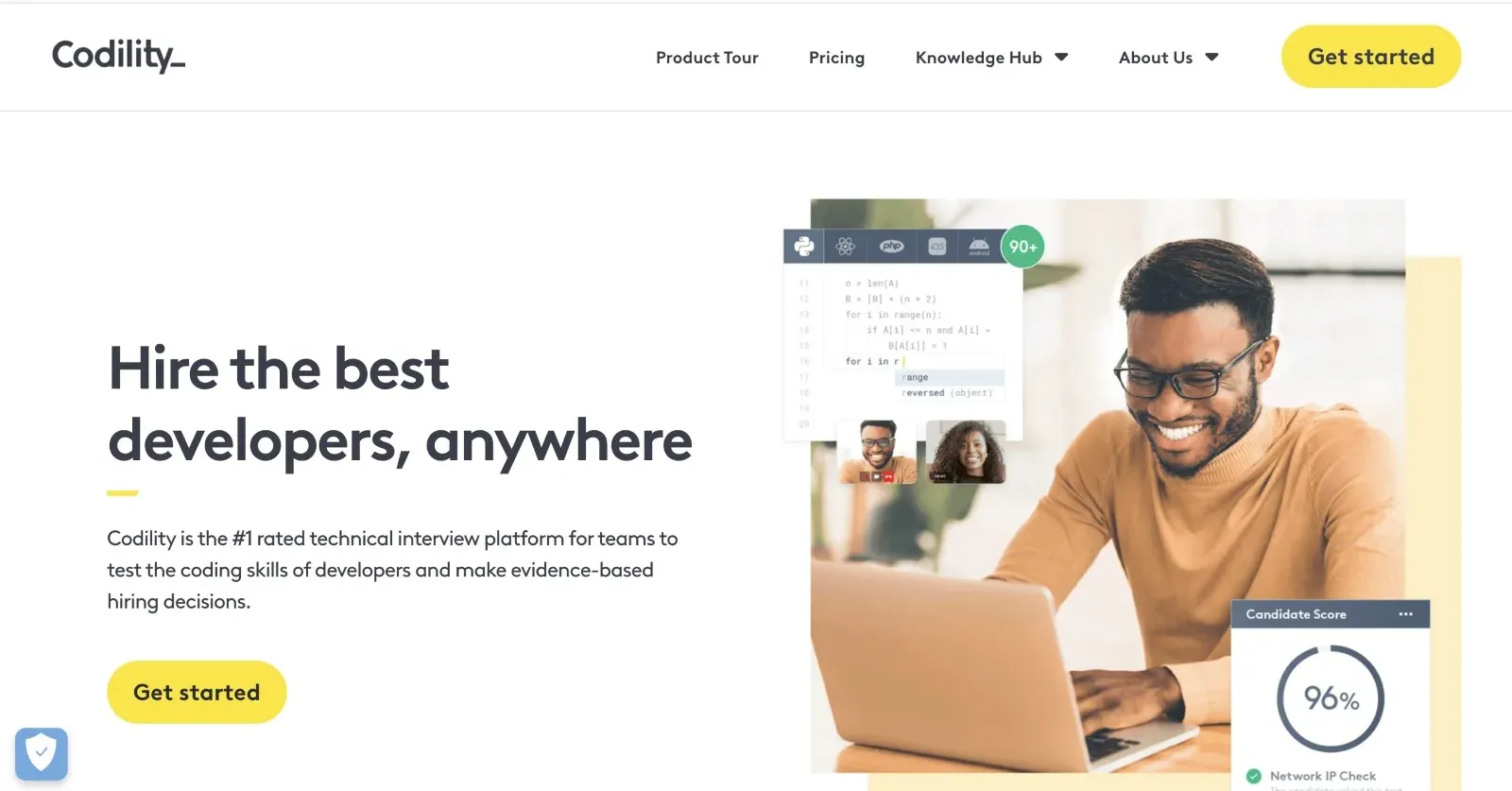 G2 Rating: 4.6/5 (333 reviews)
Another TestGorilla alternative in our list is Codility. It is an enterprise-focused screening platform. It simplifies smart recruiting decisions without wasting time of engineers or recruiters. Candidates are evaluated on an equal basis based on the technical capabilities that are important, allowing engineering leaders to build high-performing, diverse teams that accelerate development.
Perks:
Codility is best suited for enterprise-level organizations looking for comprehensive compliance solutions and a user-friendly approach for less tech-savvy hiring teams.

It provides hiring managers with high-quality insights into the talents of their prospects.

Codility allows hiring managers to organize remote live coding sessions with their prospects, which are all recorded and shareable immediately by API or direct interaction with your ATS.
Free Trial: Available
4. CodeSignal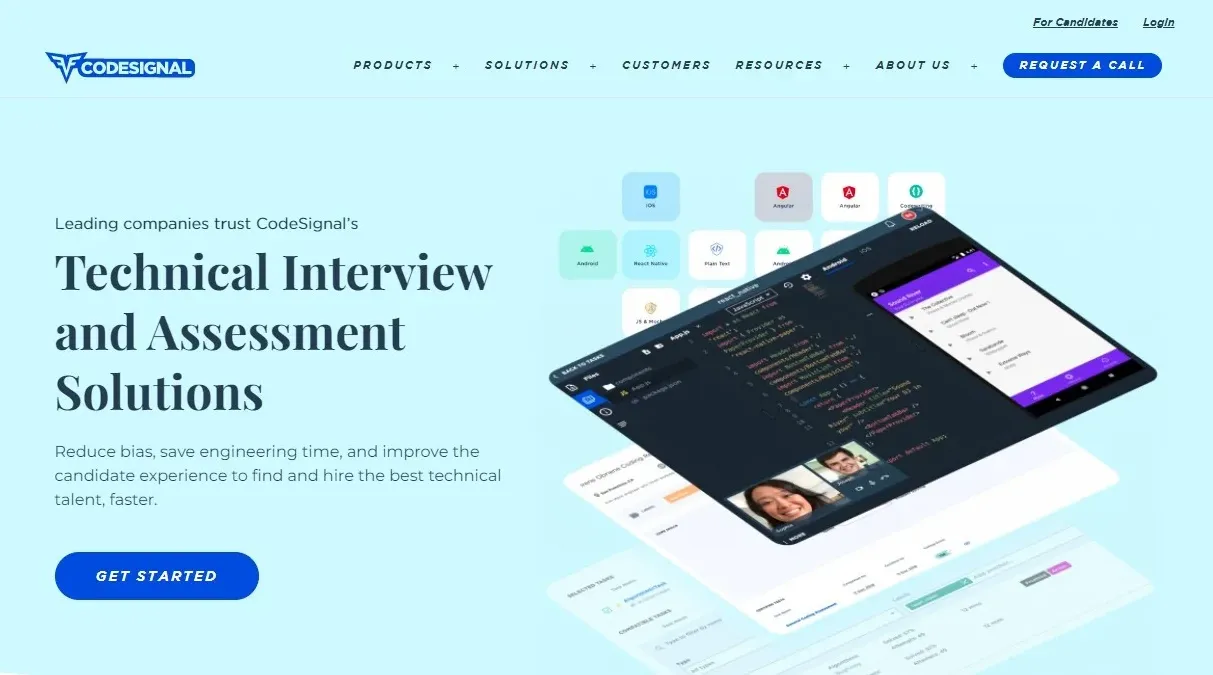 G2 Rating: 4.5/5 (586 reviews)
CodeSignal is the top pre-employment testing program for technical recruiting, employing cutting-edge Coding Scores and real-world coding environments. CodeSignal's Certify, Test, and Interview solutions can be utilized by businesses of all sizes to evaluate developer candidates at every stage of the hiring process.
Perks:
Codesignal's user interface is simple to use.

The reporting feature offers a comprehensive breakdown of implementation, speed, and problem-solving abilities.

The IDE for programming has good IntelliSense making it easy to code, and autocomplete helps increase your speed, making it one of the best TestGorilla alternatives.
Free Trial: Available
5. HackerRank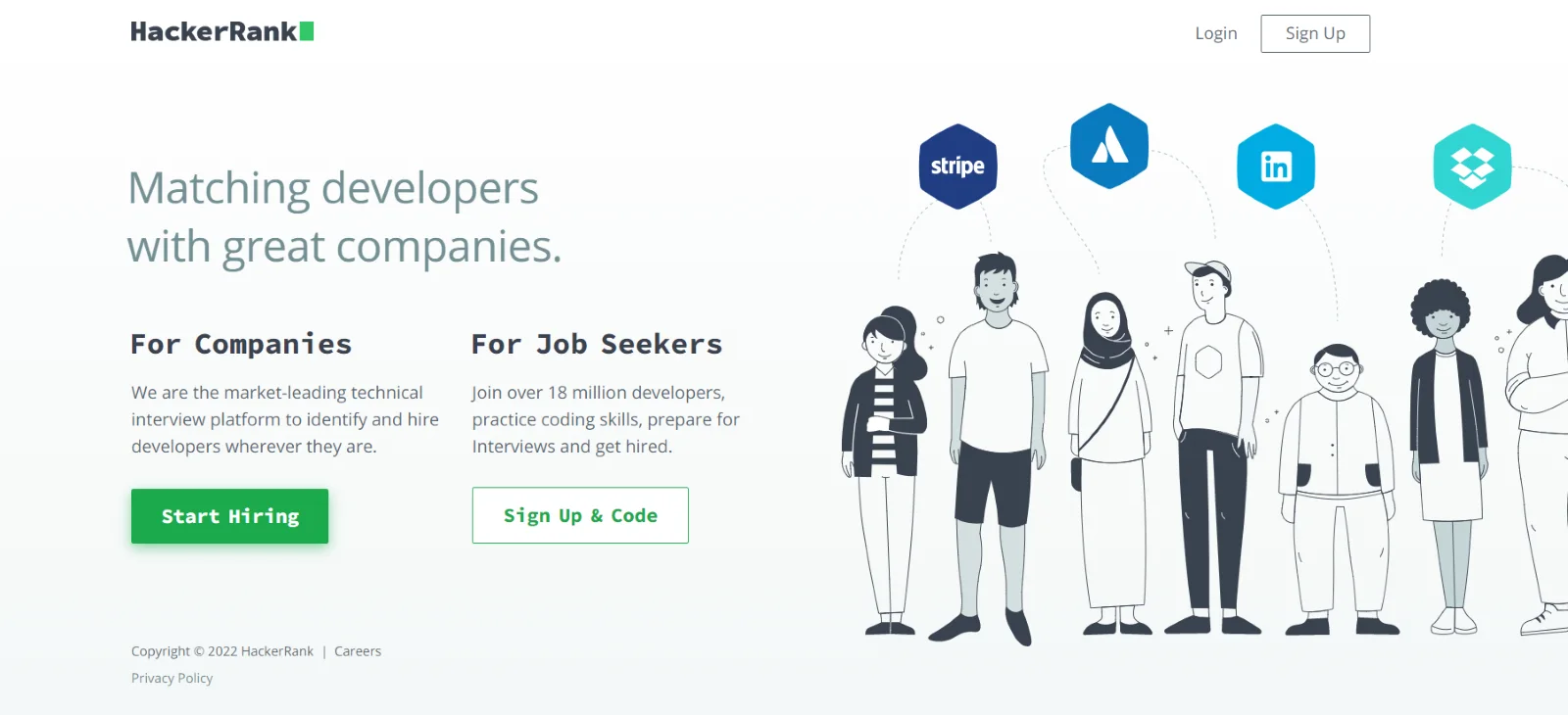 G2 Rating: 4.5/4 (272 reviews)
HackerRank is a developer skills platform that assists organizations in evaluating software engineers' expertise. It enables tech recruiters and hiring managers to objectively evaluate talent during every level of the recruitment process, allowing firms to acquire qualified workers easily.
Perks:
This TestGorilla competitor features an extensive skill library that includes a wide range of skill sets, allowing you to design tests on multiple tech stacks.

It enables you to screen out unqualified prospects efficiently and save time wasted by developers in interviewing poor candidates.

It allows you to assess candidates' technical skills early in the process.
Free Trial: Available
6. CodeAid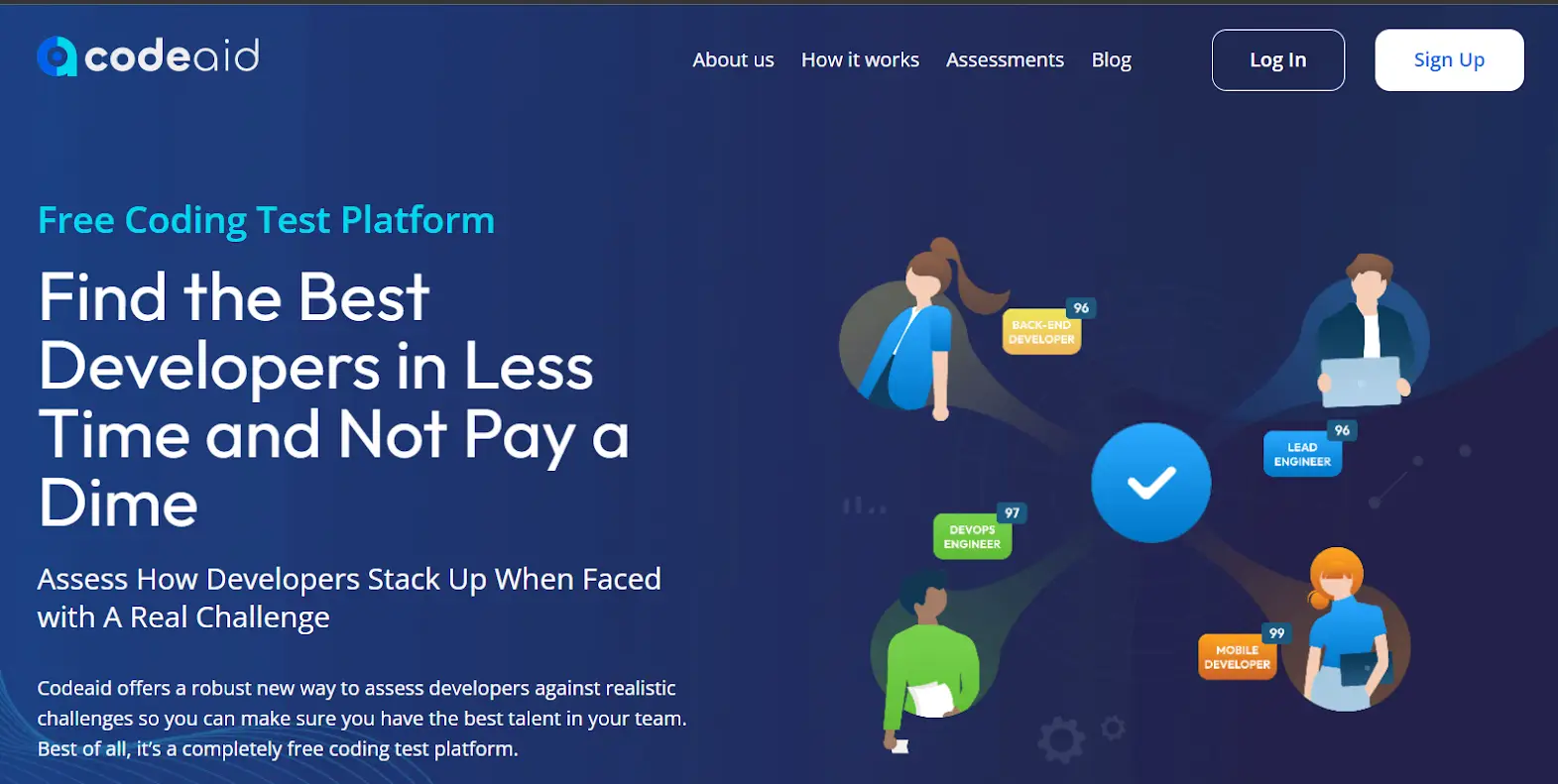 G2 Rating: 4.8/5 (2 reviews)
CodeAid assists recruiters and businesses in hiring the top software engineers by putting them through rigorous, job-based projects that demonstrate their on-the-job talents. This platform enables you to assess applicants by evaluating specific languages or frameworks, coding foundations, and application design ideas and providing automated test scoring system and the longest test duration on the market.
Perks:
The test scoring system is completely automated and can verify code output as well as analyze and grade test visual output using built-in tools.

The automation of code and visual outputs minimize the requirement for technical professionals to be involved in the marking process.

The program offers a fully multi-tenant solution, allowing users to manage several organizations and teams from a single account.
Free Trial: Not Available
7. HackerEarth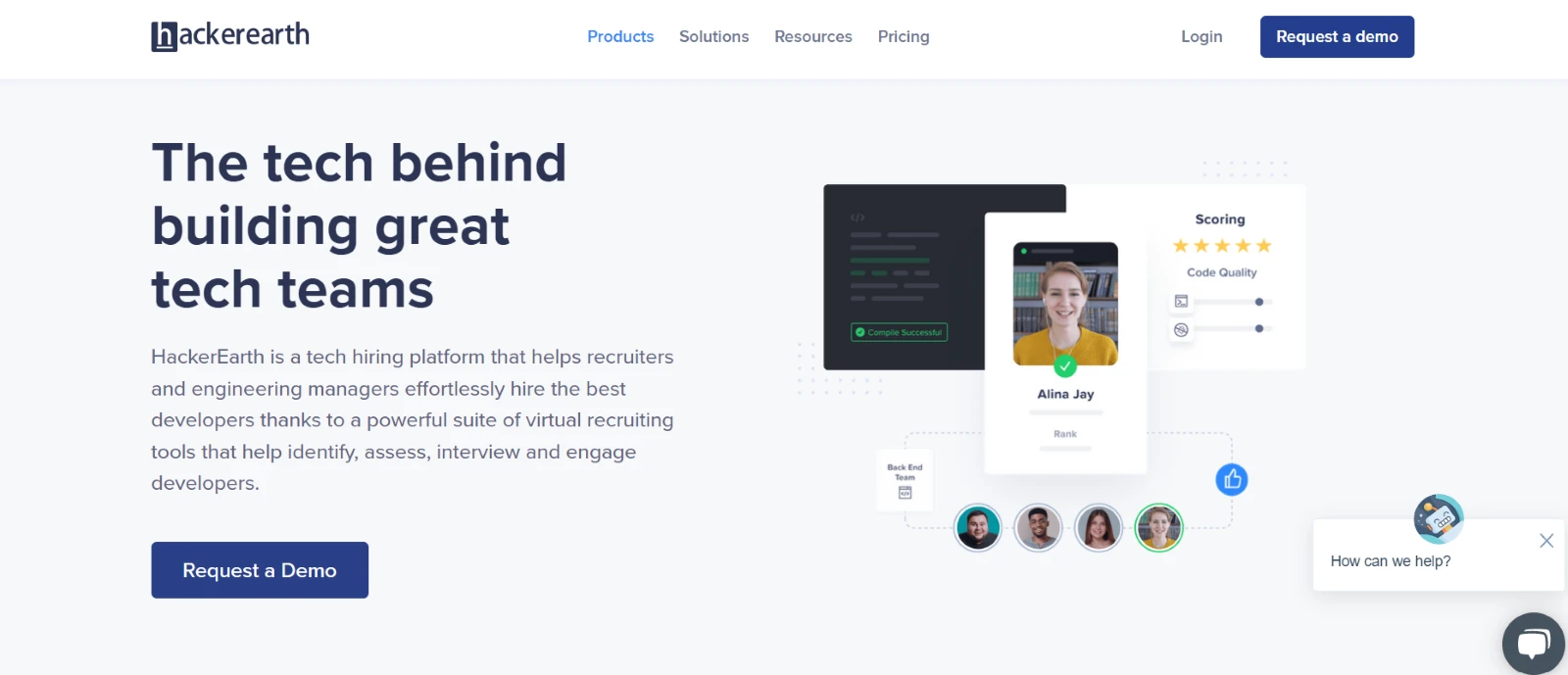 G2 Rating: 4.5/5 (126 reviews)
HackerEarth is an AI-powered developer assessment tool that allows you to measure developer's skills through online coding assessments accurately. It employs a skill-based assessment technique, allowing firms to design standardized examinations based on multiple abilities and then properly quantify the developer's performance on those skills.
Perks:
It enables you to customize your own assessments to meet your needs and the time range in which you want to administer the test, which helps you filter out applicants faster by limiting the passing numbers.

It provides effective and simple reporting and tracking features.

HackerEarth's UI and UX are user-friendly.
Free Trial: Available
8. Mettl

G2 Rating: 4,4/5 (377 reviews)
Mercer Mettl is another TestGorilla alternative to consider. It is an all-in-one online assessment platform provider that helps you expand your talent management procedures effortlessly and efficiently. This talent assessment tool examines personality, aptitude, communication, and job-specific abilities.
Furthermore, it provides a collection of 200+ ready-to-use talent tests and question banks for 800+ talents across 25+ sectors and most job types to assist firms in hiring and developing the appropriate individuals.
Perks:
Mettl's anti-cheating solutions provide a safe and fair test-taking experience for high-stakes assessments.

It integrates smoothly with top ATS systems for ease of usage.

The entire interface is well-designed, making it simple to use even for first-time users.
Free Trial: Available
9. The Hire Talent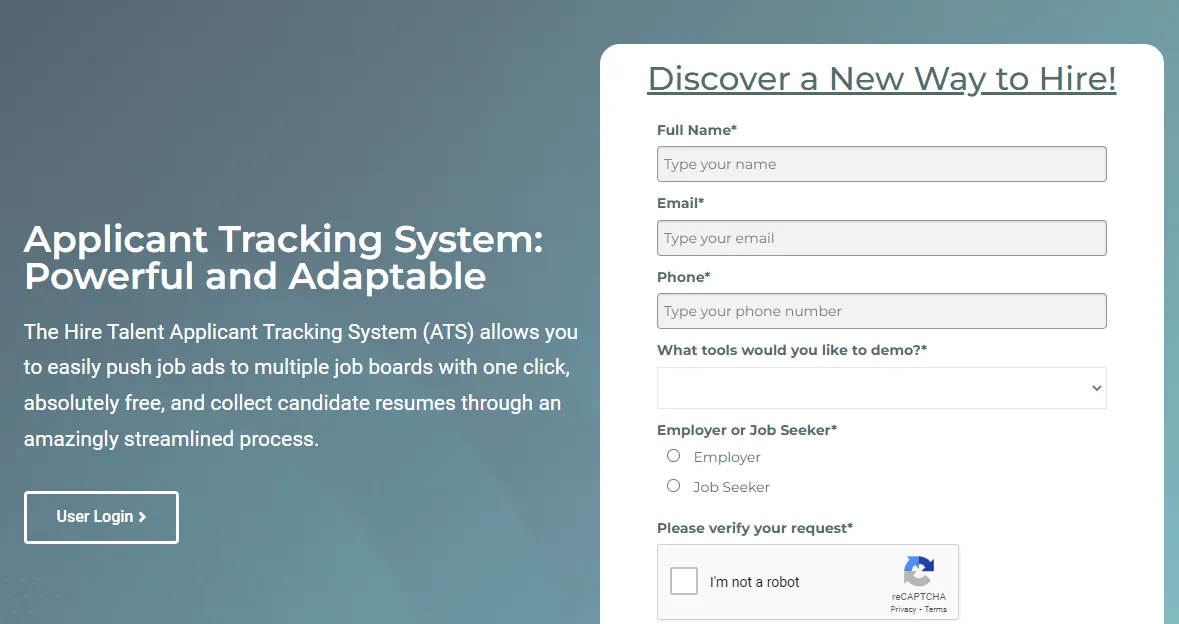 G2 Rating: 0/5 (0 reviews)
The Hire Talent is a pre-employment assessment tool that focuses on behavioral and competency assessments to evaluate potential new hires. Using this platform, you can easily build performance-based job descriptions, candidate scorecards to keep hiring managers focused on the traits required for success, and compelling job adverts to recruit A-players.
Perks:
Utilizing this tool's Performance Hiring System, you can manage your talent pools, accelerate the recruiting process, and better assess prospects.

Hire talent offers exceptional applicant insights, which is why it is regarded as one of the best TestGorilla alternatives.

Using the Reference Hunter feature, you can design custom templates and reference inquiries, schedule automatic reference requests, and get feedback from references.
Free Trial: Available
10. Hire Success

G2 Rating: 4.3/5 (3 reviews)
Hire success is another top TestGorilla alternative because it assists you in streamlining your hiring process, centralizing communication, and defining suitable prospects. By utilizing pre-employment assessment reports, you can easily compare the results to your baseline and one another and quickly identify top talent.
Perks:
This tool offers pre-designed tests and the ability to create customized tests to help you gather data only in areas suited to the job you're posting online.

Hire success provides you with the most relevant data and makes it simple to compare prospects within a hiring campaign.

The Hire Success Employment Testing System automatically identifies top candidates, flagging those most closely fit your criteria.
Free Trial: Available
11. CodeSubmit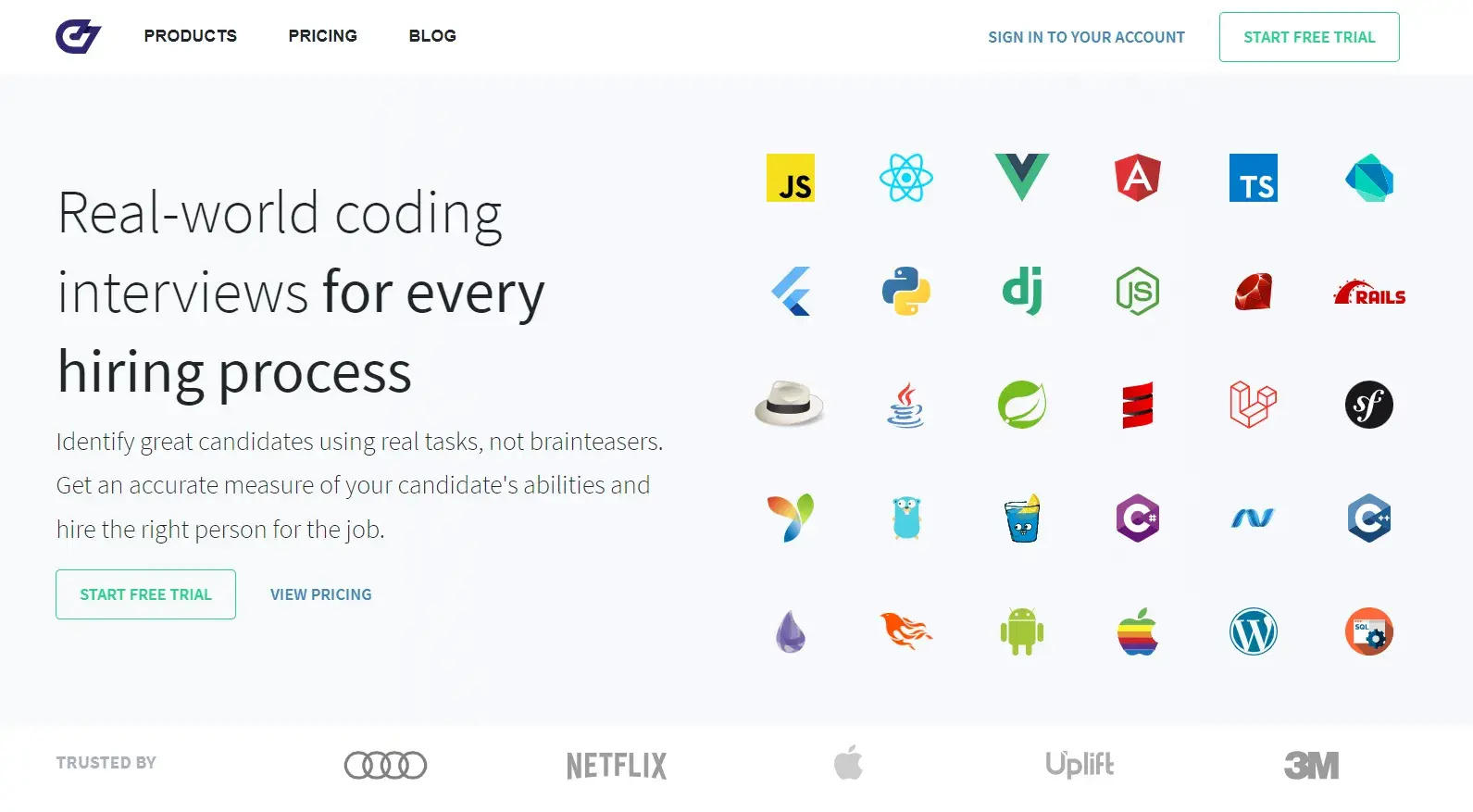 G2 Rating: 4.9/5 (11 reviews)
CodeSubmit is one of the best TestGorilla alternatives, as it is a flexible and candidate-friendly technical assessment solution. It provides flexible subscriptions that are suitable for teams of various sizes. At CodeSubmit, the emphasis is primarily on take-home coding tasks. It has the finest technical assessment approach for both applicants and recruiting teams in response to the increasing need for a high-quality screening tool.
Perks:
All subscriptions include access to a library of over 200 unique challenges customizable to over 50+ of the most popular languages and frameworks.

It easily integrates with the most popular applicant tracking systems.

It offers exceptional customer support.
Free Trial: Available
12. Coderbyte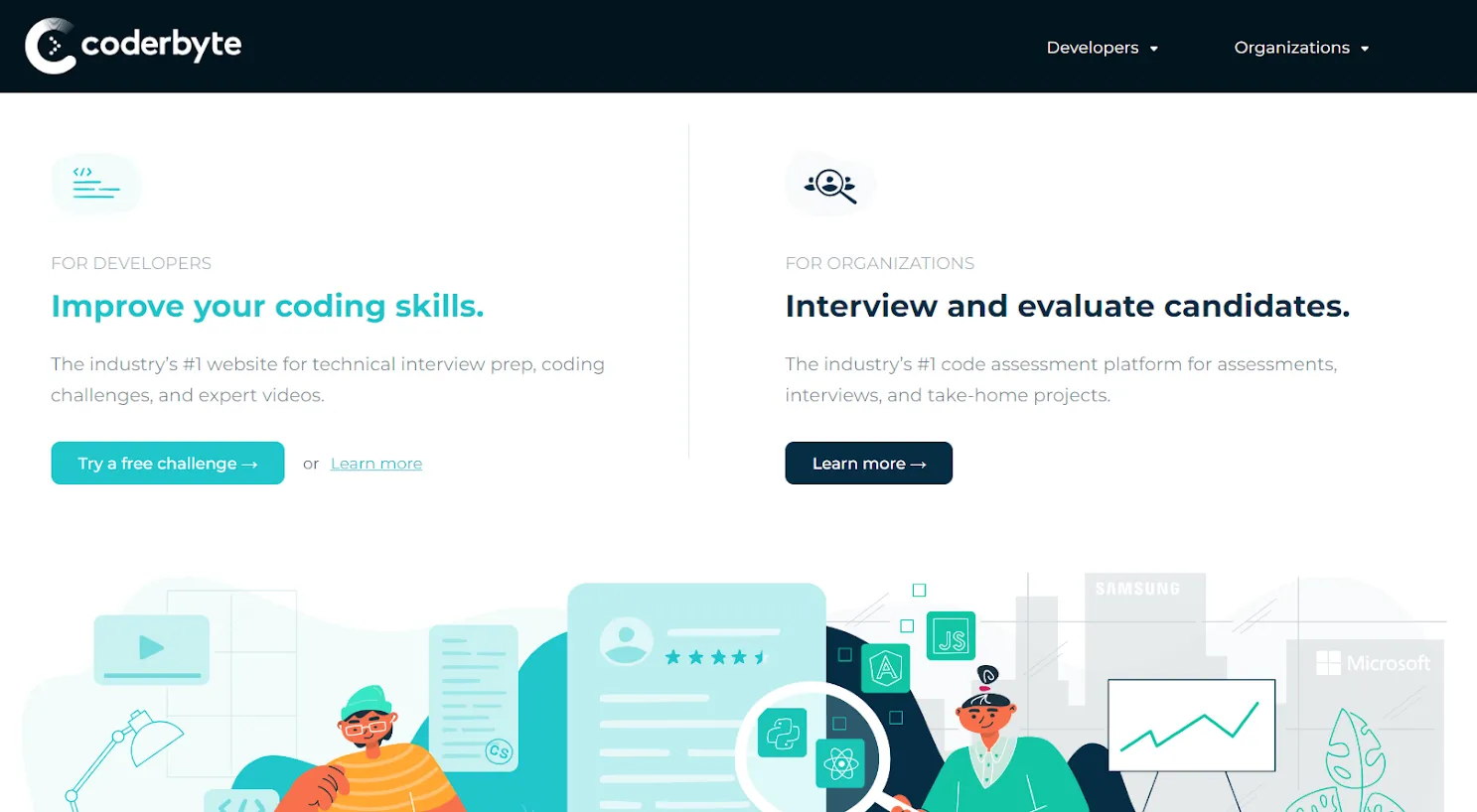 G2 Rating: 4.4/5 (213 reviews)
Coderbyte offers many of the essential capabilities as TestGorilla but in a more contemporary, self-service platform with simple pricing and a guaranteed high-quality candidate experience. It features the same, if not better, real-world challenge library and feature set for code screening as before, but it takes a more creative approach to cheating detection.
Perks:
It enables you to understand more about how applicants think and code and identify plagiarism more thoroughly than any other platform on the market.

The online editor works very well for most languages, including front-end frameworks.

Candidate reports from Coderbyte show you when and how frequently candidates leave the tab and how often and genuinely candidates use Google for cheating.
Free Trial: Available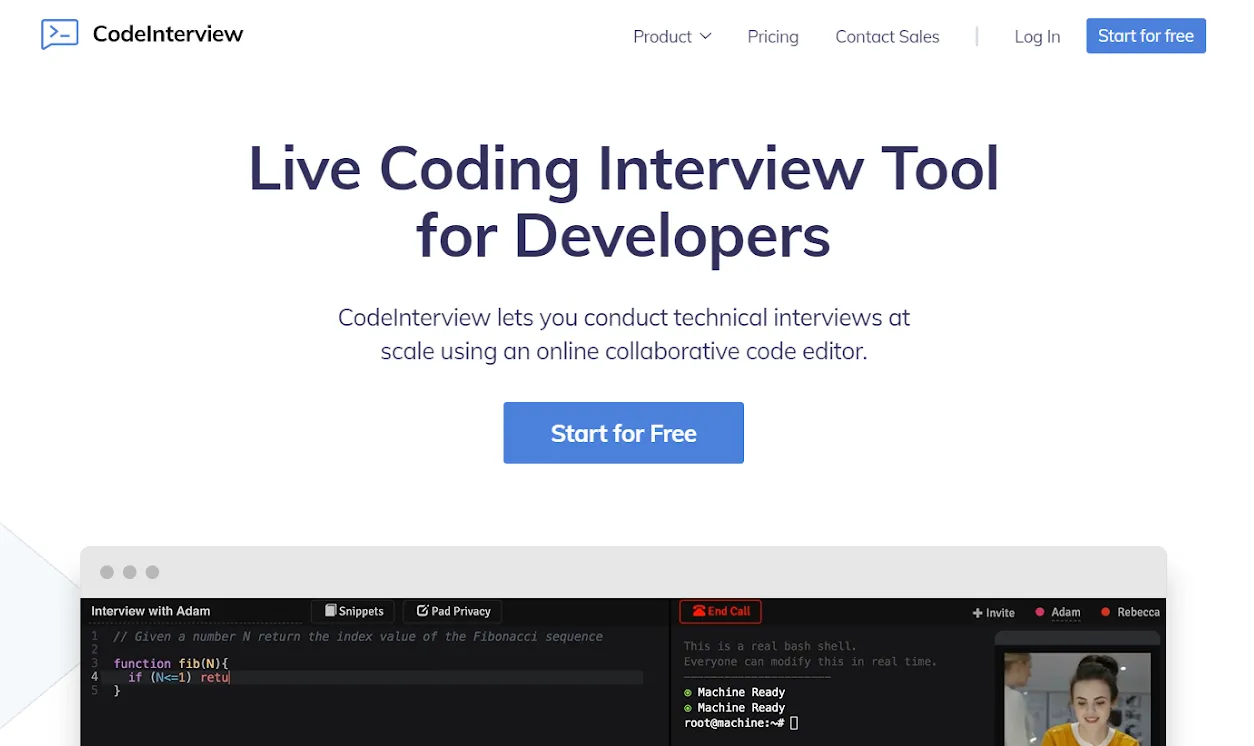 G2 Rating: 4.6/5 (28 reviews)
CodeInterview is a great TestGorilla alternative because it focuses on making it simple for engineering interviewers to initiate new sessions and engage with applicants. Its online editor supports approximately 25 languages. It also offers built-in audio/video functionality, as well as a code playback tool and other corporate features like SSO and team collaboration.
Perks:
CodeInterview is the top TestGorilla alternative because its dashboard is relatively easy to use.

It offers the option to replay the interview after its completion to review the candidate's thought process after the interview is over.

CodeInterview encourages consumer input and responds quickly to suggestions, frequently implementing modifications in real time.
Free Trial: Available
FAQs
What are the best Testgorilla alternatives?
There is no definitive answer to this question because it is dependent on individual choices and requirements. You can, however, use some of the top Testgorilla alternatives listed in this article to make an informed option.
Why is iMocha better than Testgorilla?
There are a few reasons why iMocha is better than Testgorilla:
iMocha offers a more comprehensive test suite that includes skill-fit and aptitude assessments.

iMocha's testing platform is more user-friendly and easier to use. iMocha provides better customer support and is more responsive to customer needs.

It assesses candidates' technical competencies using live and recorded interview assessments and many more features detailed in the article.