Triplebyte is a technical skills assessment solution that connects hiring teams with top engineers for suitable roles. The platform enables you to hire pre-vetted and interview-ready professionals automatically. Instead of reviewing inbound applications, manual sourcing, and cold outreach, you can now concentrate your hiring efforts on the best candidates who are ready for interview.
Triplebyte Features
Triplebyte is a technical talent hunt tool that assists recruiters and hiring teams to identify and engage with engineers from different backgrounds who have been tested for their engineering skills

It empowers the engineering teams to promote diversity by finding skilled engineers from diverse backgrounds

It has a database of more than 500K engineers, giving an easy access to top talent and data that you cannot find elsewhere

Saves 40h per hire with 2x faster time to hire and 4x pass rate to onsite

Syncs with ATS to track hiring goals and coordinate the hiring process, streamline workflows, measure success, and derive efficient outcomes
However, there are some Triplebyte alternatives that are not confined to just specific skill sets and roles. Considering that engineering is a broad term, hiring teams are always looking for matching skill sets. Enter iMocha, the powerhouse of technical skills assessment, niche role hiring, and the most promising Triplebyte competitor available today.
Let us look into the top 12 Triplebyte alternatives in 2022:
#1: iMocha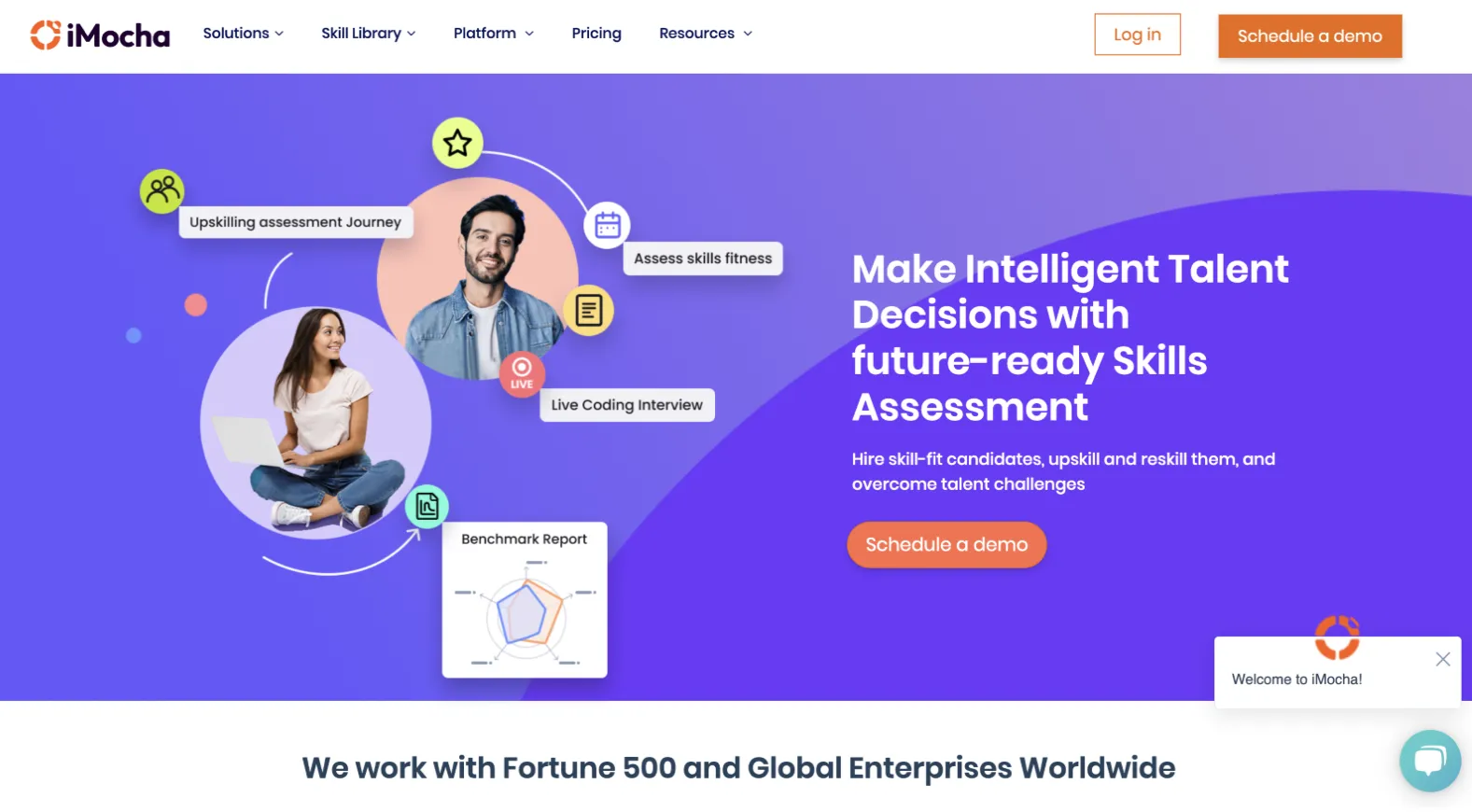 Founded: 2015
G2 Rating: 4.4 out of 5 stars (185 reviews)
iMocha is the best Triplebyte alternatives that helps enterprises in evaluating potential candidates before hiring. This AI-powered skills assessment platform offers skill-based talent analytics to assist organizations in making intelligent hiring decisions. Considering that the employment landscape is evolving rapidly, it is challenging to cope with the rising demands. However, with iMocha, you can not only hire the best talent but also develop the existing workforce through upskilling and reskilling programs.
This Triplebyte competitor has an extensive library of ready-to-use skills tests, which includes coding, business aptitude, language proficiency, cognitive abilities, ERP, domain skills, Next-Gen skills, and more. All assessments are created and validated by eligible subject matter experts. While iMocha has a vast skills library of more than 2500+ skills, users can customize the questions or even add their own questions for greater flexibility.
iMocha supports different types of questions, including fill in the blanks, multiple choice questions, audio-video questions, live coding, white-boarding, and more. In addition, iMocha helps businesses identify potential skills gaps and close them with talent development techniques. It assists organizations in identifying their needs on both individual as well as organizational level, to calculate ROI of learning programs.
Furthermore, iMocha also helps organizations in their hiring efforts – it is actively involved in Lateral, Technical, University, Functional and Diversity hiring. The platform has successfully reduced time-to-hire by up to 45% even for niche roles and cost-to-hire by up to 50%. This shortens the hiring cycles while removing biases from the recruiting process, thus giving an incredible candidate experience.
With iMocha, you can successfully engage with candidates, scan, and schedule interviews effectively. The platform generates shareable results and skills feedback. Recruiting teams can use these reports to make smart talent decisions.
Pros
iMocha has the most comprehensive skills library of all Triplebyte competitors. Created by global subject matter experts, the library comprises coding, cyber security, business skills, finance and banking skills, ERP skills, cloud skills, infrastructure management, quality assurance and engineering, languages, soft skills, cognitive abilities, aptitude, behavioral skills, and more

Customization with iMocha's skill assessment allows hiring managers to upload their own questions or use the built-in assessments to evaluate candidates. Questions are available in different formats, including MCQs, MAQs, live coding sessions, whiteboarding, fill in the blanks, and more

iMocha features the most powered

AI-enabled proctoring

suite that detects cheating during exams. It identifies candidates engaging in malpractices during the test by the number of times an individual navigates away from the test window, captures real-time images through the webcam, and through IP lock and window lock
Since every enterprise has its unique set of requirements, iMocha offers completely customizable Skills Assessment Consultancy to deliver 100% job-fit assessments. Its talent optimization analytics is AI-enabled to help recruiters get deeper into the invitation process, measure test analytics, and deliver superior candidate experience

Real-time coding simulators with 2800 problems for 25+ programming languages to evaluate coding knowledge, logical approach and analytical thinking of candidates

AI-LogicBox

is the patent pseudo-coding platform that evaluates functional programmers when online coding compilers are unavailable. This is the most innovative tool that measures the skills competencies of programmers in a fun and engaging way


#2: CodeSignal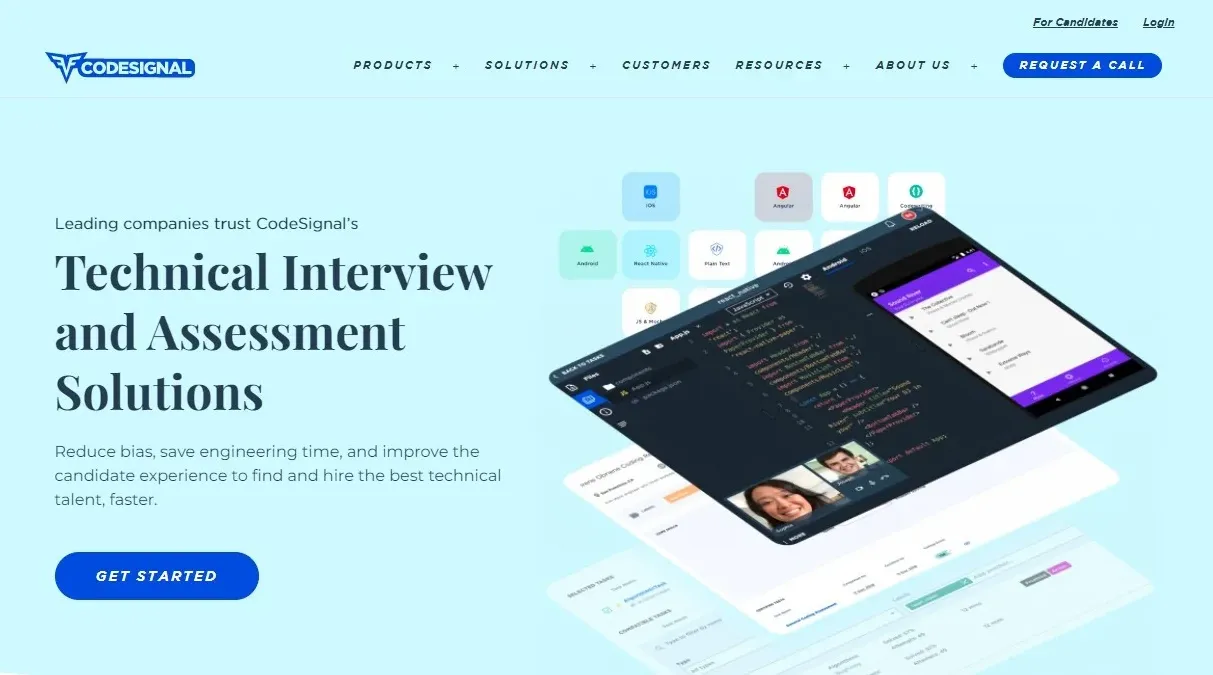 Founded: 2014
G2 Rating: 4.5 out of 5 stars (611 reviews)
Pros
CodeSignal is one of the best technical assessment and interview solutions and a reliable Triplebyte alternative. The tool helps organizations identify the most suitable candidates possessing the desired skills

CodeSignal aims to help companies go beyond the traditional process of sifting through resumes to find the right candidate. Using a simpler process and robust platform, it allows hiring teams to use smarter questions to evaluate candidates

The platform is useful for organizations of all sizes. It features Certify, Test, and Interview assessments to evaluate candidates during different stages of hiring

Certify is CodeSignal's first technical assessment platform used at the top level of the hiring funnel to help companies look beyond resumes and find diverse talent

Coding Score supports over 79 programming languages, libraries and frameworks to provide advanced coding environment in real-time

Using state-of-the-art technology, it predicts skills and potential job performance of candidates

Its advanced Integrated Development Environment (IDE) supports 40 programming languages

CodeSignal integrates with third-party ATS like Lever and Greenhouse



#3: Codility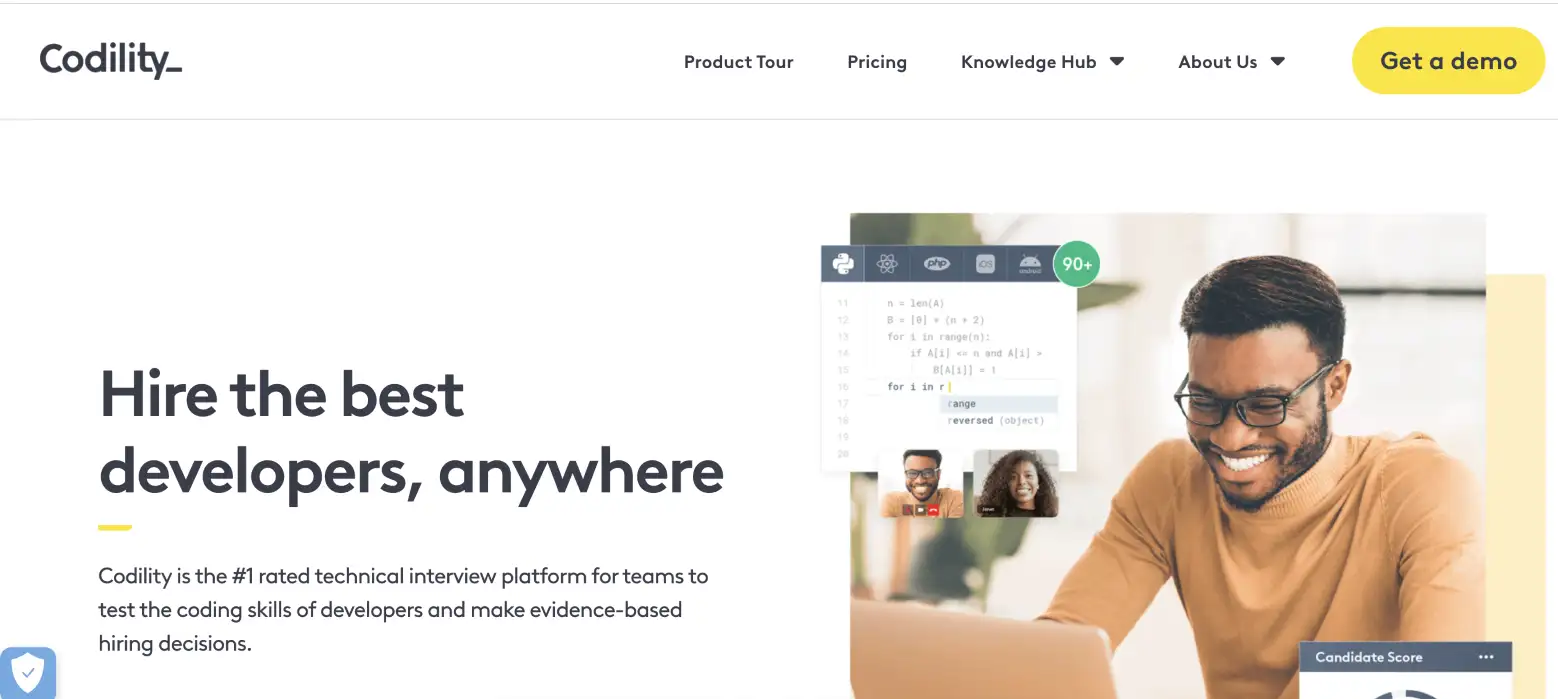 Founded: 2009
G2 Rating: 4.6 out of 5 stars (337 reviews)
Pros
Codility is one of the finest Triplebyte alternatives and a remote hiring solution dedicated to engineering teams. Hiring teams can recruit top engineering talent directly using this platform after testing their real-life skills

Stage-wise hiring process through relevant and unbiased assessments using CodeCheck

Live technical interviews to assess the technical knowledge and proficiency of candidates using CodeLive

Virtual recruitment events can be conducted remotely to gather a pool of talent to make it easier to assess candidates through CodeEvent

Faster hiring process, saves times and ensures only eligible and suitable candidates are hired for specific roles

Arms hiring teams with reliable insights into the skills of the candidates to measure their potential

Reduce risk of false positives and negatives with a fair, unbiased, and reliable score card




#4: TestGorilla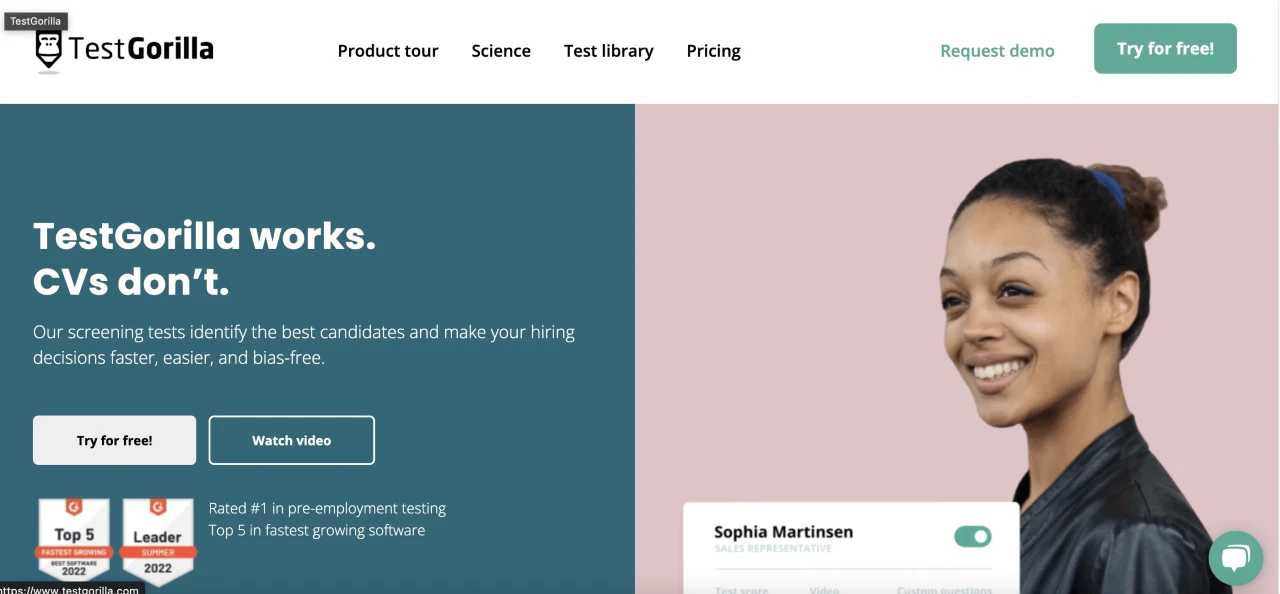 Founded: 2019
G2 Rating: 4.5 out of 5 stars (721 reviews)
TestGorilla has a comprehensive library of more than 250 scientifically validated assessments

It is one of the best Triplebyte alternatives that allows you to screen candidates and make better hiring decisions

TestGorilla is also a Tryiplebyte competitor that uses different types of assessments to give you the best predictive value. Using programming tests, cognitive ability tests, personality tests, software skill tests, language tests, role-specific tests, and more

Assess candidates for job-specific roles like digital marketing and coding, and general skills such as critical thinking and cognitive abilities

Give an equal and unbiased opportunity to candidates to showcase their skills

Well-designed and professional tests to rank applicants according to scores certified by experts. HR teams can rely on data and make vital decisions

Integrates with some of the major ATS like SmartRecruiters and Greenhouse





#5: CodinGame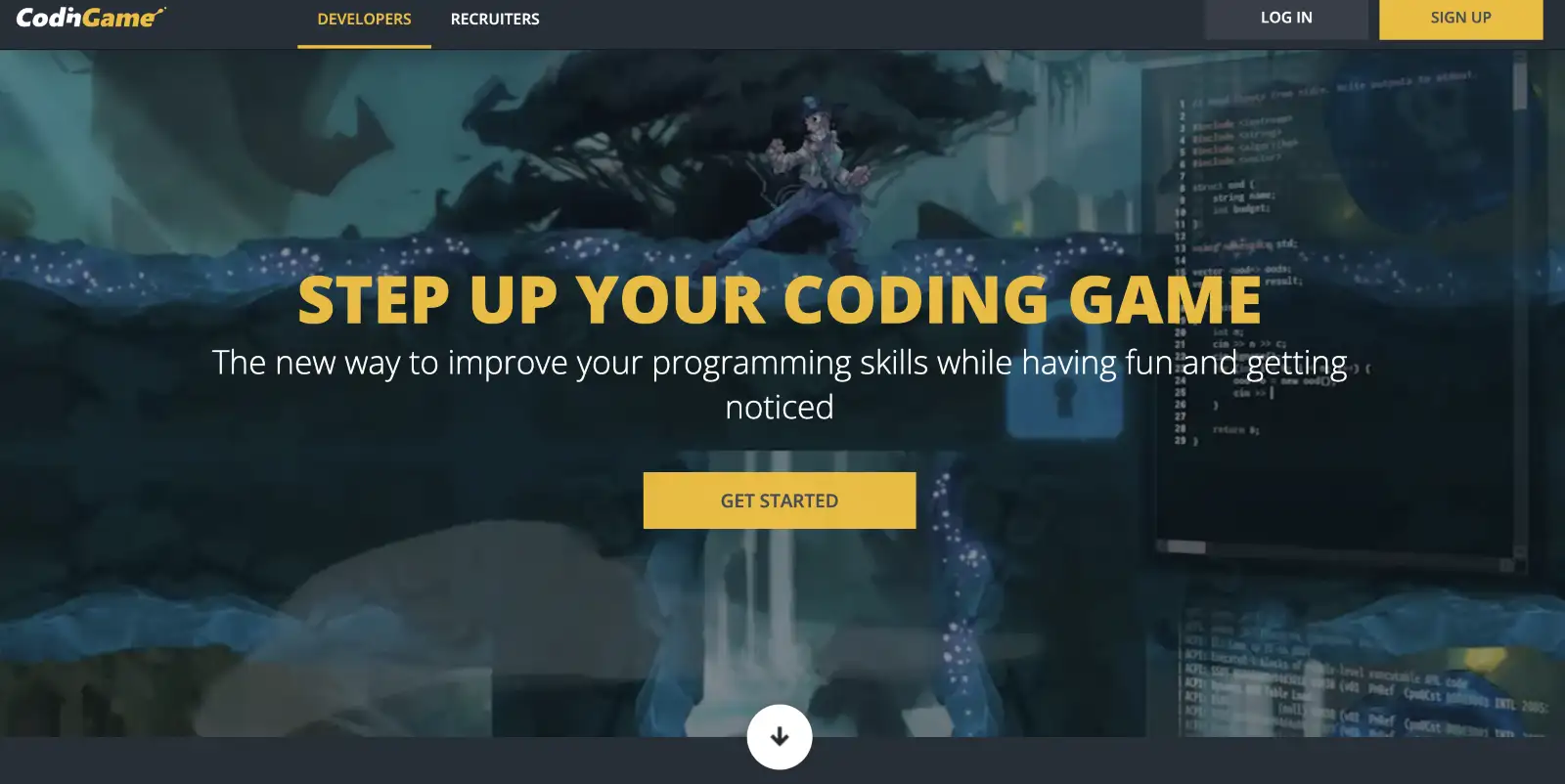 Founded: 2012
G2 Rating: 4.8 out of 5 stars (17 reviews)
Pros
CodinGame is a pre-employment assessment platform that allows organizations to screen tech talent right from the start of the hiring process

This Triplebyte competitor offers 3900+ questions, 60+ programming languages, and 80+ predefined job roles in the form of exercises

Tests can be customized to reflect skills specific to job roles

Compare scores with detailed reports to help recruiters analyze results easily and filter out relevant candidates

The platform scores candidates on 4 skills – language knowledge, code reliability, design, and solving skills

Code Playback allows tech teams to have a sound idea about candidate's coding and thinking abilities

Comparative Score benchmarks candidates against professionals taking the same or similar test to enable recruiters to decide who is better

CodinGame offers gamified and real-life exercises to motivate popular candidates to take a test and finish it. Till date, the platform has a successful completion rate of 97%

The platform allows ATS and API integration without juggling platforms




#6: HackerRank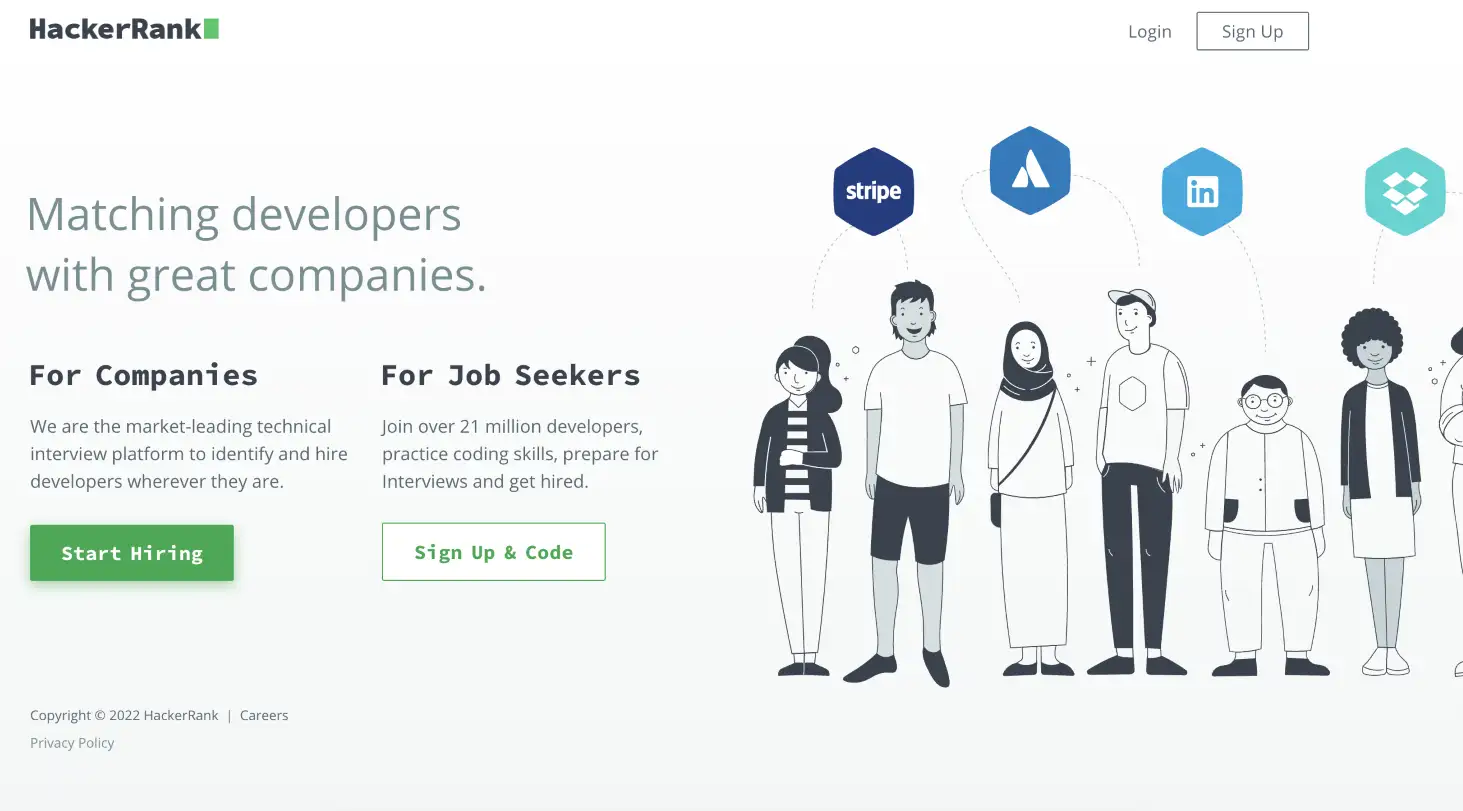 Founded: 2009
G2 Rating: 4.5 out of 5 stars (278 reviews)
Pros
HackerRank is another promising Triplebyte alternatives that facilitates enterprises to find and assess candidates with developer skills, conduct interviews remotely, and track performance of candidates on the centralized platform

The platform has a built-in content library that allows recruiters to create customizable assessments for hiring based on particular job roles like software engineers, frontend developer, backend developer, full-stack developer, interns, data scientists, DevOps engineers, etc.

More than 2800 customers across different industries including leading commercial banks in America trust the automated skills assessments by HackerRank to assess and hire top technical talent

The platform allows enterprises to communicate with candidates via audio/video chat, review feedback notes, evaluate designing skills on virtual whiteboard, and save drawings for further review

Users can configure access permission to secure workflow and prevent unauthorize exploitation of data through SSO (single sign-on) capabilities

Hiring teams have CodeScreen for online coding assessments with multiple programming languages, which helps them assess candidates' technical skills and review test results

HackerRank integrates with third-party ATS like Jobvite, Workday and more




#7: eSkill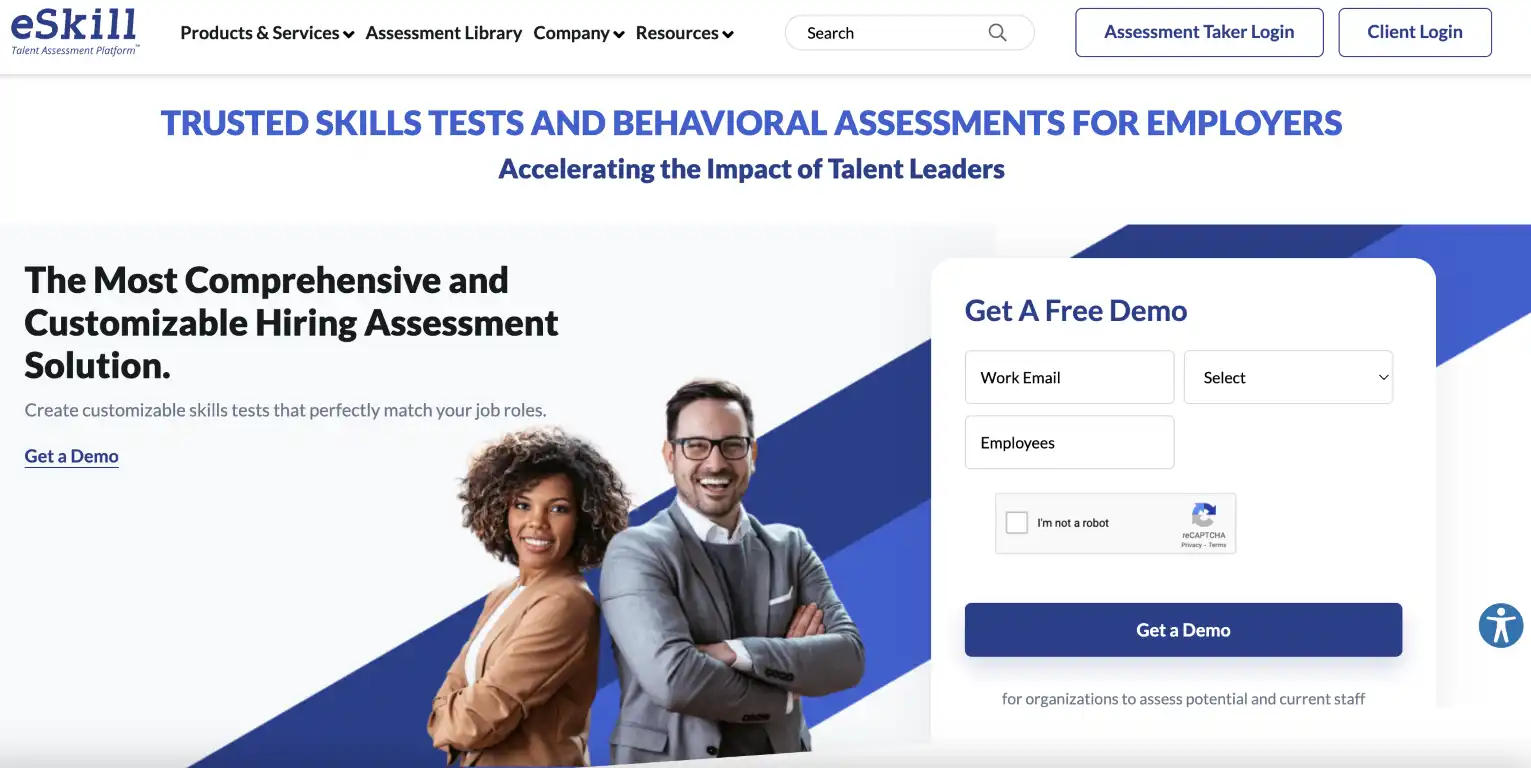 Founded: 2002
G2 Rating: 4.5 out of 5 stars (312 reviews)
Pros
eSkill is a reliable behavioral and skills assessment tool that helps businesses hire and retain qualified employees. This Triplebyte competitor caters to diverse industry sectors including retail, transportation, call centers, education, information technology, and government

It has an extensive test library of more than 1000 assessments. You can also use eSkill Author and create customized assessments

The platform is popular because it is known to reduce recruiting cost as well as time-to-hire significantly

It includes simulation questions replicating real-time job situations

You can add video question responses to understand potential candidates' abilities thoroughly

Reduce attrition and improve hiring outcomes significantly with eSkill




#8: HackerEarth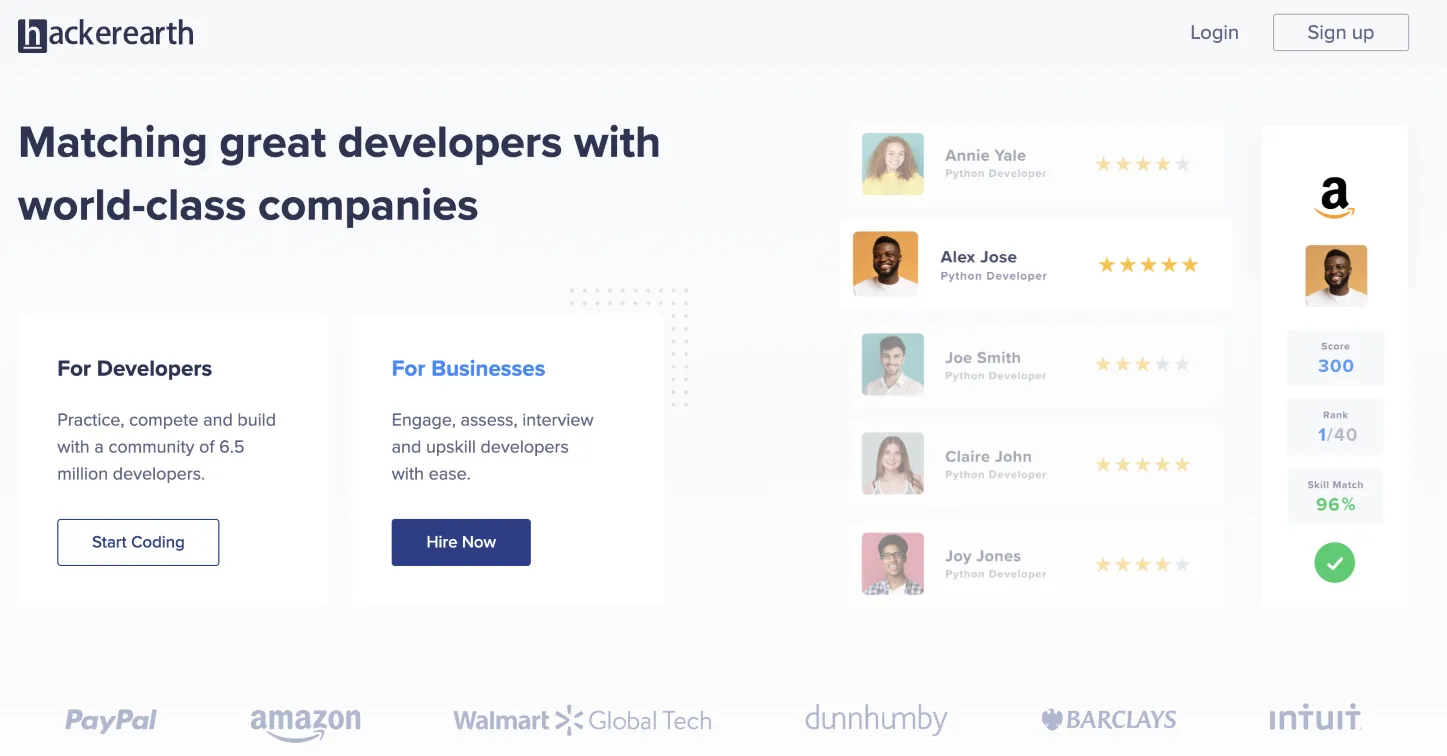 Founded: 2012
G2 Rating: 4.6 out of 5 stars (268 reviews)
Pros
HackerEarth is another Triplebyte alternative and the best platform to code along with 6.5+ million developers

Participate in hackathons to solve real-world problems at some of the leading organizations to win big

Explore multiple programming tracks to resolve over thousands of programming and coding challenges, and crack coding interviews

It is a platform that allows recruitment teams and engineering managers to collaborate and complete workflows

In addition, the platform allows businesses to prescreen candidates and reduce the time and cost associated with technical recruitment

For business, HackerEarth engages, assesses, interviews, and upskills developers quickly and easily



#9: Mercer Mettl

Founded: 2010
G2 Rating: 4.4 out of 5 stars (410 reviews)
Pros
Mercer Mettl presents a comprehensive assessment suite and the most efficient testing platform to streamline recruiting process and for better hiring decisions

The interface is easy to use and overcomes major recruitment hurdles

In addition, expert-curated domain assessments can be combined with scientific assessments like psychometric test, cognitive and behavioral assessments, and aptitude test, to check the fitness of candidates for specific roles

Mettle also includes an extensive suite of assessments that cover more than 200+ job levels and roles

The Triplebyte competitor also includes a plug-and-play system with more than 100,000 ready-to-use questions for over 800 skills across 25 industries

It features innovative technology suites like coding simulators, case study simulators and hackathon tools

Mettl has AI-based proctoring system with world-class credibility tools




#10: Hire Success

Founded: 1999
G2 Rating: 4.3 out of 5 stars (3 reviews)
Pros
Hire Success is a well-known employment testing tool and a reliable Triplebyte alternative that caters to small and mid-sized organizations. It offers access to proven hiring frameworks that companies use worldwide

The framework was designed for creating objective hiring that can be used continuously to improve and refine specific hiring requirements

The platform aims to streamline recruitment process with baseline creation and interview scheduling. In addition, it also conducts job campaign management

It also allows users to build their brand-specific career portals to update vacancies, accept applications, request important documents and information, and build customized workflows

It also has a cheating migration application that enables administrators to configure duration of proctored assessments and receive notifications when candidates leave the test window

It also includes a baseline manager that allows managers to assess existing employees and create a benchmark to meet the job criteria. It also allows you to compare candidates, campaign performance stats, sort, report, share and much more




#11: EmployTest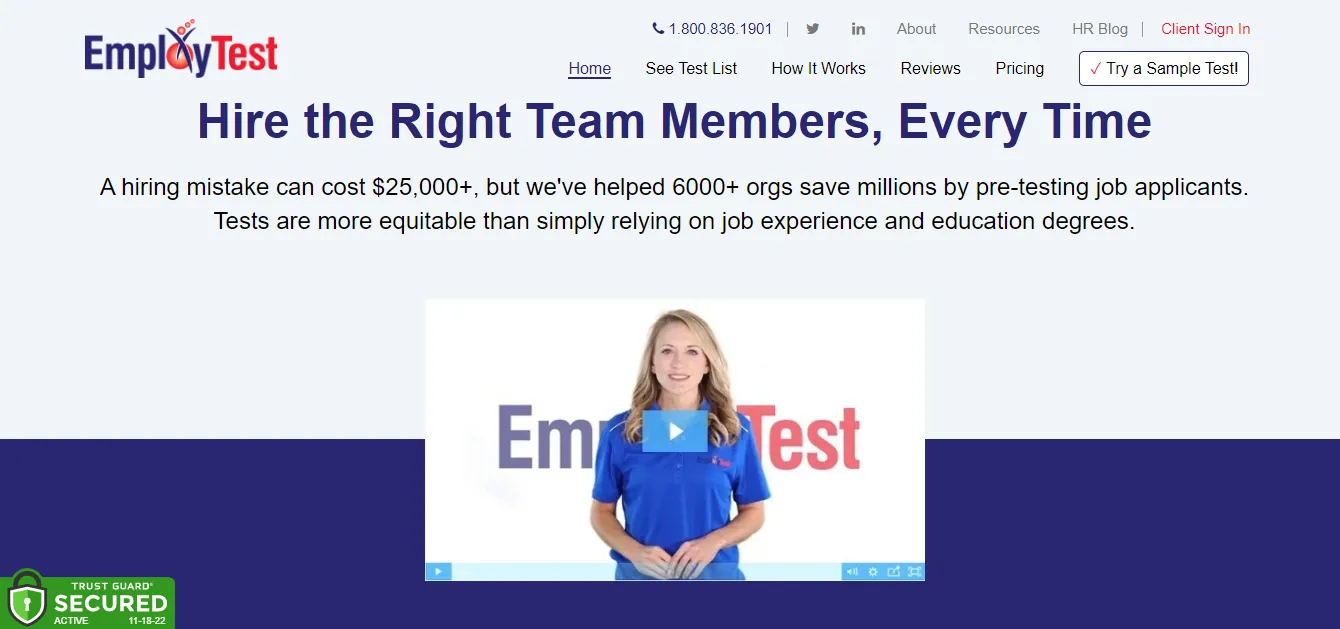 Founded: 2005
G2 Rating: Not Available
Pros
EmployTest is a Triplebyte alternative that allows you to hire the best team members every time

The platform allows you to test job applicants remotely with instant scores emailed to candidates

EmployTest conducts more than 60000+ tests per year

The friendly team selects the best tests depending on the requirements of a particular job positions – behavioral profiles, MS Office tests, industry-specific tests, and aptitude tests

Tests can be customized to cover the topics needed without any annual contract

The platform provides unlimited and free telephonic support




#12: TestDome

Founded: 2014
G2 Rating: 4.5 out of 5 stars (84 reviews)
Pros
TestDome presents work skill assessments to help hiring teams hire the top talent

It offers tests for diverse industries including accounting, programming, project management, customer service, and more

TestDome has a library of 1000+ questions to assess candidates' problem-solving skills in real world

The platform allows you to customize ready-to-use assessments and add own questions

You can compare several candidates at a glance to get a deeper insight into individual answers and results

Prevent cheating with webcam monitor, copy-paste protection, and duplicate email detection



FAQs
Q: What are the best Triplebyte alternatives?
A: The best Triplebyte alternatives are iMocha, CodeSignal, and Codility.
Q: Why is iMocha better than Triplebyte?
A: Of all Triplebyte competitors, iMocha is better because it is an advanced, AI-powered and cloud-based skill assessment platform that features a smart proctoring suite, AI-LogicBox, Live Coding Simulators, Skill Assessment Consultancy, and many more features that streamlines the hiring process. Using these advanced features, you can reduce the time to hire by 45% and cost to hire by 50% for any role.