Vervoe has successfully replaced the conventional hiring process with advanced skills assessments. It gives an opportunity to candidates to showcase their skills and talent through on-job roles and tasks. In addition, Vervoe also uses Machine Learning models to rank candidates automatically based on their performance. However, Vervoe is not the one-stop solution to all your hiring woes. Hence, looking for Vervoe alternatives is only prudent to get the right job done at the right time.
Vervoe Features
Vervoe allows to create unique assessments tailored specifically for the role and adhering to the requirements

You can also select from a template from the skills library of more than 300 validated tests, customize questions or skills, and prepare your own assessment

Use the assessment builder to generate a job title and prepare assessment from the scratch

Different types of questions are available to immerse and engage candidates into a role

8 coding language challenges, live spreadsheets, and presentations create varied experiences for candidates taking the test

Unique anti-cheating feature like randomization of questions without instilling bias to ensure candidates experience a different question order
However, it is not as advanced as Vervoe competitors. Here, iMocha evolves as a sheer winner with several distinct and advanced features that makes skills assessments easier and convenient. While Vervoe banks of randomization of questions to maintain integrity, iMocha has a powerful proctoring solution in addition to question randomization. This advanced feature includes online video proctoring, audio proctoring, IP lock, and window lock. Together, it makes iMocha a robust platform.
Read on to know more about the most popular Vervoe alternatives available in the market today.
Top 12 Vervoe Alternatives
#1: iMocha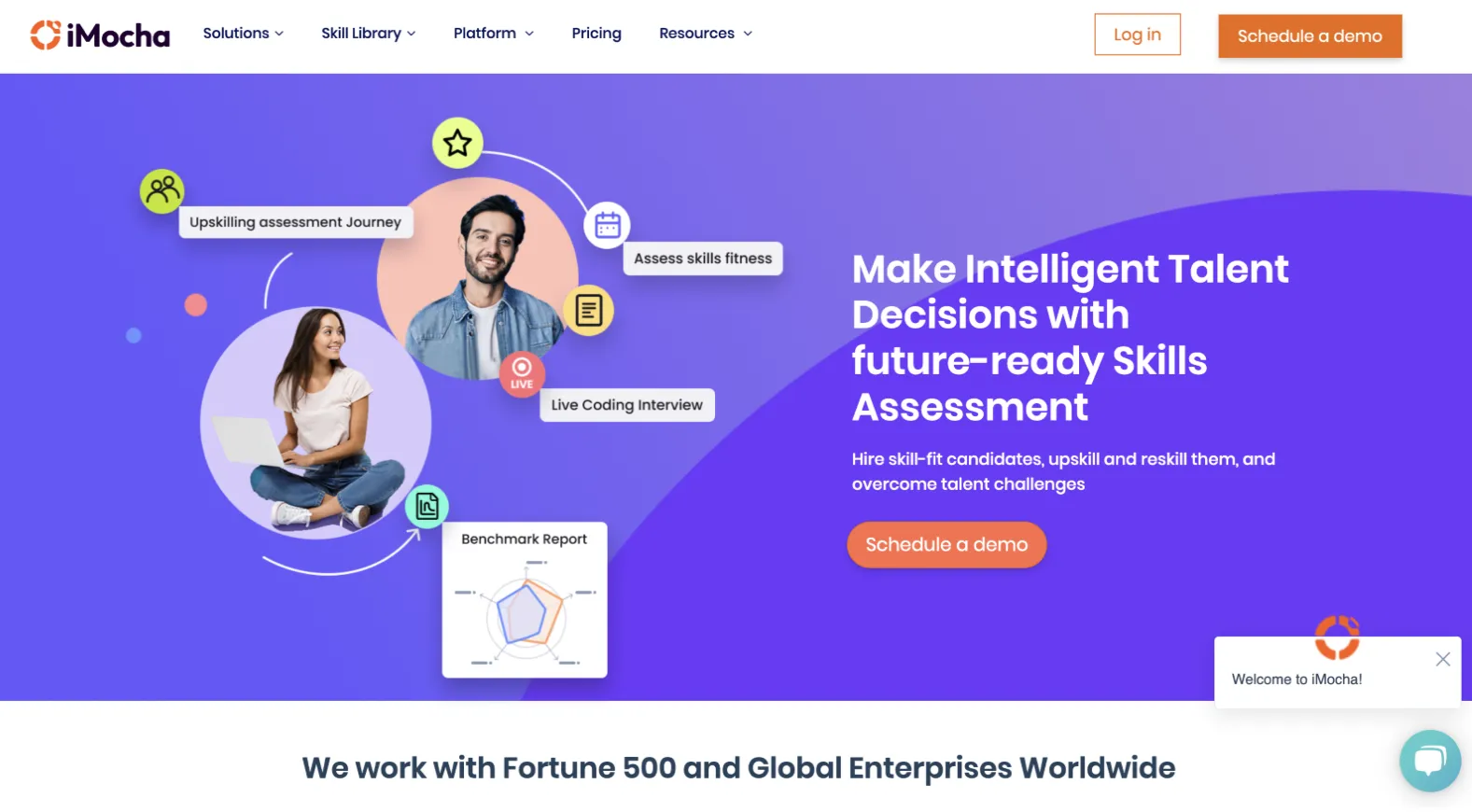 Founded: 2015
G2 Rating: 4.4 out of 5 stars (185 reviews)
iMocha is a leading skill-based talent analytics platform that helps businesses and enterprises make intelligent and quick talent decisions. It offers multiple tools for better candidate engagement and evaluation. Its recruitment solution has been proven to cut down time to hire by 50% (for niche roles as well) and cost to hire by 45% (per hire). The platform also offers one-click integrations with various legacy ATS and LMS so that candidate pipeline and learning can be mapped on a single platform.
iMocha also offer cutting-edge live coding interviews, coding simulators, patented AI-LogicBox, code replay, and more. It comes with a comprehensive library of skill assessments with more than 2500 skills, 37 coding languages, 100,000+ questions, 70+ IT skills, 70+ Next-Gen skills, 80+ cognitive skills, AI-based analytics, and customized assessments to streamline the hiring process. In addition, this Vervoe alternative also measures ROI through L&D programs.
Pros
iMocha presents an extensive skills assessment library created by subject matter experts covering IT and coding skills,

business skills

, ERP, finance and

banking

,

languages, and more

Businesses can customize assessments from the scratch; either customize an existing test by uploading different forms of questions like MCQ, MAQ, whiteboarding, fill in the blanks, audio/video, and coding

Integrated tools for

smart proctoring

and cheating prevention by recording candidate movement, window navigation, test duration, real-time images proctoring, window lock and IP lock.

Patented AI-LogicBox – a pseudo coding platform that enables programmers to work without an online coding compiler. It creates an interactive and engaging coding session

Diverse question library for coding and IT domain

One-way video interview questions to assess soft skills in one assessment
#2: Mettl

Founded: 2009
G2 Rating: 4.5 out of 5 stars (389 reviews)
Pros
Mercer Mettl is an integrated coding assessment platform with a suite of advanced digital tools. The platform is used for hiring and developing coders and building high performing coding teams. It enables organizations to hire, skill, as well as engage the finest coding talent

Considered a global technical talent expert, Mettl manages the entire talent assessment cycle for coding teams

It is an integrated platform for hiring, upskilling, and engaging talented coders

It has fully auto-graded simulators that provides deeper code analytics with multiple manners automatically

The multifaceted tools assess and measure an individual's knowledge of frameworks, software languages, architecture, programming logic, and other parameters

It has a large ready-to-use pre-built assessments
#3: HireVue

Founded: 2004
G2 Rating: 4.1 out of 5 stars (94 reviews)
Pros
HireVue is an end-to-end hiring Vervoe competitor that includes video interview software, text-enabled recruiting tools, conversational AI chatbots, and assessments

It empowers recruiters to create a faster, friendlier, and fairer hiring process

The enterprise-level software makes workflow automation easier, thus scaling hiring. It improves how you discover talent, engage with them, and hire them

AI-enabled hiring process to maintain consistency and treat everyone equally

Integrated with Workday, SmartRecruiters, iCIMS, Oleeo, Cornerstone, Avature, and more, for a seamless ecosystem

It is a mobile-friendly and text-powered solution that offers flexibility to recruiters and candidates during the hiring process

Unbiased hiring process focused only on the best talent

Enterprise-grade security passing through third-party audits to ensure absolute security of data
#4: eSkill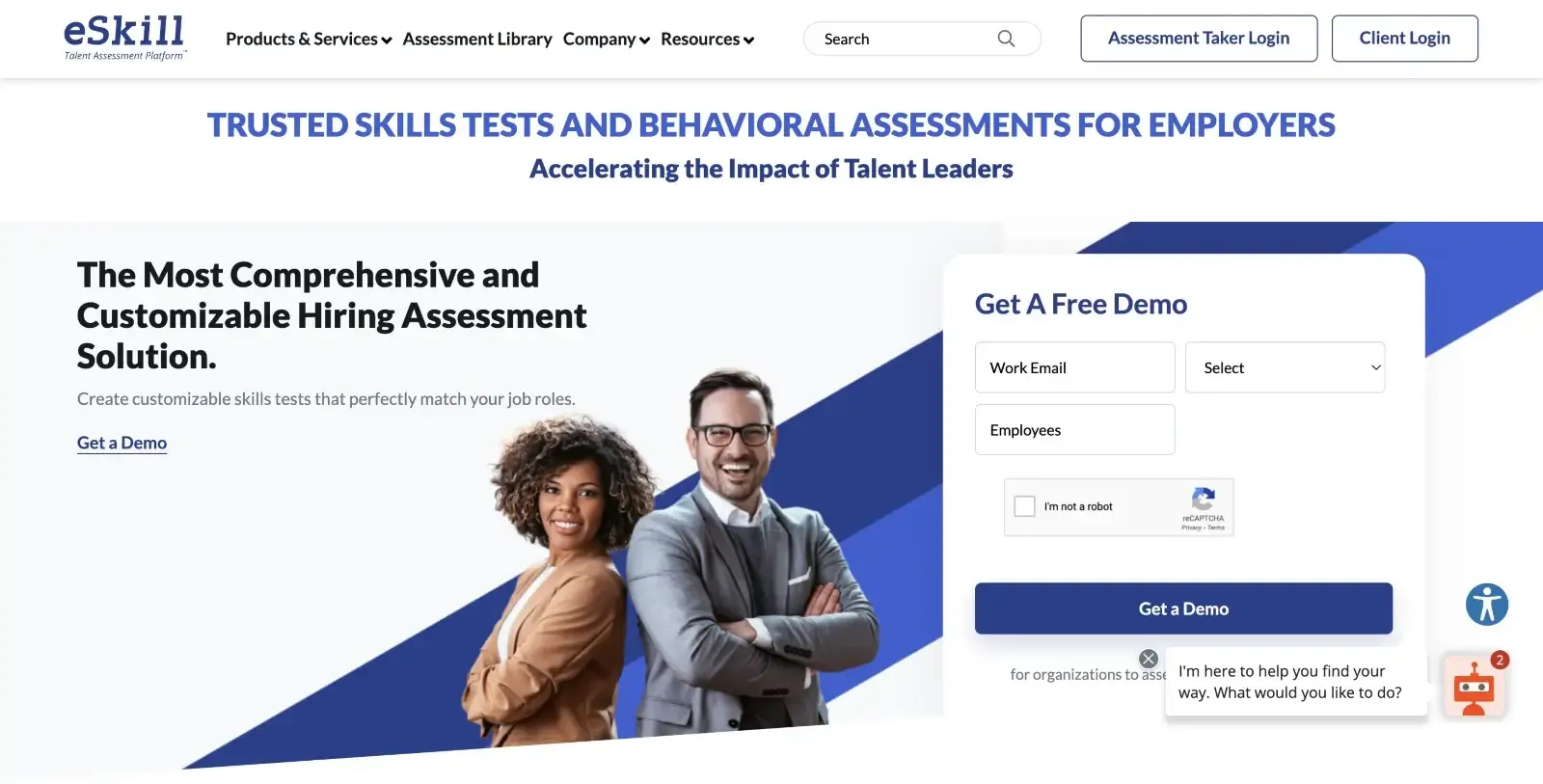 Founded: 2002
G2 Rating: 4.5 out of 5 stars (312 reviews)
Pros
eSkill is one of the most trusted skills and behavioral testing tool that assists organizations in hiring and retaining top candidates. It has a test library of more than 1000 assessments with customization features

You can choose pre-prepared skill assessments or create your questions from the extensive test library using your questions

Reduce recruiting costs and time-to-hire with this Vervoe alternative

Features simulation questions replicating real-life job situations

Reduce attrition rate by improving hiring results

Create integrated talent assessment solution integrated with ATS

Test knowledge of employees on new products/services and new policies/processes

Ensure the recruitment process is EEOC compliant

Create training programs to identify employees ready for a promotion and address skill/training gaps

24/7 support with dedicated assessment expert
#5: HackerRank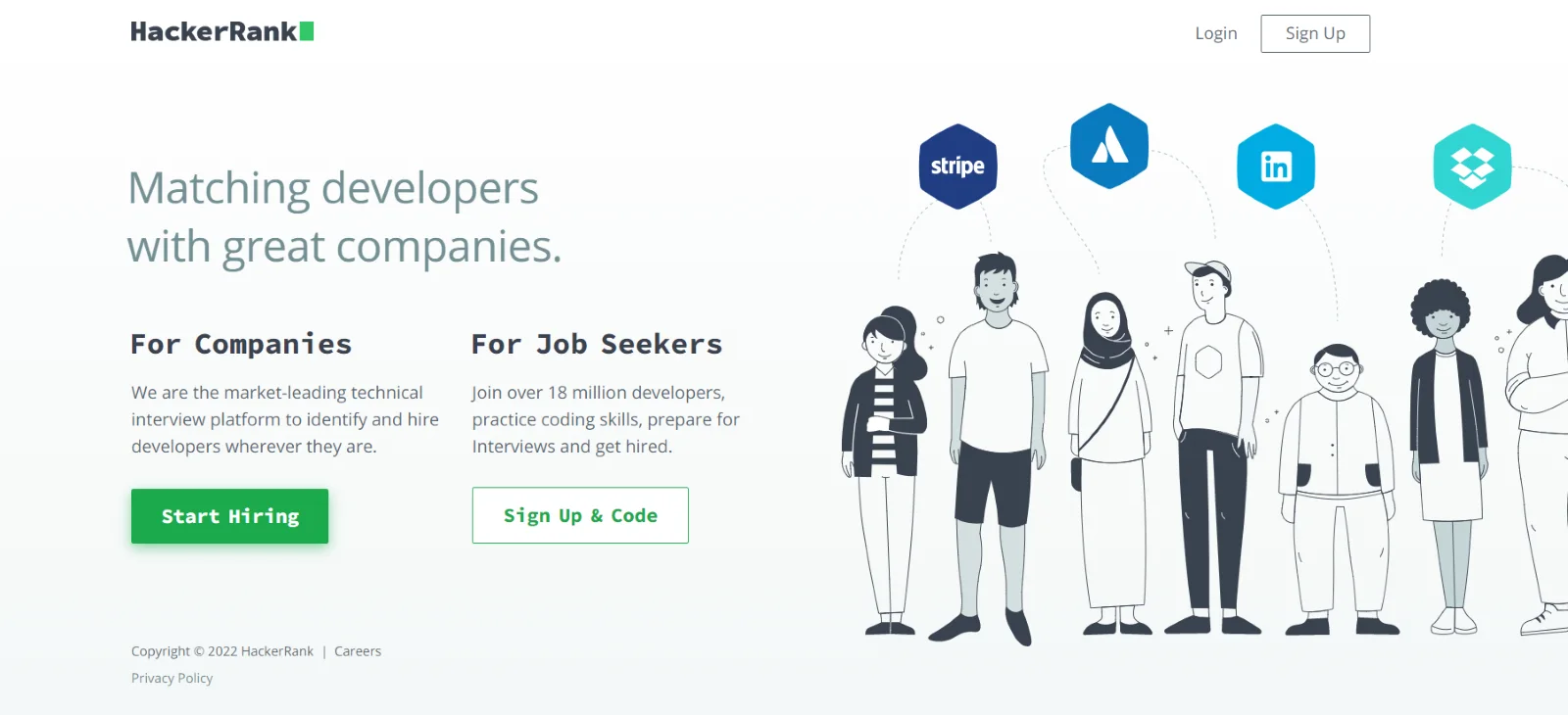 Founded: 2009
G2 Rating: 4.5 out of 5 stars (272 reviews)
Pros
HackerRank is another Vervoe alternative skill assessment platform for developers that helps enterprises evaluate and assess software developers depending on their skills

HackerRank has 2800 customers in different industries, which includes commercial banks of America that relies on the automated skills assessments for evaluating and hiring technical talent globally

It is a cloud-based platform that facilitates businesses to discover and assess developer skills, track performance of candidates, and conduct interviews remotely using one centralized platform

Using HackerRank's built-in library, hiring managers can design customizable assessments based on job roles like software, full-stack developer, front-end developer, DevOps engineer, data scientist, interns etc.

It also allows organizations to communicate with candidates via audio/video chat, evaluate designing skills of candidates, view interviewers' feedback, and save the work for future references

Users can configure access permission and secure workflows while preventing the exploitation of unauthorized data through SSO (single sign-on) capabilities

For coding tests, hiring teams have CodeScreen that features multiple programming languages, which enables them to evaluate the technical skills of applicants and assess test results using multiple scoring methods – automated, manual, and custom

Streamlined assessment process to suit organizational requirements

Seamless third-party ATS integration with Jobvite, Workday and more
#6: CodeSignal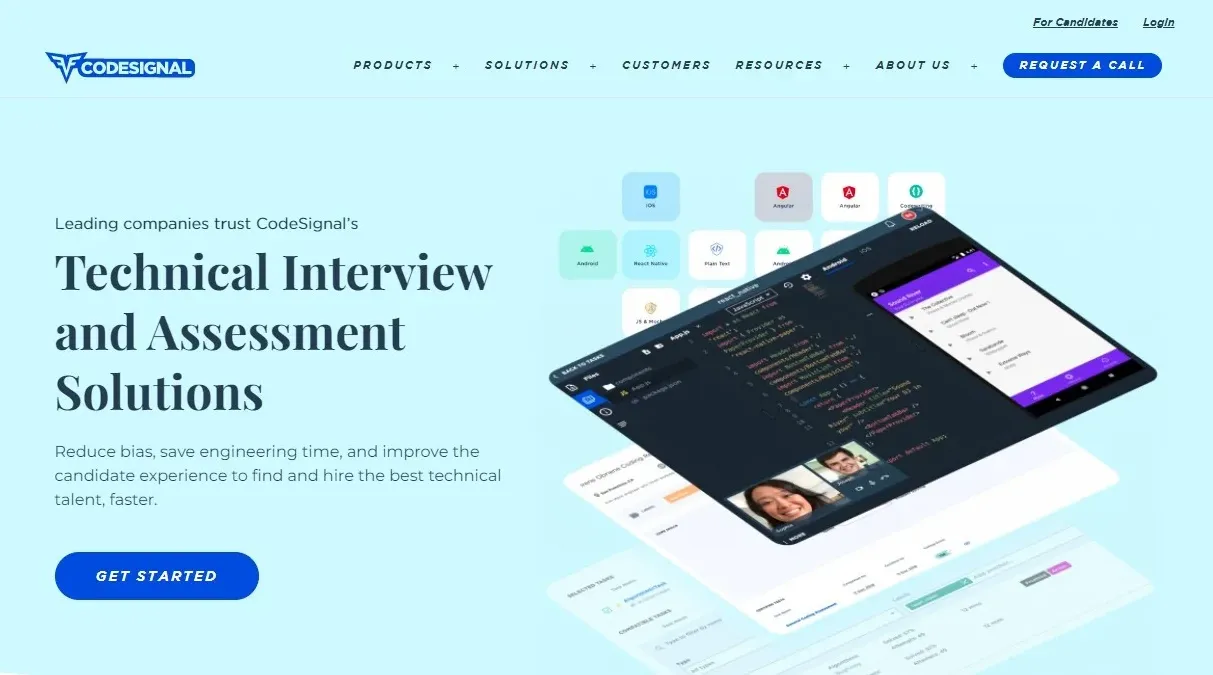 Founded: 2014
G2 Rating: 4.5 out of 5 stars (598 reviews)
Pros
CodeSignal is an advanced assessment solution and Vervoe alternative for hiring technical recruiters. Enterprises of different sizes can now use CodeSignal's unique Certify, Test, and Interview resources to evaluate candidates in every stage of hiring

Certify is CodeSignal's first technical assessment program that is reliably used to look beyond resumes to find diverse and highly qualified professionals

CodeSignal supports over 79 programming languages, libraries, and frameworks

It has a real-world coding environment that leverages state-of-the-art technology to predict the skills and job performance of candidates

It integrates well with ATS platforms like Lever and Greenhouse for a seamless experience

Schedule and conduct telephonic, video, and/or in-person interviews in a shared environment
#7: WizeHire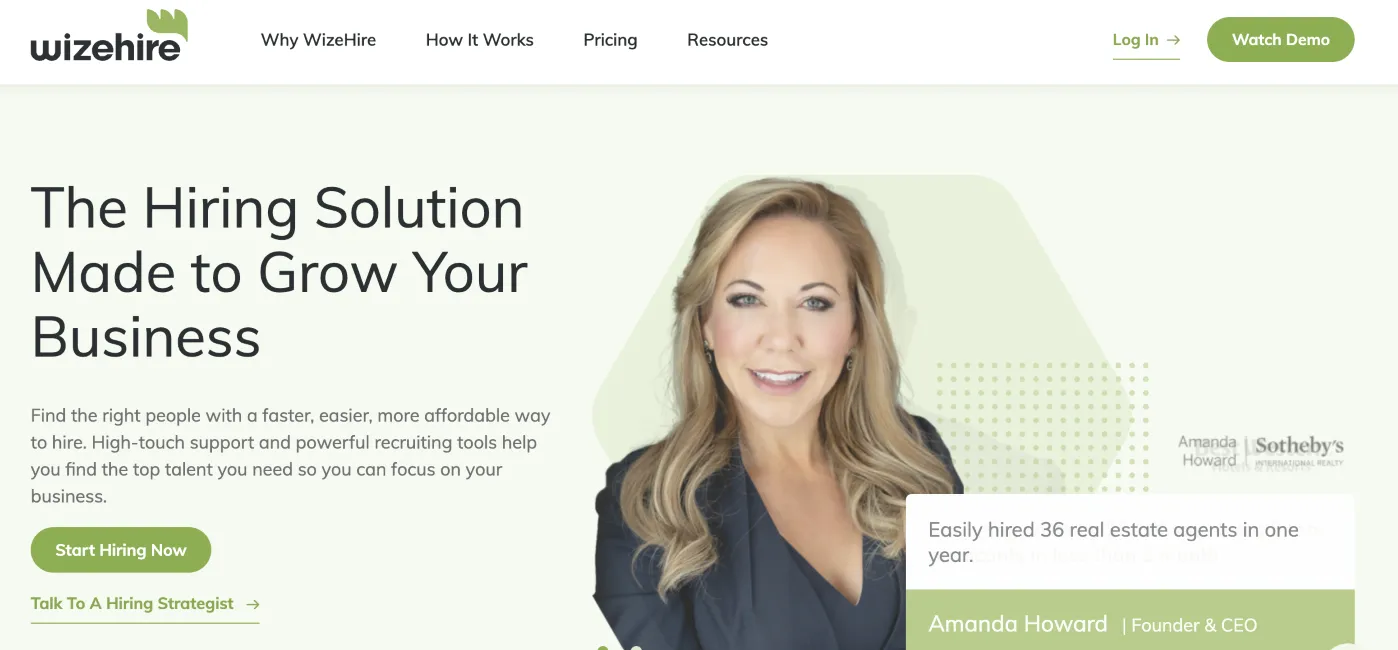 Founded: 2014
G2 Rating: Not Available
Pros
WizeHire is a reliable cloud-based recruitment platform primarily catering to the real estate sector. It handles hotels, restaurants, insurers, manufacturers, and tech companies

The major features of this Vervoe competitor includes job posting, automatic reminders, interview guides, and built-in job templates

It uses insights and data to identify suitable candidates for specific job roles

The platform applies machine learning and cognitive science technology to suggest ways to assist recruiters in selecting candidates and decision making

WizeHire platform makes it faster, easier, and affordable to hire candidates

Industry-approved job ad templates that takes out guesswork from writing compelling ads that is visible to more than 100 job boards in no time

Efficient hiring strategists come together to develop as well as customize the screening, interviewing, and hiring process of the business

Stay organized with the ATS integration. Applicants can be tagged and filtered for license, certification, personality fit, and education
#8: CodeSubmit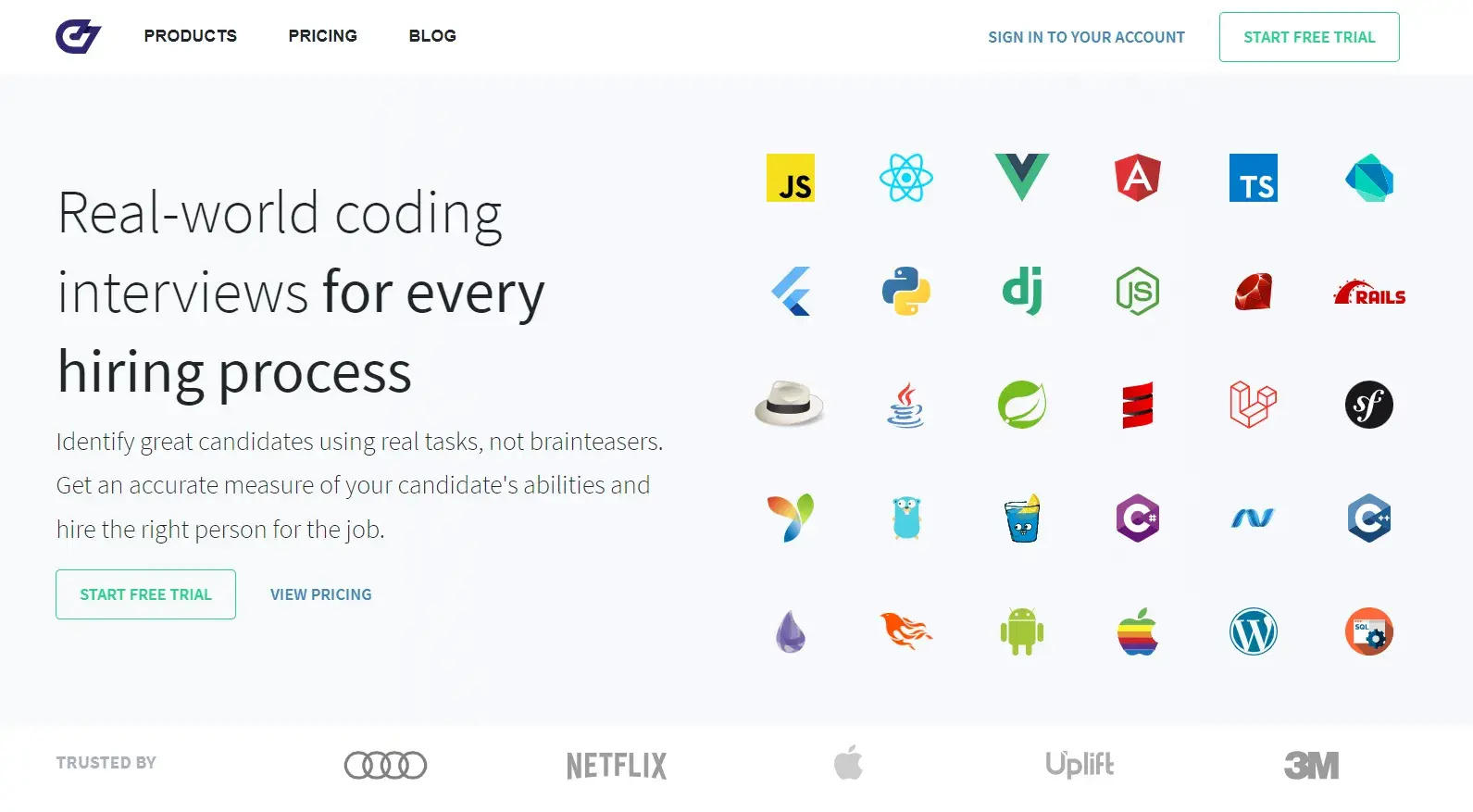 Founded: 2019
G2 Rating: 4.9 out of 5 stars (11 reviews)
Pros
CodeSubmit is a relatively new Vervoe alternative that enables hiring managers to make better decisions with innovative take-home coding challenges

Using CodeSubmit, the hiring team can identify potential candidates using the best real tasks instead of brainteasers

Leveraging these tasks, you can streamline the tech recruitment process and workflow to hire the right candidate for the role

CodeSubmit is an excellent tool for hiring software developers and engineers for both work-from-office and work-from-home positions

It features a comprehensive library of questions that can be customized and ready to use almost immediately

Candidates can have screen challenges, code pair sessions, and take-home assessments in a single interface

Allows users to create customized grading rubric for assessments that hiring managers can follow

CodeSubmit allows the freedom of customization. You can employ different types of tests and difficulties to screen developer candidates better and select only those who qualify

The support team is prompt and reliable
#9: Qualified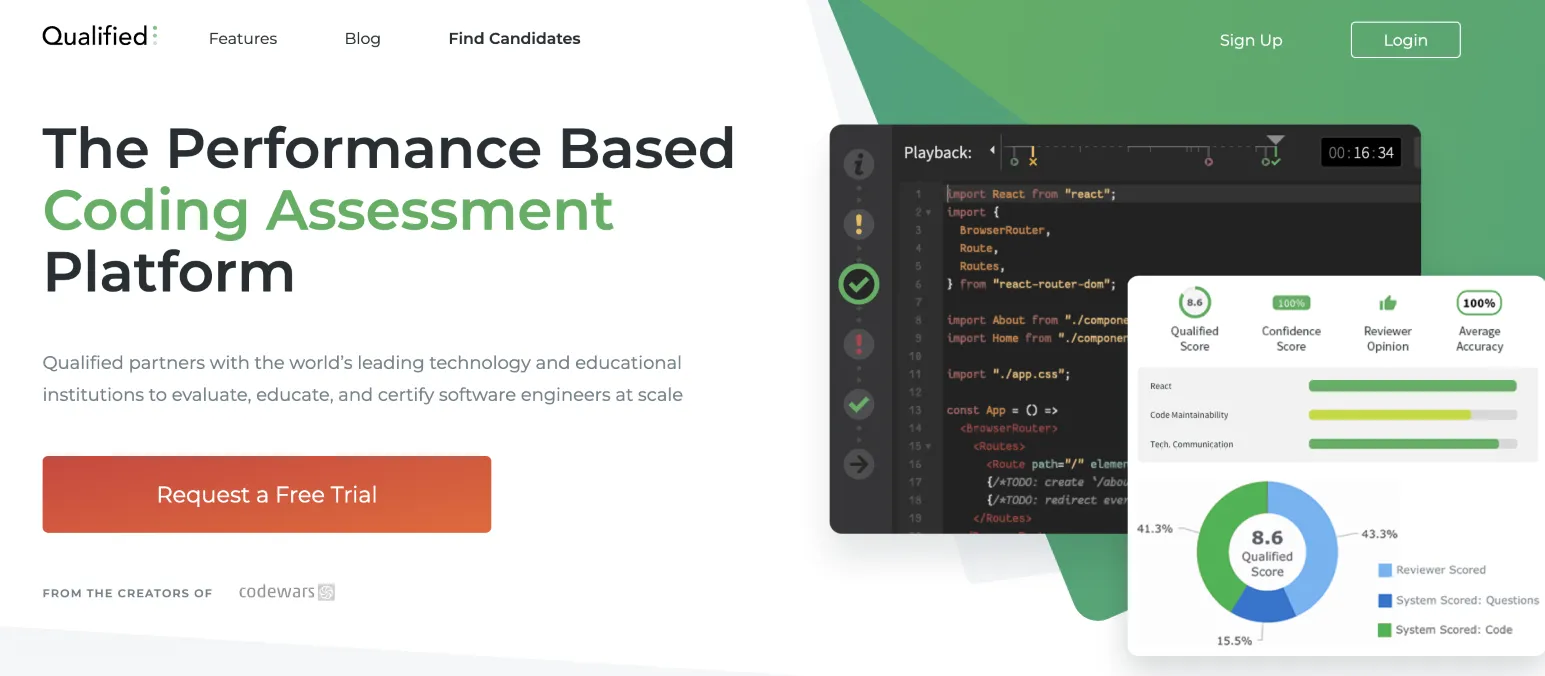 Founded: 2018
G2 Rating: 4.8 out of 5 stars
Pros
Qualified is a performance-based skill assessment solution and a Vervoe competitor that allows enterprises to use different types of coding assessments with pair programming interviews for technical talent hunt

It is a cloud-based platform that assists organizations in evaluating the level of competency of tech talent, including software engineers, through skill-based assessments

Qualified features performance tracking, code-pairing sessions, notifications, reviews, and test-case scoring

Unlike other skill assessment platforms, Qualified uses real unit tests and different types of language specific test frameworks to predict real on-the-job performance

Turn assessments into pair-programming sessions to bring out the best in a candidate

All assessments are timed with recording feature that gives a deeper insight to hiring managers and helps them assess each candidate throughout the process, measuring their problem-solving skills and thought process

Recruiters can also use this platform to measure candidate performance and compare against benchmarks based on factors like code submission, test result, execution time etc.

The platform also enables hiring teams to prepare custom assessments and set it up based on the role of the candidate and the experience level

Qualified delivers a collaborative workspace, which permits multiple programmers to start coding concurrently in real-time. Outcomes are generated with live code execution, helping hiring teams to identify concerns across team

It integrates into multiple platforms and evaluation processes – Webhooks, API, education, platform embedding, recruitment, certification etc.
#10: The Hire Talent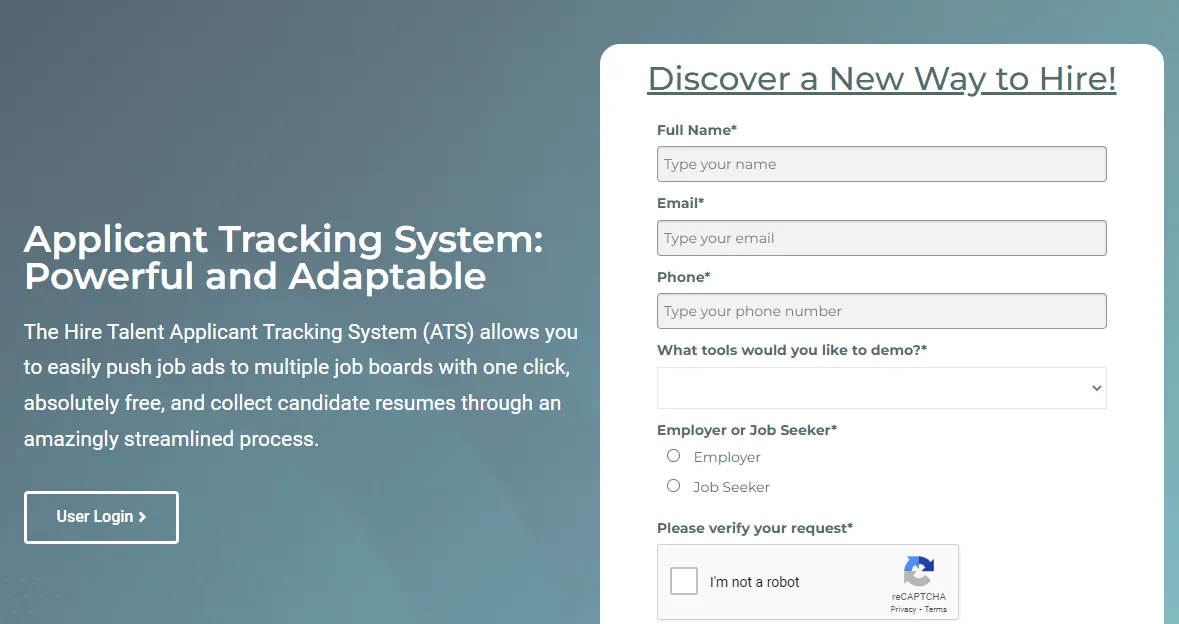 Founded: 1980
G2 Rating: Not Available
Pros
The Hire Talent is a pre-employment assessment solution that emphasizes on competency and behavioral assessments to measure the success rate of potential new recruits

This Vervoe alternative allows recruiting teams to measure multitude of skills including critical thinking, people skills, sales aptitude, cognitive abilities and more

The online assessments enable companies to evaluate candidates remotely as well as onsite

To ensure candidates cannot cheat the assessments, the platform retains consistency, multi-trait and embedded questions

Along with problem solving skills, communication skills, critical thinking abilities, management abilities, simple and complex mathematics, and logical reasoning, it also tests candidates for cognitive skills and emotional intelligence (EQ)

Using the client portal, hiring managers can easily distribute assessments, view progress, assemble results, give feedback, and do a lot more

Behavioral aptitude tests are designed to discover potential candidates who can integrate with colleagues and teams, company culture, depending on personality fit, emotional competency, and attitude

Skill tests to assess mathematical skills, attention to detail, sales or telemarketing, supervisory and management skills, writing skills etc.

Sales competency tests to measure the abilities of candidates to hunt and cold-call, solution selling and closing, management, assertiveness and more
#11: Hire Success

Founded: 1999
G2 Rating: 4.3 out of 5 stars (3 reviews)
Pros
Hire Success is one of the promising Vervoe competitors that offers pre-employment testing solutions designed for streamlining recruiting process including interview scheduling, baseline creation, job campaign management etc.

The platform allows users to develop brand-specific career portals to post job vacancies, accept applications, request necessary documents and related information, create personalized workflow and more

Businesses can have an organized hiring pipelines and track the progress of candidates along with scores across the interview as well as testing workflows. This will ease shortlisting operations

It includes a unique cheating migration tool that enables the admins to configure the duration of remotely proctored assessments, get notifications if candidates leave the test window, activate auto-submission in instances of cheating, and release employer audit reports to measure time required for attempting all the questions

Hire Success aims to provide excellent quality of products at an affordable price together with outstanding support and service

No setup and maintenance fees; no contracts; no training fees
#12: CodeInterview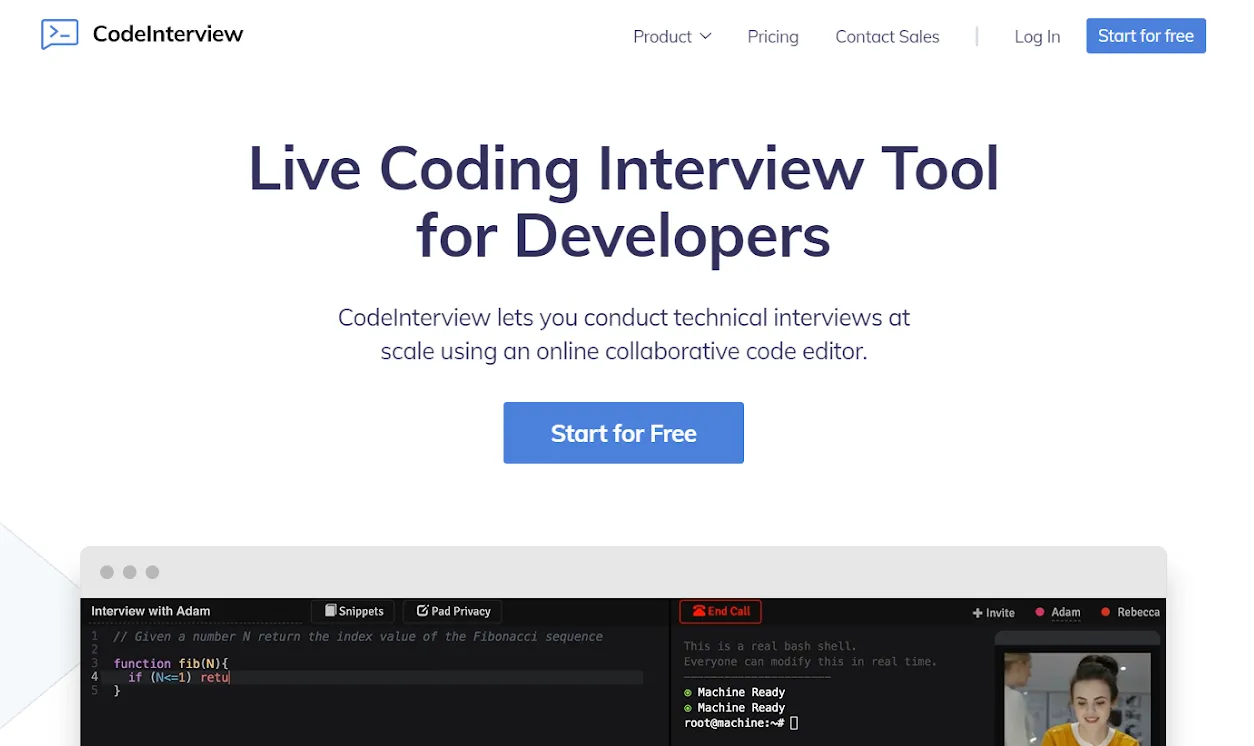 Founded: 2013
G2 Rating: 4.6 out of 5 stars (31 reviews)
Pros
CodeInterview is one of the finest Vervoe alternatives. It is a recruitment management solution that helps businesses create, conduct, and handle technical interviews through real-time coding solutions

It has a built-in compiler that enables participants to solve problems, edit, and submit for different coding languages using syntax highlighting and auto-complete features

The private note functionality of CodeInterview allows hiring managers to record their comments during an interview and share every detail with the team for their review

It has several features like privacy control, command-line interface tools, invitation links, interview scheduling, and single sign-on

This Vervoe alternative also supports conferencing to allow enterprises to collaborate with candidates through a two-way audio-video streaming, thus facilitating communication while codes are executed simultaneously

CodeInterview also helps users create and store frequently asked questions using customized templates, which enables interviewers to use them for interviews

The tool allows you to hire developers for immediate impact. It removes potential technical skills related questions to ensure you can find the most potential candidate

Simplify the process of decision making by understanding the candidate's journey through the process to assess their skills

Expedite technical hiring process by involving the right stakeholders in a simple and powerful tool. This reduces the need to go back and forth between sheets, calendar events, and emails
FAQs
What are the best Vervoe alternatives?
The best Vervoe alternatives are iMocha, Mercer Mettl, and HireVue.
Why is iMocha better than Vervoe?
iMocha is the best Vervoe alternative because it has some of the most advanced features and AI capabilities to make skill assessments simpler, convenient, engaging, and fun for candidates. iMocha has a vast skills library of more than 2500 skills covering 37 different programing languages. This cloud-based platform also features highly intuitive proctoring to maintain the integrity of tests. Overall, iMocha is a powerhouse of resources that makes skills assessment easier for enterprises.