How much time do you spend searching for a right candidate?
How do you allocate the budget to make new hires?
Probably more time and money than you need to be. With high costs and time associated with talent acquisition, your company cannot afford to ignore these recruiting tips. Here are three recruiting tips that will speed up your recruiting process.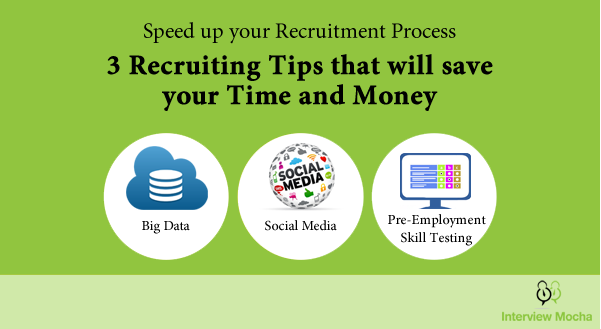 1. Big Data
Big data plays a big role in the recruiting process. It helps recruiters predict which candidates will be productive in the long run. Modern recruiting relies on data-driven insights gathered from online resume databases, social media profiles, employment records, job applications, and other similar resources to accurately assess and predict a candidate's ability to succeed in any given role. More data means more informed decisions.
2. Social Media
Social media has transformed the way people work, communicate and even, search the potential candidate for the organization. Gone are the days of 'hard to find' talent. Now, social media has made it possible to contact potential candidates directly. The key to using social media effectively is to identify and reach out to the target audience. And yes, being an active user too. Find out why you should exploit social media for recruitment.
3. Pre-Employment Skill Testing
Pre-employment testing is a powerful tool that employers can use to streamline the recruitment process. Pre-employment tests allow companies to make more informed hiring decisions. It is an in-depth way to evaluate which applicant or candidate would be a good fit for a particular position. Pre-employment testing software reduces the efforts and hassles involved in screening resumes, scheduling interviews, organizing test, etc.

What according to you are other recruiting tips that you can save time on?