Many recruiters believe it is more complicated than ever to find qualified candidates that fit the specific job requirements. In today's competitive job market, sourcing candidates who are also a good fit for the company has become more challenging.
Sourcing the right candidate takes a lot of work. To find suitable prospects, recruiters must use a multi-solution strategy, write clear and succinct job descriptions, and scour numerous job advertising sites. In addition, thoroughly evaluate each resume and schedule interviews with selected individuals to see if they are a good fit for the position.
Finding the skill-fit candidate becomes even more challenging when hiring for a niche job. However, one of the most efficient ways to overcome these challenges is to use candidate sourcing tools.
There are several reasons why sourcing platforms are becoming increasingly popular.
Sourcing tools are online platforms that help recruiters find candidates on the basis of candidate's current and past job roles.

This tool helps you outline the key responsibilities, skills, and experience required for the job.

It helps you narrow down candidates based on particular organizations or technologies.
Another step in candidate sourcing is administering assessments to gauge a candidate's skills or knowledge. You can easily do it by using pre-employment assessments. For example, you can use iMocha's job-fit assessments.
While there seems to be no downside to using sourcing tools, you must ensure you choose the right one depending on your needs. Hence, we've prepared a list of the top 12 best sourcing tools for recruiters to help alleviate their recruiting process.
Top Sourcing Tools



1. ContactOut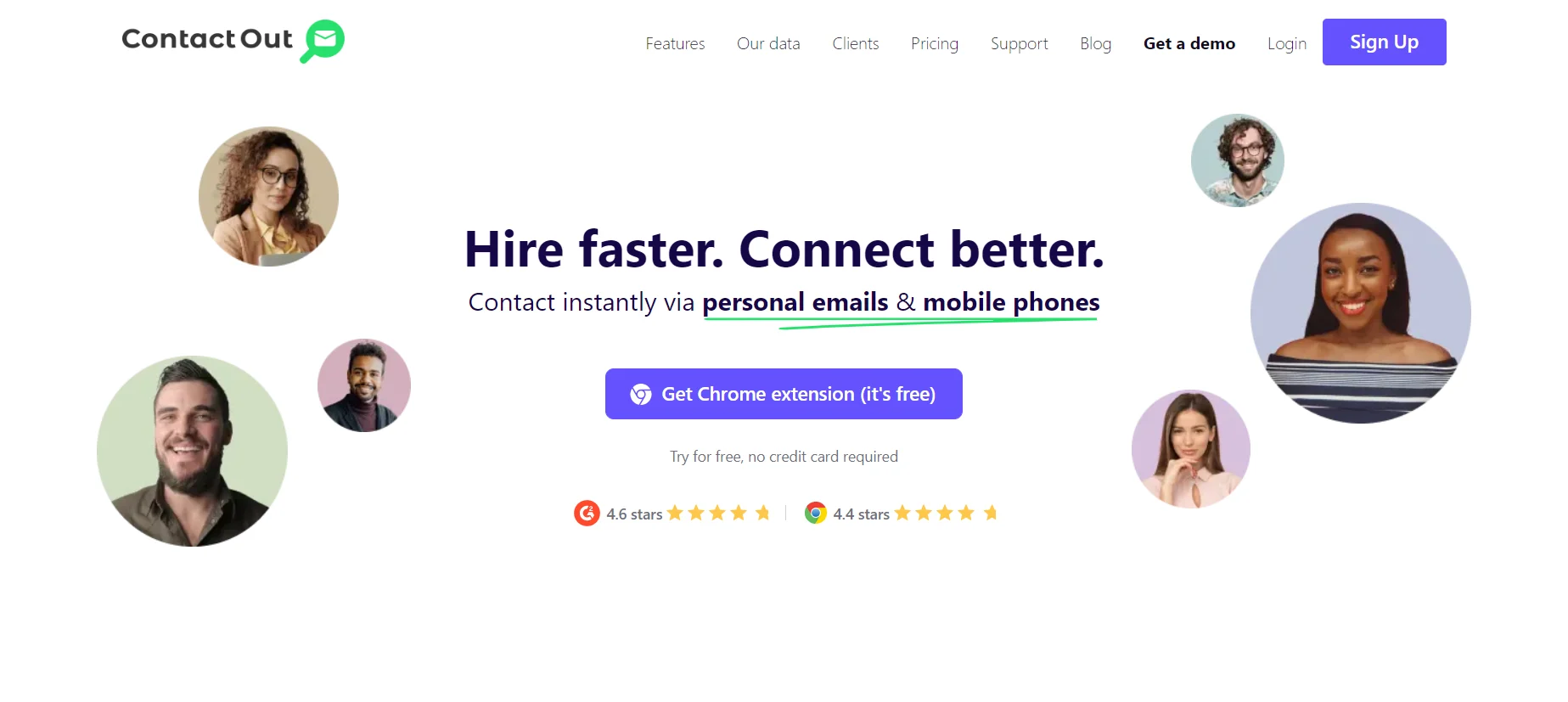 G2 rating: 4.6/5 (83 reviews)
Founded Year: 2015
ContactOut is one of the best candidate sourcing tools that helps you find potential candidates by providing data about candidates, such as their email addresses and phone numbers. It is a chrome plugin that works with social networking platforms like LinkedIn. This extension uses artificial intelligence to scan social network pages to find and verify the correct email address of candidates.
Furthermore, Contactout's search portal allows you to conduct unlimited searches and identify possible applicants who are not on LinkedIn. In addition, this tool can send emails straight to candidates without leaving the search pages.
Perks
It enables you to create a vast database of personal email addresses

It is an easy-to-use tool

Most contact information extracted using this platform is accurate
Free trial: Available
Top Clients: GroupM, Worth Search, TXT International, Spreetail, The Power Hive
Pricing: $348 billed annually (1200 contacts/year)
2. Pipl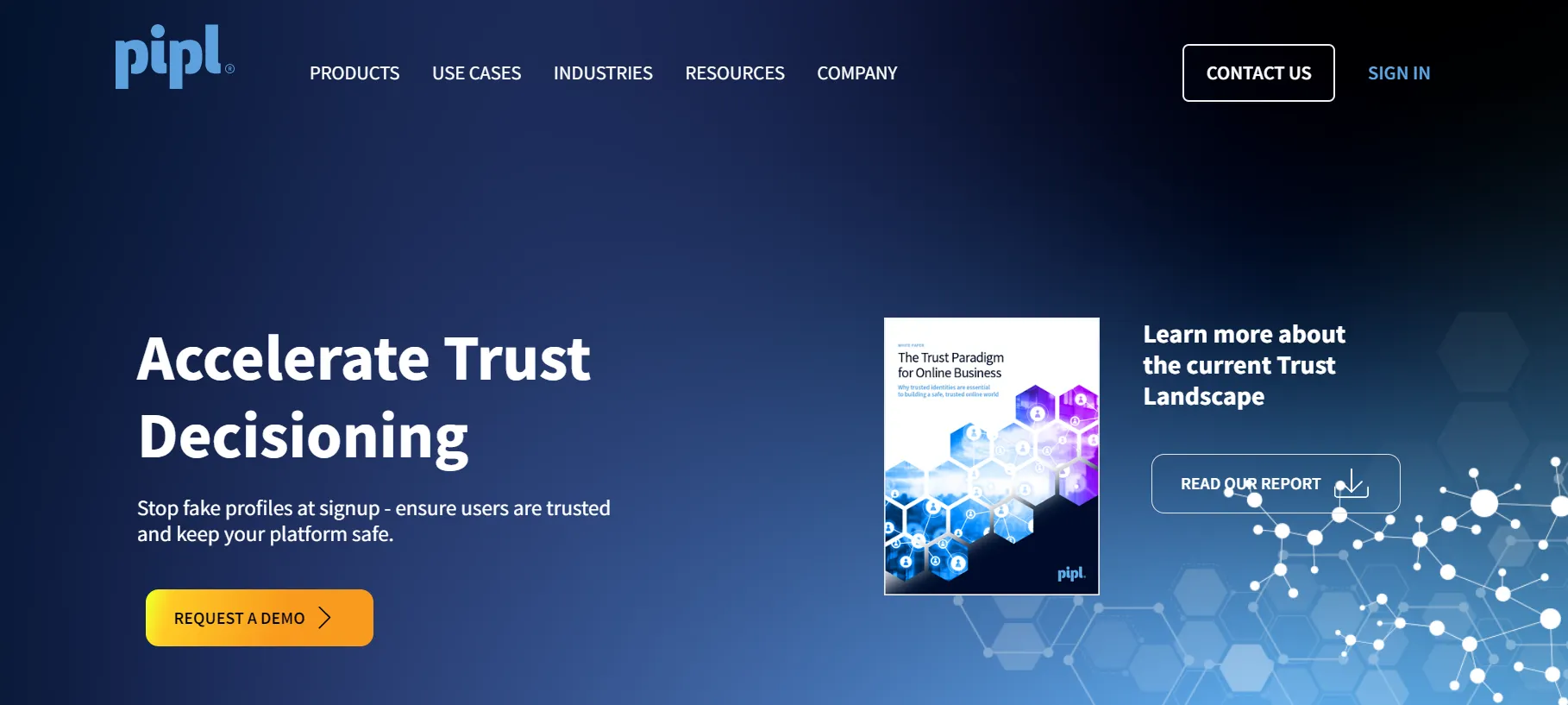 G2 rating: 4.4/5 (42 reviews)
Founded Year: 2005
Pipl is another sourcing platform designed to assist recruiters in locating information about potential applicants. With 3 million people in its database, this tool helps you find information such as their addresses, email addresses, social media handles, education, or phone numbers. It also lets you narrow down your search by location. So, if you need thorough information about prospects, this is the tool to use.
Perks
This tool searches various social media platforms to find the best set of candidates to match your needs better.

It is a user-friendly tool.

Using this tool, you can easily download detailed reports to your system.
Free trial: Available
Top Clients: Google, BBC, Microsoft, Signifyd, Safeway
Pricing: $99 per month (200 searches)
3. HireEZ

G2 rating: 4.7/5 (211 reviews)
Founded Year: 2015
HireEZ, formerly known as Hiretual, is an outbound recruitment tool. This tool enables you to identify and rank candidates, giving you a rundown of the strongest candidates across the internet. Using this list, you can contact prospects directly by integrating your Gmail or Outlook into your Hiretual account.
It combines your talent pools, including your ATS, resume databases, job boards, and open web sourcing into a single funnel to simplify your recruitment process.
Perks
It allows you to find a diverse set of candidates with one single click.

HireEz offers excellent customer service.

This tool helps you narrow search results to find specific details about candidates.
Free trial: Available
Top Clients: Diversant, FI Consulting, Arkansas Children's Hospital, Next Level Exchange
Pricing: $89 monthly (200 contacts/month)

4. Avature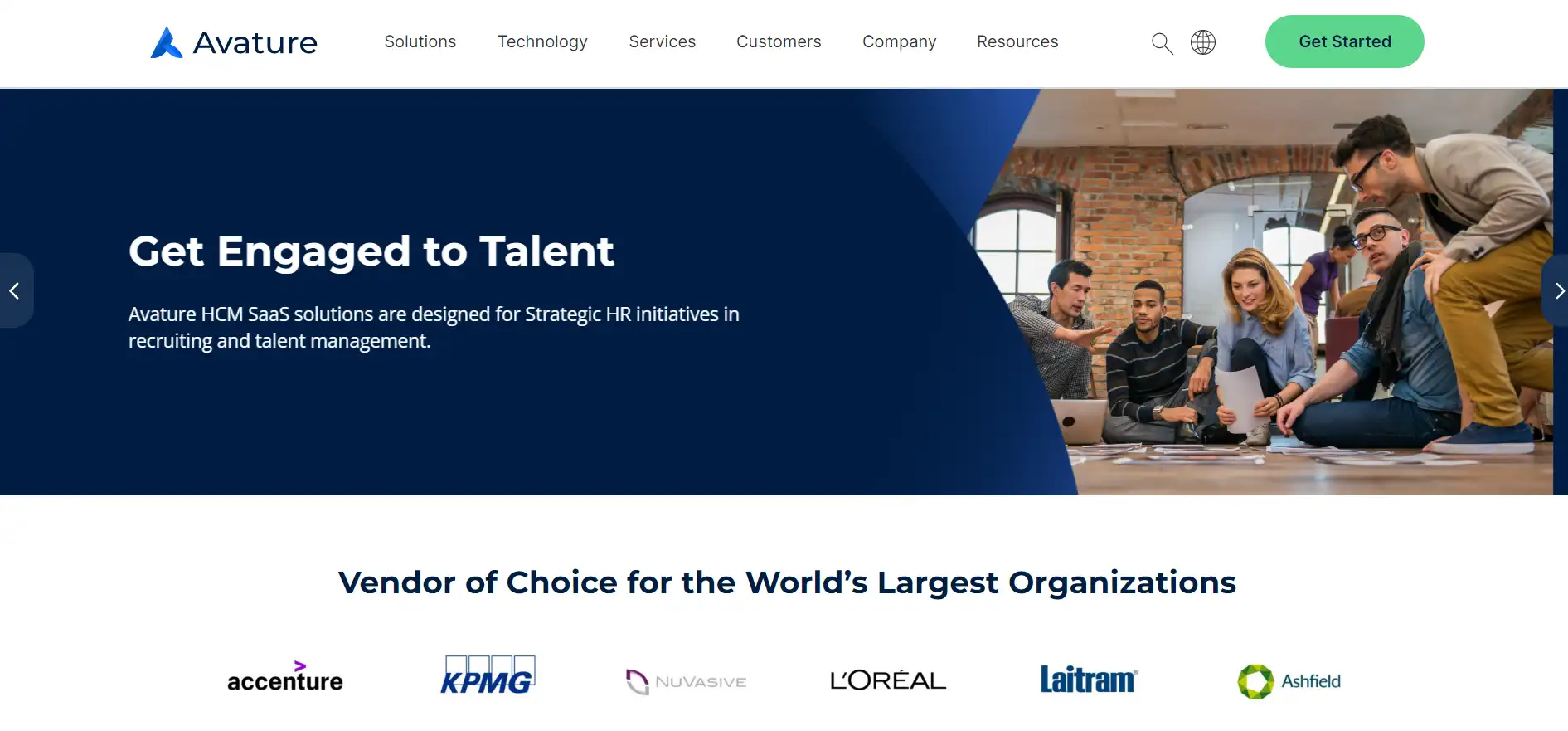 G2 rating: 4.4/5 (71 reviews)
Founded Year: 2005
Avature is a client relationship management system designed to assist enterprises in developing and nurturing connections with their applicants. With Avature CRM, you can quickly implement a multichannel approach to market your employment brand and attract applications.
Moreover, if you're operating globally, Avature CRM allows you to craft a market-by-market approach to recruit top candidates. Using Avature's WebSources interface, you can search across hundreds of sites from a single location and import leads in bulk, automatically inserting them into communication workflows. Furthermore, you can plan these searches to run regularly, ensuring that you find and connect with relevant talent as soon as they put their resumes online.
Perks
Free trial: Available
Top Clients: NuVasive, BMC, Mondelez, Epic, Loreal
Pricing: $99 per month (per user)
5. Hired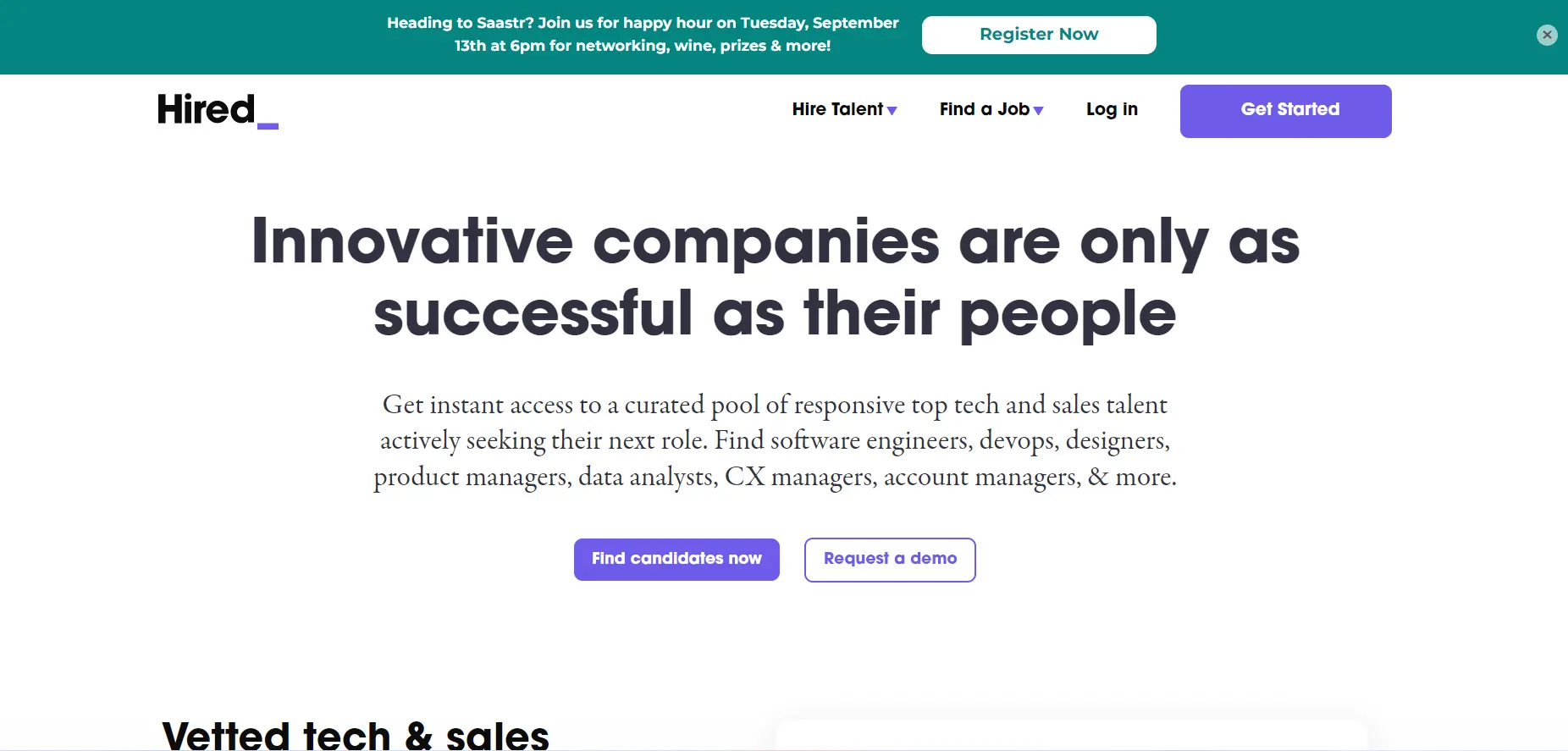 G2 rating: 4.3/5 (322 reviews)
Founded Year: 2012
Hired is a recruiting platform connecting you to a handpicked pool of responsive top tech and sales professionals looking for a new job opportunity. With this tool, you get better data, curated matches, and higher acceptance rates with unbiased insights, DEI tools, skill assessments, and dedicated Customer Success Managers. Moreover, the company claims employers save an average of 45 sourcing hours per role with the Hired solutions suite.
Perks
This tool allows you to access in-depth information about candidates.

Hired has a user-friendly interface.

This tool enables you to connect directly with candidates.
Free trial: Available
Top Clients: Fitbit, Dropbox, percolate, The Adecco Group, Box, Capital One, Postmates, Twitch
Pricing: On request
6. Instahyre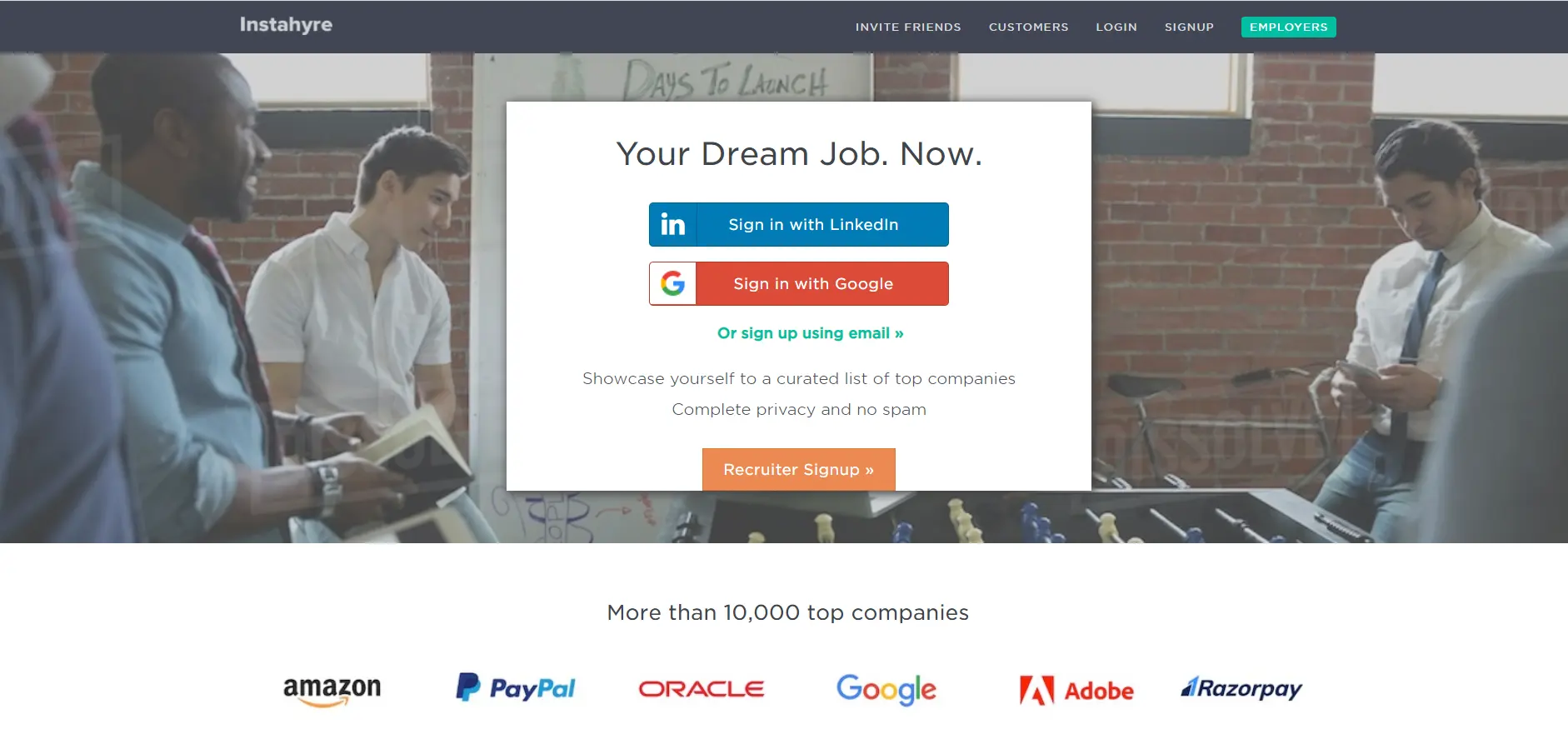 G2 rating: 4.1/5 (7 reviews)
Founded Year: 2016
The Instashyre platform is a candidate sourcing tool that helps recruiters quickly locate and hire top talent. It gives the recruiter a curated list of ready-to-hire individuals from its premium database. This software saves valuable time for recruiters and helps them focus on other tasks.
Perks
This application sends emails to recruiters and candidates to keep them up to date about the process.

Instahyre allows candidates to reach out directly to recruiters.

This tool requires less manual intervention.
Free trial: Available
Top Clients: Unacademy, Rapyuta, Oracle, Zoomcar, LBB
Pricing: $31 per job post
7. Upwork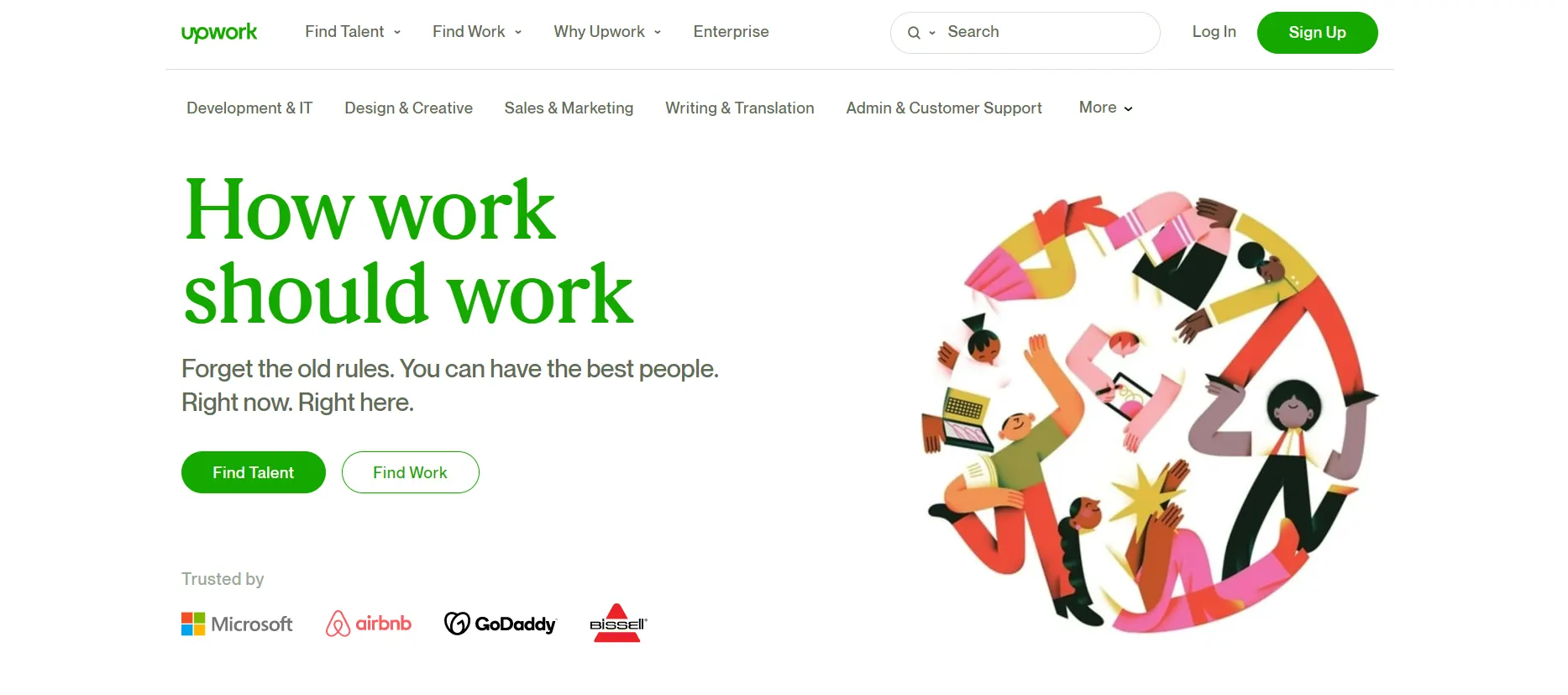 G2 rating: 4.6/5 (1809 reviews)
Founded Year: 2015
Upwork is a platform designed for firms seeking freelance workers for smaller projects. Additionally, many motivated individuals on the forum can offer you long-term service if required.
One significant advantage of Upwork is its registration procedure, which prevents fake accounts and bots from filling its pool with spam. Hence, it entails the employees have gone through a pre-filtering process by the time you have access to them.
Perks
Upwork makes it easy for recruiters to locate skilled designers, editors, and copywriters for tasks that require a quick turnaround.

It is an easy-to-use platform.

Upwork's customer support is outstanding.
Free trial: Available
Top Clients: Microsoft, Airbnb, Godaddy, Amway
Pricing: $60
8. Toptal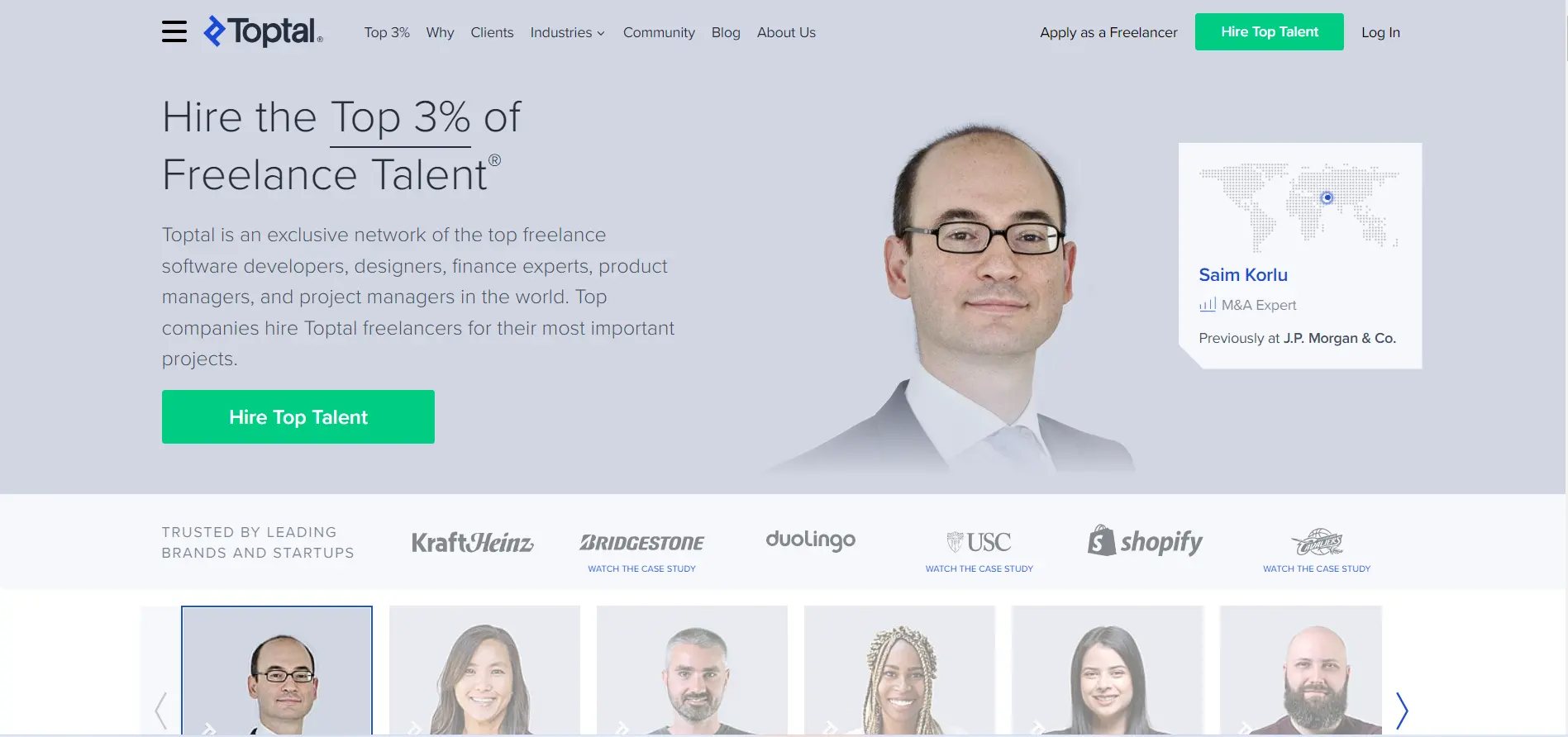 G2 rating: 4.6/5 (134 reviews)
Founded Year: 2011
Toptal is a sourcing platform that connects businesses with their exclusive network of the world's finest freelancing software developers, designers, financial experts, product managers, and project managers. Its distinguishing features are its comprehensive screening procedure and powerful referral system.
Perks
This tool assists in connecting with a large pool of candidates.

This portal screens candidates on their soft skills level, including attitude, ethical values, education, and English proficiency.

Toptal's payment mechanism is well-organized.
Free trial: Available
Top Clients: Shopify, Duolingo, USC, Bridgestone, KraftHeniz
Pricing: $250 per month
9. SimplyHired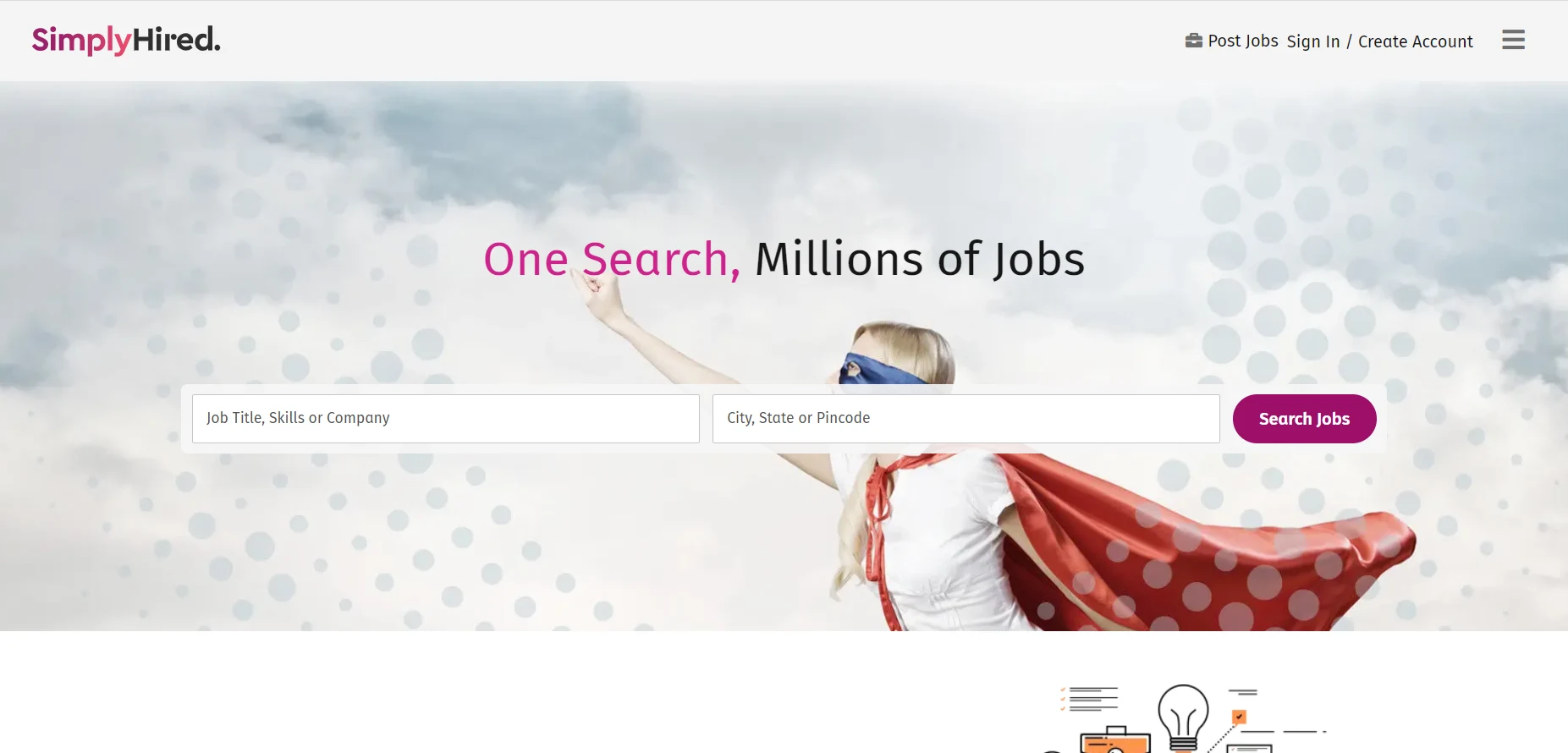 G2 rating: 3.7/5 (16 reviews)
Founded Year: 2004
SimplyHired is an employment website that provides a recruiting advertising network that helps companies find a suitable match for every hire. It allows applicants to find jobs in all fields. Moreover, with this tool's help, you can get detailed information about candidates.
Perks
The tool's video interviewing functionality is quite beneficial.

You can edit the job description on the portal without any hassle.

The UI/UX of SimplyHired is seamless.
Free trial: Not Available
Top Clients: Bank of America, CompHealth, Deloitte, hp, intel
Pricing: $9 /candidate
10. Fetcher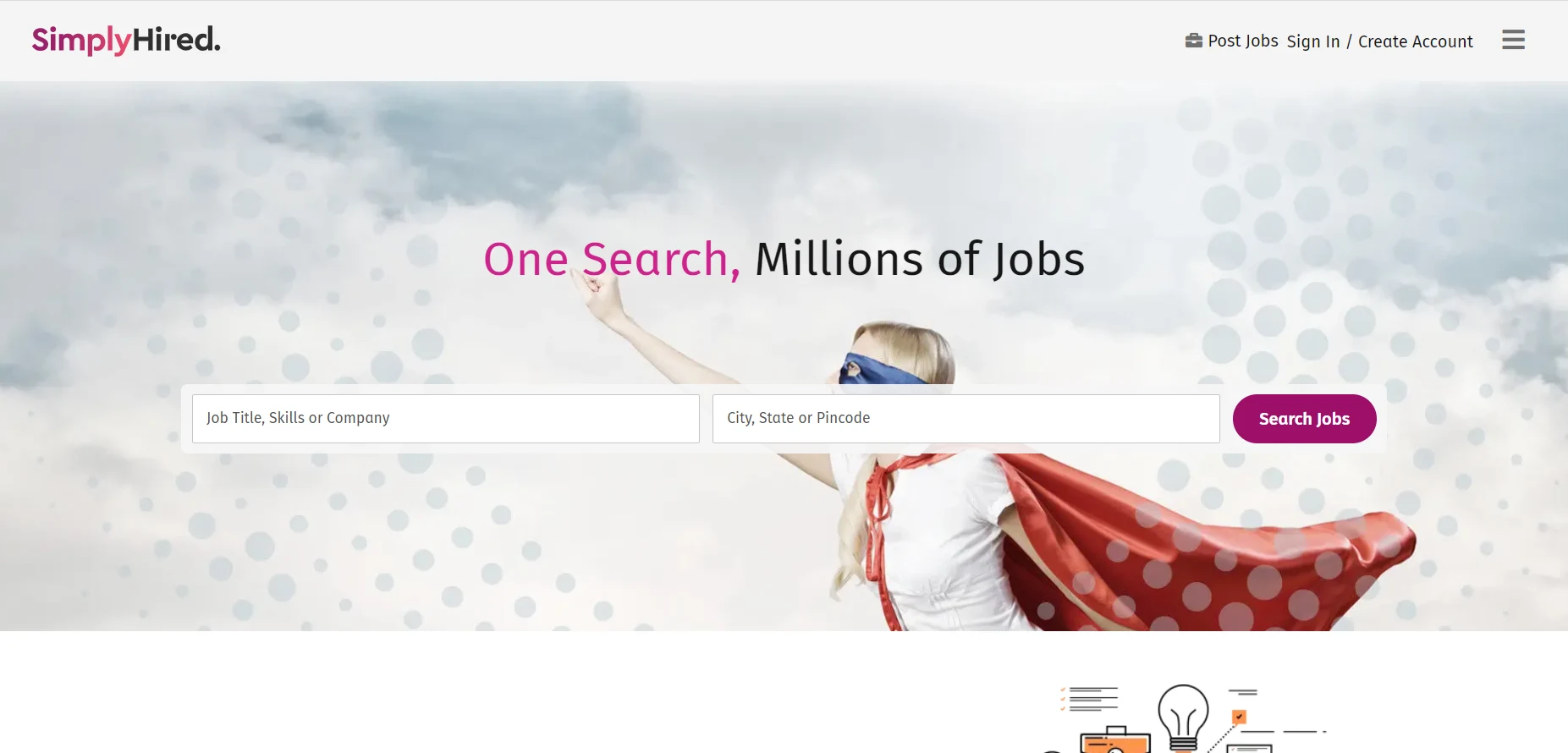 G2 rating: 4.6/5 (11 reviews)
Founded Year: 2015
Fetcher is a comprehensive recruitment automation software aiming to deliver qualified, interested individuals to your email quickly. The platform even automates email outreach efforts to obtain interviews for you and your team to find eligible candidates.
It combines search precision, workflow solutions, and extensive customer support to deliver a faster and less expensive hiring solution than other recruitment systems.
Perks
This tool's auto-pilot function allows you to follow up with applicants automatically.

The customer service of this platform is outstanding.

The software is incredibly user-friendly and intuitive.
Free trial: Available
Top Clients: Frame.io, Foursquare, Andela, Magnite, Devo
Pricing: $100 per month
Networking Platforms
1. LinkedIn Recruiter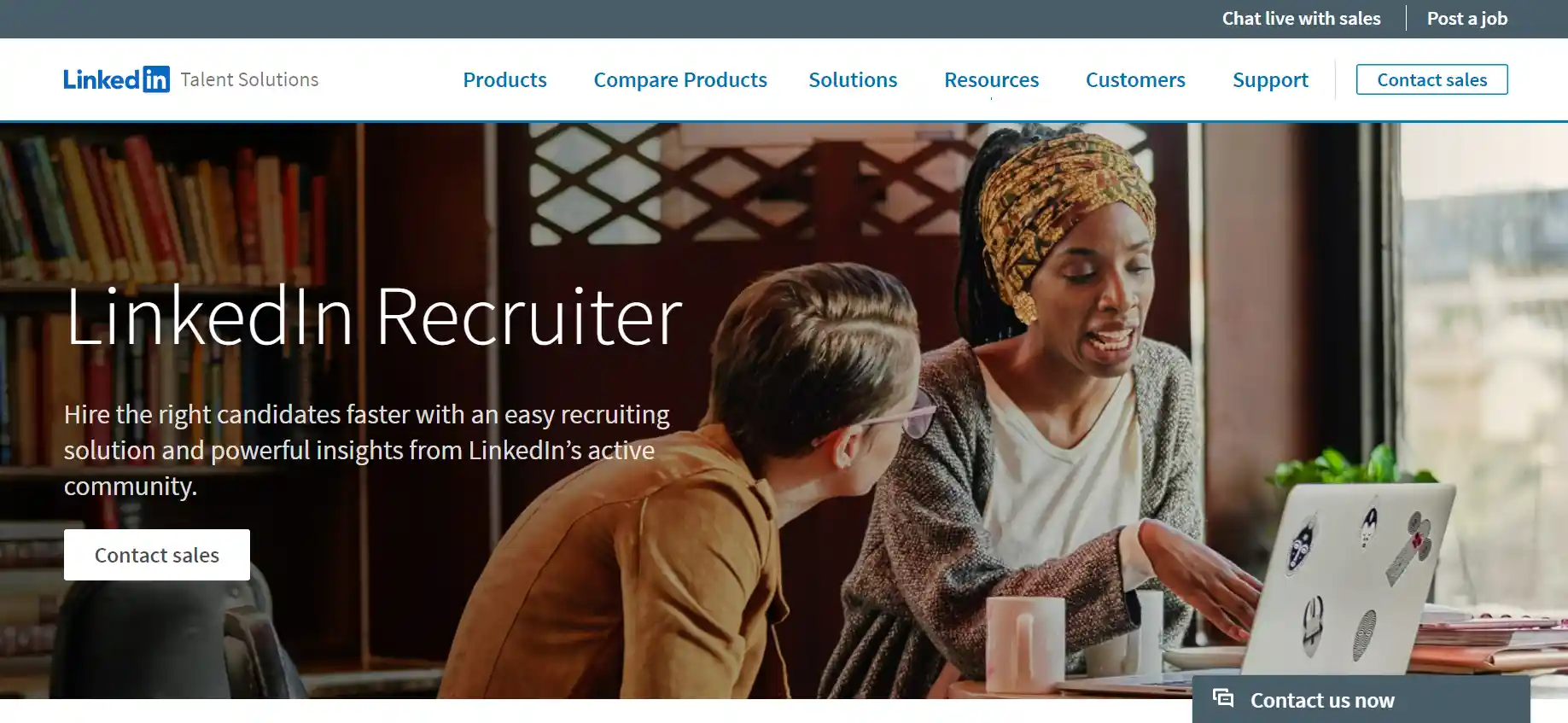 G2 rating: 4.4/5 (254 reviews)
Founded Year: 2003
LinkedIn Recruiter is a tool that assists managers in finding suitable applicants more efficiently. It is a comprehensive hiring platform for talent professionals that assists you in finding, shortlisting, and managing your candidates. With the help of powerful insights from LinkedIn's active community, you can easily cut down your overall hiring time.
Perks
Its bulk messaging capability allows you to reach out to a large number of applicants effortlessly.

This tool has many options to help you narrow your prospect pool.

LinkedIn's user interface and dashboard are simple and effective.
Free trial: Available
Top Clients: LEGO, Kellogs, City of Austin, Airtel, Allianz, BookingGo
Pricing: $899.95 per month
2. AngelList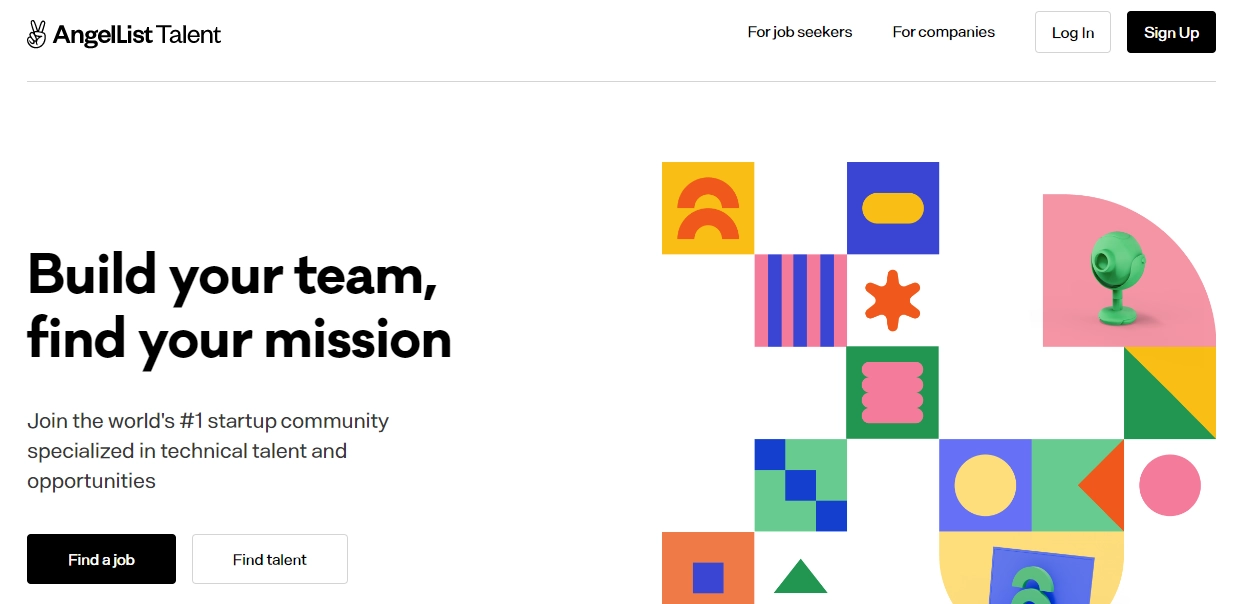 G2 rating: 4.1/5 (31 reviews)
Founded Year: 2010
AngelList Recruit is a software suite for finding, connecting, and hiring great talent. The software provides capabilities for smarter candidate searches and hiring for niche roles. Hiring managers can collaborate with teams to qualify prospects from around the world for any job posting. The testing modules enable you to source suitable candidates quickly with the skills required for the roles.
Perks
AngelList has an intuitive and easy-to-understand UI.

This tool easily integrates with any ATS.

The job search status enables you to determine candidates open to offers.
Free trial: Available
Top Clients: Postmates, PLAID, nerdwallet, doordarshan, Airtable
Pricing: $250 per month (per user)
Check out these Applicant screening tools to automate the hiring process!
FAQs
1. What is a sourcing tool?
A sourcing tool is a software application that recruiters use to find and build candidate databases to expand their talent pipeline. It assists recruiters in connecting with potential employees by proactively searching candidates' profiles, resumes, and other additional data. Using the information provided by the tool, recruiters can directly contact candidates.
2. What tools do you use to source candidates?
Finding the best sourcing tools for recruiters can be tricky, as you can use numerous tools to source candidates.
After analyzing various sourcing platforms available in the market, the best ones are:
ContactOut

HireEZ

Fetcher

Avature

Upwork
3. How do you source candidates without job portals?
There are various ways to source candidates without job portals. Some of these methods include:
Employee Referrals: Your employees likely know network people who would be a good fit for your company.

Social Media: You can use LinkedIn and Twitter to reach potential candidates.

Job Fairs: You can attend local job fairs and meet potential candidates.

Networking: You can meet potential candidates and learn about their qualifications at these events.
4. How do recruiters source candidates?
Recruiters source applicants in numerous ways; they may use job boards, online resume databases, or social media. They might also contact individuals directly or attend employment fairs. The most time and money-efficient option are candidate sourcing tools, which enable recruiters to distinguish between passive and active job seekers by removing all unconscious biases.