According to research, 70% of companies intend to hire on campuses. More recruiters are approaching colleges to find top talent as the labor market tightens. So many businesses, start-ups, and SMEs invest in university recruiting platforms to receive an end-to-end recruitment solution for all their needs, such as online promotion, candidate registration, bias-free assessments, and job posting.
However, hiring candidates from multiple departments can be overwhelming, as it comes with loads of student data to manage if done conventionally.
HR Managers face numerous recruiting challenges; some of them are:
The traditional interview process lacks the flexibility, transparency, and versatility of an online hiring process.

Recruiters have to monitor assessments, shortlist, conduct various rounds of interviews, and hire all in one day.
Campus recruitment tools can help recruiters find skilled and enthusiastic freshers from different demographics without investing a laborious amount of time and mental work. To help you choose a tool that fits your needs the most, we have compiled a list of the top eight campus recruiting tools.
Top 8 Campus Recruiting Tools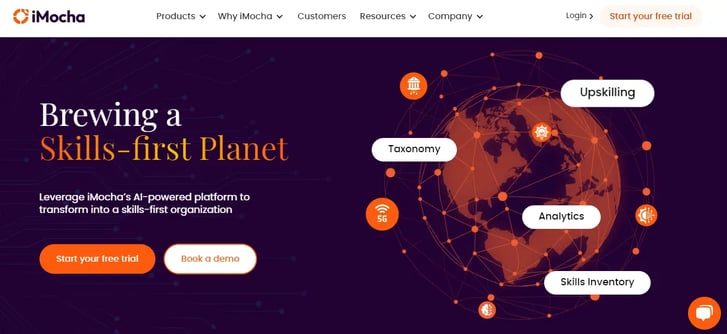 Founded in: 2015
Founded by: Amit Mishra & Sujit Karpe
Free Trial: Available
Website: https://www.imocha.io
Top features:
AI-LogicBox assesses candidates' coding skills in languages such as Java, C++, SQL, C#, etc.
Skill assessment library with over 2500+ skills, 100,000+ questions

Analytics dashboard with individual and group level information

Skill assessment consulting

Self-assessment portal for candidates
iMocha, a skills intelligence platform, can help you create a scalable university recruitment program while helping you save time and costs. It provides customized assessments for you to gauge the job readiness of your candidates.
Moreover, with university hiring, recruiters often struggle with integrity – as candidates often cheat and share solutions with one another. But using iMocha's proctoring suite, recruiters and hiring managers can enable various forms of proctoring, such as video, audio, and image proctoring, IP restrictions and window lock, candidate ID verification, and more.
iMocha is one platform with multiple solutions. It has assessments for functional skills, technical skills, cognitive skills, and more.
iMocha enables organizations to meet their university hiring needs by offering the largest, frequently updated, and highly calibrated skills library on an AI-driven platform.
Pros:
Organizations can leverage iMocha's skill proficiency meter, to identify candidate-wise and university-wide skills level

With iMocha, you can find out a candidate's job readiness based on a variety of assessments such as technical skills, English proficiency, cognitive ability, and more

Using iMocha's coding assessment solutions, such as Live Coding Interview, AI-LogicBox, code replay, and more, you'll be able to assess a candidate's coding competencies thoroughly
Cons:
iMocha does not conduct psychometric tests
Clients: EY, Capgemini, Deloitte, Vanguard, Ericsson
G2Crowd Rating: 4.4/5
Pricing: Visit iMocha's Campus Hiring Pricing
2. HackerEarth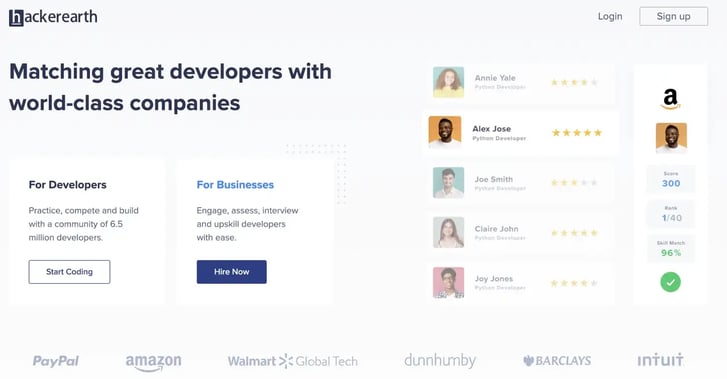 Founded in: 2012
Founded by: Sachin Gupta
Free Trial: 14 days free trial available.
Top features: Built-in proctoring system.
Cut down hiring time in half

Highly customizable campus recruiting software
Pros:
HackerRank is a university recruiting platform with a database of over 13,000 questions. It assesses more than 80 talent types and 12 job roles

HackerEarth automatically creates a leader board for each evaluation

At HackerEarth, creating assessments based on a job description, a position, or necessary skills is relatively easy
Cons:
A lot of effort is required to understand the UI of this university recruiting tool, making it less interactive

HackerEarth has many story-based questions instead of direct ones, consuming candidates' assessment time

MCQs are not available in this university recruiting platform
Clients: Dunnhumby, Walmart, Inuit, Wells Fargo, Amazon
G2 Crowd Rating: 4.6/5
Pricing: $499/month

3. Vervoe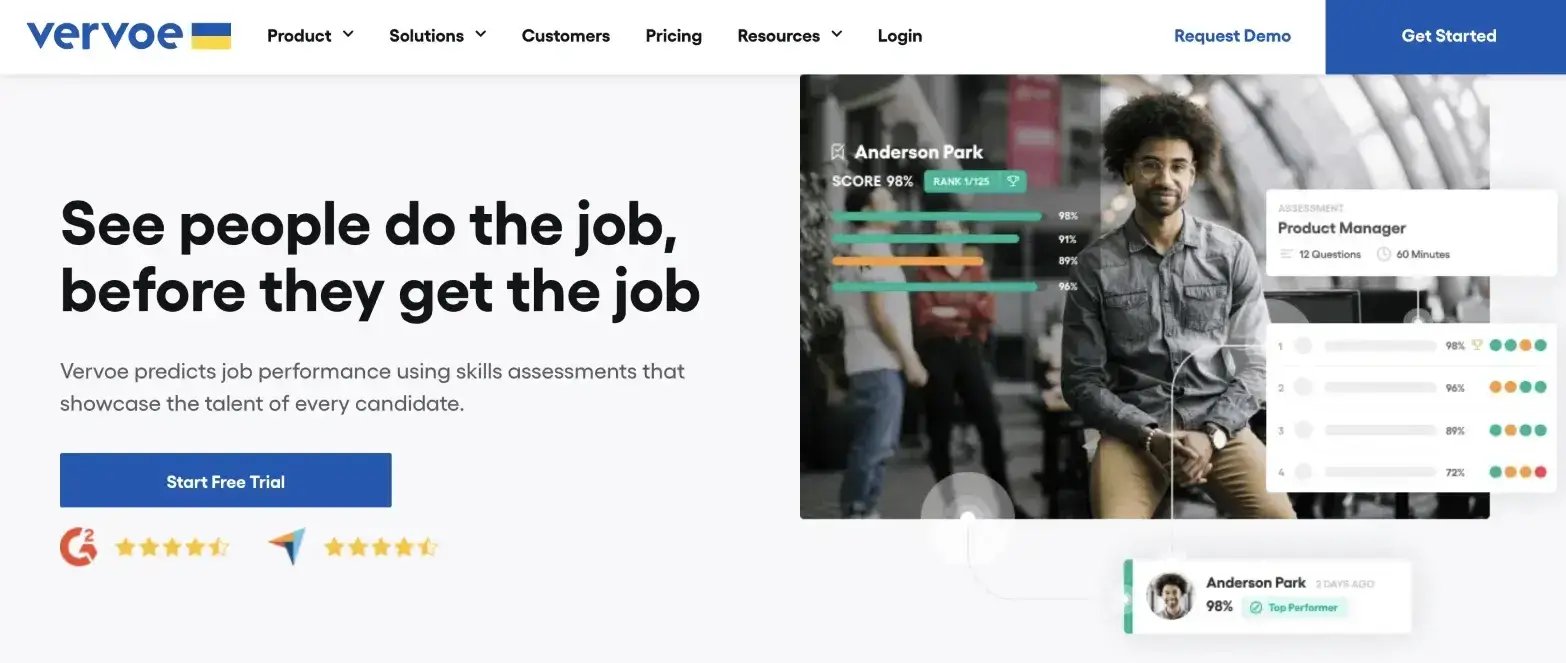 Founded in: 2016
Founded by: Omer and David Weinberg
Free Trial: Available
Top features:
Tailored Assessments

Automatic grading and ranking system

Integrations of team tools for cooperative hiring
Pros:
With everything in one place UI, Vervoe application, and screening process are quick and easy

You can make your assessments more personalized with help of their AI integration

It features over ten immersive question categories, such as ones that require video responses and coding
Cons:
The pricing model is arbitrary and not flexible

This university recruiting platform is not mobile-friendly

They have poor customer service
Clients: Myob, TriNet, Australia Post, WPP, OmnicomGroup, KFORCE
G2 Crowd Rating: 4.6/5
Pricing: $149/month
4. HireVue

Founded in: 2004
Founded by: Mark Newman
Free Trial: Not available
Top Features:
Virtual interview sessions

Pre-employment assessments

AI Conversations
Pros:
To make the hiring process more convenient for hiring managers, this campus recruiting software offers live and on-demand interviewing software

HireVue is an AI-powered recruitment tool that automates workflow and candidate interactions

The UI/UX is user-friendly, not just for recruiters and hiring managers but for candidates as well
Cons:
The cost of this college recruitment tool is relatively high

HireVue's support team is unresponsive
Clients: Smartlynx, Amazon, Beacon, The Co-operative Bank, The Foxtel Group
G2 Crowd Rating: 4.1/5
Pricing: Starts at $35K/month
5. Yello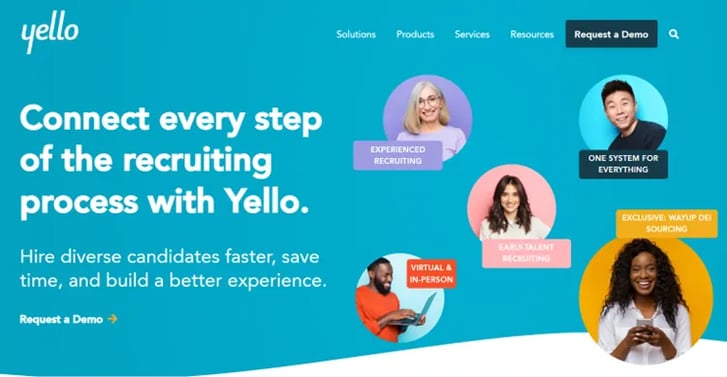 Founded in: 2007
Founded by: Jason Weingarten and Dan Bartfield
Top Features:
Recruitment CRM

Recruiter Engagement

Candidate Sourcing

Video call interviews

Interview Arrangements

Application Protocols

Candidate Analyses
Free Trial: Not available.
Pros:
This college recruitment tool is efficient in collecting information quickly and adequately.

It allows you to send bulk emails once to reach out to all the contacts

Using this university recruiting platform, users can create branded email campaigns and access important engagement insights to better interact with talent
Cons:
Background screening, application monitoring, and onboarding are not included in the platform

Yello is relatively expensive when compared to other campus recruiting software

Live chat support is not available
Clients: TOYOTA, Ebay, Phillip 66, Adobe, BDO
G2 Crowd Rating: 4.4/5
Pricing: $109/month
6. Rakuna

Founded in: 2015
Founded by: Ngam Pham
Free Trial: Available
Top features:
It improves candidate engagement

Text recruiting

Recruiting events

Efficient ATS (Application Tracking System)
Pros:
To-the-point and straightforward UI

Rakuna is relatively good at gathering resumes, processing data, and making it available for inspection within the timeline

This recruitment tool has a highly supportive team that works closely with the organization and helps create events, calls, conferences, and more
Cons:
Rakuna shows a significant amount of delay while processing a large number of CVs

In this university recruiting platform, sorting filters are not up to the level
Clients: Southern Company, Applied Materials, Amrica, Nemak, UCAR
G2 Crowd Rating: 4.5/5
Pricing: $350/month
7. GradLeaders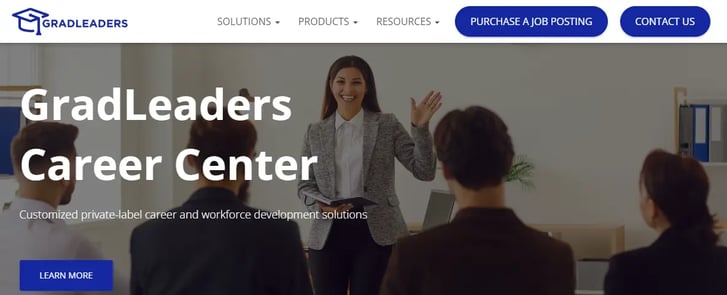 Founded in: 2001
Founded by: Darrell Dewese
Free Trial: Not available
Top features:
Enhance networking

Data-driven candidate reports

Virtual career fairs

Intern management system
Pros:
GradLeaders exhibits excellent data tracking skills

This campus recruiting software can be used for team collaborations easily

The platform offers valuable content and networking opportunities
Cons:
Email messaging is not much effective here

Organizations cannot schedule an appointment directly

The support team is quite unresponsive at GradLeaders
Clients: Ohio University, University of Dayton, California State University, Fresno, University of Missouri.
G2 Crowd Rating: 2.5/5
Pricing: $250/month (per user)
8. Freshworks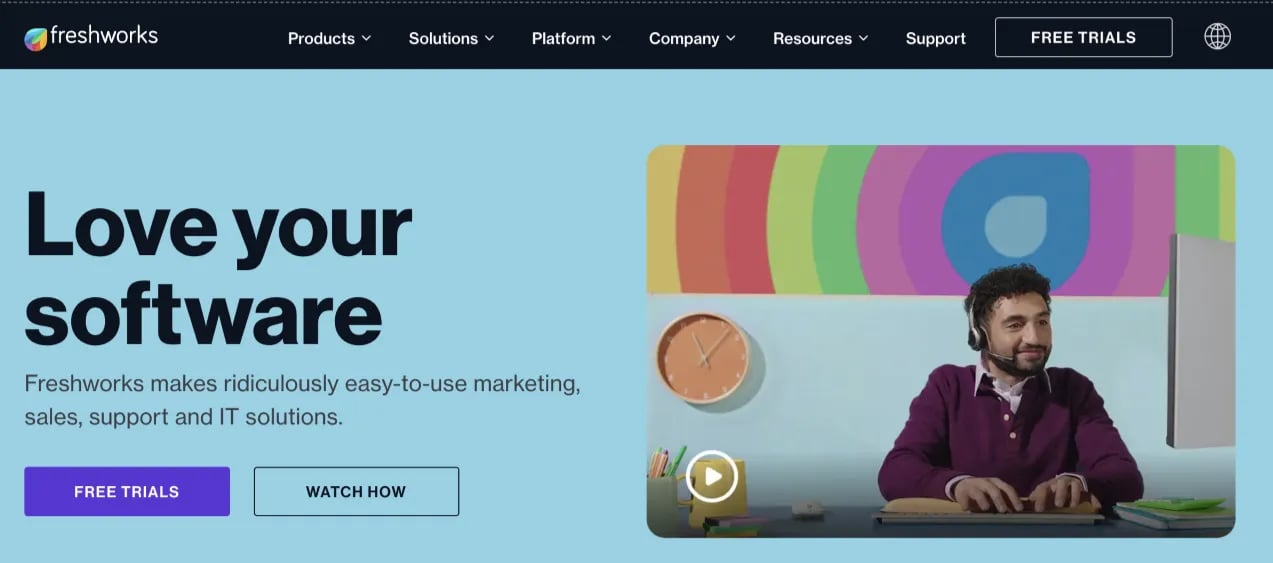 Founded in: 2010
Founded by: Girish Mathrubootham
Free Trial: Available
Top features:
It makes hiring streamlined

Custom pricing model

Tailored assessments
Pros:
Freshworks is a cloud-based software with self-automation that helps make the process streamlined and faster

With the help of webhooks, users can extract candidates' data within a limited time

The platform helps interact with many potential candidates via a contextual message from the chatbot, and then the letter can be handed over to the agent at the right time
Cons:
Freshworks is a bit pricy college recruitment software

The software has limited filtering options when compared to other campus recruiting software
Clients: Clarity, Salinas Valley Memorial Healthcare System, Bridgestone, Synergy, Bensons for Beds
G2 Crowd Rating: 4.5/5
Pricing: Varies with teams, ex: $625/month (success teams), $950/month (enterprises)
FAQs
What is the campus recruitment system?
A campus recruitment system is where employers actively seek out talented and skilled people using hiring software. In addition, it is a strategy for sourcing, engaging, and hiring young talent for internship and entry-level positions.


What is campus recruitment strategy?
A campus recruitment strategy is a structured hiring plan for recruiting new talent to fit into the organizational framework. A strong campus recruitment strategy includes:
Build a hiring plan that includes hiring needs, expectations, and goals to be fulfilled by the candidate

Engage with the top

college recruiting software and assess skills of students. An assessment software like

iMocha

will help you assess candidates on technical, aptitude, and communication skills

Build a strong recruitment team to represent the company's goal suitably in front of candidates

Market your strategies by advertising them on social media, collaborating with career websites, adapting a student referral program, and building a campus ambassador program
How to do campus recruitment?
Follow the below-written steps to do effective campus recruitment.
Set your focused campuses

Contact the career services at the university

Post a job on the university's official career website

Provide candidates with campus-based assessments using a top university recruiting platform

to assess their skills such as communication, mental aptitude, or any job-specific role

Evaluate assessment score

Establish communication with the students

Organize On-Campus events