Employee Value Proposition, or EVP, is an integral component that can strengthen your HR's talent acquisition and talent development wings equally. In simple terms, EVP stands for your company's offerings to its employees.
Being said that, through this blog, we will walk you through what Employee Value Proposition is, its benefits, and how to create EVP in detail.
So, why don't we get right into it?
What is Employee Value Proposition or EVP?
Employee Value Proposition (EVP) refers to the promises an employer as a brand makes to their employees. According to Gartner, an EVP has to focus on five key elements: compensation, work-life balance, stability, location, and respect. Well, these elements have several components attached to them. So, let's look at each aspect in detail.
Compensation includes salary, rewards, regular raises, and bonuses offered with a post and how satisfying this is for your employees.
Work-life balance focuses on retirement plans, holidays, paid time off, flexibility, and initiatives by the company to improve employees' mental and physical well-being.
Stability includes career development opportunities offered to employees.
Location mostly gives importance to the autonomy employees have.
Respect highlights culture, including the company's Diversity, Equity, and Inclusion stand.
Therefore, while setting up your organization's Employee Value Proposition, you must consider these components closely. Although EVP has a close relationship with the employer brand, there is a striking difference between them that you must keep in mind.
Employee Value Proposition is an organization's internal positioning, and employer brand is an external positioning, highlighting what it would be like working for your organization. However, to enhance employee experience and stay accurate to your brand positioning, your EVP and the core elements of your employer brand must align with each other.
Organizations have to focus on restructuring their EVPs in the post-pandemic era by focusing on three aspects, as per a recent Gartner study. They include considering employees as people, giving importance to employees' life experiences, and delivering positive emotional responses. In short, as per Gartner, EVP has to bring in a human-centric approach.
When you have a strategic EVP that aligns with your company's vision and values, you can attract top talents, retain your employees, improve their experience, etc. Well, we will discuss the different benefits of EVP in a while. So, hold on!
What are the benefits of EVP?
Your organization can garner plenty of benefits with a strategic and effective EVP. They include:
Improve your company's positioning among your competitors.

Help attract quality candidates to your recruitment pipeline and reduce hiring costs and time.

Aid in implementing your recruitment strategy effectively.

Enhance employee retention and reduce employee turnover rates. As per a study from Gartner, an organization can lower turnover by 69% with a compelling Employee Value Proposition. Through this, you can further retain intangible knowledge and skills within your organization.
Increase employee performance; as per Gartner, it can bring about an 18% rise.

Improve employee connectivity in your organization.

Assist in increasing employee satisfaction, engagement, and experience.

Aid in boosting Diversity, Equity, and Inclusion in your company.

Help in depicting your company's culture transparently and further facilitates your new and existing employees with opportunities to understand your organization better.
How to create an Employee Value Proposition?
Since we have explored what EVP is and its benefits in detail, why don't we dive deeper into how your organization can create an Employee Value Proposition?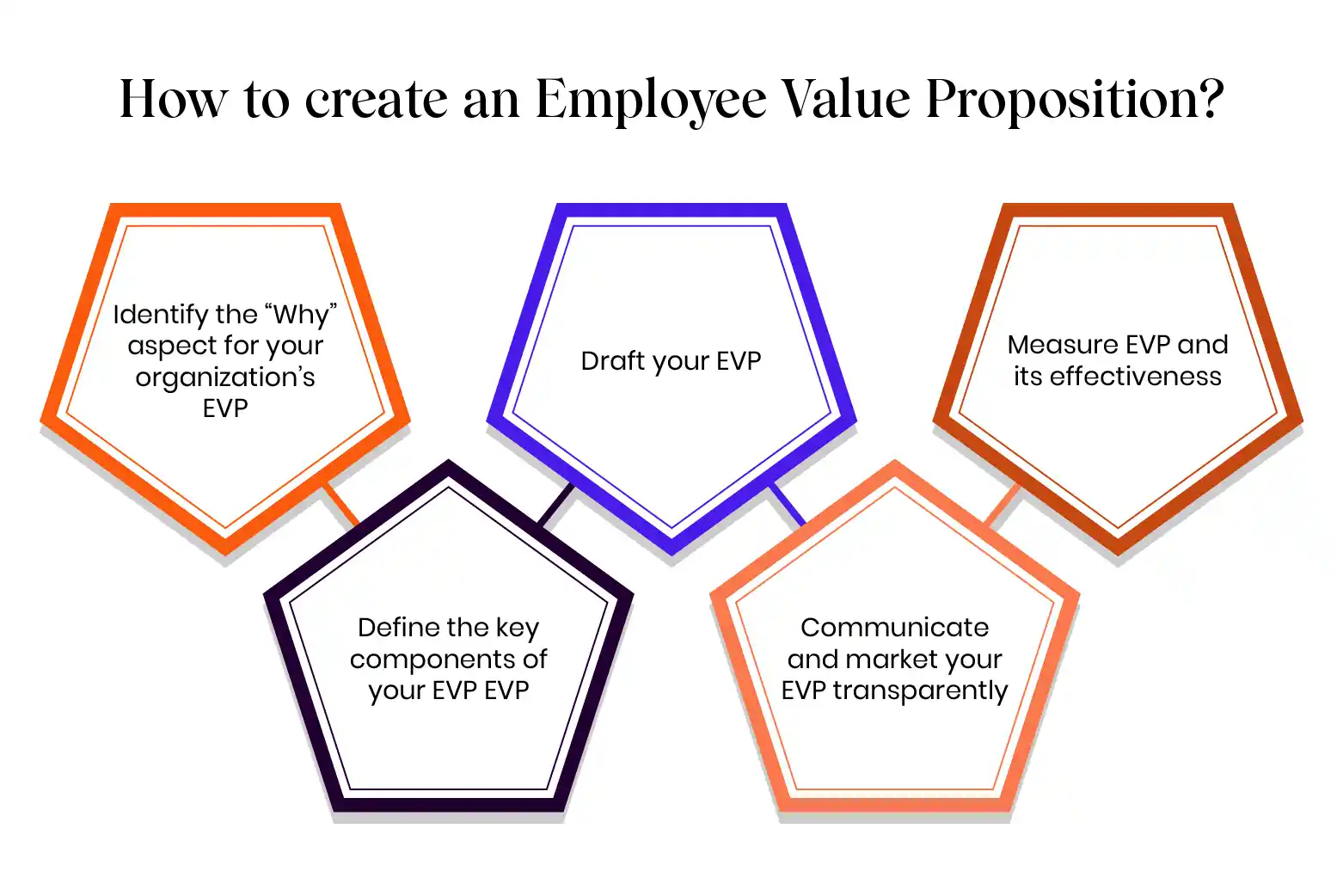 Identify the "Why" aspect for your organization's EVP
Every organization should identify why they want to create an EVP. It is a way through which you can gain clarity on the focus areas of your EVP. So, now, the question at hand is how can you learn more about this "why" aspect?
Well, one of the ways to do so is by involving your leadership. Your organization's leadership can provide inputs to help align your company's EVP with its business goals, strengths, and vision. It will also aid you in creating an ideal candidate persona with the skills and traits essential for prospective candidates.
You need to obtain employee feedback to learn more about this component. You can gather this via surveys, focus group discussions, one-on-one interviews, and exit interviews. While doing so, you can include some of these questions to your employees:
Do they enjoy working with the organization?

Why do they like to work in the organization?

Are the career development options aligned with his/her career goals?

What are the improvements that they expect?

What is their motivation to work with the organization?
Based on all these data points, you can clarify why your company would need an Employee Value Proposition and list the elements you need to address.
Define the key components of your EVP
As discussed earlier, different vital elements or components play a crucial role in determining the effectiveness of your Employee Value Proposition. They include compensation, work-life balance, stability, career development, location, and respect. Therefore, based on your organization's goals and the understanding you have gained from your current and past employees, you have to streamline and prioritize them before drafting your EVP.
One key thing to remember during this process is that each organization is unique. Hence, you have to define the key areas of your organization's EVP accordingly. Most importantly, they have to be flexible as you might have to revise them as your company's goals and priorities can change.
Each organization would have different priorities. However, ensure that you focus on employee career development, diversity, inclusivity, and fair reward systems, and set SMART and realistic expectations and goals.
Draft your Employee Value Proposition
Once you have gained clarity on the key components defining your Employee Value Proposition, it's time to create your EVP, aligning it with your company's offerings and what your ideal candidate persona seeks. Bringing in the perfect blend of these two factors can improve your EVP. Additionally, while drafting your company's EVP narrative, focus on bringing in a human-centric approach as you prioritize your business needs.
By the way, before you start creating your company's EVP, looking into what other top organizations and your competitors are bringing forward is beneficial. For instance, Canva focuses on an employee's impact on the company's mission in their EVP. They also highlight different learning opportunities offered by Canva to their employees. Yet another organization that is renowned for its EVP is Airbnb, presenting the significance of career progression, openness, and workplace culture.
Similarly, your organization can design its EVP based on your focal areas. But always remember to collect feedback and be open to constructive criticism for further enhancing your EVP.
Communicate and market your EVP transparently
After your organization has drafted an effective EVP, it's time to market it through the right channels. When you do so, you can send the message to your target audience at the correct time. Remember to embed this messaging in your internal and external communication channels.
When it comes to internally spreading your EVP, you can do so via company blogs, email blasts, email signatures, and during other online/offline programs. When you have to market it externally, you must do it strategically through your recruitment marketing techniques. You can communicate it through career pages, career sites, email campaigns, social media channels, employee videos, job descriptions, and their boilerplates.
Measure EVP and its effectiveness
Measuring your EVP is critical in attaining the desired results and ensuring that you are progressing on the right track. However, to measure EVP, you must set up the metrics clearly. While doing so, you must shortlist elements that can act as KPIs within your company's EVP. Some metrics you can focus on include:
Employee engagement and satisfaction

Cost to hire and cost per hire

Glassdoor ratings from your current and previous employees

Candidate tracking based on traffic on career pages and the ratio of applicants and interviews conducted

Quality of hire

Employee performance
You can set up these metrics to measure EVP and its performance. In this case, you can attain most of the data points from your HRMS. However, you can only join the puzzles effectively and build a better-positioned EVP when you obtain feedback from your employees and recruitment team.
By communicating with your recruitment team, you can identify what aspects of your EVP are performing and helping with their recruitment initiatives. You can also understand what is not working and consider them as new opportunities for improving your EVP further.
From employees, you can gain clarity on how well your organization is offering what is promised to them and if they find it satisfying or not. You can also measure EVP by better tracking how your employees engage with your company's EVP-related content.
Like other HR practices, remember that measuring EVP and strategizing and improving it further must be continuous. It is only through this you can attain the desired results. Yet another simplistic approach to understanding if your EVP is performing well is when your quantity and quality of hire are equally good.
Final thoughts
Thus, as an HR professional, working on a strategic EVP for your organization is vital. Remember that it is a continuous process that will evolve as your organization grows. Therefore, you must work on developing, aligning, and improving it regularly to make quality hires that perform well for the long haul.
Are you struggling to identify the right talent you need to stay ahead of your competition? Try iMocha!