HackerRank is one of the most sought-after technical skills assessment platforms for hiring candidates in engineering roles. Founded in 2012, HackerRank has completed ten years of helping companies develop strong tech teams.
The platform is known for providing a variety of coding resources, challenges, and skill-based coding assessments for interviews. However, not everyone is satisfied with their user interface and coding tests.
While HackerRank allows companies to test candidates through technical assessments, these tests are usually hard to create, take and administer. Then there is the difficulty of consistently engaging candidates through the platform.
If you're looking for assessment platforms with better UI/UX, customer support, and privacy to evaluate the technical competencies of candidates, we have 11 great HackerRank alternatives for you.
11 Best HackerRank Alternatives in 2023
1. iMocha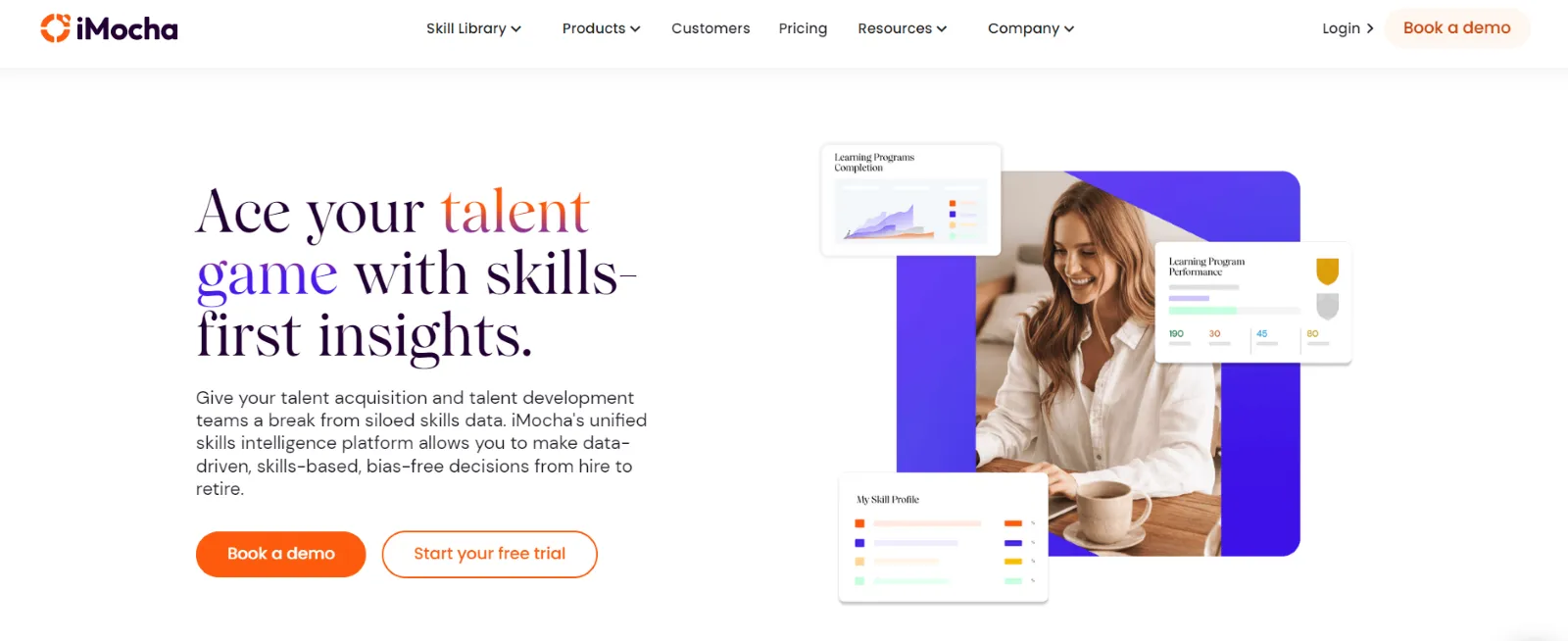 Are you looking to hire the best coders remotely through live coding interviews with an interactive experience for both recruiters and candidates? Then you need to strongly consider iMocha as a HackerRank alternative.
Founded in 2015, iMocha has served more than 500 customers in acquiring and upskilling more than 200k employees with more than 3 million assessments.
The platform's features enable recruiters to assess the quality of the code so they can hire only high-quality coders.
They can check the entire video with Code Replay to analyze the coder's approach and track memory usage and execution time with iMocha's analytics.
Further, tools like Code Stubs and Intellisense save coders time and let them focus on logic. They can also test the code using the custom test input option. The excellent candidate experience is one of the main USPs of iMocha.
iMocha's Pros
Real-time collaborative assessment experience

Eliminate written feedback and multiple interview rounds

Reduced hiring time

Improved appear ratio
Integrations Available
Greenhouse, Workable, Zapier, iCIMS, Bullhorn, Recruitee, Jobvite, SmartRecruiters, BambooHR
iMocha's G2 Rating and Reviews
iMocha has a G2 rating of 4.4 out of 5. It has received excellent customer reviews for its hassle-free skill assessment process that lets them recruit better and faster.
iMocha is trusted by many global enterprises and Fortune 500 companies, including Telstra, Capgemini, Paypal, Deloitte, etc.
iMocha's Pricing
Starting from $5000 per year
HackerRank Vs. iMocha: Features Comparison
Skills Assessment Library
| | | |
| --- | --- | --- |
| Features | iMocha | Hackerrank |
| Number of Skills | | Data not available |
| Technical Skills | Available | Available |
| Coding Skills | Available | Available |
| Functional Skills (SAP, Salesforce, RPA) | Available | Not Available |
| Project Assessment | Available | Available |
| Domain Skills- Banking and Finance, Supply Chain | Available | Not Available |
| Communication Skills - AI-EnglishPro, AI- Speaking, AI-Writing | Available | Not Available |
| Cognitive & Aptitude skills | Available | Not Available |
| Custom Test (Assessment Creation Consulting) | Available | Not Available |
Enterprise Readiness
| | | |
| --- | --- | --- |
| Features | iMocha | Hackerrank |
| Single Sign On | Available | Available |
| Team Management with Role-Based Access Control | Available | Available |
| Product Security (Soc2) | ISO 27001 | ISO 27001 |
| Integrations | 1-Click integration with 20+ partners | Available |
| SLA & Support | Yes - 99.9 % delivery rate | Yes - 99.9 % delivery rate |
| GDPR | Available | Available |
| Advanced Employer Branding | Available | Available |
| Candidate Career Site | Available | Not Available |
| Invitation Options | Advanced | Available |
| White Labelling | Available | Available |
Innovative Assessment Platform
| | | |
| --- | --- | --- |
| Features | iMocha | Hackerrank |
| Validity and Reliability of Assessments | Available | Available |
| Live Coding Interview | Available | Available |
| Live Video Interview | Available | Available |
| Analysis of Question Difficulty Levels | Available | Not Available |
| AI-enabled, One-Way Video Interview | Available | Not Available |
| AI-LogicBox - Innovative and Patented Question Type | Available | Not Available |
Reporting and Analytics
| | | |
| --- | --- | --- |
| Features | iMocha | Hackerrank |
| Predictive Benchmarking for all Enterprise Job roles | Available | Available |
| Industry Benchmarking for all Enterprise Job roles | Available | Available |
| Question Difficulty Analysis | Available | Not Available |
| Assessment Quality Analysis | Advanced | Available |
| Candidate Response Score | Available | Available |
| Code Review Analysis | Coming Soon | Available |
| Video Question Analysis | Available | Not Available |
| Recruiter Performance Report | Available | Not Available |
| Comparative Candidate Analysis | Available | Available |
Cheating Prevention
| | | |
| --- | --- | --- |
| Features | iMocha | Hackerrank |
| Real-Time Image Proctoring | | Image snapshots at 1-minute intervals |
| Video Proctoring with analysis | Available | Not Available |
| Window Lock With Test Termination | Available | Available |
| Question level Time violation | Show in Report | Available |
| Question & Option Randomization | Available | Available |
| IP Ranges | Available | Available |
Customer Support and Service
| | | |
| --- | --- | --- |
| Features | iMocha | Hackerrank |
| Training and Onboarding | Available | Available |
| Assistance For Custom Test | Available | Available |
| Analytics That Matter | Available | Available |
| Review Meetings with Customer | Recurring Meetings | Need to Book a Time |
| Flexible Support Options | Available 24-7 | 24 hours, 5 days a week |
Click here to book a demo or start a free trial with iMocha.
2. HackerEarth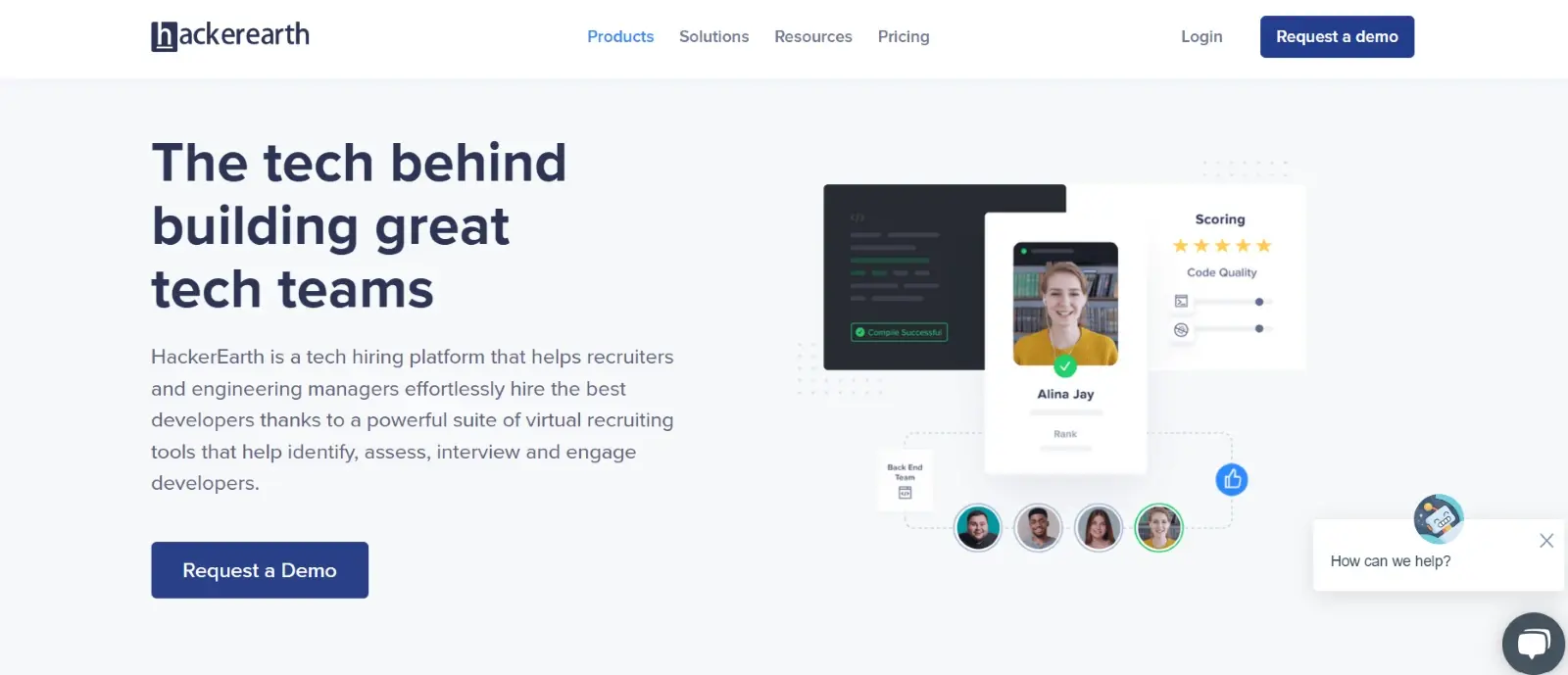 HackerEarth began in 2012 as MyCareerStack, an interactive platform for technical interviews. Today, it offers one of the most advanced coding solutions, making it a good HackerRank alternative.
Thanks to HackerEarth's rich library of 17,000+ questions and 900+ skills, recruiters can create highly accurate coding assessments with little technical know-how.
The detailed candidate report, analysis, and leader board help recruiters screen the best developers quickly.
HackerEarth's Pros:
AI-powered proctoring

Industry-level compliance, security, and scalability

Automated test creation by skill or job description

Support for international language
Integration Available
Greenhouse, Linkedin Talent Hub, Lever, iCIMS, Workable, JazzHR, SAP Success Factors, Jobvite, etc.
HackerEarth's G2 Review and Ratings
HackerEarth has a G2 rating of 4.2 out of 5. Comparing HackerRank vs. HackerEarth, reviewers have rated the latter favorably on ease of setup. Users have also reviewed it positively for its technical and soft skill screening features.
HackerEarth's Pricing
Startups: $169 per month

Enterprises: $369 per month

Custom plans
3. Mercer Mettl

Founded in 2010, Mercer Mettl is an online examination platform for secure, credible, and scalable remote assessments. Its best feature is its new-age exam monitoring system that enables cheating-free online exams.
Trusted by 6000+ clients across multiple countries, Mercer Mettl is one of the world's largest online examination and remote invigilation companies.
Its hiring tools include cognitive and technical skills assessments, coding assessments, behaviour assessments, and communication assessments.
Mercer Mettl's Pros:
Best-in-class proctoring technology

Holistic evaluation

Tailored solutions matching business objectives

24*7 support
Integrations Available
Akrivia HCM, Darwinbox, Freshteam, Greenhouse, Lever, NoPaperForms, Peoplise, Skillate, TurboHire, Workable, Zoho Recruit, Canvas, D2L
Mercer Mettl's G2 Ratings and Reviews
Mercer Mettl has a G2 rating of 4.4 out of 5. Comparing HackerRank vs. Mercer Mettl, reviewers found Mercer Mettl is easier to admin but is slightly more expensive.
Mercer Mettl's Pricing
Custom plans as per the organization
4. Coderbyte

Coderbyte is another HackerRank alternative to evaluate candidates quickly, affordably, and accurately.
Founded in 2012, it's an all-in-one platform with unlimited candidate/admin options for technical assessments, interviews, or take-home projects.
Coderbyte has a massive library of hundreds of skills and thousands of challenges in multiple-choice, open-ended, and video-response questions.
Its main USP lies in its collaborative interview capability with a live coding framework, video, and whiteboard.
Coderbyte's Pros
Unlimited assessments and collaborative interviews

Automated grading and responding

Cheating detection

Different features for startups, staffing agencies, boot camps, and larger organizations
Integrations Available
Recruitee, Slack, Workable, Greenhouse, Airtable, and a thousand more applications
Coderbyte's Ratings and Reviews
Coderbyte has a G2 rating of 4.4 out of 5. Reviewers have found Codebyte's pre-made tests effective and easy to set up, and the reports detailed. Overall, customers have found its features to provide good value for money.
Coderbyte's Pricing
5. CodeSignal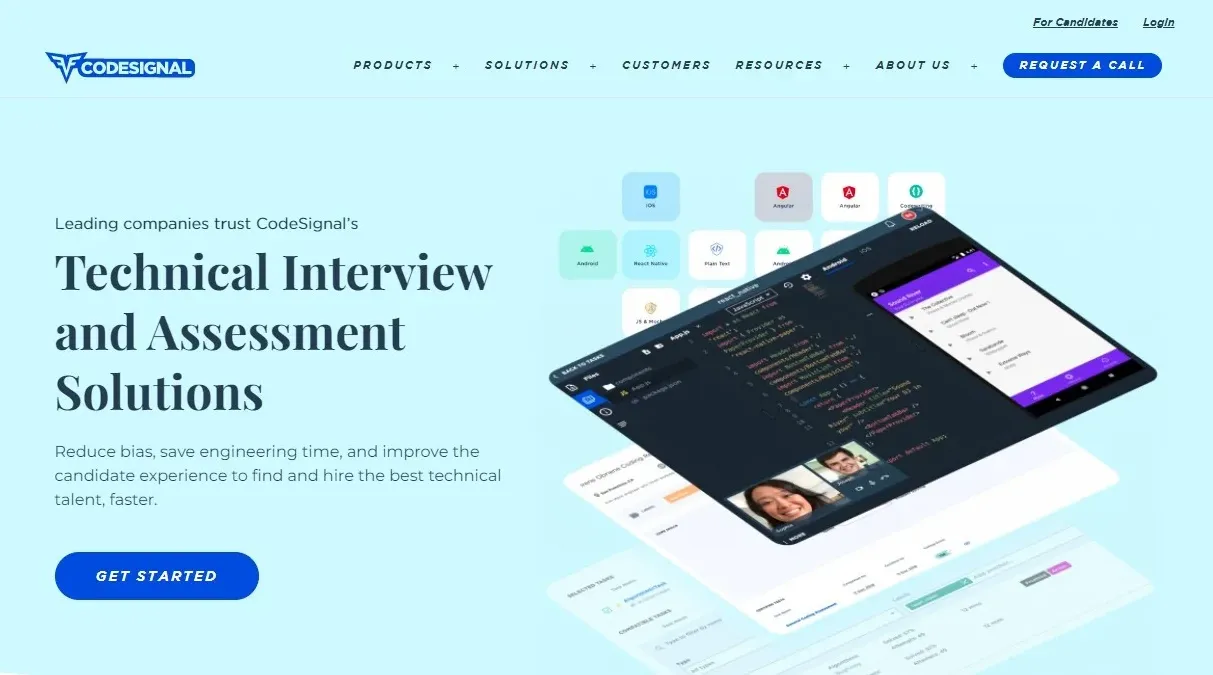 CodeSignal is another technical hiring tool that has made it to the list of top HackerRank alternatives. It is an ideal platform for recruiters looking to make fast hires, increase employee diversity, reduce hiring bias, and ensure compliance.
CodeSignal helps recruiters at all stages of the hiring funnel, from initial assessments to technical screening and final interviews. It has enabled its customers to save 15k+ hours annually while evaluating 2X more candidates.
With leading companies such as Zoom, Elastic, Robinhood, Reddit, Uber, and Meta as clients, CodeSignal has come a long way since it was founded in 2014.
CodeSignal's Pros:
Top-of-funnel evaluation for high-volume pipelines

Predictive, role-specific skill evaluation

Stellar candidate experience

In-house IO psychologists and engineering subject matter experts
Integrations Available
Greenhouse, Lever, ICIMS, Oracle, Workday, Taleo, Workable, JazzHR, LinkedIn Talent Hub, Smart Recruiters, etc.
CodeSignal's Ratings and Reviews
CodeSignal has a G2 rating of 4.5 out of 5. Comparing HackerRank vs. CodeSignal, reviewers have found the latter easier to admin, set up and do business with. Its highly-rated features include HR performance, mobility, and customization.
CodeSignal's Pricing
Varies based on technical recruiting needs
6. Codeforces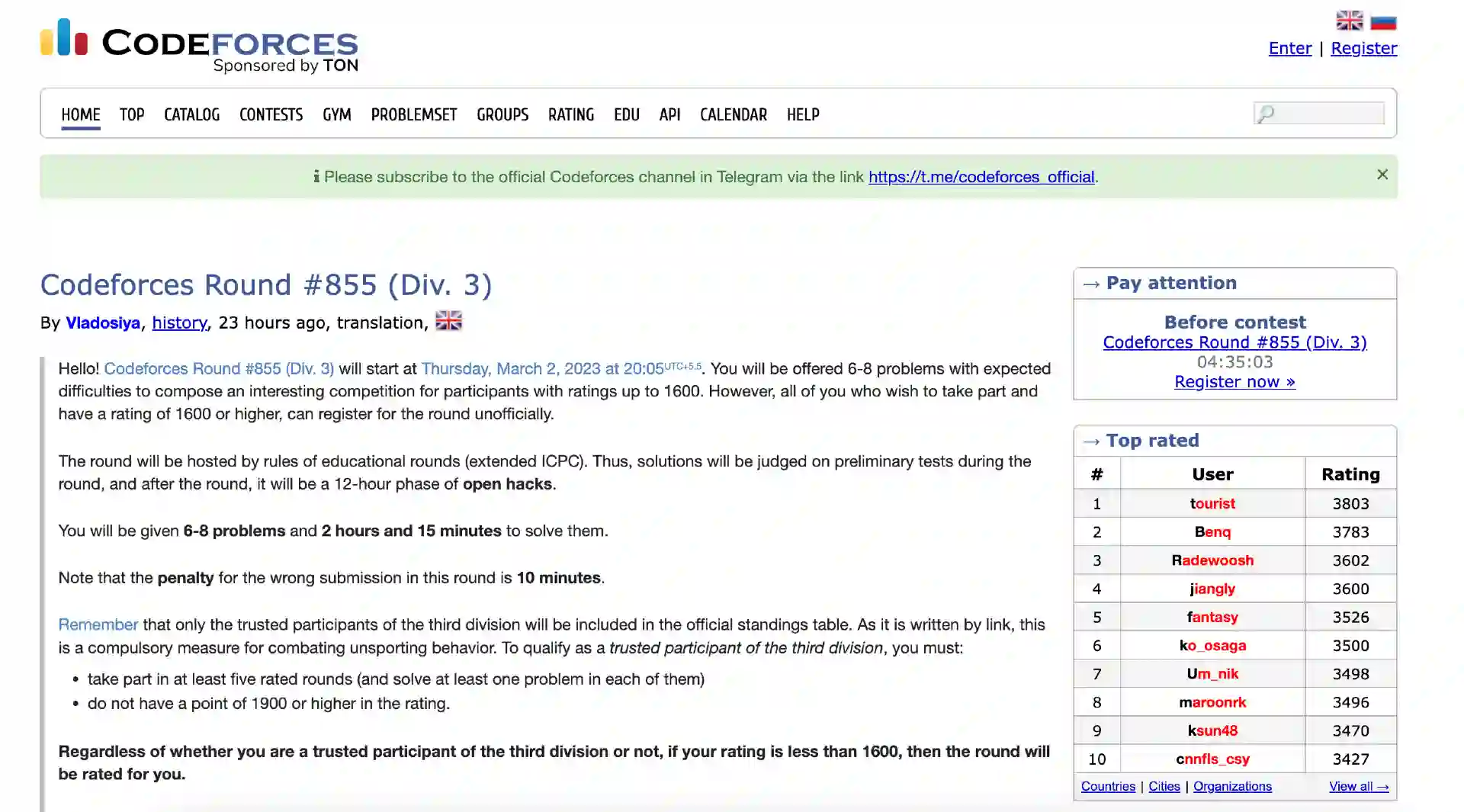 Codeforces is a website maintained by programmers hosting competitive programming contests. It is typically used to improve programming skills through contests and has the following features:
Weekly short contests called 'Codeforce Rounds'

Educational contests (2 to 3 times a month)
Codeforce was launched in 2009. Today it has completed over 800 rounds with over 9000 competitors. But unlike HackerRank, Codeforces does not offer a pre-employment testing or screening facility.
Codeforce's Pros
One of the best platforms for competitive coding

Problems from beginner to advanced levels

Community courses for skill development

Social networking through internal blogs
Integrations Available
Codeforce's Ratings and Reviews
Codeforce does not have a G2 rating. However, it is recommended by many universities in computer science education. Professors feel it helps students better understand algorithmic concepts and apply them while solving problems.
Codeforce's Pricing
Varies for different contests and location
7. TestGorilla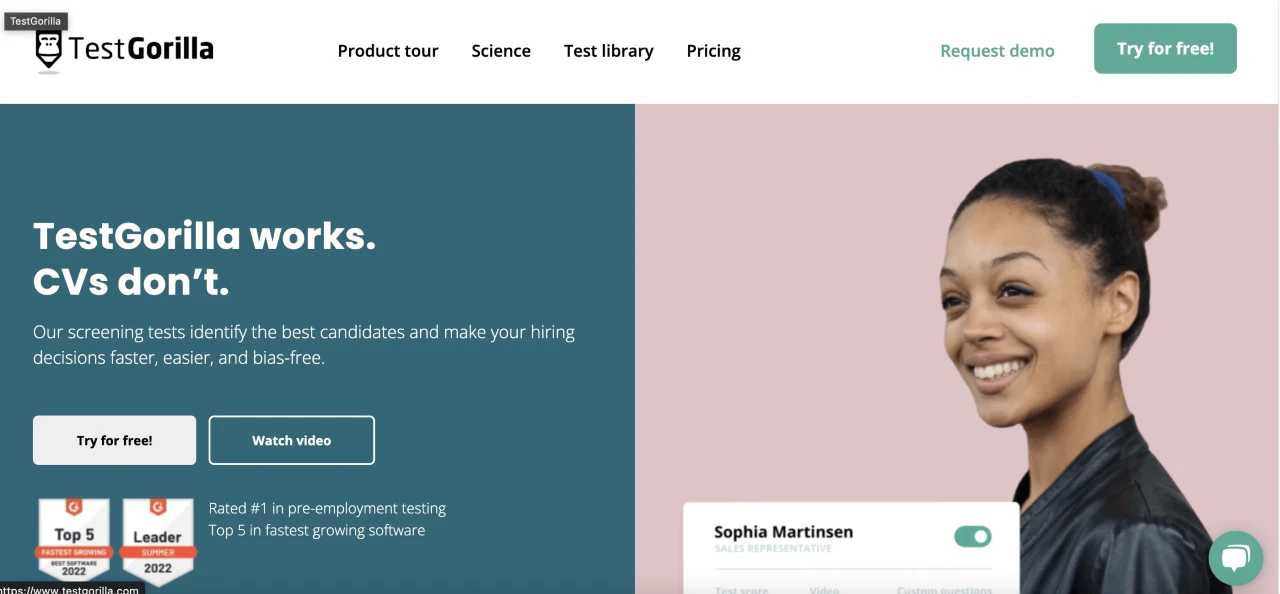 Named among G2's top 5 fastest-growing software, TestGorilla is another major HackerRank alternative.
It enables recruiters to ditch CVs and instead judge candidates based on real-world job performance abilities using their 280+ scientifically validated tests.
TestGorilla not only helps recruiters assess job-specific skills like coding but also general skills such as critical thinking. They use multiple test types so recruiters can get the best predictive value and hire candidates bias-free.
Founded only in 2019, TestGorilla has enabled 8400+ companies already to replace CVs with screening tests.
TestGorilla's Pros
Screening Process Automation

Unbiased selection and diverse team

Positive candidate experience

Affordable hiring solution
Integrations Available
Freshteam, iCIMS, BambooHR, Bullhorn, Breezy, Greenhouse, Recruitee, JazzHR, SmartRecruiters, Zapier, etc.
TestGorilla's Ratings and Reviews
TestGorilla has a G2 rating of 4.5 out of 5. Its highest-rated features include uptime, performance, and affordability. Comparing HackerRank vs. TestGorilla, users found TestGorilla to be easier and more usable.
TestGorilla's Pricing
Free

Pay as You Go: $26 per month

Scale: $325 per month

Business: $2200 per month
8. Codility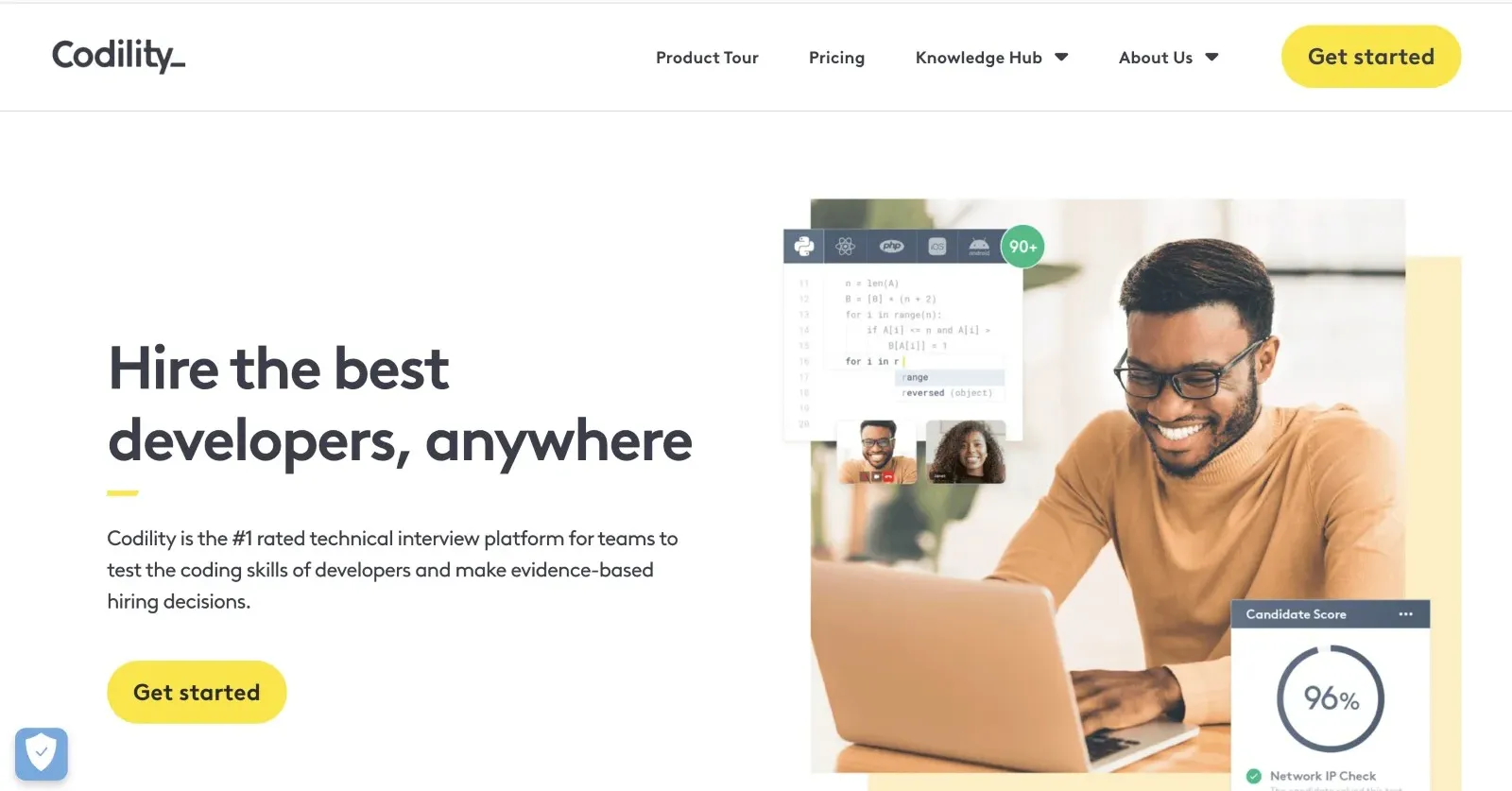 Founded in 2009, Codility is one of the oldest and most resilient HackerRank alternatives on this list. Recruiters can trust its ample experience to support their technical recruitment initiatives.
Codility prides itself in making hiring 2.5X faster with its skill-based coding assessments. Its excellent features include virtual whiteboard interviews with live coding, plagiarism prevention and fraud detection, and anti-bias features.
With Codility, recruiters can evaluate candidates in over 90 technologies across four difficulty levels. The assessments comply with WCAG 2.1 standards, making diverse hiring truly accessible.
Codility's Pros
Unbeatable time to value

Fair and accurate assessment

Great candidate experience

Secure and sustainable

Over a decade of experience
Integrations Available
Greenhouse, ICIMS, Lever, SmartRecruiters, Workable, Recruitee, Goodtime, Teamtailor, softgarden
Codility's Rating and Reviews
Codility has a G2 rating of 4.6 out of 5, with technical skills screening, coding development, and performance being the most highly rated features.
It proudly flaunts testimonials of well-known customers, such as Unity, Swift, and Okta, on its site.
Codility's Pricing
Varies depending on the scale of technical requirements.
9. HireVue

For recruiters looking for a scalable alternative to HackerRank that automates their workflow, HireValue can be an ideal choice.
Its text recruiting, assessment, and video interview software promises to improve the way companies engage, screen, and hire talent.
Founded in 2004, HireVue is an old player. What makes the platform unique is its solution that supports a fully mobile hiring process appropriate for the current generation.
Candidates can text interviewers and take interviews anytime, anywhere.
HireVue's Pros
24/7/365 candidate engagement with conversational AI

On-demand live video interviews and assessments

Challenges validated by a team of organizational psychologists

Cheating and plagiarism detection
Integrations Available
Workday, SAP, Oracle, SmartRecruits, PageUp, ICIMS, Eightfold.ai, Avature, Infinite, Greenhouse, etc.
HireVue's Ratings and Reviews
HireVue has a G2 rating of 4.1 out of 5. Customers have highly rated its video interviewing feature that enables remote hiring at scale. However, since it caters to big companies, the price is slightly on the expensive side.
HireVue's Pricing
Starts at $35,000 per month
10. CodinGame for Work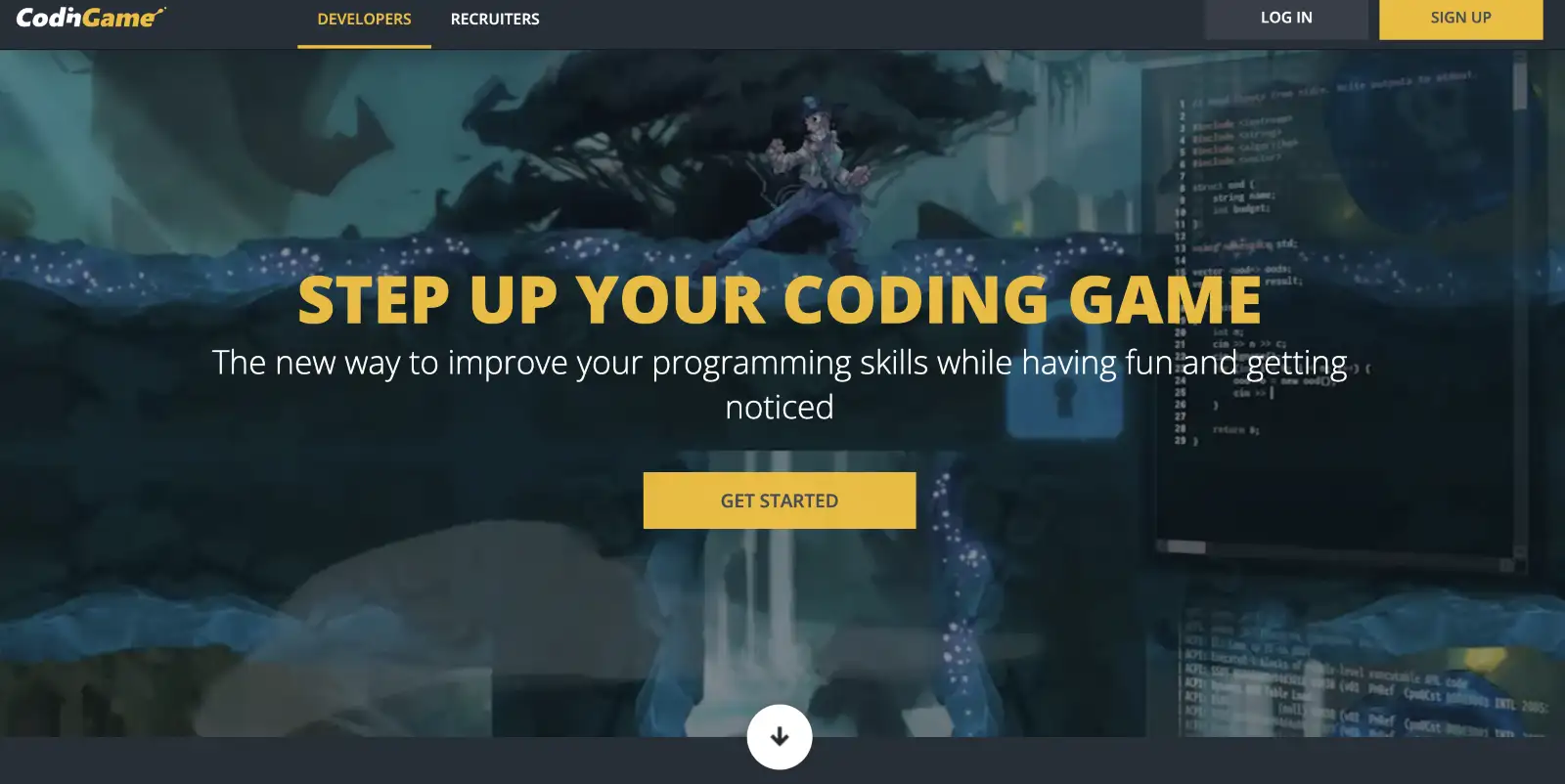 CodinGame is an easy-to-use alternative to HackerRank. With CodinGame, recruiters can evaluate candidates through user-friendly, hands-on programming tests that take only 60 seconds to set up.
The major selling point of CodinGame lies in its quality of profile matches. Users have also testified that the reply rate from relevant profile matches is much higher than the industry average.
CodinGame was founded in 2012. Today, it has over 2 million developer communities and 97% satisfied customers.
CodinGame's Pros
Live collaborative coding interview

3500+ coding challenges across 60+ technologies

80+ predefined job roles

Automated candidate ranking

Gamified test sessions
Integrations Available
All major ATS, including Greenhouse, ICIMS, BambooHR, Lever, Jobvite, and more.
CodinGame's Rating and Reviews
CodinGame has a G2 rating of 4.5 out of 5. It has an above-industry average rating for ease of use and setup. It has received many good reviews for its screening performance, report, and dashboard.
CodinGame's Pricing
For growing business: $300 per month

For high-volume recruiting: $850 per month

Customized rates for enterprises
11.CodeChef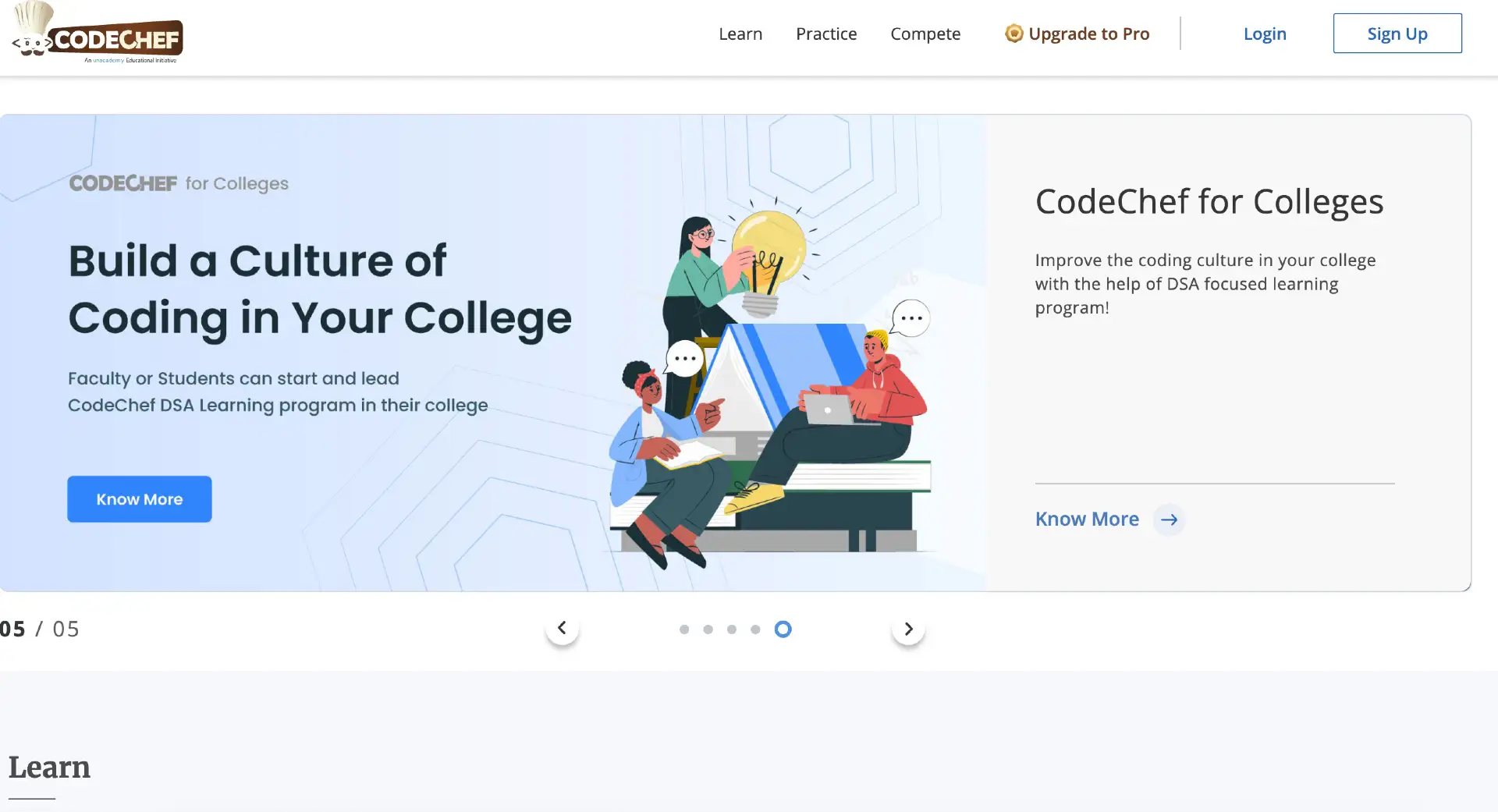 CodeChef has a large community of programmers fostered over a decade. The platform focuses on building the fundamental problem-solving abilities of aspirants with tons of coding contests and practice.
CodeChef was founded in 2009 as an educational initiative for global programmers. With a pool of top-notch technical talent, they can help companies find the job-fitting developers they need.
CodeChef's Pros
1M+ Programmers from 190+ countries

Monthly-rated coding contests

DSA/math/logic-related contests

25,000+ Organizations being impacted by CodeCheffers
Integrations Available
Information not available
CodeChef's Ratings and Reviews
CodeChef does not have a G2 rating but displays a 4.9 rating on its Facebook page based on 199 Facebook user reviews. Users consider it a good platform for improving programming skills.
CodeChef's Pricing
Single plan: Rs. 3999 per year

Duo plan: Rs. 4999 per year
Check out the detailed comparison of AlgoExpert vs HackerRank
Final Words
So, there you have it - the top HackerRank alternatives for 2023.
Though HackerRank has a huge library of coding challenges, many users find the interface to be not very smooth, which poses difficulty in engaging with candidates. They also found it expensive without the scheme for pay-per-use.
This is where iMocha has the edge over HackerRank. With 2500+ skills, 200,000+ questions, fully customizable skills assessments, superior platform experience, and excellent customer support, iMocha stands as the best alternative to HackerRank.
Further, iMocha scores higher than HackerRank for ease of setup and candidate identification. Several government bodies have also recognized it for its ease of doing business.
If you wish to compare HackerRank Proctoring and iMocha Proctoring, here is the blog that can help you.
So, are you ready to hire skilled candidates and develop talent with iMocha? Talk to our experts to get started!
FAQs
1. Which is better: HackerRank or LeetCode?
Both HackerRank and LeetCode have a wide range of coding problems. But on comparing HackerRank vs. LeetCode features, LeetCode seems a better choice. It has more features, more frequent content, and a more robust community.
2. Is HackerEarth better than HackerRank?
Comparing the G2 reviews of HackerRank vs. HackerEarth, most users have rated HackerEarth favourably on ease of setup. However, the rating of HackerRank is slightly higher for ease of use and quality support.
Since most HackerEarth reviews came from the mid-market segment, they may be more popular with small and medium businesses, as opposed to HackerRank, whose reviewers mostly consist of those by enterprises.