Node.js has been tested and adopted by many global companies, including LinkedIn, GoDaddy, etc. and according to The Node.js Foundation, "95 percent of Fortune 500 companies use Node.JS as backend development". No wonder then, recruiters are always on the lookout to hire Nodejs developers that not only know the skills of the trade but also are culturally fit.
But what exactly is Node.

js

?
In order to understand how can you hire Node.js developers, you must have a basic understanding of what exactly Node.js is.
Node.js is an open source, cross-platform run-time ecosystem for server-side and network applications. Node.js allows developers to create dynamic web pages that can run on multiple platforms. It is based on Chrome V8, which means it employs Chrome's compiler or interpreter.
This language started gaining prominence in the latter half of the last decade. In 2020 Node.js was discovered to be the most commonly used language in the "Frameworks, Libraries, and Tools" category in the Stack Overflow survey 2020. Because of it's ever-growing demand, the recruitment space also offers competitive salaries. Here's an overview of median salary in the U.S. for Node.js developers: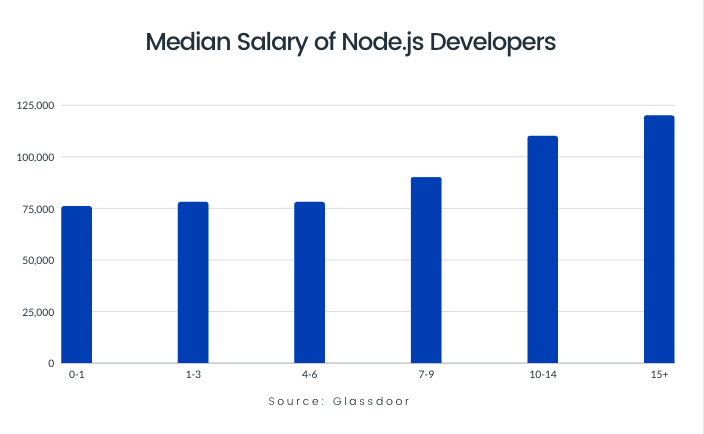 Skill

set Node.

js

Developers should excel in
There aren't one-size-fits-all criteria when you hire Node.js developers, but here is a list of requirements to get you started:
Understanding of Front-End Development

Technologies (HTML5, CSS3, JavaScript)
Good Knowledge of Node.

js

Frameworks (Express,

StrongLoop

, Sinatra, Rails

)
Grasp of Asynchronous Programming
Proficiency in RESTful API's and API communications
Knowledge in User Authentications and Authorization
Error Handling Skills – when to crash, when to log an error, when to continue, and when to retry
Experienced Node.js developers should be familiar with built-in modules that is HTTPS, Event

s, Streams, Child Processes
Knowledge of common development tools – Git,

ESLint

, Prettier
And be sure to create an extensive Node.js skills test before you shortlist your candidates!
Follow These Steps to Hire Node.

js

Developers

Effectively
Recruitment processes differ between companies and projects, but we have outlined some common components at a high level. Typically, the developer hiring process consists of two generic parts: a soft skills review, which is usually performed by a recruiter, and a technical skills review, which is performed by a technical interviewer.
Soft Skills Review:
The goal of this step is to

understand

the candidate's personality and assess their communication skills, critical thinking abilities, problem-solving abilities, and teamwork habits.

Examine whether the candidate's and the company's values are compatible: whether they fit project requirements and expectations, are a good team player, goal-oriented, etc. This is the most basic, however crucial, step in the soft skills review.

If a position calls for leadership or more advanced skills, the recruiter verifies those as well.




Example Soft Skills Node.js Interview Questions:

1.

Can you tell me about a time when you had to work with someone you weren't compatible with?

- this will test the problem-solving ability.





2.

Can you tell me about a time when you overcame a significant challenge?

- this will test the

team-work and leadership qualities.





3.

Can you walk me through your process of how you'd explain a complex topic to someone who was unfamiliar?

- this will test the communication skills.





Technical Skills Review

After passing the soft skills portion, the candidate will be able to demonstrate their web development knowledge and expertise

.

Examine their previous work before hiring Node.js developers.


If you know exactly what you want to build, make sure to ask the candidate whom you are considering to hire if they have done anything similar.

Node.

JS

developers should be well-versed in how Node.

js

works under the cover, as well as its key concepts and advanced built-in tools.

Example Technical Review Node.js Interview Questions:

1.

What is Event loop in Node.js work? How does it work?





2.

Explain "closure" in JavaScript with example.





3.

What are the rules for naming a PHP variable?
Node.js Interview Questions to hire experienced professionals
:
There are three types of interview questions for Node.js developers:
General inquiries

:

In this section, the interviewer should test common technical knowledge for

developer

.




Example

: Which programming languages do you use?

List 3 of

your favourites or are you most familiar with? Explain the basic syntax details.
Questions about JavaScript:

Node.

js

is a JavaScript runtime environment, so developers should be familiar with the JavaScript programming language.




Example

:

Explain Hoisting in JavaScript. What is an Immediately Invoked Function in JavaScript?




Node.

js

questions:

Topics directly relating to the platform itself.




Example

:

H

ow does Node.

js

work? Why is Node.

js

preferred over other backend technologies like Java and PHP?
How iMocha Helps Companies Hire Node.

js

Developers
MCQ questions




Pre-screen candidates by testing their technical or domain knowledge on basic questions. This process will screen out candidates who have obvious knowledge gaps, saving the organization the time and resources required for a thorough technical assessment and helping to streamline the hiring process.

Coding Tests




Thorough technical coding questions to test the candidate

'

s

logical skills and understanding of the Node.

js

platform.

Live Coding Interview


This is a modern take on whiteboard coding interview process; it involves the candidate and one to three interviewers. The candidate writes the code live, while the others review it and ask questions

on the basis of code your candidates have written. This process will help you assess

communication and collaboration abilities of the candidate, which are equally important, as well as an extensive Node.js interview test will help you assess your candidate's technical knowledge

.

Skills Library


In addition to these, iMocha has the world's largest skills assessment library from which you can select the Node.js online test that suits your requirements the best. Moreover, you can upload your own questions, that belong to your nice, to assess accurately.
When compared to its own disadvantages, Node.js is more beneficial to developers. Moreover, this language has broadened the scope of JavaScript applications and can clearly be used for both frontend and backend servers. Without a doubt, Node.js is one of the most interesting technologies in use today, and certainly the reason why recruiters have to put in so many efforts to hire Node.js developers.