Hiring employees can be a tedious process that involves several expensive and complicated steps. As a result, many companies need help to source, vet, assess, hire, and onboard candidates efficiently.
An effective hiring process needs to maintain seamless coordination with candidates while conducting accurate screening, interviewing, and onboarding of the best-fitting applicant of the lot. Taking care of all these operations is an overwhelming task for any HR team. It also gives way to processing errors and miscommunications.
To avoid bad hires and the cost that comes with them, modern businesses need the help of the best hiring platforms. But the options are endless, and choosing the right one for your company can take time and effort.
As a result, businesses need help and an online hiring tool equipped to handle their recruitment process is the best option.
If you are one of them, we are here to help. In this article, we have compiled a list of the best hiring platforms that can change the face of your recruitment strategy for the better.


Top hiring platforms for pre-employment assessments
1. iMocha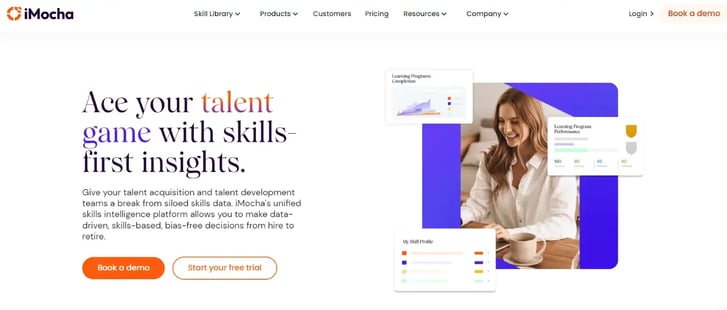 First up on our list is iMocha, one of the best hiring software that provides a range of rare efficiency. It offers the world's most extensive skill assessment library with 2500+ holistic skill tests, which include 690+ IT skills, 66+ next-gen skills, 25+ coding languages, 77+ domain skills, 88+ cognitive tests, and much more.
Popular companies like Deloitte, Capgemini, and PayPal trust iMocha to assess and select the finest talents. iMocha's efficiency does not end there. Apart from assessments, It includes features like interviewing tools, talent analytics, and artificial intelligence (AI) simulations to help organizations in quickly finding candidates during remote hiring.
This platform's accurate and real-time analytics can spot potential bottlenecks and significantly increase the chances of hiring the best candidates. iMocha's recruitment suite includes cutting-edge patented AI-LogicBox, coding simulators, code replay, live-coding interviews, AI-enabled proctoring, and more.
G2 rating: 4.4/5 (157 reviews)
Subscription range:
Discover all the pricing information you need right here
2. Glider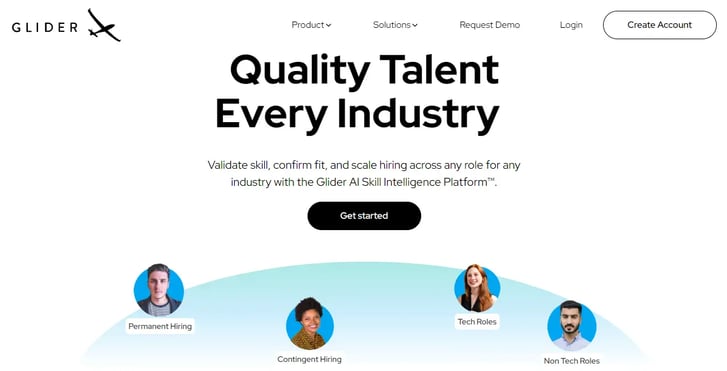 Full-time or contingent, tech or non-tech, Glider is another best hiring software that assists companies in assessing candidates and recruiting the best-fitted professionals to their teams. It evaluates candidates based on different industries, functional areas, stages, and experience. This makes a candidate's skills the leading analytic and avoids any bad hires.
One of the best hiring platforms, Glider validates competency, evaluates fit, and scales recruitment across all roles in every industry.
With Glider, you get standardized talent evaluations, which streamline all hiring processes and enhance operational efficiency. This stellar assessment software assures transparency across your entire pipeline for talent hiring, automation, diversity, equity, and inclusion (DEI). With Glider, you go beyond the fluff of resumes through real-world skills evaluation simulated and proctored by artificial intelligence. They also provide customized solutions for MSPs, enterprises, and staffing agencies.
G2 rating: 4.8/5 (2 reviews)
Subscription range: A free demo is available on Glider. Prices of paid subscriptions are available on request.
3. Berke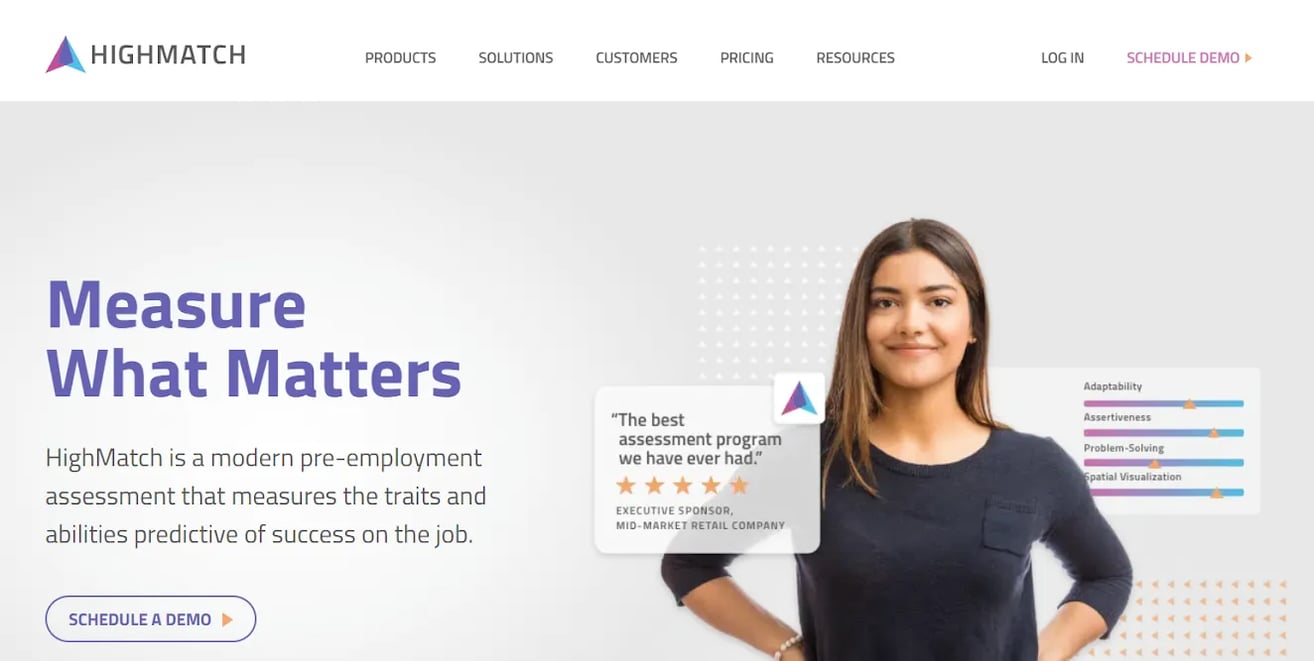 Next up on our list is Highmatch, previously known as Berke. It helps hiring teams identify the best possible matches among candidates across all recruitment stages. Both the candidate's experience and the recruiter's experience get equal importance.
Regarding hard skills testing, the platform offers more than a thousand titles, including those relevant to specific roles and industries. You can also evaluate foundational skills relevant to any job. Custom assessments are also available for companies that want to measure a particular trait in their candidates.
Highmatch's employment assessment test incorporates an amalgamation of modular cognitive, personality, and skills testing through its full suite of services. The tests are curated by in-house psychologists and ensure optimum results. The platform also offers a custom profile development feature using job analytics to identify skill gaps for larger enterprises and companies facing critical recruitment challenges.
Highmatch's personality assessment measures seven defined personality traits, including adaptability and ethics, to help companies better understand a candidate's motivation and recruit competent managers.
G2 rating: 4.8/5 (56 reviews)
Subscription range: Highmatch offers a free demo. The subscription charges on this platform start at $100 per month.
Top Video Interview Software
4. iMocha

We have already discussed iMocha's efficiency in assessing a candidate's skills. Another notable feature is the "live interview platform" which is especially suitable for recruiting developers.
The patented AI-LogicBox assesses the coding skills of candidates through live coding interviews. The automated one-way video interview feature reduces your hiring time and the company's expenditure by combining assessment and interview. Not only that, it makes remote hiring a cakewalk.
G2 rating: 4.4/5 (157 reviews)
Subscription range:
Discover all the pricing information you need right here
Talent Acquisition: https://www.imocha.io/pricing/talent-acquisition
Campus Hiring: https://www.imocha.io/pricing/campus-hiring
Talent Development: https://www.imocha.io/pricing/talent-development
AI-EnglishPro: https://www.imocha.io/pricing/ai-english-pro
5. VidCruiter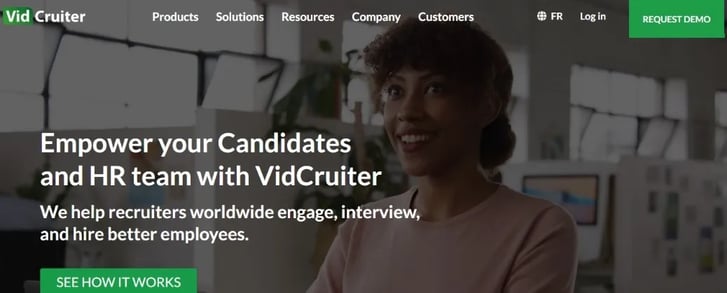 When it comes to video interviews, very few have competing features quite like Vidcruiter. With a user base of 1,00,000 recruiters and an eminent client list with names like Lionsgate, Samsung, and United Nations, this hiring platform offers filtering, screening, pre-screening, scheduling, interviewing, and references, among many other features.
VidCruiter helps recruiters find, engage and hire the best talents across industries. The platform's structured digital interviews increase the predictive validity of your hires by 65% and decrease your time-to-hire by up to 75%, saving you money and resources.
G2 rating: 4.8/5 (189 reviews)
Subscription range: VidCruiter offers a free demo. Pricing of subscription packages is available on request.
6. MyInterview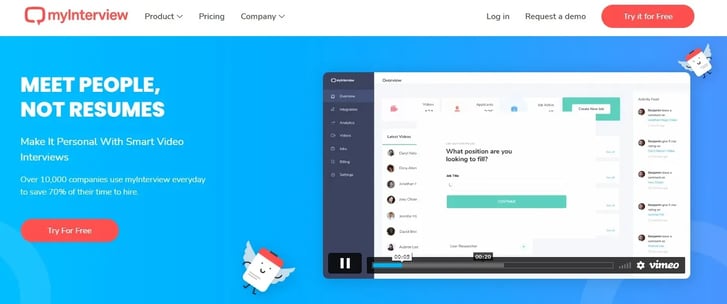 The next addition to our list of best hiring platforms is MyInterview. This platform eliminates the dependence on resumes by conducting intelligent video interviews infused with purpose-built machine-learning algorithms to find the perfect match.
The platform has a 91% candidate completion rate, with an industry record of completing 71% of interviews in under 15 minutes. Trusted by over 1,000 companies, My Interview saves 70% of the time-to-hire through their comprehensive and bias-free video assessments.
Compared to its alternatives, My Interview offers a faster recruitment process. It is user-friendly and makes the journey easy for both candidates and recruiters. It also provides excellent customization and specialization.
G2 rating: 4.8/5 (76 reviews)
Subscription range: My Interview offers a free demo. Their subscription packages are of three levels, with the pricing starting at $59 for 30 candidates a month. The highest charges are $359 for 100 candidates a month.
Top Candidate Sourcing Tools
7. Eventbrite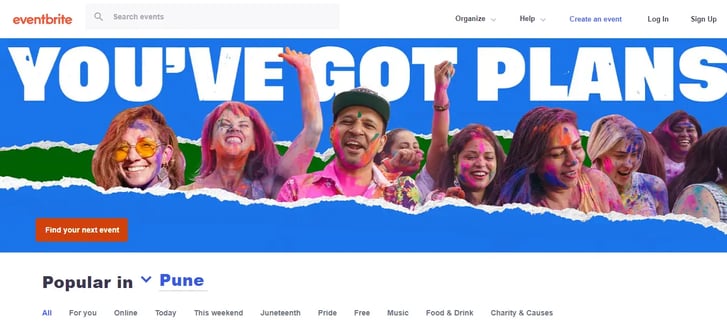 Eventbrite is the leading global events management platform. While creators and entrepreneurs mainly use Eventbrite, businesses can also use this platform to build customizable job vacancy pages and market them through the Eventbrite marketplace, integrated email, and social media integrations.
Candidates worldwide can apply for different jobs on this site, and companies can expand their talent pool throughout different geolocations.
G2 rating: 4.4/5 (734 reviews)
Subscription range: Eventbrite offers a free version of its software. Paid subscriptions are available in three packages - essential, professional and premium.
8. HiringSolved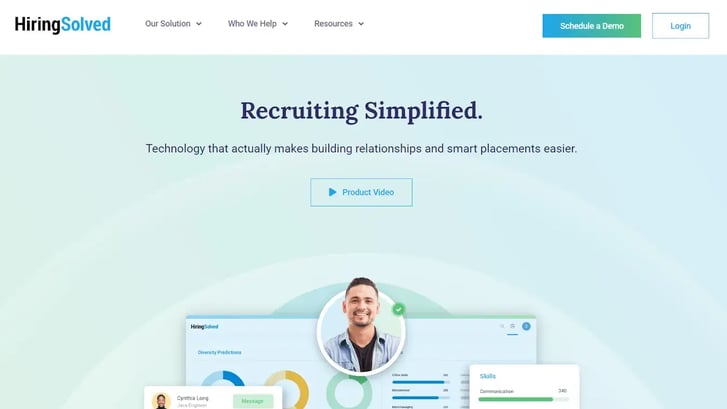 Another addition to the best hiring platforms list, HiringSolved efficiently automates recruiting, helping companies find and match professionals and job vacancies with speed, accuracy, and simplicity. It increases diversity, reduces time to fill jobs, analyses the social web, and integrates your applicant tracking system (ATS), customer relationship management (CRM) system, and human resource information system (HRIS) data, increasing efficiency by 10x.
While many people associate recruiting systems and processes with complexity and inefficiency, HiringSolved simplifies recruiting by bringing everything together in a single platform.
G2 rating: 3.5/5 (1 review)
Subscription range: Pricing is available on request.
9. Sorcing.io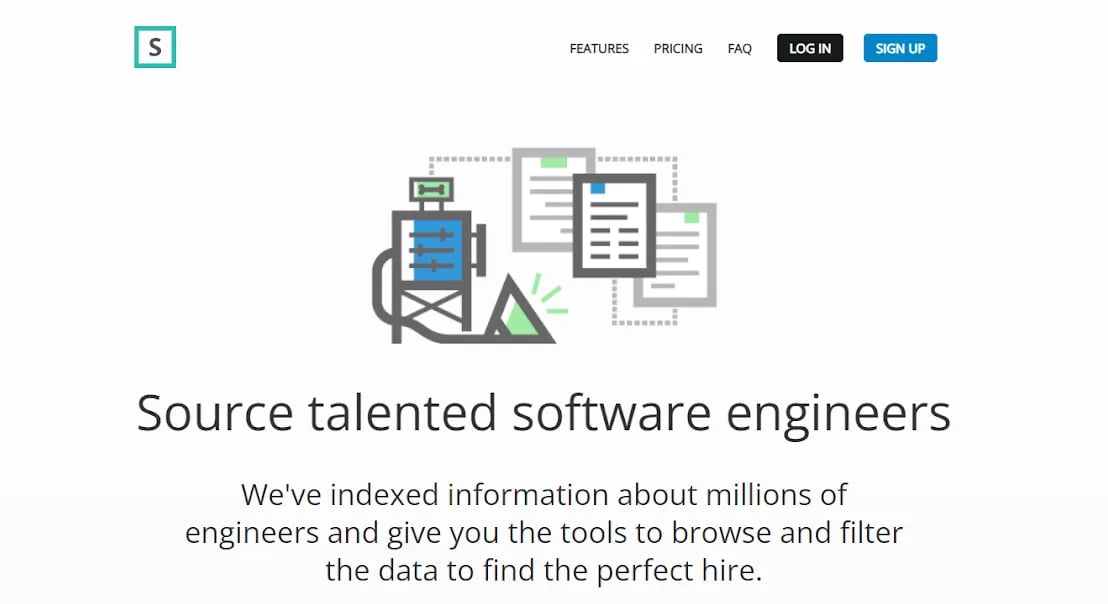 Sourcing.io offers you the tools to browse a database of over a million engineers and filter the information to find the perfect hire. Through its clean and comprehensive dashboard, you can keep track of candidates in every stage of the screening process. It also fosters excellent team collaboration.
G2 rating: Not available.
Subscription range: The platform offers a 7-day free trial. The monthly subscription of sorcing.io is available at $199 per seat. You can also avail of the more economical annual subscription at $1,599 per seat.
Top Enterprise ATS Software
10. Workable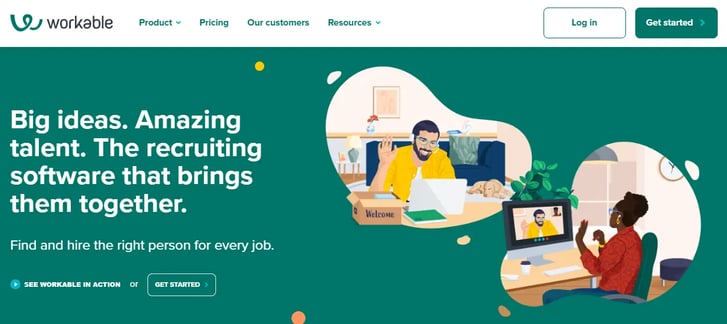 Founded in 2012 and regarded as one of the best ATS systems, Workable helps companies fill the pipeline quickly with a one-click job posting option to 200+ sites. Their other features include AI-powered sourcing, employee referrals, and more.
Whether you are a team of one or more than 100, hiring the right candidate with Workable is easy for every vacancy. With this software, you will get an all-in-one system for easy collaboration between the hiring team to evaluate applicants, gather unbiased and consistent feedback, check for unconscious bias, and decide who is the best fit for the job.
With the finest recruitment tools, Workable offers hiring solutions tailored to your needs, the platform helps you source the best talent, communicate your values and requirements as an organization effectively, and scale faster.
G2 rating: 4.6/5 (365 reviews)
Subscription range: Workable Subscription is available in three different packages. The PayGo package is available at $129, the Standard package is priced at $279 and the Premier at $559.
11. SmartRecruiters

One of the most popular and best hiring software, Smart Recruiters' efficiency gives its name its true value. The comprehensive user interface allows smooth and easy navigation for candidates and the recruitment team.
The communication features are enterprise standard, with optimum security and privacy.
This source-to-hire platform does not limit itself to being a generic ATS. Smart Recruiters offers effective talent sourcing & engagement with native collaboration, assessment, and AI tools. This modern, enterprise-standard software may sound like an expensive package, but the platform does all its work within your budget.
G2 rating: 4.3/5 (439 reviews)
Subscription range: There are three paid subscriptions of SmartRecruiters – corporate, global, and smart start.
12. BambooHR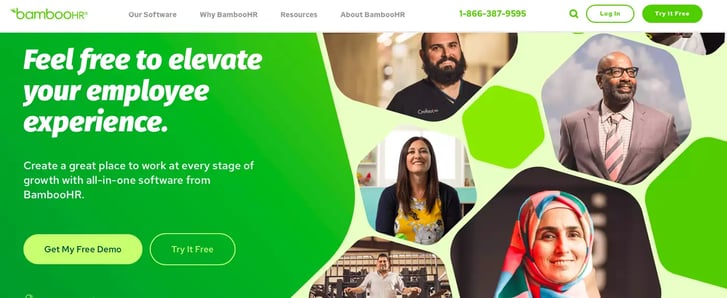 One of the most comprehensive recruiting tools, BambooHR offers every advantage of an efficient ATS. Highlight features of this popular platform include e-signatures, seamless meet and greet, and a centralized data storage system. It adds a personal touch while quickly working on necessary forms and formalities.
The platform tracks time, manages payroll and sorts out benefit packages. Specially designed for medium and small businesses, BambooHR is one of the best choices among the available ATS software. All in all, this platform packs everything that recruiters desire in the best hiring platforms.
G2 rating: 4.4/5 (1,184 reviews)
Subscription range: Bamboo HR offers 2 packages. The essential one starts at $5.25 per month, and the advanced package starts at $8.75 per month. The platform also offers a free trial.
Top AI-based Onboarding Software
13. Scribehow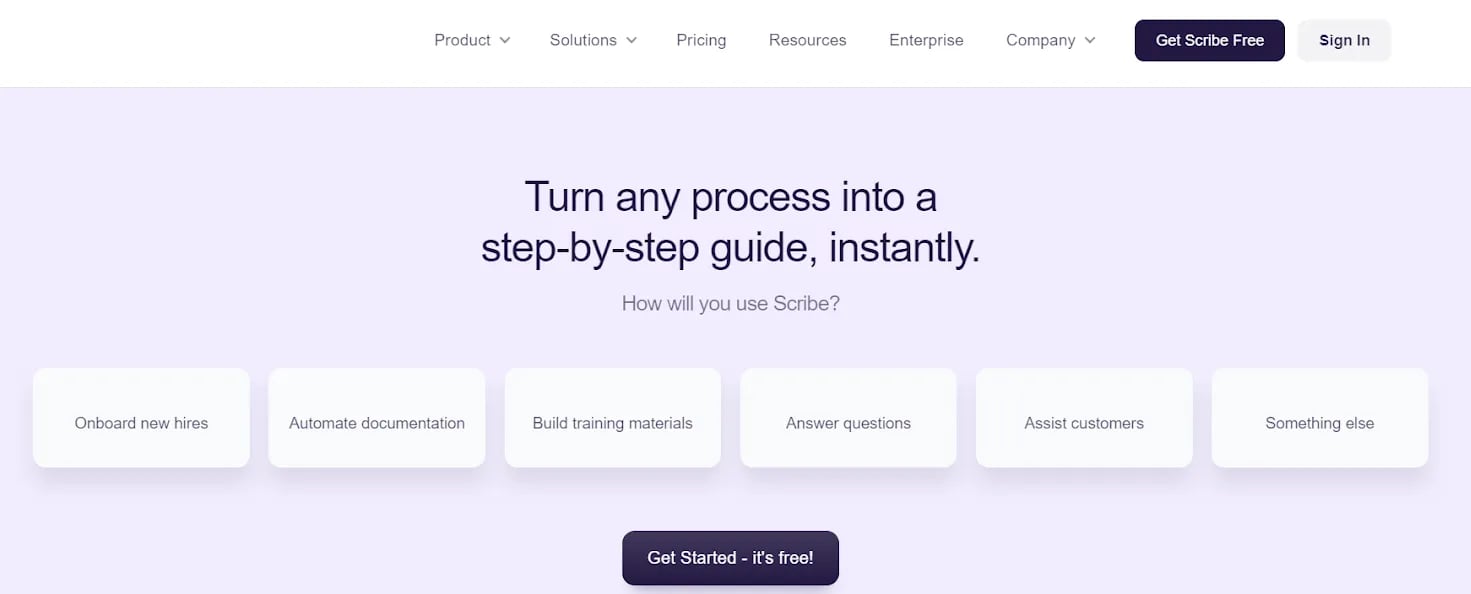 With its 4 step onboarding process, Scribehow streamlines the onboarding process swiftly, contributing to enhanced candidate experience and resource savings. A unique feature that makes Scribehow one of the best hiring platforms is allowing users to record a process across three different browsers – Google Chrome, Microsoft Edge, and Desktop. It also automatically creates a how-to guide with screenshots, instructions, and clicks to make navigation easier for new users.
Adding new details through Scribehow is also very easy. It lets you edit screenshots, redact sensitive information, and add text, annotations, and custom branding without going through multiple processes. The sharing features are also excellent.
The platform lets you send documents to teammates directly with a URL link, export documents as PDF documents, embed instructions in existing tools and wikis, export documents to confluence, and copy them into a document with Markdown or HTML.
G2 rating: 5/5 (51 reviews)
Subscription range: Scribehow offers free demos, Subscription packages start at $29 per user per month. The platform also offers customized packages for enterprises. Customisation charges are available on further request.
14. Talmundo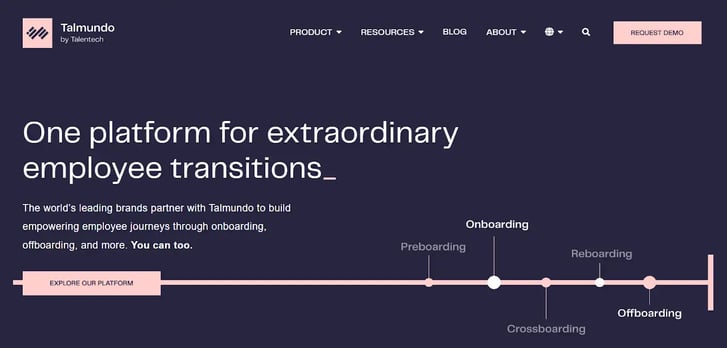 The second last addition to our list of best hiring platforms is Talmundo, a comprehensive HR transition management solution helping companies build empowering employee journeys through efficient onboarding, offboarding and more. Whether you are scaling up or a fully-fledged enterprise, their software and the in-house experts partner with you to create real value for your entire organization.
From clarity to positive engagement and valued connections, the platform provides your candidates with everything they need to thrive in their jobs. As one of the best hiring platforms, Talmundo also provides complete automation in administrative operations, allowing your HR department to focus resources on things that matter the most. It also avoids disruptions and high expenditures in recruitment processes with strategies that boost retention, internal mobility, and employee satisfaction.
G2 rating: Not available.
Subscription range: Tamundo offers a free trial for new users to test out its features. Pricing of subscription packages is available on request.
15. JobDiva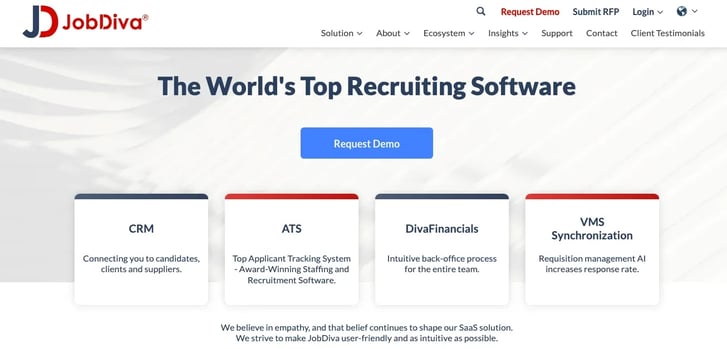 JobDiva is another one of the best hiring platforms that provides end-to-end recruitment solutions. Recruitment seems like a big hassle without a great tool. Subscribing to JobDiva eliminates that hassle and turns problems into great opportunities by combining candidate searching, candidate matching, customer relations management, a career portal, reporting, VMS synchronization, and more into one platform.
Yet, the most significant part of this software is its onboarding features. JobDiva provides holistic solutions to recruitment and onboarding challenges, no matter what vacancy you are seeking to fill. The platform's intelligent matching tools and reporting technology assign fitting teams to new hires and track their progress with accurate reports. The AI-powered technology drives, automates, and organizes processes across the team. Moreover, the platform also provides unlimited free training.
G2 rating: 4.6/5 (428 reviews)
Subscription range: The platform offers a free demo for new users. Prices for paid subscriptions are available on request.
Which is the best platform to hire qualified candidates?
Summing up, we want to point out that although all the above platforms will help you improve crucial areas of your recruitment process, it is essential to carefully consider their features and choose one that aligns with your business.
Further, you must also forecast your future hiring goals before picking the best hiring software since it will give you a better understanding of how the software can scale with your business needs.
If finding the best candidate assessment tests is your goal, try iMocha.
FAQs
What is hiring software?
Hiring software is a system that deals with operations from finding and attracting candidates to screening and interviewing candidates. It is also known as recruitment software. This hiring platform allows talent acquisition professionals, recruiters, and hiring managers to hire qualified people efficiently. In other words, it centralizes all recruiting-related activities and streamlines the tracking of candidates as they move through your hiring funnel.
What is the best platform for hiring?
The qualities of the best hiring platforms include top-notch security, a wide range of relevant features, ease of use, seamless integrations, etc. Some of the best platforms for hiring are iMocha, Bamboo HR, Smartrecruiters, Talmundo, Workable, etc.
What are the benefits of using a hiring platform?
The benefits of using a hiring platform include the following:
It streamlines the hiring process with automation and an updated talent base.

Automated processes save HR employees time by taking care of repetitive administrative tasks.

It enhances the employment brand experience of your company.

It increases the likelihood of recruiting the right people.

Speeds up time-to-hire