Introduction
With our increasing dependency on digitization, tech skills have become crucial for all organizations, regardless of their industry. As more and more organizations are automating their workflow to meet the demands of the ongoing technological disruptions, tech skills are also evolving at an unprecedented rate and introducing new skills and job portfolios into the mix.
At iMocha, we partnered with EY to understand this ongoing paradigm shift and answer three critical questions:
What would be the in-demand tech skills across domains in 2025 and beyond?
What would be the strategic and functional impacts of tech skills transformation?
How are organizations responding to tech skills transformation?
In our survey, we interviewed 50 HR and business leaders and conducted secondary research on over 26 million profiles to discover that 76% of these professionals & organizations have witnessed an increase in the demand for 'application developers' in recent years, while 62% of them have witnessed a similar surge for "business application power users" and "power developers."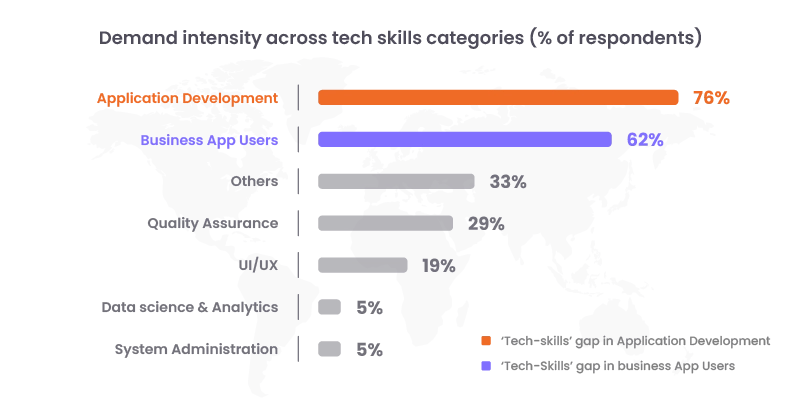 But with a limited talent pool and shortage of required talent across the Indian, US, and European markets, how are organizations aiming to meet the increasing demand for application development and business power development skills?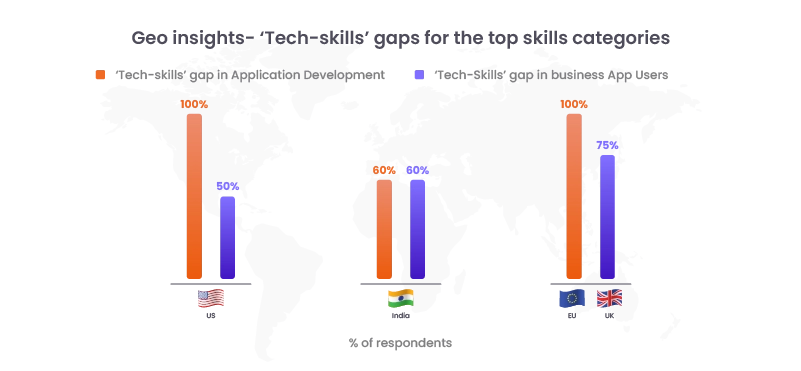 The answer can be organizational readiness through skills intelligence!
In this blog, we'll explain how building a skill taxonomy can help you overcome talent shortages and skill gaps and acquire future-proof application development and business application skills for your organization. Let's get started!
TL;DR
iMocha partnered with EY to explore the high demand for application developers, business application power users, and power developers in the limited talent pool and devised three key strategies.
First: Understanding the changing job roles.
Second: Investing in developing real-time visibility into the organization's skills inventory.
Third: Assessing the overall skill proficiency of the organization using a skill intelligence platform (like iMocha) and predicting/fixing future skills gaps.

Three ways to tackle the shortage of qualified Application Developers & Business App Users
1. Understanding changing job roles
The first step toward the future is understanding the evolution of tech skills. Today, roles such as software developers, IT engineers, and function-specific non-technical roles have evolved into 'Power' software developers, 'Power' IT engineers, and business application 'Power' user roles and added new capabilities to the mix.
For example, previously, software developers only required typical software development skills such as languages, databases, etc., with manual code writing, design, and testing. But as times changed, the portfolio has evolved into 'Power' software developers, and new skills such as the ability to execute end-to-end SDLC1 across design, architecture, development, deployment, and maintenance are now required along with the knowledge of productivity-enhancing AI tools such as ChatGPT and Co-pilot, making the assessment of required Application Development & Business App Development skills critical for you organization.
2. Investing in developing real-time visibility into your organization's skills inventory
Our report showed that organizations today understand the strategic importance of skills as a competitive advantage. In response to the growing need for tech skills across job roles and their increasing complexity, most organizations are now investing in data and intelligence capabilities to stay ahead of the curve.
In our research/survey, we observed three segments of organizational readiness levels across the surveyed companies:
Business As Usual (BAU)
Transformation Aspirants
Transformation Leaders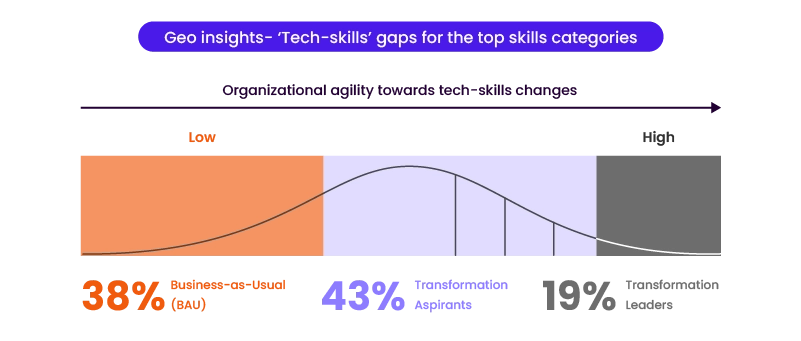 We found that 19% of organizations surveyed have built skill taxonomy, while 43% have done skill benchmarking at an employee level.
Most of these organizations have invested in Skills Intelligence platforms such as iMocha to automate these processes and get a bird's eye view of their organization's complete skill sets.
Why? Because having a reliable Skills intelligence platform empowers businesses by providing them with a centralized source of information on tech and business skills. The intelligence is leveraged to optimize decision-making across strategic analysis & operational workflows through segment-of-1 data visibility, updated in real-time and available for the entire organization.
Check out our full report to understand the benefits of skills intelligence across different business functions.

3. Assessing your organization's overall skill proficiency to predict when tech-related skills gaps can occur
In iMocha's EY-partnered report, we asked organizations to assess their current application development & business application skills proficiency, and the results showed that 81% of these organizations experienced low availability of power user/developer skills.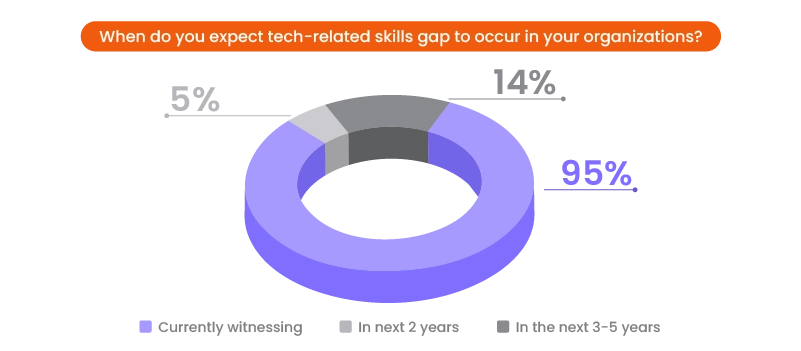 Moving forward, this dearth of qualified talent can be fixed in two ways:
By creating a skill-first/skill-specific hiring process that only aims toward hiring talent that possesses the right skill proficiency for the job role and is free from any kind of unconscious bias or discriminatory factor.
Creating dedicated L&D programs that enable you to transform your existing software developers, IT engineers, and function-specific non-technical users into 'Power' software developers, 'Power' IT engineers, and business application 'Power' users.
Emerging Application Development Skills and How You Can Develop Them in Your Organization
The emerging application development skills can be classified into three levels: Beginner, Intermediate, and Advanced. Based on these levels and the experience required, here are the application development skills that your next-gen power developers will need in the coming future:
| | | | |
| --- | --- | --- | --- |
| Levels | Skills To Learn | Courses/Certification | Experience |
| Beginner | Programming Fundamentals | CS50x (Harvard University) | Personal projects |
| | Web Development Basics | The Web Developer Bootcamp (Udemy) | Internship or Junior Developer Role |
| | Basic Database Design and Management | SQL Fundamentals (Oracle) | |
| | Basic Design and UX Principles | Introduction to User Experience Design (Coursera) | |
| Intermediate | Object-Oriented Programming | Java Programming Masterclass (Udemy) | 2-3 years |
| | Frameworks such as React or Angular | React Front to Back (Udemy) or Angular Crash Course (Udemy) | Full-time Developer Role |
| | Advanced Database Design and Management | Oracle Database SQL Certification | |
| | Testing and Debugging | Software Testing Fundamentals (Udemy) | |
| Advanced | Advanced Design and UX Principles | Human-Computer Interaction (HCI) (edX) | 5+ years |
| | Cloud Computing | AWS Certified Developer - Associate | Senior Developer or Technical Lead Role |
| | Mobile Application Development | Android Developer Nanodegree (Udacity) | |
| | Big Data and Analytics | Big Data Analytics and Machine Learning (Coursera) | |
Final Thought
Skills intelligence is paramount to survive the technological disruptions of the future and stay up to date with the ever-evolving tech skills.
If your organization is looking to hire new-age power developers or users within a limited talent pool or upskill your existing developers and users with new-age tech skills, you must assess the market needs first, then benchmark each employee's current skills to get an idea of your organization's overall tech skill proficiency, and then make a call on the tech skills that you need to address the talent shortage for qualified application developers and business application users. Real-time intelligence on tech skills requires a multidisciplinary approach encompassing all your business functions, such as Management, Finance, Sales, and HR.