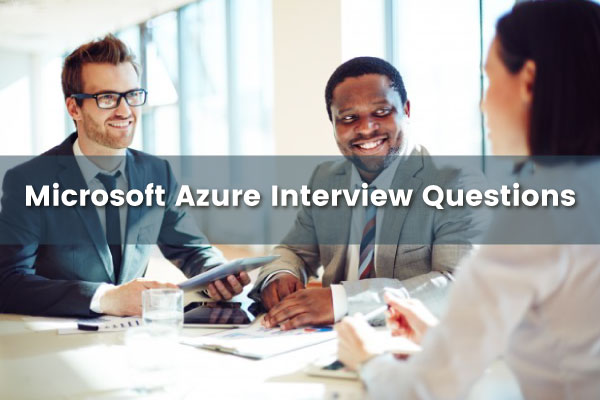 If you are looking for Microsoft Azure interview questions, here is the list of most important
questions that can be asked in interviews of Windows Azure developer and Windows Azure architect.
Windows Azure Developer Interview Questions
1. How to create a Virtual Machine in Azure?
2. What is Azure Diagnostics? When can we use it?
3. Recommend approaches for controlling access to the service by using the Windows Azure AppFabric Access Control Service.
4. What are blobs, tables, and Queues? Is SQL is the standard way to query blobs, tables, and queues?
5. How to Sync Two SQL Azure Databases?
6. You are designing a strategy for synchronizing an SQL Azure database and multiple remote Microsoft SQL Server 2008 databases. The SQL Azure database contains many tables that have circular foreign key relationships.
7. Recommend an approach to ensuring that all changes in the remote databases synchronize with the SQL Azure database.
8. Mention in what ways cloud architecture provide automation and performance transparency? Elaborate
9. Explain the troubleshooting procedure to integrate the build system with Azure cloud services for continuous deployments.
10. Explain the troubleshooting procedure to integrate the build system with Azure cloud services for continuous deployments.
11. How can you demonstrate between Azure mobile service and Web API?
12. Explain in detail hybrid and community cloud. When hybrid and community cloud is required?
13. Why should you use Windows Azure Storage as opposed to Local Resources/Storage?
14. How do web role and work role communicate with each other?
15. Explain Windows Azure Cloud Service Lifecycle.
16. Explain Azure Mobile Service. How can we create and integrate new mobile service in the new or existing application?
17. When does a workload on SQL Azure get throttled?
18. What is Text Analytics API in Azure Machine? How does it work?
19. Give some examples of hybrid applications using Windows Azure.
20. While migrating Microsoft SQL Server 2008 database to SQL Azure, what can be done to ensure the database connectivity does not degrade?
Windows Azure Architect Interview Questions
Here's just a quick list of questions, when interviewing candidates for a Windows Azure architect. A seasoned Windows Azure developer would be able to handle the majority of these.
Describe scenarios where they would combine (or separate) tasks into the same (or separate) roles.
Explain how to monitor and scale an app.
Understand the various aspects of upgrading an app.
Know how to install and run 3rd-party tools and alternative (non-.NET) languages.
Architect for cost vs performance vs availability.
Know about storage solutions (SQL, 3rd-party SQL & NoSQL, blobs/tables/queues).
Know the pros and cons of Windows Azure Queues vs. Service Bus queues.
Differences between SQL Server and Windows Azure SQL Database, including federations, security, transient faults, cross-database queries, and transactions.
Understand the capabilities (and limitations) of Content Delivery Network edge-cache.
Use this list of Microsoft Azure Interview Questions for interview preparation.