Are you still accepting resumes submitted in hard copy when hiring for specialized positions? No way, right?
Then why still follow the same old screening procedure to find and hire tech experts?
Well, before you contemplate your answer. Let's tell you an interesting fact. According to a Forbes article¹, IT professionals believe that automation can drastically reduce costs for most companies, potentially saving up to 50% of expenses related to manual procedures.
Undoubtedly, you must have already heard about online recruiting platforms and how they can help you identify skilled candidates and eliminate potential biases by automating your entire recruitment process. However, with so much talk about the advantages of recruitment tools. It can be challenging to choose the one that better fits your needs.
To make it easier to identify reliable recruiting platforms, read our thorough comparison of SparkHire pricing, features, and many other comparisons with iMocha to gain detailed information about the tool and make an informed decision.
About SparkHire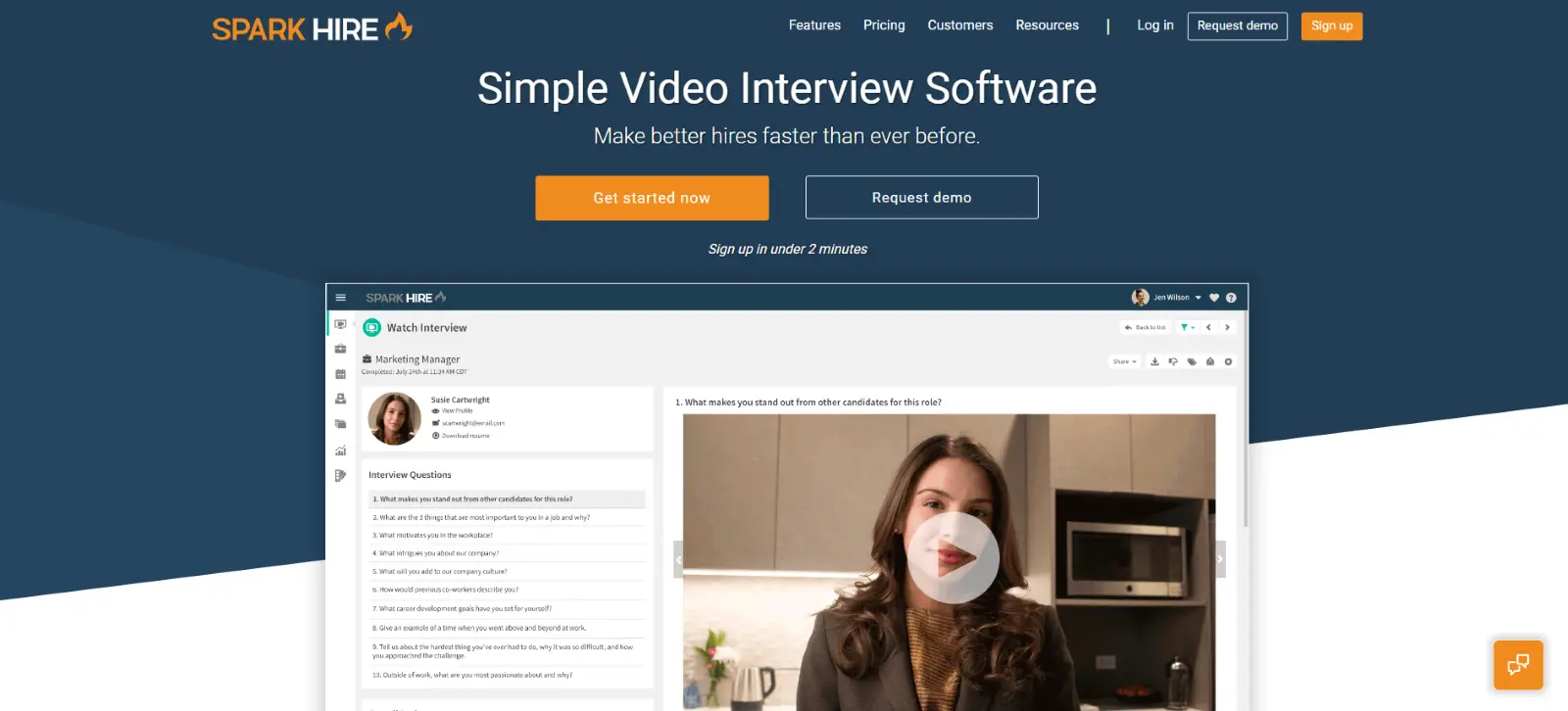 SparkHire is a cloud-based video interviewing platform designed to help recruiters and hiring managers to streamline their recruiting process and quickly find the right candidate for the job. Using this platform, recruiters can assess a large pool of candidates, track and manage applications, and quickly schedule and manage interviews.
About iMocha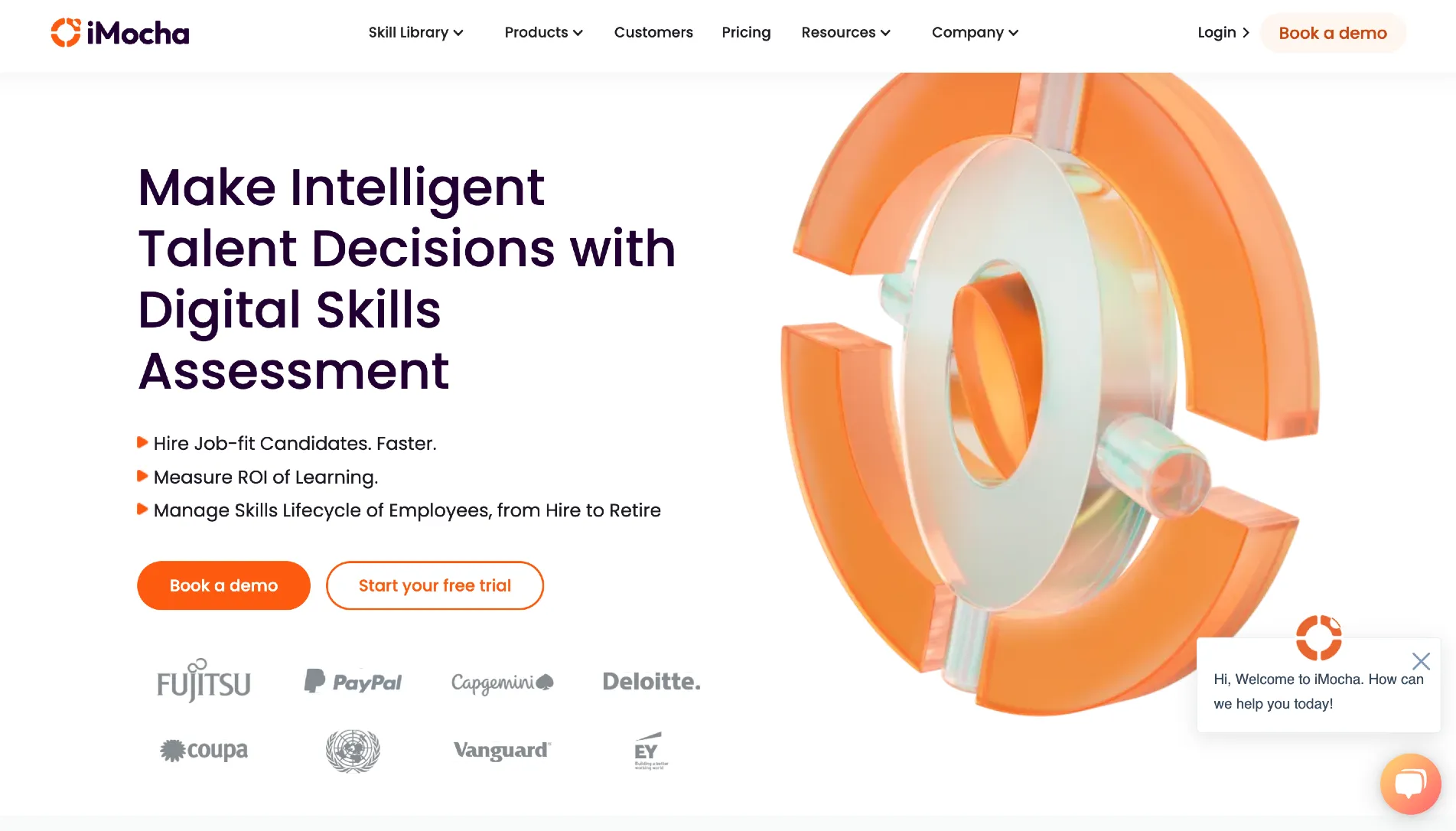 iMocha is an AI-powered comprehensive skills assessment platform with Talent Acquisition and Talent Development offerings. This tool allows recruiters and hiring managers to quickly and efficiently identify and hire the most qualified candidates. It evaluates applicants according to their skill set, allowing organizations to hire suitable individuals based on the JD quicker while adhering to hiring prerequisites.
iMocha vs. SparkHire Pricing Model
What do you get in SparkHire Pricing?
SparkHire offers four pricing editions.
Lite: $149/billed monthly

Pro: $299/billed monthly

Growth: $499/billed monthly

Enterprise: Contact Spark Hire for pricing
What do you get in iMocha Pricing?
iMocha provides tailored pricing packages depending on the requirements of your organization. If you wish to get in-depth details about their bespoke prices, you have to fill out your details in the form on the pricing page or schedule a demo to speak to their experts.
Features Comparison of SparkHire and iMocha
Comparison of Skill Library
| | | |
| --- | --- | --- |
| Features | SparkHire | iMocha |
| Skills Library | Not Available | 2,500+ |
| Next-Gen Skills | Not Available | 66+ |
| Domain Skills | Not Available | 77+ |
| Aptitude Skills | Not Available | 110+ |
| Question Bank | Not Available | 1,00,000+ |
| Project Based Assessments | Not Available | Available |
| Add your own questions | Not Available | Available |
Both SparkHire and iMocha help recruiters and hiring managers evaluate candidates' skills level, spot potential bottlenecks, and significantly increase their chances of hiring the best candidates for their companies, but they differ in many ways.
Skill Library: iMocha is a comprehensive digital tool with assessments for 2500+ skills, 1,00,000+ questions covering 77+ domains, 110+ Aptitudes, 66+ Next-Gen skills, and AI-based analytics. Whereas, there's no clarity about what skills and domains SparkHire offer
Custom test creation: iMocha also allows you to choose and add your own set of questions to the assessments or help you create customized assessments according to your requirements. Contrary to that, SparkHire does not provide any of the custom assessment creation capabilities
Project-Based Assessments: iMocha also enables hiring managers to assess candidates' skills in real-life project settings with access to a complete software environment through its project-based assessment capabilities. Unfortunately, this feature is not available in SparkHire. It rather includes a suite of AI-driven tools to help recruiters find the best candidates with the right skills and experience.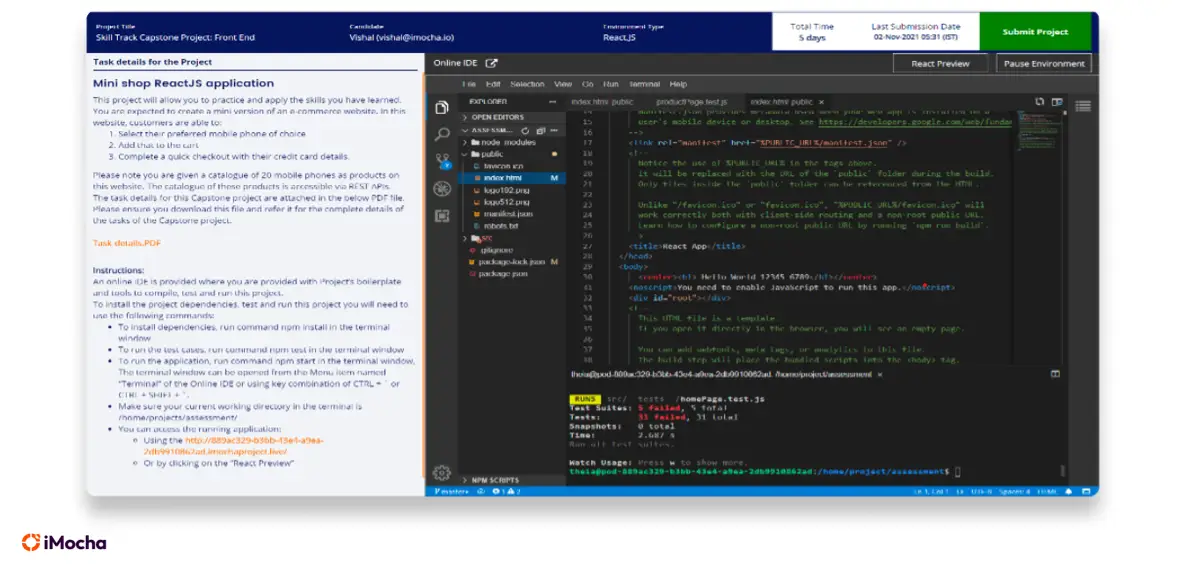 Other Features:
| | | |
| --- | --- | --- |
| Features | SparkHire | iMocha |
| One way Video Interviews | Available | Available |
| Role-based access control | Available | Available |
| Skills Assessment Consultancy | Not Available | Available |
SparkHire is a video interview tool. Hence, its features include one-way interview tool that covers the following:
Create text or video-based questions

Limit think time

Control the number of allotted takes

Restrict max answer length
Spark Hire also lets candidates interview in their own time by recording answers to organized, job-relevant interview questions. Recruiters can screen these videos before passing them on to hiring managers. Everyone can then take time to review applicants thoroughly.
The role-based access control feature of SparkHire allows recruiters to create and manage job postings, search and source candidates, and track and manage applications. Apart from that, it enables recruiters to gain more insights into candidates through video interview recording, video resume creation, automated candidate scoring, and machine learning-driven candidate ranking.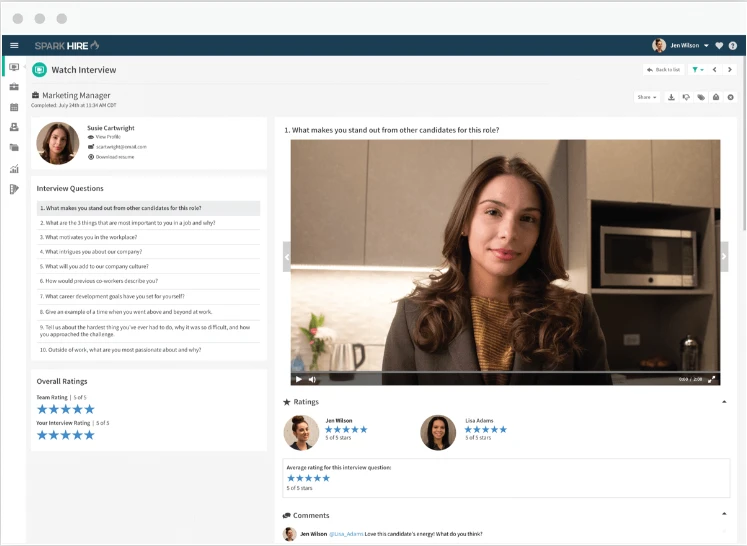 In contrast, iMocha, besides assessment questions, allows you to connect with prospects through automated video interview questions. This feature enables you to do the following tasks:
Efficiently evaluate technical, functional, and communication skills in a single assessment

Add video questions with ease to any assessment

Customize video questions as per job-roles

Check the status of video interviews in a centralized dashboard

Eliminate dependency on interview scheduling
Other features include branding customization, video interviewing ROI analytics, collaboration tools to comment, role-based access control for adding multiple stakeholders to remove biases, and open-invite interviews that can be implemented in any browser.
Apart from that, iMocha also offers skill assessment consultation periodically to understand any difficulties that stakeholders might face while screening candidates.
Failing to draw candidates to complete assessments? Try iMocha's fun and interactive assessments to engage, assess and hire the best candidates.
Looking for the fastest technical skills assessments? Use iMocha's AI-LogicBox — An Innovative pseudo-coding platform
| | | |
| --- | --- | --- |
| Features | SparkHire | iMocha |
| AI-LogicBox Questions | Not Available | Available |
Nowadays, the primary requirement of any company is finding a technical skill assessment platform that helps them quickly and more effectively assess candidates' coding skills. That is why iMocha has come up with a solution, AI-LogicBox, where candidates do not need to write lengthy codes from scratch.
Basically, AI-LogicBox is like fill-in-the-blanks or, more accurately, code-in-the-blanks. It focuses on logic application rather than syntax. Its repository has more than 1500 questions, including enterprise application, data skills, infrastructure management, cyber security, and more.
If we talk about SparkHire, this tool does not offer this functionality.
Coding Assessments and Simulators
| | | |
| --- | --- | --- |
| Features | SparkHire | iMocha |
| Coding Questions | Not Available | 3000+ |
| Coding Simulators | Not Available | Available |
| Live Coding Interview | Not Available | Available |
In order to assess and hire the best-skilled coders, iMocha offers a vast library of coding assessments and simulations.
Real-time simulators with 3000+ coding problems for 35+ programming languages

Code Replay to capture a comprehensive understanding of the candidate's thought process.

Code Stubs to guide them in their algorithmic and logical development

Live coding interview to assess candidates' logical skills and problem-solving abilities in real time.
SparkHire, on the other hand, does not provide the above-discussed options.
Struggling with higher technical screening time and low-quality candidates? Discover how iMocha can reduce technical screening time by 80%.
Self-assessment portal for Upskilling initiatives
| | | |
| --- | --- | --- |
| Features | SparkHire | iMocha |
| Upskilling | Not Available | Available |
Retaining one's current workforce is far more demanding than hiring new talent. In order to help in this effort, iMocha offers talent development service to help implement and track the success of their Learning and Development programs through the following capabilities:
Skill gaps through assessment reports

One-click integrations with various ATSs

ROI of your learning programs

Department-wide training requirements analysis (TNA)
In contrast, SparkHire does not provide upskilling services to assess and enhance employees' proficiency gaps.
Get automated proctoring insights with Audio/video & image proctoring
| | | |
| --- | --- | --- |
| Features | SparkHire | iMocha |
| Image, Audio & Video Proctoring | Not Available | Available |
| Randomization of test questions | Not Available | Available |
| Window Violations | Not Available | Available |
Experience secure online assessment with iMocha's AI-enabled Proctoring. The platform enables candidates to take their assessments from anywhere, with features that include:
Real-time Image and video proctoring helps eliminate any chances of cheating during the test

Detecting instances of copy and paste with Advanced Plagiarism Detection

Preventing cheating through randomization of questions

Proctor logs to monitor and detect any instances of cheating or other misconduct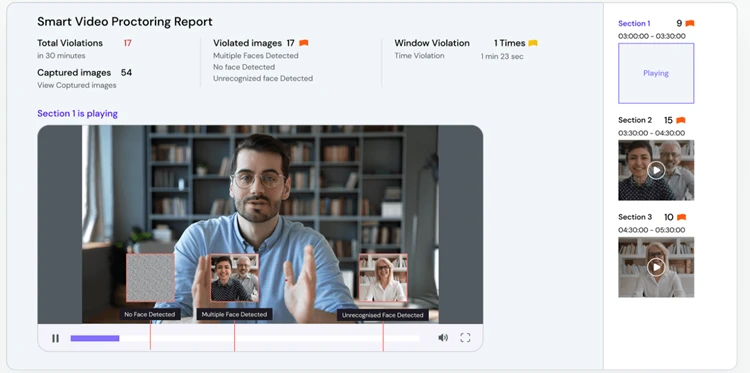 In comparison, SparkHire is yet to introduce these functionalities.
Worried about lengthy candidate screening process? Reduce hiring time by 40% with iMocha's skills assessments
G2 Ratings
SparkHire: 4.8/5 (388 reviews)
iMocha: 4.4/5 (189 reviews)
Pros & Cons
Pros of SparkHire
SparkHire also makes it easy for recruiters to schedule and manage interviews

It enables recruiters to send automated reminders to ensure that all interviews are completed on time

It is relatively simple to send and customize one-way interview invites and keep track of who has accepted or completed interviews
Cons of Sparkhire
This platform does not provide a skilled library for evaluating applicants on their different skills

This platform does not support proctoring capabilities
Pros of iMocha
It allows you to create an organizational skills matrix with information about individual and organizational skills levels, critical skills requirements, and more with detailed reports

It captures individual feedback from multiple interviewers to give you a thorough assessment of a candidate's performance

This tool evaluates your candidate pipeline, measures test performance, and analyzes invitation data
Cons of iMocha
This tool does not offer Psychometric tests

iMocha does not support background checks of candidates



Which is better: SparkHire or iMocha?
It is difficult to answer this question because it depends on your particular needs. However, it is evident that these tools are designed to eliminate reliability in the traditional resume-scanning process.
Overall, after considering the abovementioned points, SparkHire is a video interview tool that helps identify and hire top developers through the candidate's visual responses, easily compares candidates' video responses, and determines their suitability for desired positions.
While iMocha is a comprehensive online assessment platform that enables recruiters to make a data-driven decision through candidate reports. Detailed reports analyze performance based on the test taken, thus helping recruitment teams scrutinize skills accurately.
Reference
¹ Leighton (2022) Four Top-Level Business Moves to Consider Making In 2023 https://www.forbes.com/sites/forbescoachescouncil/2022/12/27/four-top-level-business-moves-to-consider-making-in-2023/?sh=47a5a03933d9