Testdome is a skill assessment software that empowers recruiters to assess candidates for multiple job-specific roles such as accounting, programming, sales, customer service, project management, and more.
Even though the platform offers multiple useful features, it still has some drawbacks, which could adversely affect your recruitment process.
Firstly, Testdome does not allow customization for company templates, including logos, invitation designs, etc. In addition:
The platform is not multilingual; it's more English speakers oriented.

There is no adaptive screening.

The assessments are outdated for tech-stacks

It offers limited assessments available for data science.

Testdome's analytical reports are not insightful.

UI/UX is unintuitive.
Considering all the above drawbacks, we have listed the top 12 Testdome alternatives available in the market, which can successfully address the shortcomings and streamline your hiring process.
Top 13 TestDome Alternatives
1. iMocha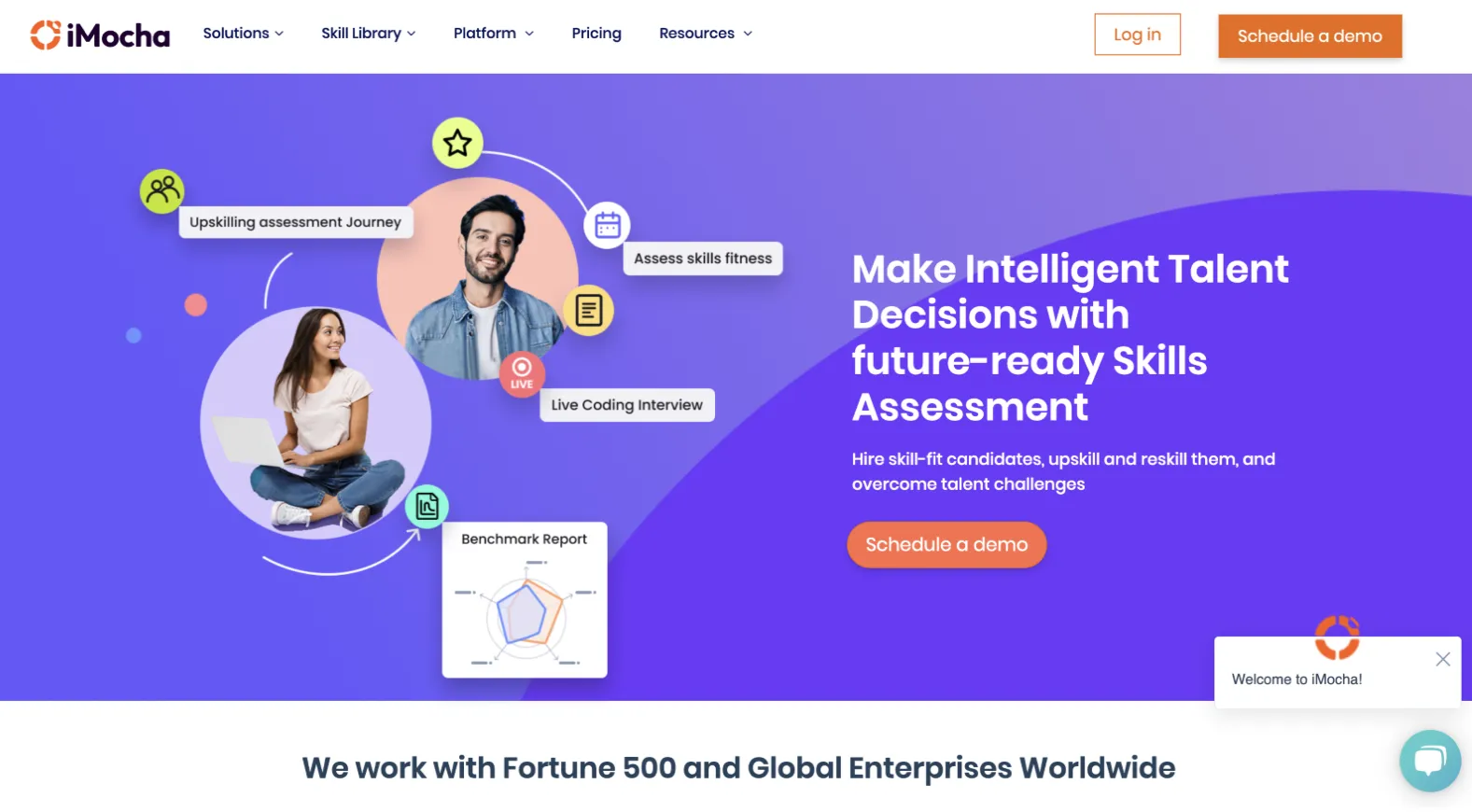 iMocha is one of the top Testdome alternatives chosen by several recruiters since it empowers them to make unbiased and data-driven hiring decisions. It provides hiring managers and recruiters with robust reports that present a well-organized and simple-to-read summary of a candidate's evaluation results.
This testdome competitor also offers the most extensive skill assessment library in the world, which includes over 2500 skills, 100,000+ questions—spanning over technical, functional, cognitive, language and more, cutting-edge coding simulators, and AI-based analytics.
| | | |
| --- | --- | --- |
| Features | Testdome | iMocha |
| Integration | Available | Available |
| Customization | Available | Available |
| Assessment Randomization | Not Available | Available |
| Analytical Reports | Not Available | Available |
| Next Gen Skills | Not Available | Available |
| Mobile-friendly | Not Available | Available |
| Live Coding | Not Available | Available |
| AI proctoring (voice, face, image detection) | Not Available | Available |
| AI LogicBox | Not Available | Available |
| ATS Integration | Available | Available |
| API Access | Available | Available |
| Phone assistance | Not Available | Available |
Features:
An extensive library with 2500+ skills, including 500+ IT skills,

66+ Next-Gen skills

,

37+ coding languages,

77+ domain skills

,

88+ cognitive tests,

and more.

It allows customizable acceptance and rejection of emails.

It provides assessments, email templates, and invitations branded with your company logo and color.

iMocha offers plug-and-play integration with

top ATS

such as Taleo, Pearson, iCIMS, Workday, Jobvite, Workable, Bullhorn, and more.
Founding Year: 2015
G2 Rating: 4.5/5 (185 reviews)
2. TestGorilla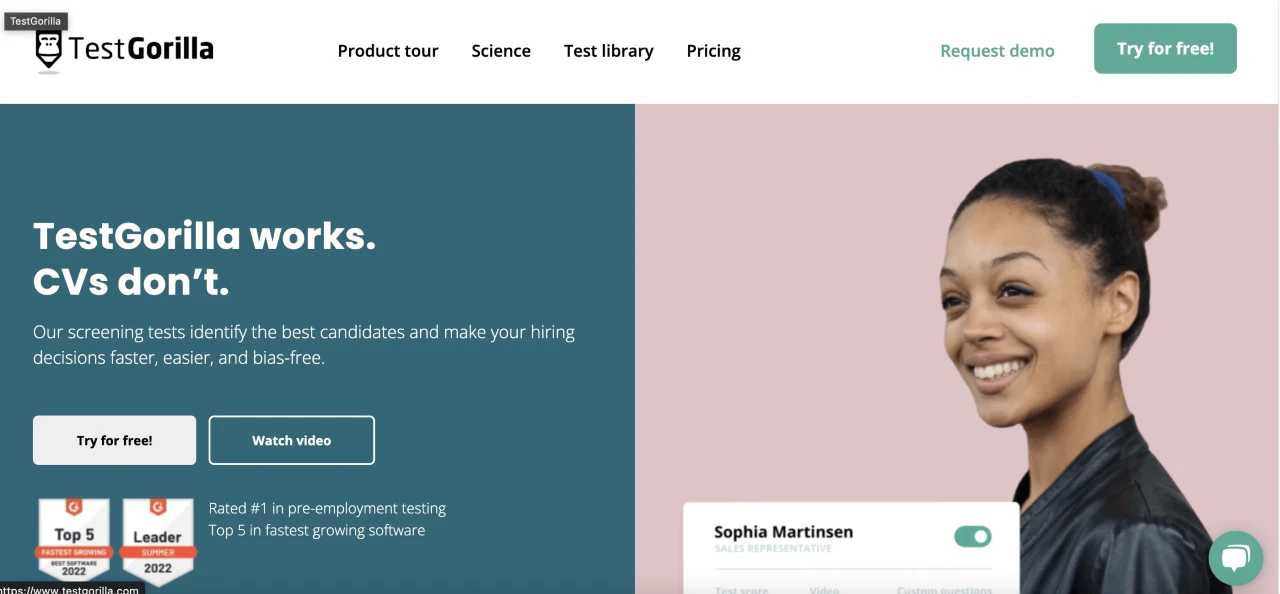 TestGorilla is a pre-employment testing tool that helps businesses manage the entire hiring process, from creating assessments to inviting candidates and reviewing results in-depth.
Features:
Intuitive UI/UX

Allows bulk email invites via ATS

One-way video interview

AI smart proctoring; face, audio, and object detection

Once reached the exposure limit (10,000 times), questions are automatically replaced
Founding Year: 2019
G2 Rating: 4.5/5 (715 reviews)
3. Codility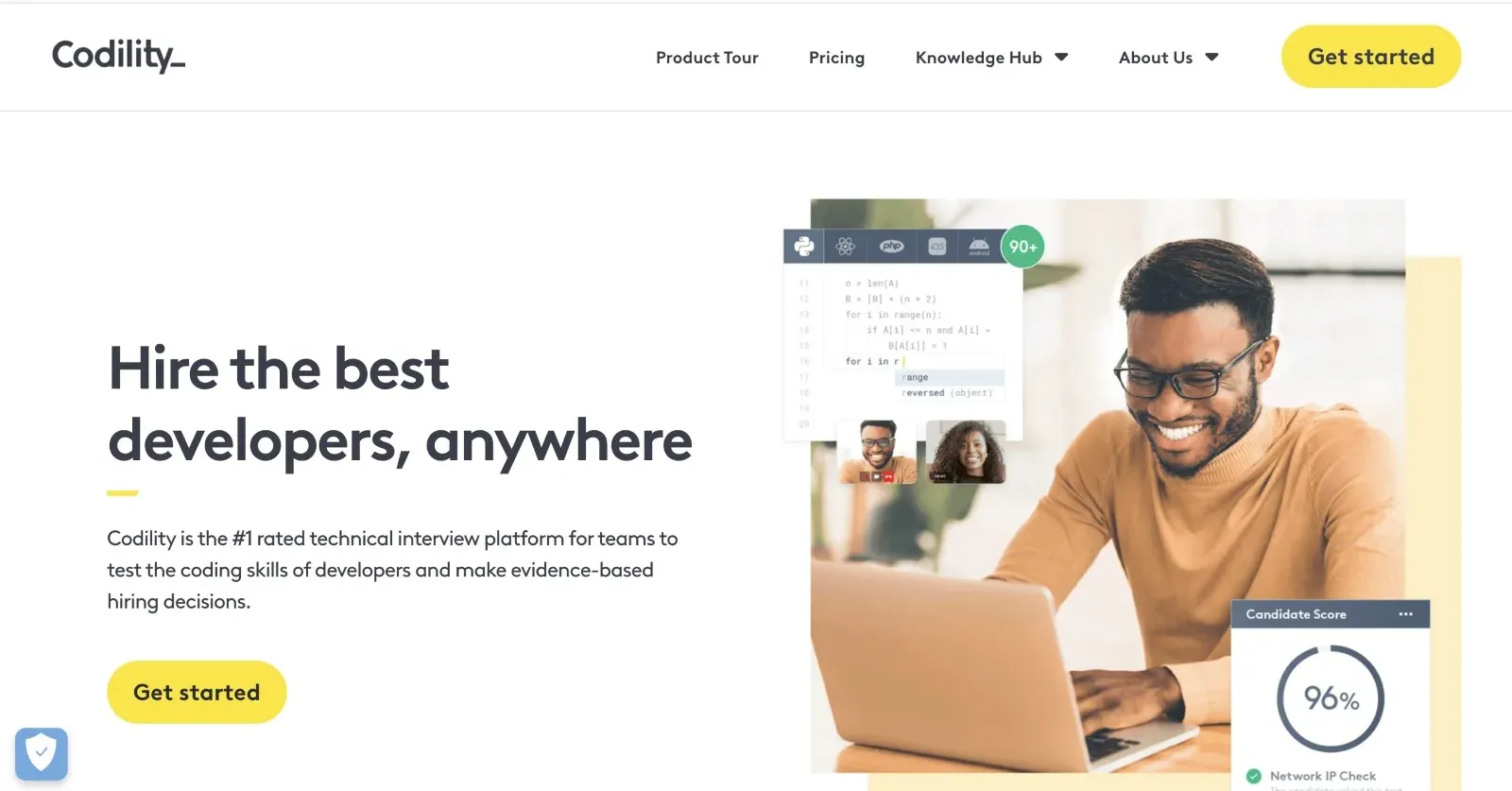 Codility is an online hiring platform designed explicitly for engineering teams. This Testdome alternative allows organizations to save hiring time and capital through its extremely useful feature. These features include CodeCheck(unbiased and relevant assessment), CodeLive(live technical interviews), and CodeEvent(virtual recruitment events) to predict candidates' technical skills.
Features:
Live pair programming.

Whiteboard & template mode

Online coding challenges

Advanced filtration & search

Role-based access control

ATS & LMS integration
Founding Year: 2009
G2 Rating: 4.6/5 (335 reviews)
4. HackerRank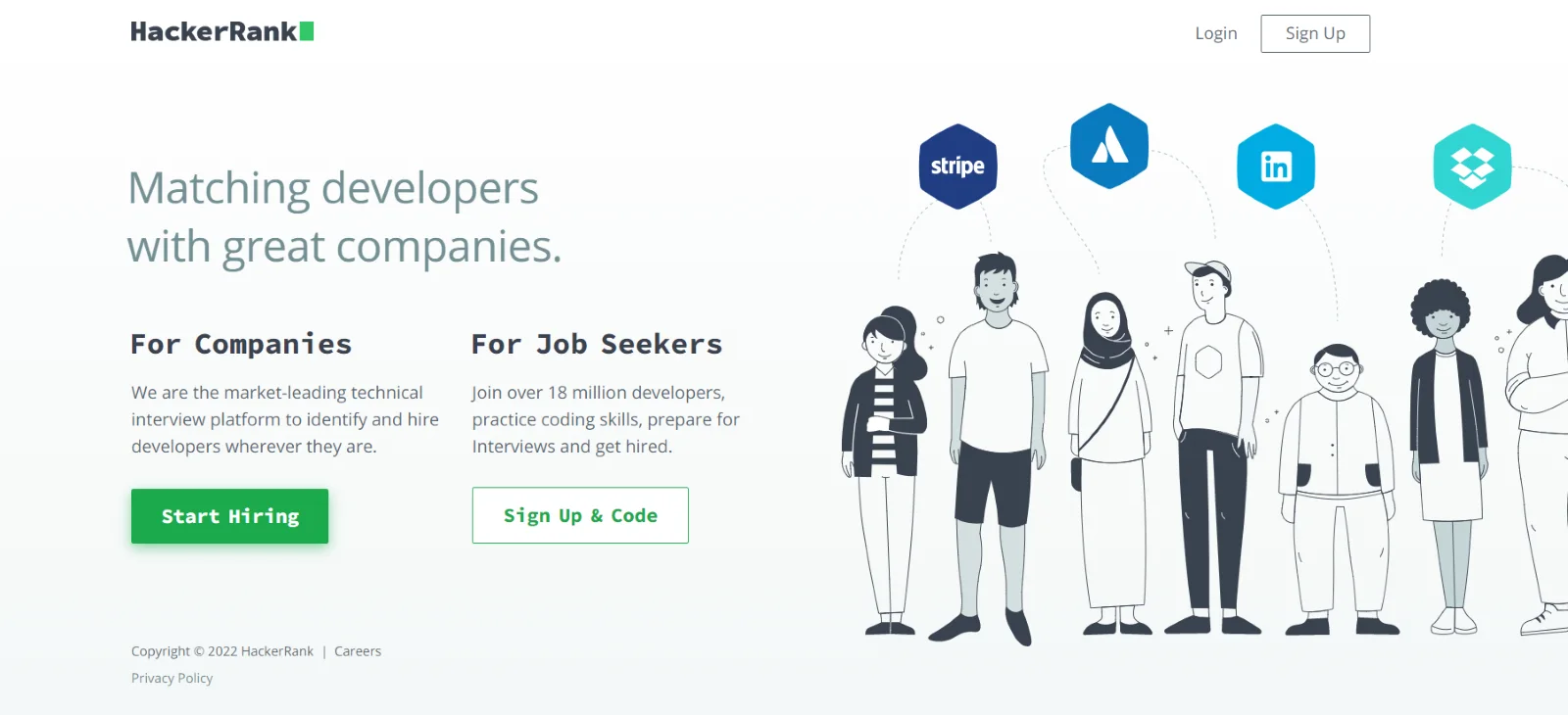 With the help of this cloud-based Testdome alternative, HackerRank, firms can assess developers' abilities, conduct remote interviews, and monitor candidate progress on a single platform. Using CodeScreen, hiring teams may administer online coding tests in various programming languages to evaluate candidates' technical proficiency and analyze test results using manual, automated, or customized scoring techniques.
Features:
Offers 35+coding languages

Live peer coding

Live video interview

GDPR Compliant

Randomization of questions per test
Founding Year: 2012
G2 Crowd Rating: 4.7/5
5. eSkill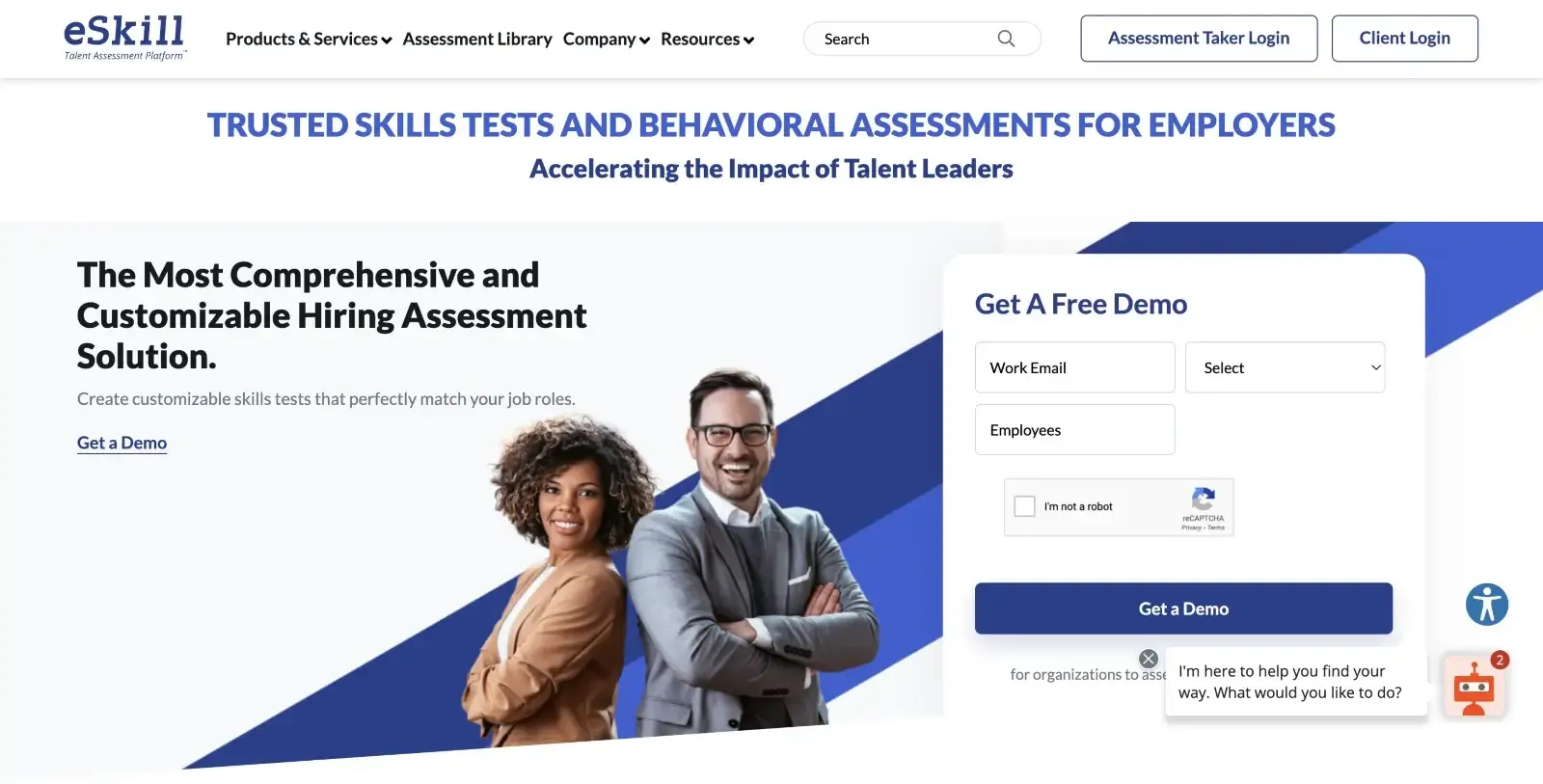 eSkill is a pre-employment and behavioral assessment tool. It enables businesses to increase hiring results and employ individuals with the required skills. In addition, hiring managers can create their own branded and customized test centers and start creating tests right away by selecting pre-prepared tests from their extensive Test Library.
Features:
Job-based assessments

Analyze the candidates' verbal and problem-solving skills

Comprehensive library for assessments based on industry demand

Include video questions in skill assessments to gauge candidates' suitability for the position
Founding Year: 2003
G2 Rating: 4.5/5 (312 reviews)
6. CodeSignal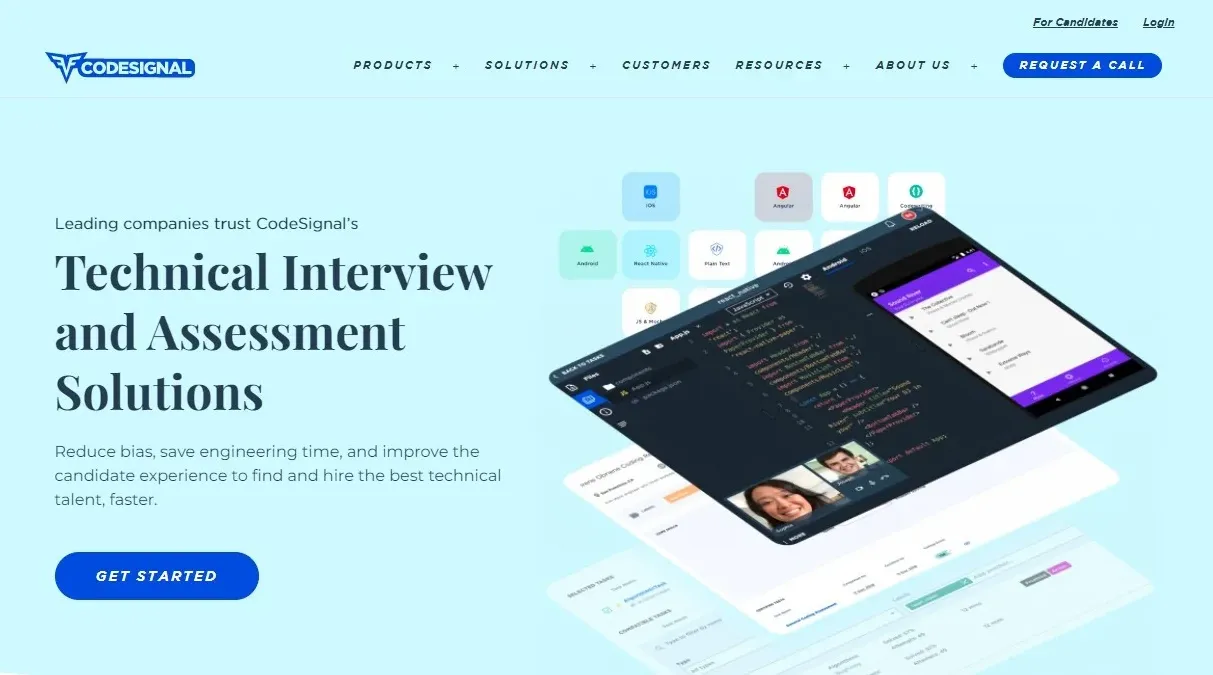 With CodeSignal's Pre-Screen, Tech Screen, and Interview tools, teams can conduct fair and predictive evaluations, save engineering resources, provide a better candidate experience, and hire the right talent faster.
Features:
Monaco-powered integration

Easy to administer and use

Extensive assessment library

Syntax highlighting

Inline documentation
Founding Year: 2014
G2 Rating: 4.5/5 (611 reviews)
7. Mercer Mettl

This Testdome competitor offers solutions for core organizational growth processes such as Training needs analysis, identification of high potentials, succession planning, and leadership development. The tool is also credible for conducting performance appraisals based on data.
Features:
Fully auto-graded simulators

Ready-to-use pre-made assessments

Most diversified assessment tools

Graphical reports
Founding Year: 2010
G2 Rating: 4.4/5 (410 reviews)
8. Coderbyte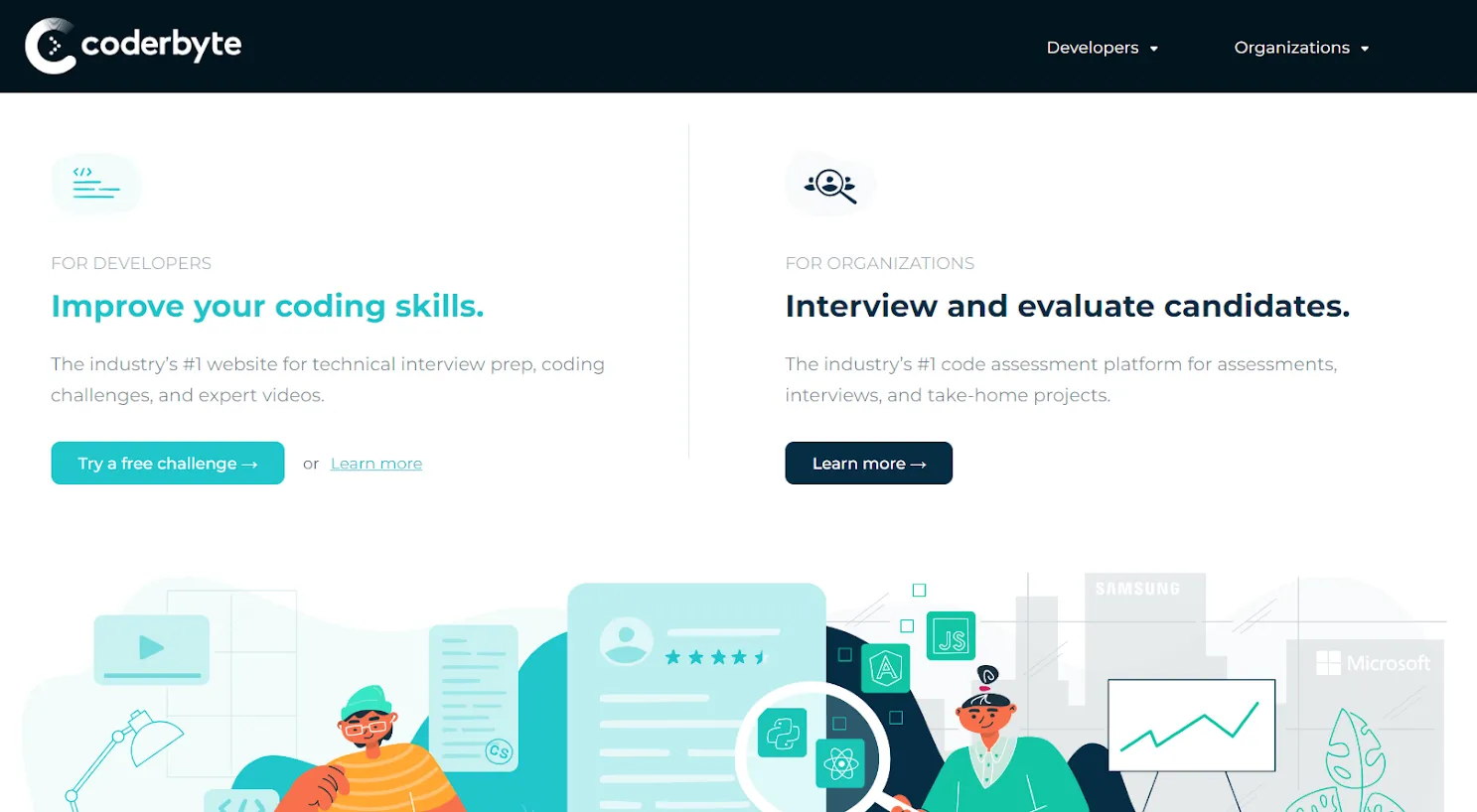 Coderbyte, another Testdome alternative, allows screening, interviewing, and take-home challenge all at a single platform. The platform provides a more comprehensive and easy scope for customization and integration. It serves as a platform for developers looking to improve their coding skills or recruiters who are explicitly hiring engineers.
Features:
Live interviews

IntelliSense editor

Accessible APIs

Cloud-based deployment

30+ coding languages
Founding Year: 2012
G2 Crowd Rating: 4.5 /5 (214 reviews)
9. CodeInterview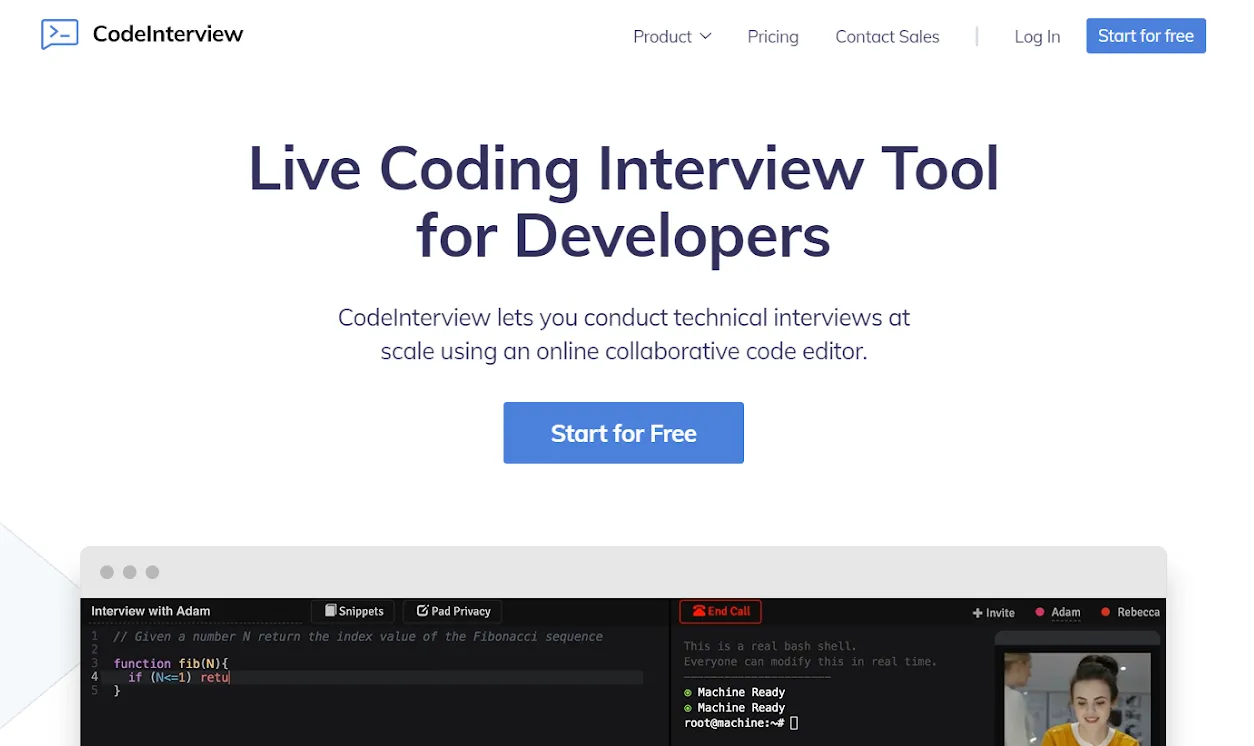 Recruiters can hire developers who can make a significant impact right away with CodeInterview. Using this software, you can also speed up technical hiring by including the right stakeholders at the right time; hence you will be able to minimize the time spent switching between emails, spreadsheets, and calendar events.
Features:
25+ coding languages

300+ challenges and tests

Highly flexible and customizable

Whiteboards for visual brainstorming
Founding Year: 2013
G2 Rating: 4.6/5 (30 reviews)
10. HackerEarth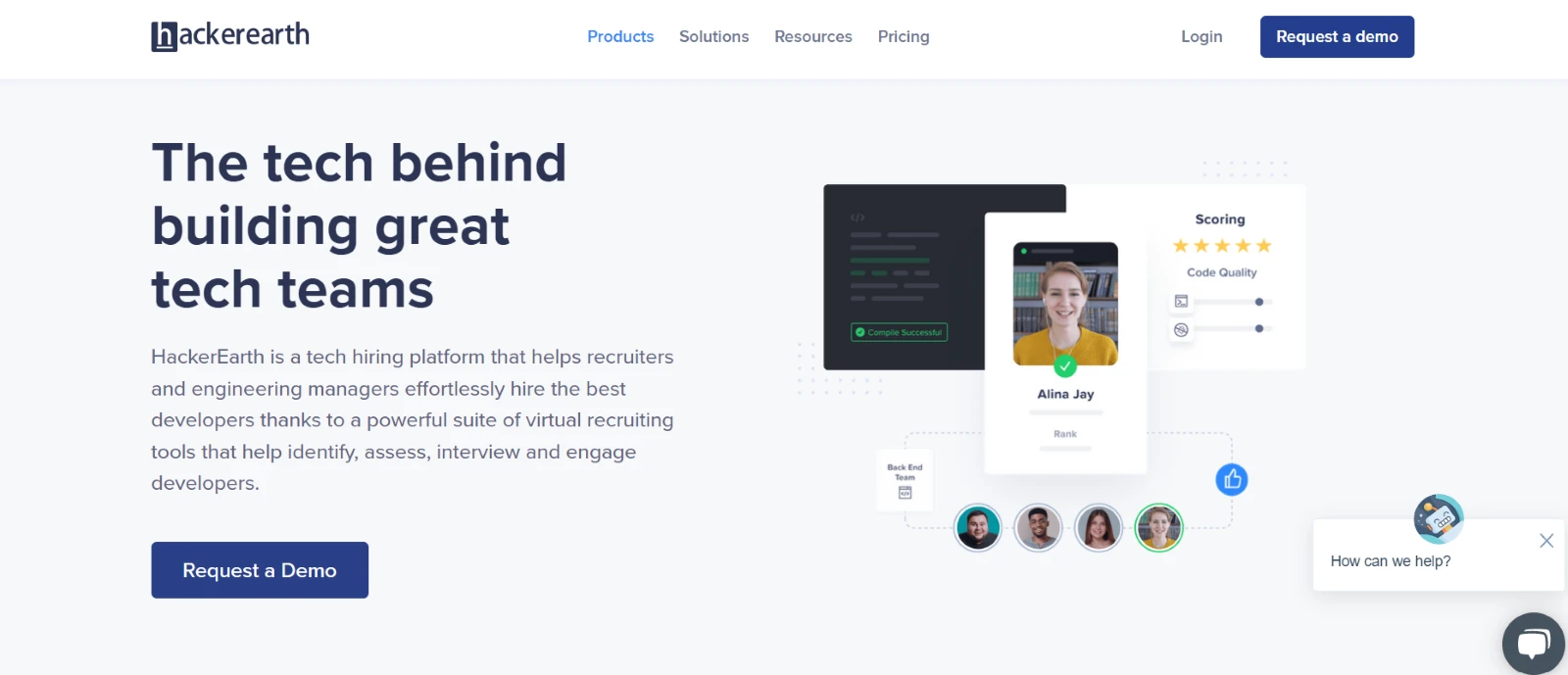 Organizations use the platform to prescreen applicants and reduce the costs and time associated with hiring technical developers. It helps companies recruit, screen, interview, upskill, and engage developers with multiple tools. It also offers seamless integration with applicant tracking systems; administrators can connect the platform to external systems.
Features:
80+ skills for developers

40+ languages

Question-based analytics

AI-powered proctoring

Custom API

GDPR Compliance
Founding Year: 2012
G2 Rating: 4.6/5 (268 reviews)
11. Hire Success

With Hire Success, businesses can streamline employee recruitment processes, such as creating baselines, scheduling interviews, and managing job campaigns. It also enables enterprises to streamline shortlisting procedures by organizing the hiring pipeline for candidates and tracking progress or test results throughout interview and assessment workflows.
Features:
Cost-effective

Real-time reporting

Candidate comparison

Intuitive UI/UX

Workflow management
Founding Year: 1999
G2 Rating: 4.3/5 (3 reviews)
12. EmployTest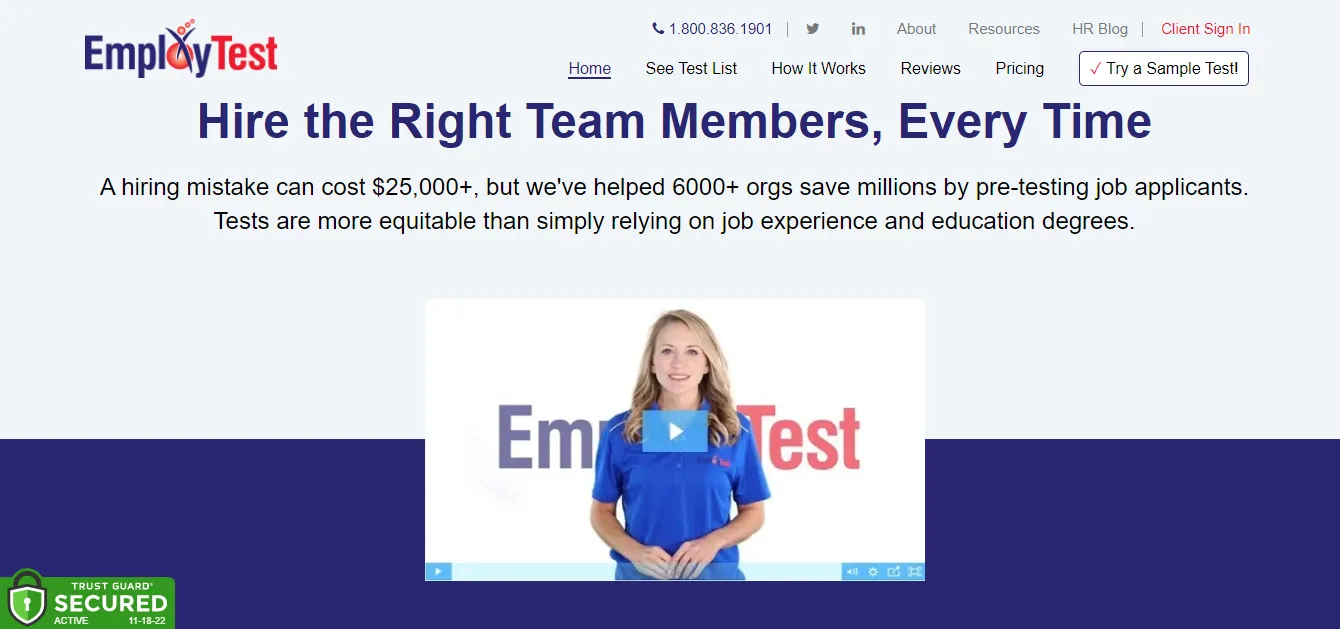 This Testdome alternative software is a pre-employment testing platform developed to evaluate a candidate's soft and hard skills through behavioral, cognitive, knowledge, and skill tests. EmployTest's comprehensive test library, which includes a wide range of subjects and questions, is created by recognized leaders in industrial-organizational psychology.
Features:
Mobile friendly

Easy to use and administer

Seamless ATS integration

Comprehensive assessment reports

Customizable assessments
Founding Year: 2005
G2 Rating: 0 ratings
13. The Predictive Index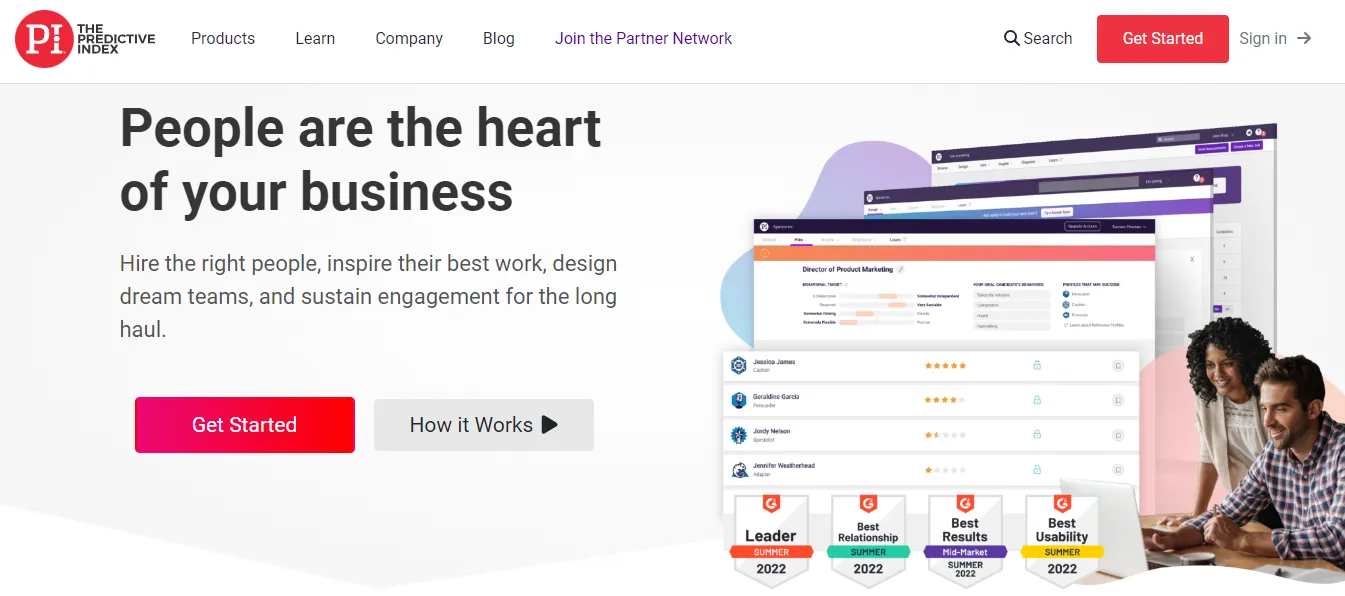 The Predictive Index Workforce Assessment is a tool that aims to objectify workplace behaviors so that you can predict prospects' motivations and drives, be a better manager and communicate more effectively. With the software, you can conduct a fast, scientifically validated behavioral assessment in just six minutes, providing essential insights into the candidate.
Features:
70+ languages

Fastest behavioral assessment of 6 minutes

Cognitive ability assessments

Extensive quality check for assessments
Founding Year: 2014
G2 Rating: 4.5/5 (598 reviews)
FAQs
What are the best Testdome alternatives?
Here are the best Testdome alternatives:
Comprehensive skill library

AI-Logic Box

Role-based access control

GDPR Compliance
HackerRank:
Insightful reporting

Audit Logos

Individual Performance Reports
Codility:
CodeLive

SSO with SAML

Track the candidate's Ip address
Why is iMocha better than Testdome?
iMocha is one of the leading talent assessment tools that provide effective talent programs such as talent acquisition and development.
Unlike Testdome, iMocha provides AI talent analytical reports to recruiters, which helps them make data-backed and practical hiring decisions.

iMocha's dashboard is intuitive and can be easily adapted by recruiters and end users.

iMocha's skill library and question bank are updated regularly to keep up with the industry demands.