In today's changing era of work, many companies have already started leveraging tools like video interview assessment during the hiring process. Undoubtedly these interview tools provide convivence and an effortless method of identifying top candidates.
However, we cannot ignore that candidates, to crack online tests have started leveraging various cheating methods. In fact, a report published by peoplematters claims that 30 to 50 percent of candidates cheat during assessments.
That is why many companies have started leveraging artificial intelligence to assess video job interviews.
Yes, you read that right! Employers are using a video proctoring tool that uses AI to assess video interview candidates. This method does not require a human on the other side. It can even eliminate candidates even before you speak to them.
But what is a video proctoring tool, and how exactly does it work? This blog will discuss everything you need to know about video proctoring tools.
Let's get going.
What is a Video Proctoring Tool?
Video proctoring is the process of supervising online assessments. It typically involves the use of AI technology to monitor the actions of candidates during the assessment. It even has the potential to highlight any suspicious activities that might indicate cheating or malpractice during the assessment.
Various types of video proctoring tools available in the market can help employers identify the intensity of cheating utilized by candidates during the assessment process.
Types of Video Proctoring Tools
1. Live Proctoring:
One of the most traditional forms of proctoring is live proctoring. It involves a live proctor (trained to monitor tests) observing candidates in real-time through a video call.
The proctor will use a video conferencing tool to:
Communicate with the candidate and monitor their behavior during the skills test

Interact with the candidate in real-time and provide assistance, if needed
| | |
| --- | --- |
| Pros | Cons |
| Live proctoring is considered the most secure form of video proctoring. A human proctor can quickly detect suspicious behavior, such as talking to someone off-camera or using unauthorized materials. | It is also the most expensive option, requiring trained proctors to be available during the test. Moreover, evaluating candidates' actions during online assessment becomes challenging for experts. |
2. Automated Proctoring
Automated proctoring uses AI algorithms to monitor candidates during the test. The proctoring tool uses facial recognition, eye-tracking, and other biometric measures to detect suspicious behavior.
Moreover, it can effectively detect the visual responses of candidates while taking the test. It can even check the audio and raise a flag if any suspicious voice behavior is detected.
| | |
| --- | --- |
| Pros | Cons |
| The software can flag anomalies, such as a candidate looking away from the screen for too long or multiple faces appearing in the video feed. | Automated proctoring may not be as effective as there is a chance of technical glitches or system failure during the assessment because of an unstable internet or electricity connection. |
3. Recorded Proctoring
Recorded proctoring records the candidate during the test, which can be reviewed later by a proctor or instructor.
The video is analyzed for any suspicious behavior, such as a candidate looking away from the screen for too long or using unauthorized materials.
The proctor can also review the video to check for any irregularities and make sure that the test is conducted fairly.
| | |
| --- | --- |
| Pros | Cons |
| Recorded proctoring enables you to monitor the test-takers actions during the test. It even highlights the instances when cheating was conducted. You can simply hover over to the highlighted section and check what medium was utilized to conduct the cheating. Moreover, using the recorded video, you can even check if they tried to take the internet's help to answer the questions. | Like automated video proctoring, recorded video proctoring is also prone to technical issues and glitches. |
5 Useful Criteria for Selecting the Best Video Proctoring Tool
1. Security and Privacy Features
It's crucial to choose a video proctoring tool that ensures the highest level of security and privacy. So, make sure to look for tools that offer features such as a candidate ID verification solution. It helps to prevent candidate impersonation by requiring candidates to showcase a valid government ID and a selfie.
2. User-Friendliness
A user-friendly tool is essential for a seamless proctoring experience. This is why you should take the time to choose a tool that's easy to navigate, intuitive, and user-friendly for both candidates and proctors.
3. Customization Options
Each test is unique, and the proctoring tool should be customizable to accommodate specific testing requirements. This is perhaps the most important requirement.
Make sure to look for tools that offer customization options, such as question randomization, time limits, and custom scoring.
4. Detailed Candidate Insights
Choosing the right proctoring tool is undoubtedly challenging. That is why you should always consider proctoring tools that provide detailed insights into candidates' performance during the assessment. It helps you make data-driven talent decisions without spending countless hours evaluating and coming to the right decisions.
5. Integration with Other Tools
A video proctoring tool that integrates with other tools can simplify your hiring process and improve your overall experience.
As a rule of thumb, look for tools that integrate with your LMS, testing platform, and other tools to streamline your processes and save time.
Top 4 Video Proctoring Tools in the Market
1. iMocha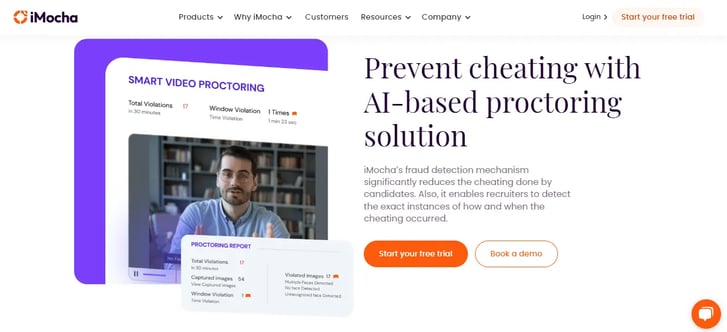 Recruiters looking for a cloud-based video proctoring assessment tool to evaluate job applicants' skills and knowledge should consider iMocha a worthy choice. The tool offers the world's largest skills library with over 2500+ pre-built assessments.
The magic of iMocha lies in its AI-powered video proctoring capabilities that help streamline the recruitment process and help recruiters hire the best candidates for their organization. The tool comes power-packed with a host of 'intelligent' recruiter-friendly features to monitor the candidates' behavior during the assessment and ensure the integrity of the exam.
Top Features:
iMocha enables you to restrict the IP ranges from which candidates can attempt the test. Any issues of IP range violation gets highlighted in the candidates' performance analytics reports.

Its

real-time webcam proctoring

utilizes advanced face recognition technology to

verify that only authorized candidates appear for the test.

Every question appears randomly from the question bank.

The test window is locked. If any violations are detected, the test is terminated, and the administrator is notified.

It also restricts candidates from copying and pasting the answers directly from the internet.
2. ProctorEdu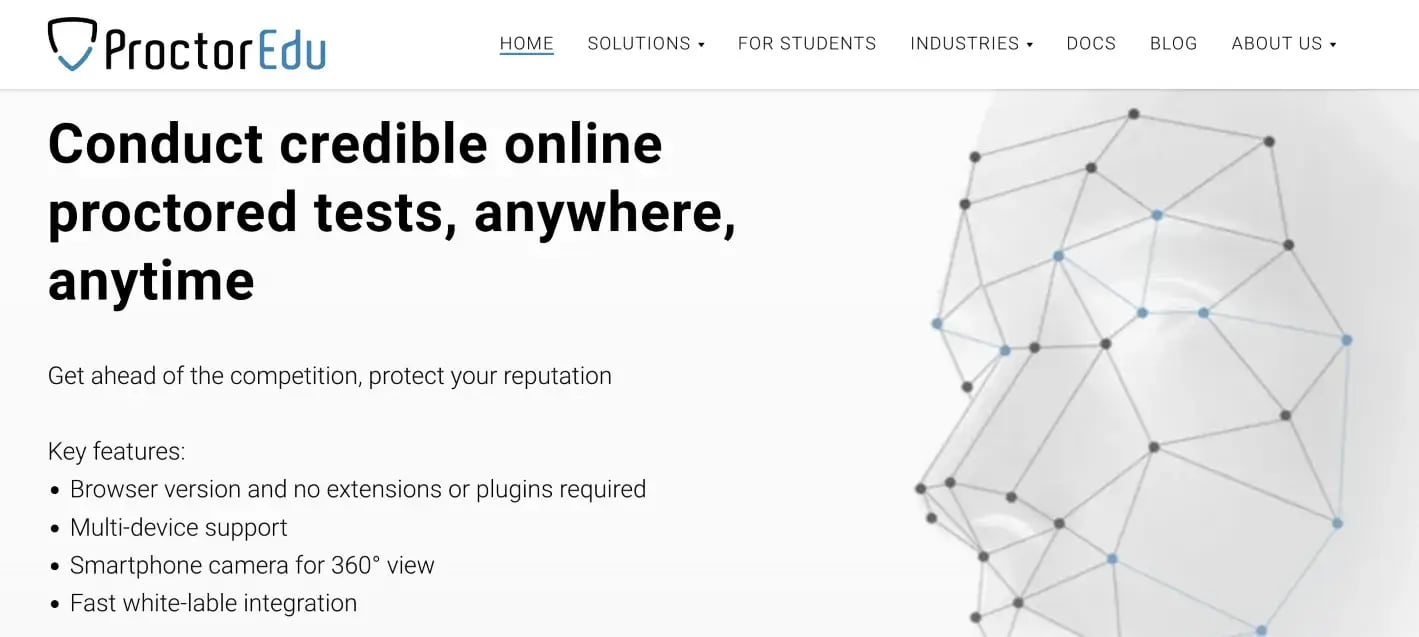 ProctorEdu is another cutting-edge video proctoring tool revolutionizing how tests are conducted. This online platform empowers employers to monitor candidates during an assessment.
Top Features:
This tool's AI-powered proctoring feature helps monitor candidates in real-time during a test.

It also features live proctoring sessions where a human proctor monitors the candidate remotely through a video feed.

Using the secure browser experience, you can prevent candidates from accessing other websites or applications during the test.

Auto-proctoring feature to automatically detect any suspicious behavior or cheating attempts during the test and flag unusual activity.

Flexible scheduling allows employers to schedule tests at their convenience.
3. Mettl

The third video proctoring tool on our list is Mettl. This tool is widely used by recruiters, educational institutions, and certification bodies to conduct remote assessments and examinations. It provides a comprehensive suite of features enabling organizations to conduct fair and secure assessments remotely.
Top Features:
It offers live video proctoring capabilities to monitor candidates during the test. This feature enables proctors to monitor test takers' real-time activities and detect suspicious behavior.

The tool uses advanced algorithms to detect cheating behavior, such as multiple faces, unauthorized materials, or unusual movements.

Mettl provides a secure browser restricting access to other websites and applications during the assessment.

It automatically terminates the session if any suspicious behavior is detected during the assessment.

The platform also allows organizations to customize the test settings, such as the duration of the examination, number of attempts, and question types.



4. Proctor360

Proctor 360 is another video proctoring tool that enables recruiters to remotely monitor interviews and tests, ensuring the integrity of the assessment process. It is a reliable and secure solution that leverages artificial intelligence (AI) and machine learning (ML) algorithms to detect suspicious behavior and prevent cheating.
Top Features:
Proctor 360 provides live video monitoring capabilities, enabling the recruiter to observe their behavior in real-time.

The tool uses AI and ML algorithms to automatically detect suspicious behavior, such as unauthorized access to the test environment or the presence of third-party applications.

It allows the recruiter to customize the proctoring settings, such as setting the level of monitoring and configuring the types of behavior to be detected.

All video recordings and data are stored securely in the cloud, ensuring they are accessible only to authorized personnel.

The tool has a user-friendly interface that is easy to use and navigate.
In Conclusion
Think of a video proctoring tool as a software application that helps employers remotely monitor job candidates. These tools leverage the power of artificial intelligence and machine learning algorithms to scrutinize the candidates' behavior, facial expressions, and speech patterns, all aimed at identifying potential instances of cheating. Hence, these tools help you maintain the integrity of the hiring process, aiding in informed candidate selection.
FAQs
1. What is a video proctoring tool, and what does it do?
Proctoring tool works by capturing video and audio recordings of the candidate during the entire test session. The video feed is then transmitted to a proctor or artificial intelligence system for review. The proctor or AI system evaluates the content for potential signs of cheating, which could encompass unusual eye movements, suspicious sounds, and other telltale behaviors.
2. How does proctoring detect cheating?
Proctoring tools leverage advanced functionalities like facial recognition and keystroke monitoring to identify instances of cheating. For instance, if the tool identifies unauthorized individuals taking the test or detects answer duplication from external sources, it promptly raises a flag for subsequent review.