Today's workforce is diverse. And from the perspective of diversity, inclusive leadership is the next step towards the development of leadership of the future.
The idea is simple: if the leadership is diverse and understands the importance of inclusion, it will percolate in the organization's practices, too. However, as simple as it may sound, there are layers and layers to uncover while creating a c-suite that's truly diverse and inclusive.

What Exactly are the Various Layers of Diversity?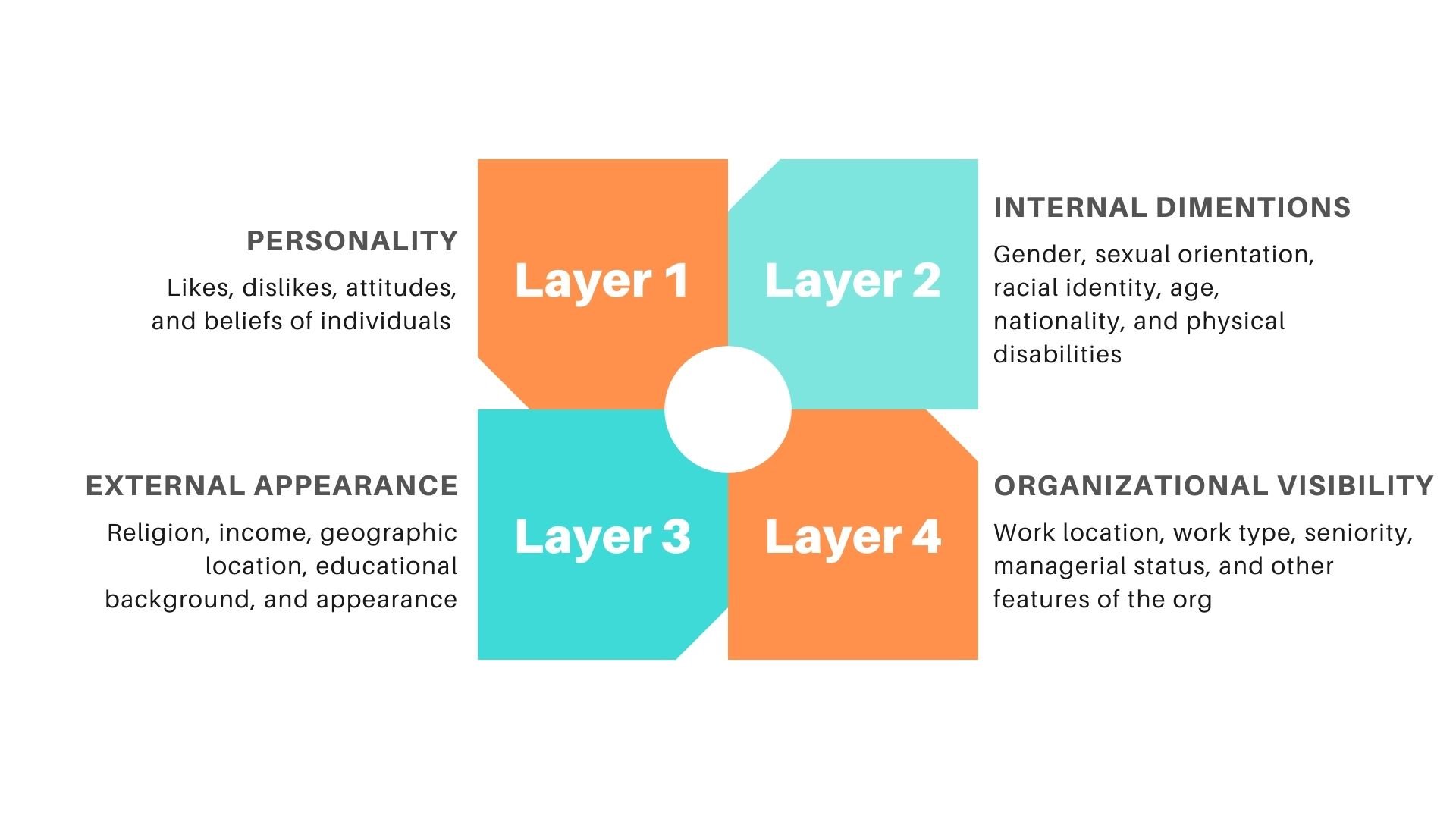 Diversity, these days, is being used as a blanket statement but few understand what true diversity looks like. It isn't just the physicality of an individual that acts as a marker of diversity, internal factors are just as relevant.
The following four layers will act as initial guidance for leaders whose goal is to understand the meaning of organizational diversity and how one can address them.
However, it is necessary to note that mere representation of diversity is not enough. Leaders should encourage and leverage a diverse culture. It is vital for a leader to create an inclusive environment where the contribution of each member is heard.
What Does an Inclusive Leadership Look Like?
According to Harvard Business Review, inclusive leadership is one that has a visible commitment towards diversity and inclusivity. However, given that 'inclusiveness' is a feature that is more psychological than 'visible', it is vital to address the non-visible features of the inclusion experience.
An inclusive leadership, to address this, needs to openly encourage dialogue, initiate activities that encourage people to participate. You need to understand the language of inclusiveness, which will promote an inclusive work environment.
A few of these characteristics include:
Authenticity: Being self-aware, having moral integrity, conducting fair and open interactions with people. This behavior should be consistent amongst the different layers of the organization.
Inclusive behavior: Open demonstration of acceptance of behavior that encourages dialogues, diverse activities, and decisions that impact the varied individuals and groups in your organization.
Having inclusive influence: They should exhibit behavior that inspires others. This ability would lead to a cultural change within your organization.
To understand how to identify and curb behavior that marginalizes women, go here.
How Can You Initiate a Diversity Shift in Your Organization?
Another reason why diversity and inclusion are important for and in leadership is that there's a need for organization-wide change. So the onus now falls on you, as a leader, to create a strategy for this change.
John Paul Kotter, a professor at Harvard Business School and the founder of a management consultancy in Seattle, created an eight-step strategy to lead change. The following is an adaptation of Kotter's Eight-Step Process for Leading Change in the terms of diversity:
Step 1: Create a sense of urgency
More often than not, change is instituted when there is a need for change. But that shouldn't be the case here.
Take out examples of how minority communities are being represented in your organization: whether they occupy any leadership roles, whether or not they feel safe in the organization, etc. and a report should be created. In addition to this, how this disparity affects everyone in the organization should be communicated openly.
Step 2: Create a power coalition
The leadership must remain involved right from the onset. The group has the power and energy to lead collaborative efforts to lead change effectively.
If the leaders exhibit behavior that seems detrimental to the change, the workforce will exhibit that behavior, too, and the sense of urgency would be lost.
Step 3: Create a strategic vision
A vision that is understood by all members of the organization should be created. This should be inspirational, clear, and should be designed to achieve specific goals and objectives.
Step 4: Create transparent communication channels
To keep the sense of urgency intact, create an open communications channel that isn't limited to verbal methods. For instance, you can create posters, videos, and other collateral that act as a constant reminder of the vision.
Note: Kotter's step 4 is to recruit a volunteer army. In the case of diversity, however, communicating is more crucial for success. A separate 'army', so to speak, would not be beneficial as each and every member of the organization would have to be committed to this process.
Step 5: Remove obstacles
There would be obstacles, tangible or otherwise, while you undergo this process. These obstacles could be in the form of old cultural values or symbols that can have a detrimental effect. These symbols could have psychological values and could hinder change.
New symbols and vision should be reinstated instead, which would remind people of the promising workforce and an inclusive environment.
Step 6: Evaluate small and large accomplishments
Consistently evaluate and monitor accomplishments that are bringing you closer to the desired result. These short-term goals provide data for bigger wins that are needed.
This, however, would be trumped if the small accomplishments are not communicated (Kotter believes that celebrating these wins is vital, too). Hold town-hall meetings, send organization-wide notifications, etc. to ensure everyone's on the same page.
Step 7: Continue acceleration
After evaluating what's working for you and what isn't, increase efforts in the right direction. Change policies, systems, procedures that are not aligned with your vision. Hire people, promote worthy employees, develop practices that bring you closer to your vision.
In this case, you can even use social media and create a group of volunteers who keep the excitement intact.
Step 8: Introduce change
At this step, you need to create ways to keep this change anchored. Old behavior and patterns remerge quickly if people are not held accountable. For this, you need to continue to communicate the vision to people, keep a lookout for old symbols, and create an accountability process for people.