One of the most-asked questions on Google is: "How much does it cost to hire a software developer?" 
The answer? You'll get about 2,47,00,000 results, all packed with tons of information. The trouble is that there is no one standard answer to this question. There are multiple moving parts and factors to consider. 
In such a scenario, getting an absolute answer can be challenging. This is why recruiters often struggle with hiring high-quality talent.
In this article, we will cover everything you need to know about how much does it cost to hire a software engineer. 
Let's jump right in.
How Much Does It Cost to Hire a Software Developer: A Data-Driven Outlook
Let's understand how much does it cost to hire a programmer from a data perspective. Here's what the numbers tell us:
According to

Glassdoor

, the average US employer spends about $4000 to hire a new worker.

As per

Upwork

,

software developers cost anywhere between $15–$30 per hour.

The

median pay

for software developers is $109,020 per year


or $52.41 per hour.

According to another

estimate

,

the cost of employing a full-time developer can be anywhere from $28,548 to $35,685!
The learning: While these are ballpark figures and the industry standard, remember that the cost per hire of software engineers for your organization will depend on multiple factors and might look different for every business, regardless of the scale and size.
8 Factors That Affect the Cost of Hiring Software Developers
Multiple factors are related to how to hire a software developer. These include (but are not limited to):
1.Features + Functionality = Tech Stack
The tech stack refers to the various frameworks, programming languages, and tools developers use to create an app or a solution.
Some of the most common technologies used in the tech stack include Java, Python, Ruby on Rails, ASP.NET, etc.
Some important tips to keep in mind when selecting the right kind of tech stack include:
Think about the functionality of the solution to understand the technology needed in the stack.

Varied technologies vary in price due to different capabilities, features, and resilience.

Enquire about the licensing cost of technologies, as it will affect the developer cost too.

Understand the kind of specialized skills (think: DevSecOps, Splunk, Blockchain, etc.) the developers bring to the table; the more specialized the field, the higher the fee.






Looking to assess developer skills through live coding and programming assessments? Try iMocha!
2.Cost of Hire is Inversely Proportional to the Level of Experience  
As is the case with every industry, developers with more experience will charge a higher rate.
The experience of a developer is not strictly limited to the number of 'years' in the business. Recruiters must also look at other factors, such as the number of projects delivered, industry-specific skill sets, and more.
3.Time Duration for Hire of the Developer is Important
Generally speaking, software developers who come on board for a longer duration of time tend to be more economical than ones who stay for a shorter period of time.
Since a shorter stint does not guarantee a regular flow of income and consistent work, the pricing is higher.
4.Team Structure + Size Plays an Important Role
In the long run, hiring a team of software developers is better than hiring individual members. Here's why: If outsourcing software developers, recruiters can cluster the hiring margin for every asset. This makes negotiation easier.
On the other hand, hiring individual members can increase the cost per hire as the hiring margin for every asset will be charged separately.
5.Worktime Zone Also Affects the Cost
When addressing the key question, "How much does it cost to hire a software engineer," recruiters often forget another critical component: The time difference between the new hire and the employee.
For example, if an American company outsources an Indian software developer, the developer might end up charging a premium due to the huge time difference. 
The developer may need to change their sleep cycle, compromise on the work-life balance front, and let go of their social life—hence, the premium charge.
Location of the Developer Impacts the Final Cost
Unsurprisingly, a software developer's location will also impact the cost of hiring the developer. For instance, developers in Tier 1 cities will charge more (due to the higher cost of living) than those in Tier 2 cities. 
Another reason why Tier 1 city developers charge higher is due to the high attrition rate and intense competition.
6.Cost of an Offshore Company > Cost of Freelance Developers
If recruiters hire the services of an offshore IT company to get their hands on an experienced software developer, the costs will be higher as opposed to leveraging the services of a freelance software developer. Mainly because freelance developers are available all year round. 
If the business tends to engage in remote working, outsourcing software developers makes sense from reputed offshore talent recruitment companies as they can offer:
The required support and infrastructure for remote working

A dedicated relationship manager who will keep track of the deliverables and act as an effective middleman

Allot a core architecture team to mentor the developers and assist in every stage of development

Speedy resolution of tasks without any kind of resource crunch

Excellent support both during and post project completion




7.Demand and Supply of Specialized Talent
As per data, around 40 million jobs are predicted to go unfulfilled because of a dire shortage of skilled developers.
In fact, the US Labor Department predicts that the global shortage of software developers may reach a staggering 85.2 million by 2030!
The takeaway is simple: As is the case with every other industry, the demand and supply of software developers will impact the cost. If the demand is high and the supply of talent is low, the cost will definitely go up. 
If a new technology enters the market, the demand for software developers with extensive experience in said technology will skyrocket (as will the costs).
8.Communication Skills are a Must-Have
Excellent written, verbal, and listening skills are the most sought-after soft skills in software developers. If a developer demonstrates great English language proficiency, their charge will be higher.
To make things easier for recruiters, iMocha offers an AI-powered Business English assessment to assess a candidate's reading, writing, speaking, and listening skills. This way, evaluators (and candidates) can benefit from an unbiased and objective evaluation:
Try iMocha's AI-EnglishPro to evaluate the candidate's business English proficiency
The learning: These nine factors play a pivotal role when answering the key question: "How much does it cost to hire a computer programmer?." So, when creating a feasible budget for the organization, make sure to factor in the points mentioned above and hire top-quality talent at optimized costs.
The Cost of Hiring an In-House Developer
The cost of hiring an in-house developer is an expensive endeavor. After all, there are hidden costs involved (think: costs of hiring and onboarding the employee, sick days, paid time off, insurance, recruitment, company-paid benefits, and more).
According to Payscale, the average base salary of a software developer is $86,000 a year.
Other factors that affect the cost of an in-house developer include:
Recurring high costs: Managers have to pay the team's fixed compensation even during a period of no work.
Competition: Recruitment managers have to deal with intense competition and competitive incentives as well as offers to retain high-quality talent.
Upskilling and upgrading: Companies must also engage in increased equipment, technology, and training investments. The software industry is constantly evolving, and organizations need to keep upgrading the team's skills. 
The Cost of Hiring a Freelance Developer
Here's the formula for calculating the yearly salary of a freelance software developer:
Freelance Hourly Rate x Average Hour (1791 hours as per Organization for Economic Co-operation and Development) = Yearly Salary
According to estimates, the average salary of a freelance developer can be anywhere between $60-$100 per hour. Recruiters can hire freelance developers based on two main models:
Project-based compensation: Also known as fixed compensation, the rates here are dependent on the project's outcome and are agreed upon before the work begins. This model is great for startups where budget is a major constraint.
Time-based compensation: The remuneration for the developer will be based on the number of hours spent on the project. To arrive at a cost rate, the managers must dedicate the number of hours needed for the project and chalk out the costs accordingly. Note that the time-based costs can also be hourly, weekly, or monthly.
Some factors that can affect the cost of freelance developers include:
Demand for specific skills in the market

The kind of expertise and skill-sets demonstrated by the freelance developer

Level of experience and portfolio of projects

Location of the freelance developer
Here's a quick snapshot of the hourly rates for freelance developers: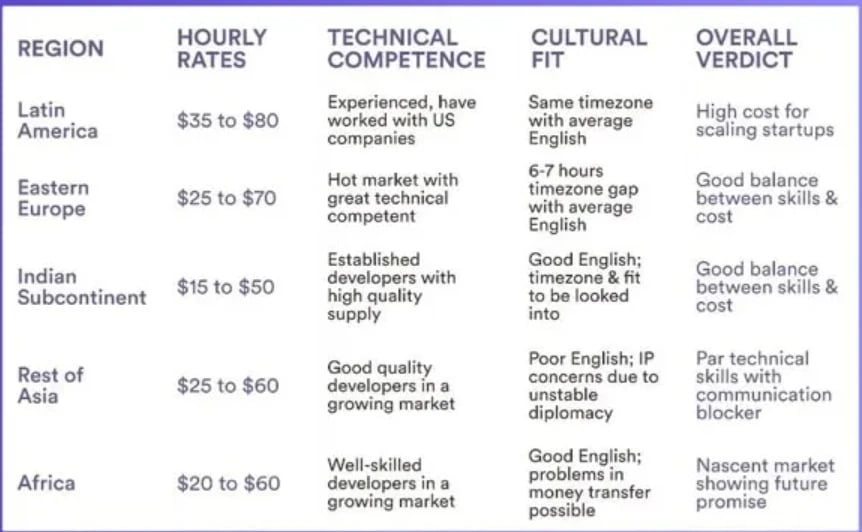 Image Source
The Cost of Outsourcing Software Developers
In this section, we will talk about how much does it cost to hire a software developer if recruiters choose to outsource them.
The average cost of outsourcing developers depends on various parameters. According to LinkedIn, here's the average cost based on experience:
Junior developers: $5 and $10 per hour
Mid-level developers: $10 to $20 per hour 
Senior developers: $20 to $50 per hour (and upwards)
Other factors that impact the cost of outsourcing developers include:
The complexity of features required for the tool/product

The location of the developer:
| | | |
| --- | --- | --- |
| Region | Average Hourly Rate | Countries |
| Eastern Europe | $25-$50 | Ukraine, Romania, Poland, Bulgaria, Hungary, Czech Republic, Slovakia, Belarus |
| Latin America | $30-$50 | Argentina, Brazil, Mexico, Colombia, Peru, Chile |
| Africa | $20-$40 | South Africa, Morocco, Kenya, Nigeria, Egypt |
| Asia | $18-$40 | India, China, Indonesia, Philippines, Vietnam, Pakistan, Malaysia, Bangladesh |
The size of the project

The type of the software
The Final Word
"The employment of software developers is projected to grow by 22% from 2019 to 2029." (The US Bureau of Labor Statistics)
The best way to reduce hiring costs is by onboarding the right talent. Period.
This is where iMocha's technical skills assessments can assist hiring managers in reducing hiring costs and getting quality hires. For example, iMocha's pre-employment Java skill assessment test enables recruiters to save $1200 per hire.
We hope we have answered all your queries relating to how much does it cost to hire a software developer with this comprehensive guide.
Take a cue from the tips and numbers outlined above and create a foolproof costing strategy—one that benefits your business's bottom line without compromising on talent quality. Good luck!
Check out this developer onboarding checklist and best practices, that can help recruiters while recruiting candidates.
FAQs
1.What is a software engineer's hourly rate?
Wondering about how much does it cost to hire a software developer on an hourly basis? As per Salary.com, the average hourly rate for software engineers can be anywhere between $33-$40, with an average hourly pay of $36.
2.What is the average cost per hire in the US?
As per Glassdoor, the United States average cost per hire is around $4,000. Note that this does not include the hidden costs for onboarding, recruiting, and training the new hire.
3.How to reduce the hiring cost of developers?
Here are a few tips to reduce the hiring cost of developers:
Reduce the additional hiring costs by being strategic. For example, hiring dedicated developers from an offshore hiring company for specific projects instead of going for full-time developers who may lack the required skills and knowledge for a specific project.

When hiring developers, look at their technological expertise and experience. Recruiters can leverage iMocha's

coding interview tool

to assess candidates. They can take the help of

coding skills tests

with 2800 coding questions

, coding simulators, live coding interviews, etc., to assess the right candidate. The tool also allows recruiters to assess candidates on their cognitive ability, communication skills, analytical thinking, and technical expertise.

Work on the project goals and objectives with proper planning and execution. Poorly defined projects will only need higher costs as recruiters may end up hiring the wrong kind of software developer, leading to a negatively impacted bottom line. 
Struggling to hire for niche roles? iMocha provides the fastest custom assessments for niche job roles.