In the olden days, people mastered one skill, which earned them their bread and butter for a lifetime. After working at the same company for several years, they were gifted a watch during their retirement – probably with their name etched on it.
However, this is no longer the case. Today's workforce has to constantly upgrade their skillset and learn new skills to stay relevant. They also don't usually spend their entire lives in the same job. They either switch roles within the same company or join a different company for better growth opportunities.
That's not to say loyalty doesn't mean anything in the present. But to earn their workforce's loyalty, companies today have to invest in their learning and development (L&D).
As per the 2020 LinkedIn Learning Report, 94% of employees expressed their desire to stay with their companies, given that they took L&D seriously. Since L&D is all about upskilling and reskilling employees, skills assessments are an integral part of the process.
Let's explore this in detail. But before moving further, these are the Top 16 Learning and Development Tools you can consider.
Why is a Skills Assessment Necessary?
Almost every business now faces two significant challenges. First, changes in the market conditions. Second, technological advancements in the field.
Both are external challenges that are not controlled by any company. Yet, they should be ready to adapt to these changes swiftly.
Case Study 1: The Telecom Industry
Take a telecom operator, for instance. They have several legacy product catalogs, such as VAS products, broadband, postpaid, prepaid, wireline, and roaming.
Each product catalogs has its own back-end integrations and user interface. If the telecom operator wishes to add a third-party product (like a music/video bundle), it would require a tremendous amount of cost and time (we're talking several months and thousands of dollars!).
It's because their product data exists in silos. It increases their time-to-market, and that gives an edge to their competitors.
Let's say a telecom operator decides to introduce a new technology: a Unified Product Catalog (UPC) to overcome this problem. It's an integrated platform that allows telecom operators to design, manage, and roll out new products quickly from one location.
This technology dramatically reduces the time-to-market and boosts efficiency manifold. But what do you think is the biggest challenge besides implementing the technology?
It's the skill gap. Telecom operators need to equip their employees with the right technical skills so that they can leverage the unified product catalogue. And this is just one example of technological disruption in a single field, increasing the demand for skills assessments and L&D for employees. Here are the top 10 Learning & Development assessments you must know about.
Case Study 2: The Banking Industry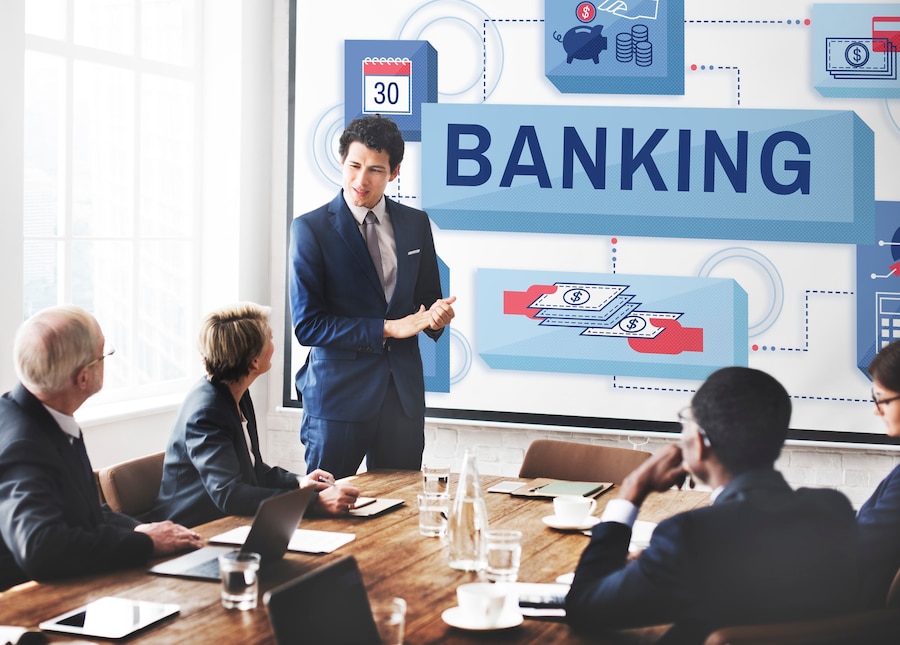 Now, take the banking industry as an example.
It's almost consistently faced with regulatory changes and technological advancements, such as artificial intelligence (AI), blockchain, machine learning (ML), and more.
In fact, AI and blockchain can eliminate money laundering from the banking industry, which currently sits at $2 trillion per year. It isn't easy to imagine a workforce that doesn't undergo periodical skills assessments as part of the L&D program in such a scenario.
As per a June 2020 report called The Future of Work in Banking, about 3/4th of financial service providers acknowledged moderate to severe skill gaps in their companies. Nearly 58% of them see it as the biggest obstacle to digital transformation and innovation.
Another study by Gartner identifies the skill gap as a significant hurdle toward achieving digital transformation.
All these facts point toward a dire need for skills assessments as part of L&D in organizations, be it telecom, banking, or any other industry.
The Role of Skills Assessments in L&D
Skills assessment is the process of identifying the current skill gaps of your workforce. To meet the technological and market challenges, a company needs to analyze the new technical and/or soft skills its employees need to develop.
After determining the new competencies, the next step is to figure out the workforce's existing skills. A gap between what's required and what the employees currently have called for an effective learning and development program.
One may wonder, why not just hire new employees with those much-needed competencies? The fact is that the skill gap exists within companies and the job market.
That's the reason why about 43% of employers surveyed by Challenger, Gray & Christmas, Inc. reported that the applicants don't possess the skills they require.
Besides, you don't want to lose a high potential employee who can take key leadership positions in your organization if given a chance. The fact that employee turnover costs about two times their salary should sound like alarm bells for you.
Therefore, every effort should be made to retain employees by:
Conducting a skills assessment
Identifying the skill gap
Initiating L&D efforts to bridge the skill gap
Now comes the million-dollar question:
How to Conduct a Skills Assessment?
Now that the significance of skills assessments in L&D is established, it's time to understand how to conduct a skills assessment for your workforce.
1. Determine New Skillsets
Brainstorm on these questions:
What technological disruptions are we currently facing?
Which skills do we require in order to adapt to those changes?
Are these technical skills, soft skills, or both?
Do we have the resources and expertise to deliver an impactful L&D program?
It's not possible to expand your workforce every time a new development knocks on the door. Instead of reacting to technological changes, adopt a proactive approach by identifying new skills you'll be needing in the future.
A skills assessment helps you prepare for any possible future development. To do so successfully, it's essential to stay updated with the latest trends in your field.
You can use tools such as Avilar and Kahuna. These AI-powered software programs help you understand the current state of employee competencies, identify the skills they lack and strategize future skill requirements.
2. Take Employee Feedback
To determine your current skills inventory, a performance review of your employees is mandatory. It will help you discover their strengths and weaknesses, after which you can set new goals for them.
But during the performance review, it's vital to hear what your employees have to say about their skills. Who better than your employees (and their managers) to give you an accurate analysis of the prevalent skill gap?
No wonder a whopping 89% of HR leaders feel regular check-ins and feedback are essential for successful outcomes.
You can make use of HR technology to gather employee feedback:
15Five: It's an employee performance and engagement platform that helps you collect feedback using 15-minute custom surveys.
Culture Amp: Through this tool, you can evaluate an employee's performance right from onboarding to exit.
Without such tools, you'll be stuck with stacks of spreadsheets, manually recording every employee's key performance indicators (KPIs).
3. Identify the Skill Gap
By analyzing your goals, assessing the technological disruptions (and predictions), reviewing employee performance, and taking employee feedback, you can determine where the skill gap lies.
According to a study by Mckinsey, there are various methods of closing the skill gap. The most common methods are hiring, reskilling, contracting, redeploying, and releasing.
In the last five years, 67% of North American employers closed the gap through hiring and 51% through skill-building.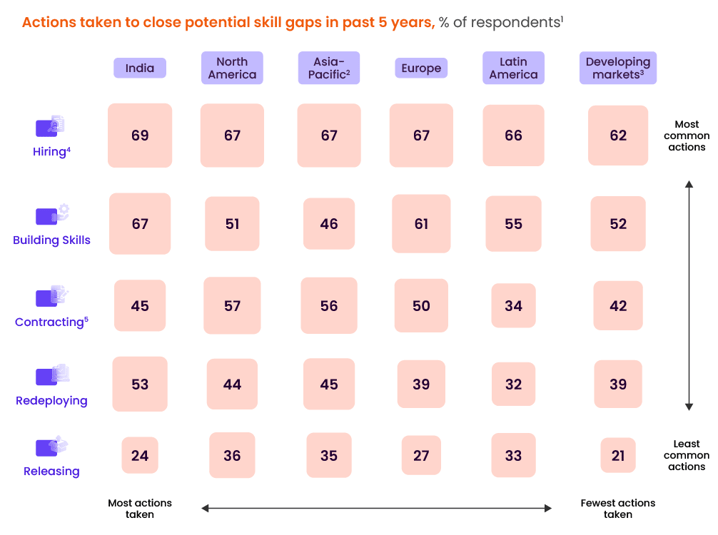 However, it was also found that organizations that prioritize skill building (through L&D programs) are more likely to stay prepared for future disruptions. Over 50% of roles within organizations will likely be disrupted by technological and market trends by 2025.

Thus, there has never been a greater demand to implement effective L&D programs.
4. Upskill and Reskill Your Employees
After a thorough skills assessment, you'll need to fill the skill gaps through training and hiring. As mentioned earlier, upskilling and reskilling people in your organization will reduce turnover, improve productivity, and boost profits.
It should come as no surprise that 59% of L&D professionals are prioritizing reskilling and upskilling in 2022. This was found in the 2021 Workplace Learning Report by LinkedIn. While creating an L&D program, think of your employees as partners.
Keep them in the loop through surveys and feedback while devising the program. There are various methods of achieving the desired skill inventory.
You can:
Provide in-house training through seminars and workshops

Hire third-party experts to develop bite-sized learning modules for your employees

Offer blended learning through conventional seminars and e-Learning

Give your employees access to industry publications so that they can keep tabs on the emerging technologies

Assign mentors to each employee to enable knowledge sharing and transfer of skills

Allow employees to participate in in-person and virtual industry conferences
A 2021 survey by CIPD revealed that 77% of organizations have invested in learning technologies. About 36% of respondents reported increased investment in the same. The rest are in the process of prioritizing digital learning solutions.
Hence, if you haven't yet joined the bandwagon, it's high time you do to gain a competitive edge over others.
Benefits of Skills Assessments
A skills assessment is indispensable for any company that wants to sustain or build a competitive advantage. No matter the career stage or age of the employee, skill assessment aids in their career development, which is a win-win for the organizations too.
Why? It's because they are likely to stay employed with a company that invests in their career development. Therefore, a skills assessment is the first step of all L&D initiatives.
There are many benefits of skills assessments, such as:
Smooth restructuring: During organization restructures, skills assessments are vital in identifying the current core competencies and required competencies.
Utilizing lean resources: Skills assessments allow SMEs to develop a team that best uses lean resources.
Types of Skills Assessments
Listed below are the major types of skills assessments you can conduct:
Psychometric Testing: This form of skills assessment tests employees on their analytics skills, leadership skills, stress resilience, numerical reasoning, and problem-solving abilities. The psychometric tests are based on their current job responsibilities and new skills that need to be developed. More than 80% of Fortune 500 companies leverage psychometric testing.
DISC Testing: This skill assessment technique is mainly used for identifying the soft skills of employees. DISC stands for Dominance, Influence, Steadiness, and Conscientiousness. Organizations use DISC tests to determine the personality traits of employees.
Blended Testing: As the name suggests, this form of skills assessment combines both DISC testing and psychometric testing to gauge the workforce for strategic skills and soft skills. If you need well-rounded insights on each employee, blended testing is recommended.
Leadership Assessments: They aim to assess the leadership skills of employees who can possibly take up supervisory roles in the future. Moreover, this type of skills assessment can also allow businesses to determine the strengths and weaknesses of their existing leaders.
Integrity Assessments: These tests are meant to evaluate the employees on three key attributes. These are trustworthiness, honesty, and reliability.

A lack of integrity suggests disciplinary problems, counterproductive behaviors, and absenteeism.
A skills assessment is carried out by either the HR department or the learning and development department in most organizations. Given the frequent need for skills assessments, it's best to build a separate L&D department.
An alternative is hiring third-party experts to conduct the skills assessments for you.
Conclusion
A skills assessment is an integral part of an L&D program. Market conditions and technological growth warrant organizations to equip their workforce with future-ready skills. Almost all industries today are impacted by technological trends.
Therefore, a skills assessment is pivotal to staying ahead of the curve. Today, many employee skill assessment tools (such as iMocha) are available online to help you keep track of performance, current skills, and new competencies needed to achieve goals.
Without skills assessments, creating an L&D program that brings the desired results is impossible. It's akin to shooting in the dark. Think of employees as partners and L&D as an investment rather than an expense.
You can use psychometric testing, DISC testing, leadership assessments, and integrity assessments under the skills assessment plan.
After that, proceed with a blended L&D approach, which combines conventional training methods like seminars and digital learning solutions for the best results.
Are skill gaps obstructing your organization's growth? iMocha's Skill Intelligence can help!