"Great companies are formed by great people."
― Ziad K. Abdelnour
It is certain that the crux of a company's success is attributed directly to the talents and skills of employees. The IT industry remains one of the most innovative of fields and brings together the brightest minds of today's global economy.
According to WhiteHat Security Website Stats, .NET is the most widely used languages with 28.1 percent of the Web applications using .NET technology. .NET is scalable and has grown over time in terms of ready libraries and easy to use tools. So has grown the need to hire qualified .NET developers.
While there is no shortage of .NET developers around, but to find the right developer for your company still remains a challenge. We thought that it is a serious problem if you want to hire a dot net developer and you haven't got a clue what to look for when you search through candidate's LinkedIn profile or a CV.
That's why iMocha, an online assessment test platform, has gathered all the information you need if you are a technical recruiter searching for programmers with .NET skills.
What is important for an IT Recruiter to know about .Net?
Before I go into details on how to source, screen and hire .Net Developers, first it is important to know some basics that will allow you to become more familiar with this technology.
About Dot Net Framework & .NET Developers:
Dot Net developers are in fact software developers that work with or in the .Net framework and use one of the .Net supported programming languages. In general a .Net developer is familiar with at least one of the .NET languages such as C# and VB.Net and knows most of the .Net stacks such as WinForms, ASP.NET, and WPF.
The list of frameworks does not stop here. Actually, there are a lot many other popular frameworks that are evolving and the techies are using. So it is important to know the skill set which is required in your ideal candidate. Make sure you're clear about the "Must Have" and "Nice to Have" skills while taking down the requirement for the job profile. Otherwise, you might prevent an outstanding web developer from applying for the job.
A Scenario
Say for an example, depending upon your requirement of a back-end developer or a UI Developer or a candidate with both the skills, you may look for below skills in the candidates:
Frameworks for Back-end developer:
• .NET MVC
• .NET Web API
• Signal R
Frameworks for Front –end development:
• Angular JS
• SaaS
• Bootstrap
you may also look for .NET Candidates with a good understanding of:
• Object Oriented Programming concepts
• .NET Programming concepts
• .NET framework
• Windows Controls
• Windows Workflow foundation
Note: Most developers prefer to be called a c-sharp developer rather than a .Net Developer even though plenty of tech-companies are looking for .NET developers nowadays. Which is why it is important to specify what exactly you are looking for in the job ads and give more details in your job descriptions
Now after a basic understanding of the framework, the major first step towards hiring a .net developer is sourcing the right type of candidates.
How to Source .NET Candidates
Below are few steps to help you get acquainted with the world of sourcing:
Step One: Compose a well-structured Job Description
To attract the right type of talent, you must structure your job descriptions well. You can be creative and use out-of-the-box thinking to design a unique Job –a description that effectively communicates your company's requirements. Job descriptions that explain the actual work involved in the role will attract greater numbers of applicants.

If you want to become familiar with the lingo, get up to speed on as much of the industry terminology as possible. Sites like Skillcrush are awesome for this.
Step Two: Cast your net where the fish are
For talent sourcing, you should know where do your tech talents live? Plan your search strategy; find out where your ideal candidates spend their time online. Read Top 12 Hot places to source great Dot Net developers to find out where real .Net developers are hanging out? You can make your sourcing smarter by carefully planning your sourcing time, thinking carefully about the right keywords, and casting your net where the fish are.
How to verify .NET Skills in the Screening Phase
Once you receive applications and resumes you have to decide who is good enough to get to an on-site technical interview. It is important to make sure that the Hiring Team spends time only with the candidates who possess the desired level of skills and competencies for the job. At the same time, it is also very important not to lose a wonderful candidate who might possess the right skills for the position, but not have a strong resume.
So the question arises how to screen .NET programming skills in order to get all the candidates that are suitable for a job.
Resumes don't speak the reality, and asking questions on the basis of resumes is a big mistake. Anyone can claim to be an expert in almost anything. The only way to see if a candidate is going to work well is to test their skills and evaluate their expertise.
Being a non-techie, does it mean to go out and seek tech help again to prepare the skill tests, conduct the test drive and ask your tech experts to evaluate each and every test attempt by the candidates? Really! HECK NO!
Thank God! Here online pre-employment skill testing software - iMocha comes to the rescue.
iMocha has a range of .NET skill tests that are not only valid & reliable but also updated for the latest versions of .Net framework and related technologies. The ready C# online tests or .NET programming tests can be used to quickly pre-screen .NET developers at all levels. If you are looking for .net developer who will be working on full-stack then full stack .net developer test can be useful for screening candidates. These tests will help you qualify only strong candidates for an interview with your IT team.
Check out a few of iMocha latest & quality .Net & C# online tests below –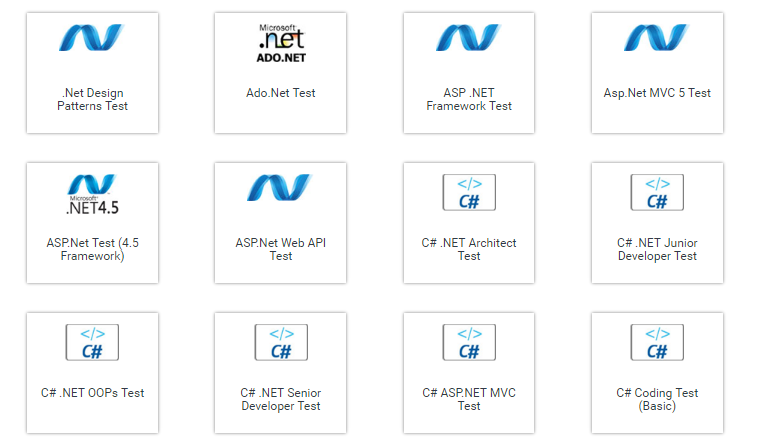 How to interview a .NET developer?
The next step is a face-to-face technical interview, Your Hiring team can refer to this compilation of hand-picked .NET interview questions to ask in interview.
As the Recruiter hiring for the technical team, make sure you include a technology officer or a Senior Architect. He will make sure the next hire in the development team is strong and will help you make the process a lot easier.
See to it that your panel members also focus on the below three things ( apart from the technical questions) –
What the candidate has accomplished? - It's hard to be a good programmer without some previous experience and these days anyone can get some experience by starting or contributing to a free software project.
Understanding of Technology – When it comes to technology a great developer always keeps on learning new languages and cares about their craft.
Understanding of Business – The other thing is the understanding of your business and the kind of problem you are trying to solve.
Want to hire the best candidate from the crowd for other technical domains? Use iMocha's recruitment assessment tool to separate the wheat from the chaff and make your hiring process precise.
What tips do you have for hiring a great C# developer? What challenges have you faced when looking for one? Share your experiences!