Owing to technological shifts, the nature of work and business demand is rapidly changing. Many companies have already started utilizing Cloud-based Talent Management Software to foster talented individuals.
In fact, according to Fortune Business Insights, the Talent Management Software market is expected to grow at a CAGR of 12.5% during the forecast period from 2021 to 2029, with a projected size of USD 20.59 billion by 2030.
How can organizations benefit from it?
Here's how it functions;
It automates recruitment and on-boarding processes.

This tool is seamless.

Consolidates the data model for all talent management activities.

It allows you to monitor employee performance and career growth.

You can even optimize talent strategies to achieve long term success.
Considering the market is filled with tools we have compiled a list of the top 14 talent management software options to assist you in selecting the one that aligns best with your requirements.
Top 14 Talent Management Software
A. Talent Acquisition & Talent Development Software
1. iMocha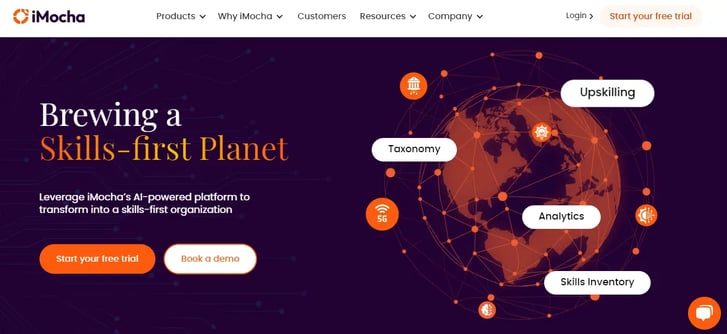 iMocha is a skill intelligence tool that leverages AI to enhance your talent management process. With its library of over 2500+ skills test it enables you to assess both non-technical individuals and implement targeted upskilling initiatives.
Additionally, iMocha provides talent analytics, proctoring services, fraud detection measures, customized assessment consulting and more to facilitate talent decisions. This software is designed to assist you in identifying the candidate for each role by mapping the skills of your workforce.
By utilizing the validation feature you can effectively align your workforce planning efforts, identify skill gaps within your organization and establish skill benchmarks for continuous improvement.
Top Features
It offers AI-based granular Skills Taxonomy and Skills Ontology to build skill-based job architecture.

It helps you validate the skills of employees through self-rating, manager's rating, data from LMS/PMS in the workflow, etc.

It also features 35+ coding languages to assess coding knowledge and the logical approach of your talent.

The simple and seamless interface design of this software enables you to focus on the skills of individuals.

iMocha also offers reporting and analytics capabilities to deliver data-driven insights for smart decisions and reduce manual efforts.

To prevent cheating during pre-employment tests, iMocha offers an AI-enabled Cheating Prevention

feature.
G2 Rating: 4.4/ 5 (221 reviews)
Price: Customized plans available
B. Training eLearning Software
2. Rippling
Rippling is a software designed for talent management, which allows you to streamline your HR and payroll procedures. With this tool managers can effortlessly handle employee onboarding, automate payroll tasks and track employee working hours.
Furthermore, this tool powered by intelligence can assist in automating performance management tasks saving you time.
Top Features
This tool simplifies the onboarding process.

Using the payroll function of this tool you can easily compute taxes, generate pay stubs and manage deposits.

The employee benefits feature of this tool helps you streamline retirement plans, health insurance and other additional perks, for your employees.

Rippling also provides the capability to establish goals, conduct performance evaluations and monitor the progress of your workforce.
G2 Rating: 4.8/ 5 (2058 reviews)
Price: Available on request
3. Workday HCM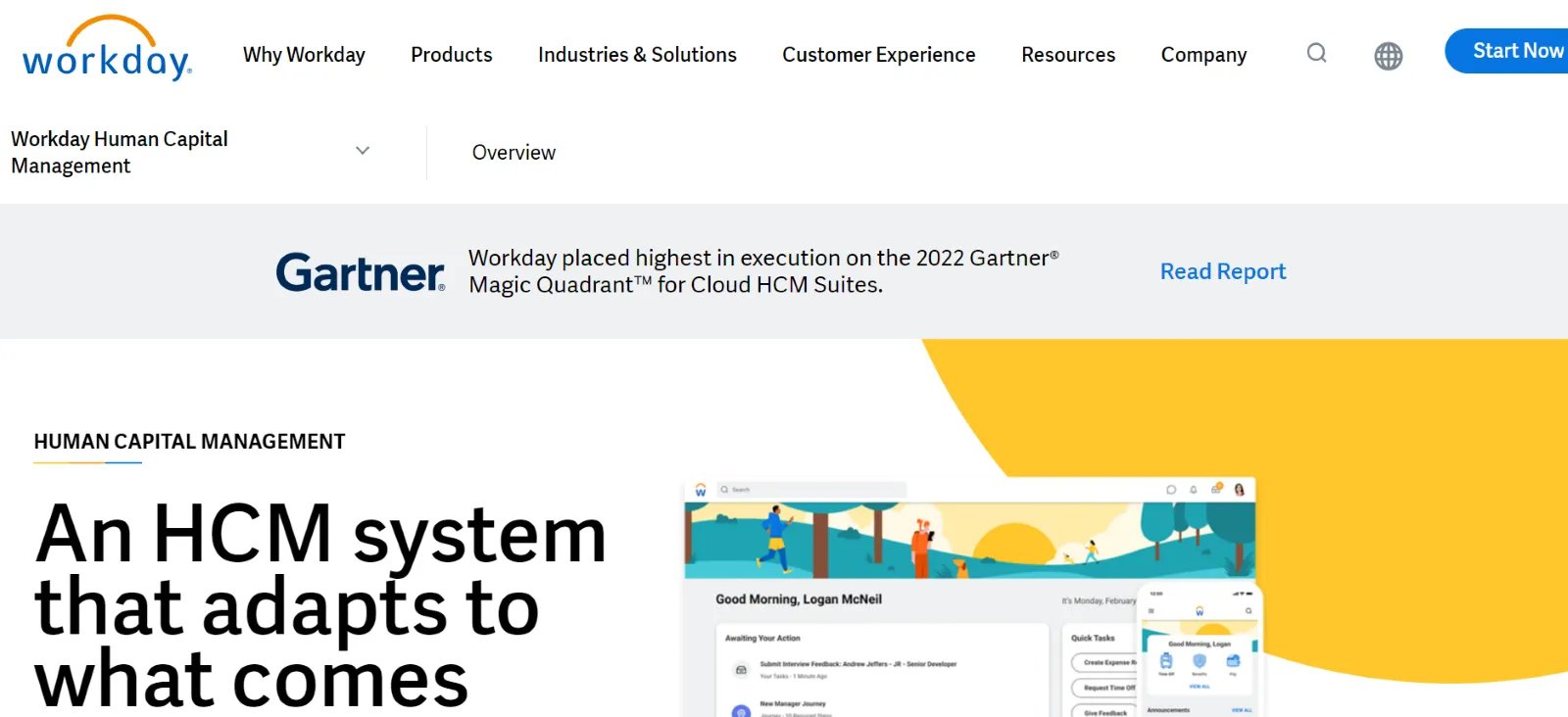 Workday HCM is a cloud-based eLearning software designed for managing HR processes such as talent acquisition and development.
This software assists workforce managers in recruiting talent facilitating onboarding procedures and conducting performance management. Moreover, it empowers talent managers to create learning programs that are seamless and specifically targeted.
Top Features
Workday HCM empowers you to oversee the hiring journey starting from crafting job advertisements to conducting candidate interviews and extending job offers.

The performance management functionality allows managers to establish objectives, offer feedback and assess employee performance effectively.

With its learning and development capabilities this tool facilitates the creation and management of employee training programs.

The user interface of this software provides a view of employees' skills, experience, performance records and more.
G2 Rating: 4/5 (1254 reviews)
Price: Available on request
4. Paycom

Paycom is a cloud-based HR management software that offers talent acquisition and development features to streamline your talent management process.
Top Features
This tool includes an Applicant Tracking System that helps to identify the candidates. It also offers workflows and reports for management.

Paycom simplifies the onboarding process, by allowing you to handle employee forms and team management.

The Learning Management System (LMS) is designed to create training content, monitor employee progress and offer certifications and assessments.

Moreover, Paycoms employee self-service portal empowers employees to manage their HR tasks effortlessly. This includes updating information, accessing pay stubs and requesting time off.
G2 Rating: 4.2/5 (1103 reviews)
Price: Available on request
5. UKG Pro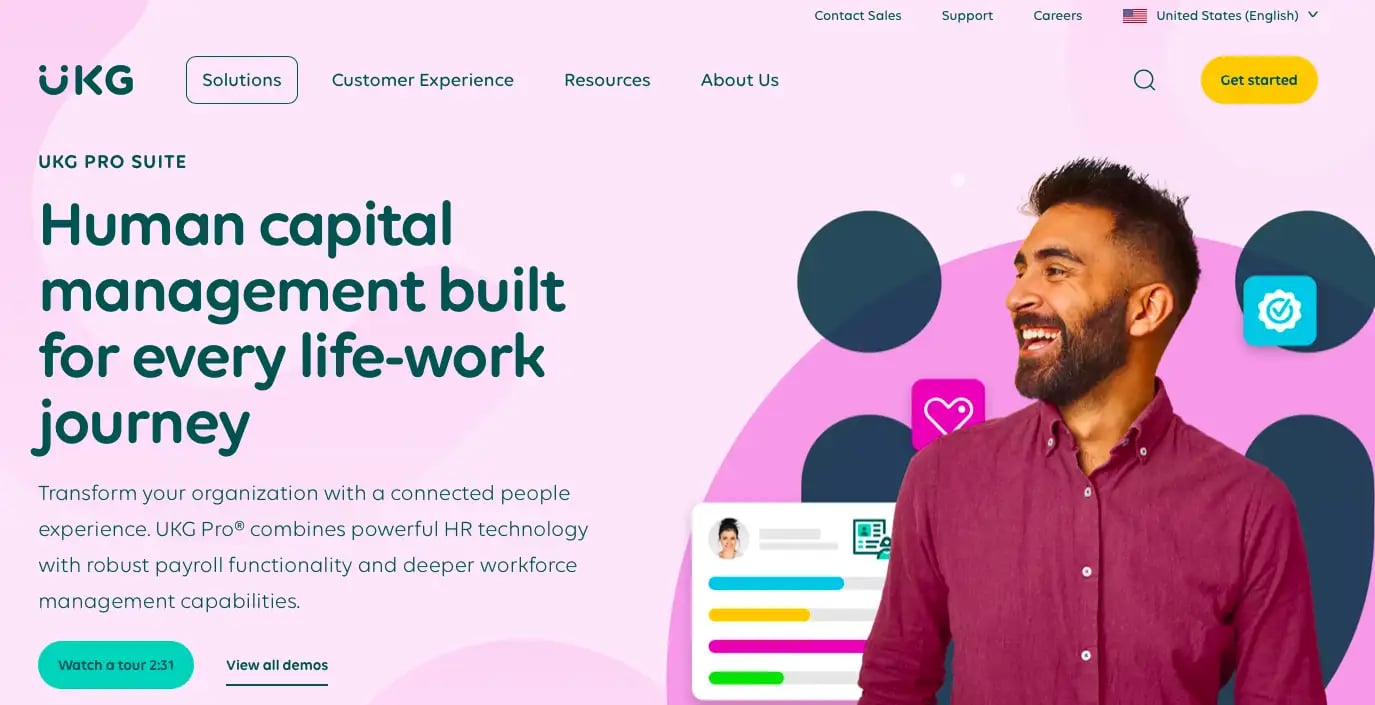 The UKG Pro platform assists companies in attracting, nurturing and retaining performing employees. By utilizing this tool, you can simplify your HR procedures, reduce recruitment time, make data driven talent decisions and much more.
Additionally, it provides features such as forms and workflows automatic task assignments, personalized checklists and various other functionalities.
Top Features
It helps recruiters identify and hire the best candidates by maintaining resume parsing, interview scheduling, and candidate scoring.

UKG Pro also provides performance appraisal templates, goal setting, performance tracking, and 360-degree feedback to help recruiters manage employee performance effectively.

The Learning and Development feature enables you to conduct course creation and delivery, automated enrollment and tracking, and skill gap analysis to help employees develop their skills and advance their careers.
G2 Rating: 4.2/5 (1149 reviews)
Price: Available on request
C. Performance Management Systems
6. Lattice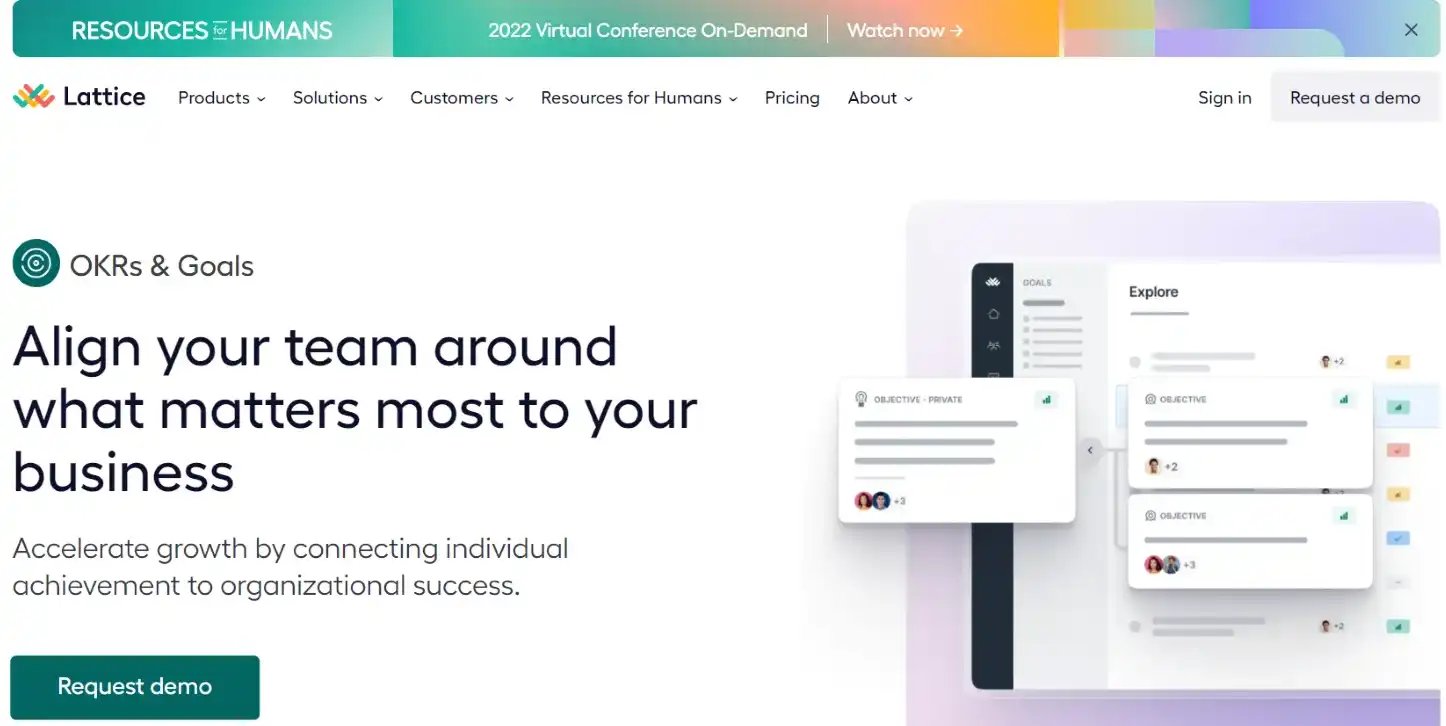 Lattice is a performance management solution that operates on the cloud. It empowers recruiters to establish objectives, monitor progress and deliver feedback to employees. Moreover, it fosters alignment and concentration towards attaining your goals.
Top Features
Lattice allows managers and employees to create and track goals throughout the year.

This tool enables real-time feedback between employees and managers.

It simplifies the performance review process by providing customizable templates that align with the company's goals and objectives.

The 360-Degree Feedback feature empowers recruiters to offer feedback from multiple sources, including peers and managers.

This tool's analytics and Insights feature helps managers track employee progress and identify areas for improvement.
G2 Rating: 4.7/ 5 (3709 reviews)
Price:
Performance Management & OKR plan - $11 per person/month

Engagement plan & Grow plan - $4 per person/month

Compensation plan - $6 per person/month
7. 15Five
15Five is a platform that focuses on enhancing business outcomes through performance management. It achieves this by combining coaching, manager training and various features such as 360° performance reviews, comprehensive engagement surveys and robust tracking of goals and OKRs.
Additionally, it empowers managers to conduct feedback sessions using this tool in order to promote employee performance, engagement and retention.
Top Features
It enables managers to set and track goals in real-time with OKRs and Goal Tracking features.

This tool allows managers to drive ongoing performance conversations and coaching.

Using this tool, managers can conduct comprehensive evaluations with customizable performance review templates.

It allows managers to easily schedule and conduct regular 1-on-1 meetings with employees, which boosts communication and improves alignment.

It even provides insights into employee satisfaction, happiness, and motivation.
G2 Rating: 4.6/5 (1756 reviews)
Price:
Engage plan - $4 per user/month

Performance plan & Focus plan - $8 per person/month

Total platform plan - $14 per person/month
8. Leapsome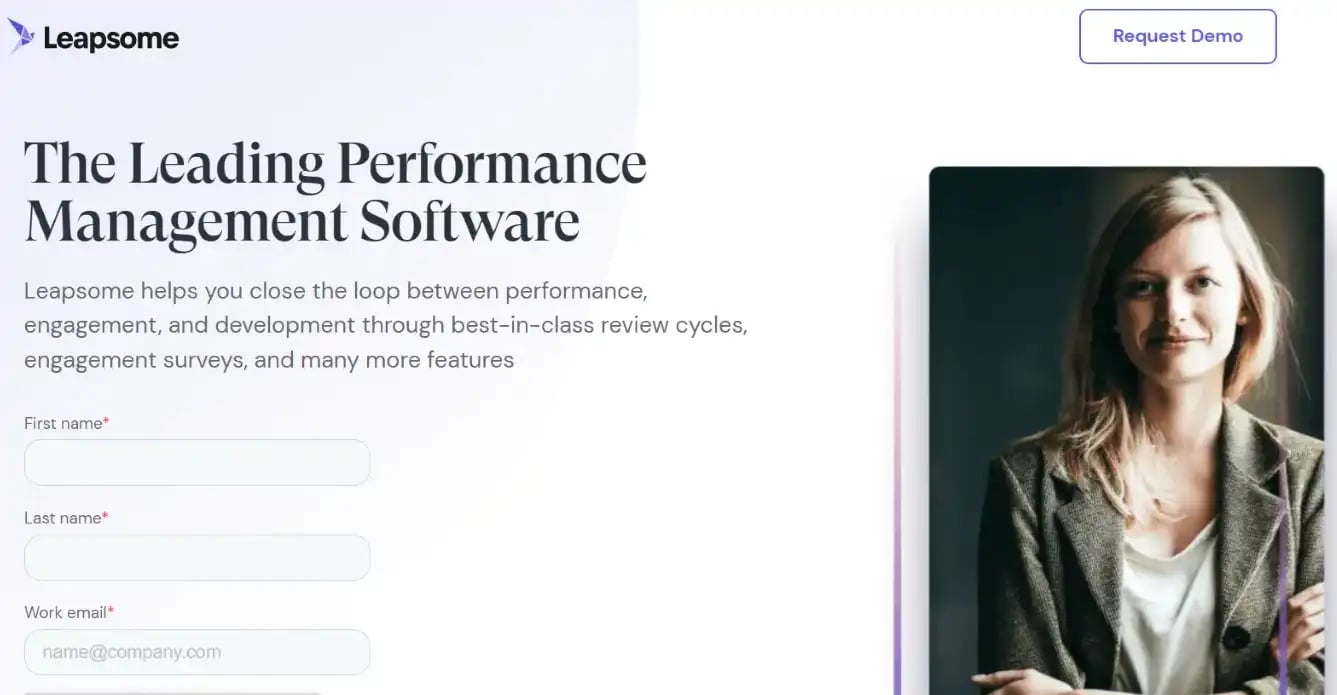 Leapsome offers a performance management solution that meets the needs of businesses of all sizes and industries. It provides a range of features designed for managers and recruiters including goal setting, feedback provision and real time monitoring of employee performance.
Additionally, Leapsome facilitates communication between managers and employees leading to increased engagement, productivity and the ability to retain team members.
Top Features
It helps to maintain transparent goal setting and tracking so that goals are in real-time.

This tool offers the ability to provide feedback and praise to each other on an ongoing basis, helping to build a culture of open communication and recognition.

Leampsome offers end-to-end personalized learning and development plans that propel employees to develop new skills and achieve their career goals.
G2 Rating: 4.8/5 (1756 reviews)
Price: Contact the team to get the price quote
9. ADP Workforce Now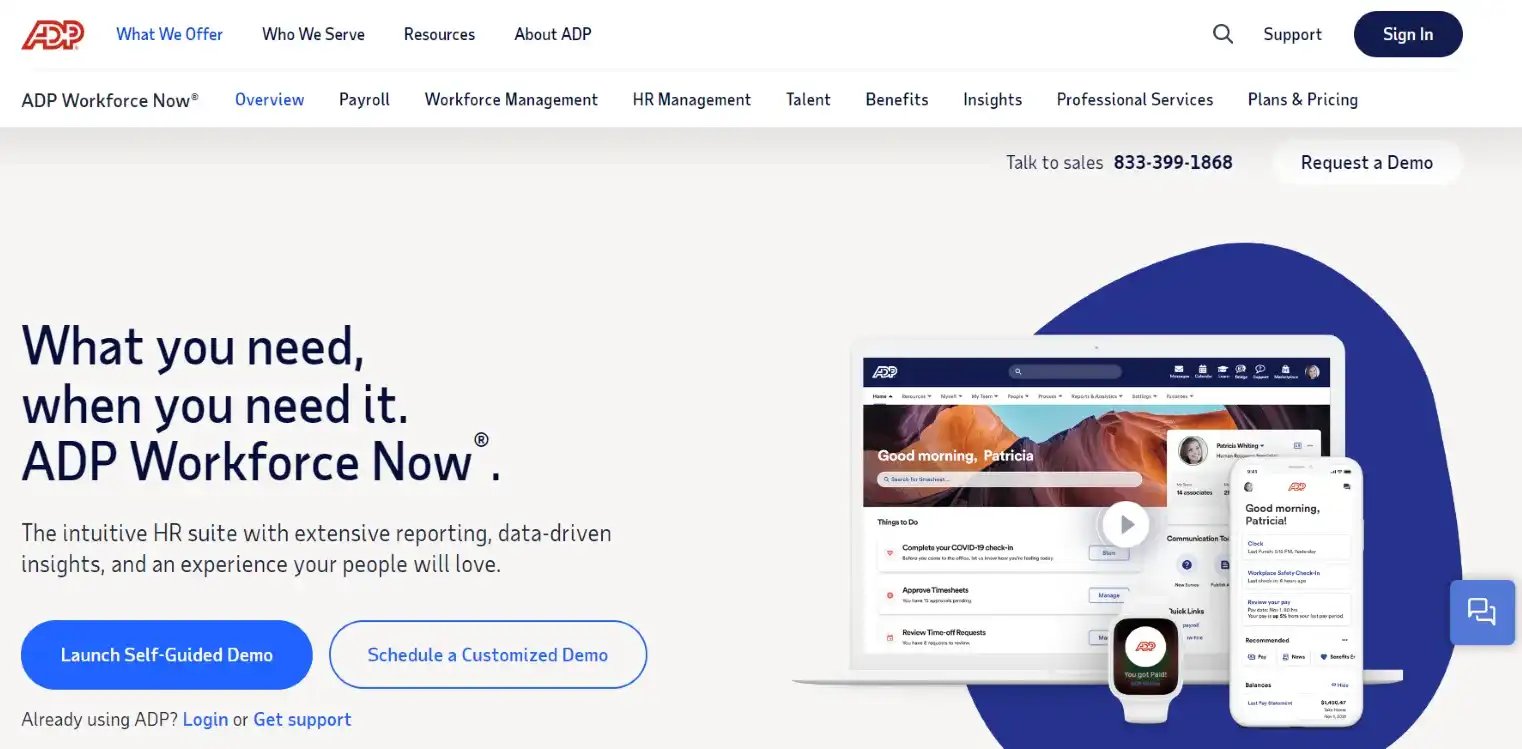 ADP Workforce Now is a performance management solution that we have included in our selection. This tool allows recruiters and talent managers to establish objectives, conduct feedback sessions and assess performance using reporting features.
Top Features:
Using this tool, managers can set individual and team goals and track progress throughout the year.

It enables you to conduct performance reviews with one-click access to customizable templates.

With the help of this tool, you can get regular feedback and coaching conversations between managers and employees.

The system also includes tools for tracking performance reviews and setting up reminders for managers and employees.

It helps manage compensation, including merit-based increases, bonuses, promotions, and more.

The analytics and reporting capabilities enable managers to monitor key performance indicators, identify trends, and more.
G2 Rating: 4.1/ 5 (3313 reviews)
Price: Contact the team to get the price quote
D. Employee Engagement Software
10. Bonusly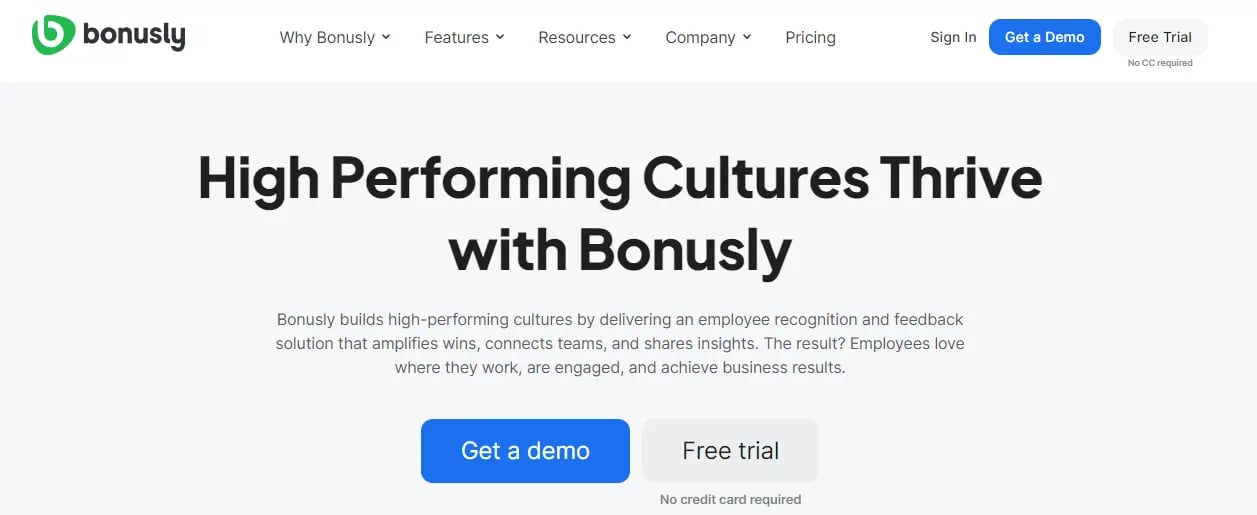 Bonusly is a platform that assists companies in enhancing employee engagement and retention. It offers a range of features, including customization, integration, gamification, social recognition and accessibility options to enhance your talent management process.
Top Features
It features customization rewards programs for creating a list of rewards that employees can choose from or allowing employees to suggest rewards themselves.

It seamlessly integrates with tools like Slack, Microsoft Teams, and Google Calendar, allowing employees to recognize their colleagues without leaving the platforms.

The gamification feature allows employees to earn points and badges for giving and receiving recognition (which can be used to redeem rewards).

The Analytics and Reporting feature of this software helps access data and insights into employee recognition and engagement behavior.
G2 Rating: 4.8/5 (2343 reviews)
Price:
Core plan: $2.7 per user/per month

Pro plan: $4.5 per user/per month

Custom plan: Contact the team
11. Kudos
Kudos is a tool for organizations to foster a culture of positivity and engagement in the workplace. It offers a range of features, including social program recognition, performance tracking, a mobile app and comprehensive reporting and analytics capabilities.
Top Features
It enables organizations to tailor their recognition system to their specific needs. This includes creating custom badges, points, and rewards that align with the company's culture and values

Kudos helps managers to track the recognition activity of their employees, analyze the data, and make informed decisions based on the results.

The reporting and analytics feature helps analyze the effectiveness of the company's recognition program.

This tool easily integrates with other HR tools like Slack, Microsoft Teams, and Google Suite.
G2 Rating: 4.8/5 (1263 reviews)
Price: Available on request
12. Vantage Circle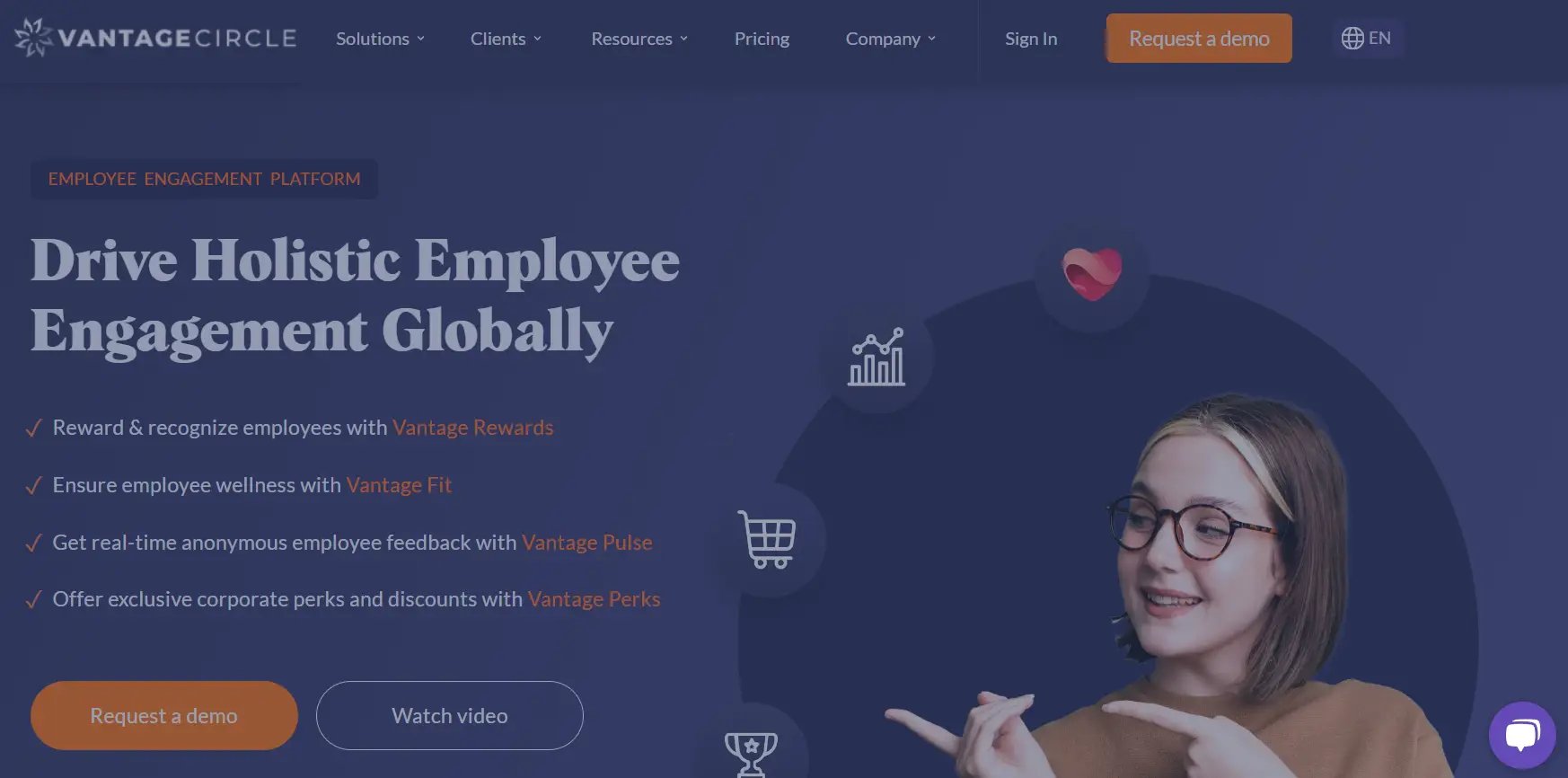 Vantage Circle offers an easy-to-use employee recognition solution to help companies foster a positive work environment and retain top talent.
Top Features
Using this tool, employees can give recognition to their colleagues in a public forum, thereby increasing peer-to-peer recognition and creating a culture of appreciation.

Milestone Celebrations enable organizations to celebrate employee milestones such as work anniversaries, birthdays, and achievements via automated notifications and personalized messages.

This tool also aids recruiters to track employee engagement, participation rates, and program effectiveness.

Its Mobile Compatibility as Vantage Circle feature allows employees to access the platform from anywhere and anytime.
G2 Rating: 4.7/5 (4088 reviews)
Price: Pricing details are available on request.
E. Compensation Management Software
13. Salary.com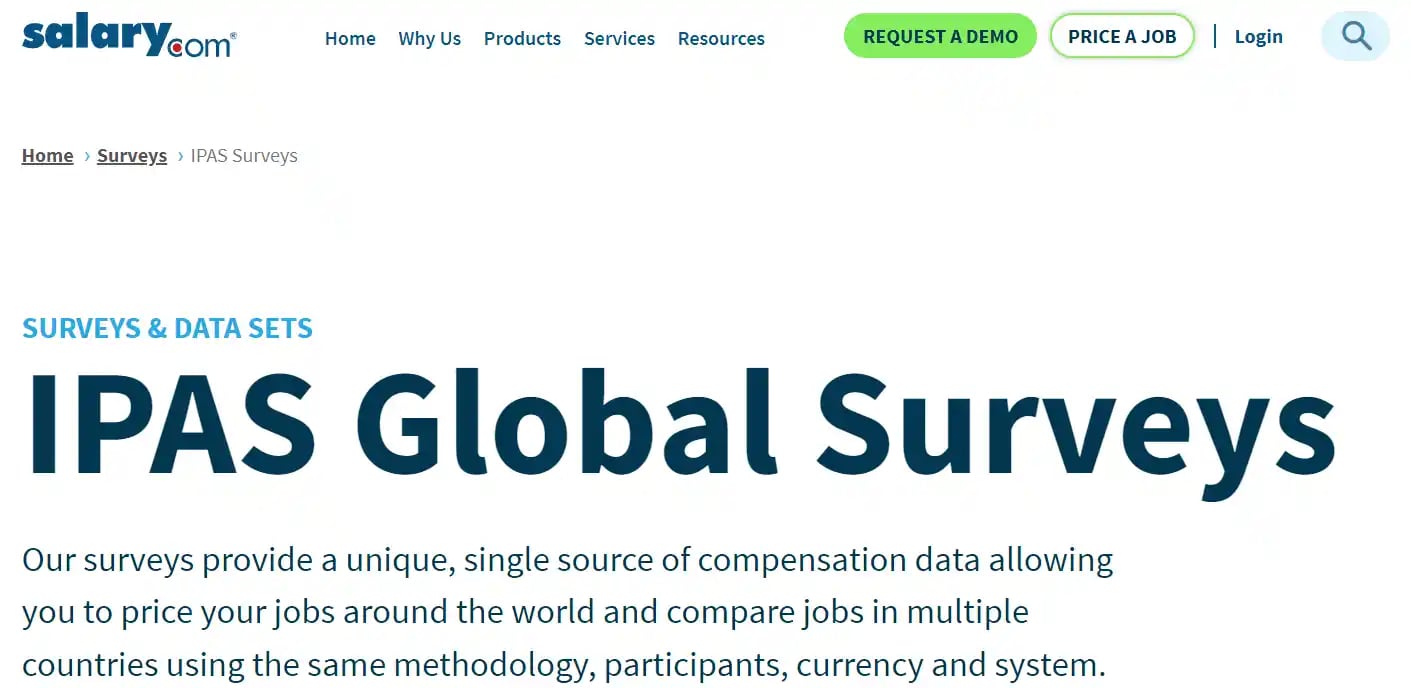 Salary.com is a software platform designed to assist organizations regardless of their size, in managing their compensation programs. It offers insights into pay data empowering organizations to make informed decisions regarding employee compensation.
Top Features
With the help of this software, organizations can compare their compensation packages with those of similar companies and industries.

This tool also helps create and manage job descriptions that can be customized to fit an organization's unique needs.

Performance management feature helps managers track employee performance and tie it to compensation decisions, ensuring that high-performing employees are appropriately rewarded.
G2 Rating: 4.4/5 (506 reviews)
Price: Available on request
14. Payfactors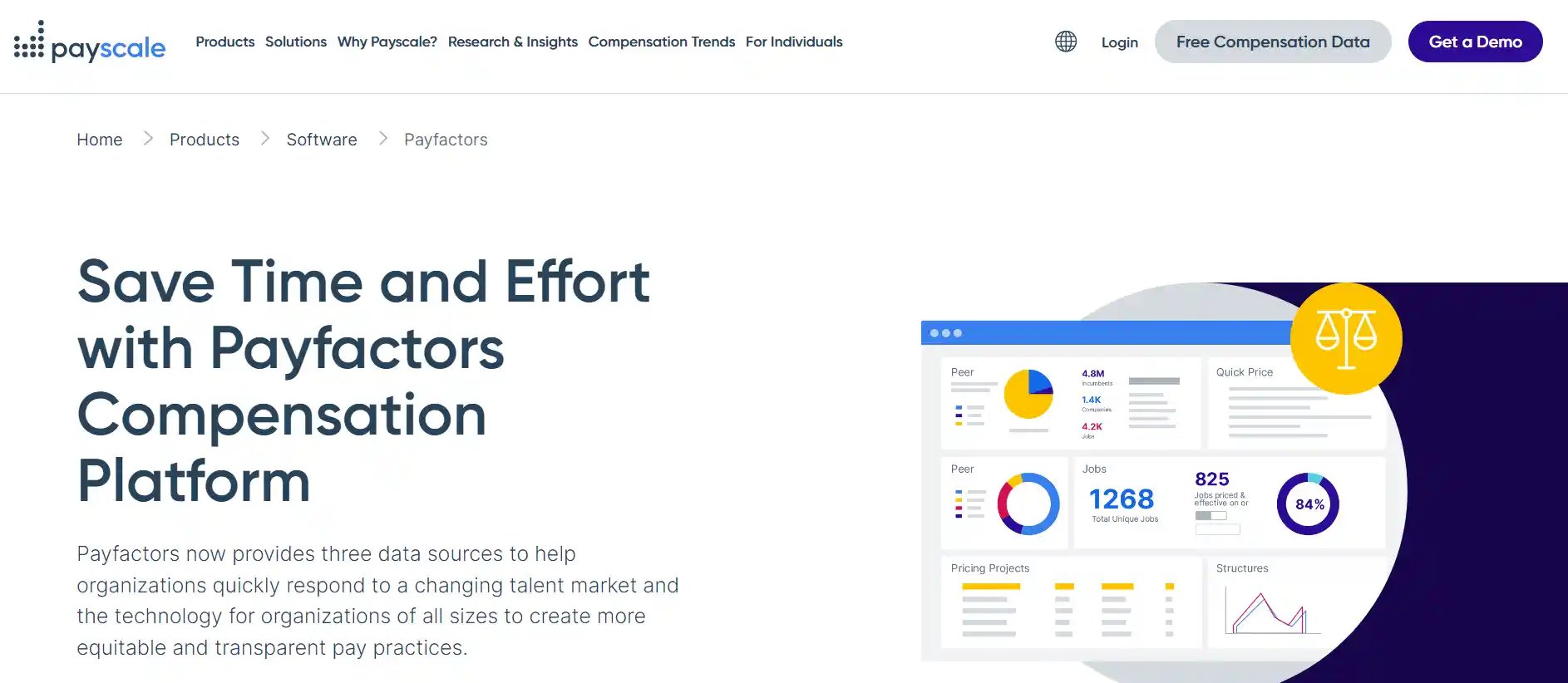 Payfactors is software designed for managing compensation. It assists businesses in making informed decisions regarding their compensation practices. Additionally, it enables companies to analyze, compare and adapt their compensation strategies according to industry norms, performance metrics and employee information.
Top Features
This tool enables you to access a vast database of industry-specific compensation data that can be used to evaluate pay practices and benchmark salaries against competitors.

It helps match jobs with the most relevant benchmark data and price them accurately based on market trends.

Budget planning and modeling features of this tool help companies simulate and model different compensation scenarios, such as budget allocation and pay raises.

Employee communication and engagement feature drives transparent communication and employee engagement about compensation practices.
G2 Rating: 4.3/5 (373 reviews)
Price: Available on request
FAQs
1. What does talent management software refer to?
Talent management software is a collection of cloud-based tools that assist recruiters in effectively;
Managing the workforce

Streamlining HR processes

Automating tasks

Providing managers with insights related to talent
2. How does talent management software operate?
The functionality of talent management software varies. Generally, it involves integrating HR processes into a unified digital system. For instance, a company might utilize a tracking system to advertise job openings, screen candidates and schedule interviews. Additionally, the software may encompass performance management tools for goal-setting progress tracking, feedback provision, and learning and development features.
3. What are the seven elements of talent management?
The seven elements of talent management include;
Workforce Planning

Recruitment

3 Onboarding

L&D

Performance Management

Succession Planning

7 Employee Benefits