Virtual Hiring! A method born out of necessity has now become the new normal. And why shouldn't it be? In the past couple of years, virtual hiring has shown better results when compared with its other contemporaries.
Today, virtual recruitment processes have cut down many downsides of traditional hiring, and have successfully streamlined redundant processes such as manual sifting of resumes, screening of right candidates, lengthy hiring procedures, etc. Which is why, talent managers have started leveraging this new trend more promptly to fill talent gaps.
Here are some features and functionalities that virtual recruiting software can offer to help talent managers perform their duties more efficiently:
Easy candidate sourcing through job postings

Better organization of essential tasks and events with an activity planner

A pipeline for managing the recruitment and hiring process

In-depth performance assessment with reports and more
That being said, finding a comprehensive virtual recruiting tool can have its own challenges as you have to consider certain factors, such as:
Time-zone differences

Difficulty in assessing the credibility of candidates

Communication gaps, and more.
If not managed timely, these bottlenecks can hamper your hiring process and the candidate's overall experience. Hence, recruiters must be careful when choosing the right virtual recruiting tool.
To help you choose the right Virtual Recruiting Tool for your organization, we have curated a list of Top 15 Virtual Recruiting Tools for 2022. Let's get started!
Top Virtual Recruiting Software for Pre-Employment Assessments for 2022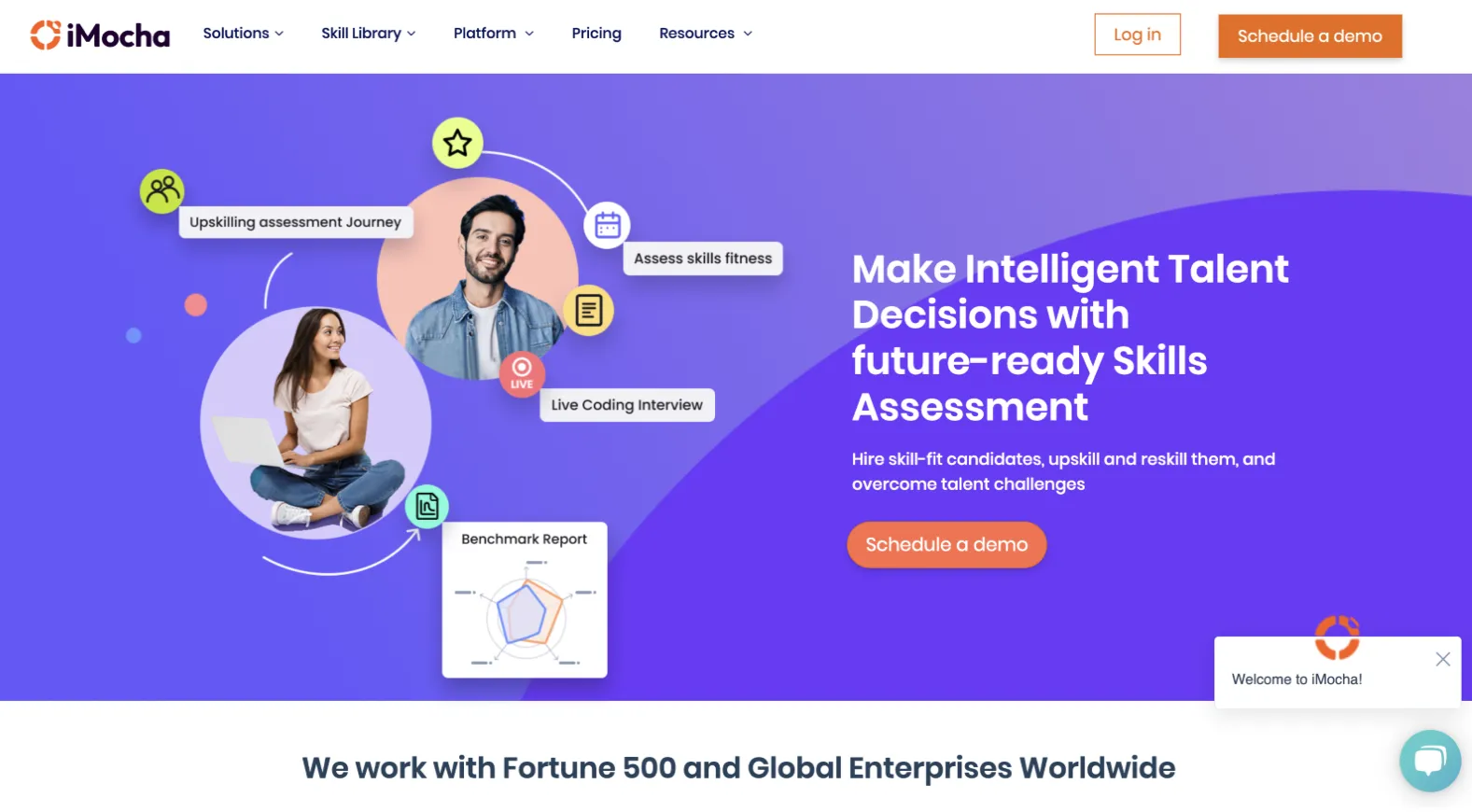 iMocha is the top virtual recruiting software for pre-employment assessments and is used by 5000+ companies (of all sizes) around the world. It offers various recruitment tools to engage, evaluate and interview job candidates, and comes with an automated, fully-fledged recruitment suite that reduces the need for manual intervention during the recruitment process. iMocha's recruitment suite includes a customizable keyboard (Vim/Emacs) and Editor Theme (Dark/Light) for candidate convenience, cutting-edge coding simulators, code replay, live-coding interviews, patented AI LogicBox, and more.
It provides the world's most comprehensive skill assessment library with over 2500 skills, 100,000+ questions, and AI-based analytics, and also allows organizations to customize the assessments or add their own question repository according to the business needs.
iMocha ensures you only hire the most skill-fit, genuine and authentic candidates.
Founded in: 2015
Founded by: Amit Mishra and Sujit Karpe
Website: https://www.imocha.io
Free Trial: Yes
Pros:
Helps you in reducing hiring time with its "one-way video interview questions" feature, which assesses a candidate's technical and soft skills in a single assessment

Over 2,500 skills are available on the platform, including 700+ I.T. skills, 80+ cognitive ability skills, 37 coding languages, and 70+ Next-Gen skills, which allows you to assess candidates effectively and promptly

It offers customisable features that can be used to create assessment as per job role/ candidate's specifications

It allows you to make data-driven hiring decisions in a short span of time.

iMocha's proctoring suite automatically highlights cheating instances, so recruiters don't have to watch the entire video
Clients: Deloitte, PayPal, Fujitsu, Capgemini, Cognizant, Wipro, Vanguard, CGI, and more
Pricing: $1800/month
G2 Crowd Rating: 4.4/5 (165)
2. Mettl


Founded in: July 2009
Founded by: Tonmoy Shingal
Free Trial: No
Pros:
Each test is divided into many modules, allowing applicants to select the modules they wish to take and the ones they do not or to combine different modules into one.

Mettl makes it easier to understand and finalize profiles by making the competencies understandable through graphs and subjective data,
Cons:
It does not provide any form of AVG Score or excel reports for scores (local or global standard).

It has complex U.I. leading to wastage of time.
Clients: MakeMyTrip, Ghent University Global Campus, Workforce, Gulf University, NASSCOM
Pricing: $249/year
G2 Rating: 4.8/5 (247 reviews)
3. Vervoe

Founded in: 2016
Founded by: Omer and David Weinberg
Free Trial: Yes
Pros:
Vervoe application and screening process is quick and easy to use, with everything in one place

Vervoe provides highly customizable features and lets you create assessments using a variety of question types — multiple choice, essay, video, audio, visual, etc.

There are more than ten immersive question categories, including video responses and coding questions
Cons:
It has an arbitrary and inflexible pricing model

This virtual recruiting tool does not have mobile version

Its customer service is unresponsive
Clients: Myob, Australia Post, TriNet, WPP, OmnicomGroup, KFORCE
G2Crowd Rating: 4.6/5
Pricing: $149/month
Top Video Interview Tools

iMocha, one of the top video interview tools, offers proven and tested solutions for hiring candidates virtually. Its one-way video interview questions feature allows you to evaluate candidates' crucial skills, such as soft skills, technical skills, culture-fitment skills, and more.
It allows you to quickly compare the video responses of different candidates and determine whether they are suitable for the position you want.
The assessments conducted by iMocha are also encrypted through strict security protocols such as GDPR, ISO9001, and ISO27001 to protect their credibility.
Founded in: 2015
Founded by: Amit Mishra and Sujit Karpe
Website: iMocha
Free Trial: Yes
Pros:
iMocha let the hiring manager set a maximum number of attempts for each question

This software allows you to create test links for all your hiring needs. For e.g., you can opt for Open link URL for bulk/campus hiring

You can design an extremely flexible test based on your requirements by determining the duration, the number, and the type of questions
Clients: Deloitte, PayPal, Fujitsu, Capgemini, Cognizant, Wipro, Vanguard, CGI, and more
Pricing: $1800/month
G2 Crowd Rating: 4.4/5 (165)
5. HireVue

Founded in: 2004
Founded by: Mark Newman
Free Trial: No
Pros:
With HireVue, candidates can interact with their recruiters seamlessly and automate workflows with AI

This virtual recruiting software offers live and on-demand interviewing to make the hiring process more convenient for hiring managers

HireVue's UI/UX is user-friendly, not just for recruiters and hiring managers but for candidates as well
Cons:
The cost of this software is relatively high

HireVue's support team is unresponsive
Clients: Smartlynx, Amazon, Beacon, The Co-operative Bank, The Foxtel Group
G2Crowd Rating: 4.1/5
Pricing: Starts at $35K/month
6. Talview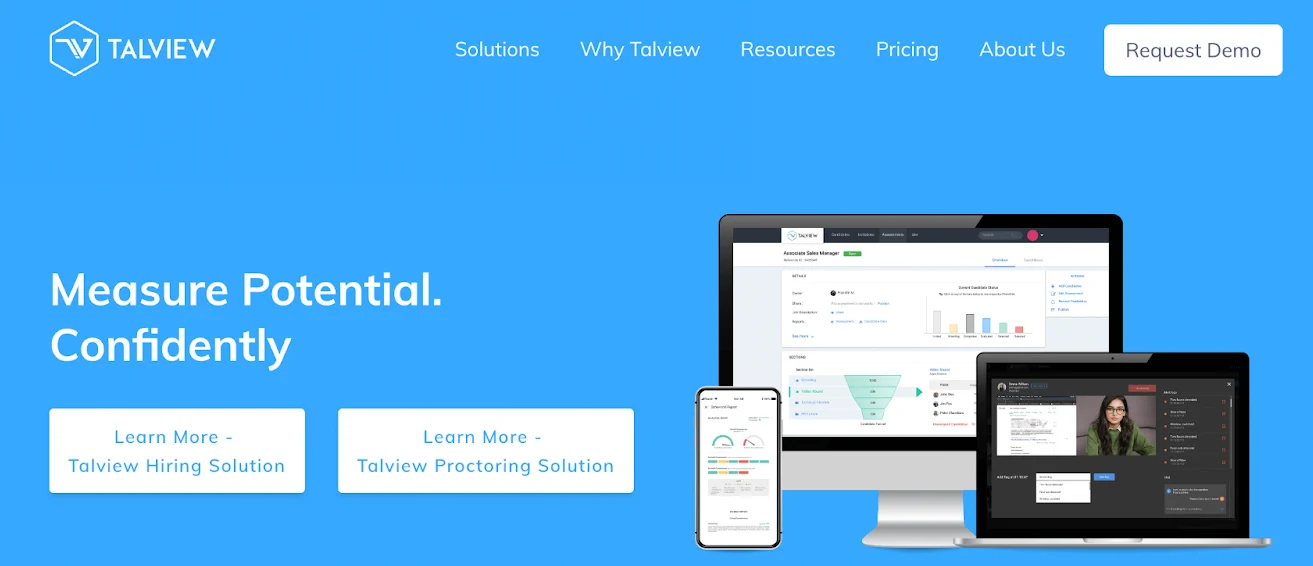 Founded in: 2017
Founded by: John Jose, Sanjoe Tom Jose, and Subramanian Kailasam
Free Trial: No
Pros:
Due to its multilingual nature, the platform meets the recruiting needs of recruiters effectively

It is data-safety compliant

Almost all major search engines students use, such as Chrome, Firefox, and Edge, are compatible with Talview
Cons:
The portal is often stuck during data research on the first go.

Their customer support is not responsive.

Data panels can be challenging to download if they are large files.
Clients: Meta, Vodafone, HCL, Cambridge Assessment, Cognizant
Pricing: $25000/year
G2 Rating: 4.5/5 (33 reviews)
Top Candidates Sourcing Tools
7. TalentBin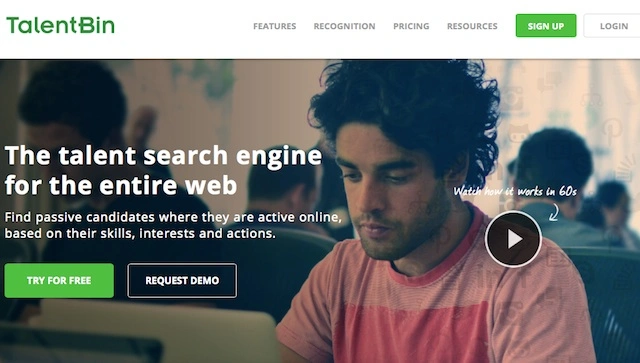 Founded in: 2009
Founded by: Pete Kazanjy
Free Trial: Yes
Pros:
TalentBin easily integrates with various social media channels and helps you access in-depth information about candidates

Recruiters have access to the Monster database results via TalentBin, allowing them to find a suitable candidate from diverse resumes
Cons:
TalentBin's candidate information lacks accuracy and credibility since they do not update the database regularly
Clients: Ananth Technologies, Ybrant, Paul Wurth, TATA Consultancy Service
Pricing: Not disclosed publicly
G2 Rating: 3.2/5 (3 reviews)
8. Hired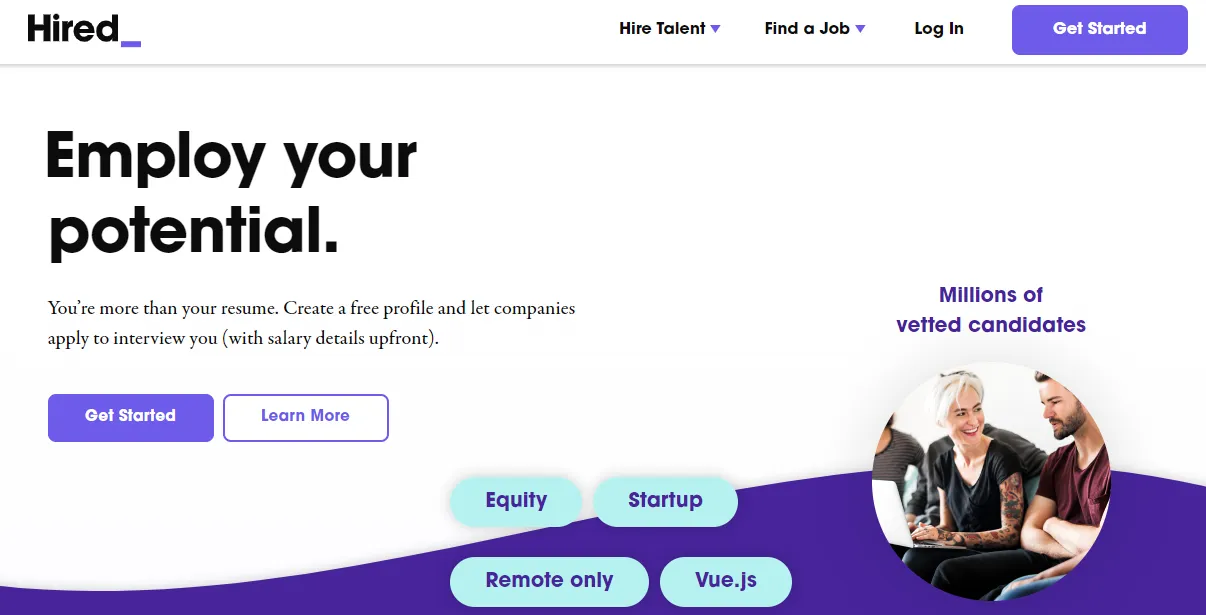 Founded in: 2012
Founded by: Josh Brenner
Free Trial:
Pros:
With the help of this virtual recruiting tool, you can gain access to information like 'how soon the candidate is expected to reply', 'what industry they are interested in working in', etc, which helps in the hiring process

The U.I. of this software is quite intuitive and allows easy integration with ATS (Application Tracking System)

Hired enables the recruiters to see if the candidate has already taken pre-requisite tests before shortlisting them
Cons:
There are only limited candidates available for areas such as machine learning and product designing

Its search engine shows only selective searches

Finding people with particular skillsets/expertise (e.g., graphics, multimedia, performance, etc.) is challenging here since it provides too generic results
Clients: CapitalOne, BetterUp, Mount Sinai, Bright Healthcare, ZOPA
Pricing: Not disclosed publicly
G2 Rating: 4.3/5 (322 reviews)
9. SeekOut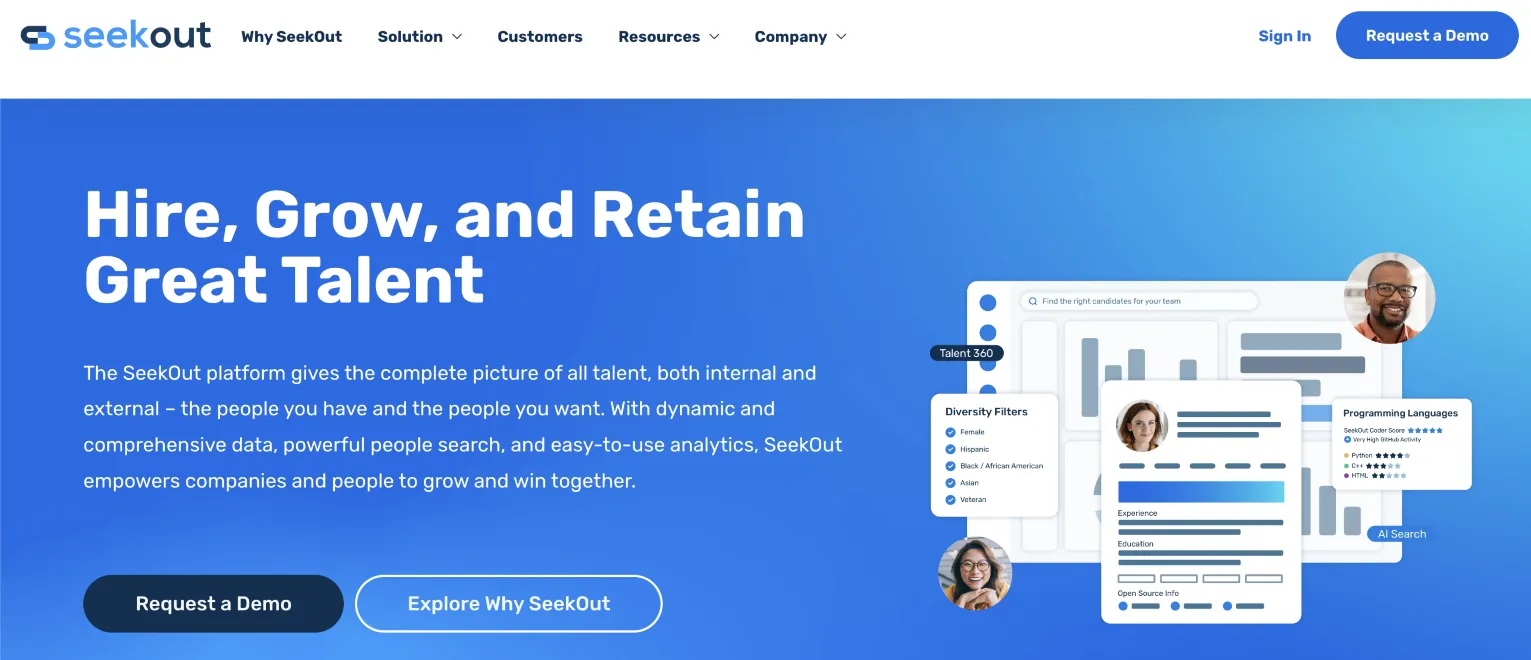 Founded in: 2015
Founded by: Anoop Gupta
Free Trial: Not available
Pros:
You can target passive applicants who aren't usually on LinkedIn or other sites using the platform

The software facilitates continued collaboration by allowing hiring managers to view potential candidates' efforts

It can look for tech positions internally within GitHub

Despite its outreach capabilities, it offers an interface with ATS and outreach tools like Gem to meet unique business needs
Cons:
Each messaging campaign requires a new signature

Their search engine is built poorly. It does not suggest names slightly resembling the one entered, so if you make a spelling mistake, it will not offer any relatable options

This talent mapping software does not allow you to directly add the candidate to a campaign from the search page. You need to open another tab in the project and add them
Clients: salesforce, trilogy, UiPath, VMware, Experian
Pricing: Not disclosed publicly
G2 Rating: 4.5/5 (570 reviews)
Top ATS Software
10. BullHorn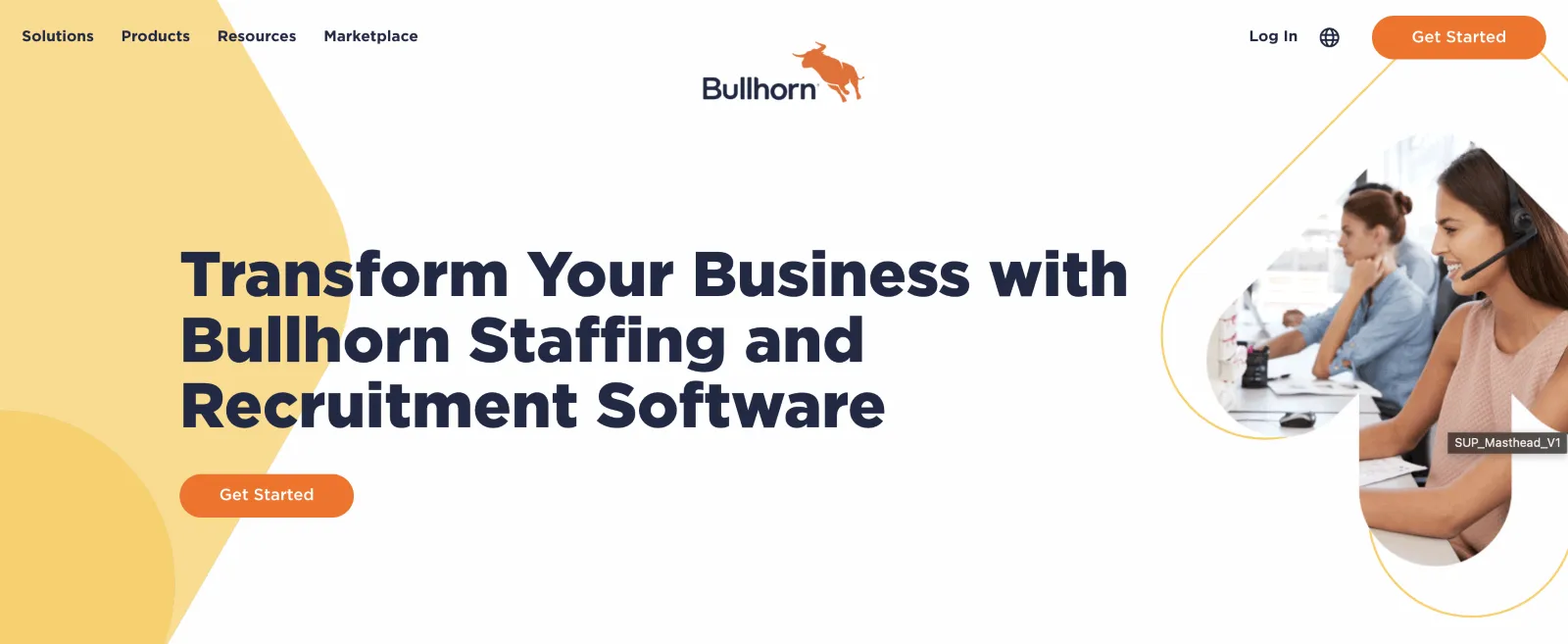 Founded in: 1999
Founded by: Art Papas
Free Trial: Yes
Pros:
Bullhorn has a highly customizable UX.

The program assists you in staying organized and keeping track of your lead tracking, response process, and sales cycle.

You can save a tonne of time with its robust integration with the multi-job posting tool WaveTrackR, which allows you to post various job offers in one go.
Cons:
The software is time-consuming and slow.

The session time expires very soon, interrupting the flow of work.

The search engine and algorithms do not work properly.
Clients: ADITI STAFFING, Addison Group, ALKU, Allen recruiting software, FILTER
Pricing: Not disclosed publicly
G2 Rating: 4.0/5 (505 reviews)
11. iCIMS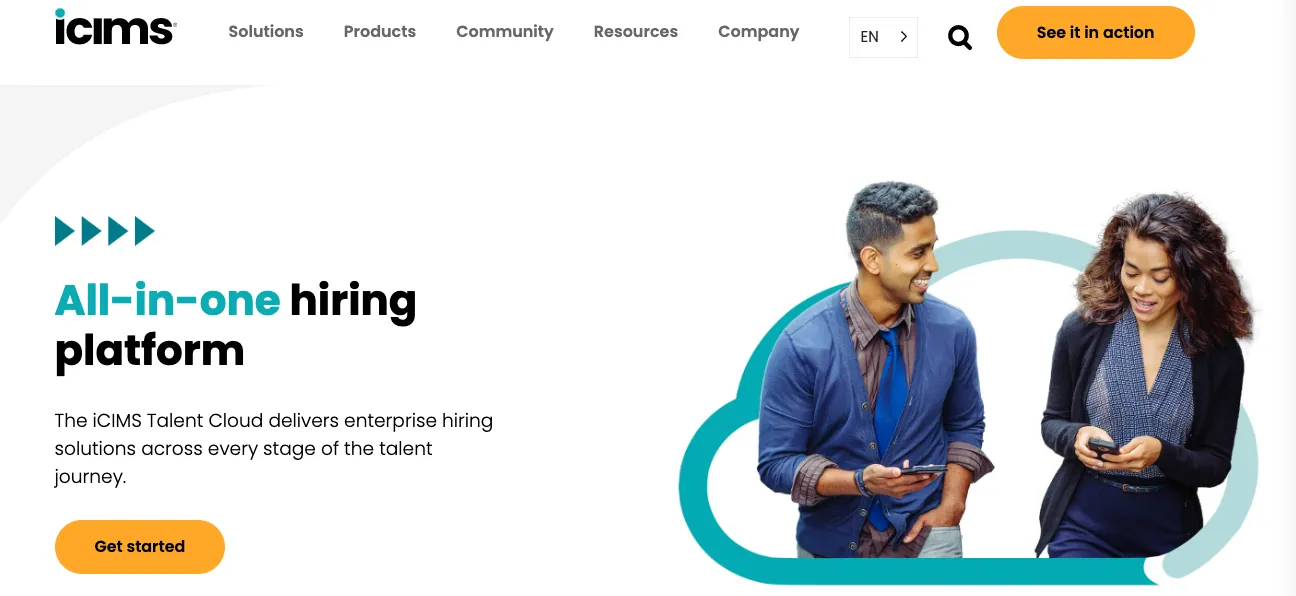 Founded in: 2000
Founded by: Colin Day
Free Trial: No
Pros:
This virtual recruiting platform offers a range of insightful features, including text engagement, Teams integrations, job posting/advertising, and social distribution, which helps streamline the talent acquisition experience for both recruiters and candidates

ICIMS has a huge database, allowing you to store both active and passive job seekers' information and retrieve it anytime

The software also enables you to quickly trace a candidate profile from beginning to end and assess any significant drop-off points
Cons:
They have limited self-service features; therefore, most of the things are not customizable from the user's end but must be processed by customer care

The system holds a lot of information, often causing glitches and slowdowns

ICIMS's UI/UX is outdated and overwhelming at times
Clients: amdocs, intel, Intutive, Pepsico, Sun Life
Pricing: $1700/month
G2 Rating: 4.0/5 (479 reviews)
12. JobVite

Founded in: 2006
Founded by: Jesper Schultz and Hans Larsen
Free Trial: Yes
Pros:
Jobvite job posting is also shared on other job boards, which improves the coverage for the posting and candidate outreach.

The U.I. is applicant friendly intuitive and makes the recruiting process efficient for both recruiters and hiring managers.

It provides analytical reports of each candidate.
Cons:
You cannot access knock-out form templates, and neither can you customize basic templates.

Jobvite automated email feature sends many emails at a time, which can overwhelm the inbox and end up mixing essential emails.

It lacks integrations with M.S. Teams and LinkedIn.
Clients: Scott Sendelweck, ACCO Brands, eegee's, Long Building Technologies, Exelon
Pricing: $30/recruiter/month
G2 Rating: 4.0/5 (504 reviews)
Top Onboarding Software
13. Freshworks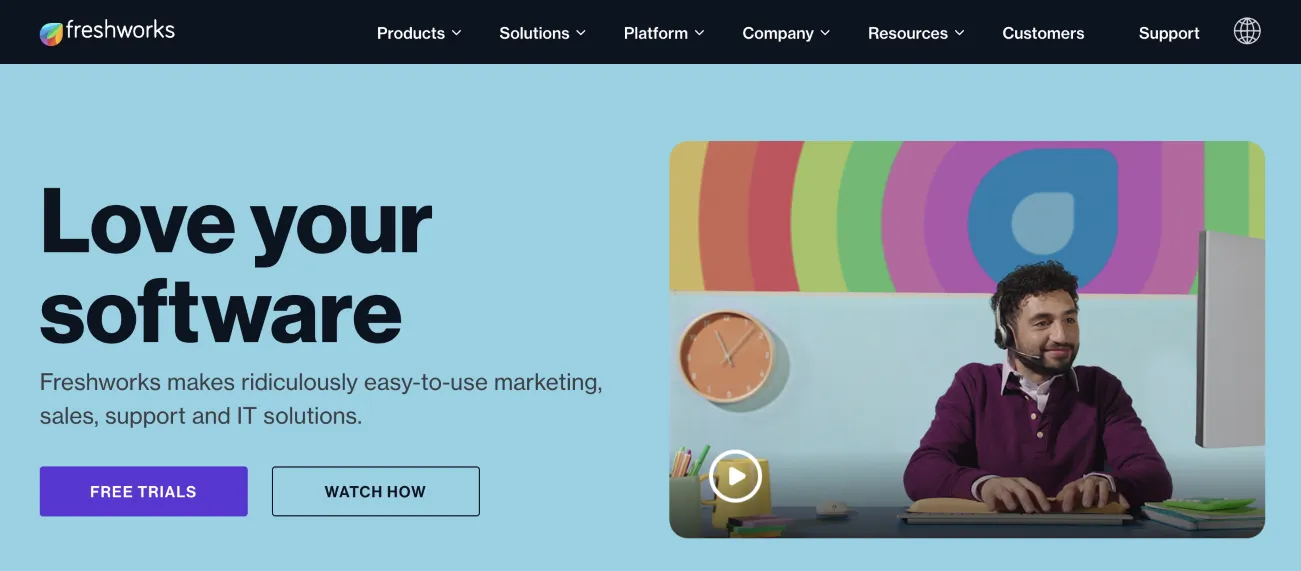 Founded in: 2011
Founded by: Girish Mathrubootham
Free Trial: Yes
Pros:
It allows the user to manage basic tasks like recording personal time off, even in a free edition, which is a decent value.

At Freshteam, talent management is wholly documented with analytics tools.

It allows automation across all stages of the recruitment cycle.
Cons:
The customer support team is not much responsive.

The process for a job posting and tracking applications is complicated.

UX is not much engaging.
Clients: Fiverr., exabytes, multichoice, Travix, Pearson, VICE media group
Pricing: $0/month
G2 Rating: 4.5/5 (6,020 reviews)
14. JobDiva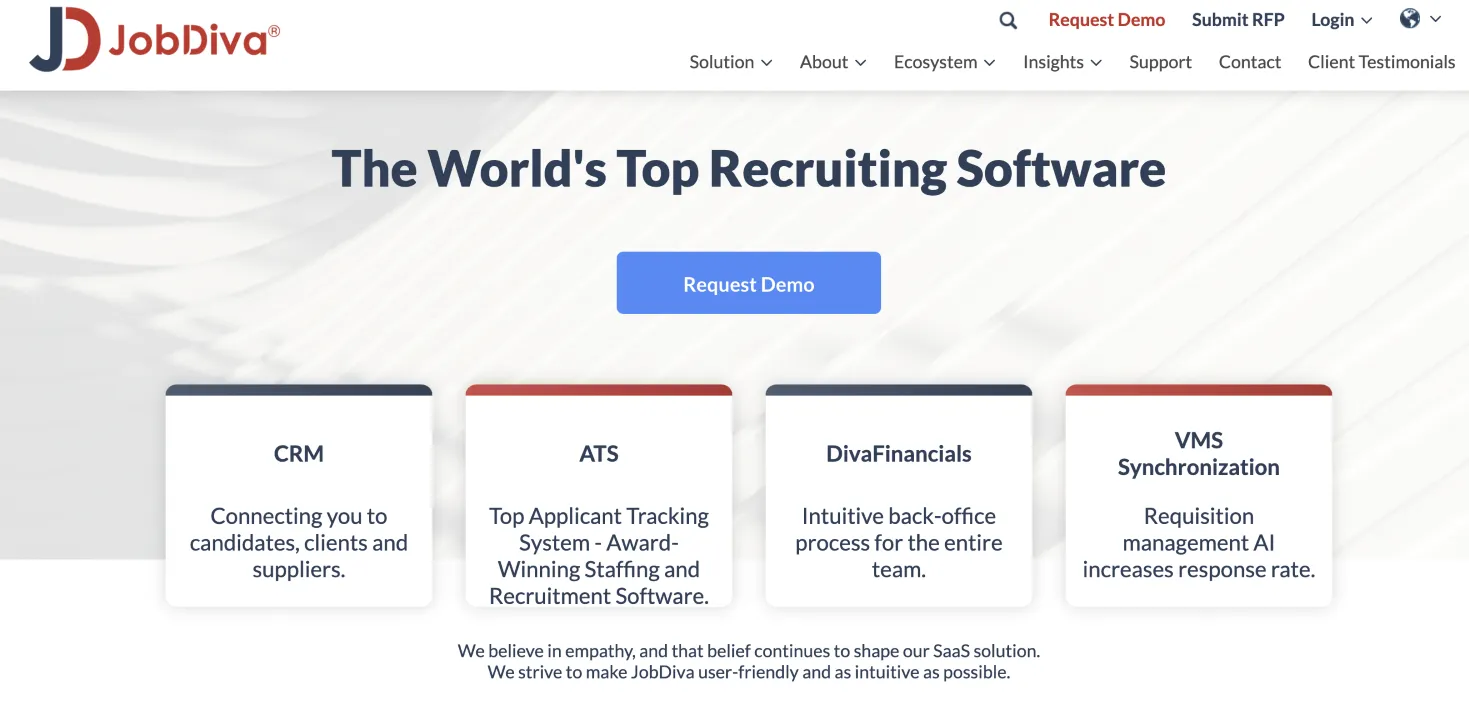 Founded in: 2021
Founded by: Diya Obeid
Free Trial: Yes
Pros:
The application has saved so much time; it allows you to prioritize requisitions and schedule follow ups.

This virtual recruiting tool does not require high-speed internet; it can be used on mobile data as well.

This tool allows you to filter options such as year of education, years of experience, location, work visa, current and past employers, and work location, which helps in making the search for candidates easier and faster.
Cons:
When requisitions are a top priority, the frequent version upgrades and bugs make work challenging

When a user spends some time on other websites, the website swiftly logs them out; however, it takes longer when they open many tabs and upload multiple resumes at once

The software is not integrated with any job boards such as Naukri, Indeed, Glassdoor etc.
Clients: NTT Data, Nesco, TCML, ApTask
Pricing: Not disclosed publicly
G2 Rating: 4.6/5 (427 reviews)
15. Remote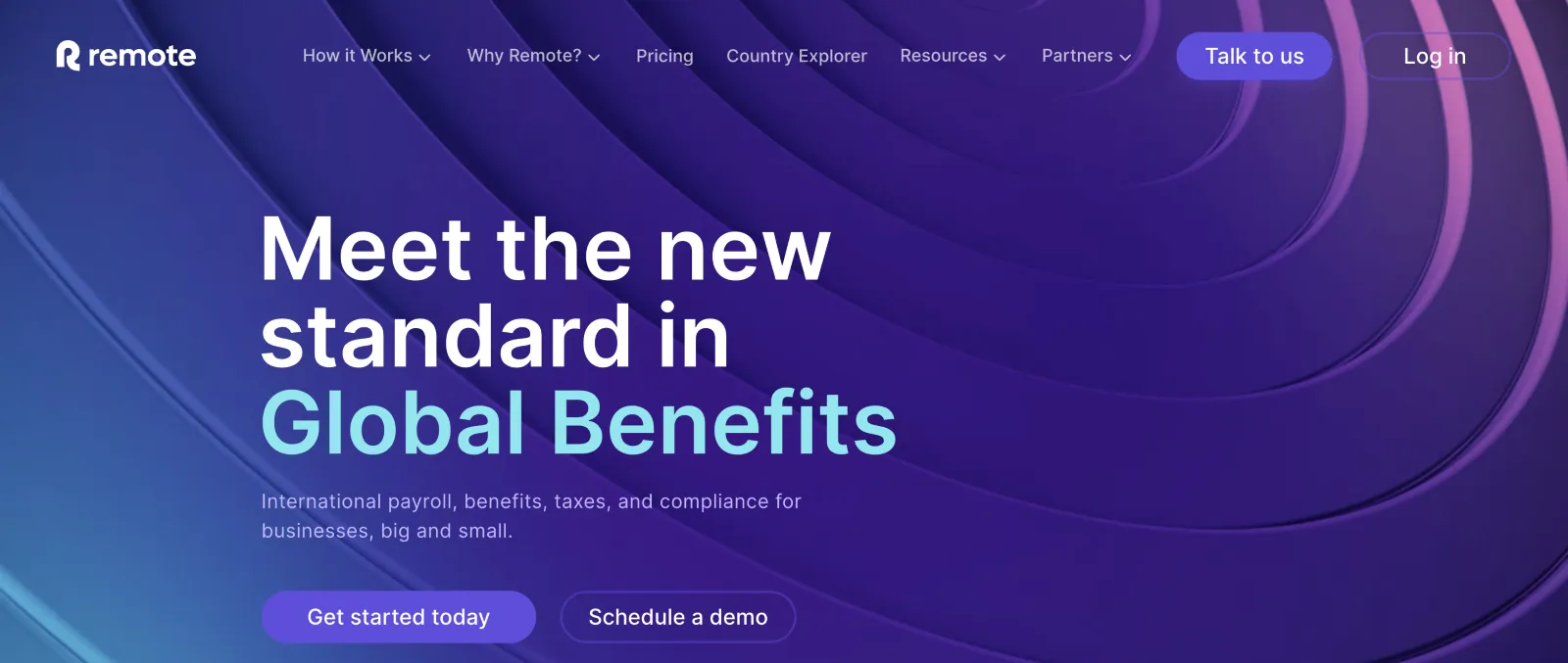 Founded in: 2014
Founded by: Job Van Der Voort
Free Trial: No
Pros:
This virtual recruiting tool sends email alerts for each newly available payroll

Their customer support is quite particular and on point with their services

This virtual recruiting software is easy to navigate, very straightforward, and provides lots of written and video content that answers the most varied questions
Cons:
The onboarding process takes more time than usual

The platform is not multilingual, making it hard for non-English speakers to use it sometimes

Remote's health insurance does not have a lot of coverage
Clients: OnDeck, Paystack, Nearcute
Pricing: $599/month
G2 Rating: 4.5/5 (379 reviews)
FAQs
What is Virtual Recruitment Software?
Virtual recruitment software facilitate all the recruiting needs required to run the virtual process effectively. From sourcing and screening candidates to conducting interviews and hiring them, all the phases of the virtual recruitment process are assisted by these recruitment tools only.
What are the benefits of using Virtual Recruiting Tools?
Following are the benefits of using virtual recruiting tools includes:
Cuts down hiring time

Allows you to tap into the wider, global pool of talent

Saves money

Reduces paperwork

Runs the most cost-effective virtual events

Allows more seamless interview scheduling
How can Virtual Recruiting Tools help in reducing hiring time and cost?
Virtual hiring allows you to screen more applicants in less time. Employers can screen candidates at scale and recruit more accurately with the help of assessment tools, including psychometric tests, technical evaluations, and asynchronous or live interviews. Hence, these tools help in reduces hiring time and cost.