A quick search on LinkedIn shows that over 7,000+ technical recruiter jobs are available in the United States.
Even on Indeed, there are over 10,000 open positions. Clearly, there's a rising demand for technical recruiters (and for a good reason).
Technical recruiters are instrumental in the following:
Finding the exact skill sets required for specific job roles within a company

Understanding the exact roles and responsibilities to look for when hiring technical talent

Understanding why certain software companies are hiring engineers to develop new innovative products from scratch
This is just the tip of the iceberg.
In this article, we will iron out key issues every technical recruiter faces—from what technical recruiting means and the various skills required to the diverse technical recruiter roles and responsibilities a recruiter must master.
Let's jump right in.
What is Technical Recruiting?
Technical recruiting refers to the process of interviewing, screening, and sourcing technical talent for specific technology-based and IT roles (from beginner to advanced).
They may work with recruitment agencies or may need to find talent on online recruitment portals.
Consequently, the technical recruiter must possess a working knowledge of the key tech jargon and must have a few essential technical skills (more on this later).
The ultimate goal is to build a high-quality pool of candidates that are suitable for a variety of technical roles. 
Struggling to hire for niche roles? iMocha provides the fastest custom assessments for niche job roles.
The 7-Step Technical Recruitment Process: At a Glance

Step 1: Identifying the Hiring Needs
This step involves the following:
Identifying the role and understanding what kind of candidate would best fit into the role

Listing the key skills required for the job role, which includes performance skills, personality skills, and more

Filtering the candidate list based on the skills outlined in the previous step

Constantly analyzing the performance of the current talent and keeping a list of the skills gap, qualifications, etc.

Being mindful of the existing employees leaving to stay on top of the company's hiring needs
Step 2: Creating the Job Description
This step is all about:
Creating a compelling, clear, and precise job description to attract top talent

Incorporating key elements within the description, such as organization name, culture and values, benefits provided, job details, industry pay, location, demand, qualification, skills, and so on

Including the required knowledge, skills, responsibilities, and experience from the candidate's perspective

Determining the duties and responsibilities of the job

Creating a lasting and positive first impression
Step 3: Focusing on the Organization's Strengths
Demonstrating the company's USPs can help attract the best talent. This can be done by:
Highlighting the unique perks and benefits the company offers

Demonstrating the brand's strengths to the potential hires

Highlighting how working at the organization will help advance the new hire's career and learning
Step 4: Learning the Important Tech Terms
If the technical recruiter wants to hire the best talent, they need to get a grip on the basics first. This includes:
Gaining an understanding of the important tech jargon

Using the technical terms to build an accurate job description

Creating a balance between technical and non-technical terms

Learning how to speak the tech talent's language (figuratively and literally)

Constantly updating on technical knowledge and polishing tech skills
Step 5: Researching and Learning About the Tech Talent
This is a crucial step in the talent recruitment process and entails the following:
Learning about what the ideal candidate looks like includes their viewpoints, end goals, likes, and aspirations

Analyzing the industry salary ranges, performance bonuses, and other benefits to pique the candidate's interest in the company

Learning about the new tools and technologies that are of interest to the current tech talent and including it as a part of the job description
Step 6: Improving the Interview Process
One of the most important elements of a technical recruitment process is the interview. When conducting an interview, a technical recruiter must keep the following things in mind:
The interview should be streamlined, efficient, and less time-consuming.

The technical recruiter must inform the candidate about who will be interviewing them and provide as much detail as possible.

The candidates should be provided with flexible interview schedules and two to three interview dates.

There should be a provision for driving remote

video interviews

for the candidate's convenience.
Looking to assess developer skills through live coding and programming assessments? Try iMocha!
Step 7: Selecting the Right Mix of Recruitment Channels
The final step is choosing the right mix of sourcing channels to connect with the top candidates. The idea is to be where your candidates are. You can choose a mix of the following sourcing channels:
LinkedIn: One of the most popular channels for hiring tech talent is LinkedIn. It is ideal for contacting the candidate personally. You can filter the candidates based on skill sets, experience, qualifications, and more.
Freelance websites: Another popular option is hiring via freelance websites such as Freelancer or Upwork. All you need to do is post a job and wait for the freelancer to post a bid. You can then choose the most suitable candidates from the list.
StackOverflow and GitHub: You can also hire talent from these leading tech communities. These communities are power-packed with important information such as candidate experience and knowledge, current trends and technologies that are trending, and more. If you are looking for more specialized talent, these communities are ideal for you.
Top 3 Challenges for Technical Recruiters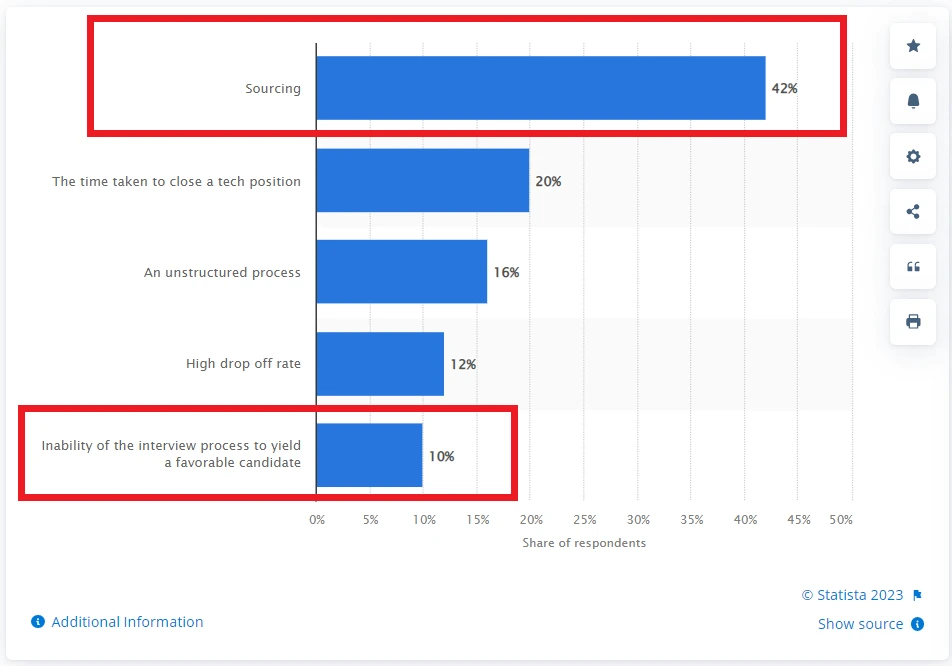 According to Statista, the biggest challenge in recruiting technology-related roles is sourcing (42%), followed by the time taken to close a tech position (20%), and the prevalence of an unstructured process (16%).
Other challenges that tech recruiters face include:
Challenge #1: Screening Tech Talent
Screening the right tech talent can be a time-intensive and challenging job. An automated tool can reduce the hiring time and do all the heavy-lifting initially.
For example, iMocha is a skills assessment platform that can help tech recruiters ]make intelligent talent decisions.
Recruiters can access the world's largest skills library comprising 2500+ skills, which includes skills for software development, online coding tests, and more. Candidates can also be assessed on soft skills such as communication.
Challenge #2: Finding Qualified Local Talent with the Requisite Technical Abilities
Another challenge that recruiters face is the unavailability of talent locally.
The big solution? Recruit from different geographies, socio-economic backgrounds, etc., and build a diverse workforce. With more people wanting to work remotely, the only way ahead is going global while hiring candidates.
Plus, recruiters can also recruit 'gig workers' and find specialists for a specific duration of the project. This will make talent more accessible.
Challenge #3: Lack of Access to Qualified Tech Talent
As mentioned earlier, there's a huge skills gap between the organization's demands and the talent's qualifications. This can be solved by focusing on quality over quantity.
Tech recruiters must continue to create a positive company reputation and work towards building a talent pipeline.
Technical Recruiter Roles and Responsibilities
The most crucial technical recruiter roles and responsibilities include the following:
Writing and posting clear, high-quality, and accurate technical job descriptions (aka strong written communication skills)

Creating a robust recruitment strategy, which involves sifting the candidate profiles and effectively marketing the open job positions

Sourcing high-quality potential candidates from niche platforms, recruiting networks/communities, social media platforms, or generic recruitment platforms such as LinkedIn, Stack Overflow, GitHub, etc.

Screening IT resumes and parsing for specialized skills and qualifications

Engaging in pre-screening calls to review an applicant's key abilities

Interviewing candidates via structured interviews, technical assessments, and behavioral/personality tests to assess their suitability for a role

Collaborating with the IT team to predict and define department goals as well as hiring needs

Creating personalized recruiting email campaigns with information on the current job openings

Driving and participating in tech conferences, workshops, and meetups to build a network of IT talent

Composing job offer letters and onboarding new hires seamlessly

Engaging in employer branding, particularly in job fairs and building the organization's reputation as an 'excellent place to work'

Conducting job/task analyses to document key duties and responsibilities

Staying updated with the latest technological trends and innovative products
10 Must-Have Technical Recruiter Skills
Some of the must-have technical recruiter skills include:
Being open, confident, and enthusiastic
Updated technical knowledge of tools and industry-specific knowledge
Great written and verbal communication skills
Organizational and project management skills
Critical thinking capabilities
Excellent interpersonal skills
Experience with Customer Relationship Management software and an applicant tracking software experience
How is Technical Recruiting Different from Recruiting for Non-Technical Roles?
There's a fundamental difference between technical and non-technical recruiting.
Technical recruiters have to:
Create a separate job requisition to understand what skills and languages the role will require

Create a specified assessment for the role that includes assessment for all skills

Understand the adjacent skills needed instead of solely focusing on core skills For example, if a tech recruiter needs to hire an entry-level data analyst, they can look for statistical skills

Learn about what niche skills are and where to find talent with these niche skills
For technical recruiting, the recruiter must have a working knowledge of essential tech terms.
In the case of non-technical recruiting, the recruiters basically recruit for non-technology-based jobs. In this scenario, having a basic understanding of the roles being recruited for is enough.
Expert-Approved Tips to Hire Tech Talent
Here are some practical and handy tips on how to hire the right talent:
Make sure that the job title in the job description is apt and crisp

Create a job description that accurately fits the tech role by drawing from past experiences and interviews to see what the candidates like

Lay special emphasis on the new tools and technology the brand is embracing

Talk about the perks and benefits of the role for the candidate
Outline how the role will advance the candidate's career and be specific about how the candidate can impact the company

Always mention the salary range to build trust, transparency, and goodwill

Drive professional branding of the organization at every opportunity (think: conferences, workshops, tech events, meetups, job fairs, hackathons, and more)
Create a robust referral program to create a pool of high-quality talent

Keep updating the Careers section of your website with relevant information

Get active on developer forums and communities such as GitHub and on freelance portals

Leverage social networks such as LinkedIn to get insights on the needs and aspirations of the current talent pool

Keep the top talent engaged within the talent pipeline and drive candidate engagement

Assess the candidate's

skills in a fun and creative manner

using iMocha's

AI-LogicBox

,

a pseudo-coding platform that empowers you to assess for skills such as Salesforce, AWS, Azure, SAP, and so on.
Tap into the Power of Technical Recruiting
Technical recruiting is an important job role as an organization's success depends on how successful the product is. Finding the right talent based on the company's specific needs is paramount too.
With the help of automated tools and a little bit of experience, technical recruiters can not only get their hands on the top talent but also create a pool of smart, tech-savvy, and high-performing candidates.
Struggling to find a skill assessment platform to ensure the integrity of remote assessments? Try iMocha's AI-enabled Proctoring suite.
FAQs
1.What is technical talent?
Technical talent comprises a pool of candidates (think: software developer, computer science professional, data scientist, IT professional, engineer, etc.) who possess the skills (such as data analysis, DevOps, security and networks, programming, etc.) needed to drive innovation and growth at technology or non-tech companies. 
2.What does a technical recruiter do?
A technical recruiter is responsible for identifying, screening, and recruiting high-quality candidates for relevant and specialized technology job positions for the company.
They often need to collaborate with hiring managers and understand the technical requirements to hire the right kind of talent.
3.How to recruit for technical roles?
Here are some tips to remember when recruiting for technical roles:
Identifying the company's tech requirements and needs

Highlighting the organization's USPs

Understanding the ideal candidate profile

Researching competitors to understand the industry better

Learning the technical jargon and terms

Constantly improvising the interview process as the needs change

Engaging in brand-building to encourage candidates to approach the company

Selecting the right kind of sourcing channels, be it offline or online