As the world continues to digitize, traditional recruiting practices are becoming obsolete. Since the pandemic, a number of organizations have adopted WFH or hybrid models. With this, talent teams had a wider net to cast, which also meant shifting to digital hiring.
The traditional recruitment process takes time and usually requires a lot of resources. Infact, a survey conducted by Glassdoor claims that, on average, the overall job interview process takes 22.9 days in the US. This is a lengthy process, and sometimes, the lack of effective diversity recruiting tools can unintentionally create unconscious biases against particular groups of people, ultimately limiting the pool of talented candidates. Furthermore, it is costly, especially when you have to pay for advertising or headhunters.
Digital recruiting tools have the ability to enhance the process: they increase transparency, match candidates with roles faster, help automate time-consuming and manual tasks, and more.
With the help of these tools, recruiters can identify and attract the best talent and gain a competitive edge in today's global marketplace.

These tools have several advantages over traditional recruiting methods, such as print advertisements and job fairs. These tools are more targeted and efficient and can reach a wider audience globally.

Additionally, they are often less expensive than traditional methods. Using these tools, employers can maximize their chances of finding the best candidates for their organization.
But the challenge is, with the plethora of digital recruiting tools available in the market, how to determine which ones are worth investing in? Thus, we've narrowed our list to the top 10 digital recruiting tools for you to check out!
Top Digital Recruiting Tools:
AI-based Digital Skills Assessment Tool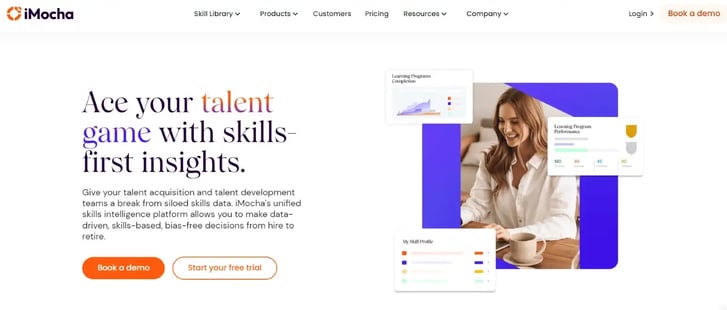 G2 rating: 4.4/5 (180 reviews)
Founded In: 2015
iMocha is a powerful digital skills assessment platform for business. The AI technology in this platform analyses individuals' talents, assists employers in autonomously narrowing down qualified profiles based on predefined criteria, and helps you rank candidates on the basis of their skills. Using these assessments, recruiters get to know candidates' strengths and weaknesses.
It is the most comprehensive digital assessment tool that provides fast-growing global enterprises with powerful AI simulators, video interviewing features, live coding interviewing, and talent analytics features.
Perks
Free trial: Available
Subscription Range: Provides customizable prices based on the company's size.
Cloud-based ATS

G2 rating: 4.0/5 (507 reviews)
Founded In: 2006
Jobvite is a well-known digital recruiting software with an extensive application tracking system. This tool customizes your recruiting process by providing job posting (head over to iMocha's latest Job Description templates) and applicant management features. Using this software, you can collect data, classify individuals based on their experience and skill set, and screen them. It also incorporates social recruitment capabilities, mobile optimization, branded career sites, and on-demand video screening tools.
Perks
This digital recruiting platform lets you add over 15,000 pre-screening documents from various job boards.

Jobvite increases recruiter efficiency by eliminating tedious administrative processes, allowing them to hire better talent.

Jobvite helps expand the talent search socially by posting the positions to your Twitter, WhatsApp, Facebook, and Instagram networks.
Free trial: Not Available
Subscription Range: Monthly subscription starts at $500
3. iCIMS
G2 rating: 4.1/5 (479 reviews)
Founded In: 2000
iCIMS Talent Cloud is a digital recruitment platform that offers services in all areas of Talent Acquisition. It provides recruiting solutions that allow you to create a robust applicant pipeline by engaging prospects early in the hiring process. This tool gives you access to all the key data you need to create customized dashboards and reports.
Perks
You can ensure that applicants remain engaged throughout the process by utilizing automation, customization, and configuration features. (Discover powerful candidate engagement tools

for an enhanced recruitment experience.

)

The platform incorporates data warehouses and business intelligence technologies for large-scale, corporate-wide analysis.

iCIMS's technical support is excellent.
Free trial: Not Available
Subscription Range: Monthly subscription starts at $1700
4. Bullhorn

G2 rating: 4.0/5 (510 reviews)
Founded In: 1999
Bullhorn is a cloud-based relationship-focused applicant tracking system designed to assist recruiting firms in quickly sourcing and hiring candidates. This portal claims to help over 10,000 businesses with the entire staffing process. Its automated data capturing and customer insight technology assist businesses in engaging with applicants in each stage of the hiring process.
Perks
Using the integration feature, hiring managers can import candidates' data straight from social media platforms such as LinkedIn.

Many recruiters regard this as one of the best digital recruiting tools since it helps you to keep track of all emails from applicants and customers.

Bullhorn ATS has a separate mobile application that allows you to manage the complete recruiting cycle from your phone.

With just one click, seamlessly integrate the powerful Bullhorn ATS with iMocha for a streamlined recruitment processes.
Free trial: Not Available
Subscription Range: Monthly subscription starts at $99 (per user)
Automated Resume Screening Tools
5. CVViZ

G2 rating: 4.4/5 (35 reviews)
Founded In: 2017
CVViZ is a digital recruiting platform that can assist you in enhancing your hiring efficiency. Whether it is high volume or niche hiring, the key is to contact the relevant people as quickly as possible. Using this tool, you can identify top prospects early in the recruiting process. This digital recruiting platform also integrates with your existing Applicant Tracking System (ATS) to automate and streamline the whole talent acquisition cycle.
Perks
This is one of the best digital recruiting tools that allow recruiters to swiftly and efficiently post job offers on several job listing sites.

This resume screening tool aids in ranking applicant profiles better, resulting in more successful recruiting.

CVViZ's artificial intelligence has the ability to scan a substantial percentage of resumes in less than 30 seconds.
Free trial: Available
Subscription Range: Monthly subscription starts at $189
6. freshteam
G2 rating: 4.5/5 (273 reviews)
Founded In: 2010
freshteam by freshworks is a digital recruiting software that helps firms attract and source outstanding talent. It's an easily customizable recruitment portal that integrates with many free and paid job boards and social networking platforms. This digital recruiting software also allows recruiters and hiring managers to screen and interview candidates, give feedback, leave notes, and eventually hire and extend offers to the top candidates.
Perks
The in-built ATS feature makes job posting, hiring team creation, and information collecting a breeze.

This platform's user interface is simple and intuitive.

freshteam integrates with various pre-assessment test providers to deliver a smooth interview experience.
Free trial: Available
Subscription Range: Monthly subscription for enterprises starts at $4.00 per user.
Discover the top remote interview softwares to streamline your hiring process and ensure effective virtual candidate assessments.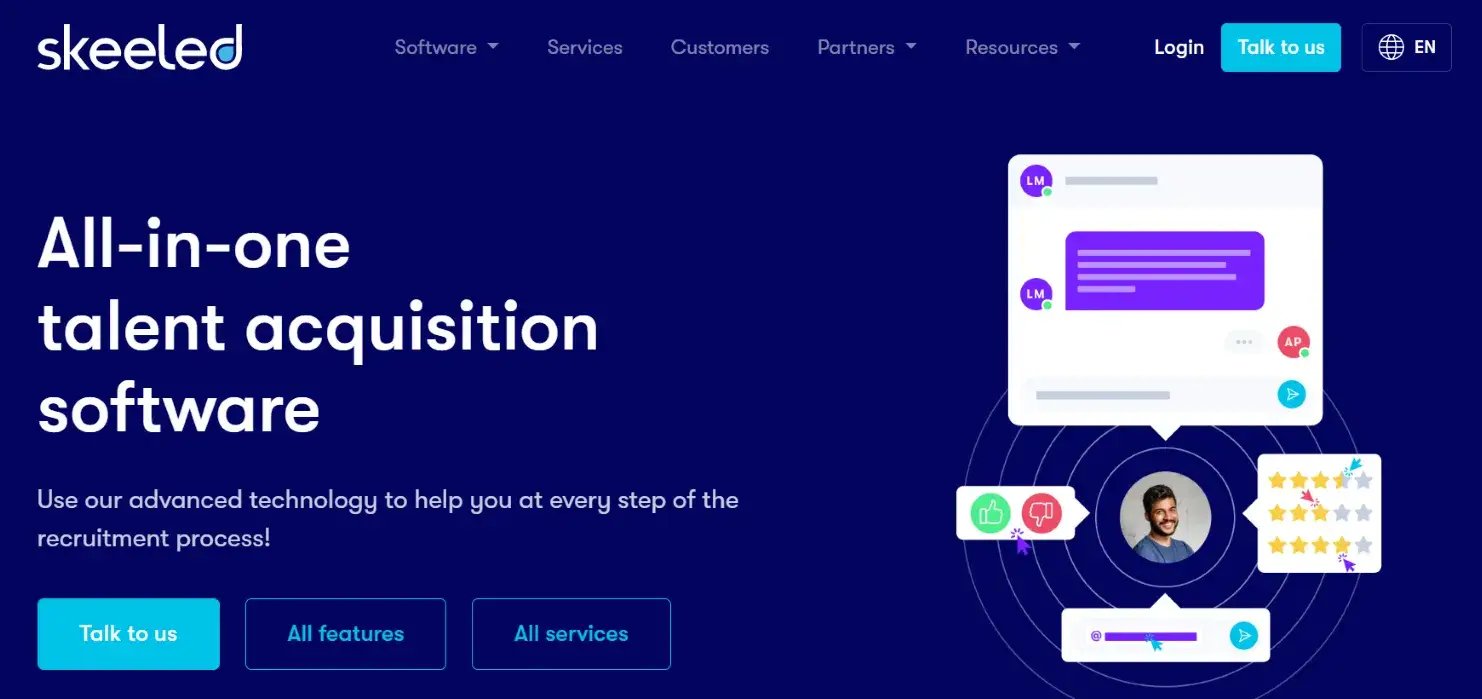 G2 rating: 4.3/5 (21 reviews)
Founded In: 2014
Skeeled is an online resume screening tool that allows you to screen and shortlist prospects based on your requirements. This application also allows you to assess resumes and automatically rate prospects based on their abilities. Moreover, this digital recruiting software also permits you to send customized emails in bulk to candidates at various phases of the recruiting process.
Perks
Using this tool, you can develop custom workflows to streamline your hiring process.

skeeled helps you write a job description in a pain text that explains the tasks, duties, functions, and responsibilities of a position.

Using this digital recruiting tool, you can optimize your screening process and ensure that only qualified candidates are selected.
Free trial: Available
Subscription Range: On request
Video Interview Tools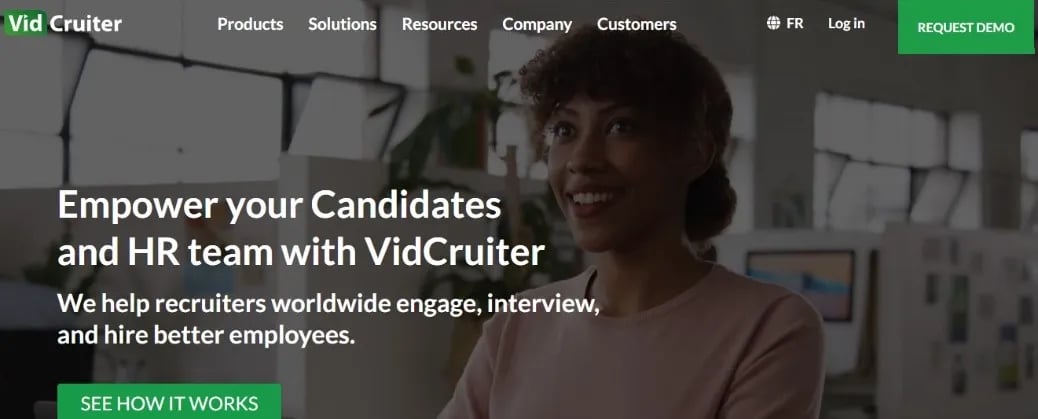 G2 rating: 4.8/5 (189 reviews)
Founded In: 2009
VidCruiter is a video interview tool that assists managers in recruiting talented candidates with fewer resources and less time. It offers a multi-tiered video interviewing feature, which means candidates can undertake a one-way interview before moving on to the next stage with management. This digital recruiting tool also fits the real-time criterion with prerecorded and live interviews.
Perks
This is one of the best digital recruiting tools that allows applicants to record their responses at their convenience.

With VidCruiter, it is easy to increase hiring quality and reduce time-to-hire.

You can discover the best candidates promptly while being entirely remote.
Free trial: Available
Subscription Range: Annual subscription is $5,000
9. Hireflix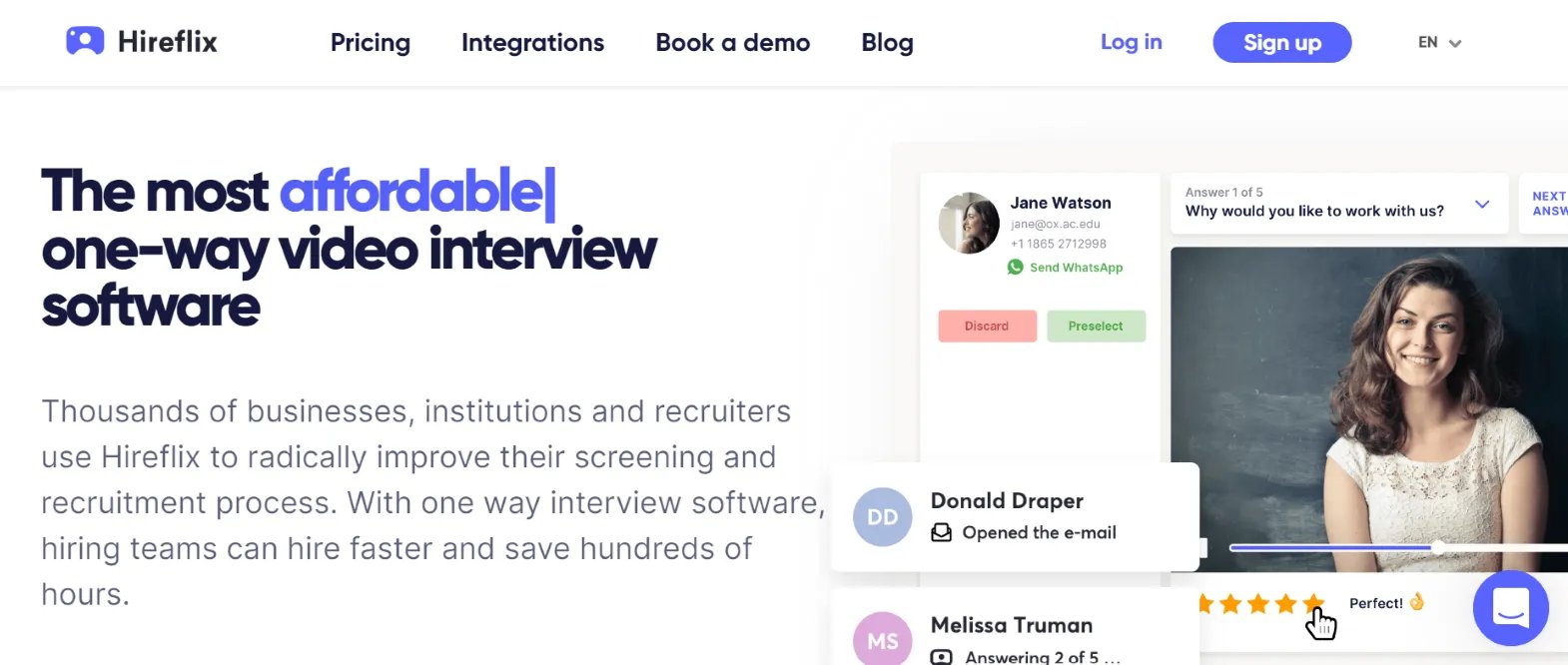 G2 rating: 4.9/5 (182 reviews)
Founded In: 2018
This digital recruiting software is a one-way video interview software that removes the need for scheduling interviews. It allows your candidates to record and share recorded interviews. Moreover, this platform enables candidates to examine both the video and text versions of questions simultaneously, allowing them to respond without losing essential information.
Perks
This tool allows you to interview a plethora of candidates more swiftly.

Hireflix is simple to set up and requires little to no technological expertise.

This tool also provides a multi-language candidate experience.
Free trial: Available
Subscription Range: Monthly subscription is $75 for 50 employees.
10. Spark Hire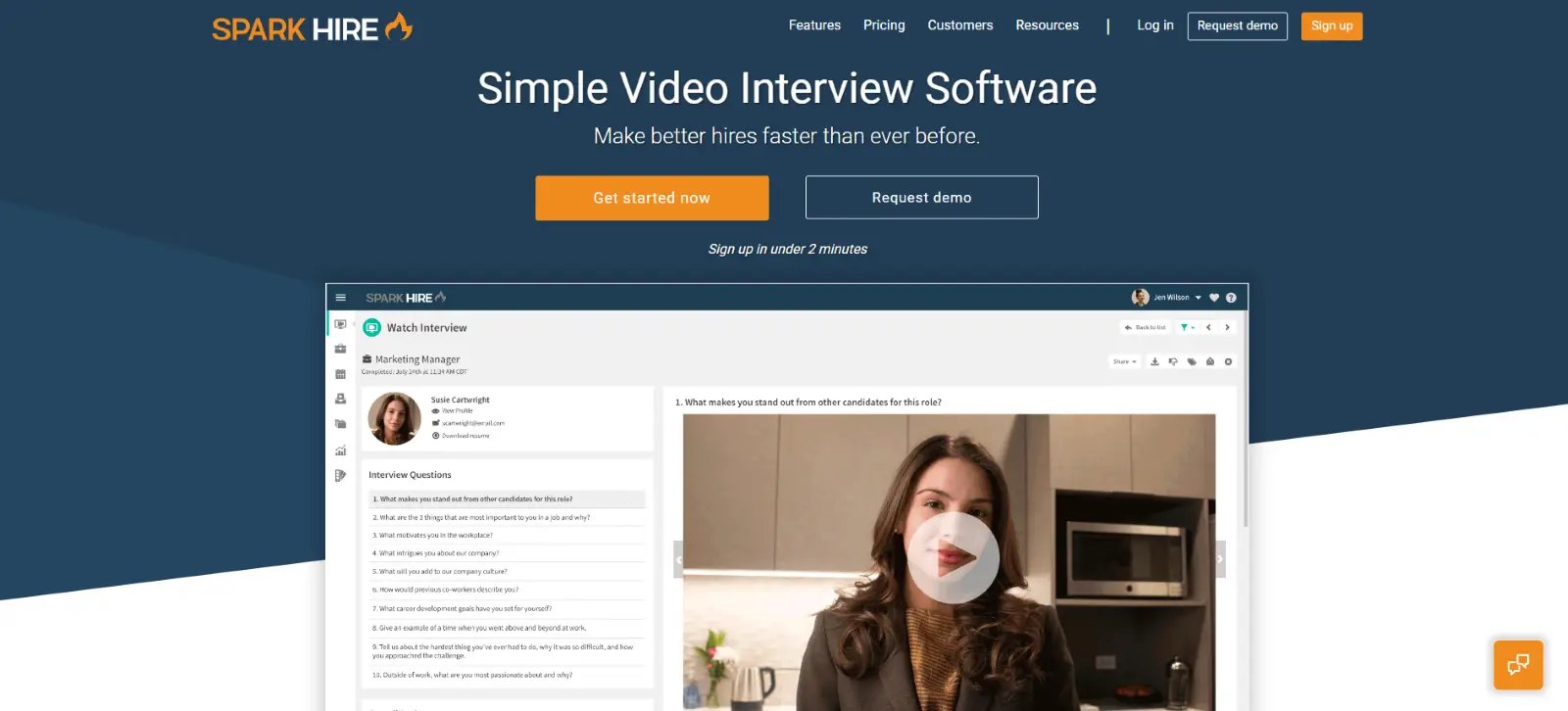 G2 rating: 4.8/5 (368 reviews)
Founded In: 2010
Our list's final digital recruitment tool is Spark Hire, a cloud-based video interviewing software. This tool's primary advantage is that it allows recruitment managers to do mass actions such as inviting or denying prospects with a single click. It also includes an interactive dashboard with extensive analytics and integration guidelines. Also, all plans supplied by this platform include unlimited one-way and recorded live video interview features.
Perks
This digital recruitment software allows you to save all interview recordings on a single dashboard.

The software is very intuitive.

Spark Hire allows applicants to participate in the interview process from anywhere in the world.
Free trial: Available
Subscription Range: Monthly subscription is $149
Conclusion
Overall, digital recruiting tools are essential to the modern recruiting process. They help organizations connect with candidates, identify the most qualified candidates, and assess candidates' skill fitness for open positions. By using digital recruiting tools, organizations can improve their recruiting efficiency and effectiveness and ultimately hire the best candidates for their open positions.
FAQs
What is digital recruiting?
The practice of using technology to attract, identify, and hire candidates for open positions is known as digital recruitment. It entails reaching out to possible applicants and assessing their qualifications using resume screening, online skills assessment tools, video interview tools, and other online tools.
How does digital technology improve the recruitment process?
There are a few different ways that digital technology can improve the recruitment process.
It aids in the process by automating some procedures that recruiters would otherwise use to perform manually.

It allows candidates to apply for jobs anytime, anywhere in the world.

By eliminating the possibility of human error, digital technology helps to improve process accuracy.

It also assists you in improving the overall efficiency of the recruiting process by offering a more streamlined and organized manner to manage all of the process's data and information.
How do online assessments work?
An online assessment comprises a series of questions to determine your skills and expertise in a particular area. The questions are presented in various forms, including MCQ (Multiple Choice Questions), True or False, Descriptive (Subjective), Fill in the Blanks, Multiple Answers, Coding, AI-logic box, and Video Questions. Also, candidates typically get a specific amount of time to finish the test and the option to review their responses before submitting them.